Looking for the ultimate fall escape this season? If exploring the outdoors is your jam, there's no better place to head to in the United States than a few of its national parks!
In many places, the autumn months bring in plenty of striking colors and lovely temperatures, making this time of the year ideal to explore many of the parks in the system. Plus, October tends to be shoulder season, which means you may just get some of the best trails and viewpoints in many parks all to yourself!
From desert landscapes that will make you feel as though you were transported to Mars to some of the most beautiful spots to take in the splendor of fall foliage, here are 10 of the best national parks to visit in October.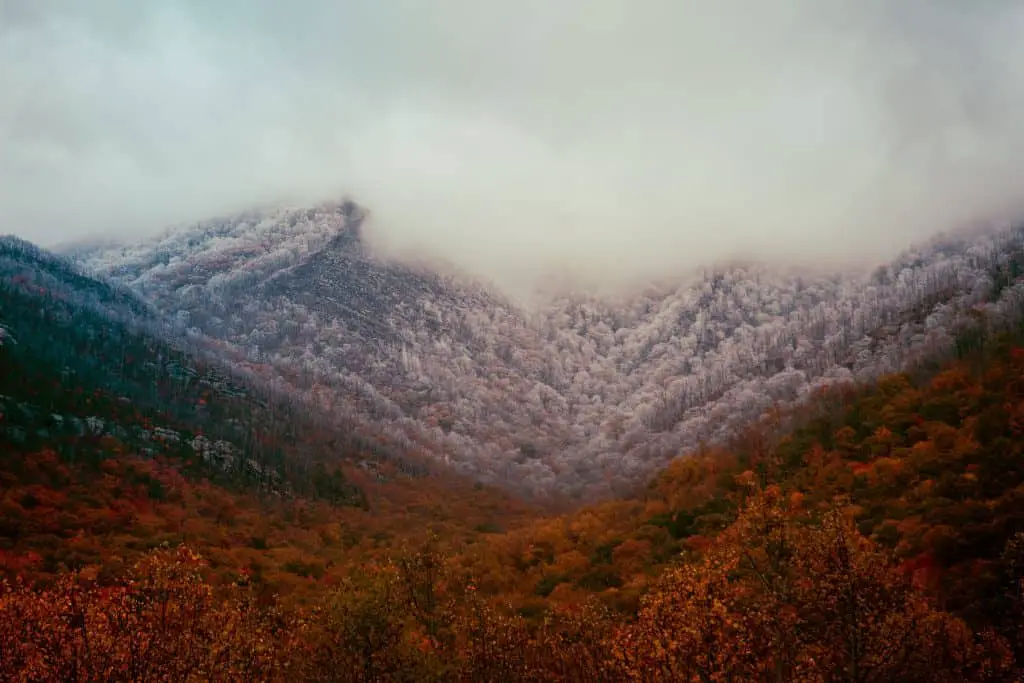 Disclaimer: Some links in this article are affiliate links, which means that if you purchase through them I receive a small commission, at no extra cost to you. This helps cover the cost of running this blog. Thanks for your support!
The 10 Best National Parks To Visit During October
1. Rocky Mountain National Park, Colorado
Home to some of the tallest mountains in Colorado, hundreds of lakes, and glaciers, Rocky Mountain National Park is one of the best national parks in the United States to visit during October. However, winter can arrive early here so check the weather before you visit.
Even though temperatures do drop during the fall months, the weather in early October is still bearable for hitting a few trails and driving the Trail Ridge Road. This is one of the most scenic drives in the United States, and during the fall months, it gets blanketed in red, golden, and orange hues from the aspens that dot the highway.
Moreover, fall brings in the annual elk rut, which is when elk start arriving at the park for mating season and create a wonderful opportunity for wildlife lovers to observe them from up close. The peak of elk rut in Rocky Mountain National Park lasts from mid-September to mid-October.
Visiting Rocky Mountain National Park in October also means you'll get the chance to check out the Elk Festival, where you'll get to learn all about these creatures as well as Native American culture of Colorado through entertaining activities, live music, dances, and more!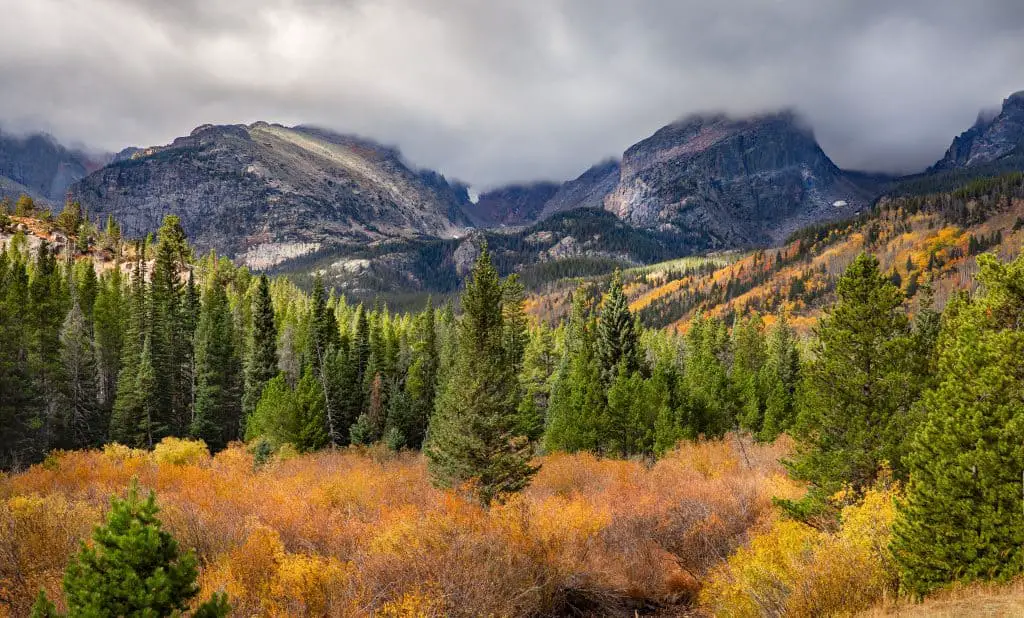 2. Arches National Park, Utah
Home to over 2000 natural arches and all sorts of quirky-looking rock formations, Arches National Park is the perfect place to visit in order to uncover the best of what Utah desert has to offer.
Being here means you'll get to walk over other-worldly landscapes in search of natural rock arches. If hiking isn't your jam, scenic driving is another option, with plenty of viewpoints to see the best arches and scenery the park has to offer.
Arches is best visited during the fall months, when temperatures drop a bit and make hiking in the desert a lot easier (temperatures reach the 100s+ during the summer!). Moreover, October in Arches is shoulder season, which means you'll get to visit some of the most popular points in the park without having to share the views with crowds.
Arches National Park is pretty small, so you can cover a ton in just a day. Activities that need to be on your itinerary include driving the Arches Scenic Drive and checking out Windows, Double and Landscape Arches. Be sure to hike the steep but short trail to Delicate Arch for that iconic photo which is usually packed with crowds during the summer months.
If you love adventurous activities, be sure to spend some time in nearby Moab during your visit.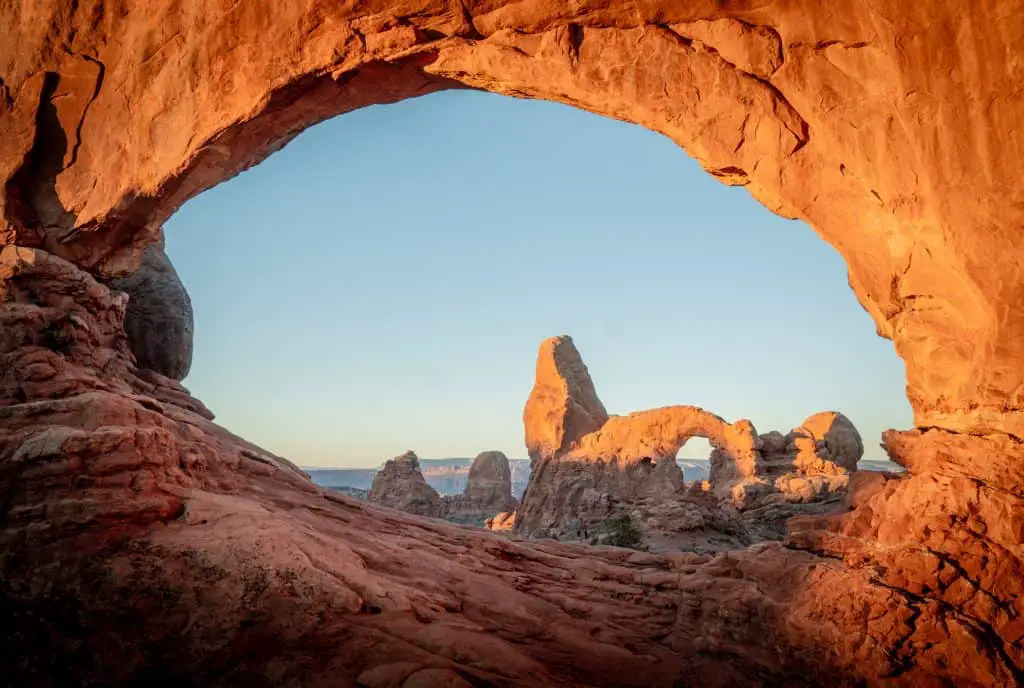 Related Reading
3. Mount Rainier National Park, Washington
Home to a striking active volcano and the most glaciated peak in the United States outside of Alaska, Mount Rainier National Park is gorgeous year-round, but during the fall months, colors around the park bring in autumn in its full splendor.
During your visit, you'll be treated to different ecosystems that range from ancient forests to lakes and alpine meadows. A few of the best things to do in Mount Rainer during the fall include hiking the Skyline Trail to Panorama Point, checking out waterfalls spread all over the park, and walking across the golden forest by following the Patriarch's Trail.
Tip: Fall foliage in Mount Rainier can be seen as early as August due to its high elevation. September through early October is the best time to visit the park as it begins closing in October.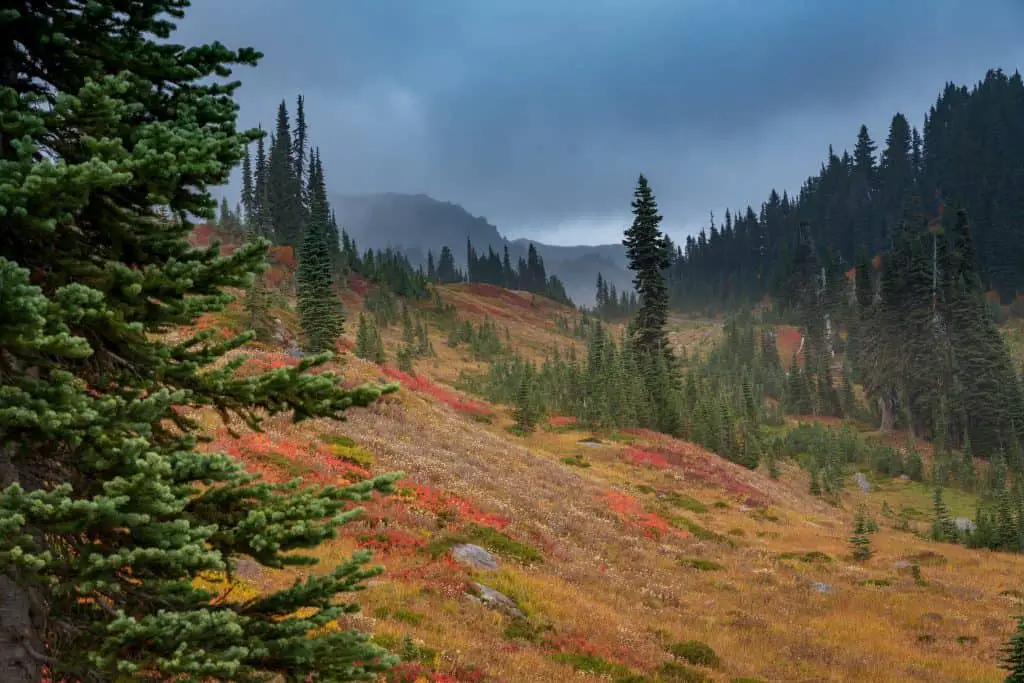 4. Bryce Canyon National Park, Utah
Famed for homing the biggest collection of hoodoos in the world, Bryce Canyon has some of the most incredible landscapes in the entire United States.
This wonderful park is a perfect choice for a fall trip, especially when you consider it is a desert setting and summer temperatures can get scorching hot, while winters bring in pretty chilly weather. That being said, the opportunity to see hoodoos coated in snow also make this national park a great destination in winter.
Aside from driving around to gawk at the views of the hoodoo ampitheatre, you'll also find plenty of other activities to keep you entertained during your visit. Bryce Canyon is relatively small, and the best way to see as much in one go aside from driving, is by hiking the Queen's Garden to Navajo Loop, which ends and the most beautiful viewpoint of hoodoos. Other trails worth checking out if you have time include the Fairyland Loop and the Peek-A-Boo Loop.
For a detailed southwest road trip itinerary, which includes a trip to Bryce Canyon, take a look at this guide.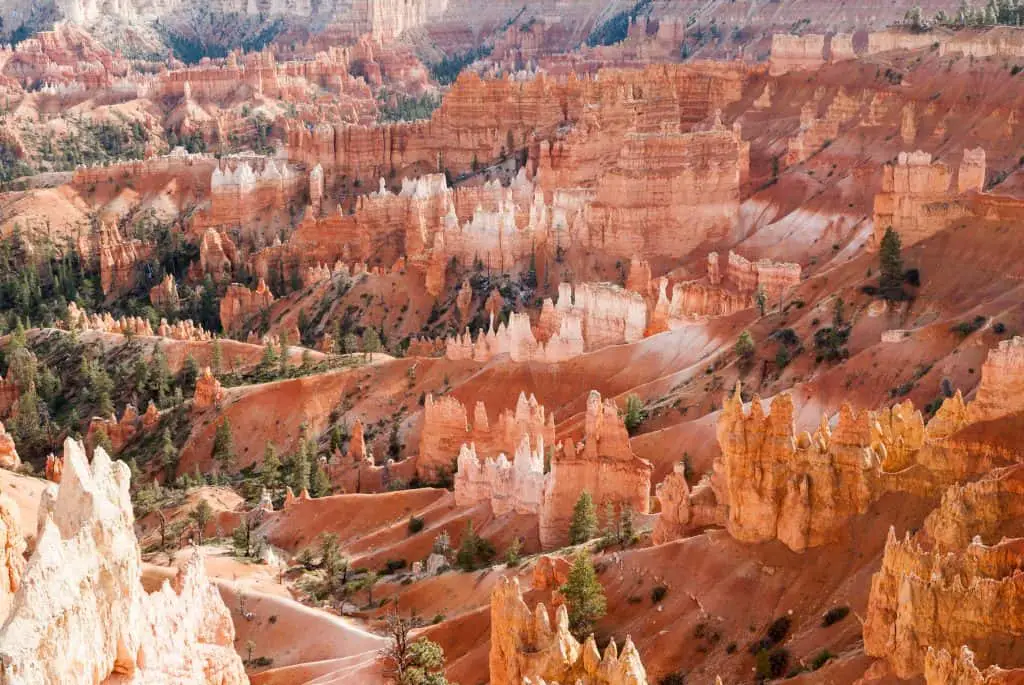 5. Acadia National Park, Maine
When it comes to fall foliage and colors, Acadia National Park on the east coast is pretty much king.
Here, you can spend several days enjoying the park through scenic drives and hikes. While exploring, you'll get treated to plenty of different views, ranging from rocky coastlines to mountains, lakes and pretty stone bridges. Once you've finished exploring, sit back and enjoy a meal in Barr Harbor.
For beautiful fall foliage, some of the best things to do include hiking to Cadillac Mountain at sunrise, which provides stunning panoramic views of the entire park painted in striking autumn hues. For scenic drives, follow the Park Loop Road, which cuts right through Acadia and looks straight out of a painting when colors start changing in September.
For peak fall foliage, plan your trip for the last two weeks of October.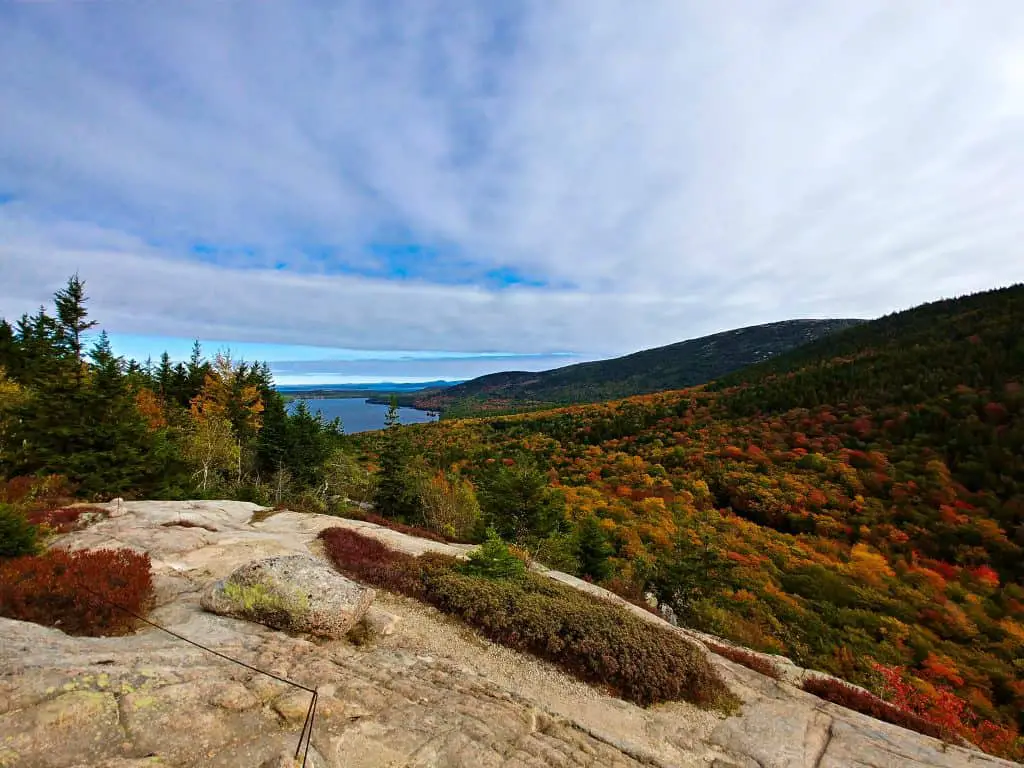 6. Death Valley National Park, California
Death Valley is home to strange rock formations, seas of endless sand dunes, salt flats located below sea level and mountains splashed with every color of the rainbow.
This scorcher of a west coast national park actually doesn't come to life until October, when campsites open and ranger-led activities begin. Indeed, the cooler months are Death Valleys' peak season, so don't expect to have this park all to yourself during your Autumn visit.
Activities you need to place on your bucket list include desert hiking, walking over sand dunes, driving the Artist's Scenic Drive to see colourful mountains, checking out Dante's View for the best views of the park, and catching a sunset at the golden landscape of Zabriskie Point.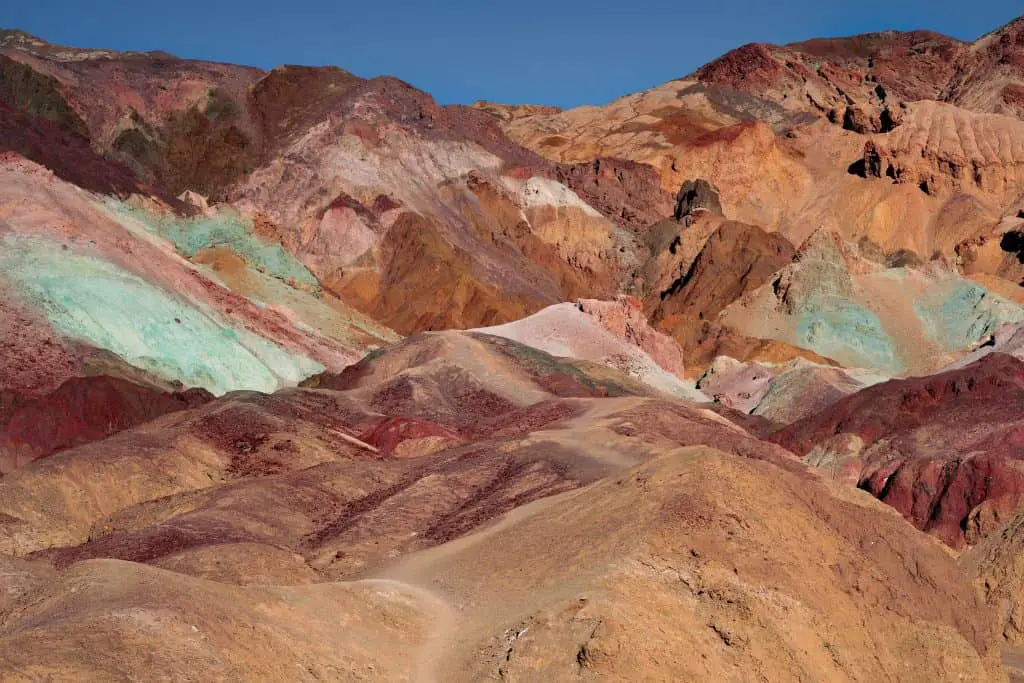 7. Zion National Park, Utah
Zion is such a beautiful national park that is has become a victim of its own success in recent years. During the summer months, this popular Utah national park is jammed with visitors, making hiking trails crowded and shuttle bus lines insane.
During October, the temperatures drop and so do the crowds, but on top of that, the already breathtaking views take on the golden tones of autumn. The classic Angel's Landing hike will offer stunning views of the valley coloured by cottonwoods, as will the less exposed Observation Point Trail. Less strenuous hiking trails include Canyon Overlook Trail, Emerald Pool Trail, and The Watchman Trail.
Non-hiking activities at Zion include learning about the Paiute people at the Zion Human History Museum, ooo-ing and ahh-ing at the Checkerboard Mesa and checking out the Watchman and the Tower of the Virgin.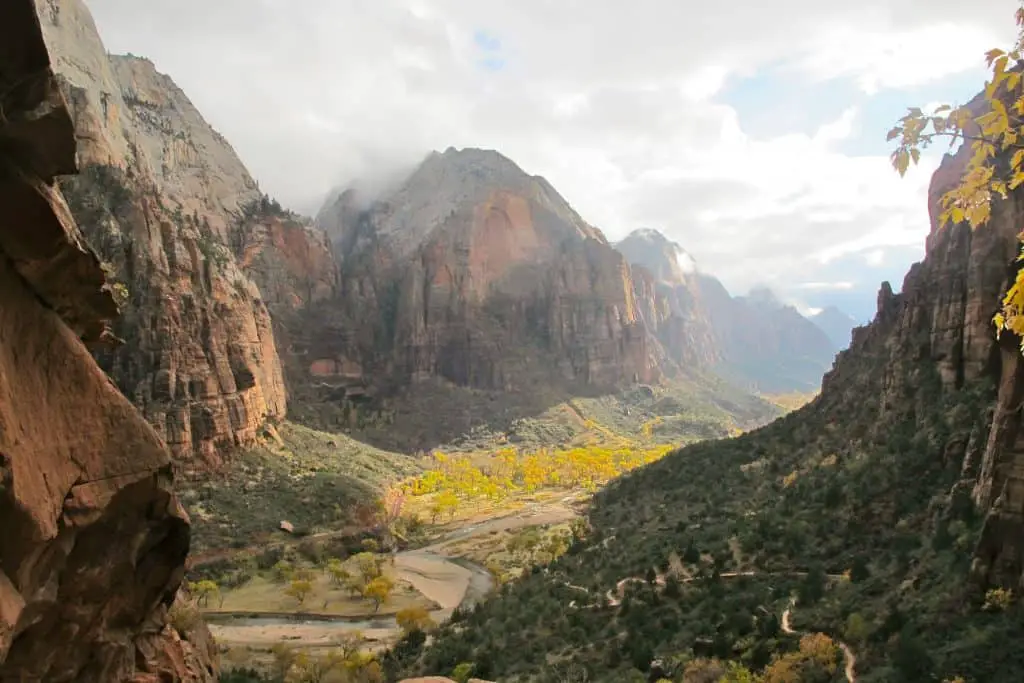 8. Great Smoky Mountains National Park, North Carolina/Tennessee
Come October, Great Smoky Mountains National Park (GSMNP) is arguably the US' prettiest national park to visit. The vast views over sweeping hills covered in fiery shades of fall, make this park a must for your autumn bucket list. Whilst you won't get this national park to yourself in October, you'll avoid the worst of the crowds through visiting mid-week.
Top things to do in Great Smoky Mountains National Park include day hikes on the Appalachian Trail, birdwatching and fishing. During October it is also possible to see the last herd of wild Elk in North Carolina, with males performing their bugle mating call.
To experience the colourful deciduous trees from the comfort of your own vehicle, be sure to drive the Cades Cove Loop or the Newfound Gap Road. For the ultimate 360 degree panoramic view, don't miss driving up to Clingmans Dome.
Another scenic fall drive located close to GSMNP is the Blue Ridge Parkway. This classic US drive with beautiful views links with nearby Shenandoah National Park and is one not to be missed.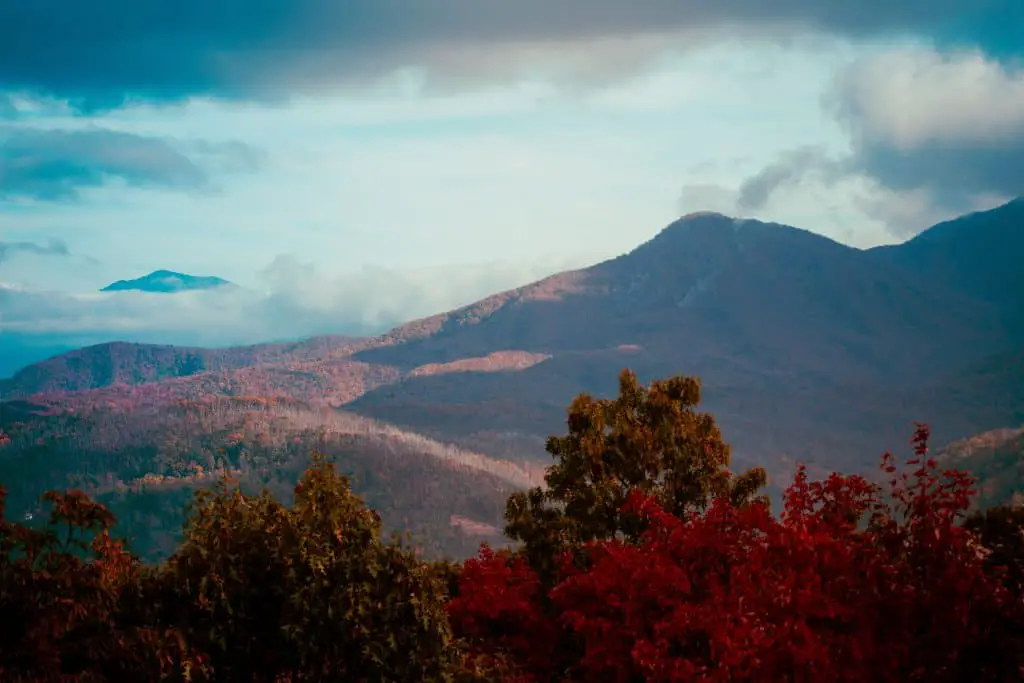 9. Grand Teton National Park, Wyoming
Grand Teton National Park is a great place to visit in October in the US, as the crowds of summer have long since departed. The burnt oranges of fall foliage make spectacular views even more alluring and the wildlife comes alive as bears prepare for their winter hibernation and male elk bugles signal the start of mating season.
Activities to enjoy include embracing your inner cowboy/cowgirl with a horseback ride to the viewpoint at Oxbow Bend, bracing the cold with a SUP session on Jenny lake and embarking on a mountain hike, one of my favourites of which is the Solitude Lake hike.
For epic views of the Teton range take the easy Lunch Tree Hill walk or Taggart Lake walk and for a beautiful view with an added water reflection, check out Heron Pond – Swan Lake Loop Trail.
Fall season at Grand Teton lasts from September through mid-October, so don't leave your visit until the end of the month.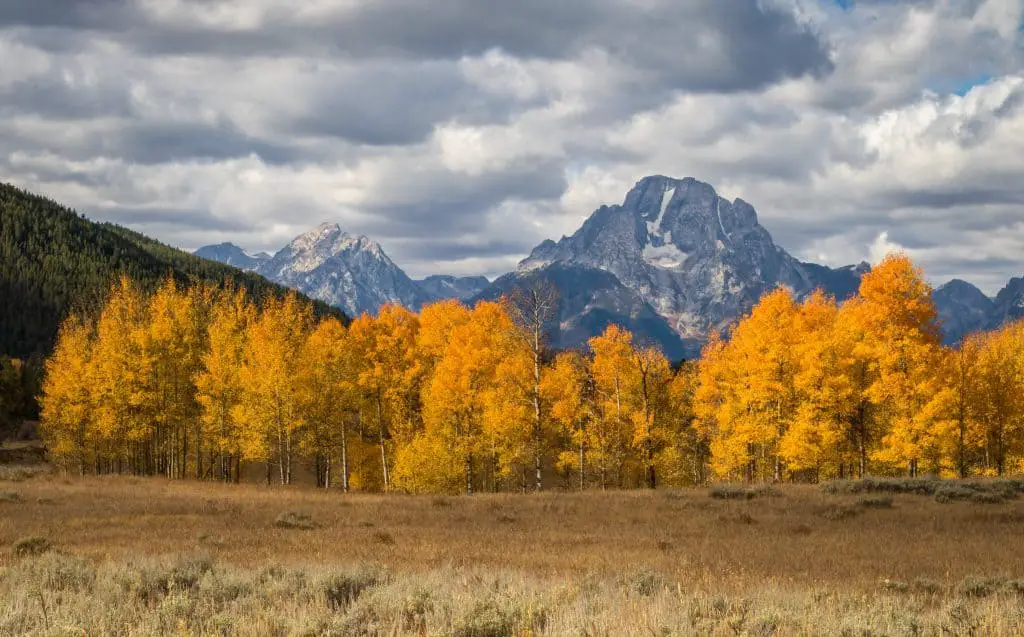 10. Big Bend National Park, Texas
As with other parks in the southern US, one of the advantages of visiting Big Bend National Park in October is the cooler temperatures. Another huge benefit to visiting at this time of year is to view the huge collection of bird species that live and migrate over the park.
This is a vast and remote national park so it's difficult to see everything in one day. Allow several days to avoid rushing between areas and so that you can venture out onto hikes that are too hot to try during the summer months.
Activities to enjoy during a fall visit to Big Bend National Park include hiking the Window Trail or Lost Mine Trail, kayaking the Rio Grande or relaxing in the Boquillas Hot Spring. The Ross Maxwell Scenic Drive offers views over the desert landscape and an opportunity to walk to Santa Elena Canyon, which is one of the highlights of the park.
Learn more about these Big Bend hikes in this guide to the best hikes in west Texas.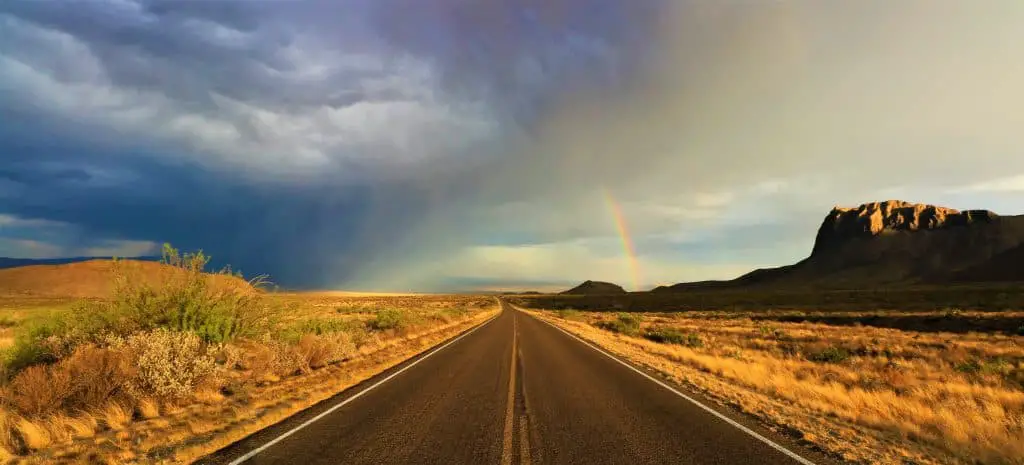 Tips For Visiting National Parks During Fall
Vehicle entrance to these national parks costs between $20-$35 each, so if you plan on visiting three or more national parks in a year, it makes sense to purchase the America the Beautiful Pass. This pass costs $79 and provides entrance to ALL National Parks in the US for one year. You can do the math!
Dogs are not allowed on hiking trails in most national parks so keep that in mind if you want to bring along your four-legged friend.
Some of these parks have their peak season in fall which means accommodation can sell out fast. Book ahead to avoid disappointment.
Car camping is a great, budget-friendly way to explore these national parks. Check out this car camping packing list before you go.
National Parks To Visit In October Summary
October is a great month to visit many of the US national parks for several reasons. For many national parks, fall foliage is at its most dazzling and colourful, whilst for others this is a month where the temperatures become more tolerable and the crowds less dense.
In this guide I have outlined 10 of the best national parks to visit in October so that you can plan the perfect fall trip.
Join My Newsletter Today!