Tucked away in eastern Europe, dominated by the lofty peaks of the Caucasus mountains, is a charming little country who's skiing potential is known only to a limited few. A country who's golden era was ruled by a female "king of kings" and a country which, with wineries dating back over 6000 years, claims to be the birthplace of wine.
This small mountainous country is Georgia.
This is a guide to skiing in Georgia. In this post I discuss the merits of skiing in Georgia and the logistics involved. Hopefully this will help you decide whether a Georgian ski adventure is for you.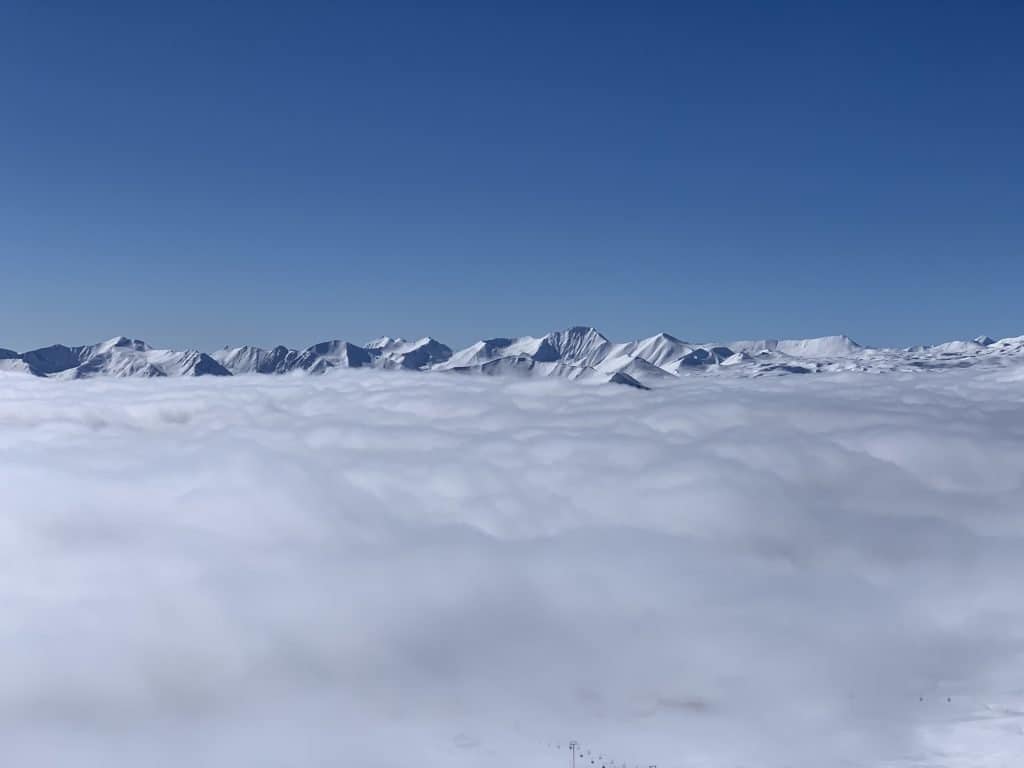 Disclaimer: Some links in this article are affiliate links, which means that if you purchase through them I receive a small commission, at no extra cost to you. This helps cover the cost of running this blog. Thanks for your support!
Which Georgian ski resort you're planning to visit, might dictate where in Georgia you fly to. The biggest Georgian airport is in Tbilisi but it is possible to fly to Kutasi and Batumi, which puts you closer to Mestia.
Direct flights from parts of Europe take less than 5 hours and just 3.5 hours from Dubai. Turkish airlines and Pegasus offer good deals via Istanbul. For example from London to Tbilisi via Istanbul takes around 8 hours and costs £300 return.
The cheapest flight we found was with Wizz air to Kutaisi via Warsaw from London for well under $100 one way. They also fly to Tbilisi for a little over $100 one way.
Flights from the USA tend to be around $600, with Turkish Airlines and Qatar airways both offering reasonable options with 1 stop only.
For the best deals on flights to Georgia, check out Kiwi.com.
With Georgia steadily becoming more popular with foreign skiers, packaged skiing trips to the area are beginning to appear, especially back country ski holidays and ski mountaineering trips.
 Ski Georgia offers regular ski packages to Gudauri.
 The Alpine Project and  Vagabond adventures offer backcountry packages and courses.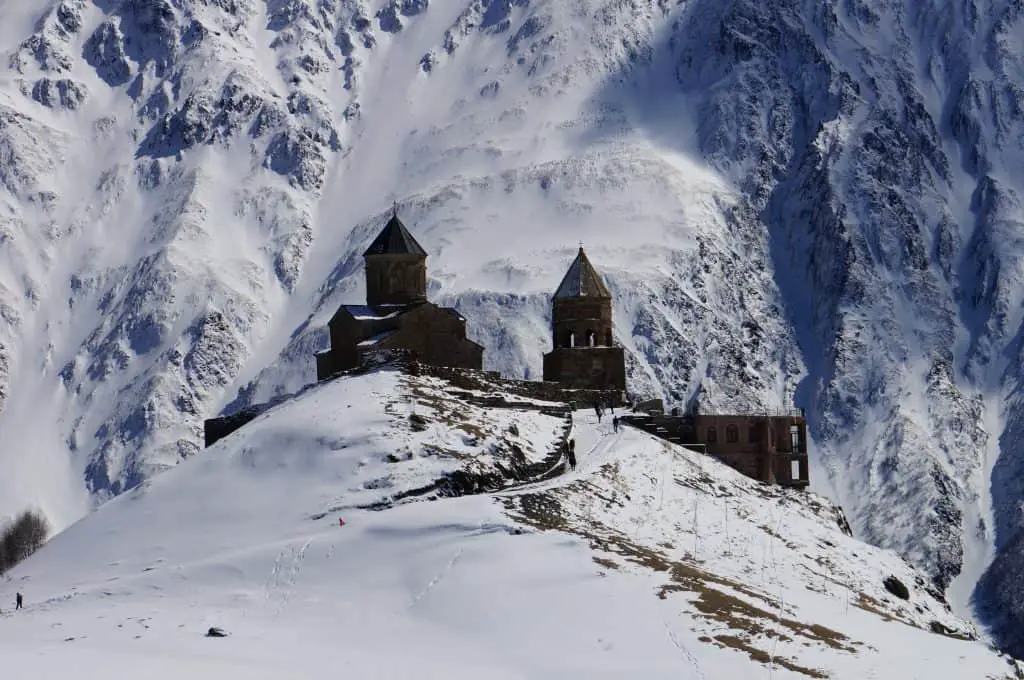 Travelling Within Georgia
There are several options to consider when travelling within Georgia.
1. Private Car/Taxi
The easiest option by far will be hiring a car with a driver (hopefully one who speaks your language). Check out GoTrip for a hassle free option with no haggling. It is also easy to find a driver around the old town in Tbilisi. Taxis are fairly cost effective for local journeys.
For short trips around Georgian cities it is probably worth downloading a taxi app.  Bolt is perhaps the easiest one for foreigners and also YandexGo.
2. Car Rental
Self-drive hire cars can be booked with relative ease. It's a good idea to opt for fully comprehensive insurance as the roads and the driving in Georgia is likely to be very different from home. 
For those wishing to explore Georgia and possibly to ski in the more far flung areas such as Mestia, it would be wise to rent a 4×4 due to the road conditions (also for Goderdzi and Bakhamo). Check the vehicle is fitted with winter tyres and you have snow chains on board. 
Be aware that during heavy snow, it is possible for the roads to the resorts to close for a while.
Check car rental deals here.
3. Marshrutka
Marshrutka are local minibus (Shared taxi) services which run both in cities and beyond and are a very cost effective way to get about. They link up all the villages in rural areas as well as the cities. Be prepared for a potentially long and cramped trip.
From one of the 2 bus stations in Tbilisi there are regular Marshrutka services to Gudauri for example. Marshrutka's can now be booked online through Allbus which can be displayed in English. Prices are a little cheaper if you simply turn up at the bus station, however pre-booking does allow you to plan your journey with confidence.
4. Rail
Rail services link up the lowland areas of country pretty well. Whilst not the easiest services to understand or book, travelling by train in Georgia would make for an interesting little adventure on its own. 
If travelling from Tbilisi to Mestia for example, one option would be a train to Zugdidi and then a Marshrutka or Taxi to complete the journey. Check the train timetable and book online here. You can also buy tickets at the train station.
5. Flights
Internal flights may be a convenient option also, with flights possible from Tbilisi and Kutasi to Mestia. Vanilla Sky offer these passenger flights to Mestia and you can check their timetable here.
Be warned though that due to weather conditions these flights are often cancelled and as a result tickets get booked up fast.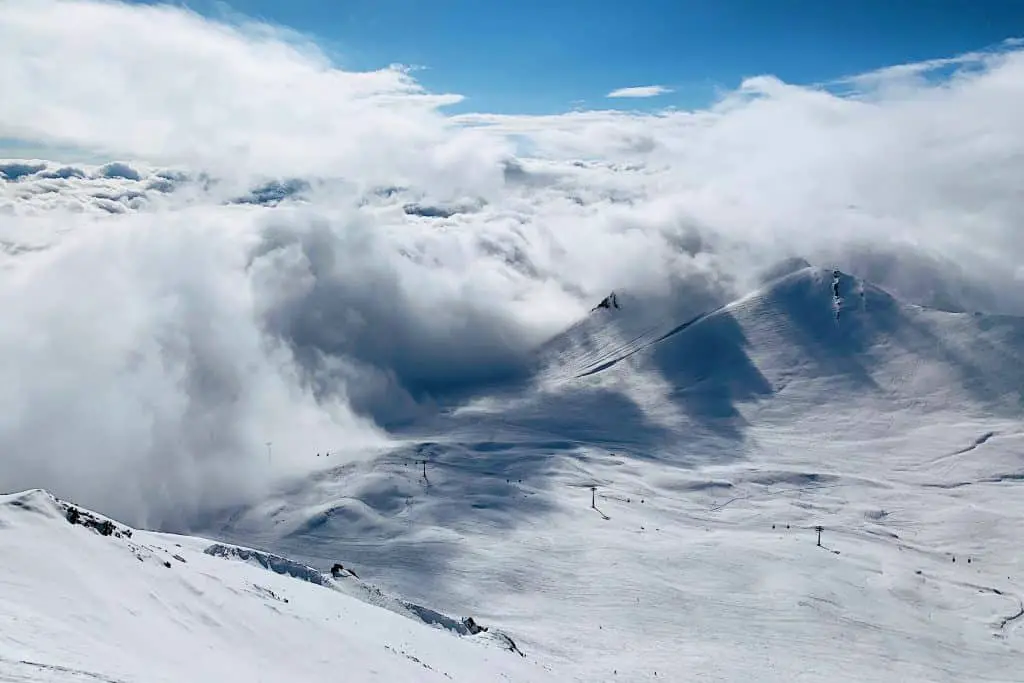 What Is Skiing In Georgia Like?
Whilst the skiing isn't anywhere near as established as in the Alps, Georgia offers great value, great mountains and for those lucky enough to visit, a great adventure.
There are several ski areas in Georgia. By far the largest and best known is Gudauri, where I expect most skiers visiting Georgia will likely head. All the resorts are relatively new developments with brand new lifts being built almost every year, though Gudauri is said to be the fastest growing ski resort in the world.
Others worth mentioning include Bakuriani, Mestia (Tetnuldi and Hatsvali) Goderdzi and Bakhmaro. These offer very different experiences which I will elaborate on, later in this post.
Georgia has developed a great reputation for ski touring, free skiing, cat skiing and heli-skiing. The Greater Caucasus mountains stretch across northern Georgia and combined with the lesser Caucasus to the South, the skiing terrain is potentially endless.
All the established ski centres offer great backcountry options complete with trained guides and tours available. In Fact Bakhamo only has backcountry options via cat skiing and touring.
Winter sports in Georgia is set to grow further with new operations setting up especially for backcountry ski touring and cat skiing.
Ski Resorts In Georgia
Gudauri (1993 to 3276m)
Gudauri is the largest and best known of the ski resorts in Georgia. Gudauri is a 2 to 3 hour drive from Tbilisi, making it super accessible. Because of this it also can get quite busy at weekends.
With 15 lifts and 80km of marked trails there's plenty of terrain to keep most skiers and snowboarders happy for a few days at least. When it comes to off-piste however, Gudauri comes alive as there are several dedicated "freeride" zones. Also, all the hill between the runs is also ridable, so on a powder day theres plenty of pow to find.
The terrain, on the whole however is quite mellow so it is best suited to beginners and intermediates, especially those looking to work on their off-piste technique. There are plenty of English speaking instructors here if you're just starting out.
Expert skiers will want to engage with the free skiing and backcountry options in order to get the most from this area. Ski touring and splitboard touring options are endless here. Vagabond Adventures offer a range of ski touring courses and tours. 
See this post for a complete guide to skiing in Gudauri.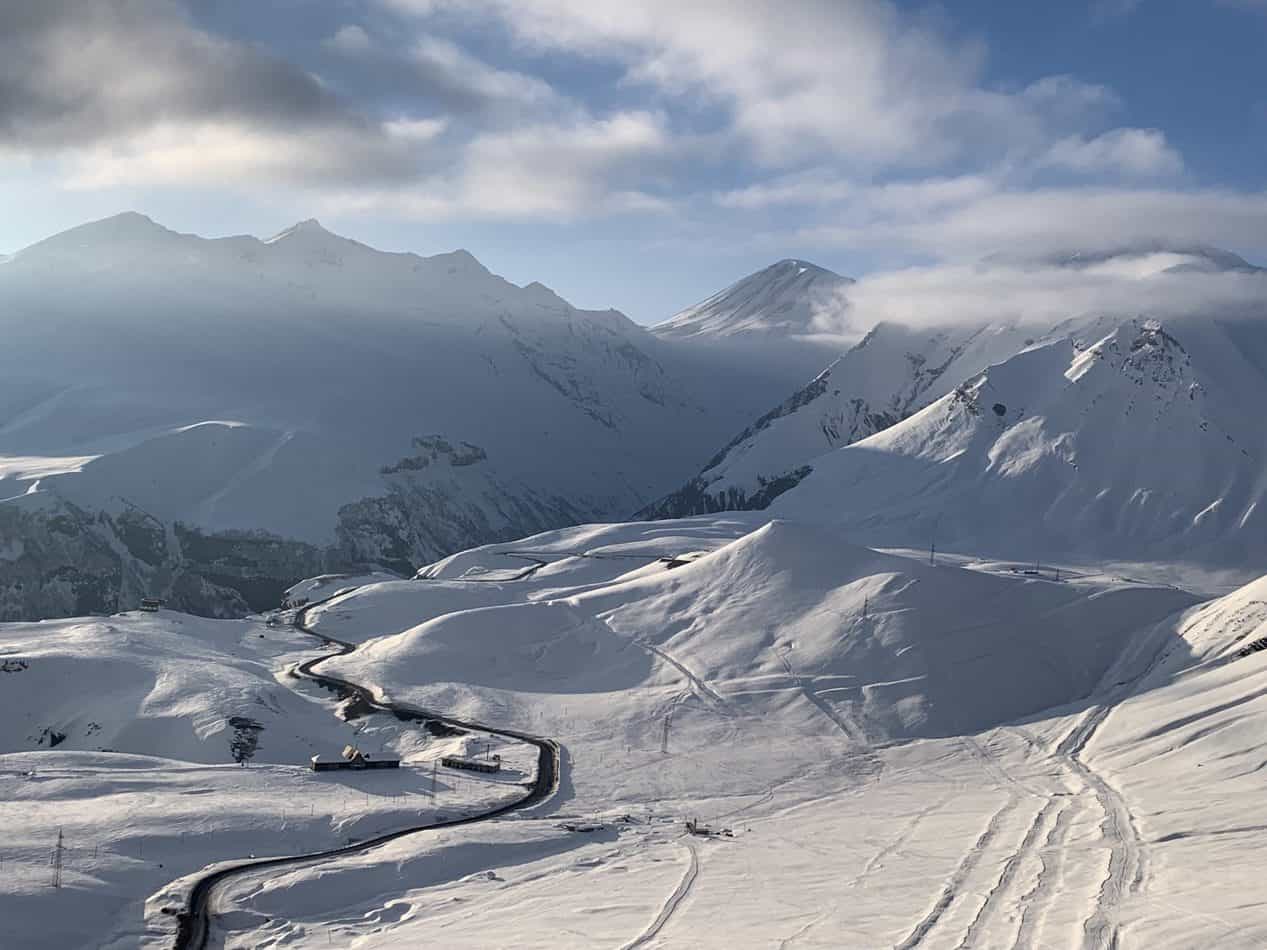 Bakuriani (1641 to 2702m)
Located in Samtskhe-Javakheti region of Georgia, in the Trialeti range, Bakuriani is very much a local and family friendly resort. There are plenty of accommodation options due to its popularity as a summer resort and the ski area is quite well established. This also means getting to Bakuriani is quite straight forward.
There are 29km of marked trails serviced by 20 lifts.
Bakuriani is spread out across the mountains with several different resort centres. Didveli stands by itself. Most of the terrain is fairly mellow but the top lift provides access to more intermediate and advanced areas. Explore the gullies through the trees for deep powder stashes.
Twenty fives is a nursery slope serviced by drag lifts. Perfect for complete beginners.
Tatra, Kokhta and Mitarbi have intermediate runs and should all link together. However, during our visit they were all separated due to avalanche risk. Without the links each of these areas is frustratingly small and driving between each centre is not ideal.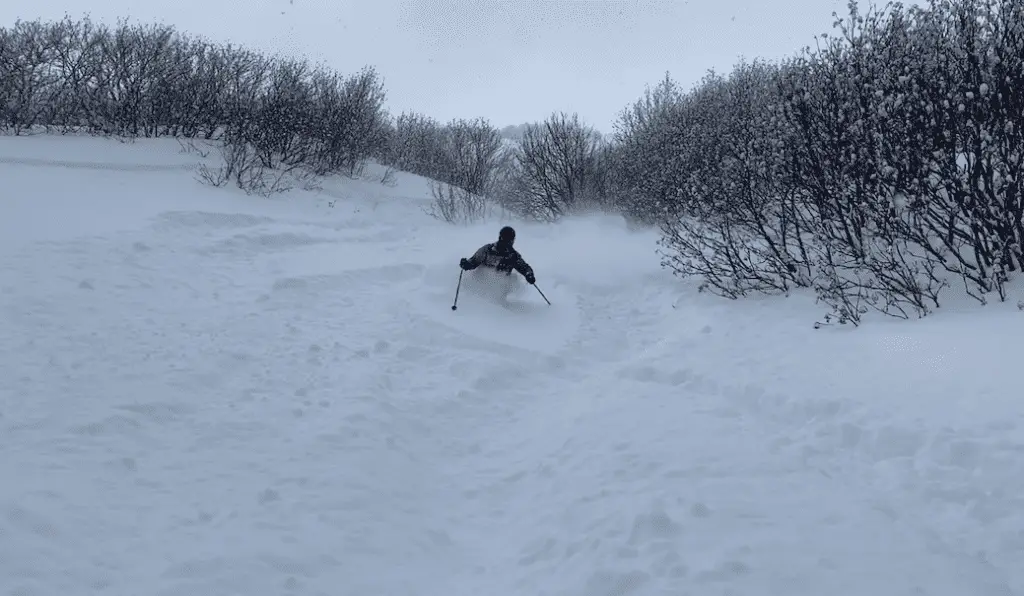 Goderdzi (1700 to 2364m)
Goderdzi is located in the autonomous region of Adjara and is renowned for its powder snow. It's a real hidden gem of Georgian skiing.
With only 3 lifts and 8.4km of slopes it is quite limited currently, however this area looks set to grow. The backcountry options accessible via cat skiing is a very attractive option, in a very picturesque environment.
To get here a flight to Batumi would be ideal then transfer by 4×4. Alternatively take s snowcat from Adigeni village.
Bakhmaro (1700 to 2800m)
Also in the Adjara region, Bakhmaro has no lifts, however snow sports are being pioneered by an  exclusive cat skiing operation run by Powder Project, who offer attractive all inclusive packages.
Because of this, there has been increasing interest in this area due to its reliable powder snow. Ski touring is also an option, however accommodation is currently very limited.
For those looking for endless fresh tracks, well away from the crowds this is the place to go.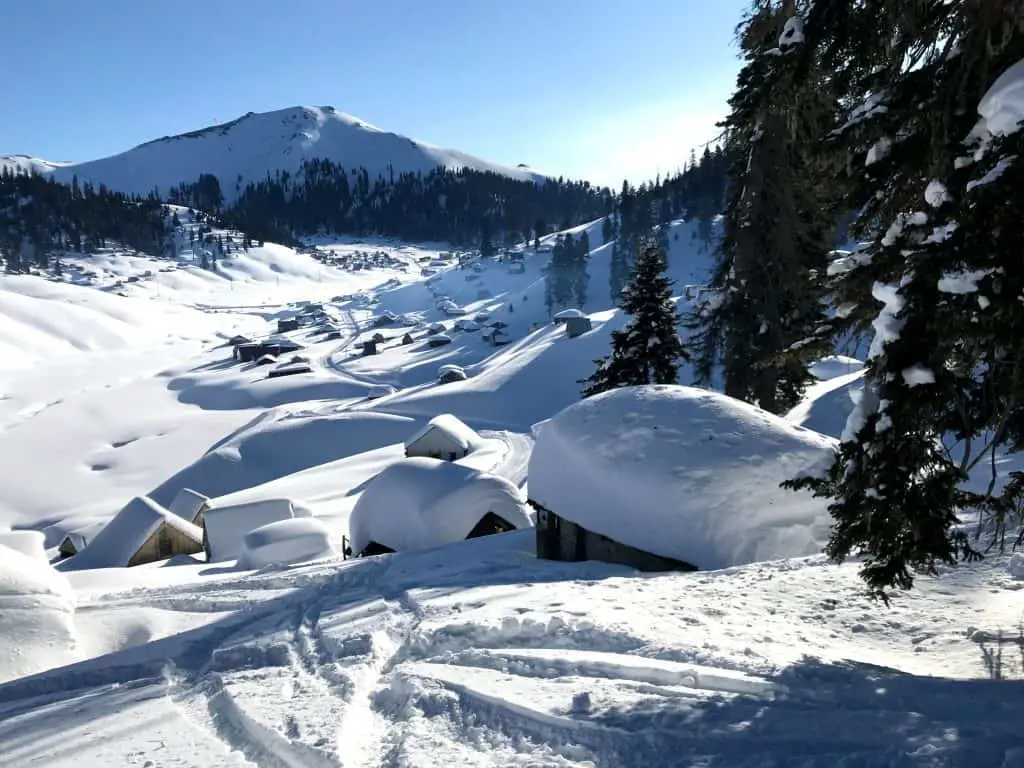 Racha and Tusheti 
These are more backcountry offerings in the remote regions of Racha and Tusheti, with cat and heli skiing operations available.
For more information head over to Catski.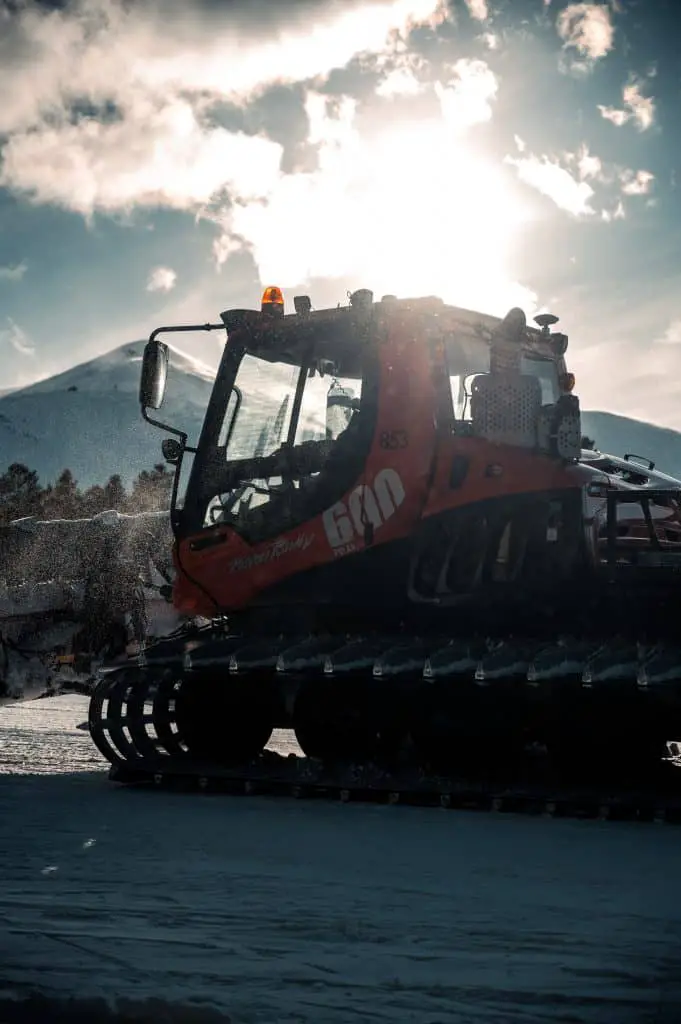 Mestia
Mestia is a town in the intriguing Svan region of Georgia, famous for its picturesque villages with ancient defence towers. A fabulous destination for trekking in the summer, with a good selection of local hotels and homestays, Mestia is also known for its mountain hospitality and relaxed vibe.
There are two ski areas here offering a small but growing area of piste skiing and almost unlimited backcountry ski touring. Mestia is undoubtedly a great destination for the adventurous skier looking to get out into the wilderness.
For a complete guide to skiing in Mestia, see this guide.
Don't come here expecting modern ski in ski out apartment blocks. A sense of adventure is needed to appreciate this beautiful and remote mountain paradise. Both resorts in Mestia are suited to intermediates and experts.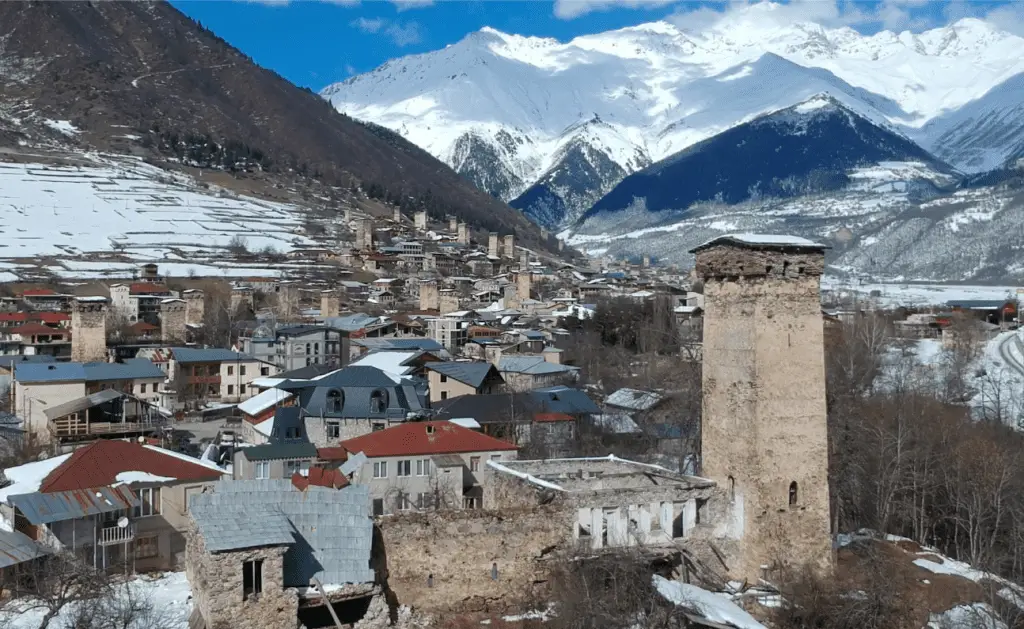 1. Hatsvali (1868 – 2348m)
Linked to Mestia by gondola lift, this area is limited to 5.5 km of marked slopes with 4 lifts. Most of the skiing is in tree lined pistes but with plenty of ski touring possibilities in the surrounding mountains, which Mestia is famed for.
This is an ideal hill when the weather limits access to Tetnuldi and it has convenient access from Mestia town. There are pleasant tree lined runs accessed from the Gondola and some interesting side country areas to explore amongst the trees themselves.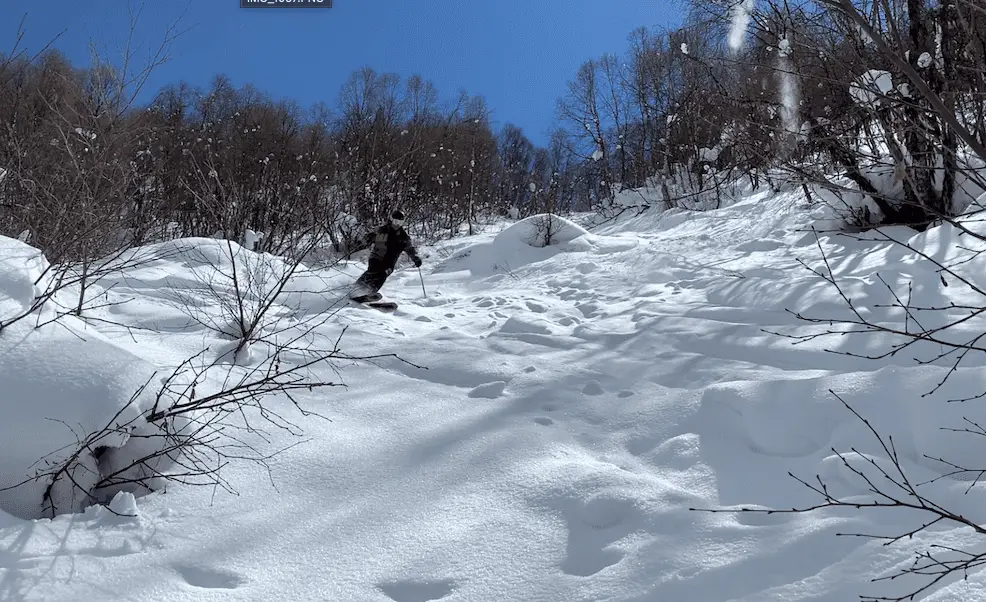 Tetnuldi (2265 – 3160m)
Tetnuldi is a 15km drive on a bumpy road from Mestia. A 4×4 is highly recommended for this journey and overpriced 4×4 taxis are available in town. ($50 per jeep)
Opened in 2016, this ski area has 13.4km of runs, with 5 brand new lifts and no queues. The marked pistes themselves are pretty tame at the moment but the setting is stunning. 
There are some first class off-piste runs available pretty much off the the top chairlift. However this ski area is as much about the side and backcountry access and ski touring adventures that are possible in the area.
In a very short period of time Tetnuldi looks like its becoming a real gem. I expect adventurous ski tourers and free riders may already have discovered this hidden wilderness location and will  prefer it to remain off the radar for mass-market skiing.
The remoteness of Mestia with its bumpy, avalanche and landslide prone access road will hopefully keep development at a sustainable level so this little corner of the Caucasus mountains will maintain its wild charm for years to come.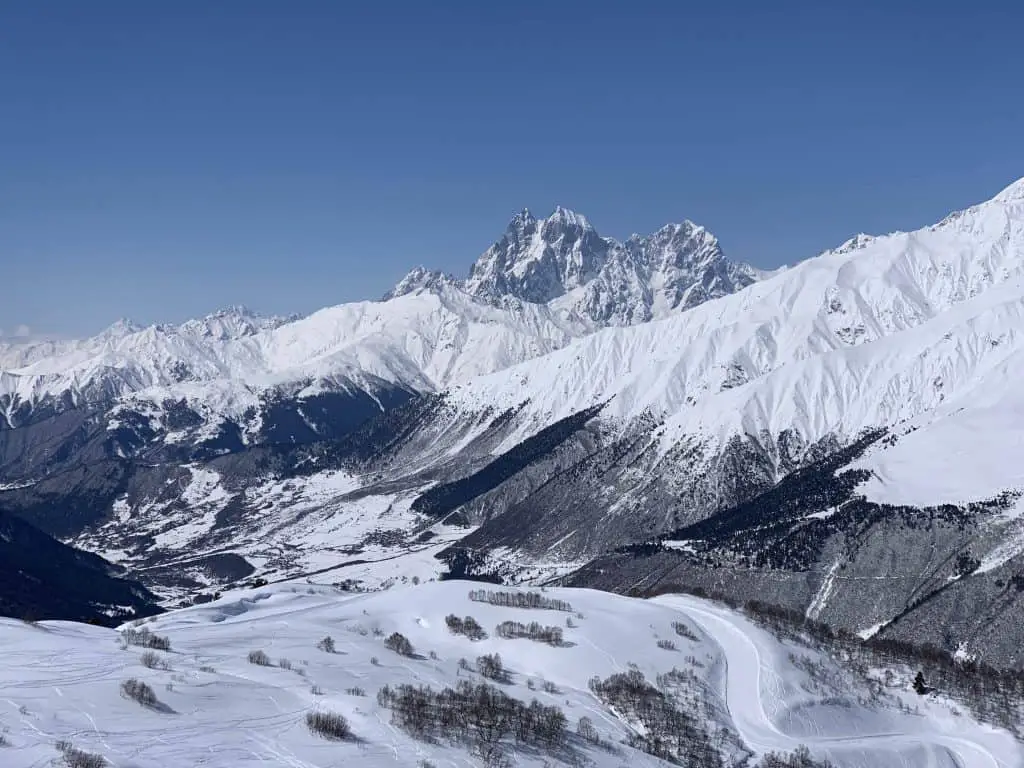 The Snow In Georgia
As we all know, skiing is only as good as the snow and Georgia seems to have a reasonably good snow record. I have seen reports of poor snow conditions, but also reports of bottomless POW, so a bit of luck is needed as you would expect.
We spent a month in Gudauri from mid Feb 2022 and had powder to start followed by 2 weeks of sun, by the end of which it was getting a bit icy and thin low down. Then Miracle March landed and it just kept snowing with plenty of fresh tracks to enjoy in and around the resort. It does seem that historically the snowiest month is March and our experience bears this out.
Gudauri has high altitude slopes and some snow making facilities to ensure a reliable season. With Regards to Goderdzi and Bakhamo, they claim to get a lot of fresh powder due to the local microclimate and Mestia has very high altitude skiing allowing for a long season.
Those heading into the backcountry in Georgia should expect great snow conditions in most years. There are plenty of local guides available who know the best spots.
Ski Equipment In Georgia
There are plenty of ski shops in the larger ski centres, offering a selection of equipment. Hire equipment is generally of decent quality and very good value. If it looks a bit dated, try a different shop as there are plenty to choose from.
Appropriate avalanche safety equipment is essential for any off-piste and backcountry skiing. Some of the backcountry skiing can be in very remote areas and even the "freeride" areas in resorts are avalanche prone.
It is possible to hire this kit on organised tours but it's not easy to buy in Georgia (and is quite expensive too). Renting is possible but limited, so it's best to take your own avalanche safety equipment with you. 
Here is the safety equipment Nick and I use for our backcountry adventures:
Georgia (in particular Gudauri) is a great place to book onto a Ski Touring or Avalanche Training Course, as there is so much good terrain close to the resorts.
Ski Lifts In Georgia
Georgia has been investing heavily in new, European made high-speed chairlifts which get you up the mountain with ease. More are planned so I expect the ski areas mentioned in this post will grow and maybe more resorts might even spring up.
Nothing happens very early in Georgia and chairlifts follow suit with most not opening until 10am. Or shortly after if it's a powder day and there's lot of snow to dig out.
It is not uncommon however, for lifts to breakdown from time to time or have power issues. Let's not talk about the infamous lift accident a few years back!
In bad weather such as high winds and heavy snow, or even bad visibility, it is common for upper lifts to close until the weather improves. So you might have to wait another day to hit that POW from the top station. 
The queueing area and run in and run out areas of the lifts can get bumpy and icy, due in some part to a reluctance of the lift operators to keep the areas maintained.
Queueing etiquette also differs from the rest of the world and it seems that skiers and snowboarders will go to great lengths to make sure they share a chair with their mates,  or even better without any one else at all. Lift operators play no part in ensuring chairs are filled appropriately and this does lead to some frustrating scenarios and dangerous situations.
Ultimately though, it all kind of works. As a foreigner it pays to be patient and be prepared to get out of peoples way if it all gets a bit bonkers in the lift areas. 
With all that being said, it's not very often that you will find yourself queueing for a lift in Georgia and even if you do, it's usually not for very long.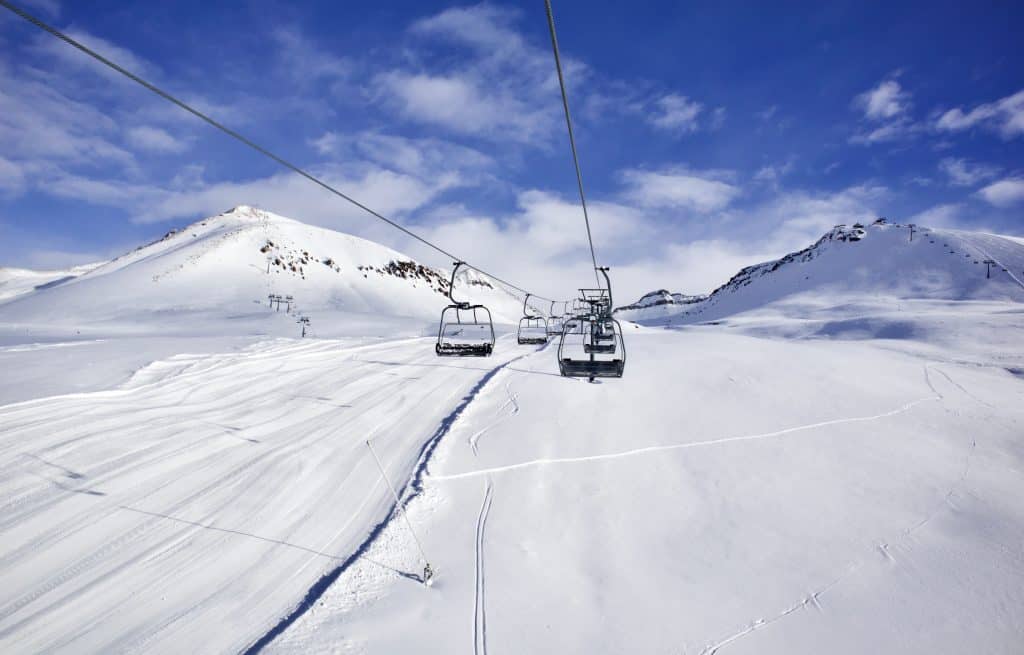 Georgian Lift Passes
One big attraction of skiing in Georgia is the value for money. The lift passes are incredibly cheap in comparison with Europe and the USA. For example, a season pass for ALL resorts in Georgia is around $200. So over the course of six weeks, we spent spent around 5 weeks skiing at four different resorts around Georgia, all for the same price as one day at Vail!
For more information on lift pass prices, click here.
The Slopes
Marked runs tend to be groomed each night and as such are kept in pretty good condition. Off-piste is a free area to do as you please and these areas around the resorts get tracked pretty quick on powder days, especially on the weekend as you might expect.
Etiquette on the slopes is a little different from what you might expect elsewhere in the world. There are plenty of people skiing far too fast for their ability or skiing past others at needlessly close distances, the faster the better it seems.   
Having said that, the resorts of Gudauri and Bakuriani are very well set up for beginners and intermediates, with decent Ski Schools and plenty of easy to moderate slopes to have fun on. The occasional close call is probably due to a general relaxed attitude about the place, which isn't always a bad thing. 
Off-piste
As mentioned in the individual resort introductions, Georgia is a backcountry paradise, with many options for ski touring, Cat skiing and Heli skiing. There are even whole resorts dedicated to the art of powder-skiing in secluded mountain paradises.
For expert skiers looking for great powder and fresh tracks, Georgia is definitely one to consider. Mestia, Goderdzi and Bakhamo in particular, offer unique skiing and snowboarding destinations which would suit adventurous skiers looking for big mountain experiences.
Gudauri has everything you might want on your doorstep with plenty of off-piste terrain accessible from the lift systems, as well as several free-riding areas.
Skiing In Georgia Summary
When it comes to skiing, Georgia has something for everyone. Some resorts offer ski in, ski out convenience, with sunny mountain restaurants serving wholesome Georgian food. There are well-linked, modern lift systems, with Gudauri and Bakuriani setting the standard for a modern ski holiday.
There is also another side to the ski scene in Georgia for those looking for a bit of adventure. For a full-on powder experience with minimal effort, the cat skiing base of Bakhamo or nearby Goderdzi might attract you, with their enviable powder record. 
For those willing to make the hard yards, I would go as far as to say that Georgia is a paradise for ski touring. A great place to take your first foray into the activity and a great country for experienced backcountry fans to go and explore the Caucasus mountains. Gudauri, Bakhamo and Mestia all provide great options for ski touring.
For those seeking a bit of culture and history thrown into the mix, head to the remote mountain region of Mestia. Mestia offers the best in Georgian hospitality, has high mountains and stunning backcountry skiing, to complement its already great reputation for world class summer trekking.
And if you've never been to Georgia before there's a great opportunity to explore a different culture, with unique cuisine and a fascinating history. Give yourself time to explore Tbilisi and if you get tired of skiing or the snow gets a bit tired, there's plenty of great places to visit in, around and between the ski areas. 
We travelled around the ski areas in our campervan and spent time seeing some cultural sights too. Another idea would be to hire a 4X4 and make a ski/snowboard themed road trip. The bargain, country-wide ski pass makes this a very affordable option.
I would suggest visiting Georgia with an open mind and a real sense of adventure. There's potential for great snow and great skiing, but quite possibly the adventure of it all will be what you come away remembering most. 
Oh, and did I mention they make really good wine too? For the last 6000 years!
Read more about the best destinations to visit in Georgia here.
Join My Newsletter Today!