In this post I explain everything you need to know to plan your visit to Monument Valley. I describe why taking a tour is the best way to experience this special place. I provide information on the tour operators available and the best tour to take.
I was talking to a friend recently who was planning a road trip around the American South West.(For an epic southwest road itinerary read this!) She mentioned that she had seen a sunrise photo of mine at Monument Valley and was excited for her visit.
I explained that to see the view from that photograph it was necessary to do a tour in the valley. This got me to thinking – maybe other people would like to know the best way to visit Monument Valley?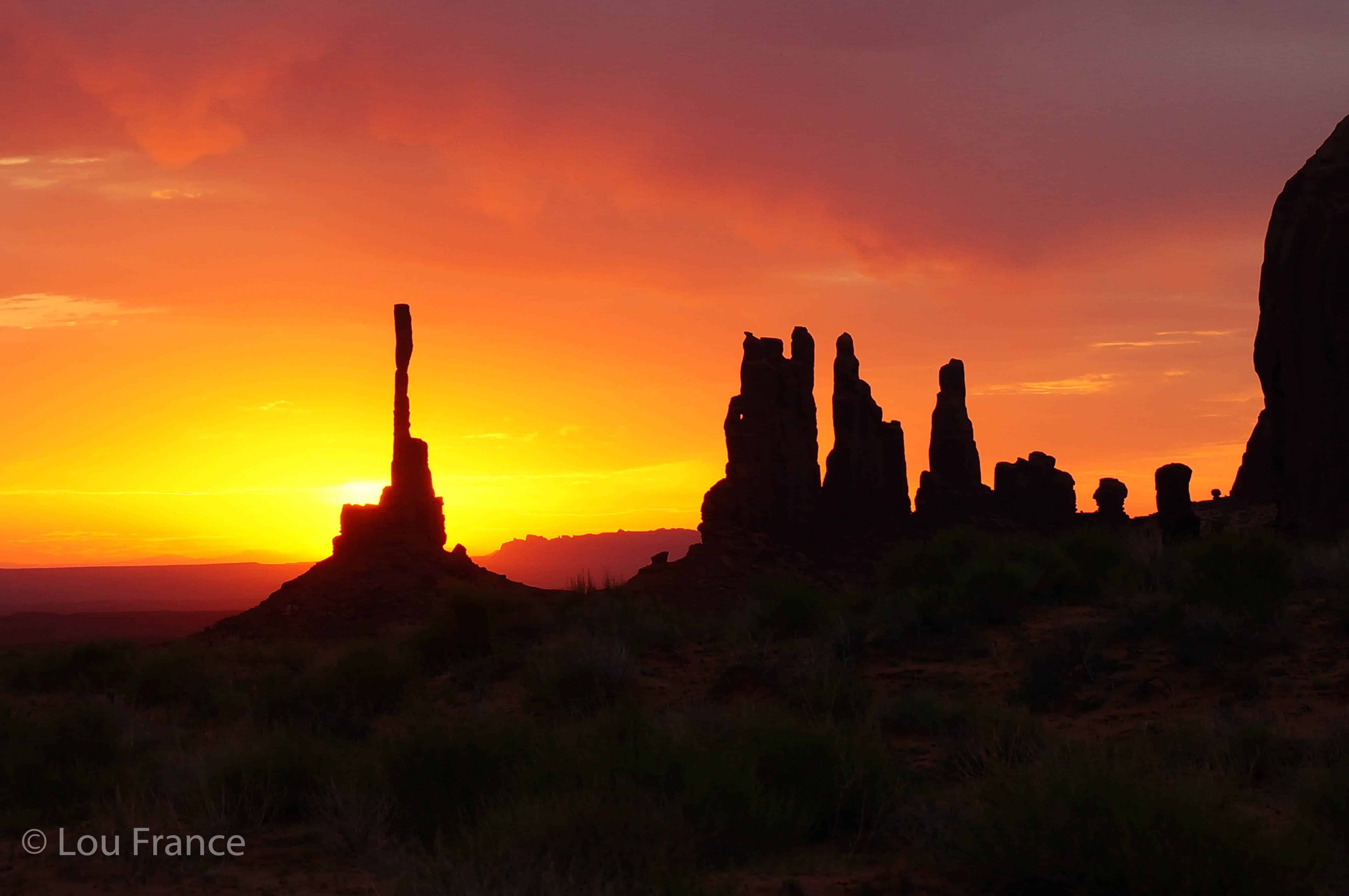 Disclaimer: Some links in this article are affiliate links, which means that if you purchase through them I receive a small commission, at no extra cost to you. This helps cover the cost of running this blog. Thanks for your support!
A Brief Introduction to Monument Valley
The broad term Monument Valley typically refers to the Monument Valley Navajo Tribal Park. It is an area of sandstone buttes on the Colorado Plateau.
Access to the Monument Valley Tribal Park is on US-163, just north of the Utah-Arizona border. The nearest major airport is Flagstaff, Arizona.
Monument Valley is a little out of the way so tourist numbers were typically never too high. However, with the inclusion of Monument Valley in numerous films over the years, visitor numbers have grown.
Monument Valley has featured in classic westerns such as Stagecoach as well as more modern action movies such as Transformers. If you take a tour in the valley your guide will point out which locations have been used for filming.
How to visit Monument Valley – Should I do a tour?
Absolutely yes!
The first time I visited Monument Valley I didn't know about the available tours. I had very little money to spare and just a basic rental car so driving into the valley for a self guided tour wasn't an option (high clearance and 4WD recommended).
I admired the buttes from the viewing points, explored the visitor centre and watched a storm roll by during sunset.
It was an incredible sight which I absolutely loved. However, little did I know that in a few years time I would return to Monument Valley for an overnight tour that would lift this special place to a whole new level.
Below, I describe the kind of experience you can expect to have on one of these tours.
Which Monument Valley Tour to Pick?
There are many tour operators offering a wide variety of tours around Monument Valley. There are tours specifically for sunrise or sunset, some for a few hours and some that last all day.
I will focus on the tour that I believe allows you to see the best Monument Valley sights, as well as providing a unique experience which wouldn't be possible on a self guided visit. That tour is the overnight package.
Tour operators offering an overnight package include: (Click on the tour operator name to visit their site)
What to expect on a Monument Valley Tour
In short you can expect a magical experience that might be your highlight on a trip around the USA.
Yes it's that good!
The exact itinerary will depend on which tour you book but all will include an unforgettable sunset and sunrise, dinner and entertainment and a night camping or sleeping in a traditional hogan.
I have done the Simpson Trailhandler Tour four times with my groups and I believe it is the best way to see Monument Valley.
On the Simpson Trailhandler tour you set off from the visiter centre just a few hours before sunset. Driving along Monument Valley Scenic Drive you visit popular scenic spots such as John Ford's Point, before heading deeper into the park.
The informative local guides tell stories and sing traditional songs as you explore the valley.
"We feasted on a steak taco dinner before enjoying a traditional Pow Wow – a chance to experience Navajo dancing and singing around the campfire".
After fun and games joining in with the dancing, it's time to lay your heads down for the night.
The inclusion is to sleep in a Hogan – the traditional dwelling of Navajo people. However, I always chose to sleep outside under the stars. Deep down in the valley there is little to no light pollution so the night skies are absolutely incredible.
Early in the morning the guides wake you to head off to the totem pole, where you can enjoy a beautiful sunrise. This area is unaccessible unless on a guided tour. A basic breakfast is provided before slowly making your way back out of the valley.
A truly unforgettable experience.
Monument Valley was always a highlight of my North American Tours and is a must on any Utah bucket list.
Read more about the highlights of our epic overland journey from Alaska to Panama, in a converted American school bus called Betsy!
What to pack on an overnight visit in Monument Valley
A small basic overnight bag that will fit in the jeeps, which includes:
Warm clothes for the evening

A warm sleeping bag and matt – in the desert temperatures can plummet to sub zero at night.

Extra batteries and sim card for your camera and/or a power bank for charging whilst you camp. I use a Zendure power bank for my travels as its robust and provides multiple charges for my devices.
The Best Time to Visit Monument Valley
The best time to visit Monument Valley is during the quieter months of Spring or Fall (May and September). During the peak summer months the temperatures are high and the crowds at their most busy.
Useful things to know before you go
Monument valley crosses two state lines – Utah and Arizona.

Tribal Lands don't recognise daylight saving hours. So in the summer months, even though your phone might tell you you are in Arizona on daylight saving time, you'll actually be on Utah time who also don't observe daylight saving time!

Monument Valley is not a National Park of the Southwest so is not covered by the National Parks Pass. Entrance costs $20 per car. This is not included in the tour package.

Don't forget to stop at the Forest Gump Point for that classic photograph. "I was running" (Route 163, 13 miles north of the Arizona-Utah border)

After Monument Valley why not continue north to Moab? You can discover all the awesome things to do in Moab in this post! Alternatively head west and challenge yourself to a Grand Canyon adventure or embark on a road trip around the best national parks on the west coast.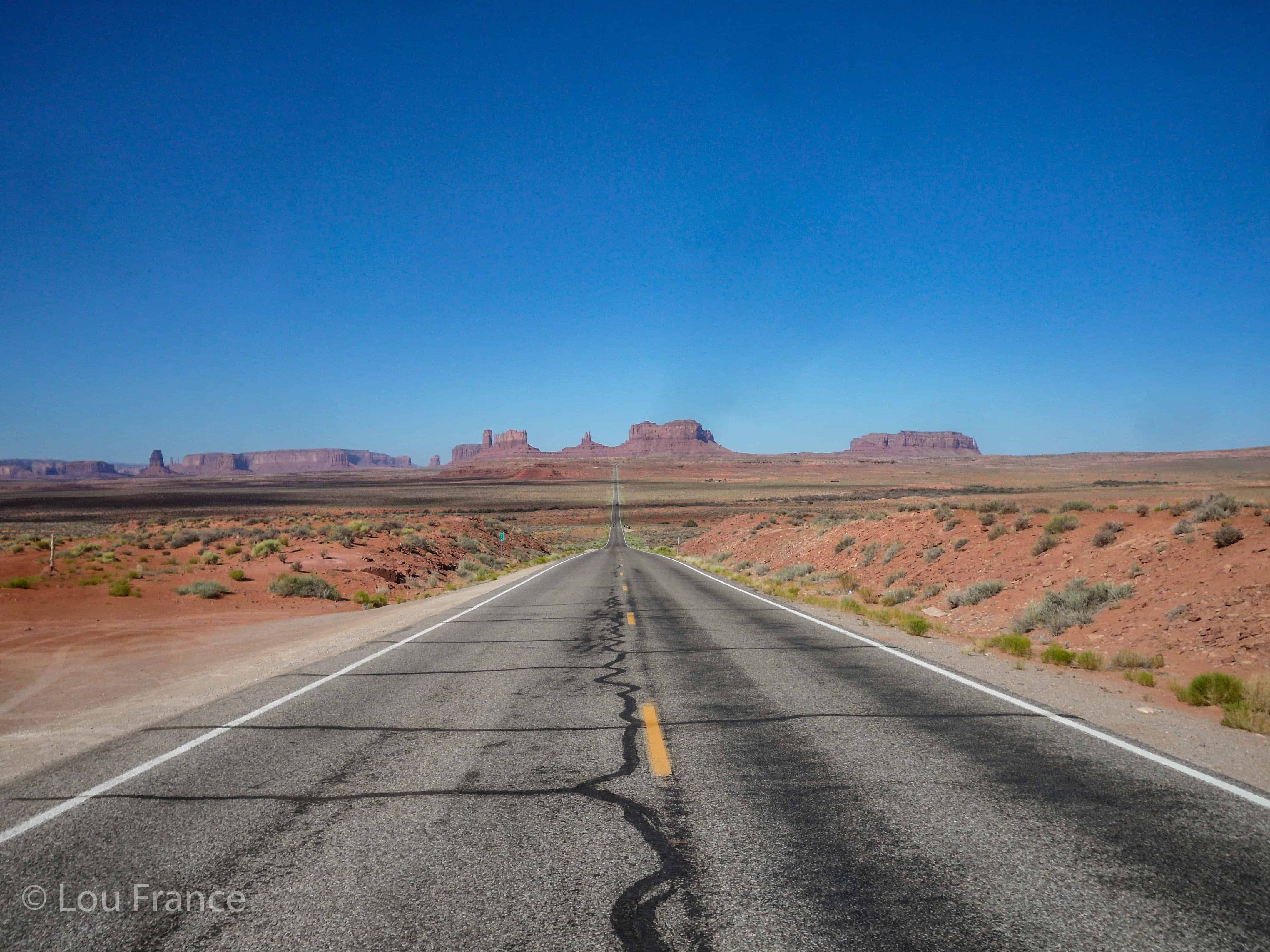 Have you visited Monument Valley? Let me know about your experience in the comments below.
Like it? Pin it for later!
Join my monthly newsletter today!