Mestia is well established as a trekking destination in summer. There are some excellent multi-day treks from village to village or higher wilderness hikes where camping is required.
Skiing in Mestia has also been possible for a number of years, however with the opening of Tetnuldi ski area in 2016 there is a definite move to make Mestia an all year destination for mountain adventures.
Having visited Mestia during a summer trip to Georgia and enjoyed some stunning hiking and hospitality that the Svaneti region is famed for, we returned with our camper van in winter 2022 to explore the skiing options.
It's fair to say that whilst Mestia is a far cry from a ski to door, purpose-built ski holiday destination, it does offer a good range of terrain to explore with excellent modern lifts, coupled with endless possibilities for some wild skiing adventures in the back of beyond.
This is a guide to skiing in Mestia, with accommodation and transfer information included.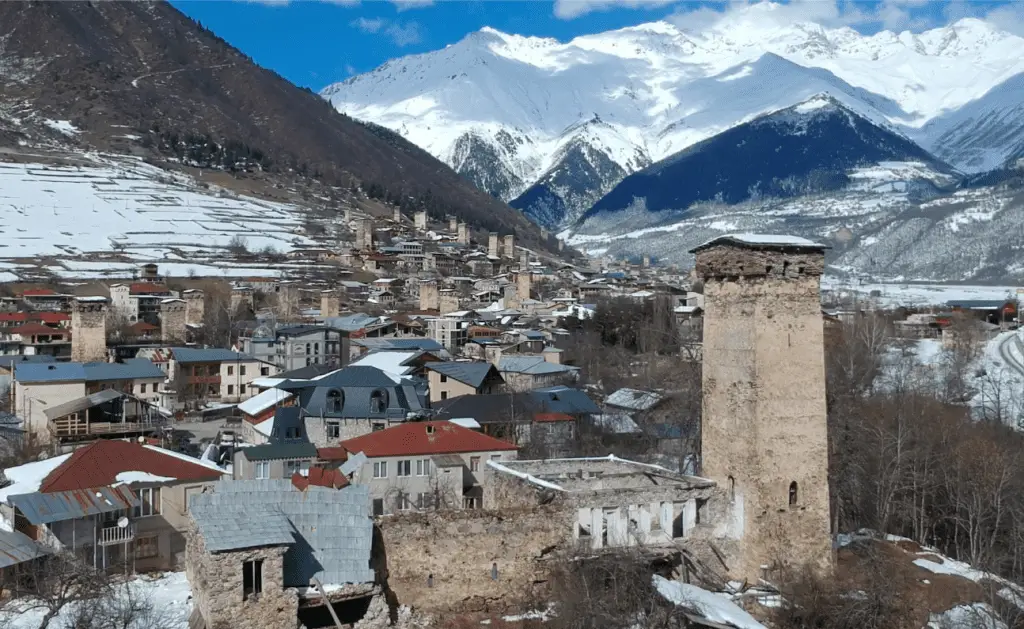 Disclaimer: Some links in this article are affiliate links, which means that if you purchase through them I receive a small commission, at no extra cost to you. This helps cover the cost of running this blog. Thanks for your support!
Where Is Mestia and What Is It Like?
Mestia is located in the Caucasus mountains of north west of Georgia in the region of Svaneti.
The towns and villages of this region are distinguished by their defence towers which are dotted around the towns. They were built originally to protect the household in the case of a local feud or dispute.
Nowadays, many are falling into disrepair or simply used for storage. A few have been converted into funky accommodation or museums.
The scenery in Svaneti is stunning, with pretty villages and towers set against a magnificent mountain backdrop. This landscape creates a great setting for hiking and there are a great many recommended routes on offer.
For the same reason, Ski Touring is fast becoming very popular in the area and with new lift infrastructure comes easier access to more great skiing terrain. With guesthouses and homestays dotted around the villages, it is possible to make multi-day ski tours and get well away from the beaten track.
In terms of lifted access, there are two Mestia ski resorts to choose from:
Hatsvali Ski Area can be accessed by a chairlift from the edge of town or by 4×4.
Tetnuldi is the newly opened ski area which is 15km away from Mestia town and since the road is unpaved, requires a 4×4.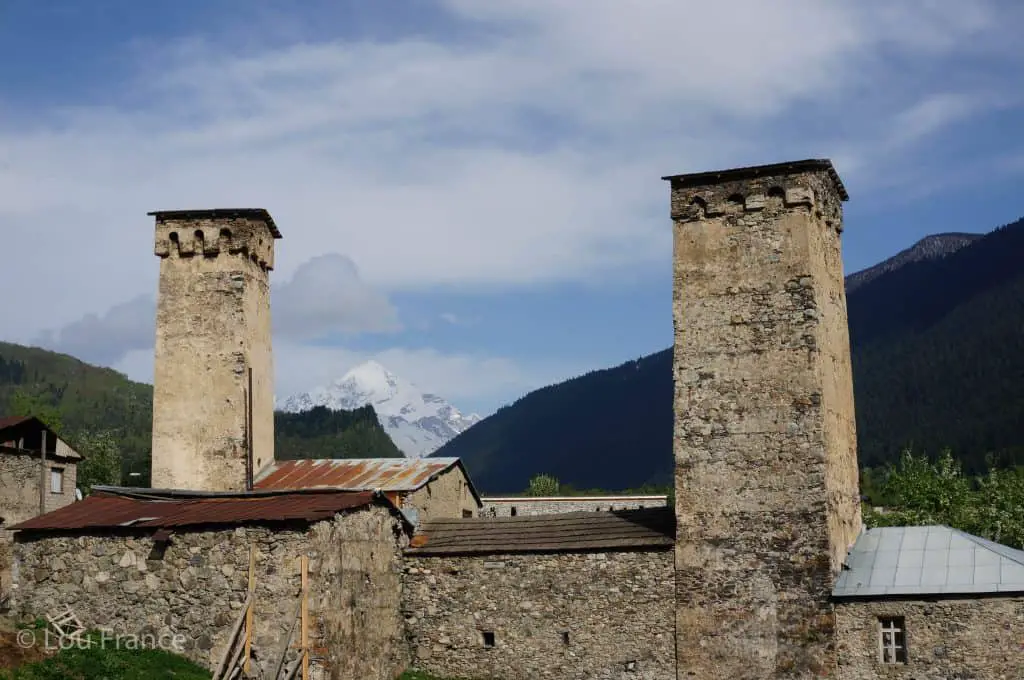 The Ski Resorts In Mestia
Hatsvali Ski Area (1868 – 2348m)
Hatsvali is the original ski hill of Mt Zuruldi, close to Mestia itself. There are 5.5km of slopes available, most of which is serviced by a high quality gondola lift. There are some drag lifts low down but these were not being used while we visited. There is a chairlift which runs from the edge of Mestia itself up to the base of the gondola.
If the conditions allow, experienced skiers can ski from the top of the hill to Mestia itself. Most people I suggest though, would take the lift back down. It's a bit of a hike from the centre of Mestia to the chairlift so you may opt for a taxi if you are staying near the centre of town. It is also possible to drive up to the Gondola station in a 4WD.
All the skiing in Hatsvali is below the tree line, so it's ideal if the weather isn't great or the visibility is poor. There is a nice mountain restaurant at the top of the Gondola with a sunny aspect and top views of Mestia and Mt Ushba. There is a choice of red and blue runs which snake delightful between the trees, back to the base of the gondola. There are also some mellow black runs.
For the adventurous types however, there are some interesting free-ride areas through the trees. If you walk along the ridge to the east of the gondola you can access more free riding. A tree covered bowl filters back to the base, so there are drop in points all along the ridge. 
A day lift pass for Hatsvali costs 40GEL and the season runs from December to April. Lift runs from 10-4.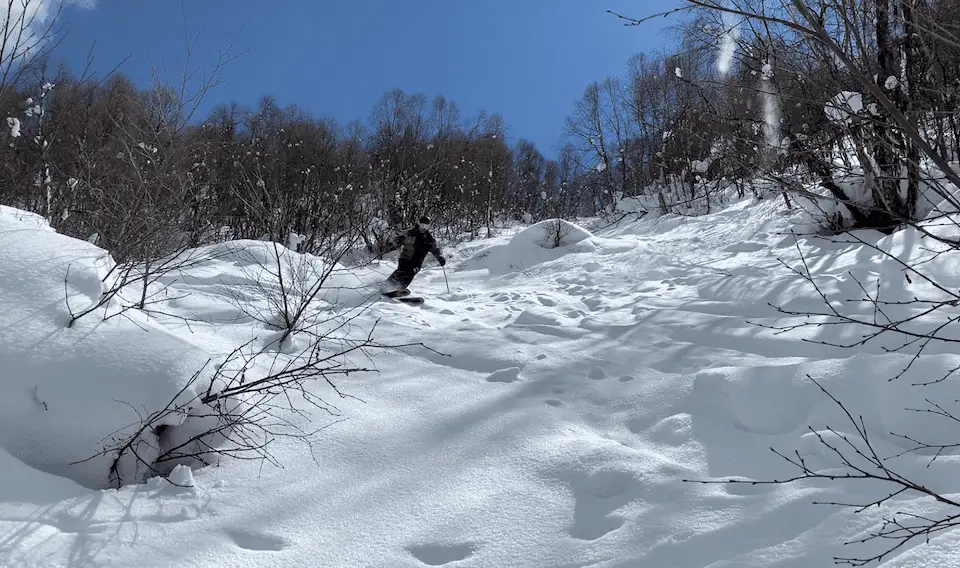 Tetnuldi Ski Area (2265 – 3160m)
Tetnuldi was opened in 2016 and is set to expand further in the future. There are currently 4 chairlifts and a drag lift (not running while we were there). These give access to a very beautiful mountain of mainly easy blue slopes, with a few red and black runs. There are 13.5km of slopes to enjoy.
There are however some good off-piste opportunities alongside the runs and some great free skiing areas accessed from the top station. Tetnuldi really comes to life with the free skiing and ski touring opportunities that are on offer all around the area.
From Tetnuldi it's also possible to ski down the valley to the village of Chvabiani, which would make a great base for some excellent ski touring adventures. There are plans for a lift accessing Tetnuldi from Chvabiani, which would change the dynamic completely and most likely change this stunning medieval village forever. I hope they find a way to protect the integrity of this sleepy old village in a positive way.
Maia Guesthouse and  Guesthouse of Irina are highly rated accommodation options for Chvabiani. However, until a lift is built back up to Tetnuldi you will need a 4×4 to access the lifts. The guesthouses will help you with transfers and as long the snow conditions allow you may get a great run back to the village at the end of the day.
Access to Tetnuldi requires a 4×4, since the road is unpaved and covered in deep snow for most of the winter. A taxi from Mestia will cost $50 to take you there and bring you back at the end of the day. There are shared options available too for $12 pp.
There's a big 4×4 truck which services some of the outlying villages but not Mestia itself.
Be sure to bring ski touring equipment, especially avalanche safety gear to make the most of this amazing destination. There is plenty of sidecountry and backcountry to access from the lift systems and elsewhere.
Tetnuldi is Georgias newest ski resort and future development plans include lift connections to the villages in the valley below, which already offer a host of excellent accommodation options due to the popularity of trekking in the area.
Staying in the Villages such as Chvabiani and around will be a real Georgian village experience.  Great home cooked meals served with delicious local wine. These are ideal options for couples wanting a quiet life, families looking for quality family time or adventurous groups looking for a base in the mountains from which to explore.
A lift day pass for Tetnuldi costs 45 GEL and the season runs from December to April. Lifts operate from 9-5.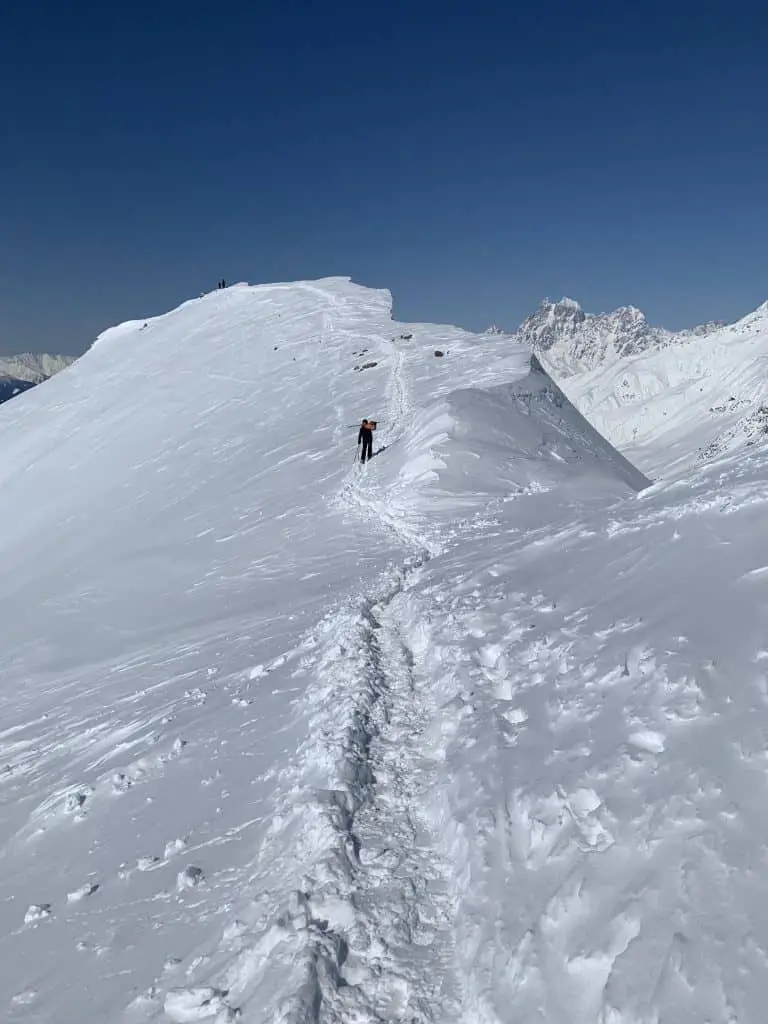 Apres Ski In Mestia
One thing is certain the Georgian food and wine are great, just be careful not to overdose on the Khachapuri (Cheesy bread). Meals may form the core of your apres adventures as there are plenty of new dishes to try out. Not to mention the variety of fabulous wines which you may not have come across before. 
Local dishes to try include Chvishdari which is a type of cornbread, Kubdari which is a meat pie and Tashmijabi which is like mashed potato.
In Mestia itself there is a selection of bars, cafes and restaurants serving typical dishes, beer and local wine. It was very quiet while we were there so I can't say if there's a lively scene but I suspect it's possible if you pick the right night. Here's a selection of potential places to get you started.
For bars in Mestia, try Grannys Bar for its lively atmosphere. Alternatively, Wine and Theatre is a nice wine bar with a more laid back vibe. Cafe Bar Buba is another top bar for good a night out, while the centrally located Cafe Laila is a popular haunt with live music and good food.
Lushnu Qor restaurant has a great beer garden for relaxing in the sun after a day spent on the slopes around Mestia. It's a good place to try Kubdari and the lamb Ojakhuri was also delicious. This became our go to restaurant in Mestia.
There is a spa at Gistola Hotel if you need somewhere to soak your weary bones after a day on the hill.
In the villages around Mestia and further up the valley expect a quieter life. Most Guesthouses will offer half board and often include wine with dinner. This is more of a homely vibe, great for family time and experiencing Georgian hospitality at its best.
If you are looking for something else to do then there are a few museums worth a look. The Svaneti Museum of history and Ethnography is a modern museum offering a good insight into the history of this intriguing area. A more detailed list of things to do in Mestia, see this guide.
Mikhail Khergiani House Museum is a guard tower decorated in traditional decor. It gives a glimpse into the past lifestyle of the people of the area. There's a throne to sit on and you can also climb to the top of the tower to enjoy views over Mestia.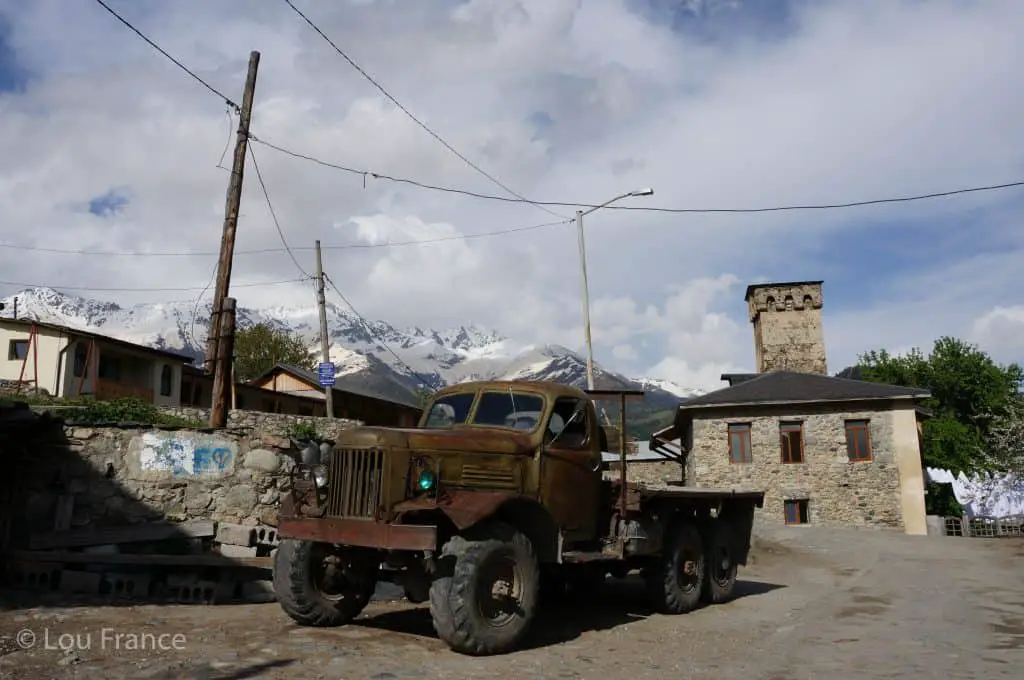 How To Get To Mestia
Flights landing in Tbilisi or Kutaisi will be your most likely route into Georgia. Tbilisi warrants several days for exploring, as does Kutaisi and its surrounding canyons and caves.
To get to Mestia there are a few options.
1. Flight
The easiest option to get to Mestia is to fly as it does have, an albeit small, airport (airstrip). There are 4 flights a week from Tbilisi and 1 from Kutaisi. Vanilla Sky offer these passenger flights to Mestia and you can check their timetable here.
However these are very much dependant on weather conditions.
2. Private car/taxi
The only other way is by road and in winter a 4×4 is highly recommended. A private transfer/taxi  can be organised from Tbilisi and Kutaisi. Private transfers are available to book online with Viator.
Gotrip offer good 4×4 cars with a driver to anywhere in Georgia. Tbilisi to Mestia one way will cost $150-$180 Per car. (2022). Another option is to approach one of the travel agencies un Tbilisi old town and try and negotiate a good deal.
3. Car rental
Self drive car rentals are another good option and can be rented in all the main cities in Georgia. This option offers excellent flexibility to explore Georgia along the way. Consider hiring a 4×4 especially in winter.
In our most recent Winter trip to Georgia we drove to Mestia in our Campervan in March and the road was surprisingly clear of snow. However, in Winter this road can close temporarily due to snow and rockfalls.
The drive up to Mestia takes you from the lowland plains by the Black sea up into the Caucasus on a good but often bumpy, landslide prone road. Unless you fly in this will form the start of your adventure to Mestia. The road follows a gorge which opens up to big mountain views as you start spotting the defence towers in the villages approaching Mestia.
4. Train
It is also possible to take a train from Tbilisi to Zugdidi or Batumi and take a car (with or without driver) or Marshrutka from there, but this will be time consuming. Check the train timetable here.
5. Marshrutka
The cheapest option will be to take a Marshrukta (Local bus/minibus). There is one direct bus from Tbilisi Samgori Bus station at 7am to Mestia, which arrives at 4.30pm (if all goes well). The cost is 40 GEL ($12).
Marshrukta services link up all of Georgia and are a cost effective way to explore the country.
Allbus is a useful site which will allow you to book Marshrukta services in Georgia.  Otherwise you can rock up at the bus station and chance your luck.  For local journeys it is commonplace to wave a marshrutka down along the way.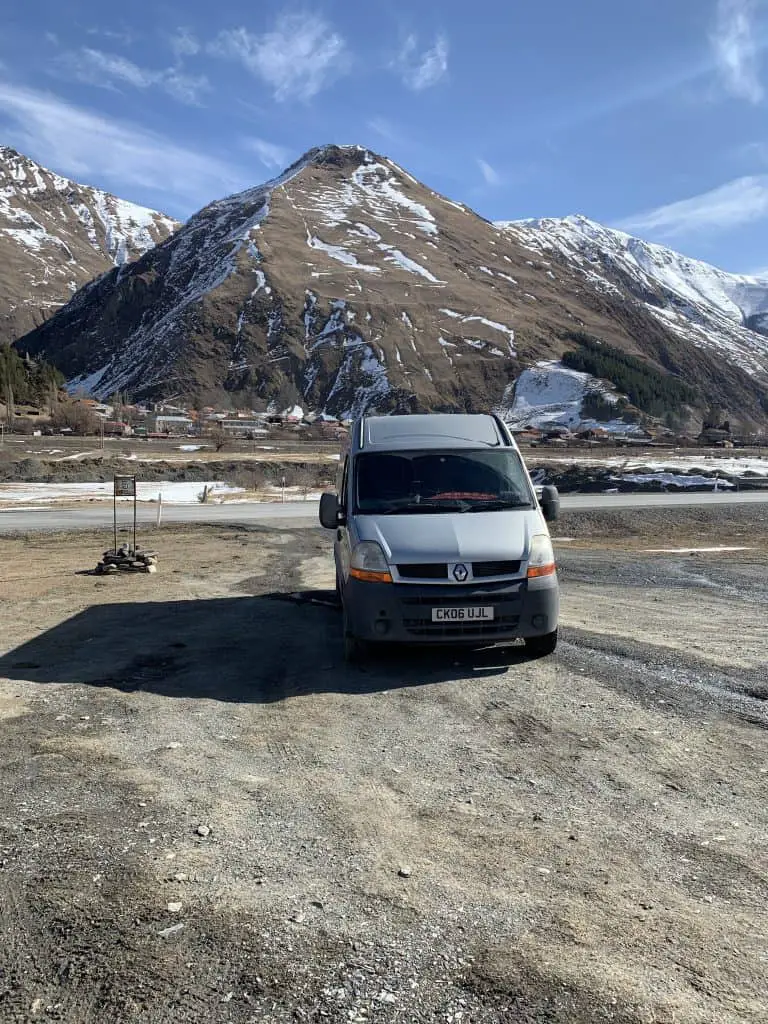 Where To Stay In Mestia
Most of the hotels and guesthouses in Mestia are family run and fairly small. Many are more like home-stays offering home cooked Georgian meals often with local wine included.  Hospitality in Svaneti is well known despite having all those defensive towers.
There are plenty of options for places to stay in and around Mestia itself which won't be too busy in the winter months. Because of the trekking, there are good guesthouses in all the villages around the area too. Most remain open in winter and offer great deals often with meals included.
A couple of the best options in town are Family Hotel Kala and Nino Ratiani's Guesthouse. Nino's is a very sociable place and a top choice if you want to meet other hikers.
For an excellent quality, family self catering chalet, check out Winterfell Mestia. 
For a more boutique, 4 star option try Gistola Hotel which has a spa.
There are plenty of guesthouses in the neighbouring villages too which makes it ideal for hiking from village to village. You can easily get a taxi back too. 
Mestia Trip Ideas
Hire a 4×4 and take a road trip.

 

You can visit several ski hills around Georgia and take in some cultural sites as well. A car will be very useful especially if visiting Bakuriani and Mestia as the ski areas are spread out.
Book into a nice hospitable local guest-house with breakfast included or half board and enjoy some real Georgian home cooking.
Why not join a ski touring course and learn about avalanche safety while getting out into the backcountry.
Go ski touring with a local guide and find the best powder stashes.
Book a multi day ski touring expedition with a local operator and join a group of like minded enthusiasts for the trip of a lifetime. One established operator is Powderhounds.
Mestia to Ushguli is one of the classic trekking routes of the area. This is also offered as a multi-day ski tour staying in mountain huts and guesthouses along the way. 
Make sure you take Avalanche safety equipment as it is more expensive to buy in Georgia.

Here is the safety equipment Nick and I use for our backcountry adventures:

Splash out on a days heli-skiing for that truly unforgettable powder experience. 
For a complete guide to visiting Georgia, take a look at this post.
Skiing In Mestia Summary
There are two very different ski hills to visit in Mestia. Hatsvali is below the tree line and offers a selection of cruisy blue and red runs. There is a small area of free skiing available in a tree-filled bowl. The runs are a little too steep to be completely beginner friendly, so Hatsvali is best suited to intermediate skiers.
At Tetnuldi the groomed runs are very mellow and for that reason maybe suitable for beginners. However, there are much easier ski areas for beginners to access in Georgia, such as Gudauri or Bakuriani. If you want ski to door, groomer cruising with copious amounts of hot wine then these other ski resorts in Georgia will be more suitable.
Tetnuldi really shines for its off-piste/free ride areas and ski touring. For this reason it's actually better suited to more advanced powder hounds. Experienced skiers should go to Mestia prepared for free-skiing or ski touring.
Although recreational skiers will have a great time in the wilderness of Georgia, skiing in Mestia is definitely best suited to the adventurous skier, especially those into ski touring in which case it would be hard to beat. 
A ski trip to Mestia will be more than just a ski holiday. A winter sports adventure awaits, whether on skis, snowboard or even snowshoes. Mestia is surrounded by an unspoilt wilderness just waiting for you to explore.
A car would be useful, for flexibility however if there's a group of you taxis are readily available to get you about.
Did I mention the Georgian wine is pretty good too?