As responsible travellers and hikers we need to make sure that we are taking care of the environments we visit, whilst at the same time taking care of our health. One of the best ways we can do that in 2023, is to invest in a top quality filtered water bottle.
If you're looking to buy your first filtered water bottle for travel or hiking, you might get overwhelmed by the huge choice available. It's easy to become confused by the different filters and technology used.
In this post I simplify the science and filter out (see what I did there?!) the 8 best filter water bottles for travel and hiking in 2023.
Disclaimer: Some links in this article are affiliate links, which means that if you purchase through them I receive a small commission, at no extra cost to you. This helps cover the cost of running this blog. Thanks for your support!
The Best Filtered Water Bottles for Travel and Hiking
No time to read the blurb? No worries, here's the short answer with my top 5 recommendations for filtered water bottles.
Why do we Need Filtered Water bottles?
If you're reading this I'm sure you are already aware of the benefits reusable water bottles. Our use of filtered water bottles has a big impact on the environment, our health and our finances.
Environmental Impact
Water is something we all need to drink plenty of, especially when travelling. However, there's a significant environmental implication involved in obtaining it.
Traditionally when travelling, the easiest way to drink safe, clean water has been to buy single-use plastic water bottles.  Bearing in mind we ought to be drinking 2 litres or more per day, that's an awful lot of plastic bottles.
Fact: In 2017 it was reported that a million plastic bottles are bought around the world every minute! A figure expected to increase by 20% in 2023!
And although these bottles are made from recyclable plastic, our efforts to collect and recycle are failing to keep up. About severn out of ten plastic water bottles will get dumped in landfill, burned or left as litter (Source). Since plastic takes 450 years to decompose, longer in landfill, it's not something we want to promote.
It's all too easy to get into the habit of buying a cold bottle of water direct from the fridge on a hot day, but this is a habit we really need to get out of. Thankfully, there are signs that things are starting to change.
More and more hotels now provide a bulk supply of safe/filtered water, often for free and an increasing amount of travellers carry a refillable water bottle or bladder.
Many hiking areas now have strict policies in place, banning the use of plastic bottles with filtered water becoming more readily available, often for a lower cost than the plastic equivalent.
For example, tea houses and eco-lodges in Nepal are increasingly investing in water filter stations, making it much easier to source safe water.
We can help this positive change by investing in a good quality filtered water bottle.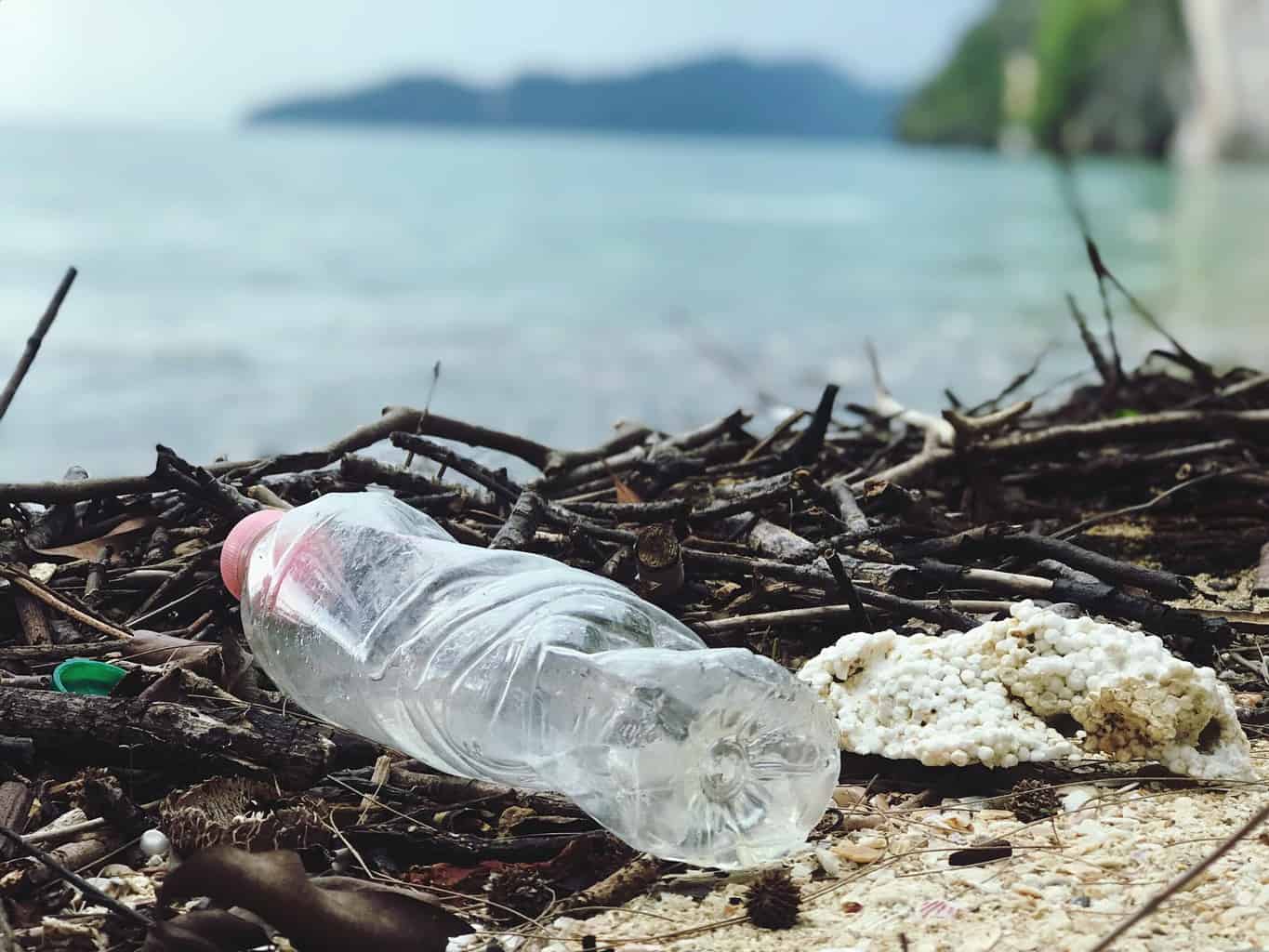 Cost Implications
Why buy lots of overpriced water bottles in airports when you can simply refill a filtered water bottle free from the tap? It's a no-brainer!
Health Reasons
Staying hydrated is vital for good health in everyday life, even more so when travelling and hiking. Drinking filtered water will ensure you are providing your body with all the goodness it needs, without all the nasties.
That could be nasties from heavy metals, bacteria from dodgy tap water or sediments from streams.
Over the years I've suffered my fair share of water borne diseases, as I'm sure most of us have. I'll bet everyone who travels regularly has some pretty gruesome stories to tell on the subject, not all of which are funny. (I'll save the toilet stories for another time!)
Drinking clean water therefore becomes an essential part of safe travelling.
It's also good to remember that drinking uncooled water is not only better for the environment it's also better for your health. Funnily enough, in some instances drinking warm water is actually good for you. (Source)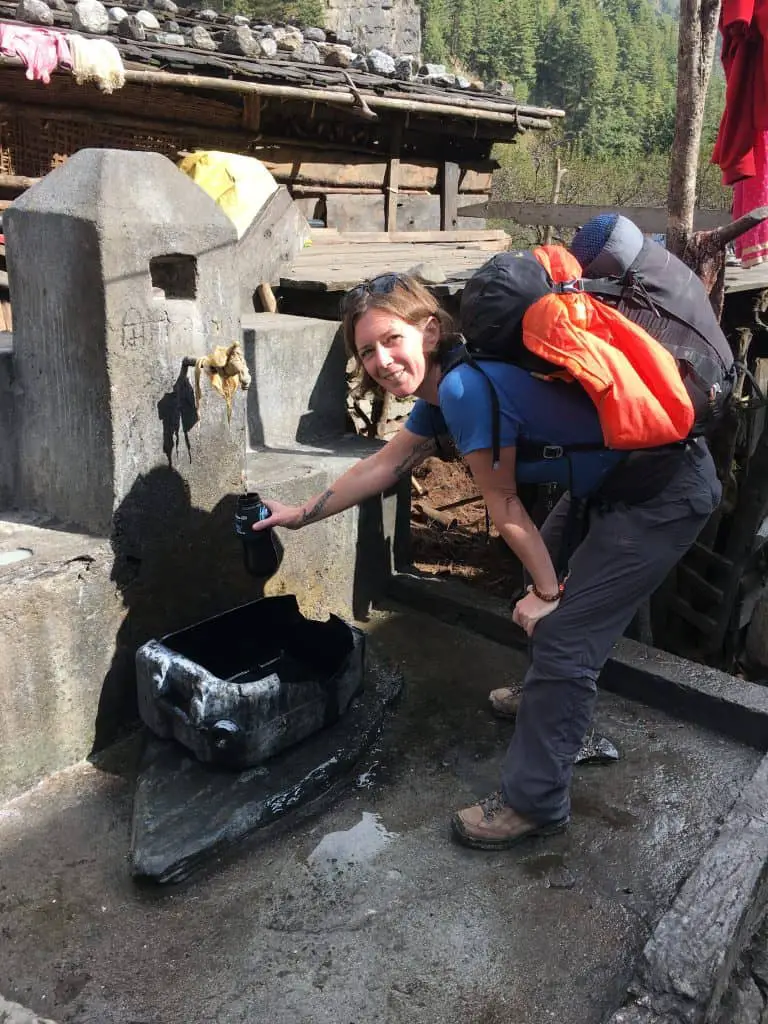 How do Filter Water Bottles Work? 
The Science Bit!
Filters
Water bottles with filters all broadly work along the same lines –  water passes through the filter and water impurities and contaminants are removed. Bottles may use one or more types of filtering systems resulting in them working to a greater or lesser extent.
For example, some bottles may simply remove chlorine and improve taste, whilst others can remove harmful bacterias and viruses.
Filtering systems can work using reverse osmosis, whereby water is forced through a semi-permeable membrane at pressure, ensuring only the small water molecules can pass through. Everything else gets caught in the membrane.  Bottles using this system will remove particles, bacteria and sometimes viruses.
Filtering  systems can also work by absorption, as in the case of carbon filters. In this instance, water flows through the filter and the carbon molecules stick and hold on to any impurities in the water. Carbon filters remove metals and chemicals but are not able to filter out bacteria or viruses.
UV light
There are a few products out now which zap any nasties in the water, namely bacteria and viruses, using UV light. This is relatively new technology and there are some interesting products available.
The benefits of these are that they are cheap to operate, since no filters are required. It's also handy if you're the kind of traveller who might forget to bring extra water bottle filters with them!
The downside is that these types of bottles won't filter out sediments and minerals found in mountain streams. It also doesn't remove heavy metals or chemicals.
Also there is an environmental implication in the fact that they use  batteries, which are notoriously difficult to recycle.
This treatment is best used when you just want to ensure tap water is safe to drink and you're not too worried about heavy metals or sediment. Since they require power, they're best used on trips where power issues won't be a problem. They are great for campervan or car-camping trips but not so great for wild camping/backpacking.
For hiking or backpacking trips where you are in the wild, a filter would be more suitable, or a combination of simple filter and UV light.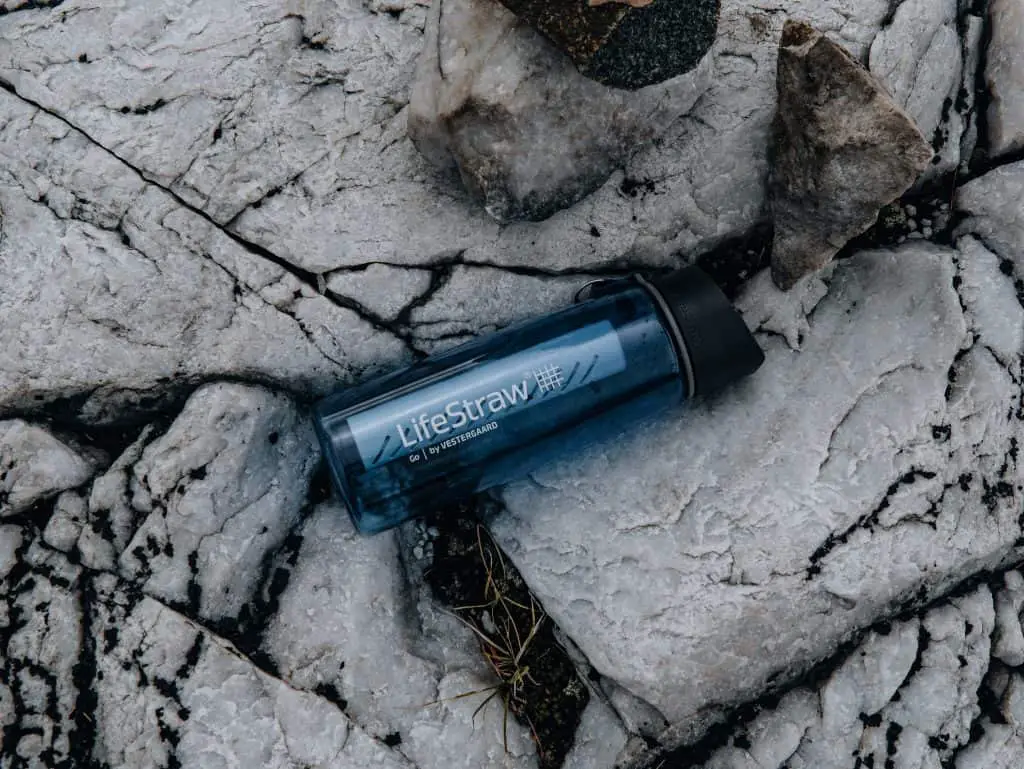 Heading on a car camping trip? Don't forget your free downloadable car camping packing list!
Buying Considerations – Which Filtering Water Bottle is the Best?
So now you know the science, how do you decide which type of filtering water bottle is right for you? There are a few things to take into consideration.
Budget
Bottles that use a combination of filtering systems to get rid of all the nasties will typically be higher in price.
Material
What type of material do you prefer to drink from? A lot of water bottles are made from hard plastics but perhaps you prefer to drink from stainless steel or even glass?
The type of material used will also have an impact on weight, which might be very important if you plan on doing long distance hikes for example.
Type of Use and Protection Level
What is your intended use? If you plan to travel in developed countries drinking mainly tap water, you might want a different bottle compared to planning a backpacking trip around India.
If you plan to hike high-up in the Himalayas you may want a different bottle compared to hiking in the lowlands, closer to human inhabited lands.
If you plan to camp, you'll need a bottle that doesn't rely on a suction straw but if you're staying in hotels these would work fine.
Is flow rate (how fast the water comes out) important to you? This is typically more of a consideration for hiking rather than travelling.
Once you've determined your water bottle needs, you can then decide which water bottle with filter will be best for you.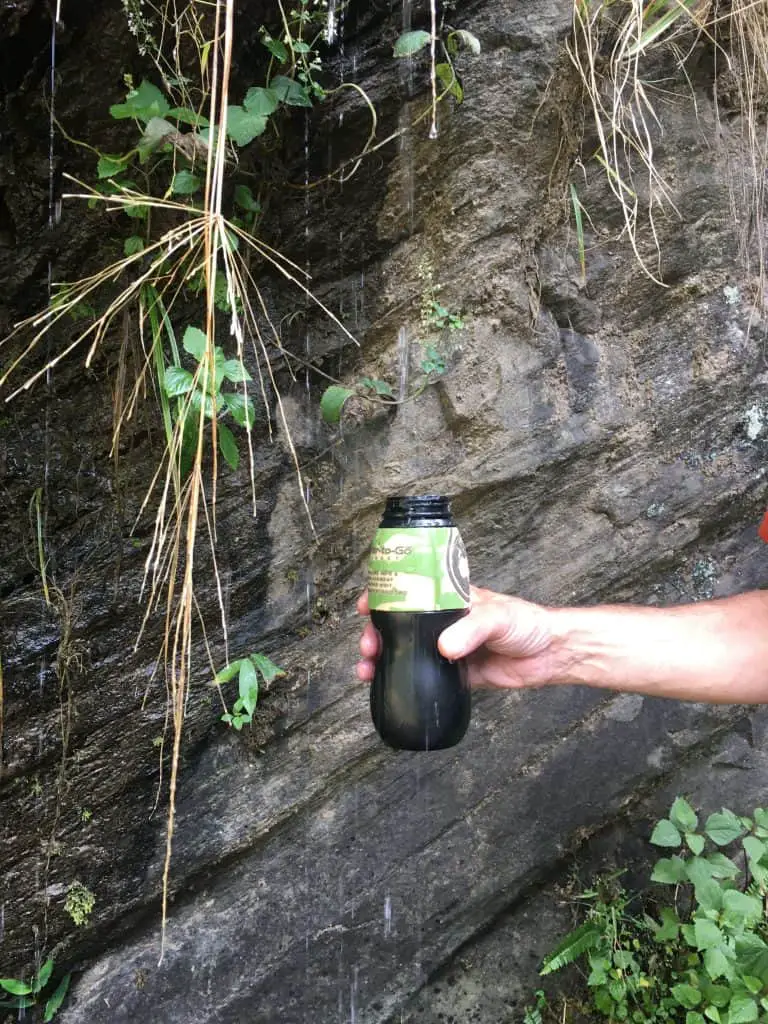 8 of the Best Filtered Water Bottles
Flip your mobile to see the whole table in all its glory!
| | | | | | | | |
| --- | --- | --- | --- | --- | --- | --- | --- |
| Bottle | Protection Level | Size | Weight | Flow Rate | Filter Life | Material | Price |
| Grayl Geopress | Eliminates everything | 710ml | 450g | Fast | 250l | Plastic | $$$ |
| Lifesaver 4000 UF | Eliminates everything | 750ml | 635g | Fast | 4000l | Plastic | $$$ |
| Water-to-go bottle | Eliminates everything | 750ml | 138g | Slow | 200l | Plastic | $ |
| LifeStraw | Everything except viruses | 650ml | 221g | Slow | 4000l & 100l | Plastic | $ |
| Larq | Bacteria & viruses | 710ml | 382g | Fast | Forever | Stainless Steel | $$$ |
| Grayl UltraPress | Eliminates everything | 473ml | 309g | Fast | 150l | Plastic | $$ |
| Sawyer PointOne Squeeze | Bacteria & sediments | Whatever it's attached to | 85g | Fast | Forever | Plastic | $ |
| Epic Escape | Dependant on filter choice | 700ml | 680g | Slow | 285l | Glass | $ |
The Nitty Gritty Details
1. Grayl Geopress – Best Overall Water Bottle For Travel
If you need a water bottle that will keep you safe no matter where you go, then this is the bottle for you.
This bottle works along the same lines as a coffee press. Simply scoop the dirty water into the bottle, then plunge through the water with the purifying cartridge. What's left in the bottle is 710ml (24oz) of perfectly safe drinking water.
The Geopress removes bacteria, viruses, chemicals and metals from the water. So it basically removes everything bad!
The press action takes 8 seconds and then the water can be drunk or stored for later. The water flows freely since there's no annoying straw to suck through.
One filter cartridge lasts 350 presses which is equivalent to 250litres (65 gallons) of water.
The only real downside is the initial cost and the cost of the cartridges at £20 ($30USD) 
2. Lifesaver 4000UF – Best If Money Is No Object
This is the behemoth! The Lifesaver 4000 works in the same way as the Grayl Geopress to eliminate all nasties – just fill, pump and drink. However, the filter on the Lifesaver lasts a whopping 4000litres! (There is a 6000litre version too!)  And once the filter is done it automatically shuts off to prevent you from accidentally swallowing any polluted water. Pretty clever stuff!
The bottle holds 750ml (25oz) of water which is bigger than the Geopress, is made from hard BPS and BPA free plastic and is clear so you can see how much water is left.
So what's the downside for all this impressive wizardry? Well the price-tag of course! Although in 2023, the Lifesaver has come down in price and now matches the Geopress, the replacement filters cost almost half as much as the bottle itself. Ouch. However, the filters do last 16 times as longer than the Geopress so that probably justifies the cost.
So if you want the best of the best and you're happy to part with your hard earned cash, then go for this one. Just make sure you don't leave it behind somewhere or you'll be kicking yourself for a long time!
3. Water-t-go Bottle – Best Budget Water Bottle With Filter For Travel or Hiking 
The filters in a Water-to-go bottle are based on technology developed by NASA. Very cool! These bottles use 3 types of filtration to wean out 99.9% of nasties, including bacteria, viruses, metals and chemicals.
The bottles are made from BPA-free plastics and the filters themselves are recyclable which is an extra bonus point from the eco-friendly camp. It holds 750ml (25oz) of water and the filter lasts for 200litres (44 gallons).
Once the water starts to taste a little off, then it's time to change the filter.
I relied on this water bottle when travelling around Pakistan, India and Nepal for 5 months and I didn't get sick once. Not once! I guess that in itself is a pretty good recommendation! (well that and the fact that I wash my hands a lot when travelling!)
My biggest annoyance with the older style of Water-to-go bottle was the stumpy design, which made it hard to fit in the backpack bottle holder. Also, the straw was quite hard to suck through and the bottle was too hard to squeeze. (This is a common complaint for most straw-based filters).
However, they listened to feedback and now have a 75cl bottle which is squeezable to improve flow rate, translucent so you know when to refill it and has a more slimline design to better fit in backpacks. These improvements and the lighter price tag easily make it a top contender for the best in class and certainly the best budget option.
I purchased this bottle several years ago and much prefer it to its bulkier, older brother! They currently have a promotion which means you get a free filter with every purchase of their 60cl Active Bottle. Click here to see the promotion.
4. LifeStraw Go 2-Stage – Best Company Ethics
The LifeStraw Go again works by using suction through filters contained in a straw. LifeStraw has a 2 filter system. The membrane microfilter removes bacteria, parasites and microplastics and lasts for 4000litres. The carbon filter reduces chemicals, chlorine and bad odours and lasts for 100litres.
One mega thumbs-up about LifeStraw is that for every product you buy, a child in a developing country is provided with clean drinking water for one year.
The bottle is light, holds 650ml of water in see-through plastic and has a handy carabiner hook. It's also reasonably priced.
The biggest downside is that the bottle doesn't filter out viruses. It was so close to being perfect! (shakes fist in the air!). However, if virus protection isn't a big deal for you then the LifeStraw Go is worth considering.
LifeStraw offer several other products worth mentioning. Two of these include the LifeStraw Universal Adaptor Straw which turns your normal water bottle into a filter water bottle, and the LifeStraw Personal which is just a straw that allows you to drink straight out of rivers or ponds. Seriously badass! 
5. Larq Insulated Self Cleaning Stainless Steel Water Bottle – Best For Travel In Developed Countries (and if you want a stainless steel bottle)
Do you want a water bottle that will clean itself? Then this, my fellow lazy traveller, is the best water bottle for you!
Have you ever left your water bottle for a while and then rediscovered it just in time to realise it stinks to high heaven? Well, you won't get that problem with the clever technology in this Larq bottle.
The Larq self-cleaning bottle uses UV technology to eradicate odour-causing bacteria and viruses. After pushing the button it takes just 60 seconds to cleanse the water and then it intelligently activates every 2 hours to keep itself clean.
The Larq double insulated bottle stays cold for 24 hours and hot for 12 hours. Perfect for long, hot bus rides. The Larq is easily the best insulated water bottle for travel.
The battery is also pretty impressive on this bottle, as it will provide you with self-cleaning goodness for 1 month between charges. And there are no filters to worry about or any costs in the upkeep as the UV technology should last you for life.
The major downside of the Larq is the price-tag, along with the fact that it doesn't remove heavy metals, chemicals or sediments found in streams. So it's not ideal for hiking, but a great option for travelling in countries where the water is probably ok, but you just want to be sure.
6. Grayl UltraPress – Best Water Bottle For Hiking
I'm not an ambassador for Grayl I promise, but their combination of comprehensive protection level, ease of use, flow rate and price-tag makes them top contenders for travel and hiking filtered water bottles.
The Grayl UltraPress works in the same way as the Geopress, except it's smaller, lighter and cheaper. The Grayl UltraPress is over 100g lighter than the Geopress and slightly smaller too, with a 473ml (16oz) capacity.
These features make it ideal for hiking in conditions where you know you can refill your water regularly. For desert conditions where you need a large capacity container, I suggest the Sayer PointOne Squeeze (See below).
The only downside for this bottle I guess is that it's small and only holds 473ml (16oz) of water. It's a double edged sword….
7. Sawyer PointOne Squeeze – Best Water Bottle For Backcountry Hiking and Camping
Ok you got me!
This technically isn't a water bottle. It's a filter that can turn your water bottle, the included pouch or your water bladder, into a filtration system.
So why does it make the list? This is very handy for backcountry hiking, since it means you can drink through your bladder whilst hiking in the day, then squeeze freshly collected water into your pot for cooking at night.
You aren't limited by the water bottle size, so can carry whatever size water container that you want.
It also has a good flow rate which is what you want when you're exercising hard. This pack comes with a syringe to clean the filter, so if you treat it nice it can potentially last forever. No need to constantly buy new filters which is a massive plus!
The biggest downside is that it doesn't filter out heavy metals, chemicals or viruses. So perhaps it's not the best for general travel but this isn't an issue for wild camping where the focus is on nasty bacteria.
8. Escape – Best Water Bottle Made From Glass
The final entry onto this best-of list is the Escape glass filtered water bottle. If you read the part at the beginning of this article which talks but the horror of this plastic age, you might be disappointed to note that nearly all of the bottles on this list are made from this devilish product.
So for anyone who is completely anti-plastic and much prefers to drink from glass like we did when I was a kid, then I suggest the Escape water bottle. This bottle comes with two filters. One for urban use to remove tap water contaminants and one for outdoor use which removes bacteria and protozoas.
The bottle holds 700ml (24oz) of water and the filter life is 285 litres (75gallons).
The biggest downside is that you have to switch between filters depending on your usage and that it's made from glass! I'm sorry but for most types of travelling and hiking you would expect a water bottle to get bashed around a bit. It's also the heaviest water bottle on this list.
However, the glass bottle does now come with a Nalgene sleeve for protection. Also, if you live in the US you can get replacement bottles for a discounted price, as long as the filter and cap aren't damaged.
Summary
As travellers and hikers we need to ensure we take care of our health and our environment when we're out exploring. One of the easiest ways we can do that is through investing a top quality filter water bottle.
In this post I've explored 8 of the leading filtered water bottles on the market and put forward the ones I think are the best. Which bottle you choose will ultimately depend on your priorities for material, price, intended use and protection level.
Like it? Pin it for later!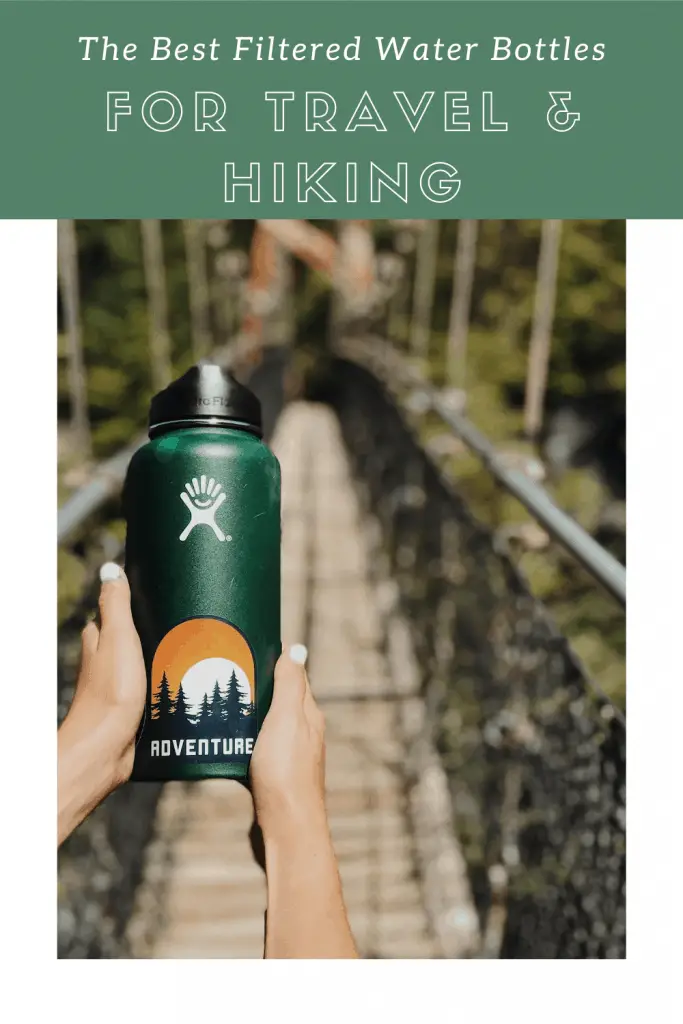 Join my newsletter today!