Cappadocia is a semi-arid region of Central Turkey famed for it's distinctive rock formations. Commonly known as Fairy Chimneys, these incredulous rock and earth towers are the result of millions of years of weathering and erosion.
For a long time this pretty region of Turkey has grown in popularity with tourists and is now a must-visit for any trip to Turkey. On my overland tours through Turkey I visited Cappadocia several times and it was always a pleasure to return. In the main town of Goreme there is a great laid back atmosphere and a huge range of activities to choose from.
This is a complete 3 day Cappadocia Itinerary designed to include the best sights and activities this amazing place has to offer.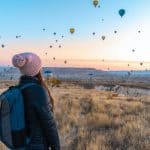 Disclaimer: Some links in this article are affiliate links, which means that if you purchase through them I receive a small commission, at no extra cost to you. This helps cover the cost of running this blog. Thanks for your support!
Things To Do In Cappadocia
The geology around Cappadocia is very unique and there are a whole range of activities to enjoy. For this reason I would recommend spending at least 3 days in the region, longer if you love the outdoors.
Typical activities to enjoy in Cappadocia include:
Hiking
Souvenir shopping
Staying in a cave hotel
Taking lots of epic photos!
During a trip to Cappadocia the best place to stay is in Goreme, where there is a wide range of accommodation options.
If you plan on visiting Cappadocia in Winter, take a look at this guide!
Cappadocia Itinerary
Day 1
Hot air ballooning
There's no time for a lie in today as it's time to take to the skies and appreciate Cappadocia from above. The best way to do this is on a sunrise hot air balloon ride.
This is probably what put Cappadocia on the tourist map. I'm sure you've seen photos on Instagram of hundreds of balloons at sunrise, floating over the fairy towers. It's truly an incredible experience and in my option the best thing to do in Cappadocia. However, the secret is very much out and balloon spaces are becoming more of a premium.
If you're planning a trip to Cappadocia I strongly recommend you book yourself on a balloon ride at least one month in advance (if you're planning on going during the peak summer months). Another good reason for spending 3 or 4 days in Cappadocia is to allow for flights getting cancelled due to bad weather. If the flight doesn't happen today you still have 2 more chances!
There are many ballooning companies bidding for business in Goreme with prices from around 150 Euros, though this does fluctuate. Flights typically last around 1 hour and you can expect to share a basket with up to 20 people.
I've personally used Whoop Whoop Travel agency for reserving balloon flights, so can highly recommend them if you want to book through a local agent one you arrive. However, to avoid dissapointment I recommend booking in advance, especially during busy summer months.
You can book in advance here or use the booking form below.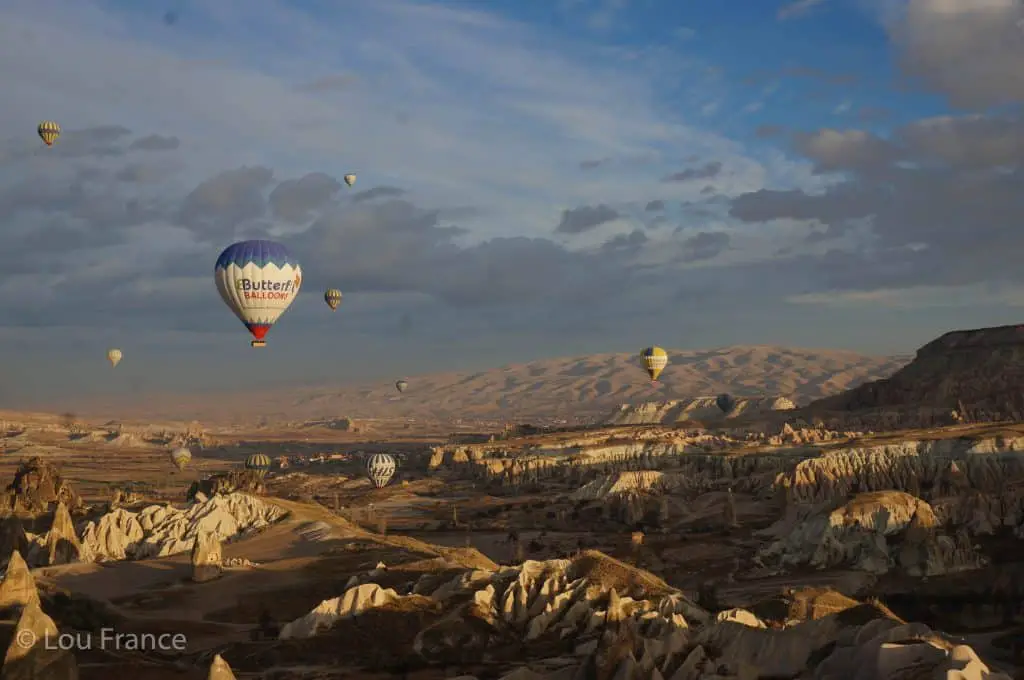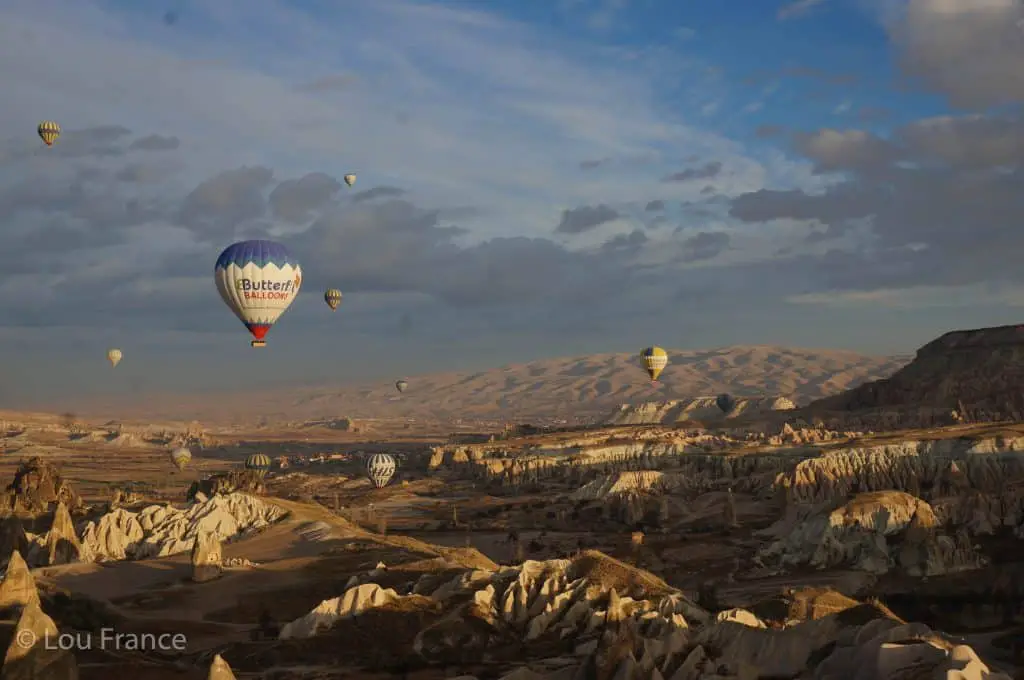 Carpet shopping
After the thrill of hot air ballooning you might want a little down time to simply wander the shops around Göreme. Göreme is home to some of the best carpet shops in Turkey.
Located on Muze Caddesi, Sultan Carpets has a wide range of beautiful hand made carpets. Not in the market to buy? No problem, just pop in and say hi!  Ali, the charming owner will be happy to talk all things carpets and show off his latest purchases.
Sultan Carpets have some incredible photos of their beautiful carpet filled back room, which you can check out on Instagram. For a small fee (10 Euros) you can stage your own Insta shoot there too!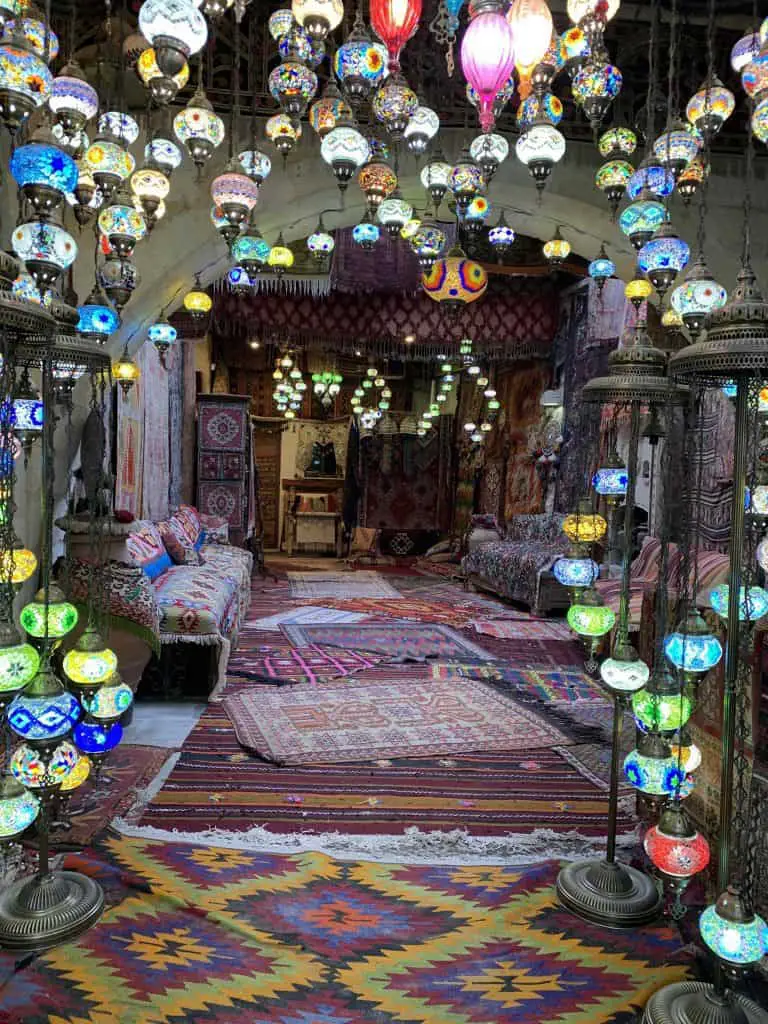 Indulge in some Delicious Turkish Food
After an action packed morning sit back and relax with some yummy Turkish cuisine. The local speciality is a Pottery Kebab, (also know as a Testi Kebab) which is a sort of meat stew, served in a clay pot. Honestly you won't be disappointed!
For an introduction to Turkish Cuisine take a look at this post!
For good food with a laid back outdoor terrace atmosphere, try Fat Boys. For dinner in a more unique location, try the Organic Cave Kitchen. This restaurant is located in a huge rock just below Göreme Sunset Hill and the terrace offers beautiful views over the town.
Quad Biking
After lunch it's time for another adrenaline fix in the form of a quad bike/ATV tour.
There are a few quad biking tour options, from 2 hours to full day. I opted for the 2 hour sunset tour and it was a nice break from the bus tours and hiking.
We used Cappadocia ATV tours where the guide was just a person to show us the way, rather than a guide to talk about the area. I was happy with that but if you would prefer more actual guiding then I would chose a different company.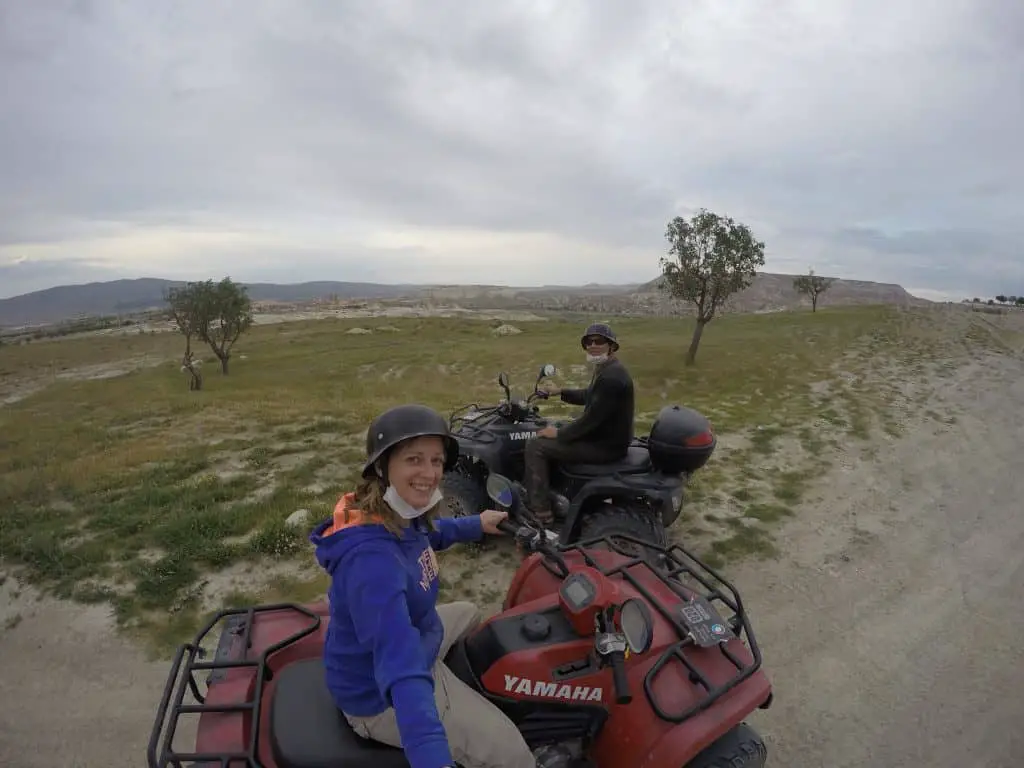 If you prefer horses rather than horsepower, a good alternative to seeing more of the area is on a horseback. You can choose from 2 or 4 hour rides, with prices ranging from 45-85 euros. This 2 hour tour provides all the equipment you need and is a great Cappadocia horseback experience.
The horseback and quad biking tours explore Swords Valley, Meskendir Valley, Rose Valley and Love Valley. These are all Cappadocia must sees.
Related Reading
The best Turkish cities to add to your itinerary
Day 2
Green Tour
There are no shortage of tours available in Göreme (red tour, blue tour) and the surrounding area, but the best bang for your buck is the Green Tour. If you don't have access to a car then this is the best tour to pick as you visit sights that are difficult to reach on public transport.
On the Green tour you will visit many of the top places to see in Cappadocia such as Derinkuyu Underground City, Ihlara Valley, Selime Monastery and the Göreme panorama viewpoint.
It's a full day and lunch is included.
If you want to plan your own road trip through Turkey, take a look at this post!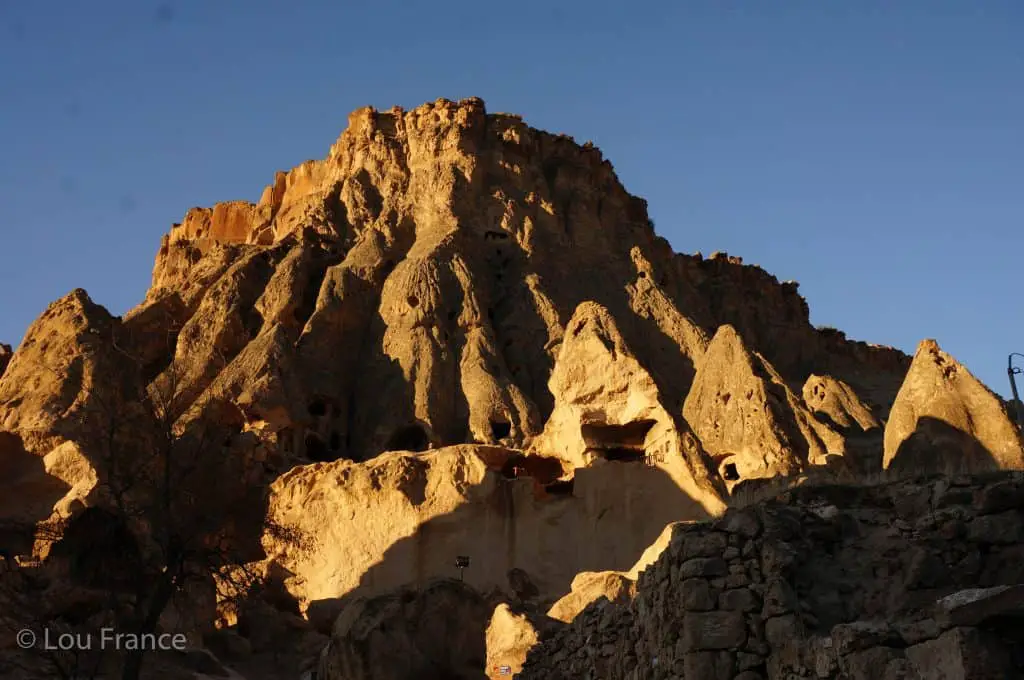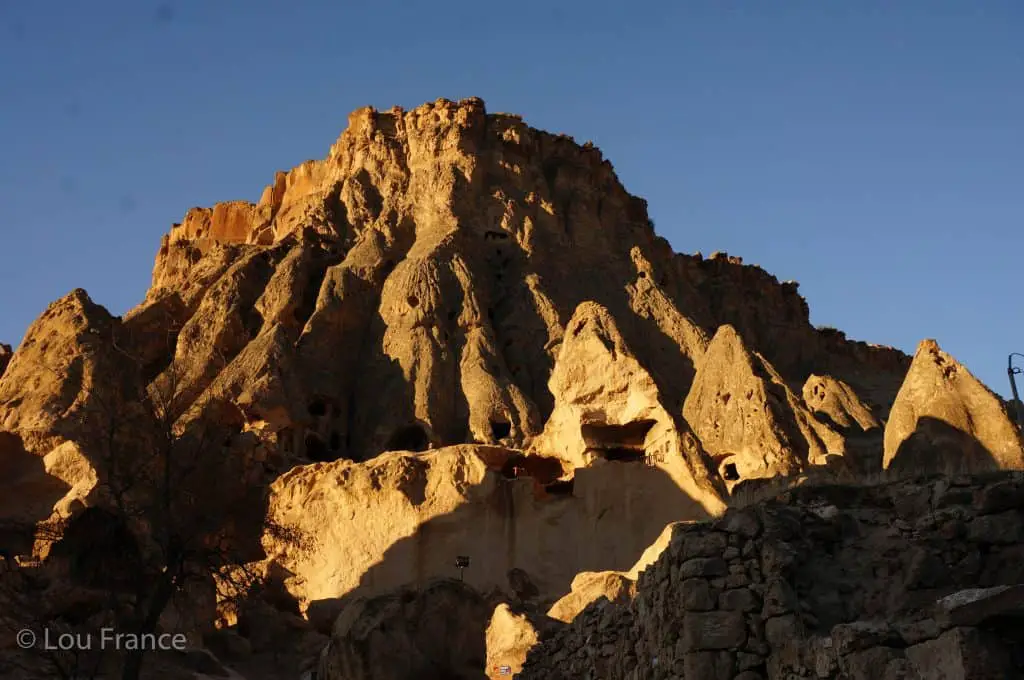 Turkish Night
If you don't take life too seriously and are up for a bit of a laugh you should definitely attend a Turkish Night! This cultural show involves a variety of dances and includes a 3 course dinner and (very importantly) all you can drink! In an otherwise quiet region, this is a fun thing to do in Cappadocia at night.
For more information on venues and prices click here.
Day 3
If you can drag yourself out of bed after the Turkish night (sore head anyone?!), I strongly recommend venturing up to sunrise point. Watching the hot air balloons take flight from this view point is a very magical way to start the day and a top thing to do in Cappadocia!
Be sure to arrive 10 minutes before sunrise to get a good spot.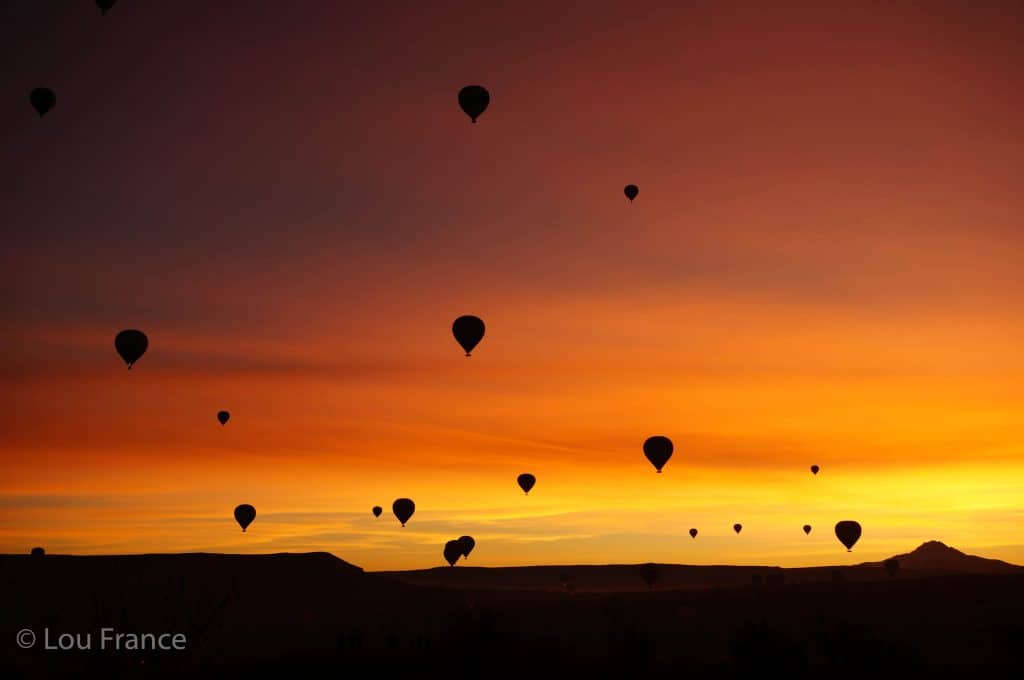 Goreme Hiking
For the rest of your third day, I suggest exploring the region on foot. Göreme is surrounded by beautiful landscapes in all directions so it's not hard to find an enjoyable hike, however Pigeon Valley is probably my favourite.
Don't forget to wear sturdy shoes and take plenty of water!
Uçhisar Castle and Pigeon Valley Hike
This hike is around 3km one way. By taking the bus out of town you can then hike all the way back to your hotel/campsite.
Take the bus destined for Nevşehir from the bus station in Göreme town centre. The bus will take you up out of Göreme and you'll want to get off at the stop for Uçhisar Castle. You can tell the driver when you get on and he will let you know.
Once off the bus, wander down the side alleys towards the castle. It's not a castle as you might know it – it looks like a mountain with some windows cut into it. For an entrance fee you have the option to enter the castle and head to the top for some stunning views of the region.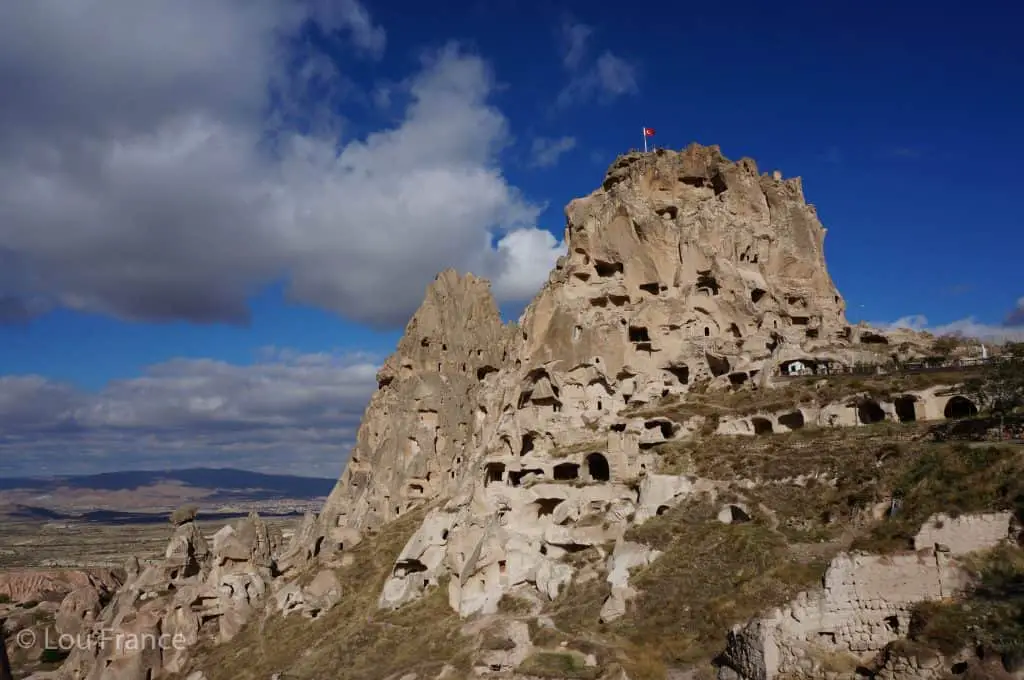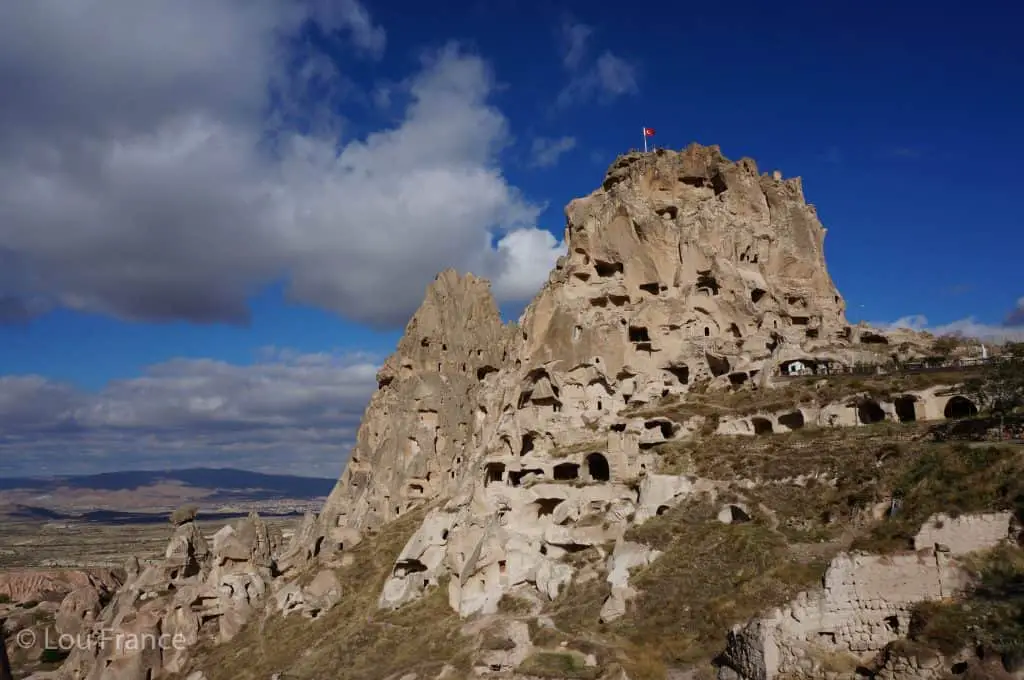 Following your visit to the castle you can follow the path down into Pigeon valley. The trail is marked on maps.me. Approximately half the way into the hike the path will split. Follow the signs that direct you to the left and up out of the valley.
If you ignore the signs and head straight on you will come to a dead end, though it does provide nice view of the valley. The vıew point is marked Pigeon Valley view on maps.me.
After climbing out of the valley and hiking around the rim you will drop back down into the valley once more. The trail from here to Göreme is obvious. There are several cafes along the way where you can stop for a çay break.
The trail becomes more of a dirt road before then becoming tarmac. Follow this road into town and you'll end up near to where you started, opposite the bus station.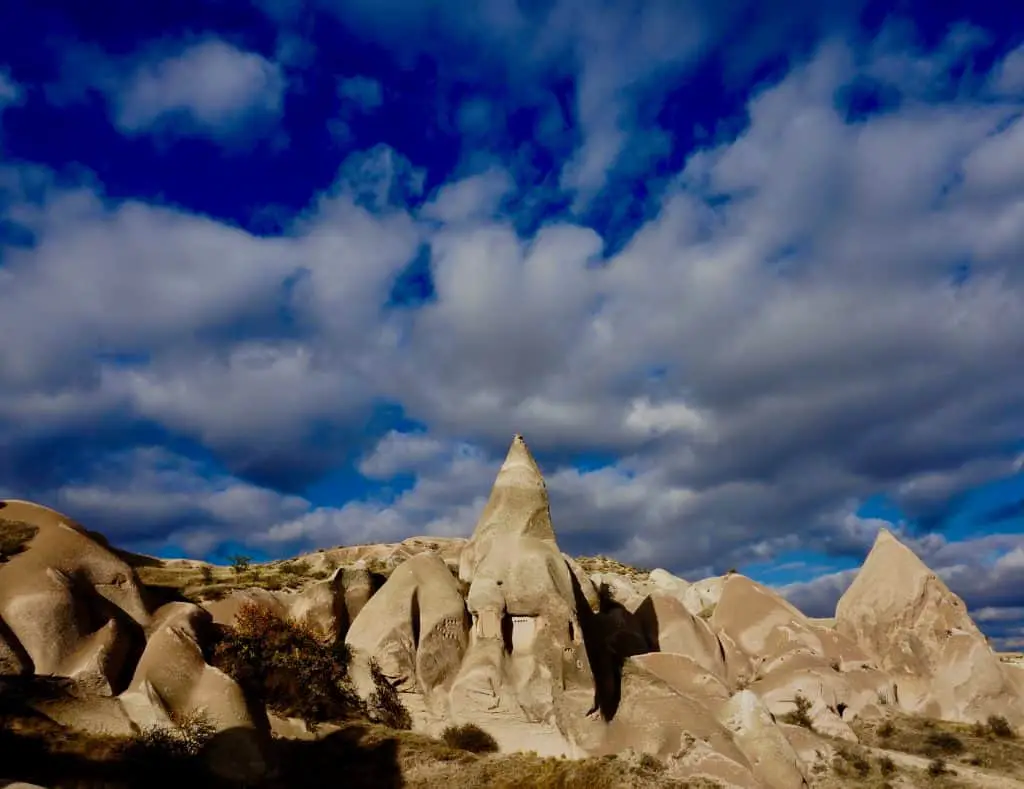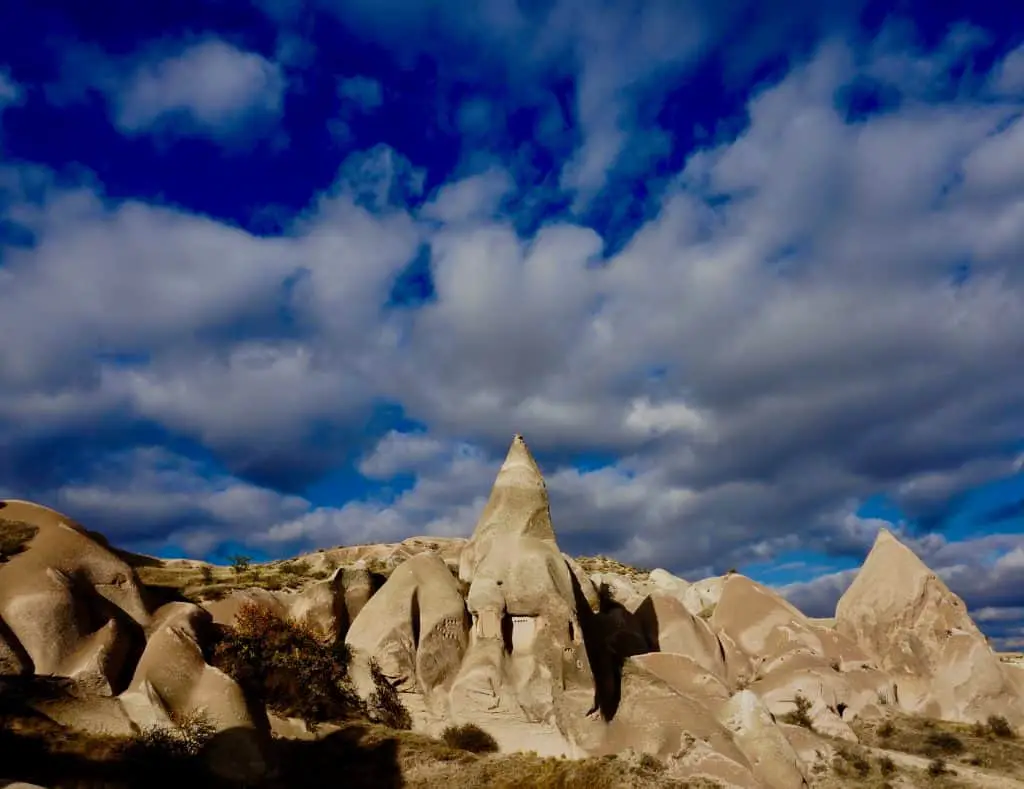 Goreme Open Air Museum
If you still have some energy to spare after your hike and you're not caved out, wander over to Goreme Open Air Museum. This site consists of cave houses and churches with beautiful frescos. Get the audio guide so you know what you're looking at!
For more great things to do in Cappadocia see this guide!
Where to stay when visiting Cappadocia
There many cave hotels to choose from in Göreme (I mean you have to stay in a cave hotel right?!), but Kookaburra cave hotel  is a great one. It's small, good value, with a lovely rooftop terrace from which to sit back and enjoy sunset. The owner is also a pretty entertaining character to chat with!
If you have a larger budget try the luxurious Cappadocia Cave Suites or Sultan Cave Suites. Both are located in Göreme and both have stunning terraces to enjoy the fabulous surrounding landscape.
If you really want to push the boat out and stay in a cave hotel with your own private Hammam, take a look at Kayakapi Premium Caves.
If you're visiting Cappadocia as part of a camping road trip, a great budget option is Dilek Camping, just on the edge of town. It's a basic campsite but is in a prime location.
For your complete car camping packing list, take a look at this post!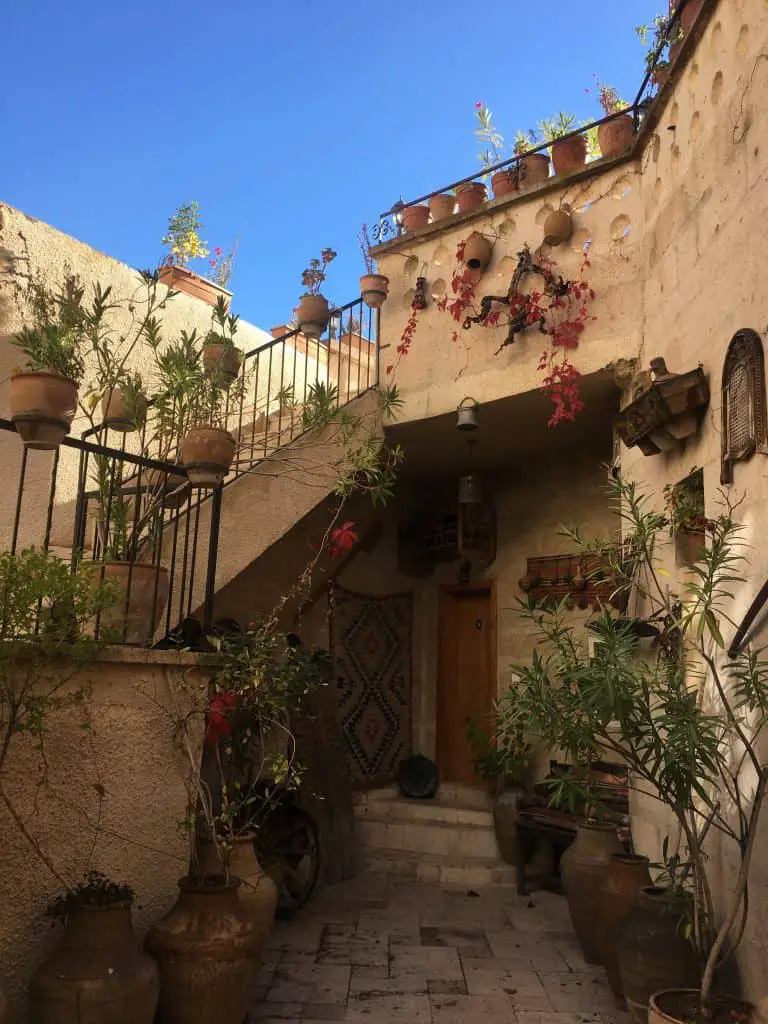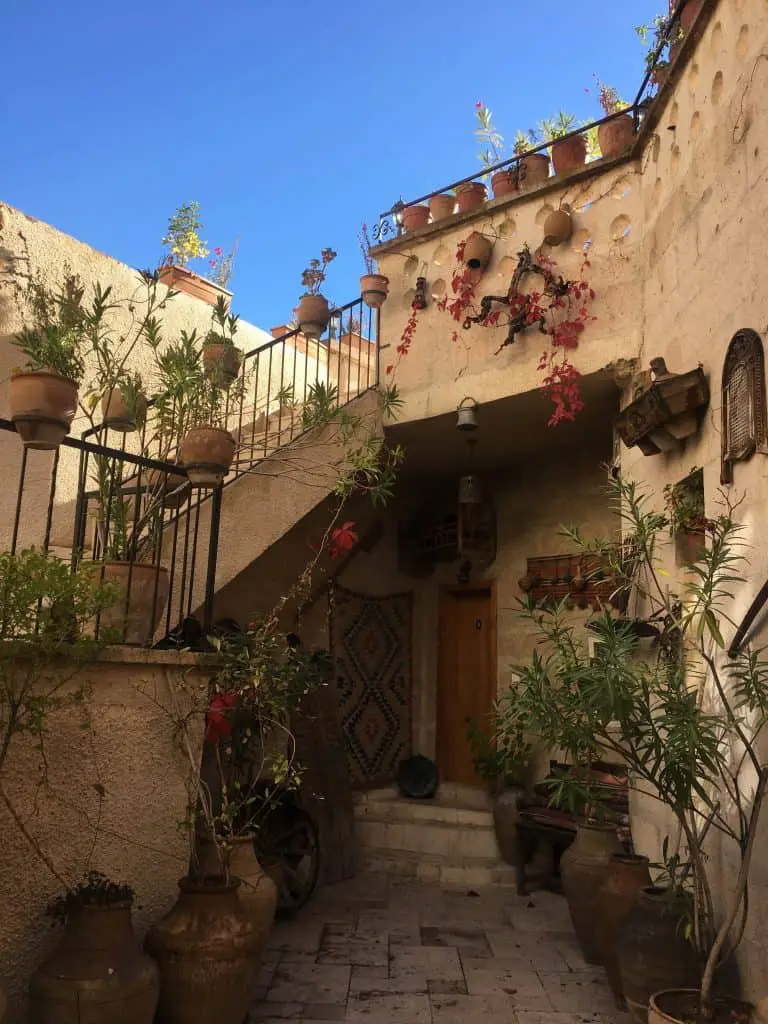 Final Thoughts On This 3 Day Cappadocia Itinerary
There are some places I visit on my tours that I'm more than happy to go back to and Cappadocia is one of those places. I love the laid back atmosphere and unique volcanic landscape and I'm sure you will too.
If you have to do just one thing, then splash out and do the hot air balloon ride. Believe me it's an experience you'll never forget!
Like it? Pin it for Later?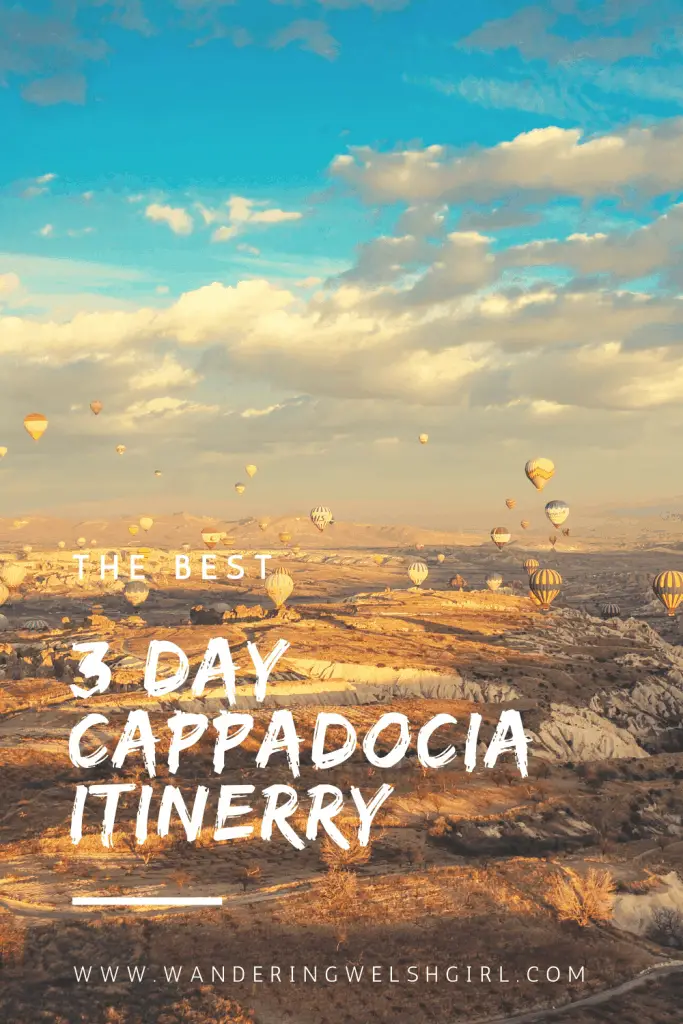 Join my newsletter today!