Merthyr Tydfil is an Iron Heritage town in the South Wales valleys. It was once the largest town in Wales, with a workforce built solely on industry. However, in recent years Merthyr has reinvented itself and tourism in now a booming business. 
Merthyr Tydfil is perfectly placed on the edge of the beautiful Brecon Beacons National Park. This makes it an ideal location for anyone wanting to venture into the Welsh countryside to enjoy the outdoors. This can take the form of extreme downhill mountain biking or family strolls in the forest.
There are also ancient castle ruins to explore, steam trains to ride, farmers' markets to peruse and fine whisky to sample. Merthyr Tydfil is therefore, a great place to spend a few days on a visit to Wales.
This is a list of all the best things to do in Merthyr Tydfil, UK. I describe top activities on offer, from mountain biking and rock climbing, to castle tours and whisky tasting. All costs, locations and a downloadable map are included.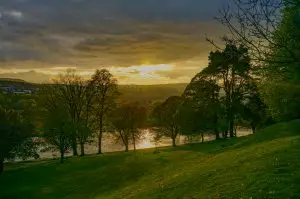 A brief history of Merthyr Tydfil
With no permanent settlement, Merthyr remained little more than a village until the arrival of the industrial revolution. In the 1700s under management of the Guest and Crawshay families, Merthyr became home to four of the greatest ironworks in the world.
At its' peak Merthyr was the biggest exporter of iron in the world and the largest town in Wales. A once sleepy, wooded village was now an industrial mecca. The need to transport iron from Merthyr to various ports led to the construction of, first canals and then railways.
In 1804 Richard Trevithick designed the first steam locomotive, although his credit for this is often overlooked in favour of George Stephenson, who built the first commercial steam locomotive to haul passengers in 1925. (Source) Trevithick's first locomotive journey from Penydarren Ironworks in Merthyr Tydfil to Cardiff, was therefore, the first railway journey in the world.
Following the closure of the ironworks in the early 1900s, Merthyr fell into a long decline with only a brief revival during World War II, as war industry was established.
Merthyr Tydfil today
Tourism is now the big business developing in Merthyr Tydfil. Many adventure activity sites have put Merthyr on the map, with more developments planned. Proposals are in place for a huge indoor ski slope and waterpark and a new Zip World just opened in the neighbouring hills.
There are lots of awesome things to do on a visit to Merthyr. I have broken these down into adventurous, active, historical/cultural and casual activities to enjoy.
The 17 Top Things To Do In Merthyr Tydfil
With the brief introductions over with, let's get stuck into all the awesome things you can enjoy in this Welsh valleys town. I've listed all the activities on this map so you know where to find them.
Map Of Activities To Enjoy In Merthyr Tydfil
Adventurous things to do in Merthyr
1. Bike Park Wales
Location: Gethin Woodland Centre, Abercanaid, Merthyr Tydfil, CF48 1YZ
Cost:
Day pass (park entry fee) – £11
E-bike day pass – £16
Uplift day passes (includes entry fee) – £36 – £43
Uplift weekend pass – £82
Summer evening uplift pass (5pm-8pm) – £20
One single uplift – £5.50
Bike Park Wales made Merthyr the place to be for mountain biking in the UK  when it opened in 2013 and is definitely one of the must fun things to do in Merthyr. This mountain bike facility was the UK's first full scale bike park.
There are 40 trails to enjoy, all colour coded to suit every ability. Through the use of a minivan, the park also provides uplifts (at an extra cost). It works like a ski resort, but for mountain bikes and without the snow.
For those wishing to reach the top under their own steam there are also single track trails to reach the top.
Bike Park offer coaching sessions for anyone looking to improve their skills, and rental services for everything from bikes to GoPros are available from their rental shop.
Pre-booking uplifts and coaching sessions is recommended as they can sell out during busy summer months.
For more info visit: www.bikeparkwales.com
2. Vertigo Trampoline Park
Location: Cyfarthfa Industrial Estate, Merthyr Tydfil, CF47 8PE
Cost:
From £5 per hour (weekdays)
£8 per hour (weekends)
Vertigo trampoline park is a great activity in Merthyr, whether you are a child or an adult! With 40,000 square feet of bouncing options, Vertigo is the largest trampoline park in Wales.
And there's not just your regular trampolines to enjoy. Vertigo offers adult fitness classes, a stuntman air bag, adult and kiddies ninja courses and foam pit zones, to name just a few.
My niece and nephew absolutely love it here and I can't wait to try it out myself.
For more information visit: www.vertigopark.co.uk
3. Rock UK Summit Centre
Location: The Old drift mine, Trelewis, Treharris, CF466RD
Cost: 
Adult climbing £8
Adult bouldering £6.50
Various activities including archery, caving, watersports – see website for details
From the biggest trampoline park in Wales to the largest indoor climbing wall in Wales! The summit centre is a top place to visit in Merthyr for any avid climbers, with over 120 indoor climbing routes on offer.
However, it's not just experts that are welcome as the centre offers coaching sessions for all abilities and ages. All equipment is available to hire.
If climbing isn't your thing, not to worry as the centre also offers over 20 instructed adventure activities. These activities vary from bushcraft and caving, to archery and aerial ropeways. Summit Centre also offer residential experiences.
For more information visit: www.rockuk.org
4. Parkwood Outdoors Dolygaer
Location: Parkwood Outdoors, Dolygaer, Pontsticill, Merthyr Tydfil, CF482UR.
Cost: Varies depending on activity
Parkwood Outdoors is a multi-activity centre where I've spent many a cold and wet day over the years! Situated next to Pontsticill Reservoir in the Brecon Beacons National Park, activities on offer include canoeing, stand-up paddle boarding, sailing, kayaking, hiking and rock climbing.
If you want something adventurous to try, Parkwood pretty much has you covered. The centre has accommodation options, residential programmes and educational courses, if you'd like to become a qualified leader in activities such as canoeing and sailing.
For more information visit: www.parkwoodoutdoors.co.uk/centre/dolygaer
5. Brecon Beacons National Park
Location: Pont ar Daf car park, A470
Cost: Free
For some great adventurous hiking near Merthyr, venture out to the Brecon Beacons National Park. This park is home to Southern Britain's highest peak, Pen y Fan. This is a great option for a classic Brecon Beacons hike.
For a full description of hiking routes to the top of Pen y Fan, take a look at this article.
Alternatively, discover all the best Brecon Beacons hikes in this post.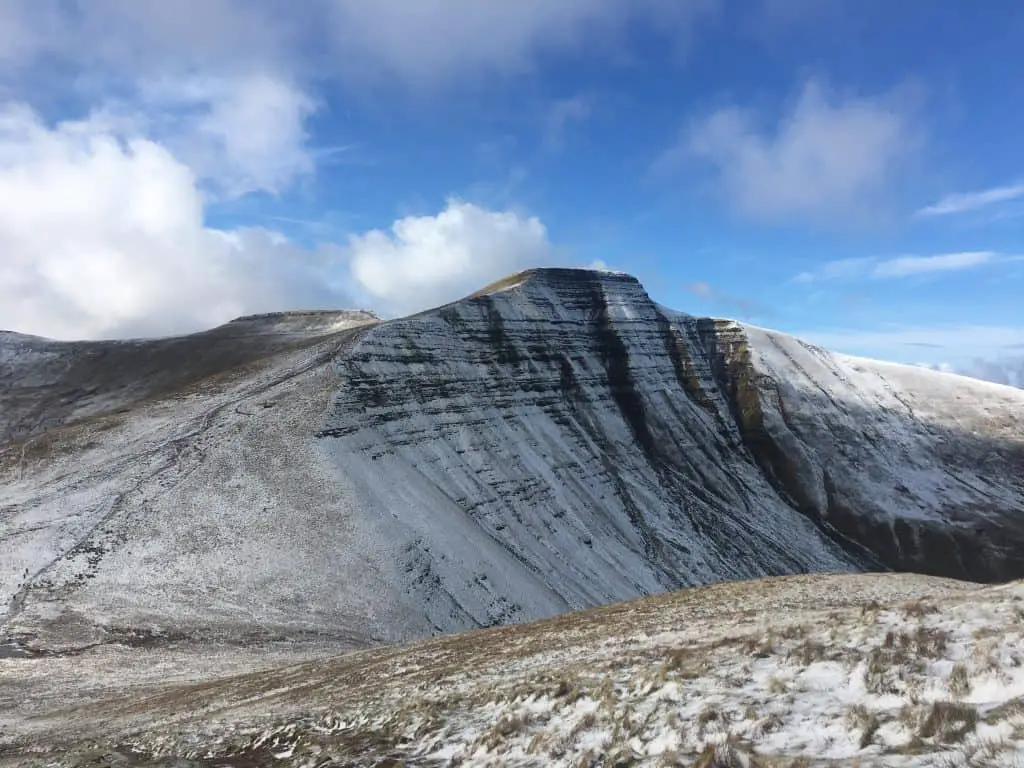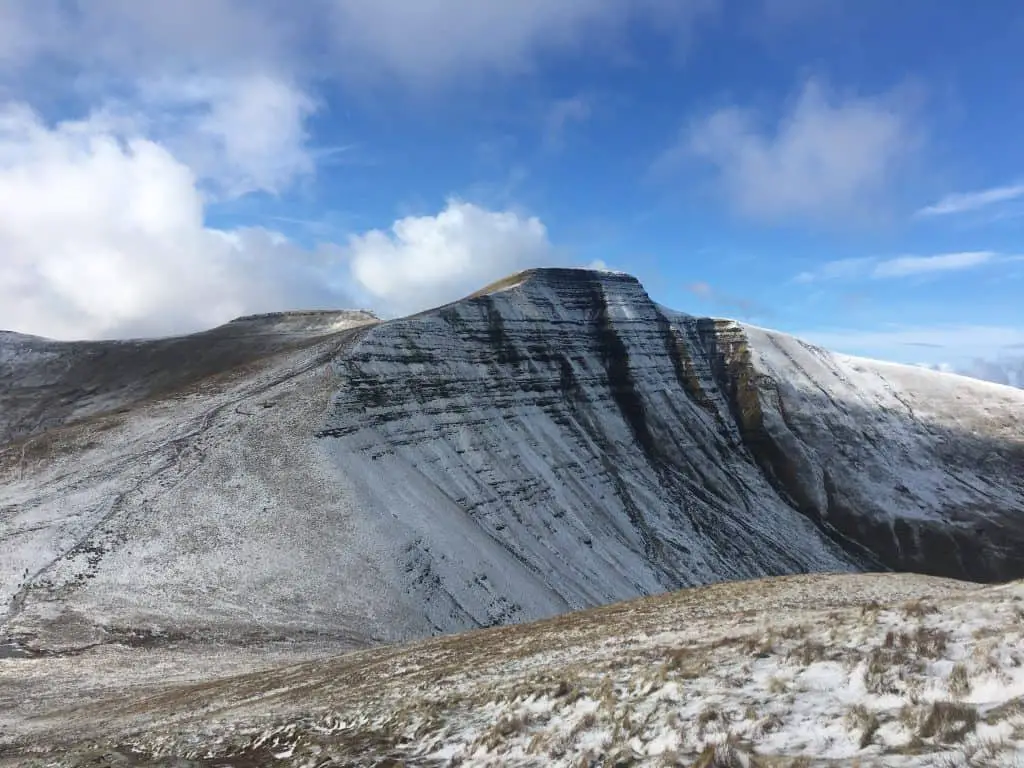 Take a look at this video I put together of some of the beautiful walks I enjoyed around Merthyr Tydfil this Spring.
Active things to do in Merthyr Tydfil
6. The Taf Trail
Start location: St John's Cl, Cefn-coed-y-cymmer, Merthyr Tydfil CF48 2PE
Cost: Free
Distance: 8 miles (13KM)
The Taf Trail is a cycle and walking path that runs 55 miles (88.5 KM) from Cardiff to Brecon. The trail runs on a variety of surfaces with just 30% involving road navigation.
The Taf Trail passes right through Merthyr Tydfil, mostly on a dedicated concrete path. A great way to spend half a day when you visit Merthyr, is to cycle the Taf Trail from Merthyr to Pontsticill Reservoir.
This section is 4 miles (6.5 KM) one-way and is mostly flat. Along the route you will enjoy views of Taf Fechan Nature reserve and cross over Pontsarn Viaduct.
The final section of this route to reach the reservoir is along a country road. Cycle across the damn to view the reservoir spillway. If you need a drink or a snack after the journey, climb the hill into Pontsticill village and visit the Red Cow pub before you make your return journey.
For more information visit: www.sustrans.org.uk
7. Taf Fechan Nature Reserve
Start location: Cyfarthfa Park, Brecon Road, Merthyr Tydfil, CF47 8RE
Cost: Free
Distance: 3 miles (5KM)
Taf Fechan Nature Reserve is a beautiful 1.5 mile (2.5KM) stretch of river surrounded by deciduous woodland. The Taf Fechan River has eroded the Carboniferous limestone and in places forms a steep-sided gorge. The reserve is a haven for many varieties of flora and fauna.
I've walked this area most of my life through all seasons, but particularly enjoy Springtime when the bluebells are in full bloom. On one lucky occasion I even had an otter run past me on this trail so keep your eyes peeled! 
The Nature Reserve can be accessed from several points but for the best loop, begin on the well maintained path at the bottom of Cefn Coed High Street, near Cyfarthfa Park. For a complete guide to walking this trail see this waterfall walks post.
For more information visit: www.welshwildlife.org
8. Morlais Castle Ruins
Location: Pontsarn Cl, Merthyr Tydfil CF48 2TR
Cost: Free
Morlais Castle was built around 1270 on disputed land, which ultimately sparked the Battle of Maesvaynor, in 1291.
This site is very much a ruin as the remains are quite scarce, however it's good fun to walk around this huge site. A rock cut ditch surrounds most of the castle and the vault from one of the two round towers is still open and accessible. 
Sitting on the top of a natural summit, a hike to this site can be added on to the Taf Fechan loop. Alternatively, park near Pontsarn Bridge near pontsarn Viaduct and hike up the unpaved path until you reach the top. From the top enjoy incredible views over the whole Taf Fechan valley.
Read more about the history of Morlais Castle on Wikipedia
9. Sk8topia Skatepark
Location: Merthyr Tydfil Leisure centre,  Merthyr Tydfil, CF48 1UT
Cost: Free
Located next to Merthyr Tydfil Leisure Centre is another "largest in Wales" claim for the town, in the form of a skatepark. This skatepark was installed by Maverick Industries, who are the leading skate park design specialists in the UK.
The skatepark includes ramps, bowls and street features which can be enjoyed on BMX bikes, skateboards and rollerblades. The site also occasionally hosts events and competitions.
For more information visit: www.merthyrleisure.co.uk
Historical/Cultural activities in Merthyr Tydfil
10. Cyfarthfa Park and Castle
Location: Cyfarthfa Park, Brecon Road, Merthyr Tydfil, CF47 8RE
Cost:
Park entry free
Museum entrance £2 (children – free)
Cyfarthfa Park sits in prime position overlooking the town of Merthyr Tydfil. The park hosts beautiful gardens, a splash playground, a short 9 hole golf course and a Miniature Railway. 
However, the main attraction in the park is Cyfarthfa Castle. This castellated mansion is the former home of ironmaster, William Crawshay which was built in 1825. The castle functioned as a school for many years (yup I went to school in a castle!), but now it's home to a museum and art gallery.
The castle museum tells the tale of Merthyr's industrial past with artefacts that reflect this. The museum provides audio tours in a variety of languages and guided tours can be arranged on request.
If you'd like to explore the castles of North wales, take a look at this 5 day North Wales itinerary.
For more information visit: www.cyfarthfa.com
11. Joseph Parry's Cottage
Location: 4 Chapel Row, Merthyr Tydfil, CF48 1BN
Cost: Free (£1 fee for out of hours appointments)
Dr Joseph Parry was one of Wales' best known musicians and composers, his most famous song being Myfanwy composed in 1875. The cottage was built in the 1820s to house ironworkers from the nearby ironworks.
The cottage has been well preserved and is a great opportunity to see a traditional Victorian ironworkers cottage.
If you've ever seen the great Welsh film Twin Town, you might recognise this classic Welsh hymn – it's the song being song by a male voice choir at the end of the movie!
Buy Twin Town on Amazon
A visit to Joseph Parry's Cottage is by appointment only, so please contact Cyfarthfa Castle Museum and Art Gallery for details – +44 01685 727371
Low level activities to enjoy in Merthyr
12. Brecon Mountain Railway
Location: Pant Station, Merthyr Tydfil, CF482DD
Cost:
Adults £15.75

        

Seniors £14.25

         

Children £6.50

          

Booking fee £1
The Brecon Mountain Railway is a narrow gauge steam railway, that offers visitors the chance to ride along part of the original Brecon to Merthyr railway.
The journey starts in Pant and travels into the Brecon Beacons National Park to Torpantau, which is the summit of the original line. This is top thing to do in Merthyr Tydfil for the whole family.
For more information visit: www.bmr.wales
13. Garwnant 
Location: Garwnant Visitor Centre, Fforest Fawr Geopark, Merthyr Tydfil, CF48 2HU
Cost: Car parking – £2
Located in the beautiful Fforest Fawr, just five miles north of Merthyr town, you can find a great free activity for the whole family. Garwnant is the starting point for several easy walking trails and mountain biking routes.
There is also a low ropes course, two puzzle trails and a play area, along with a cafe serving fresh local produce. Try the award-winning ice cream – yum!
For more information visit: www.naturalresources.wales
14. Merthyr Leisure Village
Location: Merthyr Leisure Village, Merthyr Tydfil, CF48 1UT
Cost: Varies depending on activity. See website for details.
There are plenty of options for wet weather activities at Merthyr Leisure village. For all the latest movies head to Vue Cinema or challenge your friends and family to a game of 10 pin bowling or laser quest, at Superbowl UK.
For a little more activity visit the competition-sized swimming pool at the leisure centre, complete with a flume slide (for the kids!). Then top it all off with some food at one of several chain restaurants available on site.
For more information visit: www.visitmerthyr.co.uk
15. Cyfarthfa Retail Park
Location: Cyfarthfa Retail Park Swansea Road Merthyr Tydfil South Wales CF48 1HY
Cost: Free parking
If you need a retail fix then you can find all the latest shops at Cyfarthfa Retail Park. You can find fashion outlets such as River Island and H&M, electronic stores such as Currys and Game and health & beauty shops such as Boots and Debenhams.
The retail park also has several fast food outlets and a Costa for all you coffee addicts!
Opened in 2018 just across the A470 from Cyfarthfa Retail Park, Trago Merthyr store offers even more retail options for visiting shoppers.
For a full list of shops visit: www.cyfarthfashopping.com
16. Merthyr Farmers Market
Location: High Street, Merthyr Tydfil, CF47 8AE
Cost: Free
On the first Friday of every month a local farmers market is held in Merthyr town centre. Fresh produce from Welsh Farmers within 50 miles of Merthyr, are available to buy at the food stalls.
Who doesn't love a good farmers market?
The market runs from 10am to 2pm.
17. Penderyn Distillery
Location: Pontpren, Pontbren Llwyd, Aberdare CF44 0SX (just outside Merthyr)
Costs:
1 hour distillery tour – £9.50 (9:30 – 17:30 daily)
2.5 hour masterclass – £60 (weekends only)
Whisky and chocolate tour – £17 (available on request)
Are you a single malt fan? If so, be sure to visit the producers of award-winning single malt whiskies and spirits, Penderyn Distillery. Penderyn are the the only commercial whisky distillery in Wales and one of the smallest distilleries in the world.
The distillery offers hour-long tours to educate visitors on the history of Penderyn and how their unique whisky is made. They have a tasting bar to sample some of the fine spirits on offer and a shop to purchase bottles to take with you.
For whisky connoisseurs, the distillery also offers a masterclass which provides a more in depth tour, along with whisky tasting and Welsh cakes. What more could you want?!
During the Coronavirus pandemic, Penderyn has utilised their production of 90% ABV alcohol to start producing hand sanitiser for the NHS. A great example of innovation and diversification during difficult times.
For more information visit: https://penderyn.wales/
Restaurants in Merthyr Tydfil
The New Crown Inn
This pub has always been great for enjoying live music but in recent years it has become known for tasty food as well. They serve many of the pub grub classics and a variety of dishes with a Portuguese twist.
Address: 28 High St, Merthyr Tydfil CF47 8DP
The Nant Ddu Lodge Hotel & Spa
A short drive out of Merthyr towards Pen y Fan, brings you to the beautiful Nant Ddu Lodge. Dine in the bar for a casual meal or reserve a place in the bistro restaurant, and enjoy the best of Welsh cuisine.
Address: Cwm Taf, Merthyr Tydfil CF48 2HY
JOLs
For fine dining in the centre of town head to JOLs. Jamie and his team use the finest local fresh produce to create an innovative menu to feast on.
Address: 30-31 Hight St, Merthyr Tydfil, CF47 8DP
The Mango House
For the best Indian in town make your way to the Mango House. They have a dine-in restaurant as well as take away options.
Address: 91 High St, Cefn-coed-y-cymmer, Merthyr Tydfil CF48 2PN
The best place in Merthyr Tydfil for a cocktail!
In the centre of tMerthyr Tydfil you can find Hardie's bar. This stylish bar is the perfect place for a post-dinner cocktail.
Address: 64-65, High St, Merthyr Tydfil CF47 8AE
The best place in Merthyr Tydfil for a good cuppa!
The Old Barn Tea Room
The Old Barn tea room is located near Pontsticill Reservoir, which makes it ideal for a visit after an exploration of the surrounding Brecon Beacons. This little gem offers fresh sandwiches, cakes and scones, all served with a good pot of tea!
Address: Ystradgynwyn, Torpantau, Merthyr Tydfil CF48 2UT
More sights to see around Merthyr
Whilst you're out and about exploring Merthyr Tydfil, keep your eye out for a few sights that provide clues to this industrial town's iron heritage. I've marked this sights on the map below.
Accommodation in Merthyr Tydfil
The Premier Inn
A good budget option is the Premier Inn. The hotel has decent rooms in a good location at the southern end of town. This hotel also has the Table restaurant and bar, which serves good pub grub.
Rooms from £35 per night.
Duffryn Road, Pentrebach, Merthyr Tydfil CF48 4BB.
The Nant Ddu Lodge and Spa
For a more luxurious option try the Nant Ddu Lodge and Spa. This country hotel is set in a beautiful location and has all the amenities you could want. The only drawback is that it's 6 miles from Merthyr town centre.
Rooms from £75 per night.
Cwm Taf, Brecon Beacons, CF48 2HY.
YHA Brecon Beacons
If you'd prefer to stay in a hostel there are two options, though both are situated outside of Merthyr town. There is the YHA Brecon Beacons, which is located near Pen y Fan and the YHA Brecon Beacons Danywenallt, which is located at the end of Talybont Reservoir.
Dorm beds from £15.
For more information visit www.yha.org.uk
Summary Of Things To Do In Merthyr
I was born and raised in Merthyr Tydfil and like a lot of people never appreciated the beauty of the surrounding area.
Merthyr has gone through a transformation in recent years and today I believe Merthyr offers a great option for visitors to Wales. Located on the doorstep of the Brecon Beacons National Park, Merthyr is in a prime spot for those wishing to venture into the hills.
Taking advantage of its natural resources, Merthyr is now a top destination for adventure tourism with activities like Bike Park Wales and Parkwood Outdoors. There are also ample activity options available for visitors with families, as well as several historical and cultural sites to explore.
So if you're thinking of a trip to Wales, I'd definitely recommend putting Merthyr Tydfil on your bucket list!
Like it? Pin it for later!
Disclaimer: Some links in this article are affiliate links, which means that if you purchase through them I receive a small commission, at no extra cost to you. This helps cover the cost of running this blog. Thanks for your support!
Join my newsletter today for all the latest information!