Spending time in the outdoors is good for our physical and mental health and nothing beats a good day in the mountains. But what hiking gear do you need for a safe adventure in the mountains?
I was born and raised on the edge of the Brecon Beacons National Park and spend most of my time hiking the great outdoors. I thought I was quite thorough about what I took into the hills but after completing my Mountain Leader training several years ago I realised I'd become a bit blasé about my hiking gear.
There are some items that are absolutely essential for a day hike and others that will just make your life a little more comfortable. So I decided to put together a complete summer day hiking packing list that will ensure you don't leave home without the items you need.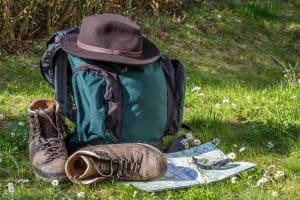 10 Day Hiking Essentials
Here are the absolute must-have hiking necessities for a day of Summer hiking. These 10 items are generally agreed by all in the hiking community to be everything you need to survive. These items permanently sit in my day hiking rucksack (aside from changing the food and water!)
A physical map and compass (and knowing how to use them!)
Basic First Aid Kit (including emergency blanket/bivvy bag and whistle)
Extra layers (hat, rain jacket, fleece or puffy)
Sun protection (sunscreen, hat, sunglasses)
Torch or head torch (with batteries that work!)
Emergency Food 
Water
Multitool
Matches or lighter
Mobile phone (ideally with a power bank)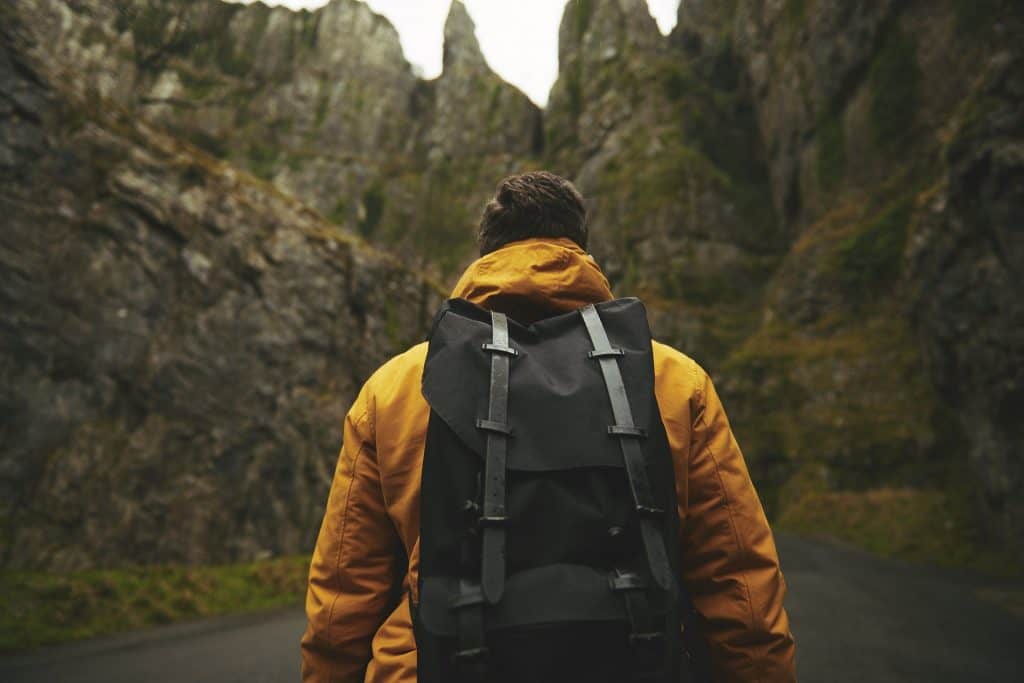 Hiking Equipment Packing List
In the following day hike packing list I get into the nitty gritty of your hiking equipment. I point out qualities to look for when choosing your gear, why you might need them and put everything into a handy checklist at the end. To check prices on Amazon click on the image.
Day Hiking Backpack
For day hiking in the summer, a rucksack up to 25 litres in capacity should be sufficient to fit in everything you need. Try not to get a bigger pack because if you're anything like me, you'll just fill it up with unnecessary stuff which will ultimately weigh you down!
Be sure to choose a pack which fits you comfortably and is well ventilated to avoid getting a sweaty back. Ideally pick one with a waterproof cover or alternatively, buy a cover that fits over the top and pack it inside. I use a hiking backpack that is specific to carrying a camera but Nick uses this Osprey bag which he loves because of the back ventilation system.
Water Bottle or Bladder
Staying hydrated is essential so make sure you have plenty of water for the day plus a little extra. Water bladders are useful for ensuring you stay hydrated since it encourages you to sip water consistently. Filtered water bottles are extremely useful since they can be topped up in mountain streams or rivers. For help in choosing a filtering water bottle, take a look at this post.
First Aid Kit
You can pick up hiking specific first aid kits which include most of the things you need. Add to it pain killers, antihistamines and blister pads (second skin).
As part of the pack, include an emergency blanket or bivvy bag and a whistle.
Trekking Poles
These can be pretty handy at times and are effective at taking the load out of tired legs (and knees). Personally I prefer to have my hands free most of the time, so for day hikes I leave them at home.
Sunscreen
Choose pocket sized sunscreen which is kind to the environment like this one.
Watch
Watches can be pretty sophisticated these days but they're still just really handy for knowing how much daytime you have left. Be sure to check sunset time before you set off.
Torch
Even if you know what time the sun sets you might still get caught out if something doesn't go to plan. Head torches come in handy during these times. I regularly use my Petzl head torch on sunrise or sunset specific hikes.
Power bank and leads
I use my mobile for various things whilst hiking but usually for taking photos or videos. It's a useful supplement for navigating also. So a power bank is handy to take along as long as it's not too heavy.
I use this Anker Powercore which provides multiple charges and weighs under 200g.
Hand Sanitiser
Does anyone leave home without hand sanitiser these days? These refillable bottles come with a nifty case and carabiner to click onto the side of your day pack.
Toilet Paper
Toilet paper is a must for your hiking pack list, just in case you get caught short. Don't forget a bag to stash it in afterwards. Leave no trace people!
Footwear
Sturdy boots are an essential hiking item for a comfortable day in the mountains. For UK hiking they should be waterproof and breathable to allow for the changeable weather.
Ensure the boots fit correctly and are well worn-in to avoid blisters or sore feet. I recommend going to an outdoor shop to get your boots correctly fitted by an expert.
Wear thinner socks in the Summer to avoid overheating.
Clothing
Base Layer
The best clothing for hiking are materials that are high wicking, meaning they remove sweat away from your body. Cotton t-shirts absorb sweat becoming wet and heavy and are a big no no. Instead pick up a trekking or running specific top.
I always carry a mid-layer too, for when it's not quite hot enough for a t-shirt but a hoodie would be too much.
Choose hiking trousers or leggings that are light and quick drying. Jeans are also a big no no!
Waterproof Jacket and Trousers
A waterproof jacket is essential for those unpredictable summer showers. If you get wet you'll get cold pretty quick and this can have disastrous consequences.
Some more specialist hiking trousers are also waterproof, otherwise pack a light pair of waterproof trousers which can be quickly thrown on over the top.
Top Tip: Get waterproof trousers with zips on the outside so they can be thrown on quickly without having to take your boots off.
Warm Jacket or Fleece
Mountain peaks are often much cooler, especially after you've been sweating your ass off to get to the top of it! So to avoid getting cold, pack a fleece or puffy jacket. I never leave home without my puffy!
Hat and gloves
In the summer I always wear a baseball cap to keep the sun off but I often take a lightweight beanie on cooler days to keep me warm on the summits.
Whilst I rarely hike in gloves, even in the Winter, I always carry a pair in case of emergency.
Sport Bra
A good fitting sports bra is as essential as anything else on this list. At least for us ladies.
Spare Socks
Nobody wants wet feet. Wet feet can make your time in the mountains seriously miserable so pack a spare pair, just in case.
Day Hike Checklist
Rucksack
Water bottle
First Aid Kit
Trekking poles
Sunscreen
Watch
Torch
Power bank
Hand sanitiser
Toilet paper
Boots or hiking trainers
Base layer
Waterproof jacket and trousers
Fleece or puffy jacket
Hat and gloves
Spare socks and layers
Compass and map
Food (including extra for emergency)
Lighter or matches (in waterproof container)
Water
Multitool
Mobile phone
Optional Hiking Gear List
These items aren't essential but you might want to include them in your day hiking packing list.
Disclaimer: Some links in this article are affiliate links, which means that if you purchase through them I receive a small commission, at no extra cost to you. This helps cover the cost of running this blog. Thanks for your support!
Like it? Pin it for Later!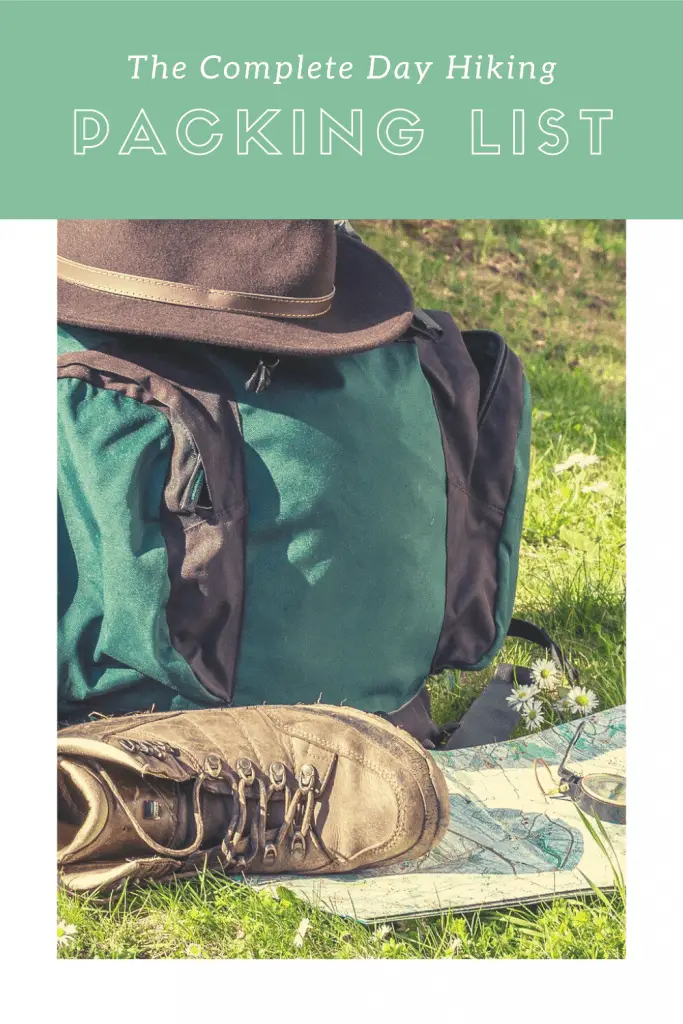 Join my Newsletter today!