In this post I outline 15 top Ethiopia travel tips. This useful guide will help you whilst planning a trip to Ethiopia. 
The only African country never to be colonised. The cradle of humanity from which all humans began their journey on earth. The final resting place of the Arc of the Covenant and most importantly, the creator of coffee.
Ethiopia has many fascinating historical claims and is unlike any other African country you will visit.
However, many travellers I've met have gotten frustrated with Ethiopia and ended up never wanting to return. So how do you travel Ethiopia the right way?
After my visit to Ethiopia in 2019, I believe the key to success is be aware of a few things before you enter the country. In this post I provide 15 top tips to make your visit to Ethiopia an enjoyable one. So before you book that flight take a minute to read on below.
The best Ethiopia travel tips
Visa
Single entry 30 day and 90 day visas on arrival are available at Addis Ababa Bole International Airport for residents of 36 countries (UK, Canada, US, Australia and most European countries included).
To get the visa on arrival you will need two passport photographs and $52 or $72 respectively (September 2019).
E-visa are also available to purchase in advance although the cost is the same. Multiple entry visas are a little more involved and can be applied for at your nearest consulate.
Language
The national language is Amharic, a Semitic language with its own alphabet and sounds. It's a beautiful script and a language which Ethiopians are hugely proud of, but it's not easy to pick up.
Although English is quite common in most of the tourist areas, try and engage locals with a few basic phrases.  You could try using a phrasebook and Google translate now has Amharic, which will help you get by in a pinch.
Dress code
Religion is a huge part of Ethiopian culture with 60% of the population being Christian. As you travel around Ethiopia you will discover just how deeply imbedded Christianity is in this country.
For this reason it is best to dress modestly, covering shoulders and knees. Ethiopian men typical wear trousers and t-shirts and ladies often wear full length dresses. Leave the hot pants at home people!
Churches
Always remove shoes before visiting a church. Try and wear clothing that covers all parts of the body and women should also cover their hair with a scarf.
Never try to visit the inner 'Holy of Holies', which is reserved strictly for the priests. Certain churches may also be reserved for men only.
Money
Ethiopian Birr is the local currency (ETB) and it can't be bought outside the country. For this reason also be sure to exchange all of your Birr before you leave.
ATMs are plentiful and Commercial Bank is the most reliable. Cash is king though so to avoid ATM fees and to get a good exchange rate, bring USD. Bigger notes such as $50 and $100 will give you the best rate.
Don't forget to take a money belt to keep your money safe whilst exploring.
Food
The staple food in Ethiopia is a large pancake type thing called injera. Injera is made from a grain called teff. It is served cold with stews, lentils, meat or fish to name a few. Injera is fermented so it's not to everyones liking, however it is pretty healthy – find out why in this article.
In Ethiopia food is mainly eaten with hands (just the right hand!) and is often shared, using injera as a scoop. With the majority of the population being strong Orthodox Christians, fasting is observed on Wednesdays and Fridays and during important religious periods such as lent.
During fasting they abstain from meat and diary. Perfect for all travelling vegetarians and vegans.
Juicing might be a recent hipster trend for us Westerners but it has been popular in Ethiopia for a long time. Try the popular mixed mango, avocado and papaya juice. Yum.
The other big drink in Ethiopia is of course, coffee. Coffee is more than just a drink here, it even has it's own ceremony! The coffee beans are first roasted before being passed around for you to appreciate the scent. It is then served in three rounds. Make sure you have time on your hands if you need to grab a quick coffee!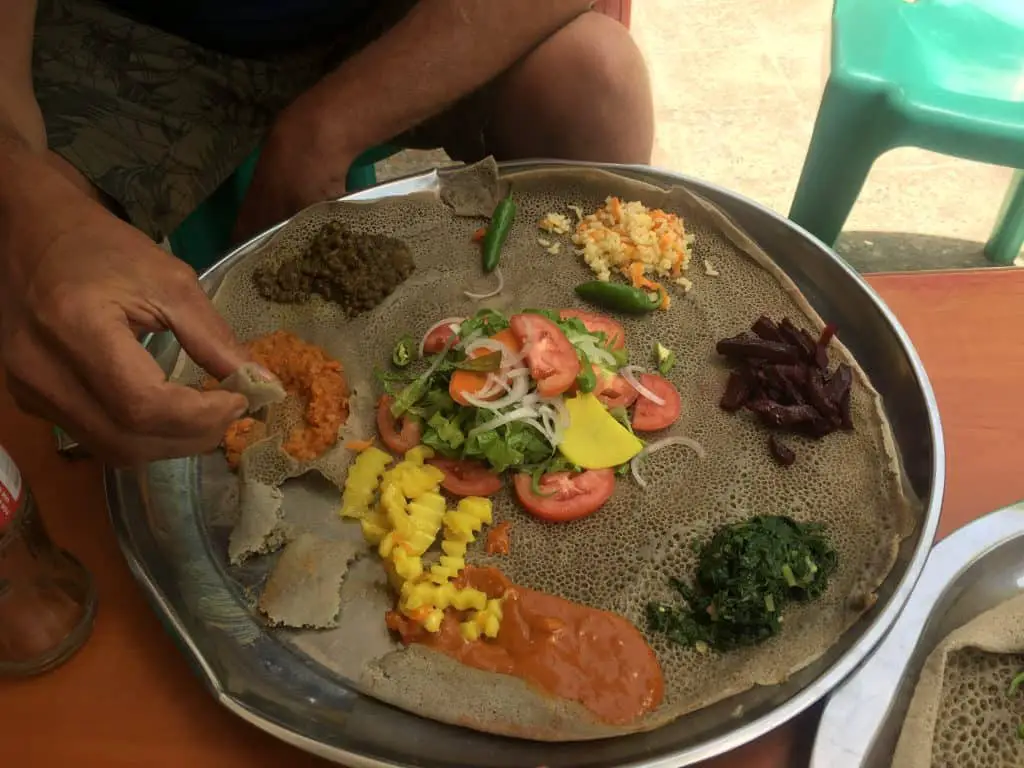 Hydration
As mentioned earlier, a lot of Ethiopia is located at high altitude, which means it's important to stay hydrated. Keep sipping water constantly throughout the day. This is also hugely important if planning a trip to the Danikil Depression where the temperature is extremely high.
Use a filtering water bottle so that you can easily stay hydrated wherever you are.
Calendar
Ethiopians have adopted the Julian calendar, which is seven to eight years behind the Gregorian calendar. One year in the Ethiopian calendar is 13 months long, with 12 months having 30 days each.
The last month has 5 days in a common year and 6 days during leap year. Coptic Christmas is celebrated on the 7th January and New Year on the 11th September.
Time
Ethiopia doesn't just have its own calendar – it has its own version of time! It sounds a little crazy at first but it's not too hard to get your head around after a little while.
In Ethiopia they operate on a 12 hour clock, rather than a 24 hour clock. 12 hours of daytime and 12 hours of nighttime.
The daytime cycle begins at 12:00 (which is 6am by western time). After 12 hours, 6pm Western time, nighttime begins. When the day for Westerners begins at 00:00 (midnight), in Ethiopian time is 6pm or 6 at night. 8am Western time is 2am Ethiopian or 2 o'clock in the day.
Confused? Yes, me too! The best way to avoid any confusion when booking activities is to confirm whether you mean 8 o'clock in the morning or 8 o'clock at night. Or even say 8am western time, and they will understand. Most Ethiopians working in tourism will work on Western time with foreigners.
In Africa time is only a rough guide anyway – people are rarely "on time", whatever time you're working on!
Roads
Getting anywhere in Ethiopia takes time. The roads are slow and windy, since most of the country is mountainous and traffic comes in the form of slow donkey carts.
However, getting from place to place doesn't need to hurried because the views along the way are simply incredible. Just sit back and enjoy the ride!
More photos of Ethiopia are available to see in my Northern Ethiopia photo gallery
Everyone's favourite travel topic: Toilets
Toilet paper doesn't seem to be a "thing" in Ethiopia, so always carry some with you when you are out and about. Hotels should be well stocked though.
Begging culture
You will get asked for money a lot in Ethiopia – fact. You'll also get asked for pens and food and everything in between. Most of the time it is harmless and the best way to deal with it, is to simply ignore it.
It might feel harsh at first but if you engage in any way you will have children following you around for miles!
Embrace the shoulder bump
Greetings with an Ethiopian can be a complicated affair, sometimes involving a variety of handshakes or several cheek to cheek kisses. The most common (and my personal favourite) though is the handshake followed up with leaning in for a shoulder to shoulder bump.
After a few shoulder bumps you'll be wanting to do it with everyone!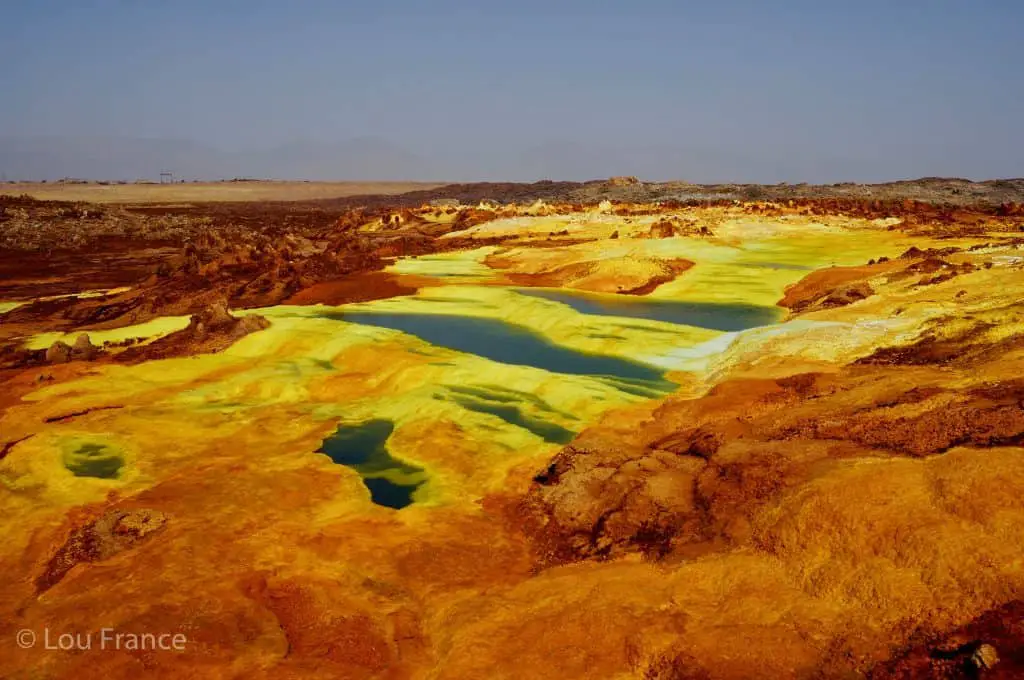 Local SIM cards
There is only one mobile phone provider in Ethiopia, which is Ethio Telecom. Wifi is generally quite poor so getting a SIM can be very useful.
Ethio Telecom shops sell SIM cards in the morning only and you will need to show your passport to make the purchase. Buy credit for data, call and SMS packages and get them to set it all up before you leave.
What to bring
Ethiopia is colder than you might think so bring some warm clothes. A lot of the country sits at high altitude so whilst it can get hot in the day, at night temperatures drop and you'll want to wrap up. 
Interested in learning more about Africa? Take a look at this post about neighbouring  Sudan.
Disclaimer: Some links in this article are affiliate links, which means that if you purchase through them I receive a small commission, at no extra cost to you. This helps cover the cost of running this blog. Thanks for your support!
Like it?Pin it for later!
Sign up to my monthly newsletter today!