In this Ireland road trip planner, I provide all the information needed to enjoy an epic 28 day adventure around the Emerald Isle. I suggest which route to take, what activities to enjoy and which places to stay for every day of the trip.
If you're looking for an Ireland trip planner then look no further – I've put the hard work in so you don't have to!
This Ireland road trip itinerary is suitable for those who enjoy the outdoors and are looking to keep accommodation costs to a minimum.
Disclaimer: Some links in this article are affiliate links, which means that if you purchase through them I receive a small commission, at no extra cost to you. This helps cover the cost of running this blog. Thanks for your support!
Travel to Ireland on a Budget
Do you want to fully explore Ireland but have a limited budget? Do you have several weeks and lots of energy to spare? If so, then a camping road trip around Ireland could be the best trip for you.
Many of the best places to see in Ireland are outdoors, which means they are mostly free to visit. Combine this with the ability to cook your own food and camp in the wild and a 28 day Ireland road trip suddenly becomes very affordable.
If you need a car camping packing list for your Ireland tour, take a look at this post!
Self Drive Ireland Itinerary
This Irish road trip itinerary is based on the tour we took in August 2019. We drove our car from the UK and crossed via ferry to Rosslare. This itinerary will therefore start in Rosslare, however it can easily be modified to begin at any other point along the route.
We took 28 days to complete this Ireland road trip and we felt that was about right for us. We wanted to fully explore this beautiful country. This Ireland itinerary allows plenty of time to enjoy hiking and other outdoor activities, however it can be shortened to fit your needs. 
We incorporated a couple of rest days along the way to take stock and also to hide from very wet weather.
Ireland needs a lot of rain to be that green!
The best time to travel in Ireland to avoid the wet weather is typically the Summer months of June, July and August. September can also be dry but a little cooler.
If you're renting a car in Ireland make sure you know the driving rules and regulations before you set off. Discover more Ireland driving tips here.
This Ireland travel itinerary includes three nights in Northern Ireland which is part of the UK. Most places in Northern Ireland will accept Euros but not at a great rate. I suggest having some Sterling at hand for these days.
Ireland Top Ten
Picking one highlight from our Ireland driving tour is a pretty impossible task, so instead I will put forward my Ireland top ten. If you're wondering what to see in Ireland, then these are my top 10 must do activities:
Scramble up the Devil's Ladder to Carrauntoohil
Hike the exposed edges of Slieve League
Explore the iconic Giant's Causeway
Spend an evening listening to traditional Irish music in Galway
Enjoy epic views from the top of Croagh Patrick
Spot dolphins on the Loop Head Peninsula
Take the old cable car to Dursey Island
Enjoy samples at the Guinness Storehouse
Absorb scenic views on Glendalough Loop
Wild camp on the beach at Doonlaughaun Bay
The best of my Ireland photographs are available to view here.
The Republic of Ireland: A few facts
Capital: Dublin

Currency: Euro

Population: 4.9 million

Taosieach (Prime Minister): Leo Varadkar
Ireland Road Trip Planner
Day 1 – Rosslare to Boola
This epic tour of Ireland begins in the Ancient East. Most of the day will be spent enjoying the views along the Copper Coast, before heading inland and up into the mountains. The Copper Coast is far less known than the Wild Atlantic Way, but as a UNESCO Global Geopark it offers some incredible scenery.
Stops to include on this day:
Hook Lighthouse. It's great to see from the outside but tours of the inside are also available every hour.

Stop at Annestow beach to enjoy the views.

Explore Tankardstown Copper Mill to learn about the areas' industrial past.

Take a picnic and enjoy lunch at Stradbally Cove

Enjoy the short walk to Mahon Falls
Camp at Powers the Pot Camping.
Day 2 – Boola to Cork
Start the day fairly early as there is a big hike to get stuck into as well your first visit to an Irish Castle. After breakfast take the short drive back to Kilclooney Wood where you will begin the hike. After a healthy dose of mountain it's time to head to Cork.
Hike Coumshingaun Lough loop. I suggest doing the loop in a clockwise direction so you ascend the more tricky ridge. 7.5km round trip. 580m elevation gain.

Visit Blarney Castle. Get the gift of the gab by kissing the Barney Stone and stretch the legs off with a wander through the fabulous gardens.
Camp at Blarney caravan and camping.
Day 3 – Cork to Beara Peninsula wild camp
Spend the morning exploring a little of Cork City and sample some traditional Irish dishes, before you head out to the first peninsula drive of the trip. Once you hit the coast you will see signs for the Wild Atlantic Way. Welcome to the next two weeks of your life!
The Wild Atlantic Way is a coastal driving route that runs 2600km from county Cork in the south to county Donegal in the north. 
Visit the English Market and enjoy a swift half at Franciscan Wells Brewery.

Take your time driving the southern part of the gorgeous Ring of Beara.
Wild Camp towards the end of the peninsula.
Day 4 – Beara Wild Camp to the Ring of Kerry via Dursey Island
This day was one of our favourite days on our driving tour of Ireland, as we were blessed with (mostly) good weather and fabulous views from start to finish.
Drive to the Dursey Island Cable car terminal at the end of the Beara Peninsula. Take the cable car and enjoy a hike across Dursey Island before completing the Ring of Beara Loop drive.
To learn more about this day on the Beara Peninsula, take a look at this post.
Hike 7km across Dursey Island (one way). Make sure you keep walking until you can walk no more. The Atlantic Ocean just opens out in front of you and it feels like you've reached the end of the world! Hike back via the watch tower to enjoy a 360 degree view.

Complete the Ring of Beara drive and continue on to the Ring of Kerry, This drive is truly epic!

Enjoy a well earned beer at a local Irish pub in Caherdaniel
Camp at Wavecrest Camping.
Day 5 – Ring of Kerry
Today we wanted to take a boat trip to the Skellig Islands, however due to strong winds all tours were cancelled for this day. Instead we took our time as we drove around this beautiful peninsula, stopping at the many marked viewpoints along the way.
If the weather is with you, then a boat trip to the Skelligs will take most of the day.
Take a boat trip to Skellig Michael. This small UNESCO island has become hugely popular since the filming of Star Wars VII took place there. Visitors to the island are limited so book tours in advance.

Visit the cliffs of Kerry

Visit Valentia Island
Camp at Cronin's Yard at the foot of Carrauntoohil.
Day 6 – Ring of Kerry to Kilarney
It's time to get those legs moving again today with the chance to hike Ireland's highest peak. Cronin's Yard campsite is the perfect place to camp as the hike will start right from your tent. Afterwards it's just a short drive to the town of Kilarney, where we spent two nights.
Hike Carrauntoohil. We hiked up Devil's Ladder which was a fun waterfall scramble and descended via Brother O'Sheas Gulley, which again involved some scrambling and route navigating. Its a really fun hike with incredible scenery the whole way around. 12km round trip. 880m elevation gain.

Drive to Kilarney via the gap of Dunloe. This road is very narrow and windy so avoid this if you have a big camper van.
Camp at Fresk Camping.
Day 7 – Kilarney
Kilarney is a fun little town and a nice place to spend a couple of nights. There are a few options here depending on whether you want to stay in town and rest your muscles or if you are happy to keep moving.
Day 8 – Kilarney to Querrin via Dingle Peninsula
Today is a big day with quite a lot of driving and photo stops. After leaving Kilarney it's time to get back to the coast and make your way around the Slea Head Drive. This is another fabulous peninsula with coastal views to take your breath away.
After a short visit to Dingle the drive continues north and crosses onto the next peninsula. An alternative option would be to follow the coast around to Limerick and spend the night there.
Cruise around the Slea Head Drive, visiting the Beehive houses along the way.

Take a stroll around Dingle and enjoy some yummy seafood.

Drive to Tarbert and take the ferry across to Kilimer.
Camp at Pure Camping.
Day 9 – Querrin to Doolin via Loop Head Drive
I hope you have your camera batteries charged as there is more fantastic coastal scenery on the cards for today. Your Ireland road trip itinerary continues with the Loop Head Drive. Still following the signs for the Wild Atlantic Way, you will make your way around the coast until you reach the cute little town of Doolin.
Make your way around the Loop Head Drive.

Visit Head Lighthouse.

Keep your eye out for bottle nose dolphins at the Bridge of Ross.

Enjoy sea stacks for free around Dunlicky Point.

Visit the Cliffs of Moher for sunset.
Camp at Aille River Hostel (free laundry!)
Day 10 – Doolin to Galway via Burren National Park
When we arrived at the Cliffs of Moher, the weather was pretty poor so we waited until this morning to visit. We went before 8am to avoid the crowds and discovered that if you park before 8am you don't have to pay. Bonus!
Today this Ireland tour itinerary heads inland to Burren National Park, before rejoining the coast on arrival at Galway. Burren National Park has a unique landscape that is unlike anything you will have seen so far.
Spent the night at one of the many comfortable hotels in Galway.
Day 11 – Galway
Galway is a small city with a great atmosphere. It's definitely worth spending a day here to learn about Galway's history and to wander along the promenade.
Join a free walking tour of Galway.

Relax on the beach.

Enjoy traditional Irish music at one of Galway's many pubs.
For more a more detailed itinerary of one day in Galway, take a look at this post.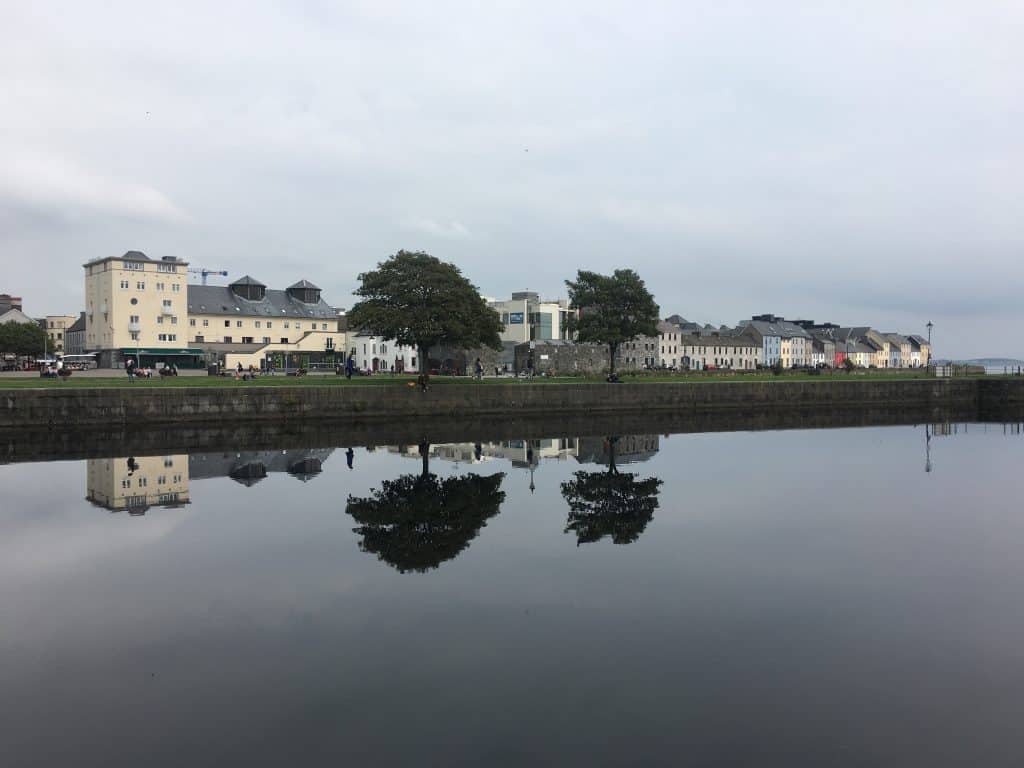 Day 12 – Galway to Doonlaughaun Bay via the Aran Islands
A fairly early start is required today in order to catch the first ferry to the Aran Island of Inishmore. Allow one hour to get to the port.
Most of the day will be spent on Inishmore. Once this is done, jump back in the car and enjoy the beautiful drive past countless loughs to Doonlaughaun Bay. A small section of off-road driving will take you to a beach where you can set up camp for the night.
Drive to Rossavel and take the ferry to Inishmore. Save money by booking online beforehand.

Rent a bicycle and ride from one side of the island to the other.

Hike up to the 2000 year old Celtic fort of Dun Aengus.

Drive to Doonlaughaun Bay to enjoy one of the best wild camping spots in the country!
Wild Camp.
Day 13 – Doonlaughaun Bay to Westport
An alternative camp to this beautiful bay would be on Omey Island. However, access to this island is tidal so we didn't want to take the risk. Instead this morning, if the tide is out, enjoy driving across the sand highway to Omey island where you can enjoy a short walk to stretch the legs.
Next drive into the mountains of Connemara National Park and hike Diamond Peak. Depending on time you can then take the coastal route to Westport or take the more direct inland road.
Drive across the sand to Omey Island

Hike Diamond Peak.

Visit Kylemore Abbey

Stop at the viewpoints to admire Kilary Fjord.

Take a short walk to see the salmon ladder at at Aasleagh Waterfall.

Relax with a Guinness in Westport.
Stay at a guesthouse in Westport.
Day 14 – Westport to Achil Island via Croagh Patrick
Before leaving Westport I'd highly recommend spending the day hiking up Ireland's most holy mountain – Croagh Patrick. The views from the top are incredible.
Then it's a fairly short drive to Achill Island, which is your home for the night. Our plan was to wild camp here but due to heavy rain we retreated to a campsite with a kitchen and toilets!
Hike Croagh Patrick. 7km round trip. 730m elevation gain.

Drive to AchilI Island and kick back onto island time.
Camp Sanybanks campsite or wild camp.
Day 15 – Achill Island to Belmullet peninsula
Weather permitting, this day can be spent enjoying any number of water activities on offer at Achill Island. Once you are done continue north, stopping at Balycroy National Park for a short walk along the boardwalk.
Enjoy surfing, kayaking, SUPping or kitesurfing at Keel beach

Hike the cliffs at Keem Bay

Take a short walk around Balycroy National Park
Wild Camp on the west coast of Belmullet peninsula.
Day 16 – Belmullet to Sligo
There are more top places to see in Ireland today as you drive along the Wild Atlantic Way to the town of Sligo. Stop en route to see Downpatrick Head Sea Stack. Once in Sligo there are also some options for hiking.
Visit Downpatrick Head for another sea stack photo opportunity.

Hike Knocknarea near Strandhill. 3km round trip. 200m elevation gain.
Camp at Strandhill Caravan and Camping park
Day 17 – Sligo to Donegal
The beach at Strandhill is another great spot for surfing, so spend the morning enjoying water sports at the beach. Then drive the short distance north to the great little town of Donegal.
Catch some surf at Strandhill beach

Drive the loop around Mullaghmore for some more amazing coastal rock formations.

Visit Donegal Castle.
We were lucky enough to have friends in Donegal so we spent a few nights here. There is quite a lot to do around the area, so we used Donegal as a base from which to do a series of day trips.
Many guest house are available in Donegal. A budget option would be the Atlantic Guest House.
Day 18 – Slieve League
Drive to Slieve League and hike to the summit for amazing panoramic views. After a break for lunch drive around the coast to the beautiful bay at Silver Strand beach.
Take the most direct route across country for a fabulous scenic drive to Maghera Waterfall. The waterfall is pretty special too.
Drive to the top car park and hike Slieve League. 9.2km round trip. 460m elevated gain.

Chill out at Silver Strand Beach.

See the watch tower at Malin Beg

Take the scenic drive to Maghera Waterfall.
Day 19 – Glenveagh National Park
Our plan for today was to hike Errigal Mountain in Glenveagh National Park. The weather, however, had other ideas and we had to abandon this plan. Instead we had an easy wet weather day in Donegal, catching up on life chores. If the weather is good I recommend the following:
Hike Mount Errigal.

Visit Glenveagh Castle.
Day 20 – Donegal to Portsalon
After a well earned break from camping, it's time to get back on the road. Continue along the last section of the Wild Atlantic Way to Fanad Head, taking a trip to Tory Island en route.
Visit the most northerly inhabited Irish island – Tory Island

Admire the beautiful lighthouse scene at Fanad Head
Camp at Knockalla Caravan and Camping.
Day 21 – Portsalon to Bellarena
Drive to most northerly point in Ireland, Malin Head. Take a wander around the peninsula before heading back down south and crossing into Northern Island. Spend the afternoon exploring Londonderry.
Visit Malin Head

Take a walking tour of Londonderry Walls and murals.
Camp at Golden Sands Camping.
Day 22 – Bellerena to Belfast
There are lots of highlights today, some with a Game of Thrones influence. Drive along the coast to the Giants Causeway and spend a few hours exploring the basalt columns. Swing by Carrick-a-rede Rope Bridge before heading into the countryside to walk along the Dark Hedges.
Take a photo stop at Benone Strand and Mussenden Temple. This one is for the GOT fans.

Hike around the hexagonal columns of the Giant's Causeway.

Cross Carrick-a-rede Rode Bridge.

Walk the Dark Hedges of Bregagh Road. One of the most famous locations from GOT.
Stay at a hostel in Belfast. We stayed at Botanical Backpackers.
Day 23 -Belfast
Spend the day exploring this gritty city. The Titanic museum is outstanding. Probably the most fun/interactive museum I have ever been to. After all that interactive goodness, sit back and refuel at one of Belfasts fine eateries. 
Afterwards, there are options for free walking tours around the city centre and I recommend taking some time to visit the Peace Wall.
Allow a few hours to take everything in at the Titanic Belfast Museum.

Take a tour of Crumlin Road Gaol.

Visit the Peace Wall and murals around Shankill and Falls Road. Several companies offer waking tours or black cab tours to teach people about the troubled history of this area, which I have heard good reviews about. Unfortunately they didn't quite fit with our schedule.
Day 24 – Belfast to Howth
The drive today has little to offer compared to other days on this Ireland road trip, however there is one very impressive stop along the way and a must see in Ireland. Allow a few hours to explore the neolithic sites of Newgrange and Khowth.
To visit these sites you must drive to the Bru na Boinne visitor centre. Brown signs for Newgrange will show you the way. At the visitor centre you can purchase the tickets and shuttle buses will take you to the sites.
Continue on with the drive to the small town of Howth. Here you can enjoy a few final Irish beach strolls.
Visit the incredible passage tombs of Newgrange and Khowth.

Explore the beaches of Howth.
Howth is pretty well developed so it's difficult to wild camp here. Treat yourself to a room for the night. We stayed in McNeills of Howth.
Day 25 – Howth to Dublin
It's just a short drive to Ireland's capital city where you can spend the day exploring. With a bigger budget you might want to spend more than one night here but we were keen to get back out to the countryside. Click here for a full 2 day Dublin itinerary.
In Dublin be sure to visit the following places:
Ascend the giant pint glass that is, the Guinness Storehouse.

View the Book of Kels and see the Long Room at Trinity College.

Visit Dublin Castle.

Enjoy a drink at Temple Bar.
Stay at a hostel/hotel in Dublin.
Day 26 – Dublin to Lough Dan
Leave the city and head south to a must see Irish destination – the Wicklow Mountains National Park. There are a number of hikes to choose from but I would recommend the Glendalough loop. Even though it will be busy, the views are spectacular.
Park at the Upper Lake in Glendalough and hike the loop marked with white arrows. The route takes you up the Spinc boardwalk and returns via Glenealo Valley. 9km round trip. 270m elevation gain.
Camp at Lough Dan Scout Centre. Spend two nights here to fully explore the Wicklows.
Day 27 – Wicklow Mountains
There are options to do more hiking today but instead we opted for a more relaxing day. Drive first to Powerscourt waterfall and then enjoy the scenic drive around Lough Tay.
Option to hike Sugarloaf Hill

Visit Powerscourt Waterfall – the tallest waterfall in Ireland!

Enjoy a beautiful scenic drive on Military Road and then the R759 to view Lough Tay aka the Guinness Lake.
Day 28 – Wicklow to Rosslare
This is the final day of your epic Ireland road trip itinerary and you can finish off by learning about some more Irish history. Drive first to Enniscorthy and walk to the top of Vinegar Hill. After lunch drive onto New Ross and take a tour of the Dunbrody Famine Ship.
Learn about the Irish rebel's big stand at Vinegar Hill.

Discover how tough the conditions were on board a famine ship bound for a new life in America, at Dunbrody Famine Ship Visitor Centre. Guided tours are optional but cost no extra so I would definitely recommend it.
We sailed back to the UK on this evening.
Ireland Trip Planner Summary
So there we have it – your complete budget Ireland road trip planner. I hope you found this post helpful and are able to enjoy exploring Ireland as much as we did. If you have any questions feel free to shoot me a message and I'll get back to you as soon as I can.
Designing our Ireland road trip itinerary was made possible with the help and suggestions from Irish friends and fellow travellers. Slàinte!
Disclaimer: Some links in this article are affiliate links, which means that if you purchase through them I receive a small commission, at no extra cost to you. This helps cover the cost of running this blog. Thanks for your support!
Join my monthly newsletter and get my top travel hacks!