In this guide I have compiled an Annapurna Circuit packing list for anyone considering taking on this incredibly beautiful and challenging trek.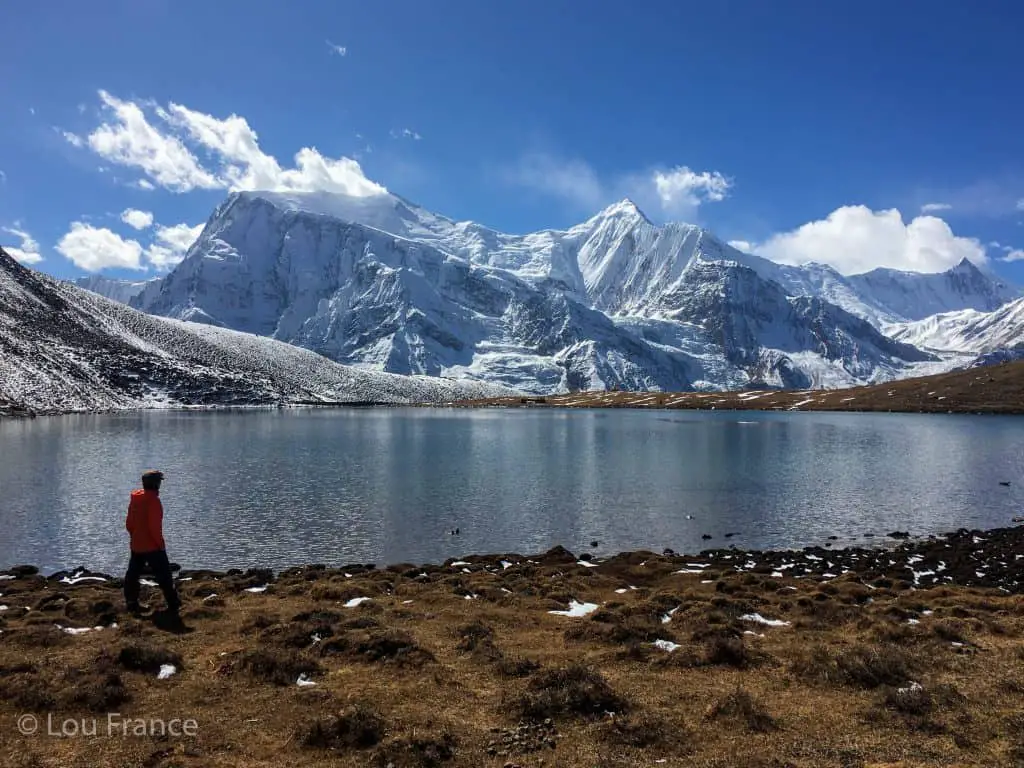 Disclaimer: Some links in this article are affiliate links, which means that if you purchase through them I receive a small commission, at no extra cost to you. This helps cover the cost of running this blog. Thanks for your support!
Hiking the Annapurna Circuit
Hiking the Annapurna Circuit will be one of the most amazing experiences of your life! The beautiful scenery, the friendly people and the feeling of satisfaction once you've pushed yourself to limit and come out the other end.
However, the equipment you have with you could be the difference in making your trip a pleasurable one or a painful one. Having completed the Annapurna Circuit in November 2019, here is my suggested Annapurna Circuit packing list.
What to pack if you don't have a porter or a guide
Nick and I spent 2 two months exploring Nepal and the clear highlight was our trek around the Annapurnas. Nick and I trekked the Annapurna circuit and Annapurna Base Camp without a porter or a guide. We are quite confident and experienced in the mountains and felt comfortable doing this.
This packing list is exactly what we took for our trek, which lasted 24 days in total. (We added Annapurna Base Camp onto the circuit, which took an additional 5 days). However, this list would be the same whether we took 12 days or 1 month. 
The key to successfully completing the Annapurna Circuit is to pack as light as possible – your legs will thank you for it! 7 – 12 kg is the recommended weight. 
Are you planning your Annapurna Trek and wondering what side hikes to include? Take a look at this post about hiking to Ice Lake!
If you want to see what hiking the Annapurnas involves, watch this video below!
Annapurna circuit packing list
Here's a handy checklist of everything you need to take on this hike.
| | | | | |
| --- | --- | --- | --- | --- |
| Equipment | Clothing | Accessories  | First Aid | Toiletries  |
| Boots  | Thermal leggings | Gloves | Emergency blanket | Shampoo |
| Backpack | Thermal top | Buff | Bandages | Toothpaste |
| Sleeping bag | Underwear & socks x 3 | Towel | Antiseptic wipes | Toothbrush |
| Trekking poles | Hiking pants x 2 | Sun hat | Plasters | Sunscreen |
| Camera | Hiking tops x 2 | Sunglasses | Painkillers | Lip balm |
| Head torch & spare batteries | Mid-layer | Flip flops | Scissors  | Toilet paper |
| Phone | Down jacket | Water bottle | Penknife |   |
| Book/Kindle | Rain jacket |   | Anti-histamines |   |
| Power bank & chargers |   |   | Imodium  |   |
EQUIPMENT
First & foremost – Boots
Looking after you feet is vital for success on any long distance hike like the Annapurna trek. Without them you're not going anywhere. So it's essential to have a good pair of boots.
We saw many people hiking the trail in trainers which is fine for the lowlands, but at higher altitudes there is always potential for snow, especially going over the pass.
I was also grateful for the ankle support provided by my boots on some of the rockier sections. For the last two years I've hiked around the world in these Hanwag boots and they are really comfortable. The Gortex helps keep the wet out and helps my feet to breathe! Nick has the men's equivalent so we are both Hanwag fans 🙂
   Check the price on Amazon.
Socks x 3
Equally important for your feet are your socks. I wear double layer socks to prevent blisters. I took 3 pairs of socks so I could cycle through them, washing each pair at the end of the day, then hiking with them on the outside of my pack during the day to let them dry.
Backpack
The next most important thing to have after good boots is a comfortable and supportive backpack. Your bag will become your best friend for a few weeks so invest wisely. Nick had an Osprey Kestrel 58 which was big enough to fit everything in with room to spare (including my sleeping bag – thanks Nick!)
   Check the price on Amazon.
Sleeping Bag
Peak season for the Annapurna circuit trek is October and November, when the weather is mostly dry and clear. This is great for those mountain top views but it does mean it gets very cold at night. The teahouses do provide blankets but up high these are not enough. A warm sleeping bag is essential.
I've had my Mountain Equipment Everest Down sleeping bag for a few years now and I still love snuggling up in it at night. Its comfort range is -3 to -9 degrees Celsius and it kept me warm the whole way around the Annapurnas.  
Trekking poles
People have mixed opinions when it comes to trekking poles. I have no doubt that they help with balance over rocky terrain and help prevent sore knees on downhill sections.
My only complaint about them is that they tend to get in the way. I like to take photos so its all a bit of a fiddle getting your camera out when you have trekking poles.
CLOTHING
Thermal leggings and top (base layers)
Did I mention how cold it gets at night on this Annapurna hike? I wore my thermals every night and was grateful I had them. It's worth spending money on Morino wool  as it has antibacterial properties, which means you don't have to wash it so often. Always a bonus on multi-day treks!
Underwear x 3
Ok I actually had four pairs of undies and two sports bras but I think 3 pairs of both is enough. 
Hiking pants x 2
These should be lightweight and comfortable. Some people prefer to hike in leggings which is fine but I like to have pockets for my phone, lip balm and tissue paper. On most of the trail it will be warm enough for shorts but out of respect for the culture of local people avoid short shorts!
Hiking tops x 2
Pick lightweight tops with wicking properties so they dry quickly. Again singlets are fine as long as they are modest.
Mid-layer
Perfect for those times when a t-shirt isn't quite enough but the puffy is too much.
Warm down jacket
November in the high Himalayas – need I say more? Invest in a good puffy jacket otherwise your trek will be a cold, miserable affair. Seriously though, theres potential for hypothermia if you get caught outside for some reason, so it may even save your life!
Rain jacket or poncho
I opted for a poncho which was long enough to cover my legs too. But when I say poncho I mean a decent poncho, rather than one you bought for a $1 one day because you got caught outside in the rain without an umbrella 😀
Thankfully it only rained one day on our trek and even then it was just a light drizzle. 
After crossing Thorong La Pass we trekked down to the small village of Larjung where we did a side hike to Daulagiri Icefall. Read about this epic adventure here!
ACCESSORIES 
Gloves
We only used these on early morning hikes, like crossing over Thorang La Pass or walking up to Poon Hill (ABC trek). If you opt to use trekking poles though gloves are definitely much needed.
Buff which doubles up as a beanie
Again I only used the buff around my face on the early morning hikes, but most evenings I used it as a beanie. Good for hiding sweaty trail hair!
Travel towel
Light and compact is all you need in your hiking towel. 
Hat
The sun is very fierce at high altitudes in the Annapurnas, so having a sun hat will stop your face from frying and help prevent overheating.
Sunglasses
Invest in some polarised sunglasses to make the lakes look even more blue! These sunglasses claim to be unbreakable, which sounds like a challenge!
Flip flops
After a long day trudging around in boots there is nothing nicer than slipping into some comfortable flip flops. Handy for using for toilet/shower visits around the teahouses at night.
Water bottle with filter
This is another essential item in your Annapurna Circuit packing list. Having a water bottle with a filter means you able to fill up at streams and taps whilst you hike.
Filtered water is provided by approved teahouses along the way for a small fee which is great, but these are often a fair distance apart. Nick and I used a Water To Go bottle on our trek and neither of us got sick, which is perhaps the best recommendation I can give.
For a complete guide to choosing the best filtered water bottle for you, take a look at this post!
FIRST AID KIT
In my first aid kit I carried the following:
Emergency blanket
Bandages and gauze
Antiseptic wipes
Plasters
Ibroprofen
Anti-histamines
Ciproflaxin – we travel with this broad spectrum antibiotic as it fixes most gasto problems fast. Consult your doctor before using.
Imodium – I hate to use this but if I need to get through a day without running to the toilet every five minutes, then sometimes it has to be done!
Diamox – we carried Diamox for altitude sickness as an emergency. Consult your doctor before using.
Compeed – this a lifesaver if you get blisters. Don't scrimp – put it in!
Scissors
Penknife
TOILETRIES 
Small shampoo
Small toothpaste
Toothbrush
SPF50 sunscreen – this sunscreen is free of nasty chemicals whilst providing top notch protection!
Lip balm
Toilet paper – none of the teahouses will provide toilet paper but it is available to buy in shops along the way.
ELECTRONICS
Camera – my Sony A6400 is light and compact. Perfect for trekking the Annapurna Circuit
Wide angle lens – to capture all the beautiful mountain vistas – I still use the 16-50mm kit lens from my old Sony NEX camera as again it is light and compact.
SD Cards – You need a reliable SD card with plenty of memory such as this SanDisk card.
Spare batteries – for your head torch.
Kindle – the evenings can be long on the trail. After a quick shower and a hearty meal, there is plenty of time to put your feet up and read a book. Two great books I read whilst hiking was the Kite Runner and Trespassers on the Roof of the World. Both excellent reads.
Head torch – I've had a few head torches over the years but I do like Petzl ones. This one has different brightnesses and the red light option to avoid blinding everyone around you!
Phone – for me my Iphone was my map, my camera, my altitude reader and my notebook. Definitely one of my essential items.
Power bank – another essential item for the trail especially if your phone has a pathetic battery life like mine! I use this Zendure power bank as it can charge my phone multiple times. It also has the function to charge two devices whilst it is itself charging from the mains, which is a very handy feature. This means you only need to carry one plug.
Chargers – most teahouses have power sockets in the rooms or in communal areas. At higher altitudes they often charge a fee for charging. (100-200 NPR)
Annapurna Circuit Packing List Summary
That completes my suggested packing list for your Annapurna Circuit trek. Obviously if you are using a porter then you will be able to take more, but please be kind to their backs! They might appear to have super human strength but that is not an excuse to load your bags with unnecessary items.
Finally, don't forget to have comprehensive insurance before you hit the trail, just in case it doesn't quite go to plan.
Don't Forget Your Travel Insurance!
For the best deals on travel insurance, check out Safety Wing.
If you have any questions about the logistics of our trek please feel free to send me a message. Happy hiking!
If you like big mountain hiking you might be interested in two incredibly beautiful hikes in nearby Pakistan. Rakaposhi Base Camp in the Karakorm range and Nanga Parbat Base Camp in the Himalayas.

Pakistan is definitely back on the tourist radar which is great to see.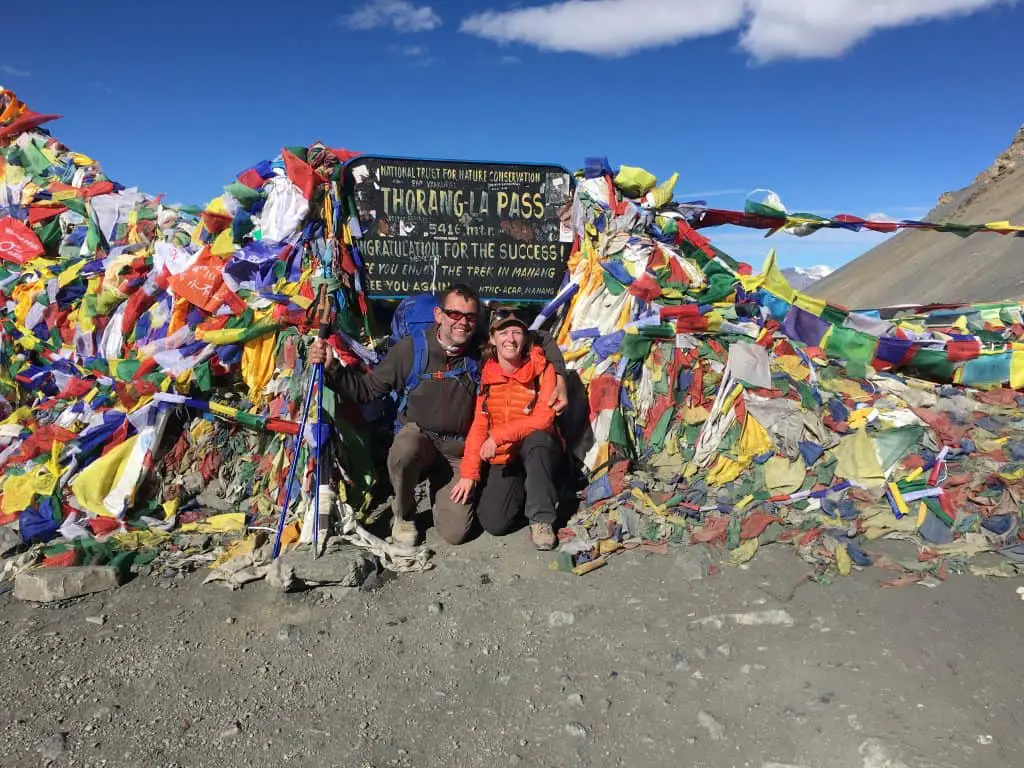 Like it? Pin it for later!
Join my monthly newsletter today!