The beaches in Puerto Vallarta make this city in the state of Jalisco, Mexico the perfect place to go for a relaxing trip. There's a great variety of beaches both within the city, and within 30 minutes driving. You can easily fill up a week by visiting a new, unique beach every day. 
Puerto Vallarta's beaches are perfect for sunbathing, swimming, and a wide range of activities including snorkeling and parasailing. For a lively and festive vibe, you can head to the city's central beaches, like Playa de los Muertos. For a calmer beach experience, take a 10 minute water taxi ride to Playa Colomitos. 
What not to do in Puerto Vallarta? Don't skip visiting the most beautiful beaches! Read this guide to know the best beaches for your trip to this region of Mexico.
Guest Post by Erin Hynes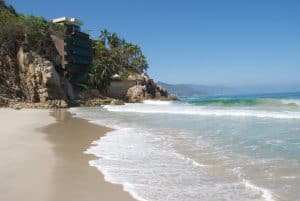 Disclaimer: Some links in this article are affiliate links, which means that if you purchase through them I receive a small commission, at no extra cost to you. This helps cover the cost of running this blog. Thanks for your support!
The Best Beaches in Puerto Vallarta
1. Playa de los Muertos
Playa de Los Muertos is the most well-known beach in Puerto Vallarta. This beach is conveniently located within walking distance of the Romantic Zone, the Malecón Boardwalk, and other popular areas and landmarks of Puerto Vallarta. It has lifeguards on duty.
This beach is over a mile long, and very wide. During the day, it becomes lively with locals and vacationers, beach towels, umbrellas, and vendors. Out in the water, it's common to see windsurfers, jet skis, and people snorkeling. 
Hotels and restaurants line the edge of Playa de los Muertos, and so there's plenty of options for dining and drinking. Some of the hotels offer beach chairs and umbrellas for a fee (or for those who are having a meal or beverages). 
The lively energy on this beach, and the swimming at Playa de Los Muertos is some of the best in Puerto Vallarta. However, this beach is one of the most popular, and so it tends to get very busy. It's best to go early in the day to secure a nice spot on the sand. 
Just off of the beach is Los Muertos Pier. Designed by architect José de Jesús Torres Vega, the pier was inaugurated in 2013. At the end of the pier is a beautiful curved structure that is shaped like a wind sail. 
When you walk out to the end of Los Muertos Pier, you have a beautiful view of the beach and Puerto Vallarta. It's the perfect spot to catch an epic sunset, and see the city lights come alive as the sun goes down. From the pier, you can catch water taxis taking you to other beaches within and nearby Puerto Vallarta. You can also sign up for snorkeling tours, or book a diving or fishing charter.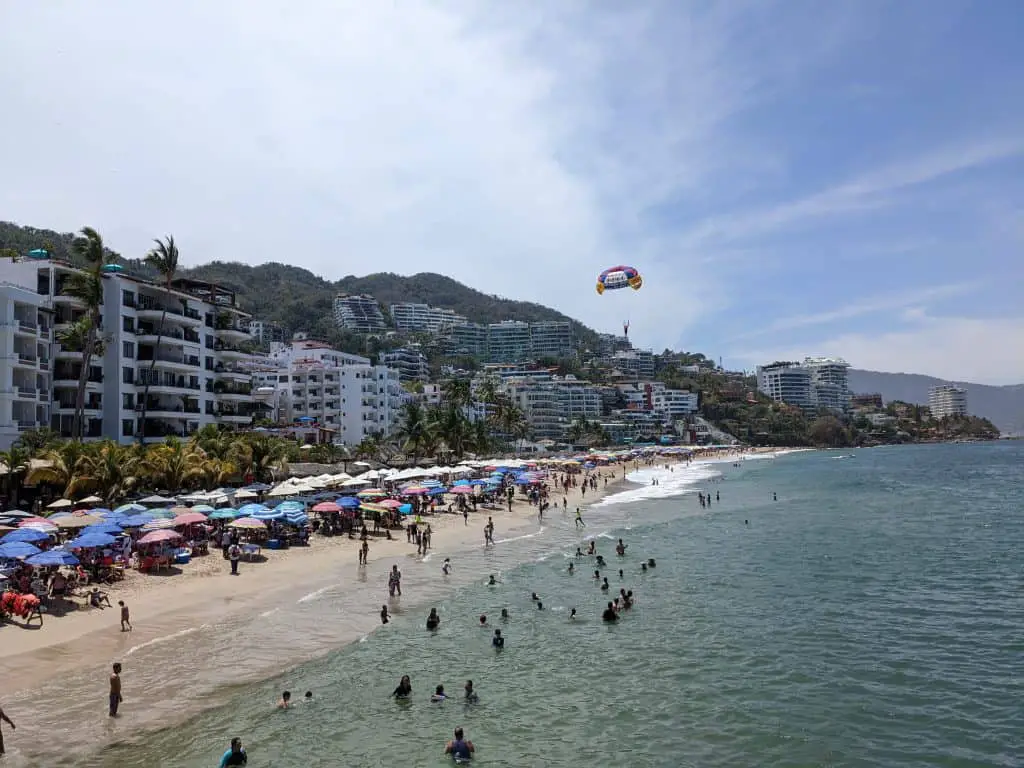 2. Playa Mismaloya
If you're looking for a quieter beach experience, head to Playa Mismaloya. This beach is about 9 miles south of Puerto Vallarta. You can get there by taking a taxi, which takes about 30 minutes, or by water taxi, which takes the same amount of time (but includes beautiful coastal views). 
This beach tends to be less busy than the beaches close to Puerto Vallarta's center, like Playa de los Muertos. On Playa Mismaloya you'll find casual restaurants and bars, mainly small palapas at the edge of the water that sell cold beers and fresh-grilled fish. 
This beach has nice swimming conditions, and the sand, you're treated to views of the nearby ecological reserve, Los Arcos. The reserve is known for its granite rock islets, which are inhabited by an impressive variety of land and aquatic species. 
Playa Mismaloya is also the set location of a 1964 movie called The Night of The Iguana. This film is known for having introduced Puerto Vallarta to a North American audience, which led to an increase in tourism in the area.
Read Next
3. Playa Camarones
Playa Camarones is another central beach in Puerto Vallarta. This long, sandy beach extends from Villa Premiere Resort Hotel on the north side, to Jesus Langarica street right by Hotel Rosita. The southern end of the beach is very close to the northern end of the Malecón, making it convenient to get to by walking. 
Playa Camarones is a large beach, which makes it feel less busy than the beaches near the Romantic Zone. It's easy to find a spot to put out your chair or towel. You'll also see lots of vendors on the beach, offering activities like parasailing, jet skiing,and SUP.  During the high season, Playa Camarones has lifeguards on duty.
Right off the beach are plenty of diverse shops, including bars and restaurants. Mangos Beach Club and El Solar are two nice spots where you can enjoy a cold drink, while lounging under an umbrella.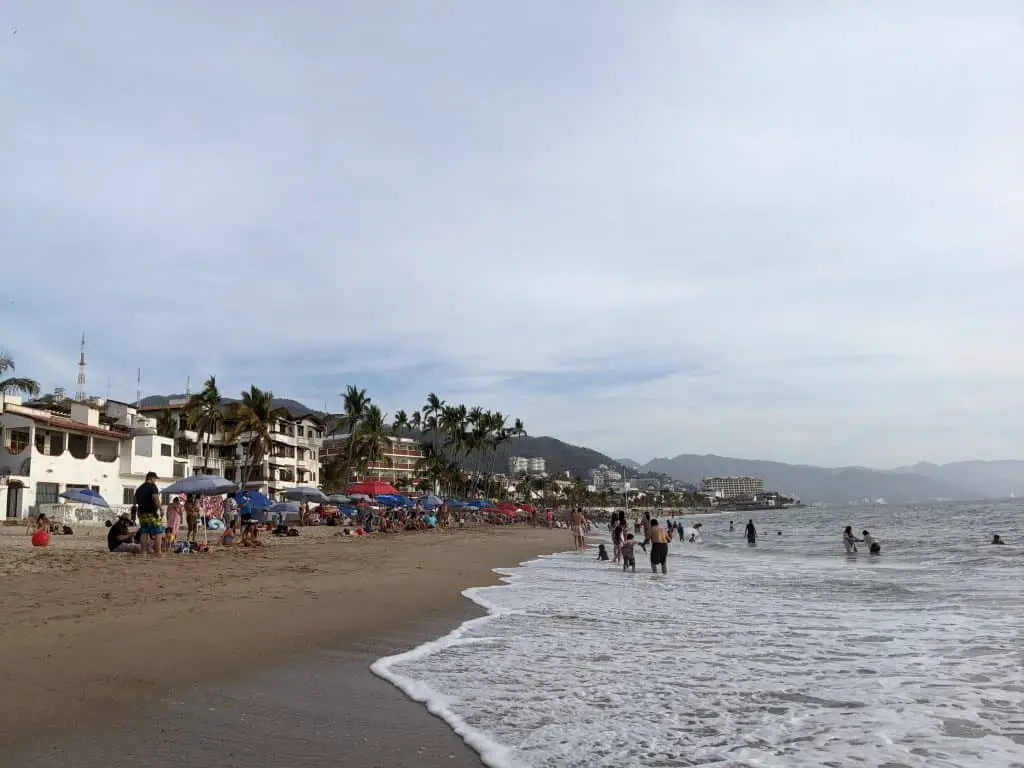 4. Playa Conchas Chinas
Playa Conchas Chinas is a small, sandy beach within a natural cove. It's located at the southern end of Playa de Los Muertos. This beach is a Blue Flag Beach, which means that the city of Puerto Vallarta takes extra care to maintain the cleanliness of the beach in a sustainable way.

Playa Conchas Chinas is about a 30 minute walk from the Romantic Zone. Alternatively, you can take a quick 5 minute taxi ride to the beach. It's worth taking the time to come to this beach, because it's unique from the other beaches that are in or very close to Puerto Vallarta. This beach has lifeguards on duty.

Surrounding the beach are interesting rock formations that create small pools all along the shore. You can wander around, observing the sea life within the pools. You'll spot sea creatures like crabs and small fish. Playa Conchas Chinas has calm water, which is perfect for swimming, and for snorkeling.

In close proximity to the beach there are mainly hotel resorts. This means there are fewer amenities available compared to the central beaches in Puerto Vallarta. It's a good idea to bring water and snacks with you for the day. Alternatively, keep an eye out for vendors who may walk along the beach selling drinks and food.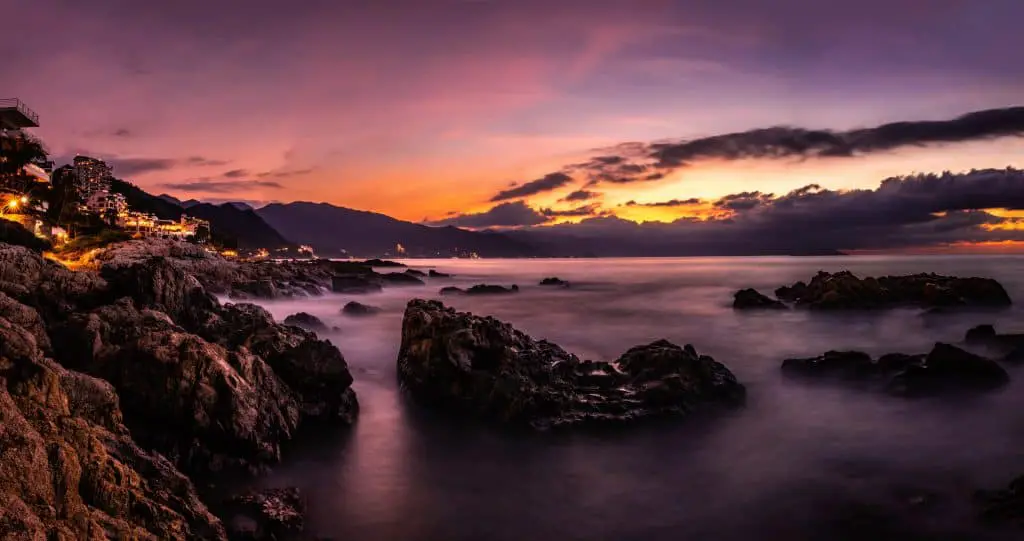 5. Playa Colomitos
Playa Colomitos is a small beach, nestled within a cove, and surrounded by jungle. This beach is a bit of a trek to get to, but it's well worth it. Located south of Puerto Vallarta, there are two ways to access Playa Colomitos. 
You can go by water taxi along the coastline, which takes about 10 minutes. Or, you can take a 30 minutes on-land taxi ride to the town of Boca de Tomatlan. From there, follow a trail through the jungle for 30 minutes to reach Colomitos. 
Playa Colomitos is absolutely beautiful, and because it's a cove, the swimming conditions are perfect. Typically, there's a small stand there where you can purchase drinks, but aside from that, there are no amenities at this beach.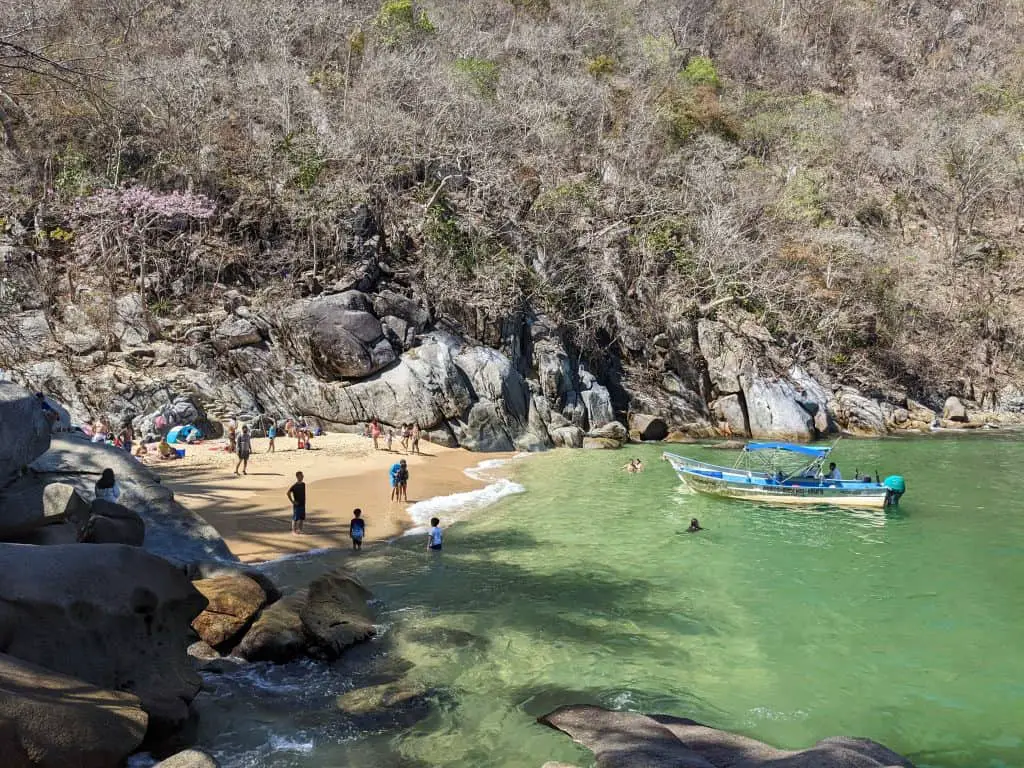 6. Playa Palmares
Playa Palmares is another great beach in Puerto Vallarta for those who want a quieter vibe. This beach is about four miles south of the Romantic Zone, easily accessible by taking a 15 minute taxi ride.

This sandy beach has calm, shallow water, perfect for swimming, as well as lifeguards on duty. And, Playa Palmares is a Blue Flag Beach, which means that the city of Puerto Vallarta takes extra care to maintain the cleanliness of the beach in a sustainable way.

Being just outside the city, Playa Palmares has fewer amenities than the central Puerto Vallarta beaches. You'll see plenty of vendors selling drinks and snacks, but for a full meal, you'll head to Canto Palmares, the only restaurant on the beach.

At the north end of the beach, Playa Palmares connects with another beautiful beach called Playa Punta Negra, which is also well worth a visit.
7. Playa Las Animas
Playa Las Animas is a long, sandy beach that has a pier, restaurants and bars, and plenty of beachgoers. This beach is about 9 miles south of the Romantic Zone, and it's only accessible by boat or by hiking. The simplest way to access this beach is to take a water taxi from Puerto Vallarta directly there, which takes about 25 minutes. 
Alternatively, you can take a taxi from Puerto Vallarta to Boca de Tomatlan. From there, grab a water taxi the rest of the way to Las Animas. Or, hike to Las Animas following a coastal trail. This hike takes about an hour. 
At Playa Las Animas, you can enjoy a meal and a drink, hang out on the beach, or go for a swim. The beach has most amenities, including public bathrooms and lifeguards. As with most Puerto Vallarta beaches, there are vendors renting out water sports equipment like snorkeling gear and paddleboards.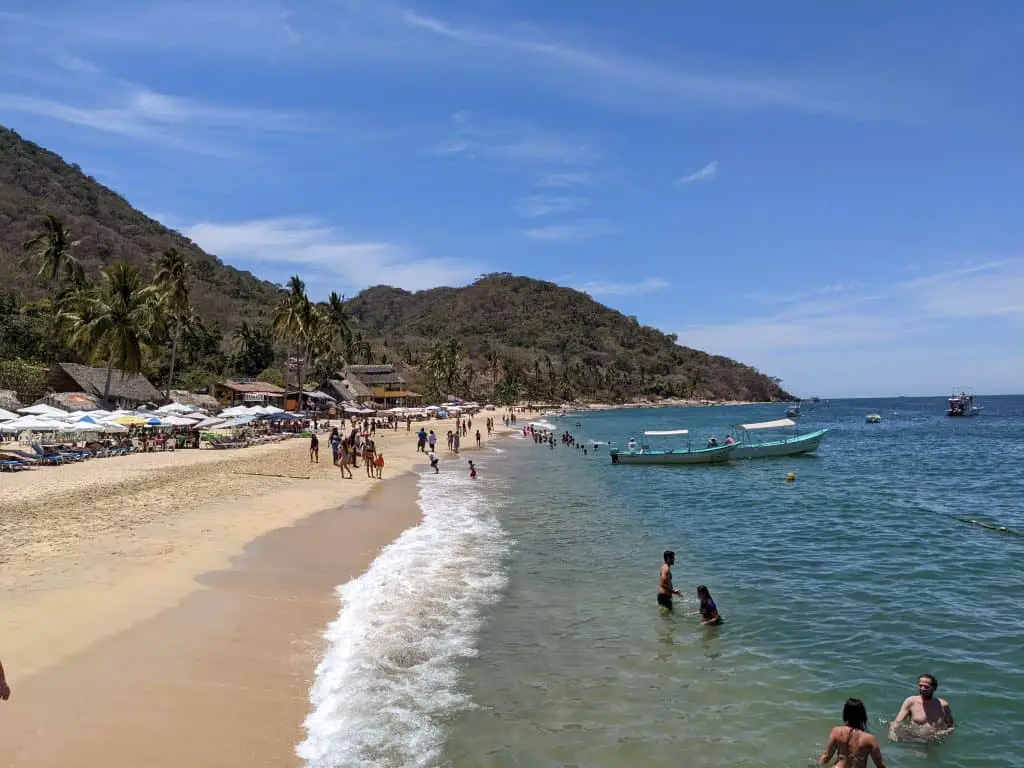 8. Playa de Oro
Playa de Oro has an interesting history. This beach was where some of the first resort hotels were built in the 1950s and 60s, and many of Hollywood's celebrities were known to frequent it. Today, it's still a beautiful beach, and it's Blue Flag certified. The city of Puerto Vallarta takes extra care to maintain the cleanliness of the beach in a sustainable way.

Playa de Oro is in the North Hotel Zone of Puerto Vallarta, between the Maritime Terminal and the mouth of the Pitillal River. It's easily accessible by walking, taxi, or public bus, and it's close to shopping centers, restaurants, grocery stores and other services.

You'll find that Play de Oro is a little less busy than the beaches more central to the Romantic Zone. And, the waves at Playa de Oro are usually gentle, which makes it a great beach for water sports like parasailing, kayaking, paddleboards, and jet skiing. This beach has plenty of amenities, and lifeguards on duty.
Final Thoughts on Puerto Vallartas' Best Beaches
The Jalisco region has some of the most beautiful beaches of Mexico, and many of them are easily accessible from Puerto Vallarta. Whether you're looking for a busy, festive beach, or a relaxing beach surrounded by nature, Puerto Vallarta has you covered.
If you want to discover even more beaches in this region of Mexico, head 40km northwest to explore everything Sayulita has to offer.
Author Bio
Erin Hynes has been traveling the world for over a decade, both solo, and with her partner. She's traveled to countries across 6 continents, and lived in 2 countries abroad. Erin writes the travel blog Pina Travels, and hosts the travel podcast, Curious Tourism, where she interviews travel industry thought leaders and experts about responsible tourism.