If authentic Mexican culture, glorious secret beaches, and plenty of colours sound like your idea of the perfect getaway, there's no better place to visit than Sayulita.
Located on the Riviera Nayarit on the Pacific Coast of Mexico, Sayulita only recently started gaining popularity as a tourist destination. On my first visit in 2014 the town was relatively under-developed.
However, thanks to its close proximity to Puerto Vallarta, getting there from countries like the United States and Canada is a breeze, making it both the perfect destination for a quick getaway, as well as a long-term stay.
All over town, you'll find a plethora of cozy coffee shops, exciting bars, and boutique shops. Street art, colourful buildings, and multicoloured papel picado are all part of the town's decor, making it a dream come true for those looking for a place that still has that local feel to it.
From surfing lessons, to hidden beaches and exciting day trips, here are the best things to do in Sayulita.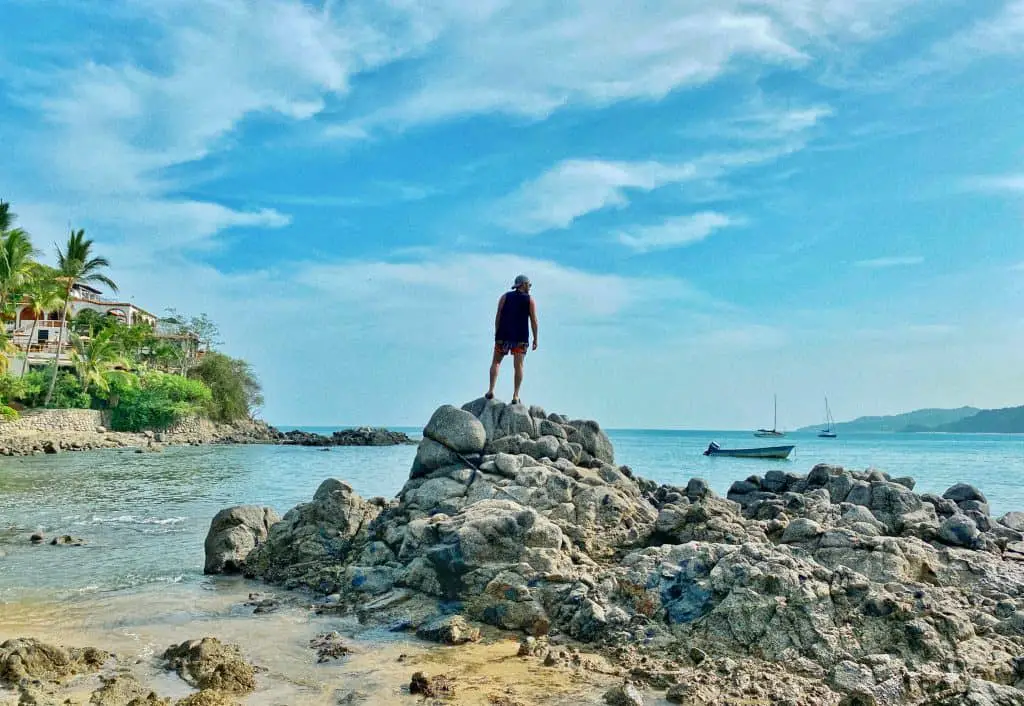 Disclaimer: Some links in this article are affiliate links, which means that if you purchase through them I receive a small commission, at no extra cost to you. This helps cover the cost of running this blog. Thanks for your support!
How To Get To Sayulita
Located on the southwest coast of Mexico in the state of Nayarit, the hippy-chic surfers paradise of Sayulita is easy to reach.
By Air
The nearest international airport is Puerto Vallarta (PVR), which is 40 km away and takes 45 minutes – 1 hours drive. Most airlines from the US, Canada and Europe will fly to Puerto Vallarta via Mexico City, although there are direct flights from LAX.
Taxi or Airport Transfer
There is a taxi stand at PVR airport, although these rates will be much higher than taxis or shuttles that are pre booked.
The easiest and most efficient way to get to Sayulita from Puerto Vallarta airport is via a pre-arranged airport transfer.
By Bus
Sayulita is easily reached by Bus from other major cities.
The bus from Peurto Vallarta to Sayulita takes 1-1.5 hours and is serviced by the COMPOSTELA bus line. Look for the "Sayulita" sign in the windshield.
From Guadalajara the bus takes around 4-5 hours and several operators service this route.
Car Rental
If you'd prefer the freedom to explore Sayulita and the surrounding area using your own car, then the best bet is to rent a car. A car isn't needed if you plan on spending all of your time in Sayulita, but it is handy if you want to take day trips to Punta de Mita or Tequila. Car rentals are available for pickup at Puerto Vallarta airport.
The Top 21 Things To Do In Sayulita Nayarit, Mexico
1. Hike Monkey Mountain
Known as Cerro del Mono in Spanish, Monkey Mountain is a place where you'll get to see the best views of Sayulita and its surroundings, with 360 panoramic vistas of the village, Higuera Blanca, Banderas Bay, and Punta Mita available at the top!
Granted, getting to the top requires a pretty tough hike, but if you're up for the challenge, I guarantee you'll be rewarded with the most breathtaking vistas in Riviera Nayarit. The hike can be done independently and takes half a day, but most people opt to hire a guide as the trail is not entirely marked.
2. Take a day trip to Islas Marietas
Created by volcanic eruptions in the area, Islas Marietas is a set of islands on the Pacific Ocean. While there are no humans living here, you'll find a plethora of wildlife and unique flora that have made the archipelago their permanent home.
The islands boast underwater caverns, natural caves, and hidden beaches. In order to explore, you can choose to rent a kayak or, better yet, book yourself a snorkeling or scuba diving tour in order to explore beneath the surface! If you're looking for the best value, choose this full day boat tour.
For a really unique adventure, choose a tour that include a visit to Playa del Amor (Lover's Beach). This hidden beach can only be accessed through swimming underneath a cave. Plan your trip here carefully as tourist numbers are limited and it's completely closed on Mondays and Tuesdays.
3. Go horseback riding
With a lush jungle to one side and the rugged Pacific coast to the other, horseback riding in Sayulita is a magical experience.
Horseback riding tours in Sayulita are also an extremely local experience. Most tours are run by families in the village and will have you riding over the village, amid the jungle, and through secluded beaches and bays only residents know of!
4. Experience the Sayulita nightlife
Sayulita is a bit of a party town, so if you want to enjoy life until the early hours you've come to right place! Around the plaza there are a huge choice of bars and clubs to dance the night away.
At Bar Don Pato you can practice your salsa with a live salsa band or at Atico Sayulita you can try balancing your drink in the famous swing chairs. Some other lively locations include Latitude 20, Yambak and Cocos Beach Club.
If you'd prefer a more relaxed evening, simply head to beach and sip cocktails as the sunsets or for the best cocktails in Sayulita, head to Bar Escondido Sayulita. Piña Colada anyone?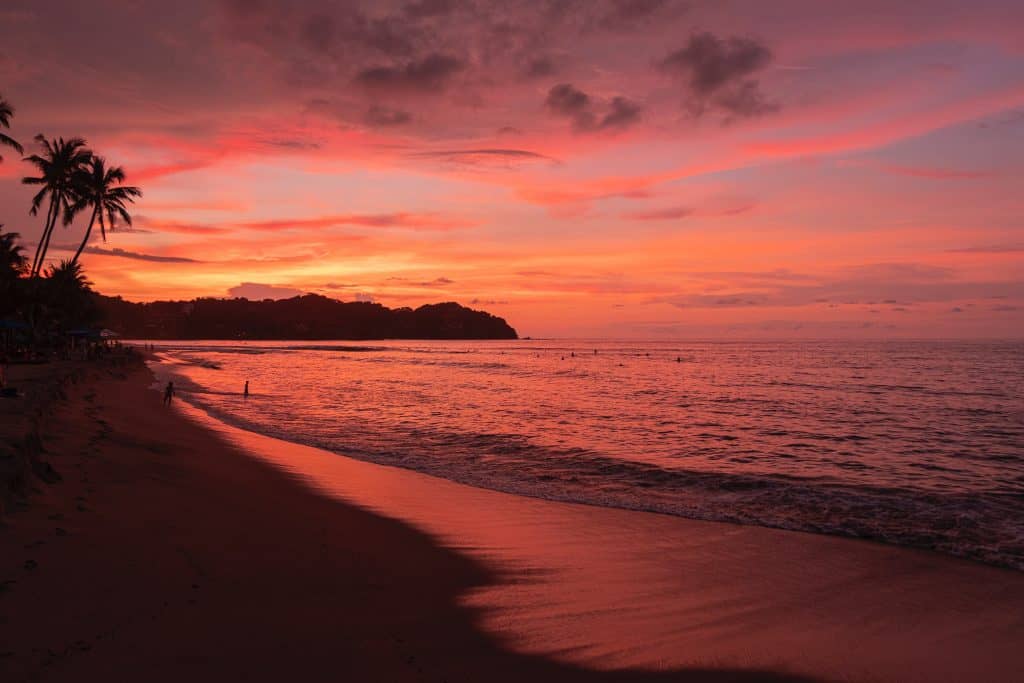 5. Join a party boat and explore the coastline
Since we're on the subject of partying, I have to mention joining an all-inclusive yacht adventure to Yelapa. The boats are decked out with comfy chairs and cushions from which to sit back and enjoy a drink from the all-inclusive bar. Whilst it may not be high-brow, it sure is a lot of fun! 
Two meals are provided on board and once you get too hot you can cool off in the ocean with free use of paddle boards, kayaks, snorkels and splash nets. If you have the energy, you can hike to the waterfall in Yelapa.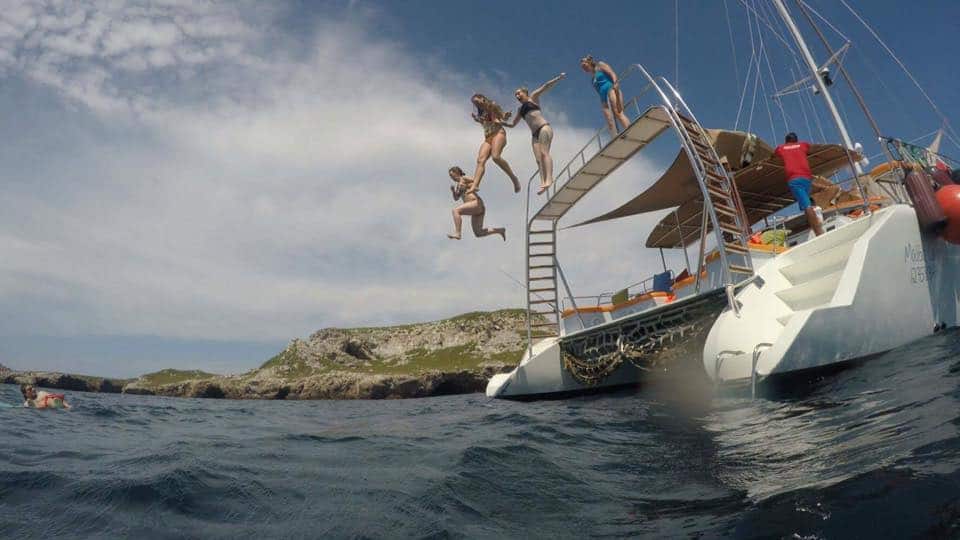 6. Learn how to surf
The town of Sayulita was actually founded by surfers and the combination of great surf and a warm climate has been a big attraction ever since. It's why Sayulita exists and is easily the most popular thing to do in Sayulita.
There are many incredible spots to ride waves, with options perfect for first-timers as well as bays meant for experts. If you can already surf there are plenty of places to rent surf boards along the main beach front.
Surfing lessons are available all over town, especially around Sayulita Beach and Playa La Lancha, which is a great beach for beginner surfers to get acquainted with the sport.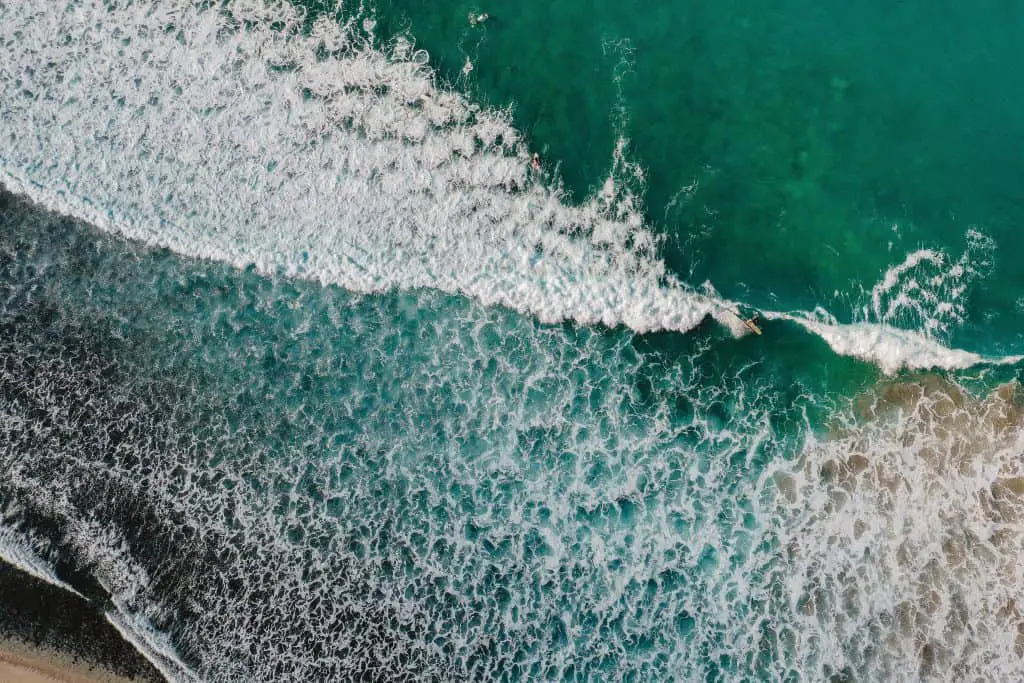 7. Visit the local farmer's market
Known as El Mercado del Pueblo, Sayulita's local farmers' market is the perfect place to go to not only find plenty of food and healthy homemade treats, but also to discover local artisan crafts, sustainable products, and artworks created by members of nearby communities.
The market takes place every Friday through the summer months.
8. Relax on the beach
Well of course! Sayulita maybe a beautiful place with lots of things to do but it is, in essence, a beach town. And there are no shortage of beaches to choose from in Sayulita.
Sayulita Beach is the main beach which backs onto downtown Sayulita. Due to the easy access, this is the busiest beach packed with sun loungers and souvenir vendors.
To the right of Sayulita Beach you will find North Beach, which is a long beach devoid of tourists. Also north of Sayulita, follow the jungle trail over the headland to discover the serenity of Malpaso Beach.
Alternatively, to the south of downtown Sayulita you can find Playa de Los Muertos and Playa Carricitos. These beaches are more quiet and secluded with next to no public facilities.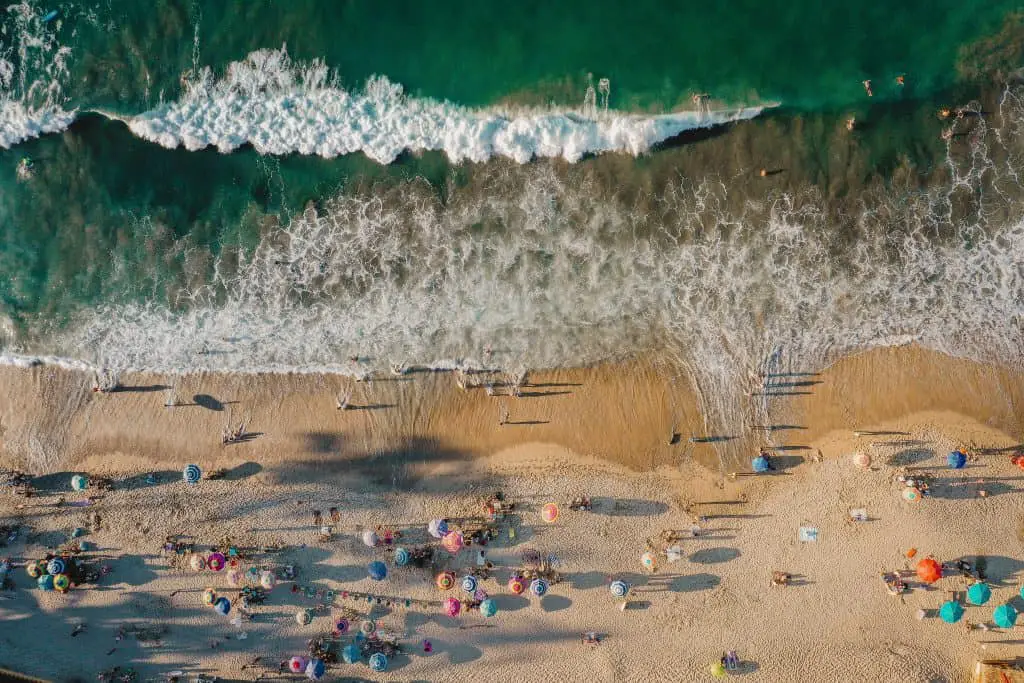 9. Take a day trip to San Pancho
Being only a short drive away from each other, San Pancho and Sayulita are what you'd call "rival villages", but they each hold their own unique vibe and allure.
While Sayulita has more of a party vibe, San Pancho is all about boutique shops, healthy restaurants, and a much more laid-back scene. It's possible to walk from Sayulita to San Pancho along North Beach, which takes around 1.5 hours.
10. Take a yoga class
Sayulita is all about holistic living, and yoga plays a huge part in what spending time in this village is all about.
There are plenty of yoga classes available led both by foreigners as well as locals. You can choose to book private lessons at the beach or your accommodation or join the many yoga communities all over if you want to mingle and make like-minded friends!
This yoga session combines a beautiful walk through the jungle with a yoga class on a secluded beach.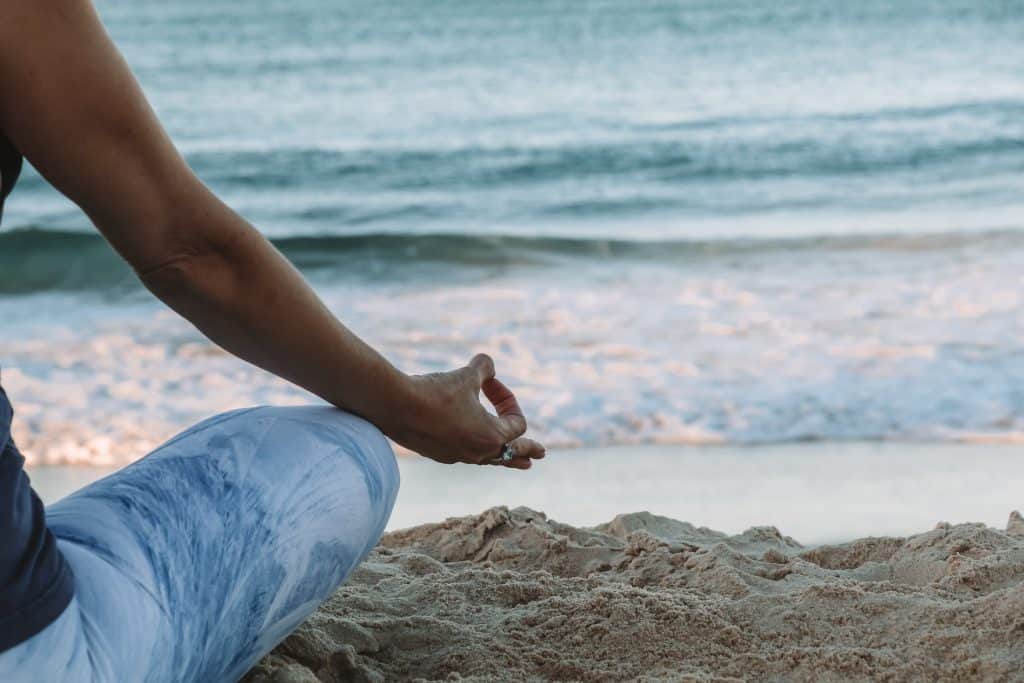 11. Take a temazcal
A temazcal is an ancestral-style steam house experience that is meant to purify your spirit. While the heat definitely does provide physical benefits such as toxin expelling, a temazcal is meant to go beyond that.
Purifying your soul, emotional grounding, medicinal scents, and releasing negative thoughts are all part of this ancestral ritual.
12. Go ziplining
Because Sayulita is located on a stretch of jungle, ziplining here is a very unique experience.
The tour will have you soaring over the canopies of the Sierra Madre jungle for over 2 kilometers, providing glorious views of treetops, the Pacific Ocean, several villages, and more.
13. Sample the best Mexican cuisine on a Taco tour
Now I'll be honest, tacos are one of my all-time favourite foods, so wandering around the pretty streets of Sayulita whilst stuffing my face with this ultimate in Mexican street food, is my idea of heaven. On the Sayulita Taco Tour you can do just that.
Join a local and learn about the background and preparation of this delicious dish so you can spend the rest of your time in Mexico ordering street food like a boss! Carnitas, Suadero, Pastor or, since you're at the coast, Pescado (fish). Drool! 
If you opt not to join the tour, be sure to check out Tacos al Pastor Tal Ivan and Mari's Fish Tacos and Tostadas.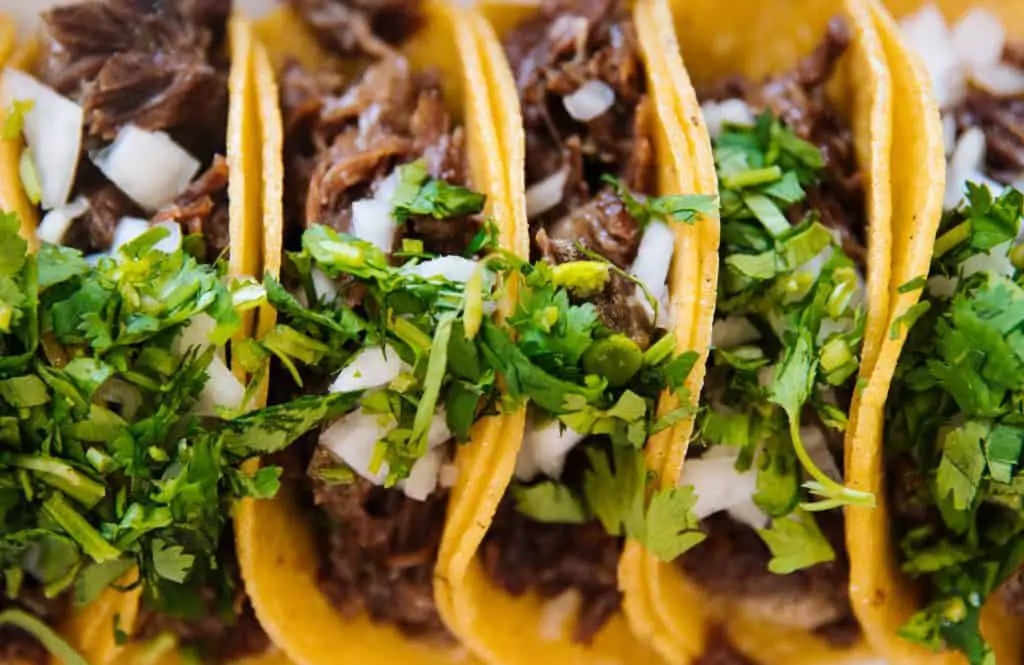 14. Spend a day in Punta Mita
Even though Sayulita has more of that hippy lifestyle scene, if you're craving to spend a day surrounded by luxury, nearby Punta Mita provides just that vibe.
Home to luxury resorts, high-end restaurants, and plenty of beach clubs, Punta Mita is a great place to head to for a day spent in comfort. A great way to enjoy a day here is by getting yourself a day pass to a beach club. Some of the best ones include Pacifico Beach Club, Sufi Ocean Club, and Kupuri Beach Club.
Don't Forget Your Travel Insurance!
For the best deals on travel insurance, check out Safety Wing.
15. Take a trip to Tequila
How about visiting a Pueblo Magico dedicated to the production of the famous Mexican spirit? Tequila is a small town in the western part of Jalisco state. The town is surrounded by fields of agave which is the key ingredient in making Tequila.
Top things to do in Tequila involve touring a Tequila distillery to learn all about how the drink is made (hiccup), visiting La Parroquia Santiago Apostol Church, taking a train ride on the Jose Cuervo Express or feasting on local Birria in the main square.
For more information on visiting Tequila, take a look at this guide.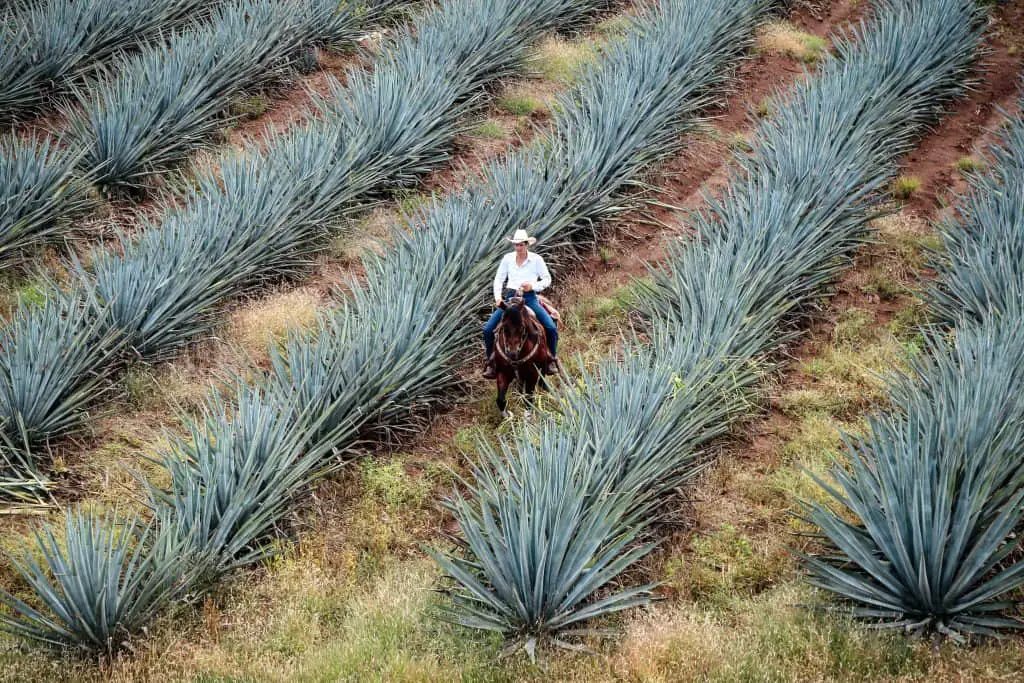 16. Enhance your skills on a photography workshop
If you love photography like me, you'll delight in the opportunity to get immersed in a photography workshop. The Aztec Cultural Photography Workshop provides the chance to photograph an Aztec Conchero in full ceremonial dress at a variety of locations from the jungle to the beach.
The workshop is centred around tuition from a local professional photographer who gears the lesson based on experience levels. A maximum group size of three ensures the workshop is tailored to your needs. This is an incredible way to learn about the indigenous culture in Sayulita whilst enhancing your own photography skills at the same time.
For an even more personal experience, try this private photo tour to enhance your landscape photography skills.
17. Shop 'til you drop!
There are no shortage of options for the shopaholics who visit Sayulita. There are cute artisan stores, beautiful jewellery stalls, boutique clothes shops and of course surf shops.
In the centre of downtown you can also find the hippie market, which is a great place to buy souvenirs hand-made by the locals. On Sundays there is also the Sayulita Tianguis, if you didn't find what you wanted at the Hippie Market. These markets are brimming with life and colour.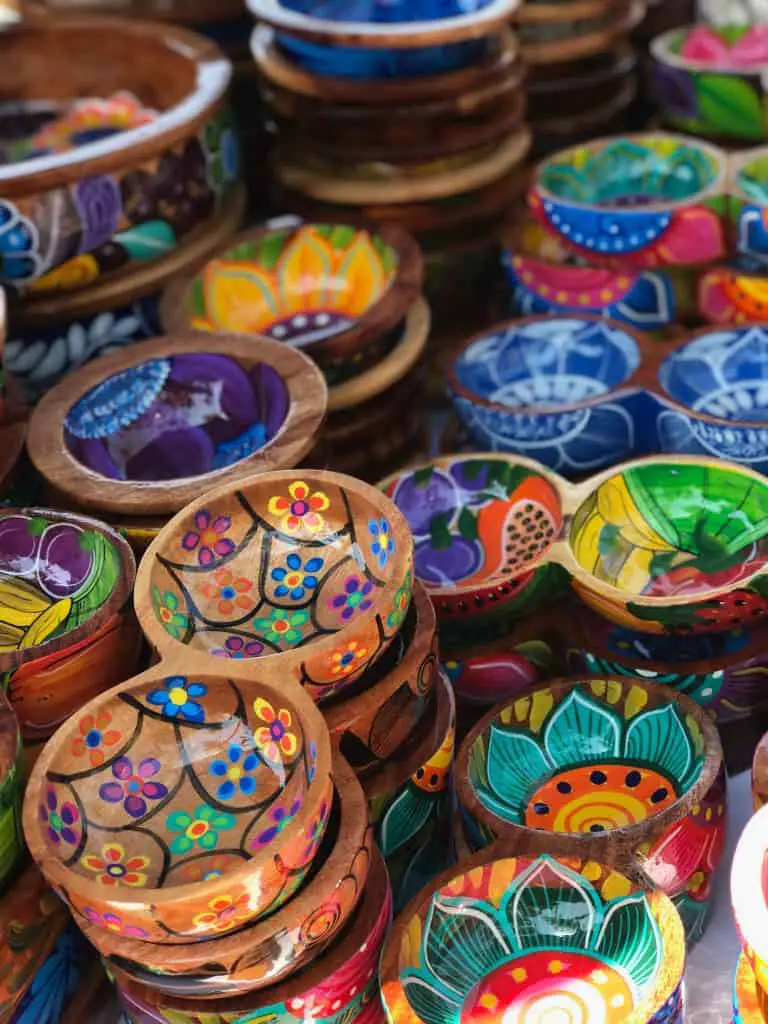 18. Go Whale watching (Seasonal)
If you visit between November and April, you should definitely add whale watching to your list of things to do in Sayulita. The tours offer the opportunity to see humpback whales up close and personal as they come to the warm waters of Banderas Bay to breed.
Book your whale watching tour in advance to secure a great deal and avoid disappointment. Alternatively, combine your whale watching with a snorkelling tour to the Marietas Islands.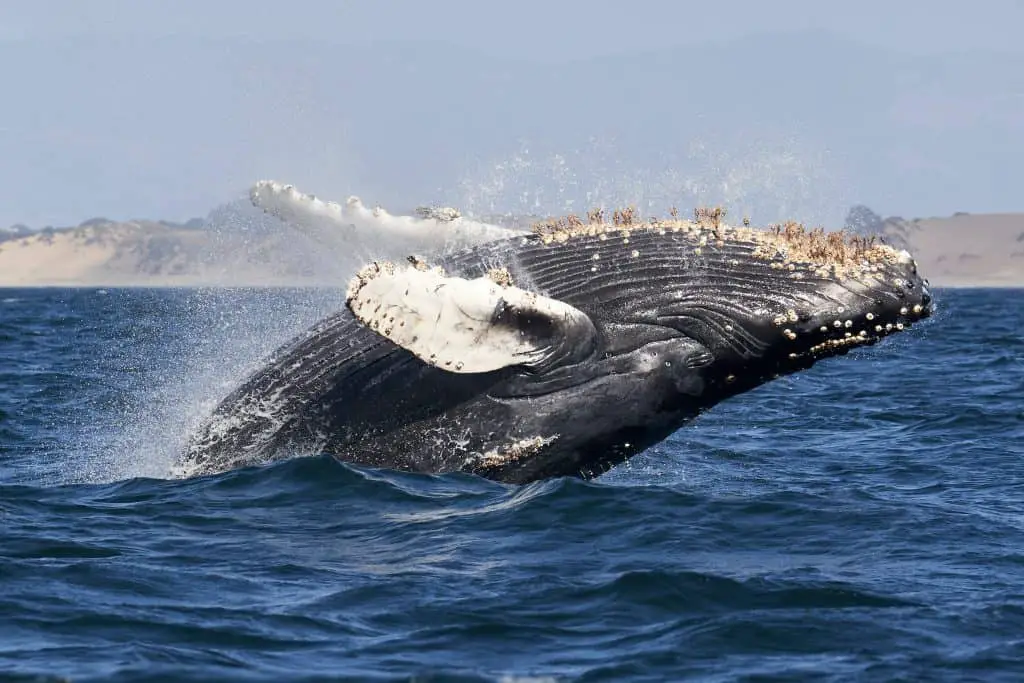 19. Visit 'Slap Street'
If you've seen photos of Sayulita on Instagram you'll already be familiar with 'Slap Street' on Calle Delfines. This street, located next to the main plaza, is famed for the brightly coloured flags that hang along its length.
Due to the Insta fame it has received, Slap Street or Flag Street, can get really busy so arrive early if you want to get your snap without hoards of crowds.
20. Take a trip to Peurto Vallarta
If you're arriving in Sayulita from Peurto Vallarta, it makes sense to include a visit to this beachfront city on your arrival/departure, or maybe even spend a night here so you can ditch your luggage and fully explore. Otherwise, consider having a break from Sayulita and visiting Peurto Vallarta on a day trip.
With some of the best beaches in Mexico, Puerto Vallarta has been welcoming tourists and expats for years. Richard Burton and Elizabeth Taylor even bought a house here! The historical centre is a delight to explore and don't miss a visit to the art gallery and a stroll along the Malecon.
Discover the best beaches in Puerto Vallarta in this guide!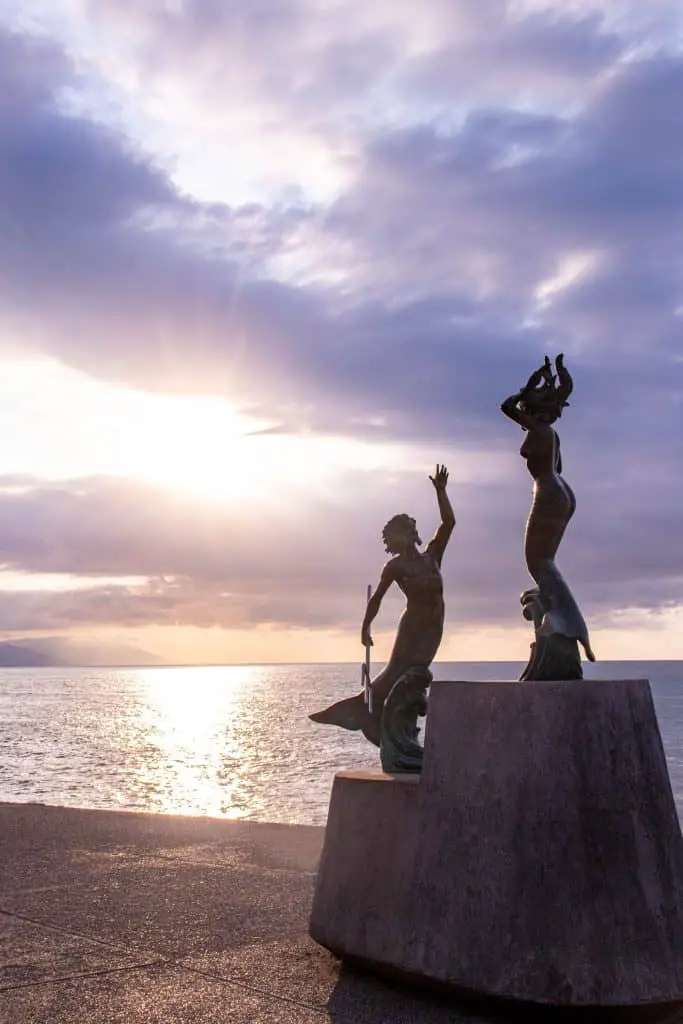 21. Fuel the adrenaline with an ATV tour
A super fun way to explore Sayulita and its surroundings is to join an ATV tour. This tour takes around 2 hours, which is ample time to whiz around the jungle and appreciate panoramic views from Cerro de La Loca (the Mountain of the Crazy).
The trip ends in style with a spot of Tequila tasting.
The Best Time To Visit Sayulita, Mexico
The Pacific coast of Mexico has a wet and a dry season. The dry season are the winter months of December to February and this is the best time to visit Sayulita. At this time the weather will be warm and dry.
The wet season are the summer months of June to August. During these months there is a lot of rainfall and the humidity soars. Hurricane season along this coast runs from June to November.
Where To Stay In Sayulita, Nayarit
There is no shortage of choice when it comes to accommodation options in and around Sayulita. There are hotels, apartments and hostels located in the town and along the beachfront. Here are a few of my favourites.
Boutique
The Hotel Boutique Siete Lunas is just stunning! Beautiful ocean views from your bedroom – check. Gorgeous thatched-roof suites with four-poster beds – check. Cute swimming pool overlooking the bay – check. What's not to love?!
Mid-range
Located close to the beach, Hotel Boutique Oz Sayulita, has beautiful rooms (allergy-free is required), a pool and sun terrace and breakfast is included.
For a slightly cheaper option, try Puerto Sayulita. The rooms come with basic cooking facilities but the major highlight is the rooftop pool and lounge area.
Budget
If you want a good hostel vibe without the downtown noise, I suggest Viajero Sayulita Hostel. This hostel literally has everything, including its own pool, restaurant and bar. The rooms are light and airy whilst the views from the terrace are stunning. It's a short walk away from the beaches.
What To Pack For Sayulita
The west coast of Mexico has a tropical climate with hot days and warm nights, so your packing list for Sayulita should include beach wear for the daytimes and cool, light outfits for the evenings. Don't forget your hat for the beach days, hiking gear if you plan heading up Monkey Mountain or your rash vest if you plan to surf.
Some essentials include (reef friendly) sunscreen for the days and (DEET-free) mosquito repellant for the evenings. To avoid buying bottled water, be sure to take a filtering water bottle so you can stay hydrated.
Read more about the best filtered water bottles for travel here. 
Read next
Final Thoughts on Sayulita Things to do
Sayulita is a Peublo Magico in Nayarit, Mexico. This hippy beach town was founded by surfers who delighted in the consistent waves and tropical climate. Today, surfing is still the most popular activity to enjoy in Sayulita but it has also become home to other action sports such as ziplining, horseback riding and ATV tours.
Wellness is a big part of Sayulita culture, so a visit should include attending a yoga class or temazcal. Alternatively, laze your days away on one of the many beaches or visit the selection of boutique shops and local markets. Other activities to enjoy include boat trips to the islands, whale watching tours, photography lessons and day trips to nearby cities and towns.
So, if you're wondering what to do in Sayulita, you can pick one of the 21 activities on this list and take it from there!