Dutch ovens are an absolute must for camping. Whether you plan on car camping or are embracing the world of van life, they will revolutionise what and how you are able to cook on the fire.
This is my complete guide to Dutch ovens for camping.
Disclaimer: Some links in this article are affiliate links, which means that if you purchase through them I receive a small commission, at no extra cost to you. This helps cover the cost of running this blog. Thanks for your support!
Dutch Ovens
Dutch ovens can be used to cook almost any dish you want, ranging from stews and curries to pot roasts and cakes.
Since we live off-grid in our campervan, we rely on our Dutch oven to cook many of our meals. Our campervan only has a two burner stove so if we need any other method of cooking we stoke up the campfire and break out the dutch oven.
Plus, as much as I love my van, it's way more fun to cook outside over the fire and I swear the food tastes better!
Being such a big fan of Dutch ovens I decided to put together this helpful guide for anyone wishing to purchase their own. In this guide I'm focussing on the best Dutch ovens for outdoor cooking rather than home cooking on a hob.
If you want a quick answer I'll go ahead and say now that the best Dutch oven for camping is the Overmont 5.7L/6 Quart. I say this because it has all of the requirements I look for in a Dutch oven and is great value for money.
Specifically, this camp oven is good quality cast iron, has feet for cooking over coals, has a rim on the lid for holding coals and feet on the lid to allow for using as a skillet. 5.7L/6 quart is the ideal size for cooking for families or couples who want leftovers. It has a handle which is essential for a Dutch oven, is pre-seasoned, is great value and comes with a handy lid-lifter.
If you want to learn more about Dutch ovens, read on below!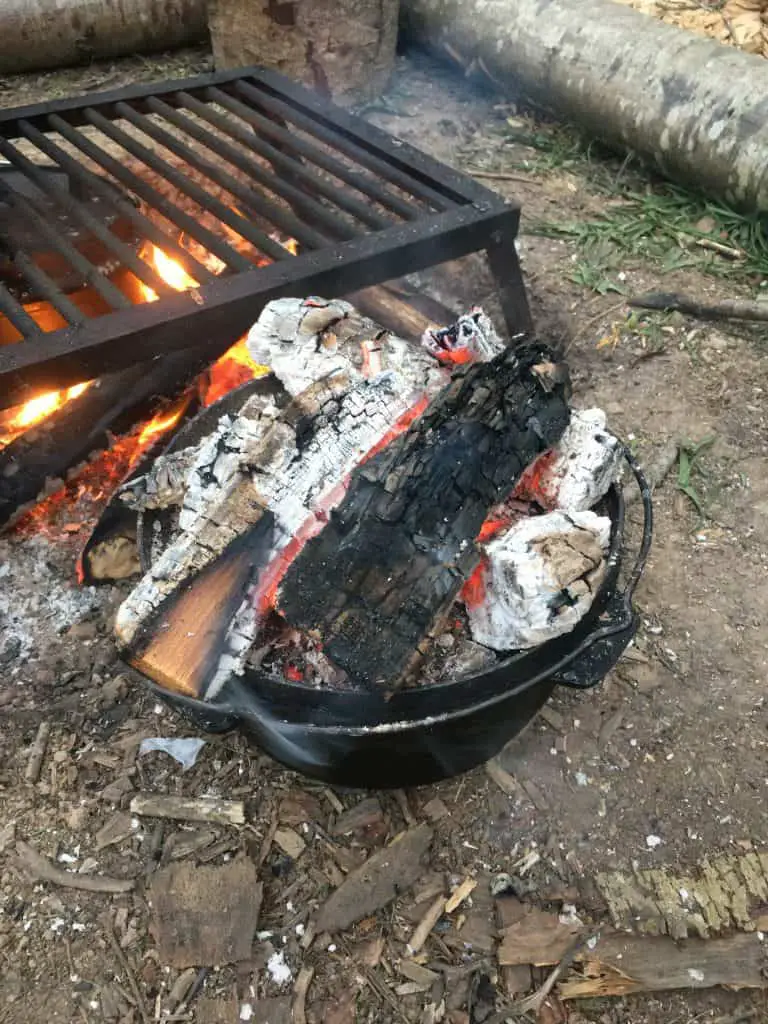 Top Outdoor Dutch Ovens
In this guide I will be reviewing the following Dutch ovens
:
| | | | | |
| --- | --- | --- | --- | --- |
| Product | Best For | Material | Volume | Weight |
| 1. Overmont 5.7L | Best size, quality & value Dutch oven | Cast Iron | 5.7L/6Quarts | 6kg |
| 2. Vounot | Best for large groups | Cast Iron | 9L/9.5Quarts | 8.8kg |
| 3. Petromax FT3 | Best for solo trips | Cast Iron | 2.3L/1.8Quarts | 3.8kg |
| 4. GSI Outdoors Aluminium | Best lightweight Dutch oven | Cast Aluminium | 5Quarts | 2.9kg |
The 4 Best Dutch Ovens For Camping
As mentioned at the start, this is the best Dutch oven for camping because it ticks all the boxes and is great value – the cheapest on this list in fact. But whilst it's great value it doesn't skimp on quality. This is a solid camp oven made from top quality cast iron which promises to last a lifetime if cared for properly.
This oven has legs on the bottom and on the lid which means it can be used directly on coals and the lid can be flipped and used as a skillet. The lid is flat and has a rim which allows for coals being placed safely on the top. The Overmont Dutch oven has a handle for lifting on and off the fire and comes pre-seasoned so is ready to go from the off.
There is a bigger version of the Overmont available, however the 5.7l/6quart is a good size since it comfortably serves 2 – 5 people. You'll struggle to find a better value Dutch oven which packs in all the features of the Overmont. They even throw in a lid lifter for good measure!
2. Best Dutch Oven For Large Groups: Vounot 9L/9.5Quart
This Dutch oven comes easy to recommend for large groups since it's the oven we use on our overland trucks when we are running adventure tours. At a whopping 9 litres, this Dutch oven will comfortably cater for 10 people. 
But this isn't just good because it's big, it also has all the features of the Overmont such as feet on the bottom, feet and a rim on the lid and is pre-seasoned. Additional features include a slot in the rim to insert a thermometer and a spiral handle which doesn't get too hot to handle.
This Dutch oven package also includes a storage bag to keep campfire soot cleanly wrapped up.
3. Best Dutch Oven For A Solo Trip: Petromax FT3
This sized Dutch oven is suitable for solo trips or couples since it will hold around two portions of stew (or similar). It's not big enough for roasting meat but it's ideal for one pot meals.
The FT3 has a flat bottom without feet, so is more suitable for using on a grill or hanging from a tripod. The handle has a notch in it which is designed with tripod use in mind. However, it has feet on the lid so that can be flipped and used as a skillet, there's a slot for a thermometer and it comes pre-seasoned.
If you want small and lightweight consider the GSI Outdoors 2 Quarts Dutch oven. This small camp oven weighs in at 1.6kg so could even be considered for short backpacking trips.
This GSI Dutch oven is the only camp oven on this list which is not made from cast iron. Cast iron is robust and distributes heat well so is the material of choice for most campfire ovens. However, aluminium is much lighter than cast iron and will not rust, which can be an issue for cast iron if it's left in the rain.
This Dutch oven has feet on the bottom but lacks feet on the lid which is a little disappointing, however this is not a deal breaker if lightweight is your main aim. The only major downside is the significant price difference between this and the other ovens on this list.
GSI also make Dutch ovens with a non-porus anodized surface which means food doesn't stick and are therefore, much easier to clean. Hmm, sounds tempting! They also provide lifetime warranties.
Things To Consider When Choosing a Dutch Oven for Camping
Dutch Oven Legs
I prefer a Dutch oven with legs as it provides the option to be used directly over coals as wells as on a tripod or a grill. However, Nick actually cut the legs off his Dutch Oven since he nearly always uses it on the grill and found the legs to be more of a nuisance.
Many people who use the Dutch Oven with a tripod will also find the legs unnecessary, though personally I rarely cook with a tripod.
Deep Lids With A Rim
A good Dutch oven will have a deep lid with a rim. This feature allows you to place hot coals on the lid for an even, all-around heat. Having a rim also allows the lid to be used as a skillet. Many now come with feet on the lid which allows them to be flipped when using as a skillet. These are both methods I use regularly with camp oven cooking.
Also check that the Dutch oven lid fits snugly onto the pot to form an air-tight seal.
Dutch Oven Material
There are pros and cons to using Dutch ovens made from different materials. Cast iron Dutch ovens radiate heat evenly and if treated right will last forever. They are therefore the material of choice for most camping Dutch ovens. Their biggest drawback is that they are heavy and can rust if left in the rain.
Also note that not all cast iron is made equally so pay attention to where it is made! Good cast iron will heat evenly and will be less likely to crack or warp.
Other materials used to make Dutch ovens include aluminium and ceramic.
Aluminium Dutch ovens are very light weight and won't rust but do not distribute the heat as evenly.

Ceramic dutch oven are more typically used in the home and are not suited to camp life.

Dutch ovens with an enamel finish should be avoided as this will tend to flake off with repeated use over the campfire.
Size
This will be a big consideration when choosing a Dutch oven and will be based on your individualised needs. If you regularly plan to cook for large groups of 8-12 people, the best Dutch oven for camping is a 9 litre (9.5 quarts). For families or couples a 5.7 (6 quart) is more suitable. If you are a solo backpacker you might want to go even smaller again to 2 litre (2 quart).  Nick and I have a 6 litre Dutch oven because, well, there's always seconds right?!
Shape
Shallow or deep? Most Dutch ovens will be quite deep which makes them great for one pot meals and roasts. Shallower Dutch ovens are better for baking bread or cakes. So which shape you choose might depend on what you plan to cook most.
Rounded bottom or flat bottom? Most Dutch ovens come with a flat bottom so that they can be placed on a grill (whereby the feet slot through holes in the grill). But some Dutch ovens will have a rounded bottom. This makes them more suitable for cooking big joints of meat but they don't sit on the grill or stove. 
Metal Loop Handle
A handle on a campfire Dutch oven is an essential item as often it is unsafe to use the handles on the side of the pot. The handle is also required if you want to use a tripod to cook over the campfire.
Dutch Oven Accessories
To be honest you can get away with just buying the Dutch oven and improvising with the rest. The only accessory we rely on are tongs for putting coals on the lids – tongs are pretty hard to make yourself! For a lid lifter we use a dedicated stick shaped like a hook and we have a glove but barely use it in favour of using the stick! For our Dutch oven stand we use multiple pieces of wood.
However, I should point out that we live in a forrest and have these improvised accessories all around us. That certainly won't be the case for most people.
If you're new to camp oven cooking I suggest picking up a few of the essentials for your own safety. Dutch ovens get very hot all over and are heavy and cumbersome to move around the camp.
1. A Tripod
Tripods are used to hang the camp oven over the fire. This way the amount of heat impacting the oven can be controlled. The fire can be controlled very easily when using tripods. We don't have a tripod and instead use a grill, however grills do make it slightly awkward to control the fire.
2. A Stand
Once you've finished cooking with your Dutch oven it's going to be extremely hot and can't be placed on surfaces that might melt. This is where a stand comes in handy.
3. A heat protective glove
When cooking with your Dutch oven you'll want to spin it around to distribute heat or lift it off the heat once finished. The easiest way to do this is by using a heat protective glove.
4. Tongs
Tongs are handy for adjusting logs on the campfire and distributing coals for an even heat. They're also perfect for putting coals onto the lid of your Dutch oven to heat the contents from above.
5. A Carry Bag
The Dutch oven is often used in charcoals and can get grubby on the outside. A carry bag to transport your Dutch oven is therefore quite handy. It also protects the oven from getting damaged.
8. Lid-Lifter
The first two Dutch ovens in this list include a lid lifter but if you don't have a suitable stick like we do, then a lid lifter is a great accessory to have with your Dutch oven. 
7. Thermometer
Useful for baking where precise temperatures are needed or for simply knowing if the meat is properly cooked. A few of the ovens mentioned in this list have a dedicated slot in the side of the oven for using a thermometer.
Top Tips for Dutch Oven Campfire Cooking
My top tip for cooking over the fire with a Dutch oven would be to start simple. Try cooking a stew, a chilli or a curry and become familiar with how the oven heats up. Notice the difference in cooking through placing it directly on the coals which provides a more intense, steady heat, versus using a grill or a tripod where the heat can be more sporadic. As is the case with using a BBQ grill, cooking with coals is often easier to control.
Once comfortable with camp oven cooking, experiment with other meals such as roasting joints of meat. This type of slow cooking requires time and patience and cannot be rushed. Also be aware that most of the heat comes from underneath so be careful not to burn the bottom. We often place a layer of onion on the bottom of the pot to protect the meat above from burning.
For a more rounded heat place a few coals of top of the lid. Use decent sized lumps of coal which are easily removed to check progress.
Here are few meals I have I cooked in my Dutch oven recently:
Pork and apple in cider

Apple and rhubarb crumble

Jambalaya

Chips (fries)

Nachos

Salmon/cod/haddock

Massaman curry

Cauliflower cheese

Spanish casserole

Mediterranean vegetables

Chicken satay
Cleaning Your Dutch Oven
Clean your Dutch oven with warm water and avoid using harsh washing-up liquids.

Avoid scrubbing your Dutch oven with metal scrapers or wire scouring pads. Some people recommend using plastic scrapers but I prefer good old fashioned elbow grease.

Once clean, dry it well to prevent the cast iron from rusting. Then rub oil evenly around the inside and on the lid.
Camping Dutch Oven Summary
Cooking over the fire with a Dutch oven is one of the most enjoyable experiences of a camping trip. Having a Dutch oven allows campers to cook a variety of different meals that would not be possible without it.
When choosing a Dutch oven, the main factors to consider are the size/volume of the oven and what material it is made from. Then there are other considerations such as whether it has feet on the bottom and/or on the lid, a sturdy handle for lifting and a rim on the lid for using as a skillet. 
In this guide I outlined four of the best Dutch ovens for camping.
Join my newsletter today!