This comprehensive car camping checklist is designed to help you to prepare for your next outdoor trip.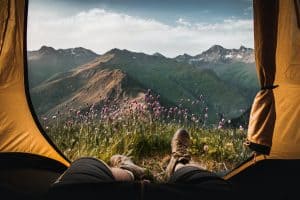 Car Camping
Even though the world has opened back up and we are able to travel freely again, there's still something exciting about exploring top sites in our home countries.
One budget friendly way to travel locally is through car camping. The beauty of car camping is that anyone can do it. It's an easy way to enjoy the outdoors without breaking the budget.
However, without the right equipment car camping can soon become a miserable experience. Trust me, I've been there!
It's important to do some research into the items you plan to purchase. It's possible to get many items at a reasonable price but buying the cheapest items isn't always the way to go, especially if you want your equipment to last.
In this guide I share my complete car camping packing list, along with the best car camping gear which I have tried and tested on trips around the UK. 
It's also the same equipment Nick and I used on our epic 28 road trip around Ireland.
Disclaimer: Some links in this article are affiliate links, which means that if you purchase through them I receive a small commission, at no extra cost to you. This helps cover the cost of running this blog. Thanks for your support!
Car Camping Checklist
If you're not interested in product reviews, jump straight in and download your ultimate car camping checklist pdf here!
For more information on the equipment I use and recommend, read on below.
Essential Items For Your Car Camping Packing List
Sleeping
Tent: First and foremost on this car camping list is a tent. There are a few simple things I want from a tent. I want it to be easy to assemble and capable of withstanding harsh weather. Khyam produce good quality, quick erect tents however they come at premium price.
Other companies such as Coleman and Qeedo, now also produce this quick erect style of tent and thus provide a cheaper alternative to Khyam.
          Check price on Amazon 
Roof Top Tent: For the ultimate in ease and packability a great option for car camping is to invest in a roof top tent. I've seen these used to amazing effect in Africa as well as on our current explorations of the Balkans. The Roam Vagabond Lite is a two person tent that is easy to erect and comes with a built in memory foam mattress which means you're guaranteed a comfy nights sleep.
Sleeping bag: A decent sleeping bag is key to a good nights sleep and is therefore part of the essential car camping gear.
Sleeping bags are categorised in seasons, which relate to the temperature in which they are effective. For example, a 1 season sleeping bag is good for hot conditions and a 4 season sleeping bag is good for extremely cold conditions.
I've had my Mountain Warehouse Everest Down sleeping bag for a few years now and I still love snuggling up in it at night. Its comfort range is -3 to -9 degrees Celsius (26 – 16 Fahrenheit), which means I'm never cold.
This bag has kept me warm on adventures in Patagonia, the Andes, Pakistan and around the Annapurna Circuit in Nepal. The downside is that for hot Summer nights this bag is too much. Instead on hot nights I use my sleeping bag liner.
If you're interested in seeing what a month hiking in the Annapurnas looks like, take a look at this video!
Check price on Amazon 
Sleeping mattress: Along with a sleeping bag, a good mattress is another car camping essential. With car camping you can afford to be a little more luxurious with your sleeping mattress, since you have space to store it.
Normally when I'm hiking I carry a small and light Thermarest. However, for car camping trips we use a super comfortable double bed air mattress. Our Coleman mattress also comes with a small bag for storage and comes with a built in electric pump.
      Check price on Amazon  
Mattress Pump: Because who needs to be blowing up a big old double air bed each time? Seriously, you have power from your car so why not use it?! 😉 (Unless you have the above mattress with a built in pump!)
          Check price on Amazon 
Pillow: Pillows make such a difference to having a good nights sleep, so are one of the top car camping necessities. Regular pillows from home work just fine, or to save space, consider an inflatable pillow like this one.
      Check price on Amazon
Shelter: If you're likely to encounter rain on your trip it's best to invest in a shelter of some sort. Trust me, it's not much fun cooking in the rain! Tarps are cheap and take up minimal space and can work well to keep your fire pit dry. However, they only really work when surrounded by trees or something else to tie them to.
A better all around solution is a free standing shelter. Shelters are great for keeping off the rain or sun but can get battered in the wind. If you're camping somewhere with strong winds be sure to peg it down securely!
   Check price on Amazon 
Kitchen
Stove: The type of stove you buy will depend on your needs. In my case there are just two of us to cook for, so a stove with two burners works just fine.
This basic stove is easy to use as the gas bottles simply click into place. No need to worry about regulators and big propane containers. It's also portable, which makes it ideal for festivals.
     Check the price on Amazon 
More recently I discovered this stove, which has a built-in grill. It's very handy and has become one of my best camping essentials!
Note that this one requires a regulator so be sure to get the right one. On Amazon this is often sold as a bundle, along with the gas.
     Check the price on Amazon  
Fuel: Buying multipacks of propane often works out cheaper.
   Check the price on Amazon 
Dutch oven: If you love to cook on the campfire like we do then a Dutch oven is a must! For an in depth review of the best Dutch ovens for camping, take a look at this handy guide.
Check price on Amazon
Table: A recent addition to our car camping gear list, is a table. This is perfect for cooking since not all camp sites have benches available. They're also handy when wild camping.
  Check the price on Amazon UK 
Cool Box: This is an absolute must for car camping in order to prevent all of your yummy food from perishing. When it comes to cool boxes, you get what you pay for so it's worth spending a little extra here.
You can get cool boxes that charge from your lighter port which means you don't have to worry about ice. This does drain your car battery though so just be aware of how much you use it when the car isn't running!
   Check the price on Amazon UK 
Ice blocks: Essential for keeping the cool box cold, especially in hot conditions.
  Check the price on Amazon
Storage containers: Keep all of your kitchen gear organised with containers that fit comfortably in your car. Without containers your gear will end up all over the place!
Check the price on Amazon
Water jerrycan: Water storage for use with cooking and cleaning. This particular container also comes with a handy drinking tap.
Check price on Amazon
Pots, pans, kettle: All the essentials to make the magic happen in the kitchen.
  Check the price on Amazon 
Cutlery: This awesome set is portable and contains a few essentials for the finer things in life ie. wine glasses and a cheese knife!
  Check the price on Amazon
Utensils and cutlery: It's not necessary to buy these pre-made kits and packages. Just be sure to have the following:
Cups
Plates
Bowls
Knives
Forks
Spoons
Spatular
Cooking spoon
Chopping board
Chopping knives
Bottle opener/can opener/corkscrew
Coffee press: Are you a coffee person? Then I guess this is for you! Personally I'm a tea girl, but for Nick this is a car camping essential and at the top of his car camping list!
   Check the price on Amazon 
Washing up bowl with detergent and sponges: This bowl is collapsable, which helps with storage.
Water purification tablets: Essential for purifying water if you're wild camping.
Basic herb and spice selection
Trash bags
Aluminium foil
If you need inspiration for some great meals to cook while you're camping, check out this post!
Car Camping Accessories
Camping chairs: These are quite easy to pick up and even the cheap ones are pretty durable these days. If you want to avoid sitting on the ground, these are camping essentials!
   Check the price on Amazon  
Head torch: I've had a few head torches over the years but I really like my current Petzl. It has different brightnesses as well as the red light option to avoid blinding everyone around you!
   Check price on Amazon 
Camp lantern: Head torches are great but it's also handy to have a lantern around camp. This nifty lantern charges from USB and has 2 detachable torches.
   Check the price on Amazon 
First Aid Kit: This kit is compact and every section is labelled which makes it fast and easy to use.
   Check the price on Amazon
Basic tools for around camp:
Mallet
Dustpan and brush
Shovel
Duct tape
Lighter
Chargers
Clothing for a car camping packing list
Base layers: These are the things that will keep you warm in the evenings around camp and also throughout the night. These items are car camping necessities, if you plan to visit colder locations.
It's worth spending money on Morino wool as it has antibacterial properties, which means you don't have to wash it so often. Bonus!
   Check the price of this women's base layer top on Amazon 
Wool socks: To keep those feet warm around camp.
   Check the price on Amazon 
Buff: This can double up as a beanie to mask unruly camping hair!
Gloves: I find gloves really handy for packing away the tent on cold mornings.
Puffy jacket: A good puffy jacket can be a lifesaver in so many different situations, so mine is never far away.
  Check the price on Amazon  
Rain jacket or poncho: A high quality poncho can be as good as rain jacket and is perfect for around camp. 
Check the price on Amazon 
Midge/fly/mosquito net: If you're planning a camping trip in northern England or Scotland you'll want one of these. The midges are horrendous. Or maybe your camping trip is taking you to Alaska where the mosquitoes are huge.
Buy one of these – you can thank me later!
Top tip: Get the lighter coloured net, as I discovered with mine, it's difficult to see out of the black one!
  Check the price on Amazon  
We learnt about midges on our camping trip in the Lake District where we planned to hike one of the Lakes' iconic walks. Read about my Helvellyn adventure in this post.
Camp footwear: This very much depends on the climate of your camping. In hot conditions I love to relax in my flip flops but in wetter conditions wellington boots are more appropriate! A top brand for wellies are Hunter though I do like my Dunlop fur lined wellies which keep my feet toastie in Winter!
Check Dunlop Wellington price on Amazon
Toiletries 
When it comes to car camping toiletries, I like to keep to the basics.
Car Camping List Optional extras
The following items are by no means essential but often accompany me on a car camping trip. Hiking is usually involved in my camping adventures so I make sure I am equipped for those.
My Sony A6400 is compact and light which makes it perfect for hiking.
This Anker portable speaker is waterproof, dustproof and spillproof, which makes it invaluable for camping holidays.
The DJI Mini SE is on the cheaper end of DJI's range. It weighs under 250grams which means it doesn't need to be registered in many countries, has a 30 minute flight time and fits in the palm of your hand. All this make it ideal for camping and hiking.
These Nikons are high quality binoculars that don't break the bank.
Although this Lowepro bag isn't the cheapest, I've been using it for several years now and still love it. And more importantly it still works perfectly, demonstrating you get what you pay for.
These Hanwag boots are the most comfortable boots I've owned and since they're Gortex, they are waterproof and breathable. Nick recently bought the mens version and he loves his too!
I've recently upgraded to an Iphone XS and love the quality of photos it takes.
I always try and have a physical map of the place I'm hiking just in case the technology fails.
Most of my camping trips usually incorporate day hikes, which accounts for many of the items above. For a full list of everything I typically take on a day hike, click here.
Final Thoughts on this Checklist for Car Camping 
Car camping is a budget friendly way to explore the best of what your own country has to offer, providing the ultimate in freedom and flexibility. 
In this guide I have provided a free printable camping list for all the items you will need on a car camping holiday. With this list you will hopefully never leave anything at home.
With some basic car camping essentials and good organisation, you can soon be on your way to an awesome outdoor adventure!
Like it? Pin it for later!
Join my Newsletter Today!