Tenby is a historic fishing village found in Pembrokeshire, West Wales. The town backs onto several Blue Flag sandy beaches and is lined by mostly intact 13th century stone walls.
Tenby Harbour, which was once a bustling trading post, is now lined with quaint colourful houses and is packed with tasty restaurants and cute cafes. Add to this a ruined castle, a tidal Fort and a Holy Island and it's not hard to see why Tenby is such a top destination for locals and tourists alike.
If you visit only one seaside town in Wales, it should probably be Tenby!
Tenby made it onto my top 15 places to visit in Wales. Click here to discover what else made the list. Some of them might surprise you!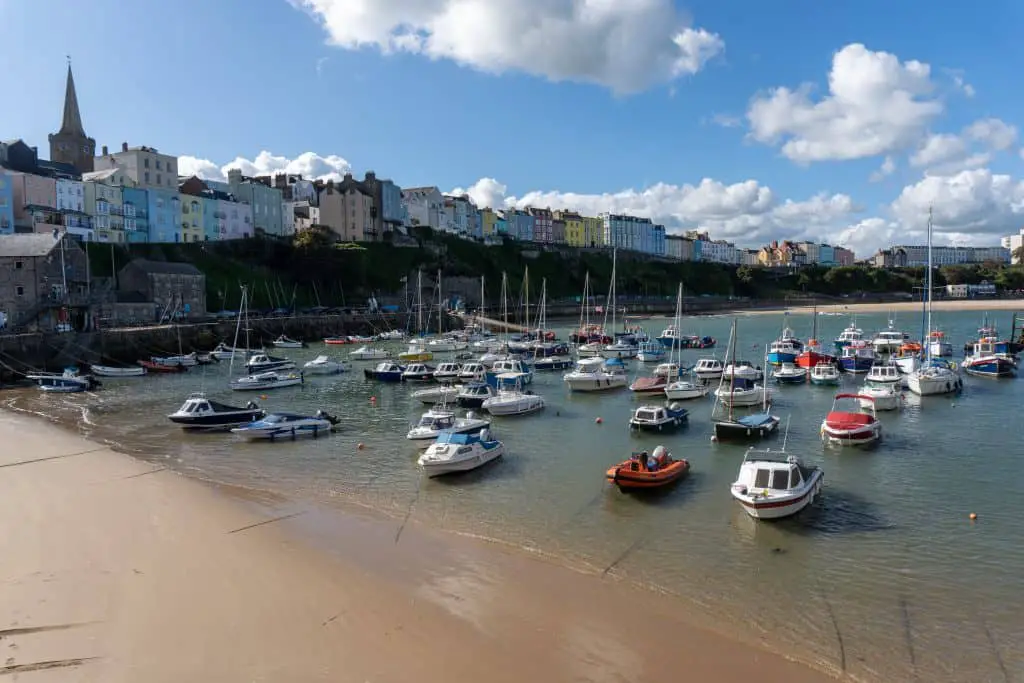 The Best Things To Do In Tenby
If you grew up in South Wales, as I did, then visiting Tenby is pretty much a right of passage. Many a summer holiday will be spent here and when the sun is shining the golden sandy beaches and turquoise blue waters are hard to beat.
So without further a do, let me share with you my favourite things to do Tenby.
1. Paddle at Castle Beach
Tenby is blessed with several sandy beaches, the smallest of which is Castle beach. This beach is in a fairly central location, from which you can explore more of Tenby's top sights.
At high tide this beach really is quite small but at low tide it links with St Catherine's Island and South Beach, leaving plenty of room paddlers.
But you don't have to take my word for why you should visit Castle Beach. This blue flag beach was voted Beach of the Year in 2019 by the Sunday Times. Tidy!
If you only have one day in Tenby, put Castle beach at the top of your list.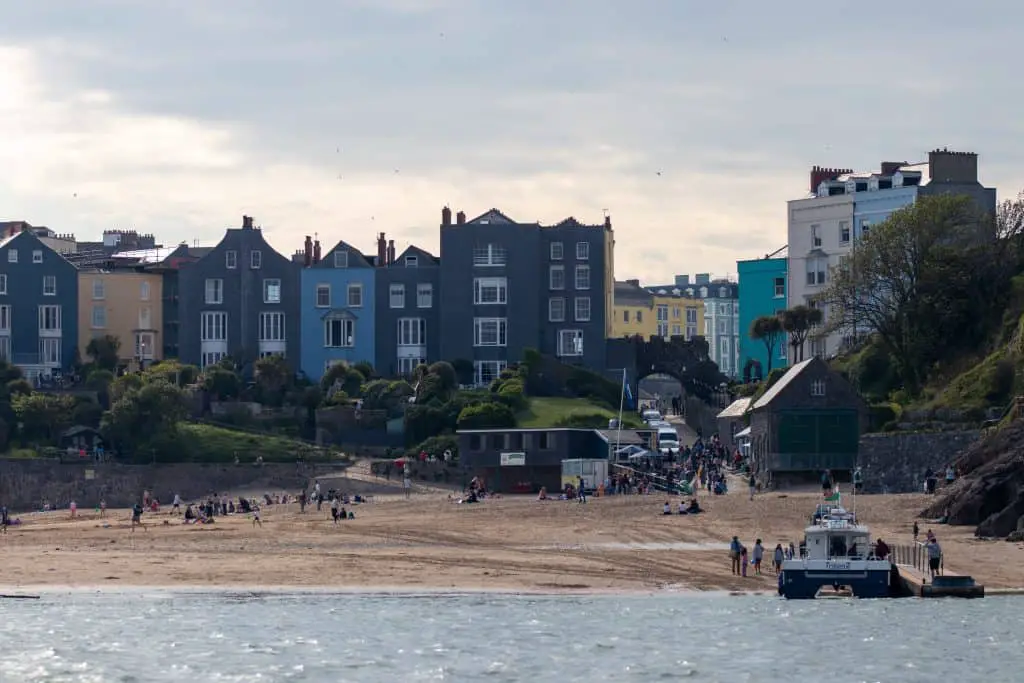 2. Check out Tenby Castle
Located high on the cliffs above Castle beach you can find Tenby Castle. The castle was originally built in the 12th Century by the Normans. Today all that remains of Tenby castle is a ruined tower which dates back to the 13th century. Placards on the tower provide visitors with more information on the castle's history.
Perhaps more impressive than the tower are the original town walls which can still be seen around Tenby itself. However, the short slog up to Tenby Castle has another benefit…..
Views up on the appropriately named Castle Hill, are arguably the best that Tenby has to offer. Views which on clear days can stretch as far as the Bristol Channel. For this reason alone, it's definitely one of the best places to visit in Tenby.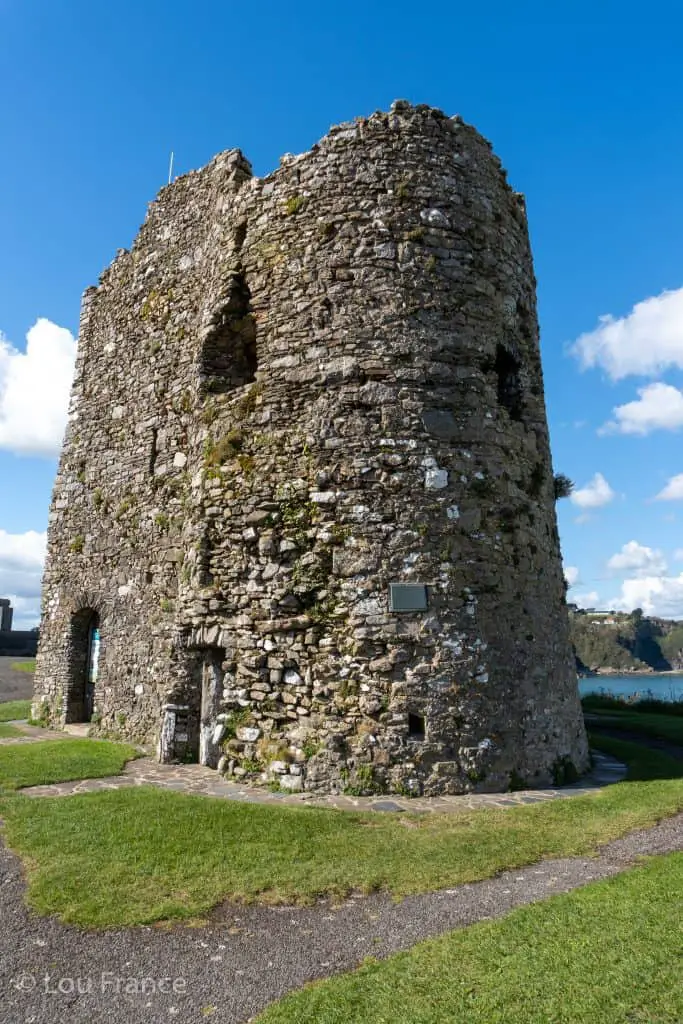 3. Visit Tenby Museum
Once you've admired the best of the sea views on Castle Hill, pop into Tenby Museum and Art Gallery. This museum is the oldest independent museum in Wales and displays the history of Tenby and its people from the 10th to the 21st centuries. It also houses an impressive art gallery.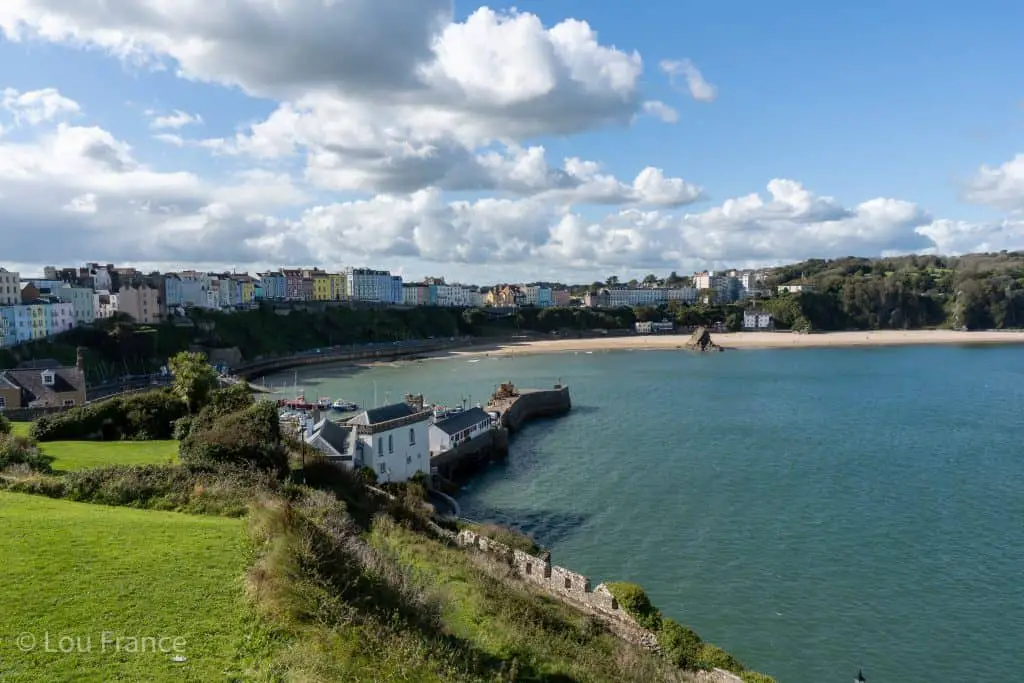 4. Stroll the Harbour at sunset
No visit to Tenby is complete without a visit to Tenby Harbour. Often described as the Jewel in Pembrokeshire's crown, this harbour is gloriously lined with colourful houses, cafes and restaurants.
The harbour is one of the most popular places to go in Tenby and is also the starting point for a boat trip to Caldey Island. (I'll get to that in number 5)
The harbour is a top spot to visit if you enjoy fishing, or my favourite thing to do is a take a stroll at sunset and enjoy the golden hour light that illuminates the pastel toned houses.
Did you know? Tenby's Welsh name is Dinbych-y-Pysgod (Little Fortress of the Fish)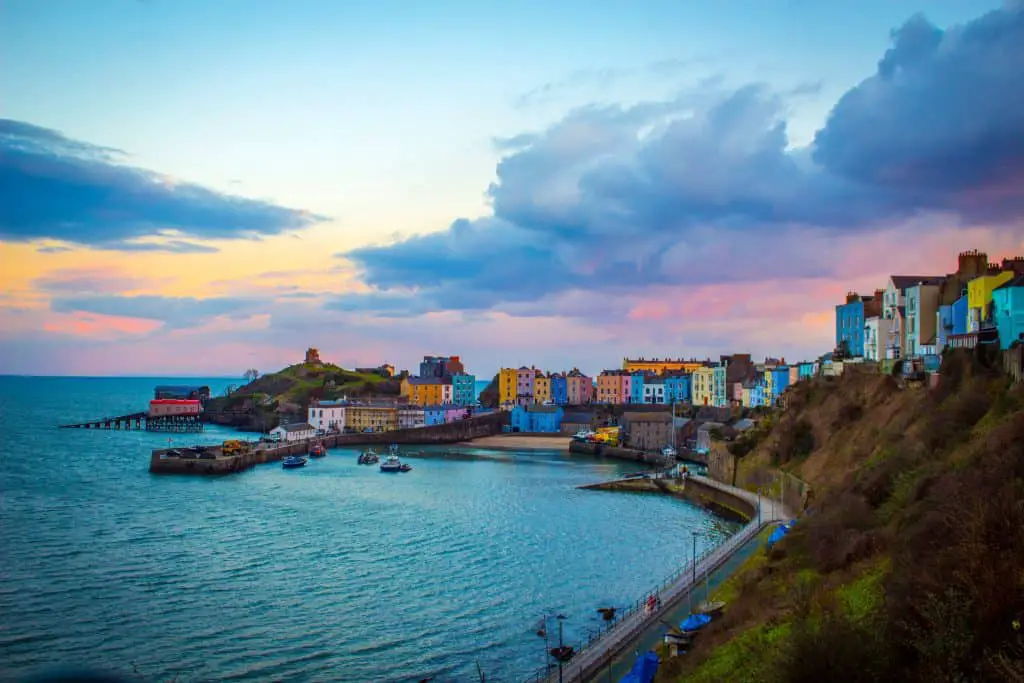 5. Take a trip to Caldey Island
If you have more than one day to explore this seaside town, then put Caldey Island on your Tenby itinerary. Caldey Island is just a short boat trip away from Tenby Harbour.
Caldey Island is run by a community of Cistercian monks and is one of Britains Holy Islands. The island has a history that dates back thousands of years, before it even became an island, and is home to some beautiful coastal walks.
The island is open for visits Monday to Saturday from May to September and tickets can be purchased from the kiosk at Tenby Harbour. Boats run every twenty to thirty minutes (weather permitting) and the journey takes around 20 minutes.
Alternatively, if you're more of a wildlife lover, take a boat trip around Caldey and St. Margarets to spot seals, puffins and thousands of other birds. Learn more about the boat trips here.
It's not necessary to pre-book but if you're tight on time book to avoid disappointment. 
6. Chill out on Tenby North Beach or South Beach
If you prefer large sandy beaches, then head to North or South Beach. North beach is located just north of the harbour and South beach is an extension of Castle Beach when the tide is low. These beaches are definitely popular Tenby attractions.
Lie back and enjoy the spacious views, build a sandcastle or get active with a choice of water sports. Tenby Water Sports offers everything from adrenaline fulled jet skis to a more chilled out sea kayak, where you can escape the crowds and explore the coastline.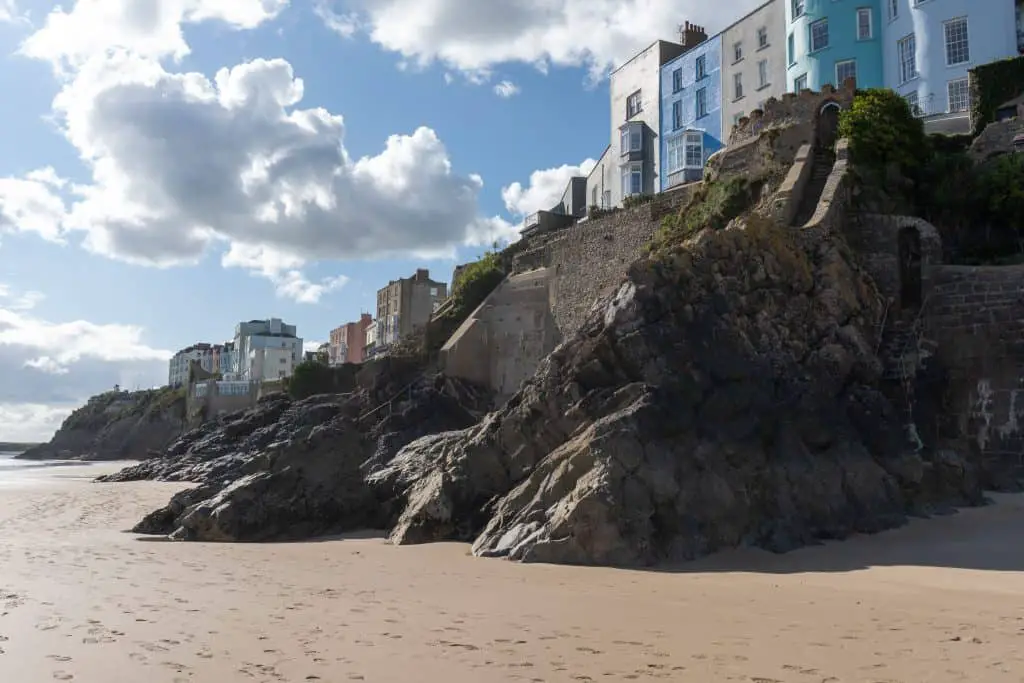 7. See the Tudor Merchants House
Tucked away in one of Tenby's cobbled side streets, close to the harbour is the Tudor Merchant's House. This is a 15th century town house which belonged to a successful merchant.
As the oldest house in Tenby it provides a glimpse back to the days when Tenby harbour was a bustling centre of trade.
Today the house is maintained by the National Trust who offer a guided tour of the house's three floors. The nominal ticket price is worth it in order to get a feel for a real Tudor house. Visits need to be booked in advance. (Click here to book)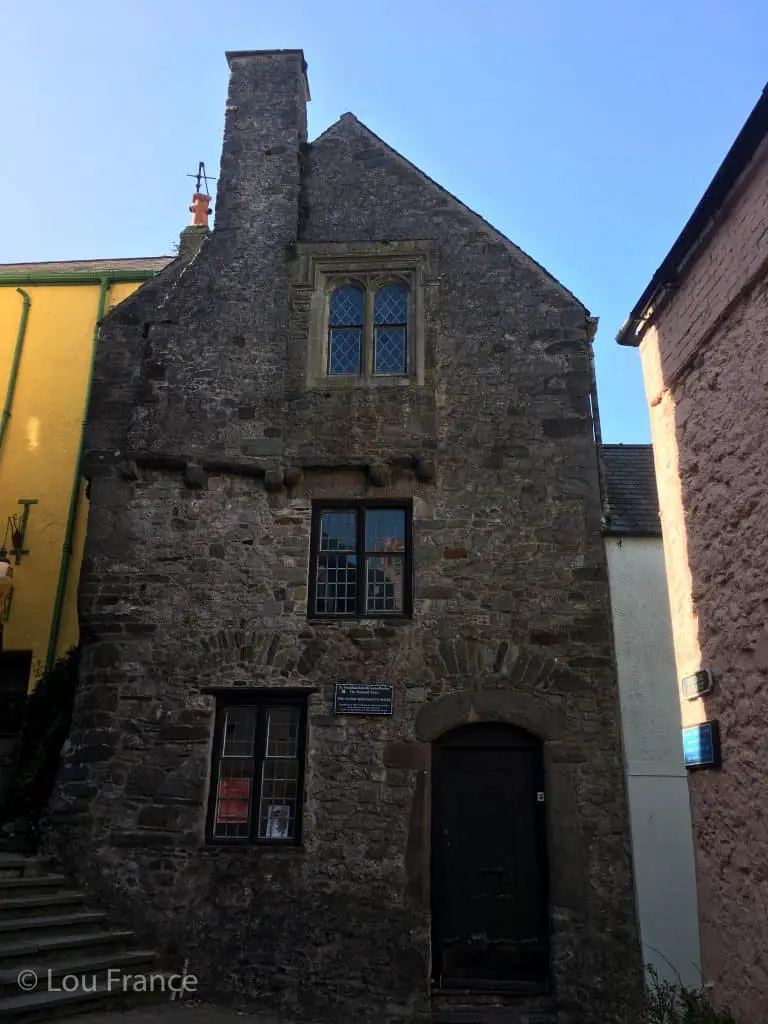 8. Visit St Catherine's Island
Dominating the view from Castle beach is St Catherine's Island. This tidal island and fort is open for guided visits at designated times during low tide, from March to December. This is must for your trip to Tenby as long as the tides allow.
The fort was built in the 1800s during the Napoleonic wars and has seen many incarnations since, even including a 10 year stint as a zoo! The fort might not look too pretty from the outside but it's impressive location make it an interesting visit.
9. Wander the small cobbled streets and find the Five Arches Gate
One of the most enjoyable things to do in Tenby is to simply wander the quaint cobbled streets. You can do this independently or you can take part in a guided tour.
Marian Davies has been guiding tours for 20 years and has several fascinating tour options. Why not get spooked on the Ghost Walk or learn all about Wales' notorious pirates? These tours are well priced and will definitely add value to your trip to Tenby. Learn more about the tours here.
As mentioned earlier, the 12th century walls that surround Tenby are pretty impressive. This is best showcased at Five Arches Gate on South Parade Street, so be sure to include that on your wanderings of Tenby.
Tenby is a small town so you can just wander aimlessly without the worry of getting too lost.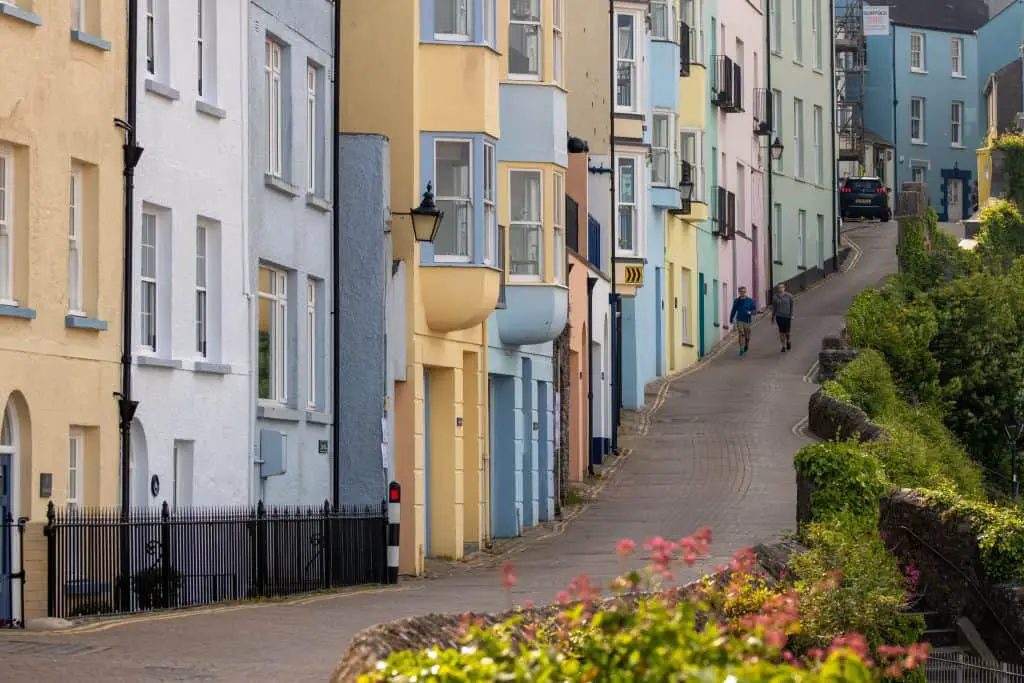 10. Eat yummy seafood
There's no better place to enjoy seafood than during a visit to the coast and Tenby is no exception to this.
Grab a bag of fish and chips and kick back on a bench overlooking the harbour or opt for some finer dining at one of the many places to eat in Tenby.
D. Fecci & Sons Fish and chips uses sustainably caught fish from the area and locally grown potatoes so is a top choice for the British classic.
For fresh seafood and a fabulous view overlooking the beach, venture to Salty's Beach Bar & Restaurant – Flash fried Tiger Prawns….nom nom!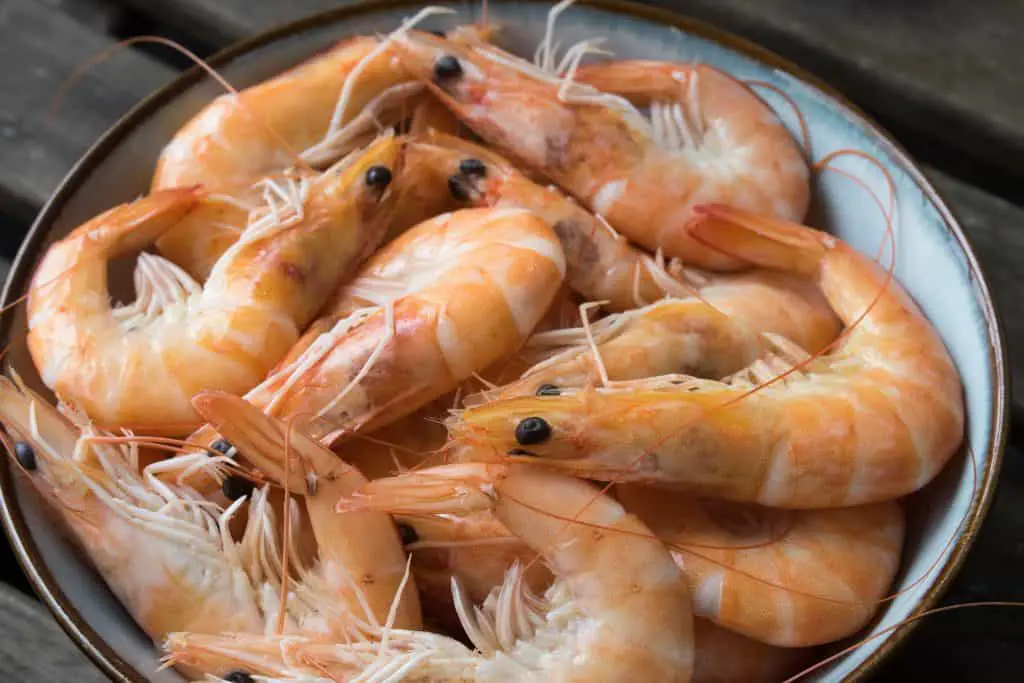 11. Enjoy some thrill seeking at Oakwood Park
Who said theme parks are just for kids? Well, definitely not me! I love a trip to Oakwood Park and it's conveniently located within a 30 minute drive of Tenby.
Bounce along Megaphobia, the best wooden rollercoaster in the UK, get wet on the appropriately named Drenched or for a real adrenaline rush brace yourself for my personal favourite, Speed.
Put your hands up in the air!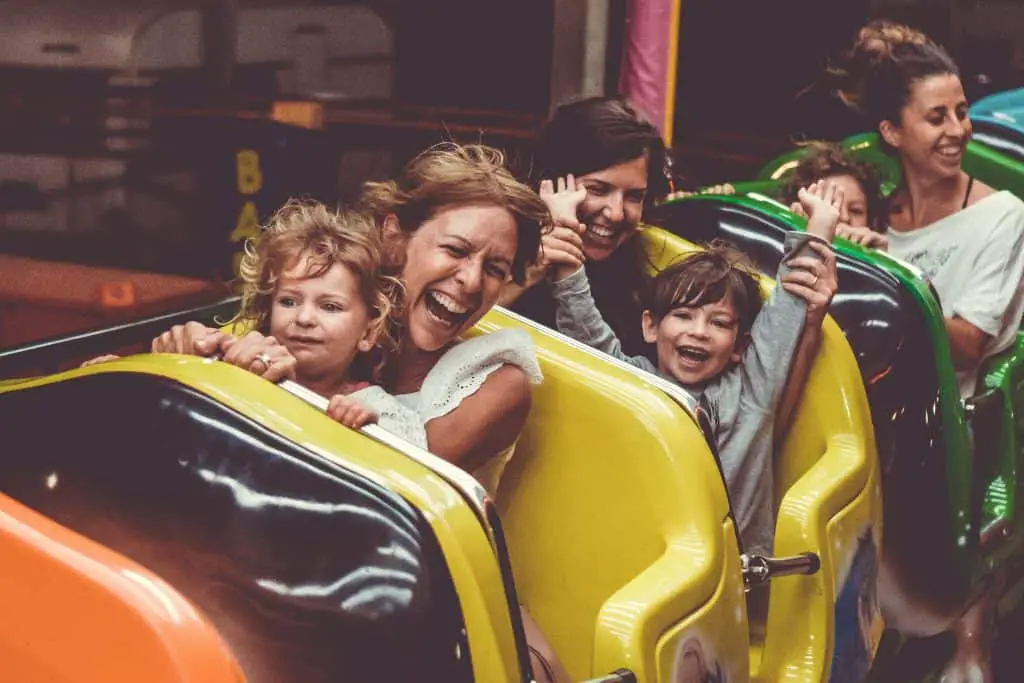 12. Spend time with the animals at Folly Farm Adventure Park
Folly Farm is an enjoyable place to visit near Tenby with the family. I've enjoyed many a trip here with my nieces and nephew and it never gets old.
Check out the super cute red pandas and the adorable sloths and be sure to allow time for rides in the Vintage Fairground. Bigger kids can test their skills on the mini CAT diggers and adults and kids alike can bring out their inner Formula One drivers on the electric go karts.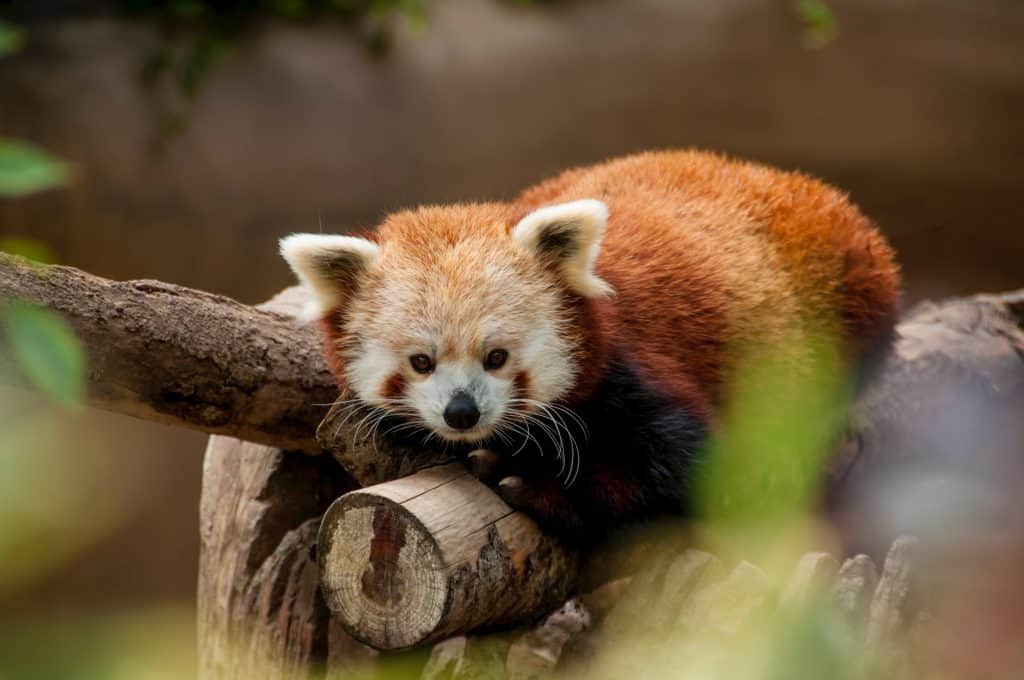 13. Walk a section of the coastal path at the Green Bridge of Wales and St Govans Chapel
The Pembrokeshire coastal path offers some of the best coastal walking Wales has to offer. Just outside Tenby there is a section of this path which offers two incredible sights, one of which is man made and the other of which is made by nature.
St Govan's is a precariously built Chapel, carved into the side of a limestone cliff. It was originally founded in the 6th century but now sits abandoned. Access to this ruined chapel is via a steep set of stairs.
Just over 5km further along the coast you will find the natural cliff arch known as the Green Bridge of Wales. This impressive arch and iconic Welsh landmark has been carved away from the mainland over many years of erosion.
Both of these areas are located in a MOD training area so be sure to check that it's open and they're not training on the day you plan to visit.
If you love this walk you'll also love walks around the nearby Gower Peninsula. Read more about the best of the Gower walks in this guide.
14. Heatherton World of Activities
If you're in need of adrenaline packed things to do near Tenby, check out Heatherton World of Activities. This place really does have fun for all the family, with activities ranging from High Rope Trails and Escape Rooms, to Bumper Boats and Zorbing.
The entrance cost to Heatherton is minimal but activities are paid for separately on a credit based system, so this can add up. Tickets must be booked online in advance of your visit.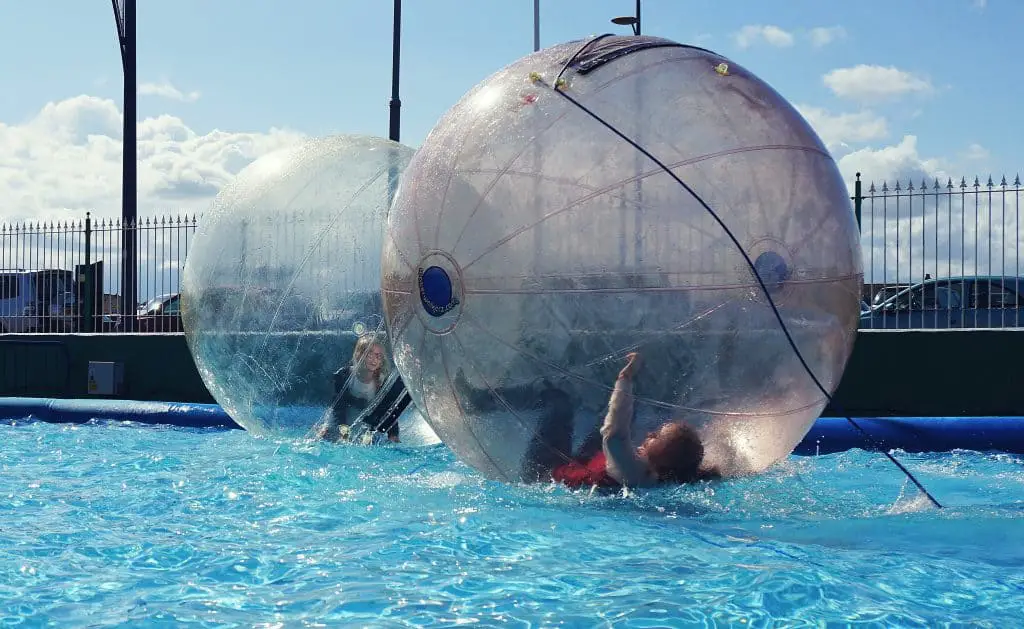 15. Explore Manorbier Castle
If you're looking for a more intact castle than the ruined tower on Castle Hill, you can visit Monorbier Castle. Just 5 miles southwest of Tenby, Manorbier castle is perched on the cliffs overlooking Manorbier Beach.
The castle was built in the early part of the 12th century by the Anglo-Norman de Barry family. Today the castle is privately owned but is open to public visits.
The castle is open every day from 10-4pm but may be closed occasionally for private functions and events, so it's worth calling ahead to avoid disappointment.
Keep up with my latest adventures on the following channels
Places to stay in Tenby
Tenby has plenty of places to choose from if you're planning to spend the night.
For a Grade 2 listed hotel with views over South Beach try The Belgrade Hotel. Alternatively base yourself in Tenby Harbour overlooking North Beach at Newton's Cradle.
How to get to Tenby
By train. Trains arrive from London Paddington and many other major cities into Tenby station.

By bus. There is a National Express service that runs to Tenby from London and all other major cities.

By car. There are many pay and display car parks and a park and ride system outside Tenby's walls, which is the best option if arriving in private transport. Popping Tenby in your GPS should get you here without any problems.
Join My Newsletter Today!