The Winter months are a great time to explore the British countryside. When Winter arrives, the crowds depart and you're presented with an opportunity to get a slice of the outdoors all to yourself.
Winter walks in the UK are a great way to take that opportunity and get outside.
The UK is blessed with a variety of landscapes to enjoy. From exposed moorlands to blustery coastlines, from craggy mountain peaks to sheltered ancient woodlands. Whichever terrain you prefer the UK has it, so wrap up warm and read on to discover the right trail for you!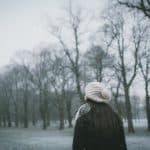 Disclaimer: Some links in this article are affiliate links, which means that if you purchase through them I receive a small commission, at no extra cost to you. This helps cover the cost of running this blog. Thanks for your support!
10 Great British Winter Walks
The amount of great British walks is potentially endless, so I asked some of my fellow bloggers to share their favourite UK Winter walks.
The walks are spread out across all corners of this tiny island of ours and represent many of the major National Parks including the Peak District, Lake District, Exmoor, Snowdonia and the Cairngorms.
These walking routes vary in length from mammoth 20 kilometre adventures, to short 2 kilometre strolls. They also vary in difficulty from flat country parks to high mountain peaks.
However, one common theme is their ability to turn into a frozen wonderland as soon as the Winter months arrive.
South West and Wales
1. Dunkery Beacon, Exmoor
Distance: 17km
Time: 8 hours
Dunkery Beacon is located in the heart of Exmoor National Park in Somerset.  It's the highest point in the south of England outside of Dartmoor National Park and is the perfect location for winter hiking, with spectacular views across the Bristol Channel from the summit 
The hike starts in the small village of Horner where there is parking. It's approximately 17km in total and takes 7 hours to complete.  The trail follows the wooded valley through Horner Woods up onto the open moorland above Cloutsham Farm. 
Beyond the farm the path is uphill across moorland covered in heather and grouse.  Exmoor ponies and sheep  graze quietly and are not afraid of walkers. 
The summit of Dunkery Beacon has a large white stone cairn and a trig point.  It's extremely exposed and even in good weather it can be windy with temperatures below freezing.  From the summit there is a short distance of back tracking before picking up the path to Webber's Post, which takes you back through Horner woods to the start. 
Webber's Post has car parking as well so if you want a shorter walk (10km in total) then a return walk from here is possible.
The whole area can be difficult to access if there has been snow, so it's essential to check conditions before setting out and keep an eye on the weather which can change quickly.  However, when snow is on the ground this can be a magical landscape.
Submitted by Suzanne of Meandering Wild.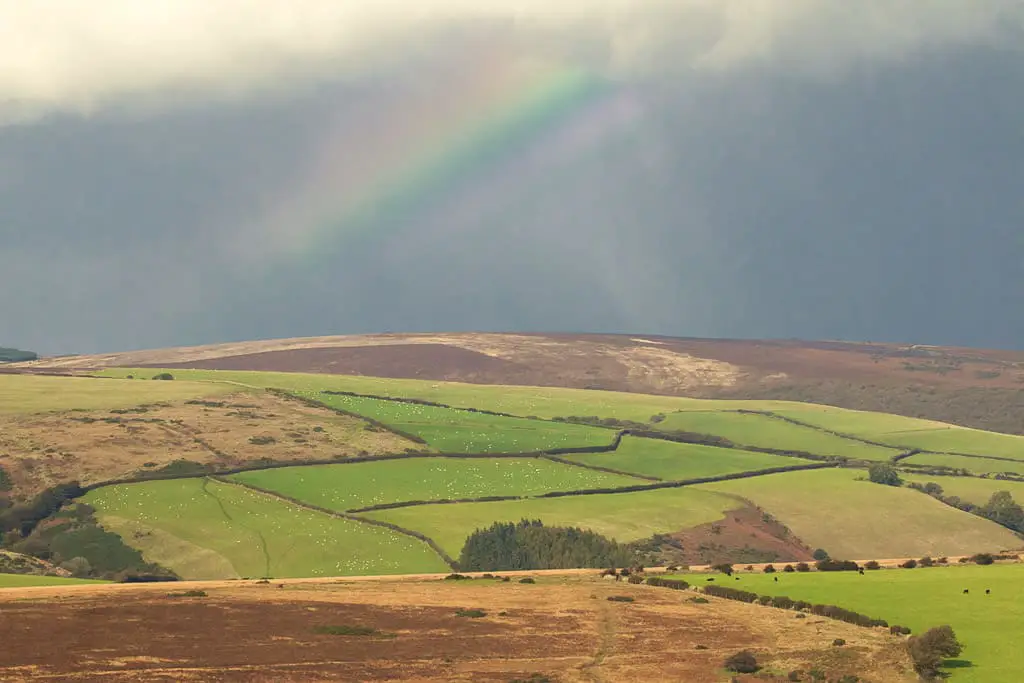 2. South West Coastal Path
Distance: 20km
Time: 8 hours
Exmouth in south east Devon is normally thought of as a summer destination. However, when the tourists leave and the weather gets slightly cooler, it is still well worth a visit!
One of my favourite things to do in Exmouth is to hike to Otterton, out to Ladram Bay and then back along the South West Coast Path. It is about a 30 kilometre loop, so make sure you've got your hiking boots for this one! It is also quite up and down – it took us eight hours, although we did stop a lot. Serious hikers could probably do it in 6 or 7 hours. 
Start at St John's in the Woods chapel, which is near Brixingham. From here, you can hike up through the moors, which are beautiful on crisp winter's mornings. They are enigmatic at the best of times, but when the temperature is a little cooler, and there's nobody around, they are just magical. 
Pathways will take you to East Budleigh, which is a charming village where Sir Walter Raileigh was born. Then it's time to hike to Otterton and check out the working mill. If you're really lucky, you might even see wild beavers in the water!
From Otterton, hike to Ladram Bay, which during winter you'll be able to enjoy with no tourists. Then take in the spectacular western Jurassic Coast as you hike to Budleigh Salterton, and eventually arrive at Exmouth beachfront. 
It'll be chilly in winter, but Exmouth is one of the sunnier spots of the UK, so you might still have blue skies for your photos!
Submitted by Claire from Go South West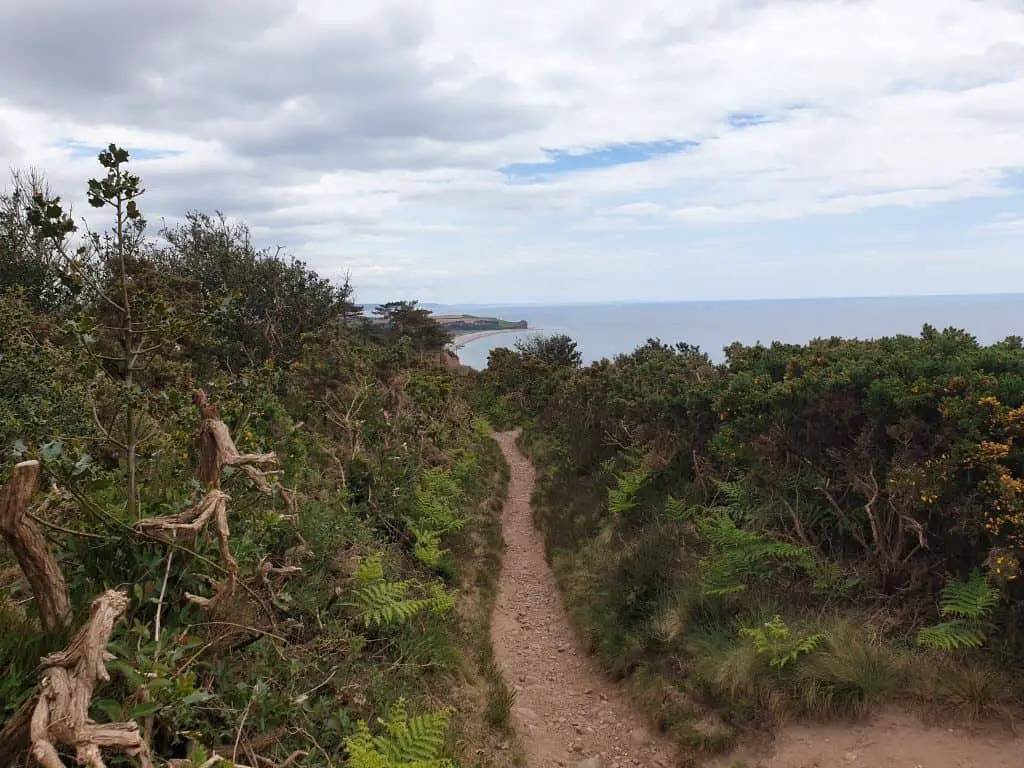 3. Caswell Bay to Pwlldu Bay, Gower Peninsula
Distance: 6km
Time: 3-4 hours
Wales is the first country in the world to have a dedicated footpath around its entire coastline. However, as exciting as this is, choosing a route along its rugged 870 mile (1,400km) stretch can be a challenge in itself. But fear not, young hiker, for this heavenly 6km stretch along the Gower peninsula offers a healthy dose of all the best bits.
Park up at the blue-flagged Caswell Bay, which is a gem of a beach even in the depths of winter thanks to its wild waves and dedicated surfers, and hit the beach to begin your walk (heading to your right as you face the sea).
Once on the Wales Coast Path, which is well-signed and easy to follow, simply trace the water's edge until you arrive at Brandy Cove, a tiny little inlet famed for its role as a historic smuggling port. This is your first stop-off point, so be sure to bring a flask of tea (or hip flask of brandy).
From here, simply follow the footpath along the craggy coastline to enjoy the dramatic seascapes below and stubborn shrubbery that keeps this stretch nice and green throughout the year. You'll arrive at the pebbly beach of Pwlldu Bay in about 30 or 40 minutes, where you can enjoy the tranquil ambience and watch local fishermen casting their lines off the rocks.
Though this beach has a history of being a bit of a shipwrecker, the waters here are well sheltered, making it popular with hardie swimmers and kayakers – so if you fancy a dip…
You could hike the entire return journey in 2.5 to 3 hours, though the beautiful views will likely tempt you to stop and soak it all in. The cafe back at Caswell Bay is the perfect place to warm up and relax before jumping back in your car.
Book yourself into a local hotel or B&B in the cutesy seaside village of Mumbles and you can rest your feet in one of the many local pubs and restaurants.
Submitted by Ben of Driftwood Journals.
For more hikes in the Gower take a look at this guide.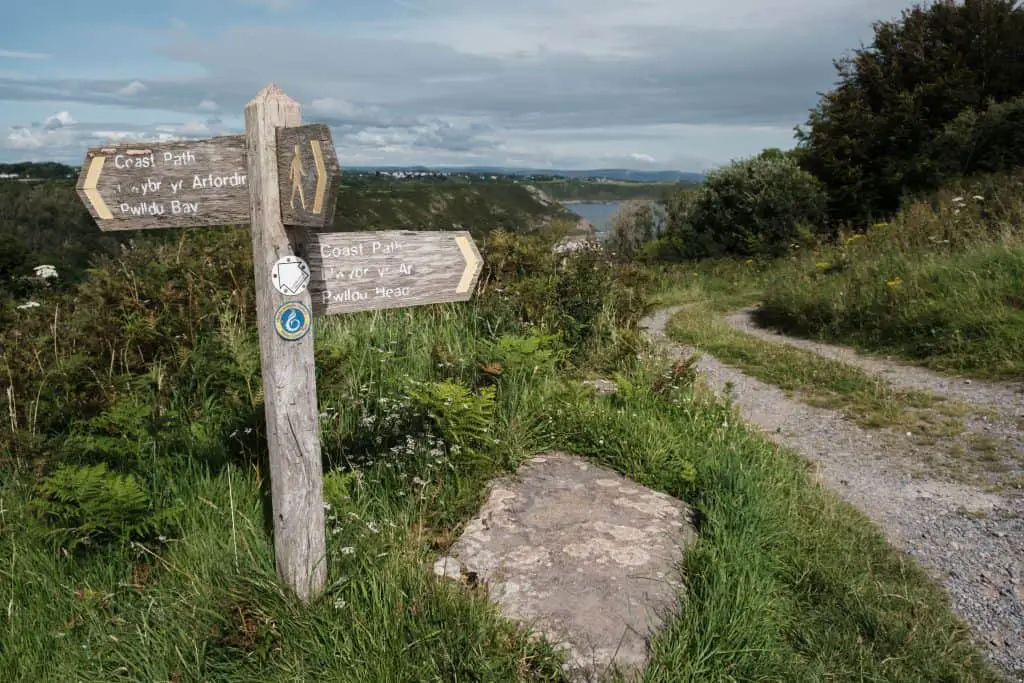 4. Elidir Trail, Brecon Beacons
Distance: 7km

Time: 2 – 4 hours
On wet and windy winter days some of the best walks to enjoy are waterfall walks. These walks are often sheltered in river gorges and offer some protection from the elements.
The Elidir trail in South Wales is one such walk. This walk starts from the village of Pontneddfechan and is reputed to contain the entrance to a fairy kingdom. The walk passes through ancient woodland and visits several beautiful waterfalls along the route.
There are two starting options for this walk depending on how far you'd like to walk. For a detailed trail description of this walk, see this guide to walking the Elidir Trail. For more information on other waterfall walks in the Brecon Beacons, take a look at this post and for mountain walks in the Brecon Beacons see this guide.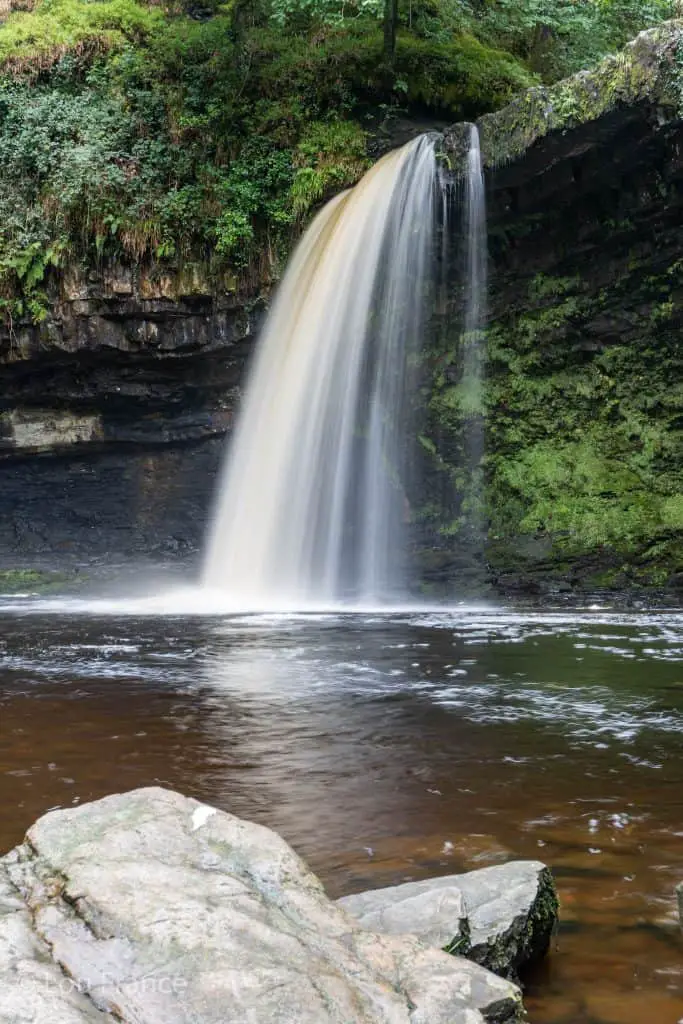 5. Mount Snowdon
Distance: 14.5km

Time: 5 – 7 hours
If you're looking for a winter walk that will burn off the Christmas turkey, then a hike up to Wales' highest peak could be the answer. At 1085m this popular peak will be sure to warm you up on a cold winter's day.
There are several trails to the summit of Snowdon but the most straight forward one is the Llanberis path. It may not offer as spectacular views along the way as some of the trails, but the path is well maintained and relatively easy to follow.
This Snowdon trail begins in Llanberis at the Royal Victoria Hotel, where signposts lead you on your way. Once onto the mountain proper, a stone path gradually climbs its way to the top, weaving along between the train tracks.
Incredulously there is a cafe at the top of Snowdon but this is usually closed in the winter months, so make sure to pack your flask if you want a hot drink at the summit. Retrace your steps to complete the walk.
For more experienced mountain hikers there is the ultimate in UK ridge walking, the Snowdon Horseshoe. You can read more about this hike and other Snowdonia hikes in this guide.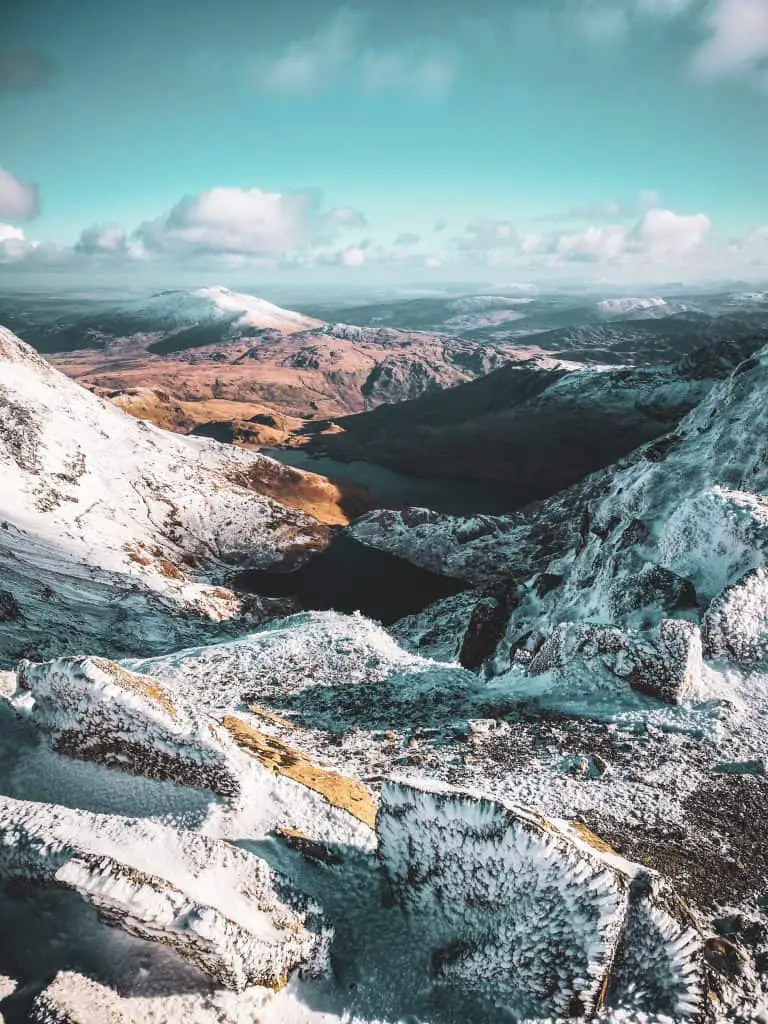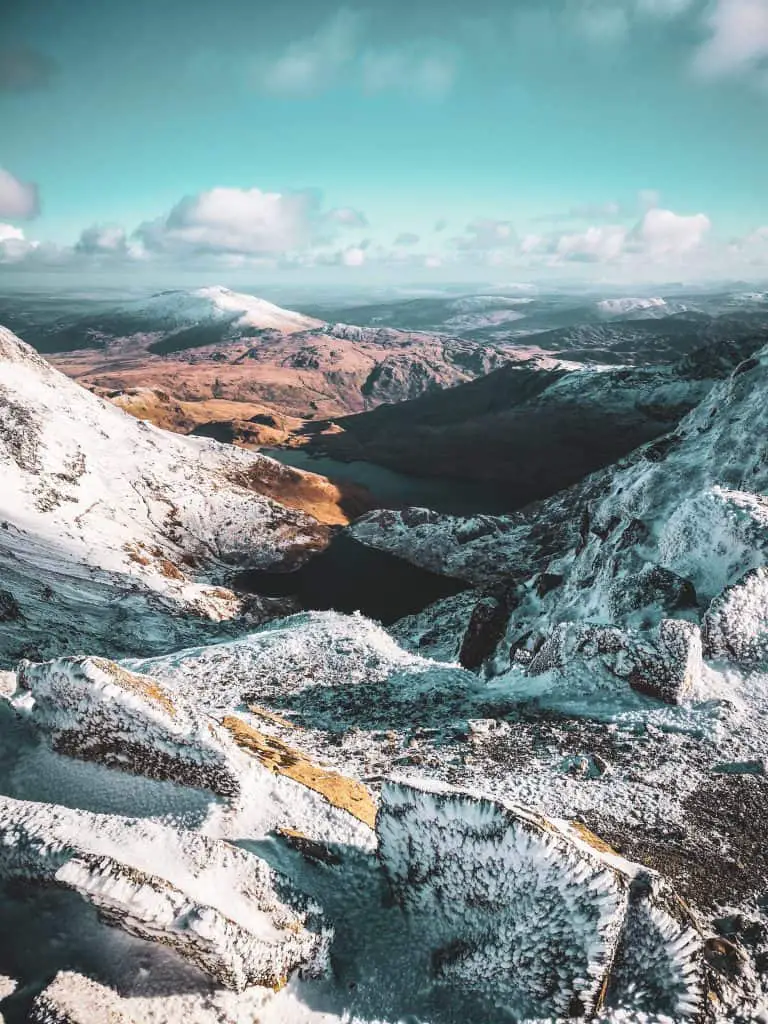 Midlands and The Lakes
6. Seat How, Whinlatter Forest Park
Distance: 5.75km
Time: 2 hours
Whilst looking for the best walks to enjoy in winter the Lake District offers many options. If your time in the Lakes is limited you will have to be strategic about which hike you do. I recommend you check out Whinlatter Forest park when searching for a wonderful winters walk. There you will encounter a myriad of walking and cycling paths to explore.
Whinlatter is England's only mountain forest, just a short drive from Keswick. One great hike is the Seat How Summit trail which is a circular walk covering 3.5 miles. The walk begins at Whinlatter visitor centre where you can also purchase a map of the walking trails.  
Seat How is not for the faint-hearted so be prepared to push the boundaries as this particular hike is very hilly in places.
This trail is well signposted and offers some great views of both Derwentwater and Bassenthwaite Lake. If the weather is clear at the summit you can see Skiddaw and Helvellyn mountain ranges
At Whinlatter Forest you can also encounter upland fells such as Broom Fell, Darling How, and Lords Seat so there's plenty to see and do here as far as hiking goes. Whinlatter is great to hike during the winter since the forest atmosphere almost makes you feel as if you were in a Twilight movie. Not to mention the wildlife you can spot around wintertime.
Once your walk is finished stop by the café and reward yourself with a warming hot drink and a job well done. 
Submitted by By Daniel James of Urban Abroad.
For a more challenging winter hike, take a look at Helvellyn via Striding Edge. Proper winter gear is essential for this hike.
View Winter Hiking Gear Here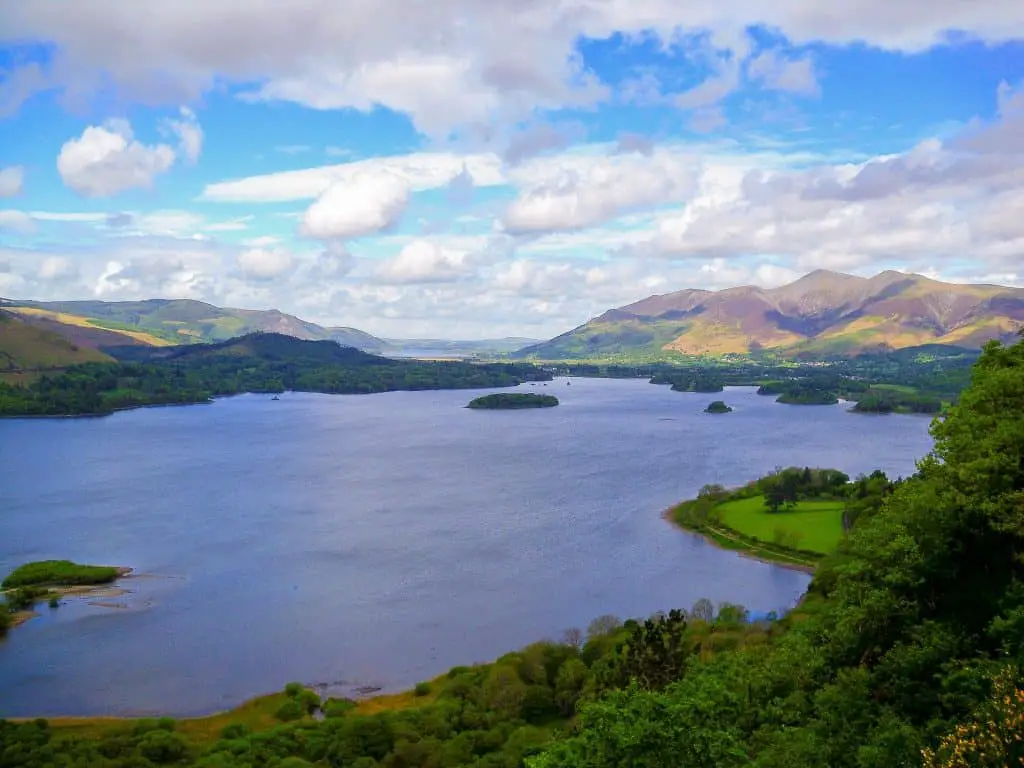 7. Kinder Scout, Peak District
Distance: 14km
Time: 4 -5 hours
This classic Peak District loop takes hikers to the highest point in the park and incorporates several challenges along the way. These challenges include a grade 1 scramble and some tough navigation across the Kinder peat bogs, so this is not recommended for inexperienced hikers.
A highlight of this Winter hill walk is the Kinder Downfall, a waterfall that is best enjoyed during winter when the water flow is high or often frozen. This walk also has a historical importance since this was the location of the Kinder Mass Trespass protest, which ultimately led to the development of National Parks in England.
The hike begins in Edale, from Old Nags Head pub. Hike the loop in a counter-clockwise direction so that you scramble up Grindbrook Clough to reach the plateau.
Once at the plateau, navigate your way across the soft bogs until you reach the firmer ground at Kinder Downfall. This point offers fine panoramic views on clear days and also makes for a good resting place.
At this point the loop joins the well paved Pennine Way path. Follow the ridge to Kinder Low (actually the highest point) before starting the descent via the harsh steps of Jacob's Ladder. From this point, it's a straightforward walk back to the starting point in Edale and a well deserved hot (or cold) drink at the Nags Head.
Alternatively, there is the option to hike Kinder Scout from Hayfield which avoids the need for any scrambling.
Note: The Kinder Plateau can be disorientating in bad weather so ensure you are equipped with a compass. The ground can be very boggy in wet weather so good quality footwear is a must.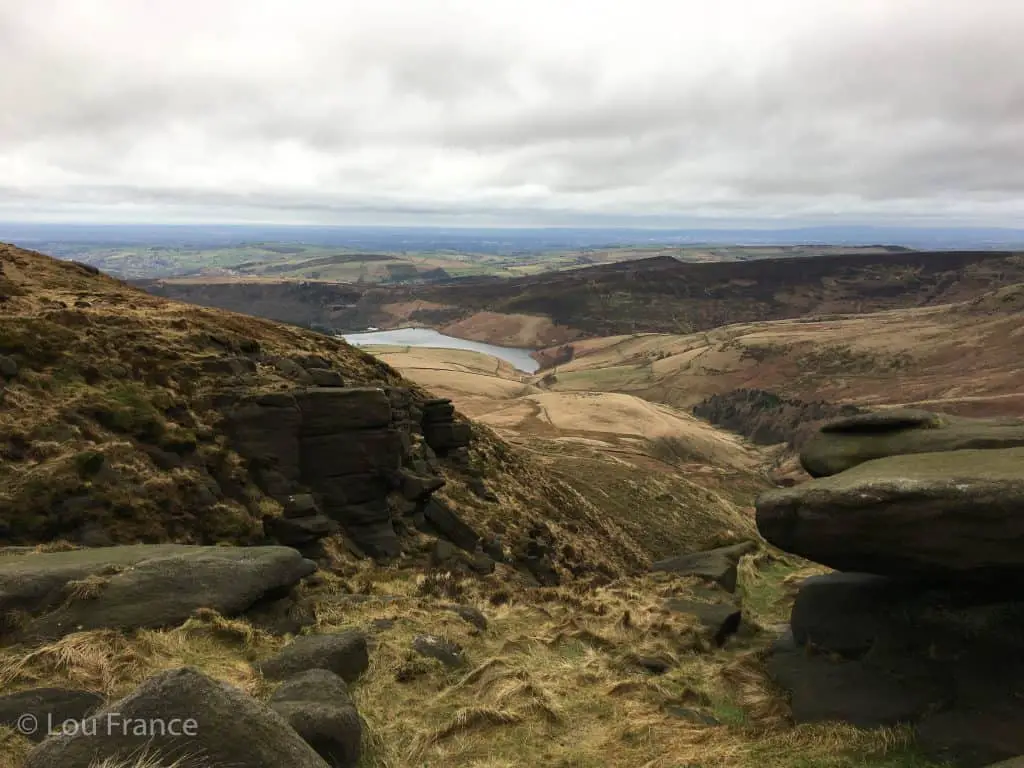 The South East
8. Scotney Castle, Kent
If you're looking for a winter walk that avoids mud and ends with a warming drink and a tasty treat then head to Scotney Castle. The formal garden within the castle grounds has hard standing paths so you can avoid the winter mud and you can treat yourself afterwards with a warm drink in the tea-room.
A winter walk at Scotney Castle isn't just about keeping the mud off your shoes. In winter, stark vistas open up across the moat giving a whole new way to experience the Castle. Walk along the waymarked parkland trail that takes you around the old castle and if you're lucky you can enjoy the mist floating in over the mote.
There are four way-marked trails that let you decide the type of distance you want to tackle on your walk. For a longer walk head into bare-branched Kilndown Wood, where the wildlife dart in and out of the trees and the colours of the wood reflects your winter mood.
For distances and duration of all the walks speak to the Ranger Team on site. They know all the walks and can recommend the best walk depending on the experience you are looking for. 
None of the trials at Scotney Castle are overly taxing but they do make the most of their beautiful surroundings. If you're looking for a picturesque walk then head for this delightful spot in the Kent countryside.  
Submitted by Rob Best of Roam Yonder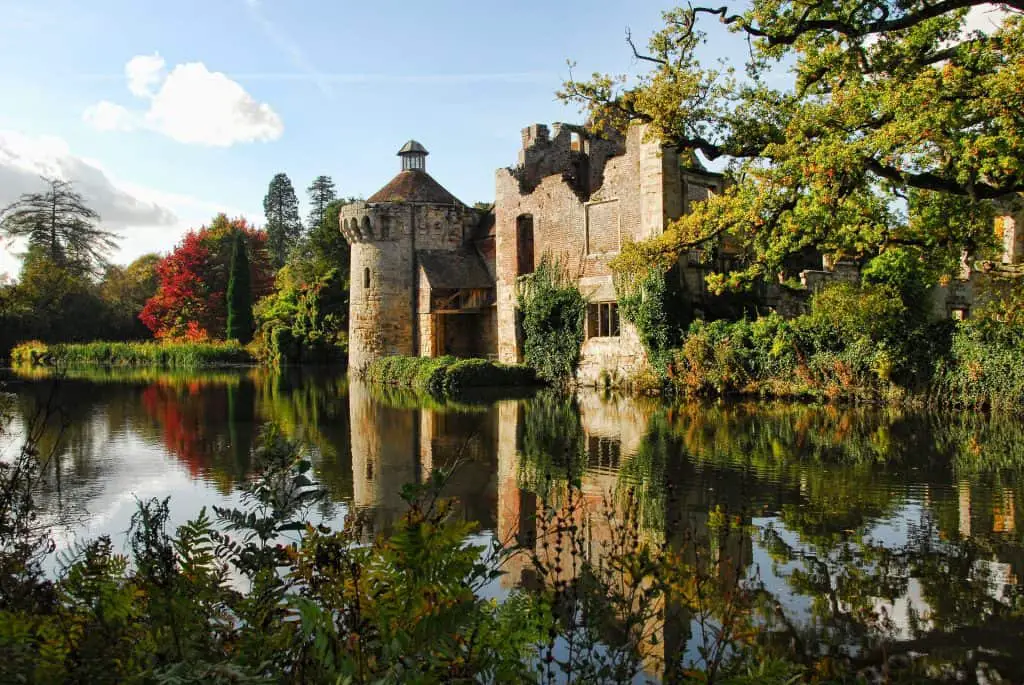 Scotland
9. The Old Man of Storr, Isle of Skye
Distance: 4.5km
Time: 1.5 – 2hours
There are many winter walks in Scotland to choose from but this gem on the Isle of Skye is a great option which offers incredible views.
This straight forward out and back walk allows hikers to get up close and personal with one of Scotland's icons – the huge rock pinnacle of the Old Man of Storr. Weather permitting it also provides stunning views over the Sound of Raasay.
Start the walk from the Storr car park on the A855. The path to the Old Man is a well maintained gravel path for the first half of the walk, then the trail turns quite muddy.
On the ascent bear left on the forks to walk around the rock pinnacles and then continue beyond them to the lookout that provides that classic view. This is a short hike but is a constant up, right from the car park.
A great base for exploring the Isle of Skye and enjoying hikes like this one, is the town of Portree.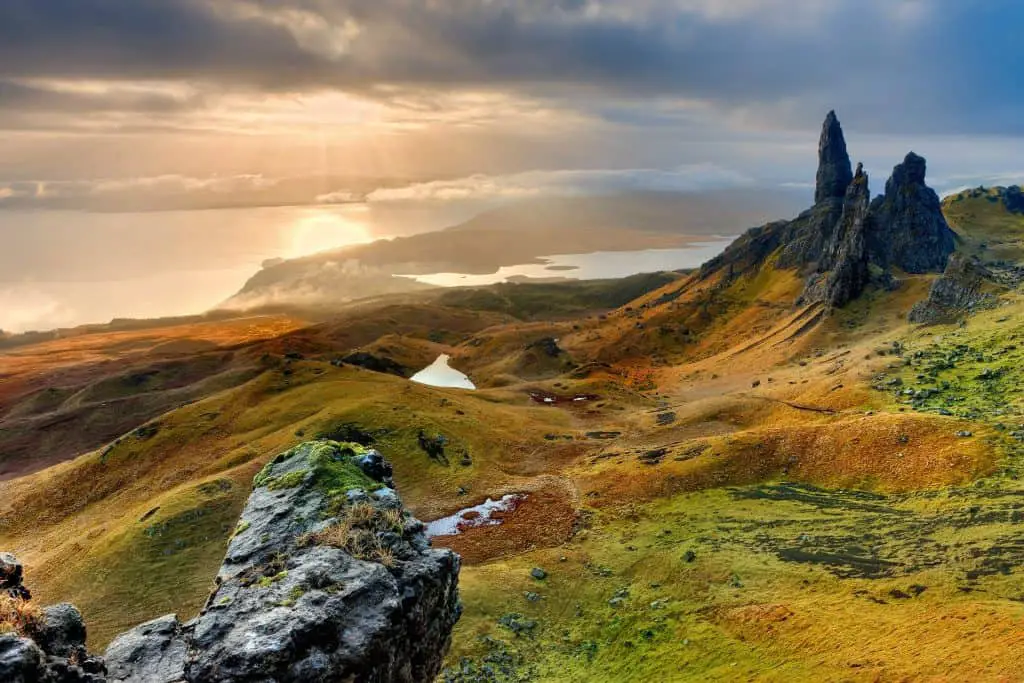 10. Burn O'Vat, Cairngorms 
Distance: 1.6km
Time: 1hour
Burn O'Vat is located within the Muir of Dinnet Nature Reserve inside the Cairngorms National Park and provides a stunning loop walk through woodlands, along a stream, and ends in an ancient pothole.
The walk is around 1-mile roundtrip and takes about an hour to complete. It's an easy hike through woodlands, though there are a few uphill sections. On the cliffside path, there are also handrails for safety.
Climbing into Burn O'Vat involves stepping onto rocks and boulders to pass through a narrow opening and into the pothole itself, but is relatively easy. It's great fun for kids who like to (safely) scramble over rocks and partake in light climbing.
The entrance to Burn O'Vat is fun to squeeze through, and the pothole itself is lovely to explore. It's the kind of hike you can do with any member of the family, dogs included.
Winter is a great season to visit Burn O'Vat, with the cool crisp Scottish air to invigorate you on this gentle hike you can really appreciate the scenery and views.
Take a stop at the lookout point and enjoy overlooking the beautiful Muir of Dinnet Nature Reserve. In winter the stream and waterfall can freeze over under the right conditions, and it's a beautiful sight to behold.
Submitted by Jamie Andreson of Travel Addict.
For more top hikes from around Britain take a look at this post.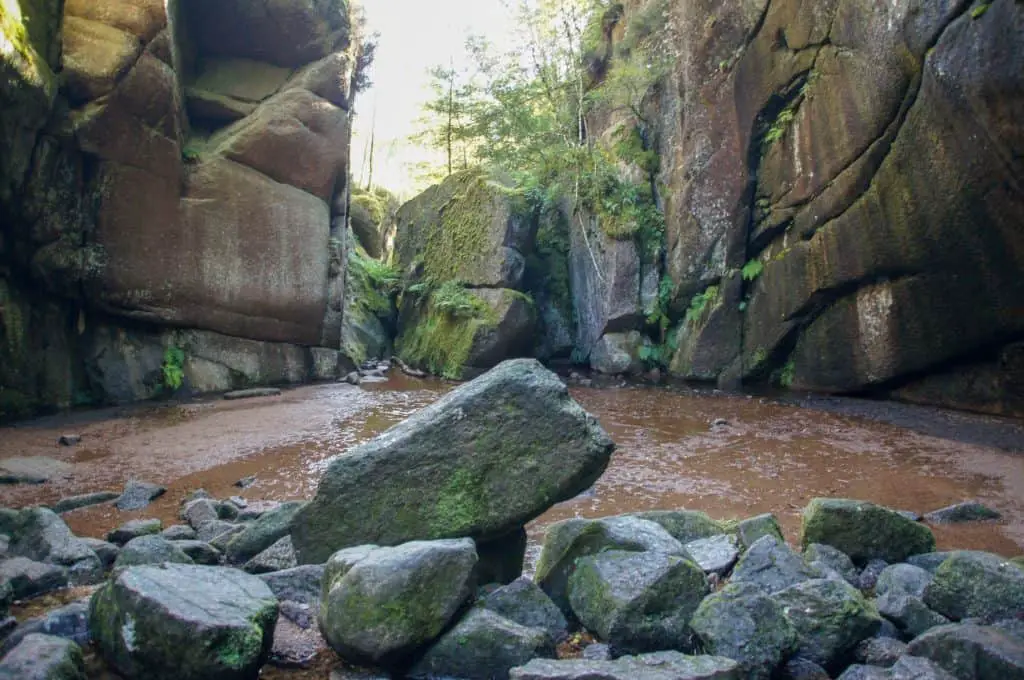 Equipment For A Winter Walk In The UK
UK Winter Walks Summary
The UK is blessed with an abundance of National Parks and Areas of Outstanding National Beauty for walkers to explore in both Summer and Winter. In the Winter months, popular destinations are free from crowds and offer a peaceful escape into the countryside.
Why not make a weekend of it and combine your winter walk with a visit to on of the best UK Christmas markets?
Like It? Pin It For Later!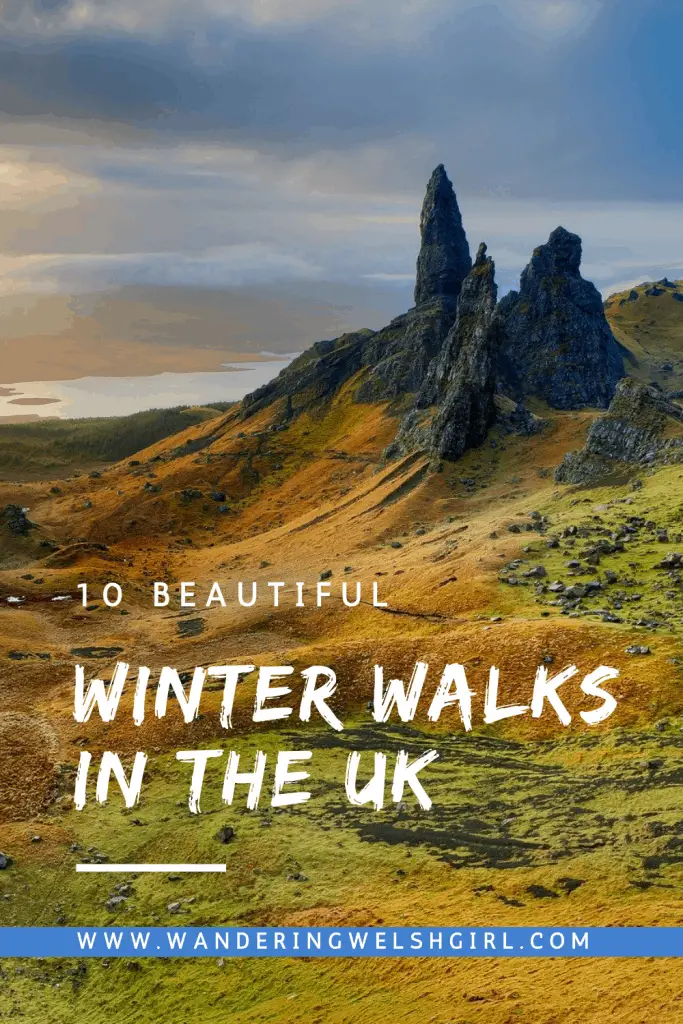 Join My Newsletter Today!