In this post I outline the equipment I use for a photography hike.
Good hiking photography gear needs to combine high performance with low weight. In this post I provide information on all the equipment needed for a successful photography hike. 
For me photography and the outdoors go hand in hand. When I head out for a hike, I always take my trusty camera backpack. It's jam packed with everything I need to enjoy a good hike and capture the best moments along the way.
When I switch hiking for travelling, certain items are taken out, others are put in and it doubles up as my carry on luggage. Perfect!
Here is a complete list of my essential items for a photography hike. I'm not sponsored by any of any of the companies and all opinions are my own.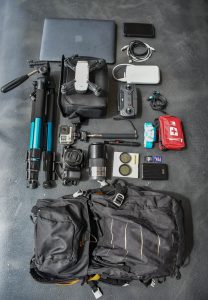 Disclaimer: Some links in this article are affiliate links, which means that if you purchase through them I receive a small commission, at no extra cost to you. This helps cover the cost of running this blog. Thanks for your support!
You might also like this ultimate car camping checklist post for use with your next big outdoor adventure!
Hiking photography gear
Hiking camera backpack
A few years ago I splashed out on a backpack specific to the two things I needed it for – hiking and photography. The Lowepro photo sport has all the adjustable straps and comforts you'd expect from a hiking back pack, but it also has an easy access side pocket to store your camera.
The camera pocket will fit a DSLR and extra lens, plus it has storage pockets for SD cards or lens filters. The back pocket will fit a 2L hydration reservoir (not pictured) and it comes with a with built in all weather cover.
I love this bag and have never been without it since I bought it. The only downside is that it is a little on the small side, so would recommend getting the next size up (300 AW)
Lightweight camera
I bought my Sony Nex-6 mirrorless camera in 2013 and it barely left my side, as it was so light and compact. Mirrorless cameras were relatively new then but since I bought it with the intention of using it for traveling and hiking, it seemed like the right way to go.
After 6 years of solid use I upgraded to the Sony A6400. This is only slightly heavier than the Nex-6 but produces much better images, as you would expect from a newer camera. It also shoots video in 4k. For hiking, mirrorless cameras are surly the way to go.
Take a look at my photos taken with this camera.
Camera lenses
I replaced the kit lens for the A6400 for the Sony 18-135mm which is a fabulous all round lens, perfect for travel and hiking. I also have the Sony 55-210mm lens for shooting wildlife. A very affordable lens which has a decent zoom and beautiful bokeh.
My most recent purchase is the Sigma 16mm 1.4 prime lens. As a landscape photographer this wide angle lens is perfect for capturing those big scenes and with a f 1.4 is also great for astro-photography.
Filters
Circular polariser filter and Gobe variable ND filter. I usually have one of these filters on my camera depending on the situation. I bought the variable filter so I wouldn't have to carry around lots of different levels of ND filters.
Great theory and for the most part it's ok but at the extreme end of the range the filter produces dark patches in the corner of the photo which is pretty annoying!
Power bank
I have a Zendure power bank which is really small but not so light. However, it provides about 3 charges for my Iphone and can also recharge my drone if I needs be. 
SD cards
I have spare SD cards for my camera, drone and GoPro. I use SanDisk SD cards as they're quick and reliable.
GoPro
The GoPro Hero 4 in the photo above has been updated with a Gopro 9, but the most recent edition is the Gopro 12. Footage from the latest models look much more stable, even without a gimbal.
Not pictured above are the accessorises I have for the GoPro which I use for snowboarding, biking, diving etc. I have this accessory bundle which is much cheaper than the official GoPro version. 
Drone
Since 2018 I have been using the DJI Spark and have loved using it. Yes there are better drones available for professional drone pilots, but for my first drone and for ease of travelling this little gem is a winner! But if you want something that's just as light and compact but with even better technoogy, go for the DJI Mini 3 Pro!
Even though these drones can work via your smartphone I highly recommend investing in the remote, as it makes flying so much easier and less frustrating.
Tripod
This Neewer camera tripod is a really great tripod that I use for most of my landscape photography, but at 4kgs it is on the heavy side for big hikes. If I'm heading out on a big hike I'll take my smaller and lighter Eloki tripod (not pictured) which will also fit my GoPro and Iphone.
Smartphone
Yup, I'm an Apple fan so this is my Smart phone of choice. At the moment I'm happy with the Iphone XS
Discover the top apps I use on my smartphone to help plan my photography hikes!
First Aid Kit
Compact first aid kit – just in case… I use this small camping and trekking first aid kit as it has everything I need.
Head torch
I've had several head torches over the years but I do like Petzl ones. This Petzl Actik has different brightnesses and the red light option to avoid blinding everyone around you. Not really sure if that option keeps the insects from flying into your face though?!
Cables/leads
Spare leads for charging Iphone and drone from the power bank.
Clothing
Not pictured are the clothing items I take which usually include a warm puffy jacket, a rain jacket, a buff and a pair of gloves. For more details on these items take a look at this day hiking list.
Travel gear
The last few items I don't take hiking with me! When I switch to travelling mode, I take the big tripod out and replace it with my laptop and external hard drive.
Hard drive
I have a few external hard drives so not all come travelling with me, but I do like the Transcend ones  because they're really tough and really fast. That's pretty much all I want in an external hard drive.
Laptop
I have the Macbook Air which is light, compact and perfect for travel.
Ear buds
In the past I went through about 2-3 pairs of ear buds every year so I never invested in expensive pairs. I do like good sound quality though and so was treated to a decent pair for my birthday. I now have these wireless bluetooth earbuds by anker. They're great sound quality and actually stay in my ear, which is something I've often struggled with. Let's hope I don't lose these ones!
Photography Hiking Gear Summary
So this concludes my hiking photography gear list. In this guide I list all the essential items I carry for a quality day spent hiking in the mountains and capturing those special moments. Top items include my Sony A4600, DJI Spark, tripod and headtorch. Is there anything you would add to this list?
The footage I've captured with my DJI Spark has really blown me away and being so lightweight means I don't have to compromise on comfort. Take a look at some of the videos I've created during my wanderings in Wales!
Join my monthly Newsletter here!
Like it? Pin it for later!