Demre is a town on the Mediterranean coast of Turkey in the province of Antalya. During the Lycian era the town was known as Myra, the ruins of which are a must-see on a trip to Demre. Up until the 1920s the area housed a large number of Greeks and some of their abandoned houses can still be found today.
Demre is also famous for being the home of Saint Nicholas (aka Santa Claus). Christian pilgrims visit the tomb of Saint Nicholas every year. However, Demre isn't as frequented by tourists compared to other towns along the Turquoise coast. For this reason it does offer a more local experience for foreign visitors.
There are many things to do on a visit to Demre, such as visiting the Lycian ruins of Myra, seeing the tomb of Saint Nicholas, experiencing the Friday market and relaxing on the beach.
Read on to discover all the best things to do in Demre!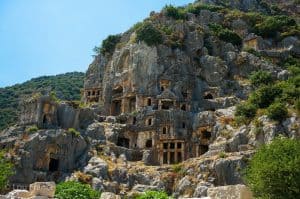 The Best Things To Do In Demre
1. Myra archaeological site
Myra has had many incarnations by various civilisations but originally it was part of the Lycian Union. In early Byzantine times it took over from Xanthos to become the capital city of Lycia.
Myra is located 2km from Demre town centre. The two big things to see at this site are the incredible rock cut tombs and the large amphitheatre.
The theatre has amazing corridors leading to it which is quite rare to see. However, for me are the star attraction at Myra are the rock cut tombs. When they were built they would've been painted in bright colours and even though they are now faded, you can still appreciate the intricate carving of the rock which, at first glance, you could be fooled into thinking was wood.
Nobody knows for certain when it was built as nothing had been written about it until the 1st Century BC. However, an outdoor defensive wall dates back to 5th century BC so it's pretty damn old! Aim to get to Myra early in the morning if possible to avoid the crowds. This is only a small site so it doesn't get too busy, mainly just group tours on day trips from Antalya.
Open: 9am – 7pm
2. Church of St. Nicholas aka Santa Claus
Did you think Santa was from Lapland? Think again!
St Nicholas was born in Patara, a little further along the coast (Patara also has some Lycian ruins and a great beach!) and was buried in Demre (then Myra). There is also an island near Fethiye known as St Nicholas Island which is believed to be the location of his original burial before he was moved to Demre.
Over his sarcophagus the first church of St Nicholas was built, although what you see today is mostly what was rebuilt in the 9th century and multiple restorations since. Inside the church you can see beautiful mosaic floor tiles and the remains of wall paintings.
If you want to read more about the Santa Claus myth check out this article.
Open: 9am-7pm
3. Demre Friday market
Locals from nearby villages come to Demre every Friday to sell their produce. This market used to feel a little different when it was all outdoors but now it is covered it has more of a Russian bazar type feel to it.
In the main covered section you will find the temporary fruit and vegetable stalls and around the edges are fixed stalls selling fish. Outside the covered area you can find other produce such as dairy, nuts and pulses. You can get most of what you need here and the sellers are quite happy to let you sample their produce and help you practice your Turkish. 
4. Andriake Ruins and Museum
If you want to learn more about the Lycian culture and civilisation I highly recommend a trip to the museum and ruins.
Andriake (Çayağzı) is the ruined port which was once attached to Myra. In the ruins of Andriake you can explore old Roman baths, an agora, churches and a reconstructed underwater cistern. If you've been to Istanbul you've probably visited the impressive underwater cistern there.
Amongst the open air ruins you can find the indoor Museum of Lycian Civilisations. The museum is converted from a former Roman granary known as Hadrian's granary and houses over 1000 historical artefacts from Lycian, Roman and Byzantine empires.
Take time to learn about the history of Myra as well as other Lycian cities such as nearby Xanthos and Patara.
5. Demre beach
With the educational sites ticked off it's time to hit the beach! The beach is 4.5km from the town centre and not far from the museum, so if you don't have a car it's worth jumping in a taxi. Demre has a decent sized sandy beach on which you can laze away the afternoon.
Kick back with a book and swim in the ocean to cool down, then head back to whence you came.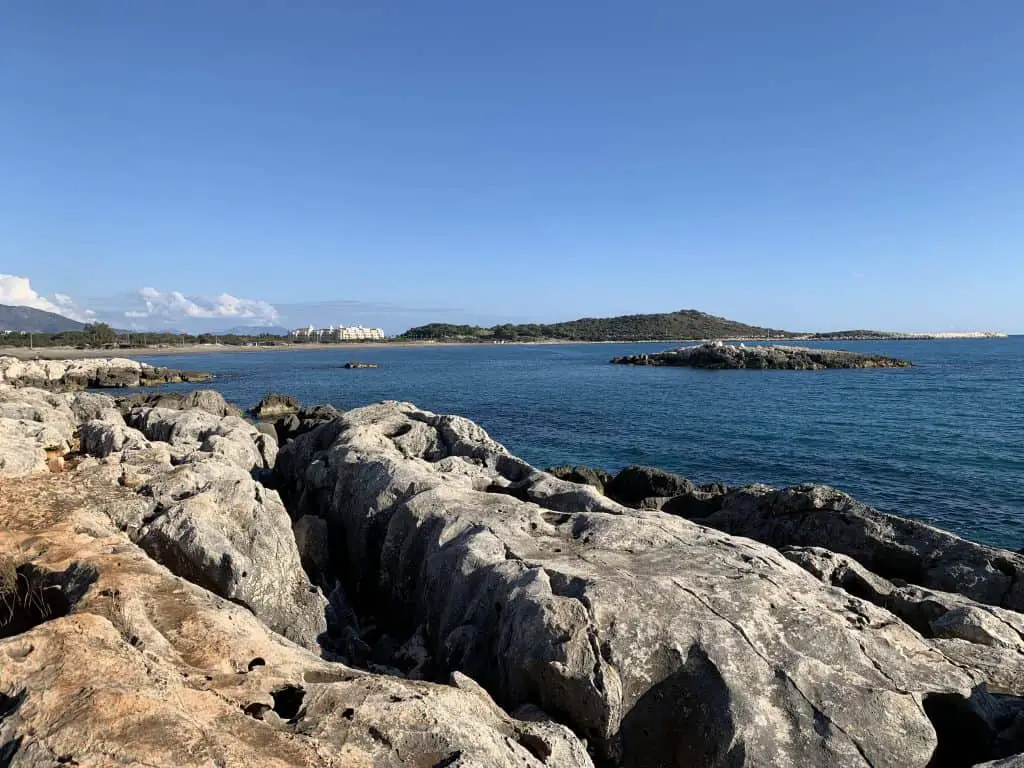 6. Greek House Cafe
Experience a little of Demre's Greek history at this cute cafe. Inside you will find lots of antiques to keep you occupied and outside is decorated in the blue and white wash synonymous with Greek architecture. 
From the church, exit to the right and a couple hundred meters down the street you'll see this lovely little cafe. It's a great place to grab a drink and some lunch after your visit to Saint Nicholas' Church.
How To Get To Demre
Driving:
From Kaş drive east on the main coastal road D400. 48km

From Antalya drive west on the main coastal road D400. 142km
Discover my top tips for driving in Turkey in this guide!
Bus:
Hourly buses (Dolmuses) run to Demre from Kaş bus terminal  

Hourly buses run to Demre from Antalya. It takes 3hrs15min