This is a guide to visiting Kas, Turkey. In this post you will discover top things to see and do on a visit to this beautiful Turquoise Coast town.
Kas or Kaş as it's written in Turkish is pronounced kash. It's a small town nestled along the southwest coast of Turkey. A stretch of coastline known as the Turquoise Coast (for reasons that'll become obvious once you see the ocean!)
The pretty cobbled streets and white wash houses make Kas a beautiful place to visit as part of a Turkey road trip or as a vacation destination in its' own right.
But Kas isn't just a seaside town, it's a place steeped in history. The town is built on the ancient Lycian site of Antiphellos and evidence of this is still visible today.
I have a huge soft spot for Kas and conveniently, my boyfriend has a house in the mountains nearby, so I've spent a lot of time exploring this area over the last few years.
If you're looking for all the top things to do in Kas, then read on below.
Top Things to do in Kas
Relax at a beach
Kaş has several beaches to choose from. The most popular is Kaputaş Beach as this is one of the few beaches with white sand. Arrive early to get one of the few parking spots or catch a dolmuş bus from the town centre.
Our favourite place to visit in Kas is the quieter Büyük Çakıl, which is a stone beach within walking distance of the town.
See the King's Tomb
The King's Tomb is a 4th century BC Lycian sarcophagus situated right in the centre of the town. Located on Uzun Çerşi Sokak street, if you're not looking for it you might miss it as it simply sits alongside the shops and restaurants.
Explore Antiphellos Theatre
As mentioned in the introduction, Kas is built on the ancient site of Antiphellos – a small Lycian settlement. The Antiphellos Theatre has been well maintained since it was built in the 1st Century BC and is just a short walk outside Kaş town centre. It's completely free and a great place to visit in Kas to enjoy sunset with the locals.
Scuba dive the famed Turquoise Waters
One of the best things to do in Kas is scuba diving as it has reefs, a canyon and several wrecks to explore. There are several dive centres in Kas, typicaly offering dive boat trips twice a day. Kas Camping (see accommodation options below) also has a diving centre attached.
Take a boat trip to Greece
The small Greek island of Meis is just a 20 minute trip away from Kas. Large boats depart Kas at 10am and return at 3pm. Reserve you spot the day before at the booking office in town.
There are also several sailing trips and boat cruises to enjoy from Kas.
Hike part of the Lycian Way
The Lycian Way is a long distance hiking trail in Turkey which starts in Ölüdeniz and ends in Geyikbayırı. A lot of this hike skirts the beautiful coast line and it's possible to hike a section of it from Kas. Hiking part of the Lycian Way is a top free thing to do in Kas.
The trail starts a little beyond Büyük Çakıl beach. Follow the road initially until it breaks off to the right onto a walking trail. The Lycian Way is marked by red and white painted markers.
Along this stretch there are several beautiful beaches and coves to explore, the first of which is Limanagzi. The hike to this point is 3km, which might be far enough on a hot Summer's day.
However, there is more to see. If you are prepared to hike on, there are two more coves which are possible to visit on a full day hike (15km round trip) and you're likely to get these coves all to yourself.
This hiking trail is available offline using the maps.me app.
Take a boat to

Limanagzi
If it's too hot to hike you can always take the local boat across to Limanagzi! From Kas harbour it only takes a few minutes to get across so you can spend the day relaxing on the beach. Just remember to catch the last boat back in the evening or you will end up hiking after all!
Wander the Friday Market
If you happen to be in Kaş on a Friday then the Friday market is a must for stocking up on fresh local produce, including delicious Turkish Delight. You can also buy cheap clothing and souvenirs. 
If you want a less touristy Friday market, head to the nearby town of Demre. Read more about what to do in Demre here.
Exploring beyond Kas
Once you've finished exploring all the things to do in Kas, it's time to look further afield. If you are doing a road trip from Istanbul to Cappadocia and you stopped in Ölüdeniz, you will have already explored Saklikent Gorge, Patara and Kayakoy. However, these can also be visited as day trips from Kas. For more information on these destinations, see this post.
To the north and east there are also more excellent places to visit such as Myra at Demre, Arykanda, Kekova and Gombe. See this post to learn about day trips from Kas. Spoiler alert – it contains information on discovering the true identity of Santa Claus!
Where to Stay in Kas
This hostel is popular with backpackers on a budget since it offers dorm style rooms, free breakfast and a swimming pool. What's not to love?
Whilst this might not be the cheapest place to camp, it's location is top notch. Just a short walk from the town centre, Kaş camping has it's very own private coastline.
The campsite offers bungalows and more simple beach huts if you want to upgrade from a tent. Included in the fee is access to the sun beds where you can relax and take a dip in the ocean. It also has a diving outfit attached.
Alternatively, search for your own stay here.
Where to Eat in Kas
There are so many places to eat in Kaş it's a little overwhelming so I've narrowed it down to my favourite three.
Lily's Corner – amazing hand made pizza and pasta and a selection of craft beers. Yep, Craft beers in Turkey!!
Smiley's – the best place in town for yummy local seafood.
Ora Secret Garden – slightly hidden as the name suggests, this quiet spot is our favourite for Turkish classics such as güveç or alinazik. For more information about the basics of Turkish Cuisine, check out this post!
Disclaimer: Some links in this article are affiliate links, which means that if you purchase through them I receive a small commission, at no extra cost to you. This helps cover the cost of running this blog. Thanks for your support!
Like it? Pin it for later!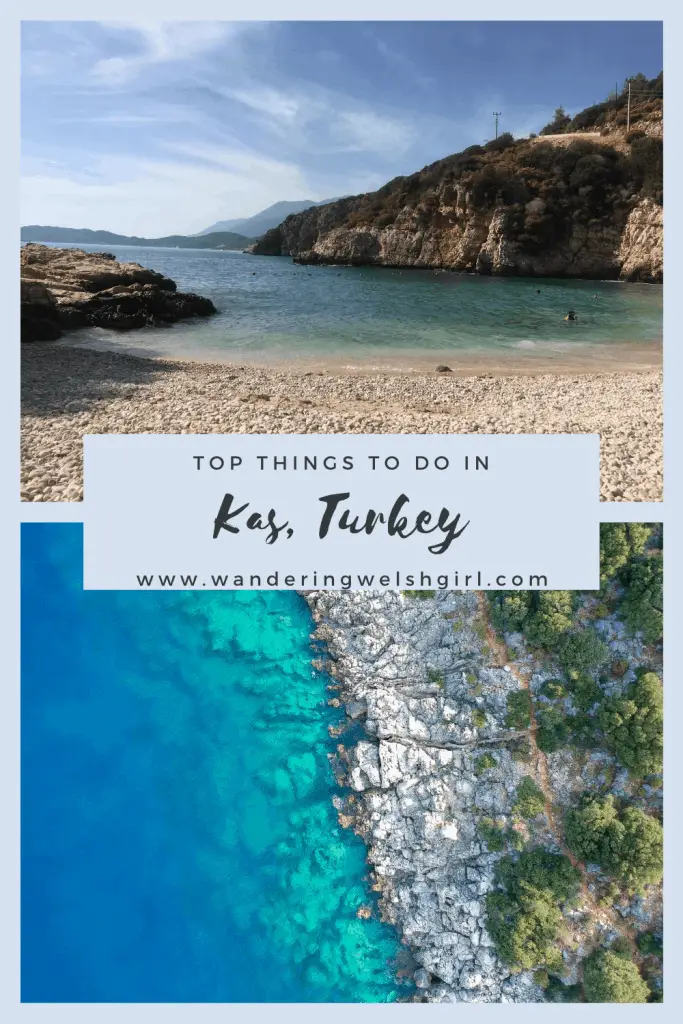 Sign up to my Newsletter today!