This is a guide to visiting Kas, Turkey. In this post you will discover top things to see and do on a visit to this beautiful coastal town.
Kas or Kaş as it's written in Turkish is pronounced kash. It's a small town nestled along the southwest coast of Turkey in the Province of Antalya. This stretch of coastline is known as the Turquoise Coast (for reasons that'll become obvious once you see the ocean!)
The pretty cobbled streets and white wash houses make Kaş a beautiful place to visit as part of a Turkey road trip or as a vacation destination in its' own right.
But Kaş isn't just a seaside town, it's a place steeped in history. The town is built on the ancient Lycian site of Antiphellos and evidence of this is still visible today.
I have a huge soft spot for Kaş and, conveniently, my boyfriend has a house in the mountains nearby, so I've spent a lot of time exploring this area over the last severn years.
If you're looking for all the top things to do in Kaş, then read on below.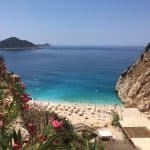 Disclaimer: Some links in this article are affiliate links, which means that if you purchase through them I receive a small commission, at no extra cost to you. This helps cover the cost of running this blog. Thanks for your support!
20 Awesome Things to do in Kaş
1.
Relax at one of Kaş' beach

es

Kaş has several beaches to choose from. Our favourite beach to visit in Kas is the quieter Büyük Çakıl (Big Pebble Beach), which is a pebble beach within walking distance of the town. The beach is situated in a beautiful rocky cove backed by tree-covered mountains behind. A Dolmus (minibus) regularly runs past this beach if you don't want to walk to/from this beach.

The beach has a selection of restaurants who provide free sun loungers in exchange for buying a drink or some food. This is my favourite place in Kas to get a delicious karides guvec (prawns in a clay pot)

The other main beaches in Kaş are found on the peninsula. These are İnceboğaz Çınar and Kaş Belediyesi beach (Kaş municipal beach). These beaches are free to use with sunbeds and umbrellas costing around $1.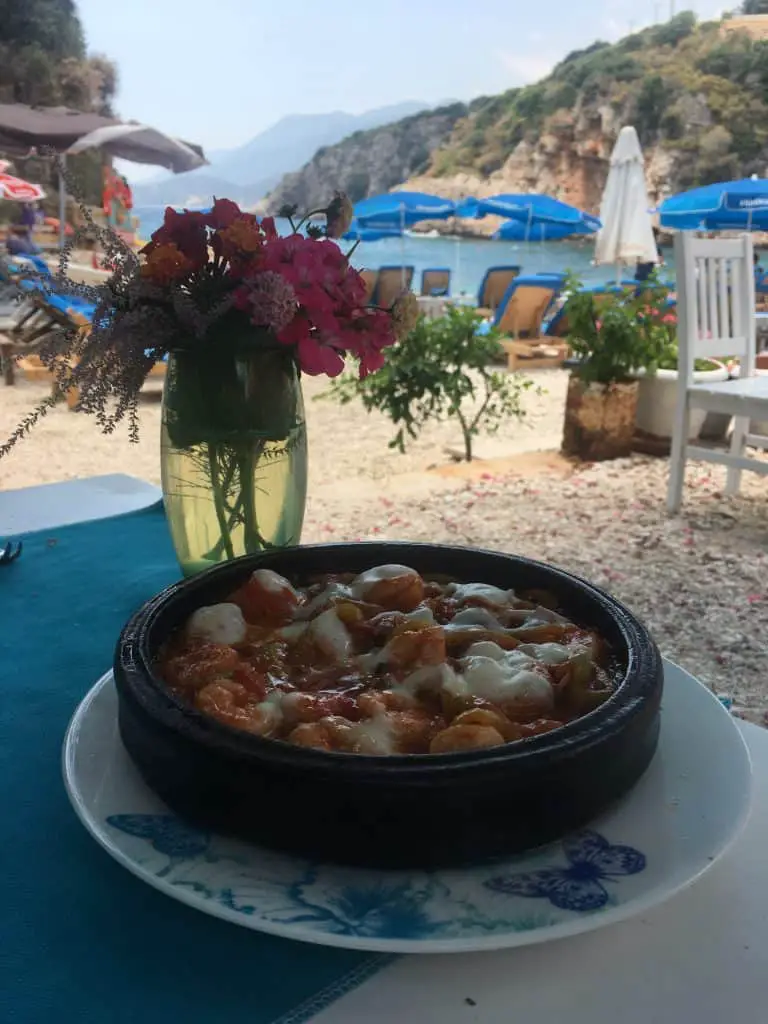 2.
See the King's Tomb
The King's Tomb is a 4th century BC Lycian sarcophagus situated right in the centre of the old town. Located on Uzun Çerşi Sokak street, if you're not looking for it you might miss it as it simply sits alongside the shops and restaurants. If you've spent a bit of time in Turkey, these Lycian sarcophagi will be familiar to you, especially if you've visited Fethiye or Kalekoy.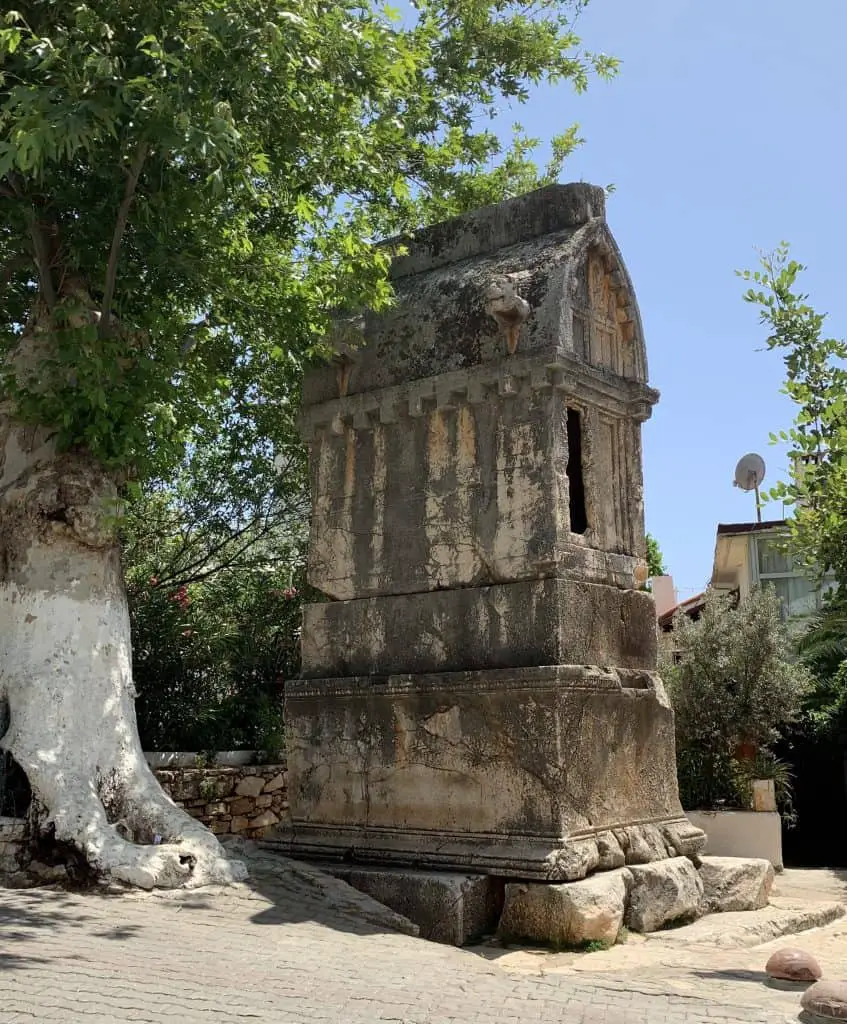 3.
Explore Antiphellos Theatre
As mentioned in the introduction, Kaş is built on the ancient site of Antiphellos – a small Lycian settlement. The Antiphellos Theatre has been well restored since it was built in the 1st Century BC and is just a short walk outside Kaş town centre.
This small, renovated theatre definitely won't win any wow prizes compared to other amphitheatres in the region such as Ephesus, Thermessos or Aspendos. However, it is completely free and a great place to visit in Kaş to enjoy sunset with the locals.
4. Scuba dive the famed Turquoise Waters
One of the best things to do in Kaş is scuba diving as it has reefs, a canyon and several wrecks to explore. However, don't expect the quantity of marine life that you might find in other scuba diving regions around the world.
There are several dive centres in Kaş, typically offering dive boat trips twice a day. Kaş Camping (see accommodation options below) also has a diving centre attached.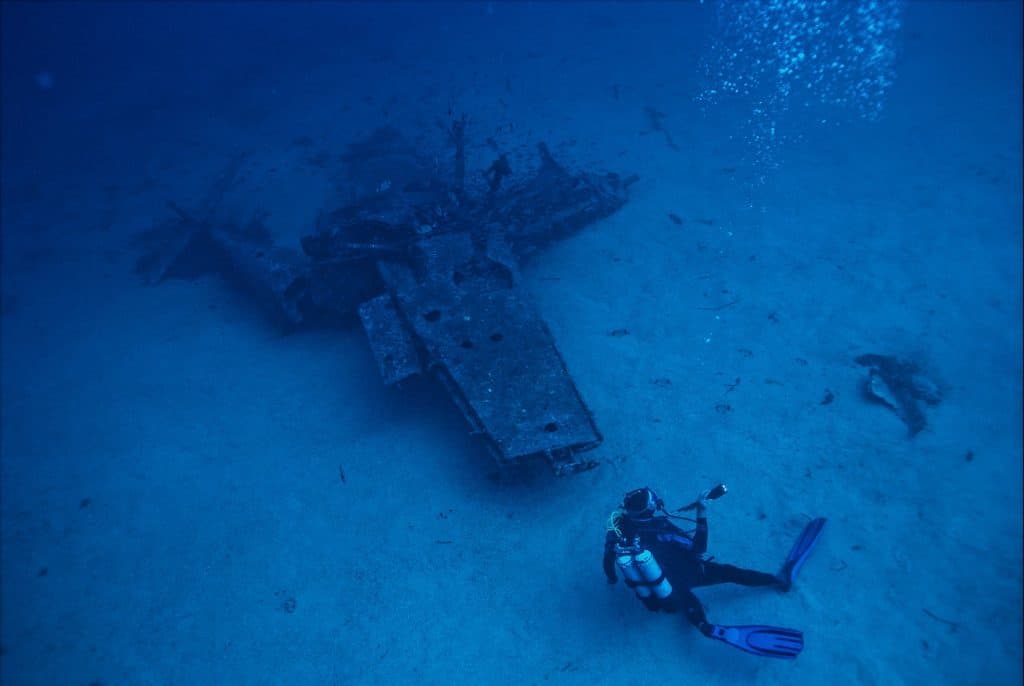 5. Wander the Friday Market
If you happen to be in Kaş on a Friday then a visit to the Friday market is a must. The market stalls, covered by canvas tarps to protect from the sun, are located behind the old bus station off Ugur Mumcu Caddesi.
The vendors have a range of local produce including a variety of cheeses, picked olives, spices, fruits and vegetables. Turkish olives are so tasty and a fraction of the price compared to neighbouring Greece. Haggling is expected here and part of the fun in visiting Turkish markets.
If you want a less touristy, more local Friday market, head to the nearby town of Demre. See more about Demre later.
6. Relax on
Kaputaş Plaji
The most popular beach to visit near Kaş is Kaputaş Beach as this is one of the few beaches with white sand. Arrive early to get one of the few parking spots or catch a dolmuş bus from the town centre. The buses depart from the bus station every 30-40 minutes and cost (equivalent) $1.50. The journey takes about 20 minutes.
Sun loungers are available to rent and at the back of the beach there is a restaurant and toilets/showers.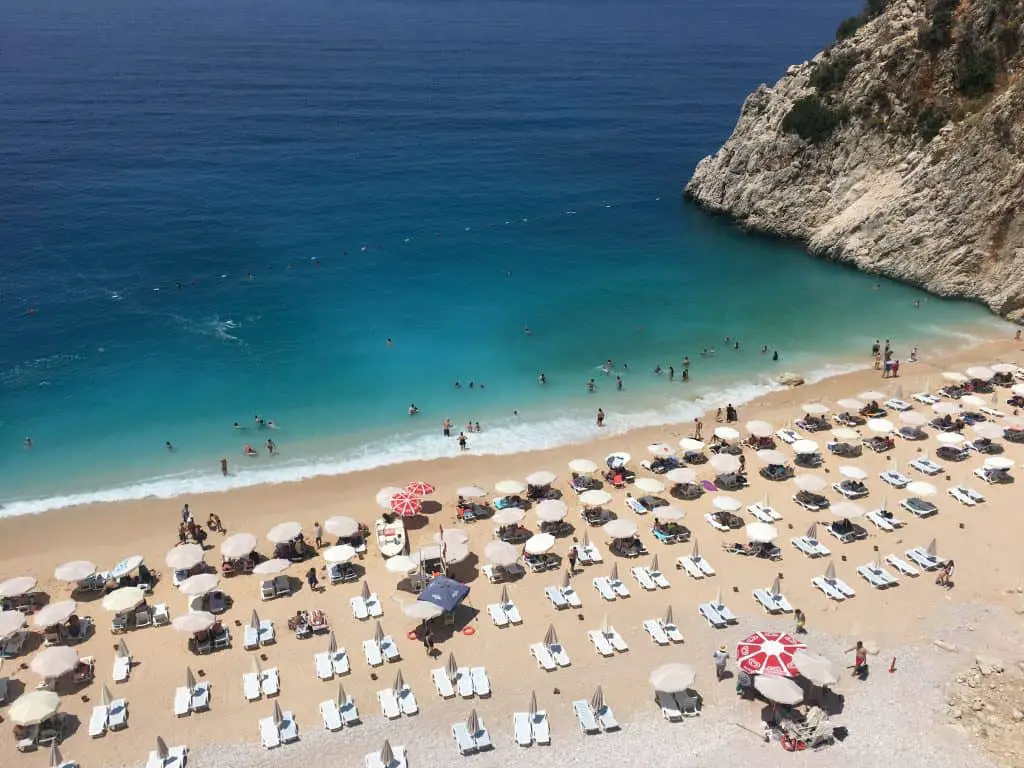 7. Stroll Kaş' cobblestone streets and browse the boutique shops
Even though Kaş has grown considerably over the last few years, it still manages to hold on to its small town charm. The narrow cobblestone streets behind Republic Square are a delight to wander and really come to life in the evenings.
The streets are filled with boutique shops ranging from hipster & hippy clothing stores to delicatessens and art galleries. There are also plenty of cafes, restaurants and souvenir shops all vying for your business.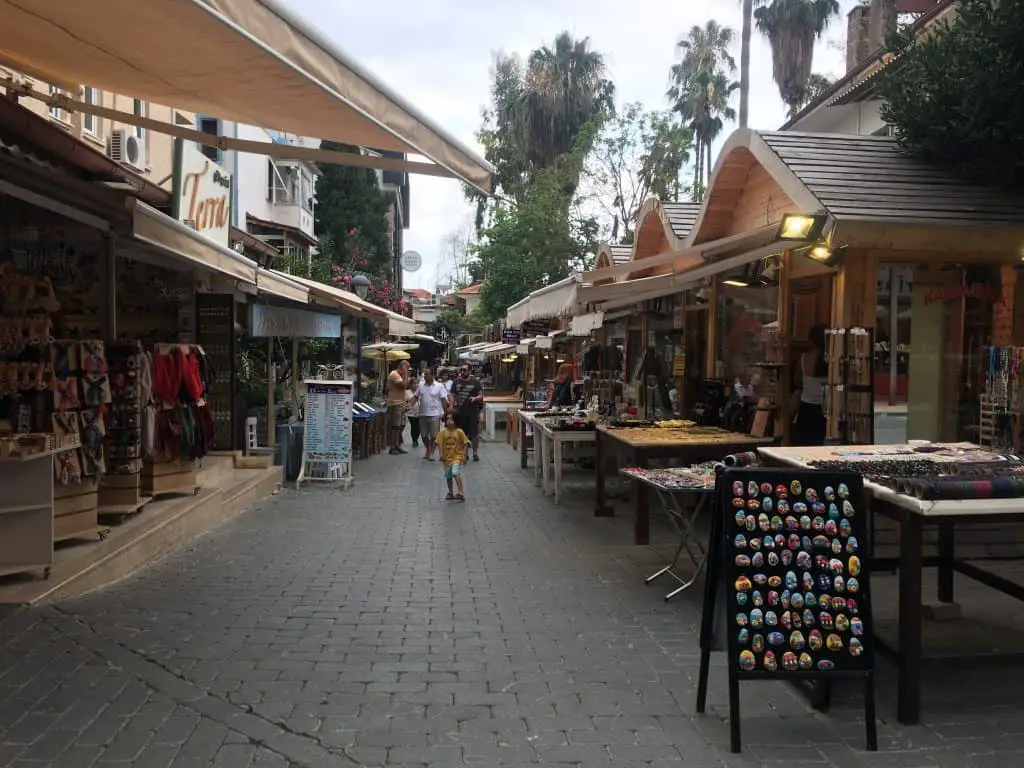 8. Visit the mosque
Kaş Merkez Mosque is located just a short walk up from the town centre, not far from the bus station. This is a small mosque so if you've already been to bigger mosques in other parts of Turkey, for example the Blue Mosque in Istanbul, this might not be of interest.
However, if you are interested in seeing where Kas locals pray, the mosque is open to visitors outside of prayer times. It's also best to avoid Fridays as this is the the main day for praying in the Islamic faith. Entrance is free and be sure sure to dress respectfully.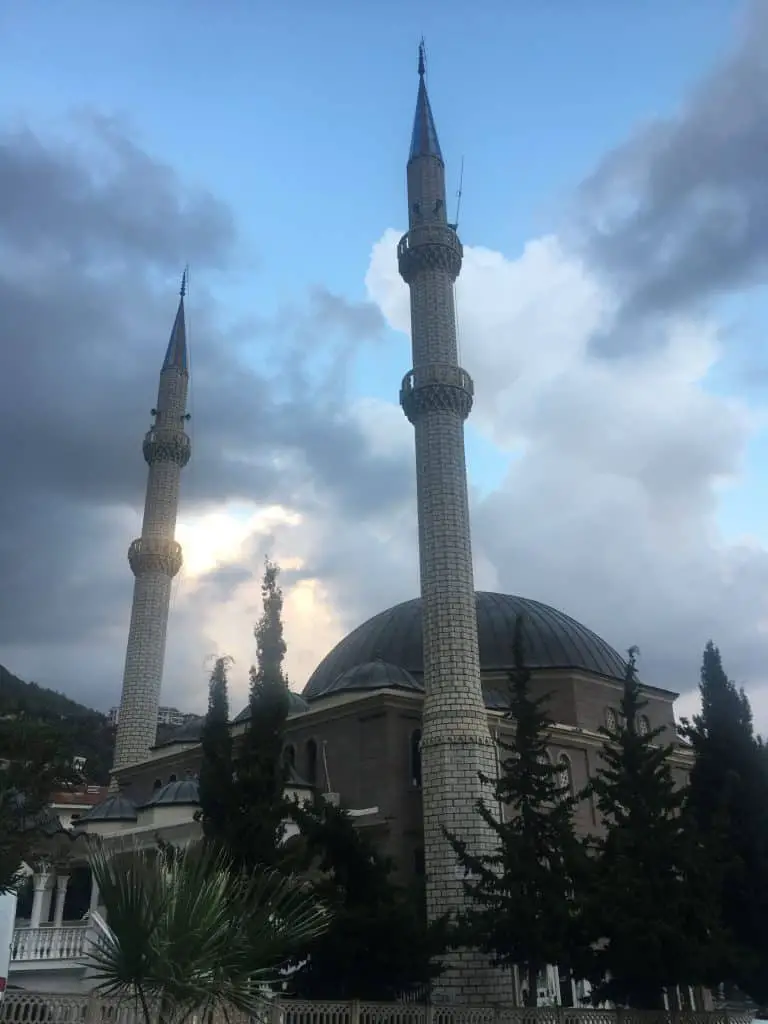 9. Hike part of the Lycian Way
The Lycian Way is a long distance hiking trail in Turkey which starts in Ölüdeniz and ends in Geyikbayırı. A lot of this hike skirts the beautiful coast line and it's possible to hike a section of it from Kas. Hiking part of the Lycian Way is a top free thing to do in Kas.
The trail starts a little beyond Büyük Çakıl beach. Continue along this road then turn right onto Cetikli Yolu and then take the first left. Walk beyond all the houses until the road becomes a walking trail. The Lycian Way is marked by red and white markers which is painted on rocks and trees.
Along this stretch there are several beautiful beaches and coves to explore, the first of which is Limanağzi. The hike to this point is 3km, which might be far enough on a hot Summer's day. Branch off the trail to the right to head down to the cove where you can cool off with a dip in the sea. There are lots of restaurants and changing facilities at this cove.
However, there is much more to see. If you are prepared to hike on, there are two more coves which are possible to visit on a full day hike from kas (15km round trip) and you're likely to get these coves all to yourself.
This hiking trail is marked on the offline maps app, maps.me. It is possible to take a taxi from town to the start of the trail but haggle for a fair price. Dolmus buses return to town from the road passing Büyük Çakıl beach.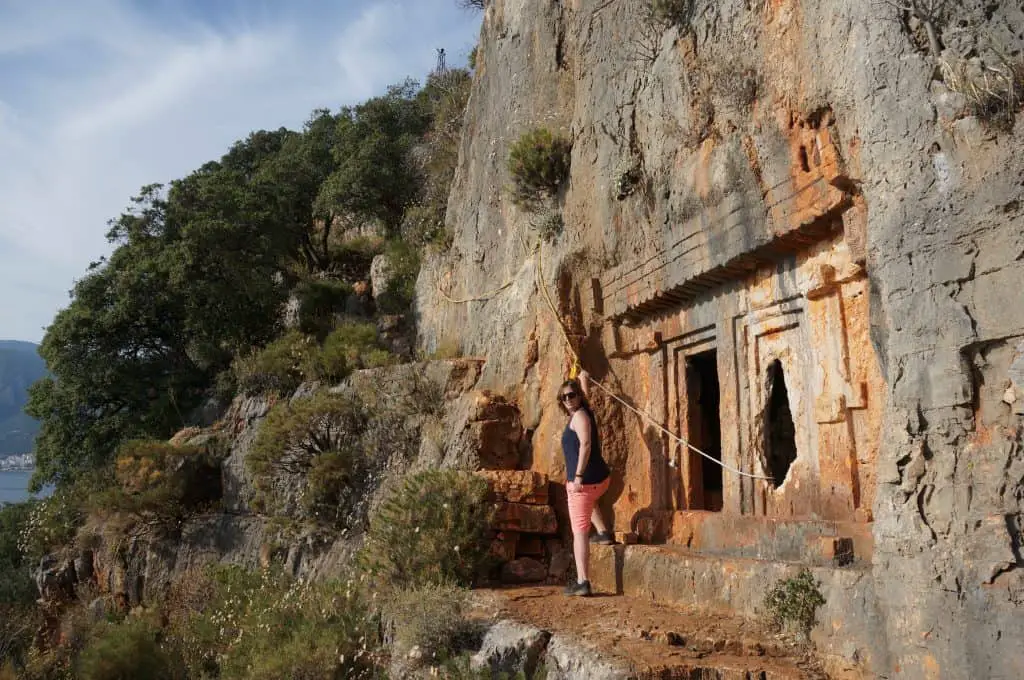 10. Take a boat to
Limanağzi Bay
If it's too hot to hike you can always take the local boat across to Limanağzi! From Kaş harbour it only takes a few minutes to get across so you can spend the day relaxing on the beach, perhaps sipping cocktails from one of the bars or restaurants.
No need to book in advance, just wander up to the harbour and find the correct ferry boat. Just remember to catch the last boat back in the evening or you will end up hiking after all!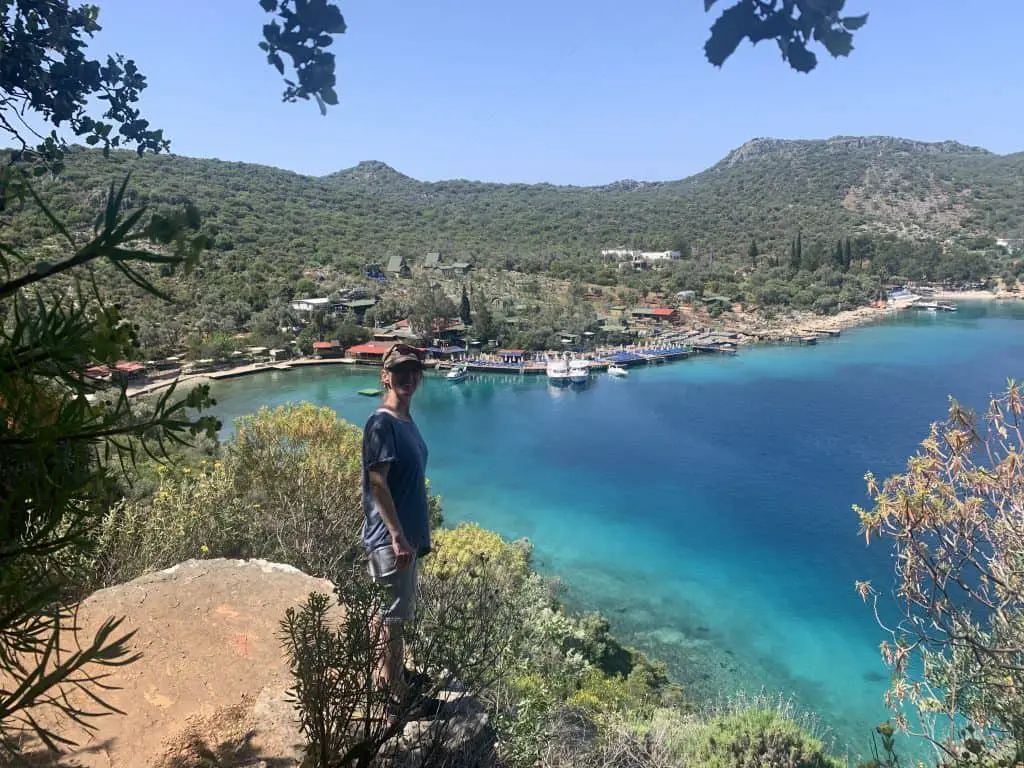 11. Enjoy sunset at the Kaş Panorama viewpoint
Located 5km from the town centre there is a delightful viewpoint overlooking Kaş. Found on a hairpin corner along the D400 heading towards Antalya, there is a lay-by with enough room for several cars. From here you can walk out onto the rocky outcrop and enjoy stunning views over the Mediterranean. This is a great spot to enjoy sunset.
Find the exact location here.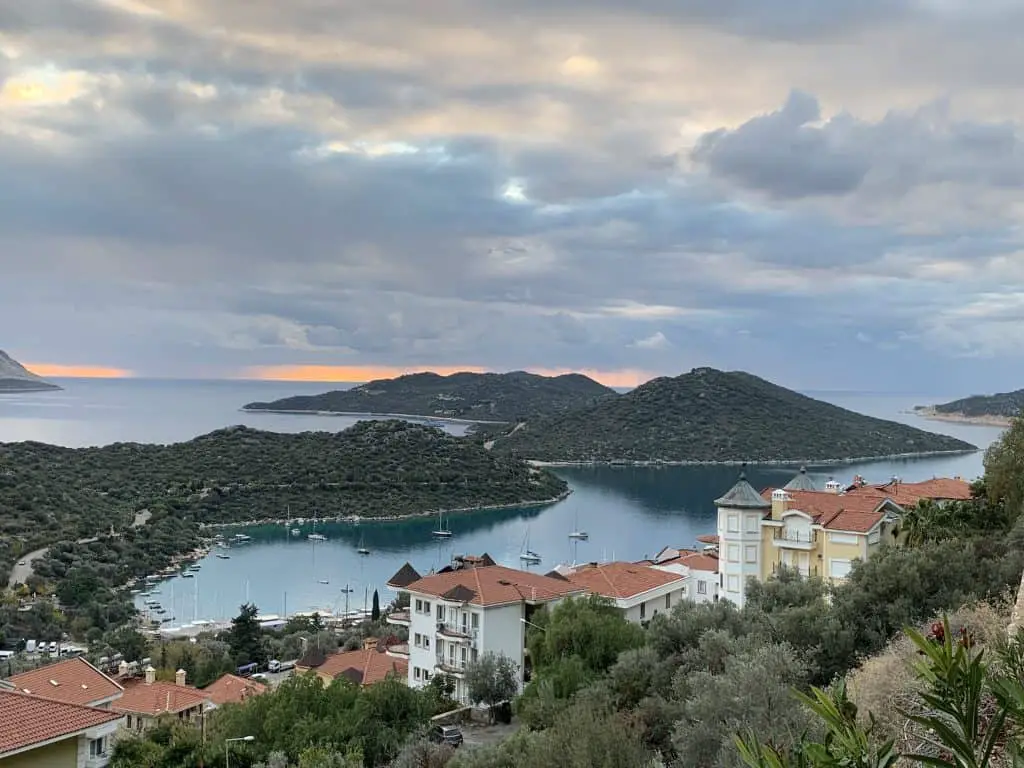 12. Walk the harbour walls
Kaş has a new marina filled with yachts and lined with a few decent bars, however there is also an old harbour with a lighthouse. This is where all of the day boat trips depart from and also where you take the ferry to the Greek Island of Meis (see later).
The harbour wall provides a nice opportunity to take a casual stroll, view the lighthouse and watch the fishermen try their luck for a decent catch.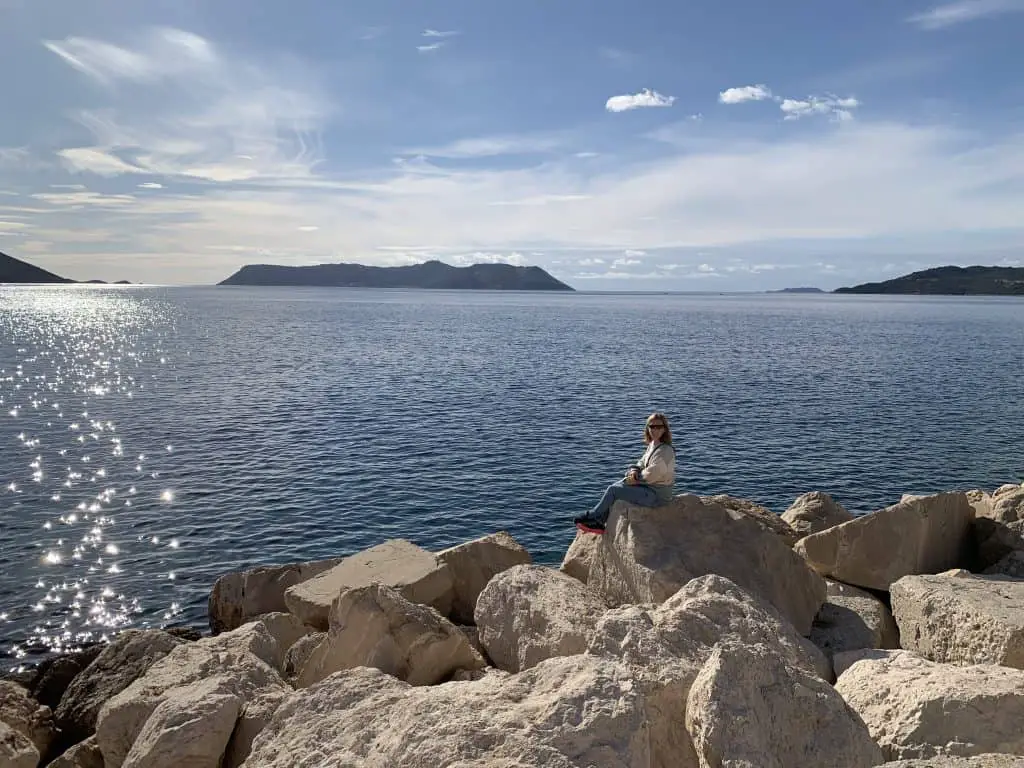 13. Picnic with the locals at Uzum Iskelesi Cove
This is certainly a favourite spot with the locals since it's located a little way out of town and no public transport runs here. This is ideal if you have your own transport, alternatively arrange a deal with a taxi driver in town.
This gorgeous rocky cove is a 15km drive from Kaş and a handy camping spot if you're hiking the Lycian Way. There is no beach, so you have to navigate the rocks to take a dip in the ocean. During your time here you can walk a section of the Lycian Way, sunbathe on the rocks or bring a BBQ and do as the locals do.
There are no facilities here but there is a pop-up snack shack. You can see a video about one of our trips to this cove here.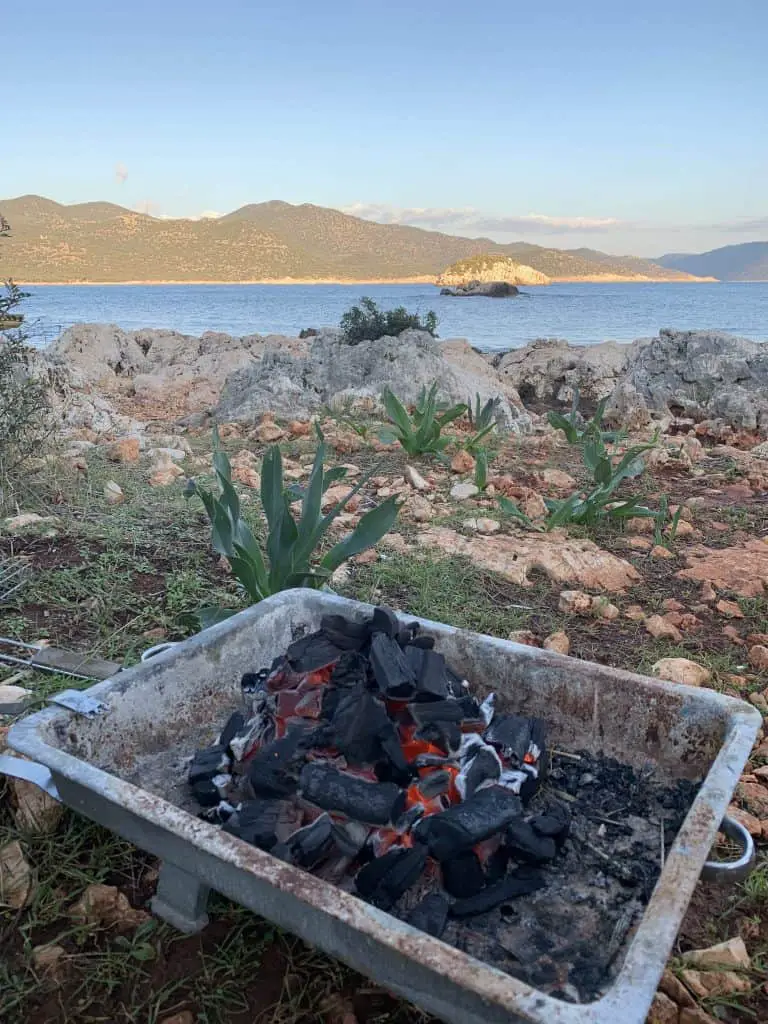 Related Reading
Day Trips From Kas
Once you've finished exploring all of the things to do in Kaş itself, it's time to look further afield as there are some amazing day trips from Kaş.
14. Take the ferry to Greece
The small Greek island of Meis (Kastellorizo) is just a 20 minute trip away from Kaş. It's the main island that dominates the landscape when looking out to sea from Kaş. If you want to experience a little slice of Greek life then consider a day trip over to Meis. You can wander the town, soak up the atmosphere around the pastel-coloured harbour and dine on Greek food.
Ferries depart Kaş at 9.50am and return at 3.30pm and cost 30 Euros. Reserve your spot the day before at the booking office in town or online here.
15. Kayak over the sunken city of Kekova
An awesome day trip from Kaş, is a kayaking or boat trip over the sunken city of Kekova. Kekova was a Lycian city that was once attached to the land, but after several earthquakes it sunk 6 meters below the sea.
No diving is allowed in this region so one of the best ways to see this sunken city is to kayak over the top of it.
We did a really good trip with Bougainville travel. From their office in the centre of Kaş, you will be taken by minibus to Üçagiz which is where the kayaking starts. You will kayak over the city, visit some sarcophagi, several bays and hike to a Simena Castle and necropolis. The tour takes most of the day and includes lunch in Kaleköy village. We enjoyed this day as it was a great mix of history and action!
For more information on Blue Cruises around the Turkish Coast, take a look at this article!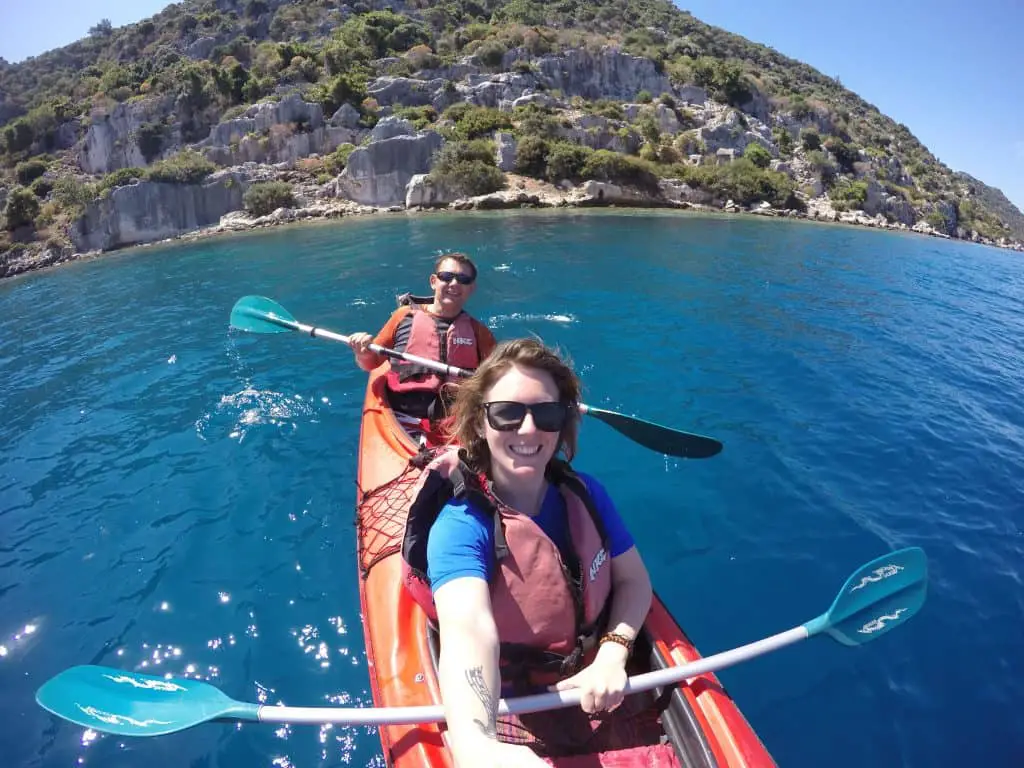 16. Spend the day at
Üçagiz
 and Kaleköy 
Üçagiz (Kaleüçağiz) village is like a mini version of Kaş. It has delightful cobblestone streets with pretty old stone buildings. To the east of the town there is a walking trail which explores a series of sarcophagi and a section of sunken sea wall, and along the seafront there are delightful restaurants serving fresh seafood. From here you can also take boat trips to Kaleköy and around Kekova Island.
If you didn't do the Kekova kayak or boat trip, after exploring Üçagiz continue along the road to Kaleköy, which is built on the ancient city of Simena. Here you can explore the castle, visit the theatre and necropolis before heading down to the shoreline for a refreshing drink at the cafe.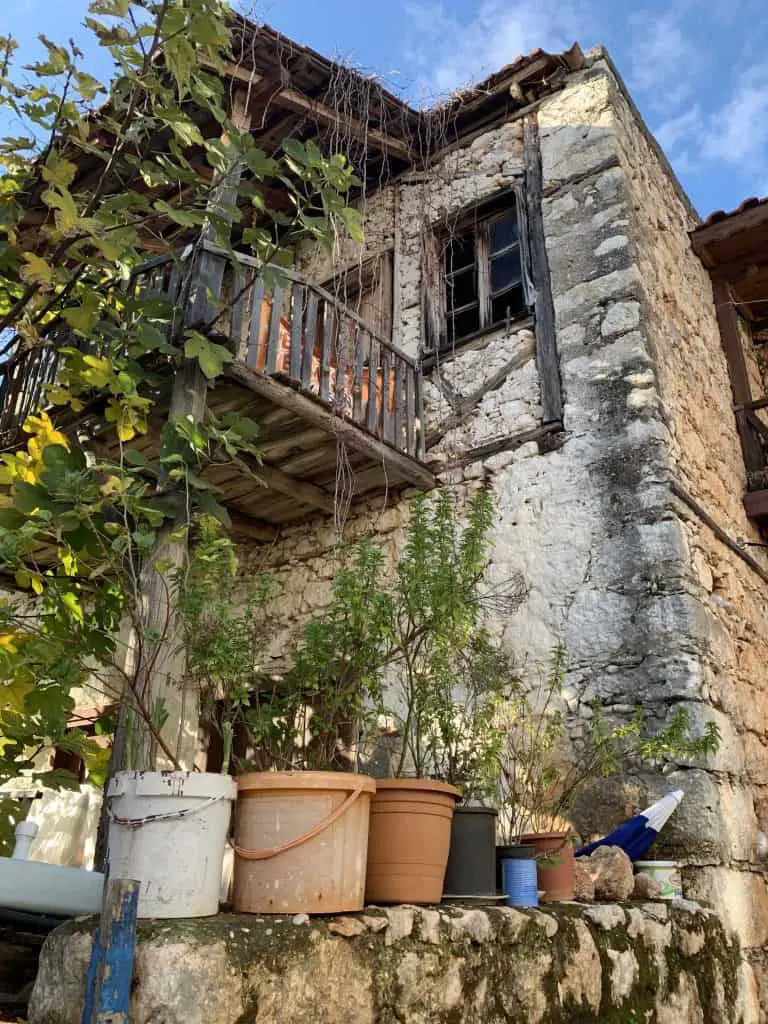 17. Visit Demre and the ancient city of Myra
As mentioned earlier, Demre has a fabulous Friday market with lots of fresh produce, however it is most well known for the archaeological site of Myra. At Myra you can see some of the best Lycian tombs in the region as well as a fairly intact amphitheatre.
Demre is also the location of St Nicholas' Church, which is believed to be the final resting place of St Nicholas aka Santa Claus and a popular pilgrimage site for Orthodox Christians.
Demre is 48km east of Kaş along the D400. An hourly Dolmus runs from Kaş bus station to Demre. For more information on visiting Demre, see this guide.
18. Escape the crowds at Arykanda
Arykanda is Greco-Roman archaeological site located 72km northeast of Kas and a hidden gem of Turkey. Since this ruin is a long way from Antalya or Fethiye, it doesn't receive the crowds that other ancient sites do which means you can explore in relative peace, enjoying the beautiful mountain views as you do.
Arykanda was also known as the party town of the Lycian civilisation and as you wander the site you can see a stadium, theatre, odeon, agora and the largest bath complex in Lycia. Arykanda is built onto the side the Akdağ hillside over 5 terraces, so wear comfortable shoes to explore this site.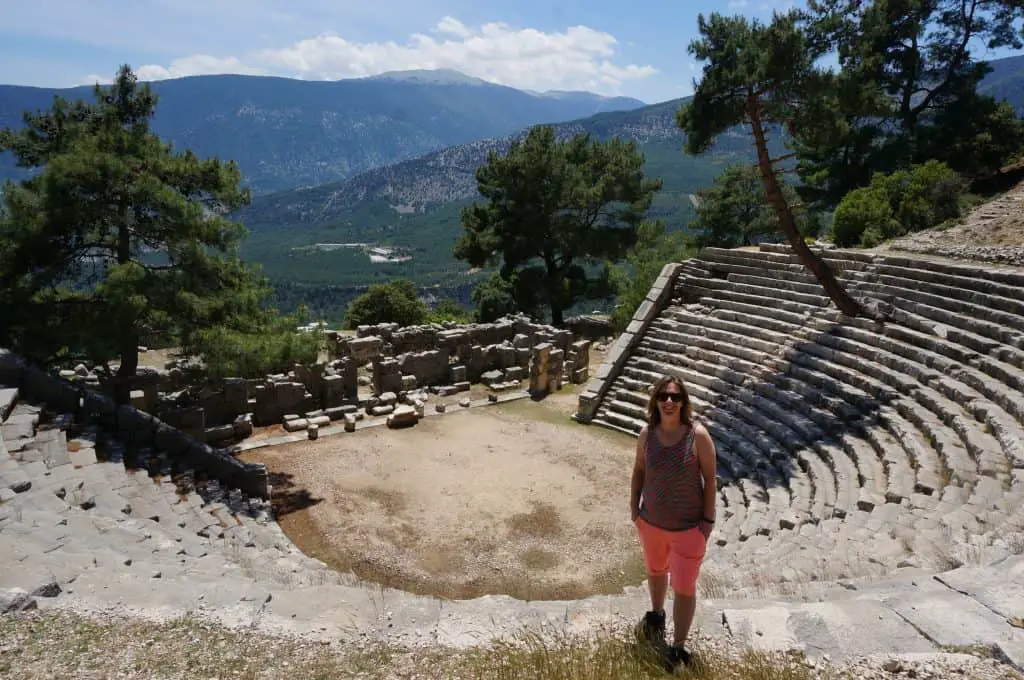 19. Cool off in Saklikent Gorge
If you've already visited Fethiye or Oludeniz, you've probably been to Saklikent Gorge already. However, if you haven't then taking a day trip to this impressive canyon national park is well worth the effort. Saklikent Gorge is one of the deepest gorges in the world and one of the prettiest places in Turkey.
The gorge is filled with water which starts off ankle-deep at the entrance before becoming thigh deep towards the furthest walkable point, which culminates in a beautiful waterfall. This shady gorge is perfect for cooling off in the hot summer months and there are plenty of facilities and cafes at the entrance.
Consider joining a 4WD tour like this one, which visits Patara, Kaputas beach, Xanthos ancient city as well as exploring the gorge itself. Don't forget to take water shoes to navigate the watery gorge.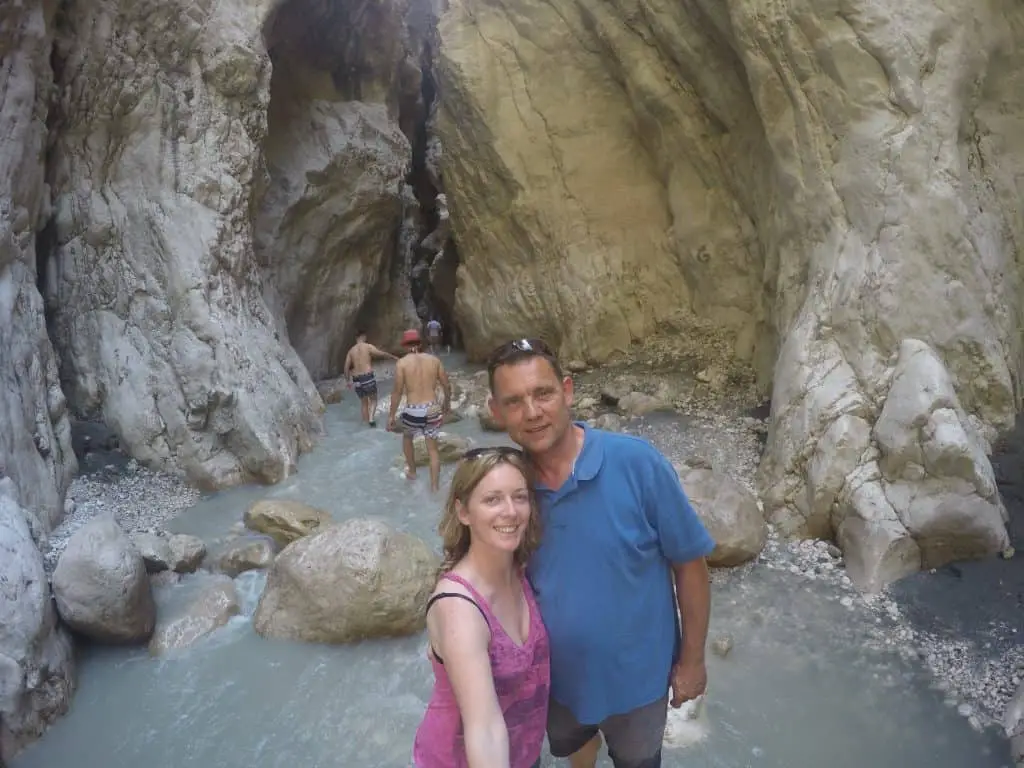 20. Explore Olympos
Olympos is home to a beautiful sandy beach backed by some ancient Lycian ruins. Olympos is a 2 hour drive from Kaş so whilst it is possible as a day trip, I would recommend spending the night here. The town has a selection of tree houses so you can may your inner child happy through spending a night in a tree house. Spending the night here also allows for the best viewing of the Chimaera flames – the naturally occurring cluster of flames that constantly burn from the rocks on Mt Olympos.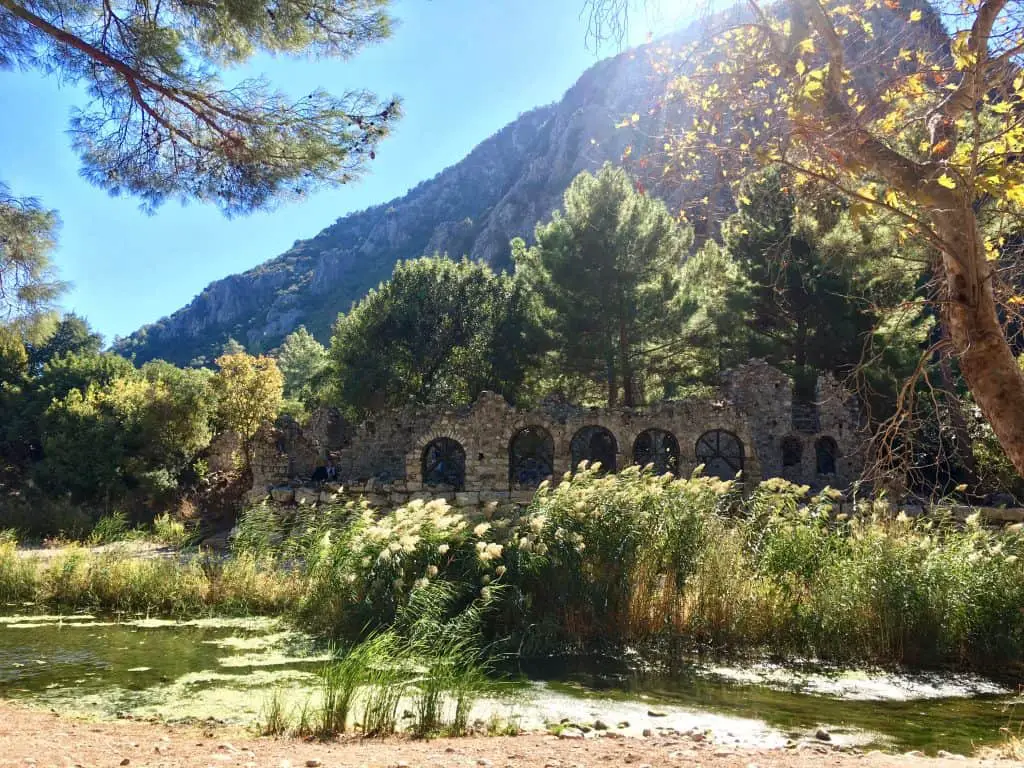 Exploring beyond Kas
Even further afield from Kaş you have the popular holiday resorts of Fethiye, Ölüdeniz and Antalya. You also have the famous travertines of Pamukkale and the longest beach in Turkey, Patara. For more information on a road trip that includes these destinations, see this post.
For more information on day trips from kas see this post Spoiler alert – it contains information on discovering the true identity of Santa Claus!
Where to Eat in Kas
There are so many places to eat in Kaş it's a little overwhelming so I've narrowed it down to my favourite three.
Lily's Corner – amazing, hand-made pizza and pasta and a selection of craft beers. Yep, Craft beers in Turkey!!
Smiley's – the best place in town for yummy local seafood.
Ora Secret Garden – slightly hidden as the name suggests, this quiet spot is our favourite for Turkish classics such as güveç, kebabs or alinazik. For more information about the basics of Turkish Cuisine, check out this post.
Where to Stay in Kas
This hostel is popular with backpackers on a budget since it offers dorm style rooms, free breakfast and a swimming pool. What's not to love?
Whilst this might not be the cheapest place to camp, it's location is top notch. Just a short walk from the town centre, Kaş camping has its very own private coastline.
The campsite offers bungalows and more simple beach huts if you want to upgrade from a tent. Included in the fee is access to the sun beds where you can relax and take a dip in the ocean. It also has a diving outfit attached.
Alternatively, you can find a hotel in Kaş here.
Like it? Pin it for later!