Fethiye, is a pretty city with a rich history and exciting attractions. Located on the Mediterranean coast, Fethiye is home to some of the most beautiful beaches in the world, as well as plenty of unique cultural and historical sites to explore.
From wandering the ancient ruins of Lycia to soaking up the sun on the beach, there's something for everyone in this vibrant city. 
Having visited Fethiye several times during different seasons, I wanted to put together this guide on the best things to do in Fethiye.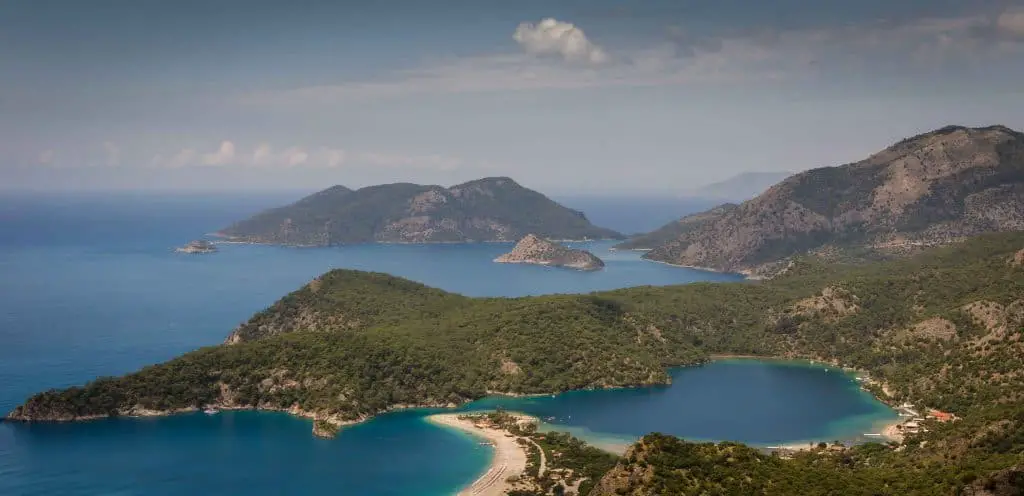 Disclaimer: Some links in this article are affiliate links, which means that if you purchase through them I receive a small commission, at no extra cost to you. This helps cover the cost of running this blog. Thanks for your support!
Where Is Fethiye and What are the Best Things to do?
Fethiye is a city and district located in southwestern Turkey in a bay along the Turquoise Coast. This port city is situated on the site of ancient Lycian city of Telmessos and gained its modern day name of Fethiye under Ottoman rule.
Given its ocean-side location, the most popular activities in Fethiye involve relaxing on the beaches, exploring the islands and bays by boat and enjoying water-sports such as snorkelling and scuba diving. Multi-day yacht trips are a popular activity to enjoy from this well positioned harbour city.
Fethiye old town is filled with Ottoman charm with ancient monuments such as Lycian sarcophagi scattered around the city. Further outside the town there are more ancient cities to explore which display remnants of the Lycian, Roman and Greek civilisations.
Those interested in picking up some local bargains should head to Fethiye market whilst adrenaline junkies should make a beeline to Babadağ, for a tandem paragliding flight over the regions prettiest location, the Blue Lagoon.
How to get to Fethiye
By Air
Fethiye is served by Dalaman Airport (DLM) which hosts domestic and international flights. It's roughly a 45 minute drive from Dalaman to Fethiye. Regular buses are on hand to provide transport to the city or this can be pre-arranged by your accommodation.
By Bus
The transport system in Turkey is amazing. There are buses that run between major cities and smaller dolmuş (minibuses) that link up to the towns and villages. You can pre-book bus tickets using Busbud from other major Turkish cities including Istanbul, Izmir, Antalya, Ankara and Göreme (Cappadocia)
By Car
Car rental in Turkey is straightforward and very affordable. If you plan to visit many of the popular destinations outside of Fethiye, you may save money on transport through renting a car. Driving in Turkey can be a little different from driving in the UK or the States, so be sure to check out this guide to driving in Turkey first.
17 Top Things to do in Fethiye
1. See the rock-cut tombs of Amyntas
Fethiye's rock-cut tomb of Amyntas is a must-see for anyone visiting the region. This is a unique and fascinating relic of the Lycian civilisation, which flourished in this area over two thousand years ago. The tombs are located on the outskirts of the city, just a short walk from the old town. On the walk from the old town you will see sarcophagi dotted around the local neighboured, there's even one in the middle of the road!
The tomb of Amyntas was initially built as a burial chamber for Lycian nobility and is carved directly into the rock face. The entrance to the main tomb is particularly impressive and is supported by four columns with intricate carvings adorning their capitals. Inside the tomb, you can still see many original decorations, including vibrant frescoes, inscriptions, and sculptures (along with plenty of local graffiti!). There is an entrance fee to access this tomb.
The tombs provide an insight into the lives of the Lycian people who once inhabited this land, and it's a fantastic opportunity to appreciate some of the incredible architecture and artwork they left behind. Be sure to add this site to your list of things to do while in Fethiye!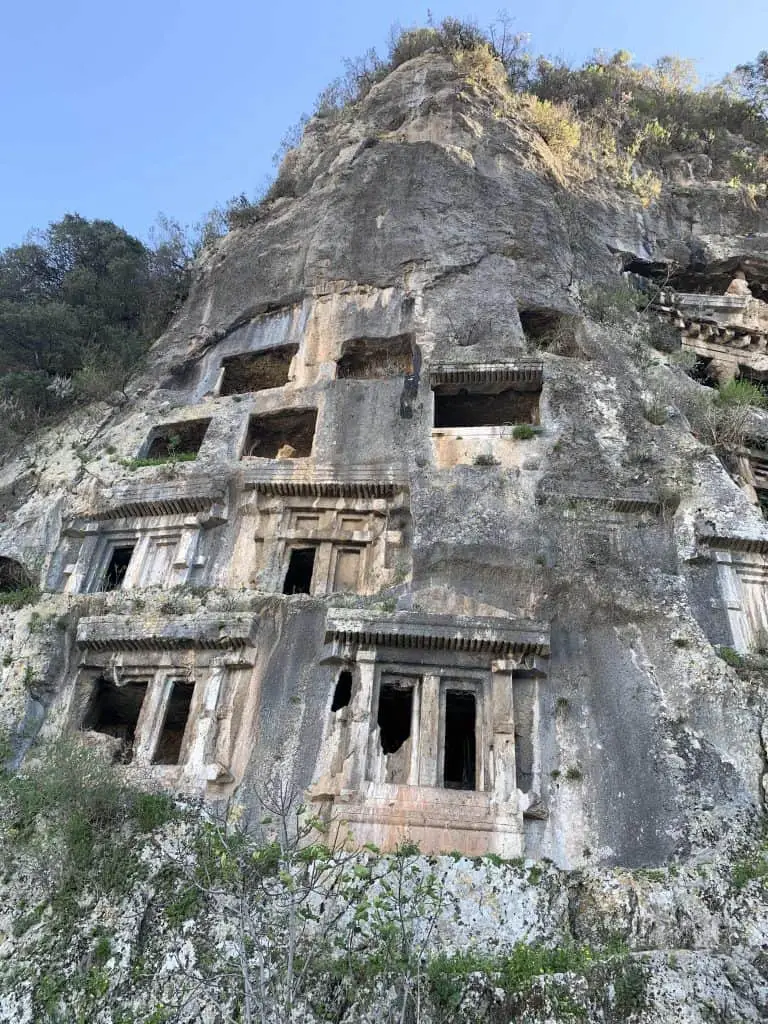 2. Visit Fethiye Museum
Fethiye Museum is an excellent place to learn about the history of the area and the perfect place to visit before a trip to the nearby archaeological sites of Xanthos, Letoon and Tlos. Located near the old town, this small museum houses a wide range of artefacts and artwork dating back to the Bronze Age. Here you can find a variety of objects from all over Turkey, such as pottery, tools, coins, jewellery, and statues. 
The museum contains various artefacts from ancient civilisations, such as the Lycians and the Greeks, as well as from the Ottoman Empire. One of the most important artefacts is the Trilingual Stele. The inscriptions on this stone helped decipher the Lycian language and is comparable to Egypt's Rosetta Stone. It is an ideal place for visitors interested in learning more about the region's past.
3. Stroll the Old Town
Fethiye's old town, Paspatur, is a great place to wander and explore. It's full of character and history, making it a perfect spot to explore on foot. The narrow streets are lined with small shops, cute cafes, and restaurants, and the atmosphere is lively and bustling. 
You can also take in the sights of some of Fethiye's historic houses and buildings, including the 18th century old mosque. After taking in all the sights, be sure to sample some of Fethiye's local cuisine at one of the many eateries. If you want to dine on fresh fish, head to the fish market off Belediye Caddesi.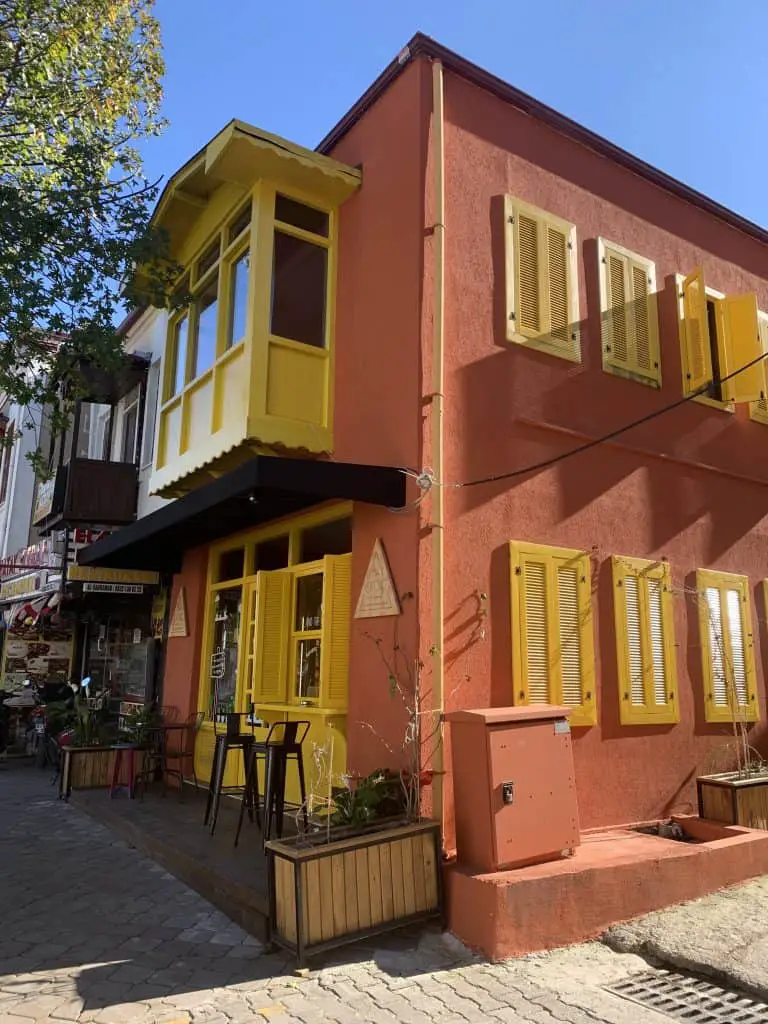 4. Take a Boat Trip from the Harbour
One of the best ways to experience Fethiye is to take a boat trip from the harbour. The stunning views and warm climate of the Mediterranean coast make for a truly memorable experience. You can either rent a private boat or join one of the many organised boat trips from the harbour.
You can explore some of the most picturesque islands and stop for lunch or a swim along the way. Remember to bring your camera as you'll be able to capture some stunning pictures of the coast. Boat trips are a great way to spend an afternoon or evening relaxing on the water and taking in the beautiful scenery of Fethiye.
One of the most popular boat trips from Fethiye is the 12 Islands tour which provides the opportunity to swim and snorkel at various islands around the Turkish Riviera. Click here to learn more.
5. Relax one of Fethiye's Beaches
Fethiye district is home to some of the most stunning beaches in the Mediterranean. For those who enjoy water-sports, pebbly Çalış Beach north of the old town, provides perfect conditions for windsurfing and kiteboarding. It doesn't offer a particularly local experience since the promenade is lined with British bars and restaurants, however it is a great spot to enjoy a beautiful sunset.
Oludeniz beach is arguably the most beautiful beach in Turkey, with its crystal clear turquoise waters and white sand. It is also home to the picture-perfect Blue Lagoon, which I talk about in more detail later. Local dolmuş (minbus) also serve popular beaches around the Fethiye Peninsula, including Help Beach and SeaMe Beach.
A little further away from the city is Patara beach which is another must-visit, as it has been declared a protected natural area and is one of the longest beaches in the country.
If you are looking for something more secluded and adventurous, head to Kabak Bay, located in a hidden corner of the Fethiye gulf, further along the road from Butterfly Valley Lookout Point. Here you can find an isolated spot to enjoy the sun and tranquil surroundings.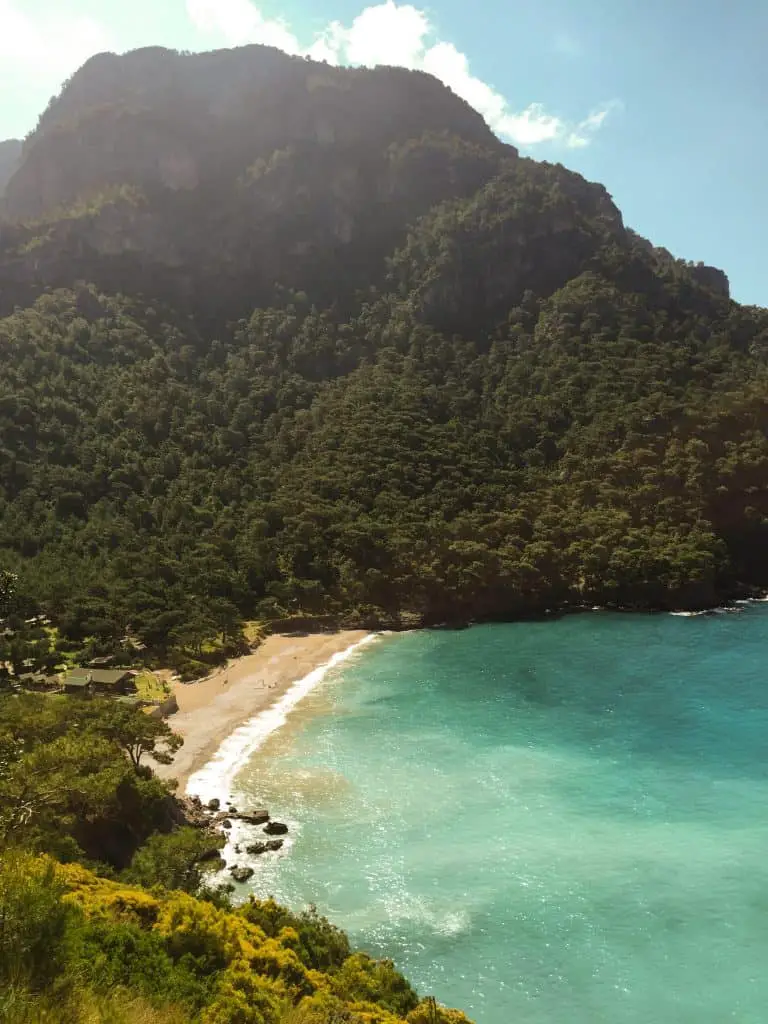 6. Walk Umbrella Street
One of the most popular spots in Fethiye is Umbrella Street, a narrow pedestrian street in the old town. It's filled with colourful umbrellas that hang from the roof along the length of the street. This vibrant area is a must-see for anyone visiting Fethiye and is especially popular for its photogenic setting.
Umbrella Street is home to many small boutiques and cafes, where you can find unique souvenirs and refreshments. There are plenty of places to sit and relax away from the heat of the sun or take some photos of the charming umbrellas.
If you're looking for delicious local food, try one of the many restaurants and cafes that line the street. You can even find traditional Ottoman-style cafes in this area, which are great for experiencing the city's culture and history.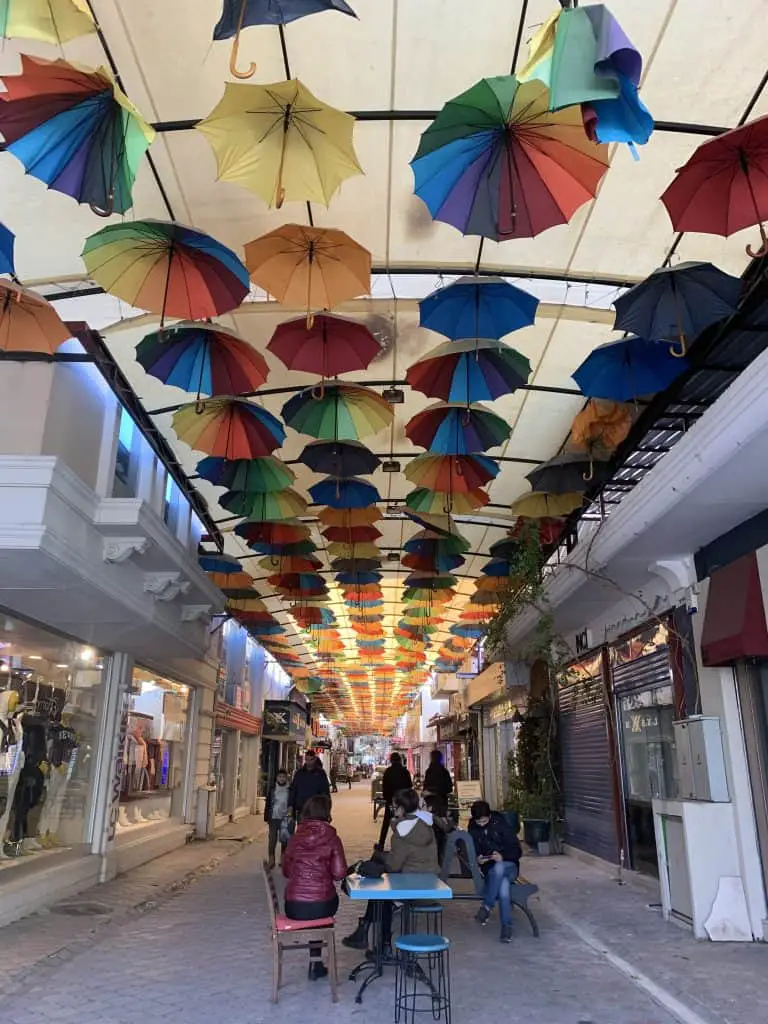 7. Ignite Your Senses at the Fethiye Market
The Fethiye market is a great place to buy local produce, handicrafts and souvenirs. Located on the riverbank that runs along the central streets of Fethiye, this open-air market is the largest in the Fethiye region. Whether you're looking for spices, fruits, vegetables, clothes or souvenirs, you'll find them at the Fethiye market.
This market is a vibrant place full of colour and life. You'll find vendors selling everything from fresh fruit and vegetables to homemade cheeses and locally picked olives. There is also a selection of textiles, bags and ceramics and is an ideal place to pick up a unique gift or souvenir to take home with you.
Fethiye's main market day is Tuesday and this is a great opportunity to haggle with the locals. (Don't worry, haggling is expected!) Also, be sure to try some classic Turkish street food such as simit, Gozleme or the classic doner kebab.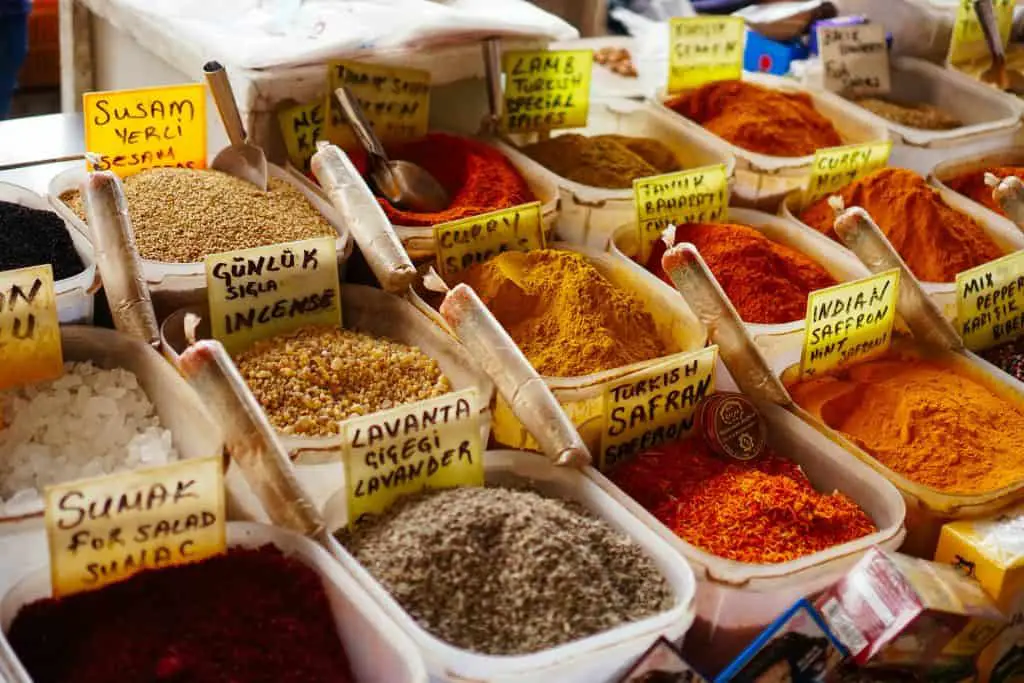 8. Visit Ölüdeniz
One of the most popular Fethiye attractions is the stunning Ölüdeniz lagoon, located 15km south of the city. Attached to a long stretch of white sand beach, the lagoon's turquoise-blue waters are sheltered by the Mediterranean Sea's currents, making it a popular spot for swimming, boating, and snorkelling.
The other main activity to enjoy in Ölüdeniz is a tandem paraglide from Babadağ, the mountain which towers over the town. The paragliding flights launch from nearly 2000m, making it one of the highest commercial take-off sites in the world and the flight time lasts around 30-45 minutes.
For more things to do in Ölüdeniz, see this guide.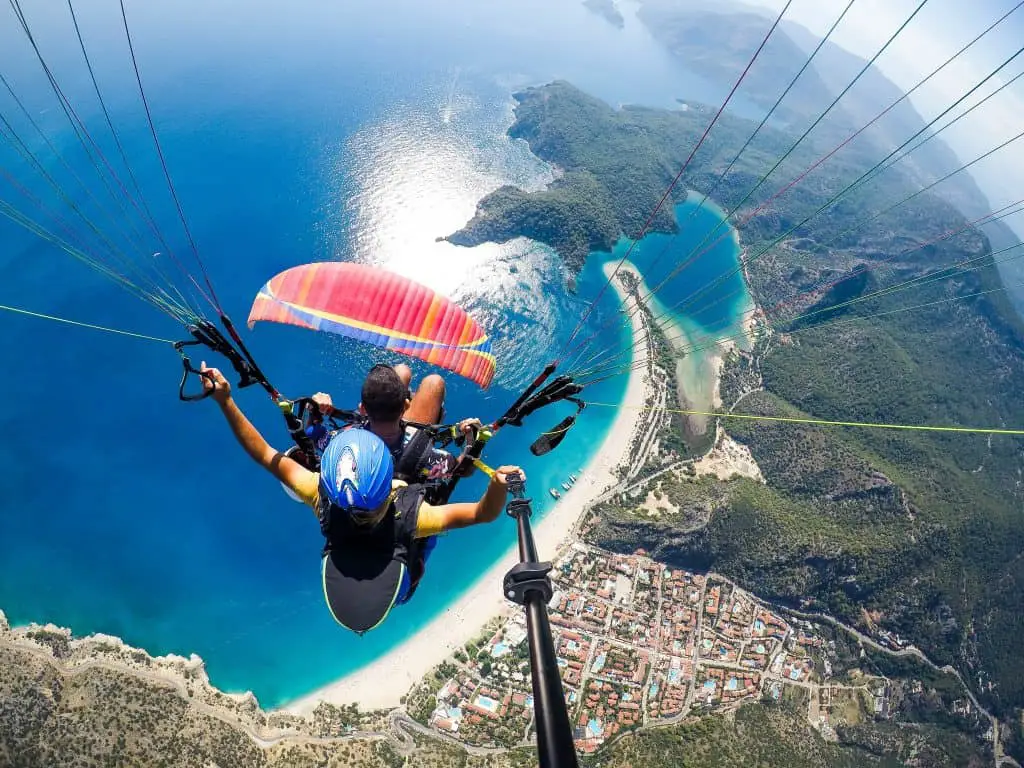 9. Hike a Section of the Lycian Way
The Lycian Way is a hiking trail that stretches across the Mediterranean coastline of Turkey. It is considered one of the most beautiful and challenging hikes in the world, with stunning views of the Aegean Sea and surrounding mountains.
I've walked several sections of the Lycian Way over the years and it always wows me with the views on offer. I can definitely recommend walking sections near the pretty seaside town of Kas and further along towards Demre.
The trail starts near Ölüdeniz and goes all the way to Antalya, spanning 540 km of stunning scenery. You'll find beautiful beaches, hidden coves, and charming villages along the way. You can even take a break to explore some ancient ruins.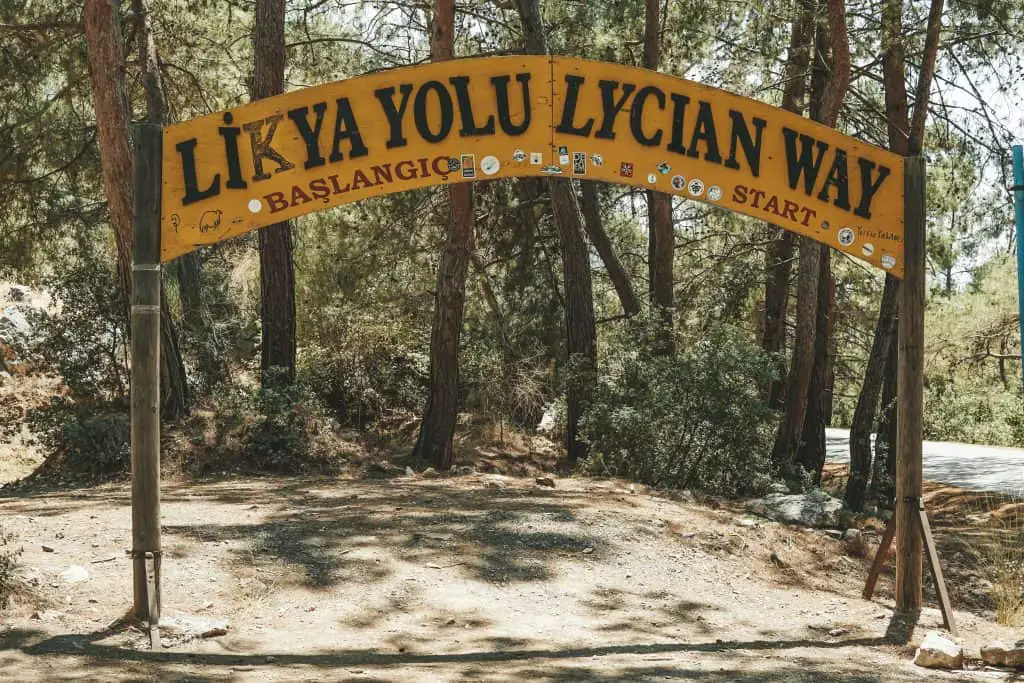 The easiest way to get to the start of the Lycian Way is through taking a taxi. They'll be happy to wait or you can call them to pick you up once you're finished. The start of the trail is a gradual climb and after 30 minutes offers some of the best views of Ölüdeniz and the Blue Lagoon. Perfect for those not wanting to take the paragliding leap off Mt Baba.
The trail is best avoided in the hot summer months and is, instead, better suited to the cooler months of spring and fall. In the fall the ocean is the warmest after heating up all summer, so is perfect for enjoying swims in the glorious turquoise waters.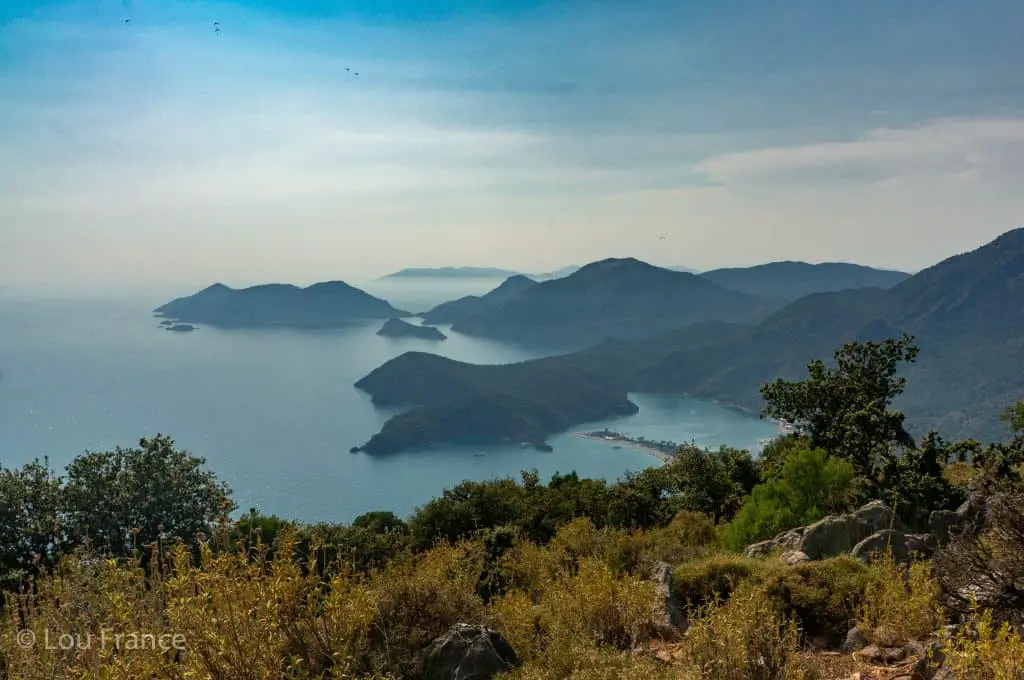 10. Explore Xanthos
Xanthos is an ancient Lycian city located in the Fethiye district of Turkey, around 1 hour from the city. It was the capital city of the Lycian civilisation and has many remarkably well-preserved ruins, including an agora, a theatre and a colonnaded street which still has grooves left by Roman chariots.
The Xanthian Obelisk found close to the theatre, is a huge pilar covered with the longest Lycian inscription known to exist. I was fascinated by this pilar and spent a long time studying the unique Lycian scripture!
Another notable structure on the site is the Xanthos Necropolis. This is a complex of tombs with intricate designs, some dating back to 500 BC. Visitors can explore the necropolis and find out more about Lycian culture and architecture.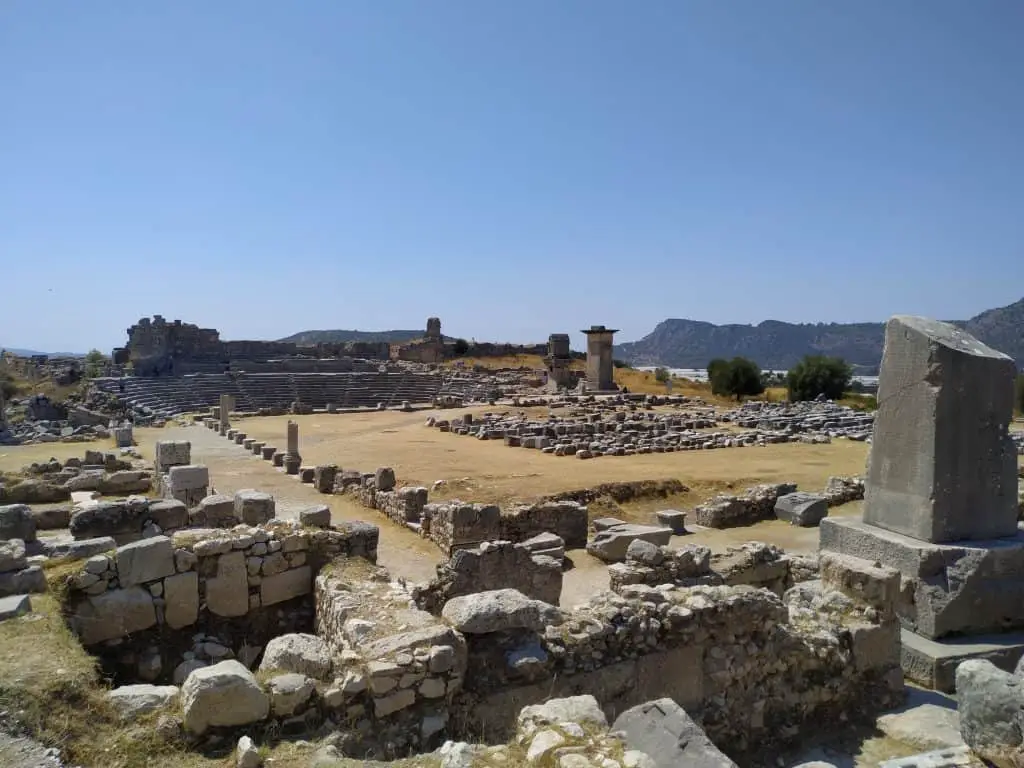 11. Visit Letoon
Letoon is an ancient city located 65km from Fethiye. It was the religious centre of the Lycian civilisation and is now a popular tourist destination. Letoon consists of three temples dedicated to the Lycian gods, Leto, Artemis and Apollo. The site is a mix of Hellenistic and Lycian architecture, and you can explore the ruins of the city, including tombs and courtyards, as well as the main temples.
The most famous temple is dedicated to Leto, the mother of the twins Artemis and Apollo. It contains an altar, an odeon, and a podium with carved reliefs depicting scenes from Greek mythology. Other highlights include a sacred spring, where sacrifices were once made, and a small but intact theatre.
Letoon is great to combine with a visit of nearby Xanthos. Here's a short video of our trip to Letoon where we had the whole site to ourselves.
12. Wander Kayaköy Ghost Town
Kayaköy is a picturesque abandoned village just outside of Fethiye. Initially founded by Greeks in the 1700s, the village was largely abandoned during the population exchange between Greece and Turkey in the early 20th century. Now, all that remains are several hundred crumbling stone houses and several churches.
The site has been designated as a protected area due to its historical and cultural significance, and is possible to visit and explore. Although the village is no longer inhabited, visitors will get an insight into how life used to be here. The area also offers stunning views of the surrounding mountains.
There is a small entrance fee to visit this sprawling site which is set onto the hillside. Be sure to wear comfortable shoes to explore this ghost town and avoid visiting during the hottest part of the day. Signposts guide you along the narrow cobbled streets.
Click here to see a short video from one of our trips to Kayakoy ghost town.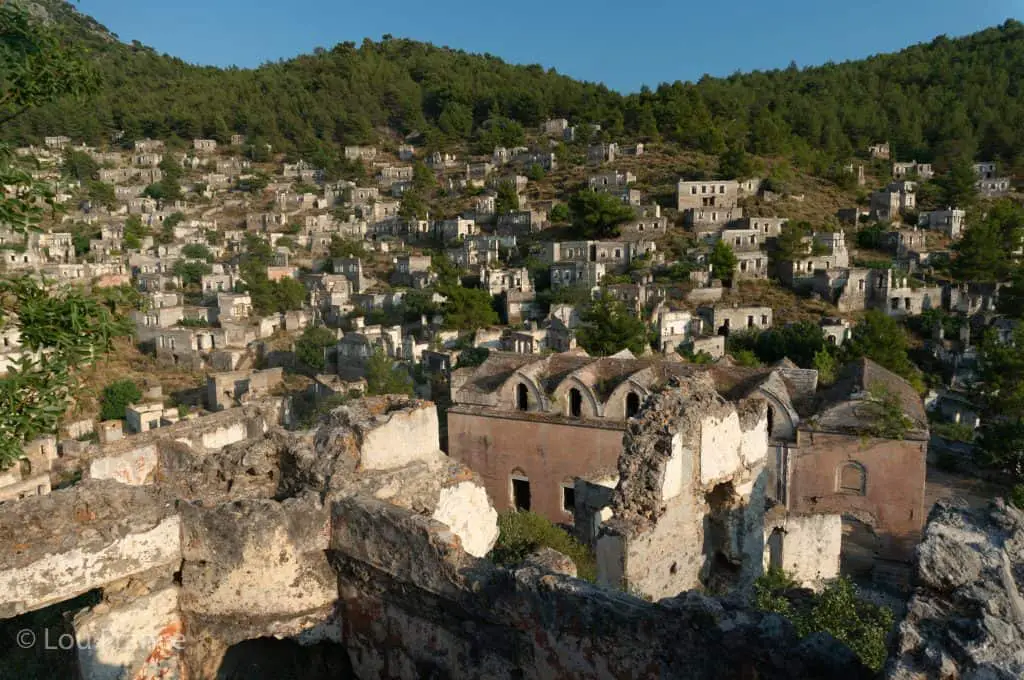 13. Visit the Ancient City of Tlos
Nestled on a rocky plateau in the Taurus Mountains, the ancient city of Tlos is a must-visit destination if you're exploring the region of Fethiye. This 5th-century BC city was one of the oldest settlements in Lycia and has a complex history of rule spanning thousands of years. 
This site is split across several areas with a road passing between them, however there is only one portion open to the public which is accessed via the ticket gate. At Tlos, you will find the remains of a Hellenistic gate, a theatre, a bath complex and many tombs. As you explore the site, you will encounter several historical monuments, such as an acropolis and a castle.
Climb to the top of the Ottoman era citadel and take some time to soak up the incredible views of the surrounding countryside. Be sure to look out for the Lycian rock tombs on the cliffs near the ticket office and the stunning mosaic floors at the ancient Roman stadium. This is another ancient site we had all to ourselves.
Tlos is 37km from Fethiye so consider renting a car or joining a guided tour like this one.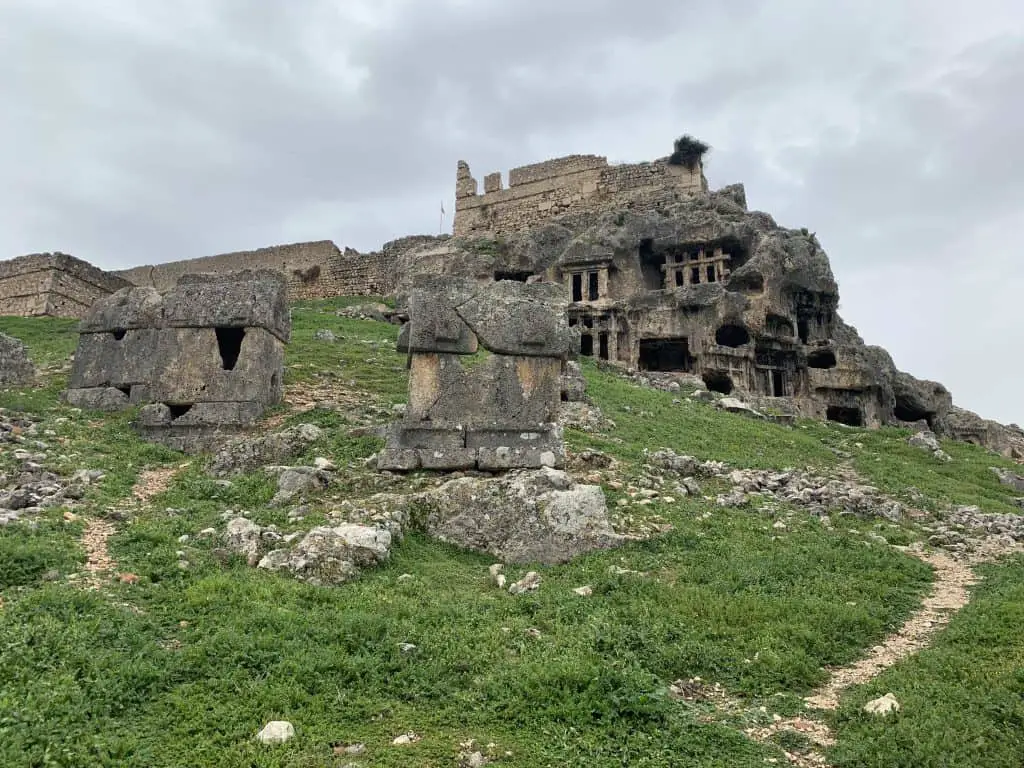 14. Enjoy Beautiful Butterfly Valley
Butterfly Valley is a secluded cove with a white sandy beach backed by a valley of lush vegetation and surrounded by steep cliff faces. It's one of Turkey's true paradises and even though it's no longer a hidden gem, it's still a destination to add to your Fethiye bucket list.
The easiest and most popular way to visit Butterfly Valley is via a boat trip. Shuttle boat taxis run every day from Oludeniz through the summer which have designated drop off and pick up times. Alternatively, join a guided boat tour which often includes a visit to St Nicholas's Island. If you're looking for a party, join one of the infamous pirate ship cruises.
It is possible to hike down into the valley but this is only recommended for those with experience in scrambling and rope work. If you want to see what's involved in hiking down to Butterfly Valley, take a look at this video or for a complete guide to visiting Butterfly Valley, see this post.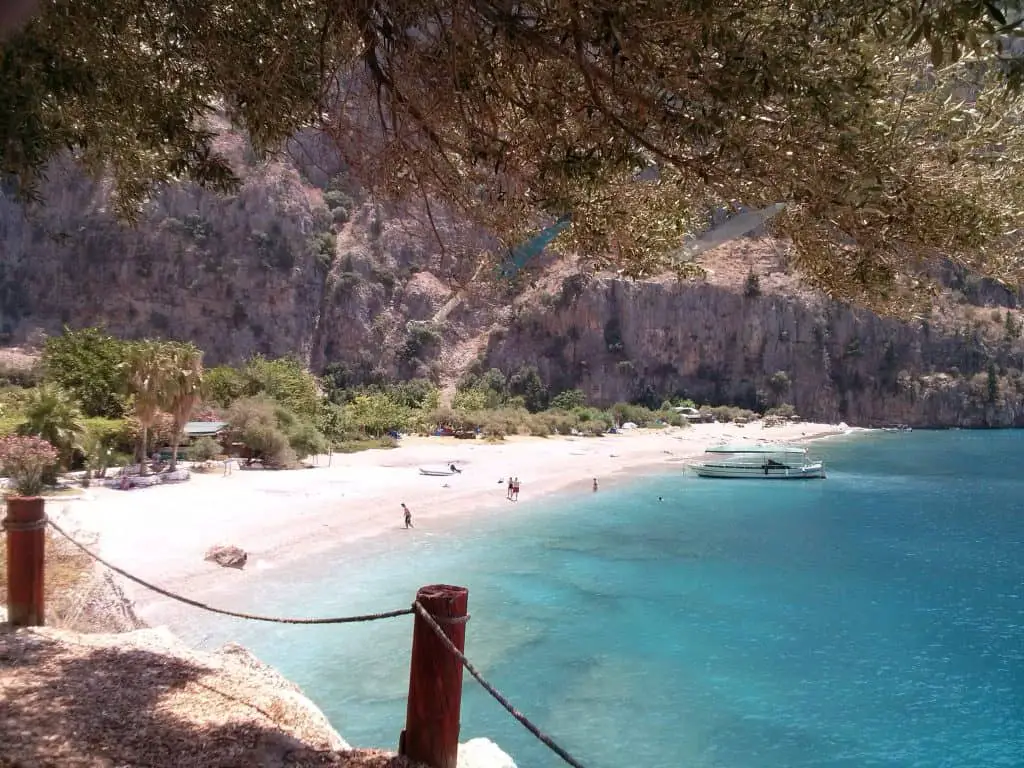 15. Get Wet at Saklikent Gorge
One of the most fun things to do in Fethiye is to explore Saklikent gorge. Located in the foothills of the Akdağlar Mountains, the gorge is a spectacular site to behold and a great way to get out and enjoy the natural beauty of Turkey. 
The gorge is one of the world's deepest canyons, with its walls towering up to 300 meters in places. The best way to explore it is by taking a guided tour, which usually starts at the canyon's entrance and takes you along the shallow river. As you make your way up through the river, you'll marvel at the gorge's sheer size and beauty, with its towering walls, lush vegetation and crystal-clear water, culminating at a beautiful waterfall.
At the beginning of the gorge it is also possible to enjoy some tubing or to simply jump in and enjoy a swim. The shady canyon is a great place to cool off on hot summer days and after you've finished you can enjoy a meal at one of the many restaurants located near the entrance. 
If you have your own transport you can drive to the gorge, otherwise consider joining a tour. Bring water shoes to help navigate the slippery rocks.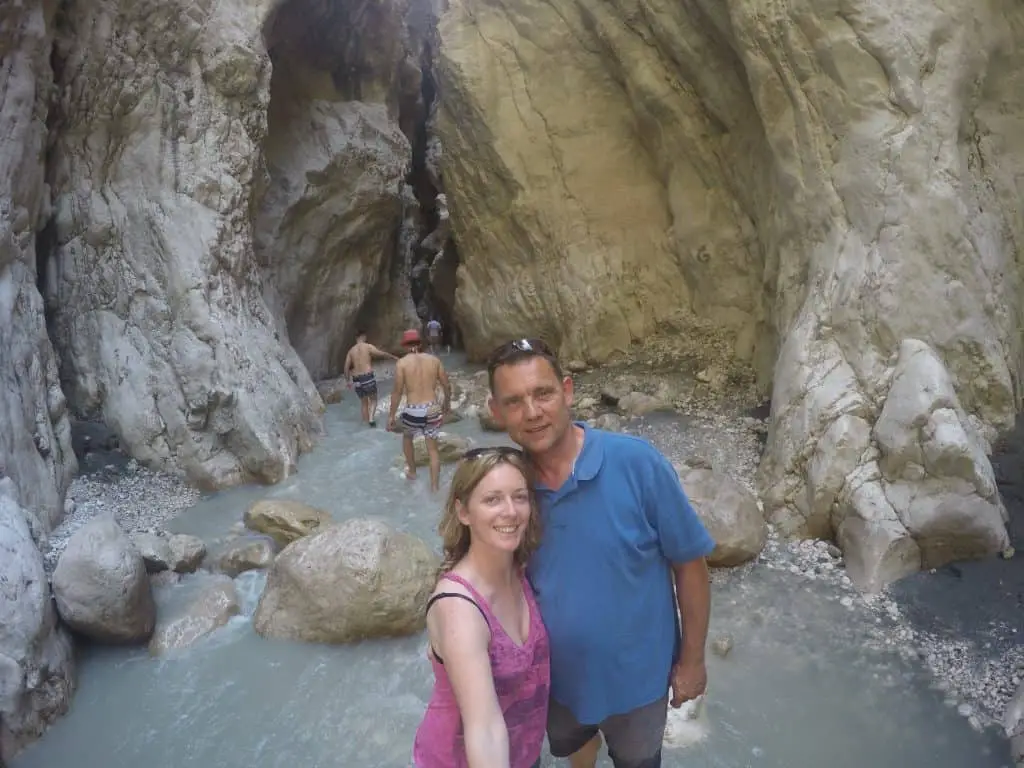 16. Relax at Patara
Patara is an ancient city located around 1 hour from Fethiye, Turkey. It was once a major port in the Lycian region and is now a UNESCO World Heritage Site. Patara is one of the most important archaeological sites in Turkey and has a wealth of history and culture to explore.
When visiting Patara, you can explore the ruins of the ancient city, including the remains of a bath complex, theatre and a restored council chamber where Lycian leaders met to debate important matters of the region. 
The city sits behind the sand dunes of Patara beach, which is home to the longest stretch of sand in all of Turkey. On the beach there are plenty of restaurants to buy food and drinks and sun loungers for hire.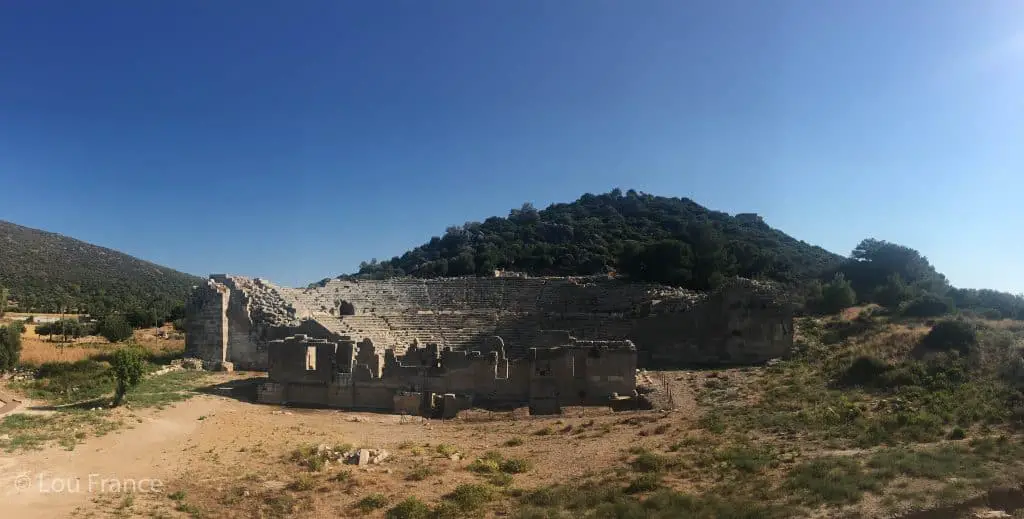 17. Go Scuba Diving
The waters around the Turquoise Coast are notoriously clear which means the visibility for scuba diving is second to none. If you want to explore what lies beneath the water then opt for a scuba diving trip. Scuba diving tours from Fethiye are available for beginner and seasoned divers alike, with tuition, skills tests and practice dives to get you up to speed.
This is a great way to have an underwater adventure in Fethiye.
Accommodation in Fethiye
To experience the real charm of Fethiye I recommend staying in or around the old town. This also makes visiting most of places on this list easy to do. If you're looking predominantly for a beach vacation then I recommend staying near to your beach of choice.
Luxury Hotel
If you're looking for a high quality hotel then try Ece Saray Marina Resort. With its spa, gym and swimming pool, this seaside boutique hotel will ensure you have everything you need for your time in Fethiye.
Apartment
The apartments of choice in Fethiye are the Exclusive Terrace Suites at Mariina. These apartments provide all the facilities you'll need during your stay, along with a balcony terrace overlooking the marina.
Budget
For a quality hostel located in the old town, close to bars, restaurants and the marina, try Sakura Hostel. The hostel has private rooms with ensuite as well as dorm rooms.
The Best Time to Visit Fethiye
Fethiye has a Mediterranean climate, meaning the summers are dry and hot and the winters are wet and mild. If you're looking for a summer vacation to enjoy the beaches and warm waters, then the best time to visit is between June and September. These are the peak months around the Turquoise Coast where prices are at their highest and crowds at their biggest.
The spring months of April to June and the fall months of September to November are a little cooler and attractions less busy. In the fall months ocean waters are still warm and this is my favourite time to visit Fethiye.
During the winter, Fethiye is at its quietest but not everything is open. For example, Saklikent Gorge is closed due to high water levels and popular boat trips such as those to Butterfly Valley don't operate. Archeological sites are open year round and if the weather is right, paragliding flights still run. On our most recent trip we visited the archaeological sites around Fethiye in January and we had the cities all to ourselves.
Final Thoughts on Fethiye Things to do
Fethiye is a popular holiday destination in Turkey, offering visitors various activities and sights to explore. From visiting the rock-cut tomb of Amyntas to shopping at Fethiye market, there is something for everyone in this beautiful Turkish city.
Whether you're looking for a beach getaway or a historical tour, Fethiye has it all. With its stunning scenery, rich culture, and numerous attractions, Fethiye will surely provide you with an unforgettable Turkish experience.