This is a guide to hiking Pen y Fan, the highest mountain in South Wales. In this article I explain all you need to know about the 4 best Pen y Fan routes. Pinned maps are also available.
Pen y Fan Walks
Let me start by explaining how to pronounce it! If you're not from Wales you'd be mistaken into thinking that it's pronounced penny fan. But that's one sure way to get a chuckle from the locals.
Actually, you won't go far wrong if you try pen-er-van. Right, now we have that sorted, let's talk about hiking Pen y Fan.
At 886m Pen y Fan literally means the top peak and there are several routes that can take you to the top.
It's the highest peak in the Brecon Beacons, so whichever way you take there's definitely a decent amount of "up" involved. As such there is no easy route to the top. Some, however, are more straight forward than others.
Being born and bred in nearby Merthyr Tydfil I've hiked this mountain more times than I can remember, so let's get stuck into the trail options!
If you want to read more about the top things to do in nearby Merthyr Tydfil, take a look at this post!
Pen Y Fan Routes
1. The Easiest Route Up Pen y Fan – The Motorway
This trail is the easiest Pen y Fan walk from a navigational point of view, as there is a stone footpath all the way to the top. I call it the motorway route because, as you might have guessed, it's the most popular.
The hike starts in Pont ar Daf car park which gets absoloutely jam-packed on sunny weekends and bank holidays!
At the southern end of the car park there is a kissing gate that takes you to a bridge that crosses the river. After crossing the bridge, a well made trail takes you up the mountain side.
As you get closer to the top you will see a peak that appears to be the summit but don't be fooled, this is actually Corn du (873m), the second highest peak in the Beacons.
To add an extra challenge to your Pen y Fan hike you can take the footpath that leads to this peak. But if you want to stick with the main objective, take the footpath that leads slightly to the right and around Corn du. Once on this footpath you have one final push to the top of Pen y Fan.
Did you know? The cairn on the summit was a Bronze Age burial chamber. Now it's a popular spot to get out the camera and take that "I made it" selfie!
After enjoying the 360 degree views (weather permitting) it's time to head back down the way you came up. Once in the car park you can enjoy a well deserved ice cream!
If you want to enjoy sunrise or sunset on Pen y Fan then this is the route choice for you. If you'd prefer some company for the occasion then consider joining a guided group. Don't forget your head torch!
Related Reading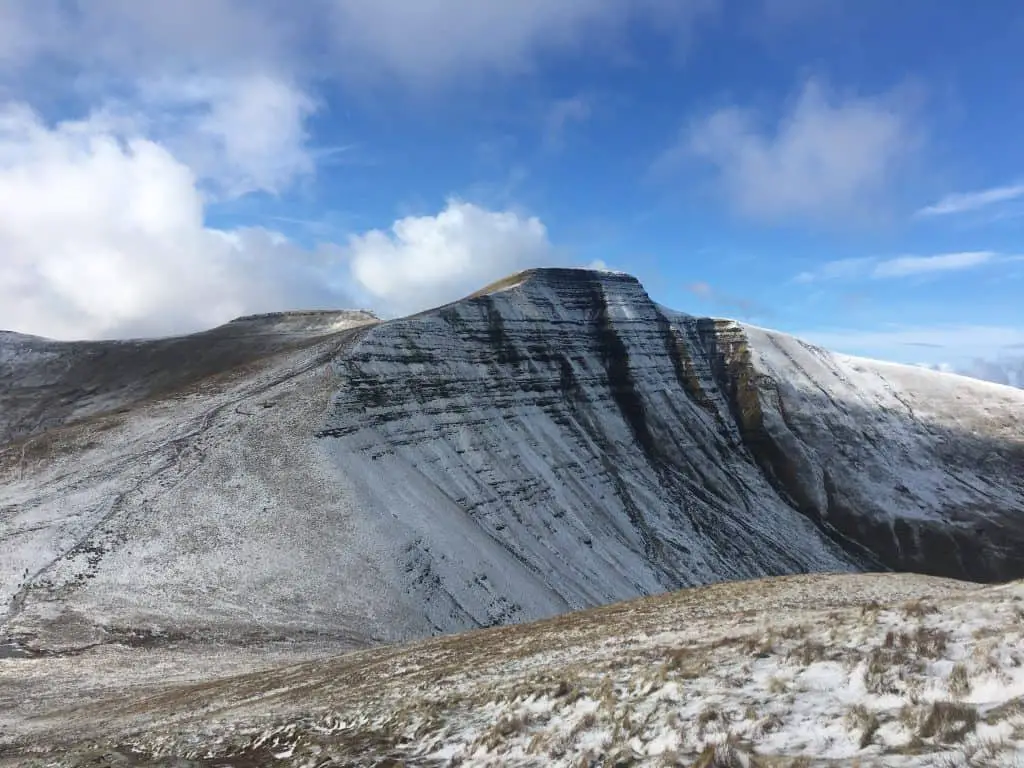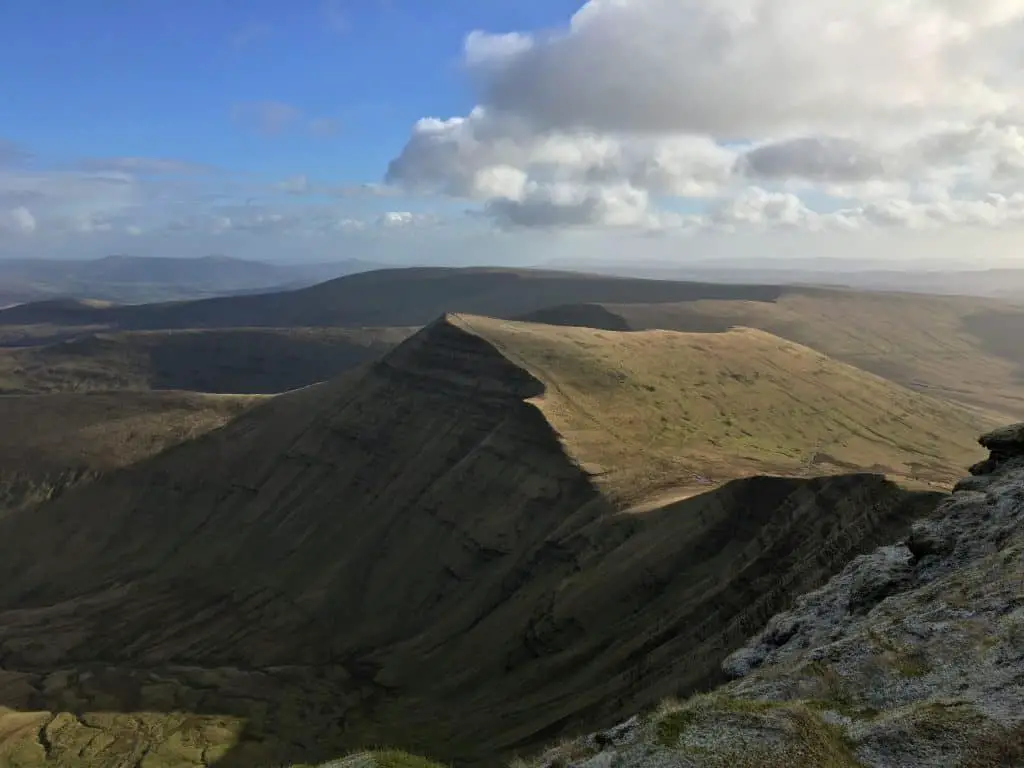 For more photographs of the Brecon Beacons and Wales in general click here
2. The Storey Arms Route – Military Route
This hike starts from Storey Arms car park. From the car park cross the road and head up the path to the left of the Storey Arms (as you look at it). A man made path will take you all the way to the top. This path has a steep start then descends for a while before reascending to reach the summit of Corn du.
From the top you can see Pen y Fan ahead of you on a well made trail. Follow this trail by descending Corn du first then continuing up to Pen y Fan. To return simply follow the path back down.
Make a loop of it? You can combine these first two hikes to make a slightly longer (7.6km) loop. Park in the Pont ar Daf car park and ascend the motorway route. After reaching the summit, return via Corn du, down to Storey Arms then follow the footpath alongside the road to return to the car park. Top job!

Sunrise over Taf Fechan valley from near Pen y Fan summit
3. The Pen y Fan Horseshoe Ridge Route
Summer Sale! You can have this and all the other Pen y Fan routes readily available on you phone, through purchasing my pinned map which are on sale now. My routes are pinned on the Maps.me app which is free to download.
This Pen y Fan hike is definitely a lot more involved and a little trickier to get to as it's not on the main A470 road. However, the Brecon Beacons horseshoe ridge walk, as it is also known, is a great full day in the mountains.
The hike starts from Neuadd Reservoir access road car park in Talybont. From the car park follow the road north. The official road ends and forks into two paths. The path to the right leads to the pass between Cribyn (795m) and Fan y Big (719m). Take the tarmac path to the left which leads to the now empty reservoir.
Construction around this area has now been completed and there is a newly built bridge to cross over the river. From here you can see the whole route in front of you as you'll walk around this amazing glacial valley.
The path ascends steeply up onto the ridge. Once on top the ridge, again head north (turn right) along the well maintained path to reach, first Corn Du and then Pen y Fan. Corn Du can be traversed around if desired. 
From Pen y Fan descend steeply down the track (known as Jacobs Ladder) then reascend to Cribyn, the third highest peak. From Cribyn you have the option to descend and follow the path back to the car park or you can ascend the final peak, Fan y Big.
Any ideas how to pronounce this one? I'll give you a clue – it's not fanny big!
After completing the final peak, head south along the summit ridge on a well made path, then branch off onto a sheep track that takes you parallel to the drained reservoir. As you near the forest turn right to descend the ridge and join the main footpath (old Roman Road). Continue along the footpath, then along the road and back to the car park.
Time for a well earned sit down (but sadly no ice cream here).
Pen y Fan walks are always great days in the Welsh countryside, however there are lots of other walking options in the Brecon Beacons. In this post I reveal my top 10 Brecon Beacons walks.

Pen y Fan horseshoe during a snowy sunset.
4. The Cwm Llwch Route
Just south of Brecon town there are several Pen y Fan walks that lead to the summit. From the National Trust Cwm Gwdi car park on Ffwdgrech Road, an obvious path leads directly along the ridge to the top of this famed peak. This out and back trail is the shortest route to Pen y Fan from the north.
This trail can be combined with other paths from the north to make longer loops. For example, to the west there is a path from Nant Cwm Llwch car park which ascends Pen y Fan via a small lake (Llyn Cwm Llwch). Or to the east there is a trail that ascends the ridge to Cribyn before continuing on to Pen y Fan.
Combine these trails in any way to make your own unique adventure onto Pen y Fan or join a guided tour to learn more about the Brecon Beacons along the way.
Did you know? In Wales we have something called an Eisteddfod, which is basically a festival for all things traditionally Welsh, like poetry and singing. When I was in primary school we were split into 3 teams to compete in things like the Eisteddfod and sports days. The 3 teams were Pen y Fan, Corn Du and Cribyn. I was in Cribyn, so that's always been my favourite peak in the Central Beacons!
Hiking the Pen Y Fan Routes – What do you need?
All 4 Pen y Fan routes are available for download on your mobile phone. I have these routes marked out on the free, offline map Maps.me. They can be a top resource for your Pen y Fan hike. Purchase the route pins here.
For a complete mountain day packing list, take a look at this article. Don't forget to check the weather forecast before you leave and if you're hiking solo, let someone know about your plans.
If you don't want to hike alone then consider hiring a guide to lead the way or joining a like minded group for some hiking company. If you're based in Cardiff and want to hike the easy trail, then this tour will be a good choice.
For more photos and videos of my adventures, follow me on social media.
Pen y Fan Accommodation
Hostel
If you're on a budget then the best place to stay after hiking 'the fan' is the YHA Brecon Beacons.
Dorm beds are available from £15.
Hotel
For a more boutique option just south of Pen y Fan try the Nant Ddu Lodge and Spa. They also serve delicious food here which will be well deserved after after a Pen y Fan hike!
Rooms from £75 per night.
Or if you'd prefer to based in the town of Brecon itself, I recommend staying at the centrally located George Hotel.
What's The Best Time of Year for Hiking Pen y Fan?
Pen y Fan can be hiked all year around but snow and ice is common in winter. Weather in the UK is never that reliable but typically the summer months from June to September will be the warmest and driest.
In autumn and winter, cool, clear days can provide the best summit views. If you're embarking on a Winter hike then be sure you have suitable clothing and equipment.
Just be aware that even when its warm and sunny in the surrounding towns it can be cold and blowy on top of the hills. I've seen people walking up Pen y Fan in shorts and flip flops on days when there is snow on top!
Final Thoughts on Hiking Pen y Fan
I can't remember how many times I've hiked up Pen y Fan but I always try to climb it once or twice a year. I've hiked the horseshoe in wellies (not recommended!) and I've hiked up for sunrise in a windchill of -15°C (also not recommended!) 
There are several routes to the summit and many more combination walks to try. It's a great hill but remember to check the weather forecast before you go as it can change quickly up there. Try to avoid the crowds on busy bank holiday weekends and most importantly, enjoy the views!
If the weather forecast is looking stormy and wet but you still want to get out, why not do a waterfall walk instead? You can discover the best Brecon Beacons waterfall walks in this post!
Do you have any questions about these hikes or any other hikes in the area? Please feel free to contact me here. 
Disclaimer: Some links in this article are affiliate links, which means that if you purchase through them I receive a small commission, at no extra cost to you. This helps cover the costs of running this blog. Thanks for your support!
Join my newsletter today!