Anglesey (Ynys Môn in Welsh) is a large island off the coast of north-west Wales. The island is rich in culture and natural beauty, and is jam packed with things to do. Much of the 125 mile coastline has been declared an Area of Outstanding Natural Beauty, offering beautiful walking for hikers. However, with the island being quite low-lying many sections of this jagged coastline can prove perilous to unwitting seafarers.
From as early as 1779 rudimentary lighthouses were established around Anglesey to warn sailors of these hidden dangers. Over the years more modern lighthouses were developed which, even today continue to provide a service to the shipping industry.
There are five lighthouses around Anglesey that are operational. These are Trwyn Du, Point Lynas, Skerries, South Stack and Holyhead Breakwater. There are also several redundant lighthouses on Anglesey, the most famous of which are on Ynys Llanddwyn (Llanddwyn island). It is possible to visit all of these lighthouses with the exception of Skerries.
Lighthouses in Anglesey
Trwyn Du Lighthouse
The first Anglesey lighthouse on this list is Trwyn Du or Black Point which was built in 1838 by Trinity House. It guides boats through the passage between Puffin Island and Penmon and marks the north entrance to the Menai Strait. The construction of Trwyn Du was spurred on by a major accident in 1831 when the paddle steamer, Rothesay Castle, sank near Puffin Island.
Trwyn Du is 22 meters in height and has quite unique black and white banding. In 1922 the lighthouse became automated and it 1996 it was converted to solar power.
Penmon lighthouse can only be fully accessed on a very low tide and even then the rocks are covered in slippery seaweed. There was once a wooden path which enabled the lighthouse keepers to access the lighthouses at high tide, however this has since been washed away.
Access to Trwyn Du is via a private toll road costing £3.50. If coming from the mainland, en route to Trwyn Du you will pass Beaumaris Castle. To learn more about this castle and other beautiful castles in North Wales, take a look at this article.
If you're looking for a place to stay near Beaumaris, try this secluded static caravan at Wern Farm.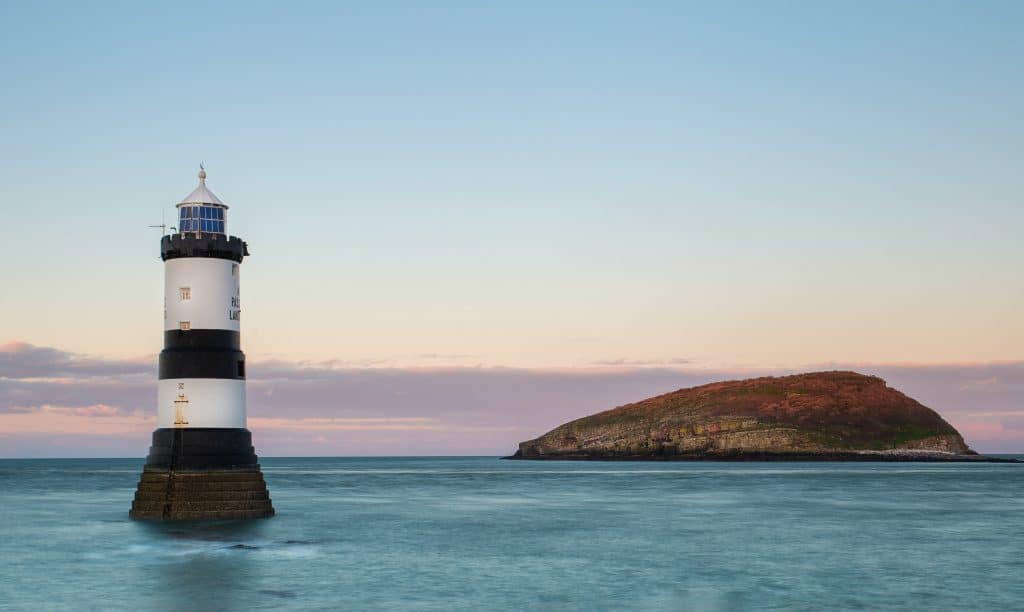 Point Lynas Lighthouse (Trwyn y Balog)
Location – Llaneilian, Amlwch
From as early as 1779 oil lamps and reflectors set into a tower were used to ensure the safe passage of ships to and from Liverpool. The current lighthouse at Point Lynas was built in 1835 by the Mersey Docks and Harbour Board.
The tower is 11 meters high and is attached to a castellated building which was bought by Robin and Iona Beckmann in 2001. The lighthouse became automated in 1989 and is monitored by Trinity House in Harwich, Essex.
Point Lynas has been slowly restored over the years and today two of the old keepers cottages are available as 4 star catering holiday cottages. It's possible to walk around the site for free and a nice walk is from the nearby port of Amlwch.
If you're interested in how much it costs to stay in a lighthouse click here.
South Stack Lighthouse (Ynys Lawd)
Location: RSPB Visitor Centre, Holyhead
South Stack was built in 1809 when it was originally fitted with Argand oil lamps and reflectors. Despite petitions to build a lighthouse on this rocky island off Holy Island dating back to 1665, construction didn't begin until 1808.
In 1828 a suspension bridge was built to provide access to Ynys Lawd. This was replaced in 1964 and again in 1997. South Stack became automated in 1984 and today the suspension bridge provides access for visitors.
Access to the island is via a set of 400 steps. Visitors may tour the old lighthouse engine room before climbing to the top of the lighthouse itself. Entrance costs £6 for adults and £3 for children.
If you need a place to stay on Holy Island how about some glamping? The Coastal Pods are in the perfect location for visit to South Stack Lighthouse and come complete with ensuite bathroom and private BBQ.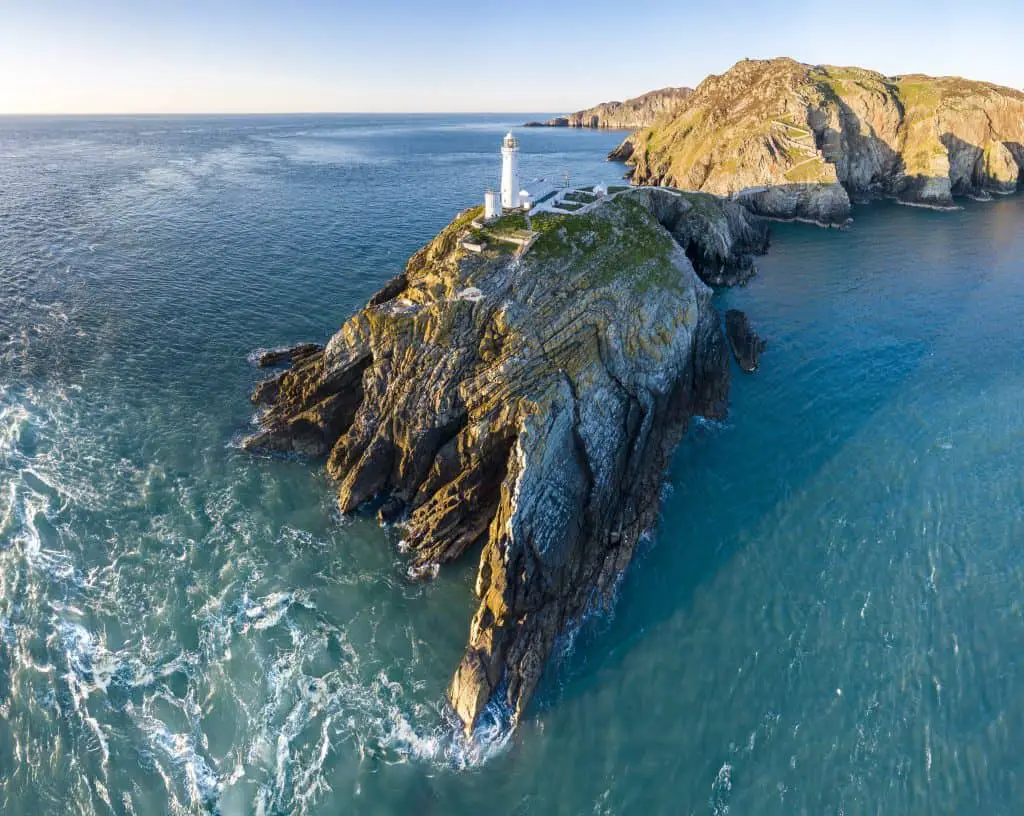 Follow my adventures on social media
Holyhead Breakwater Lighthouse
Holyhead Breakwater is a unique lighthouse because it's square rather than circular. It was apparently built this way to make it more accommodating to lighthouse keepers. It's thought that the lighthouse was designed by John Hawkshaw who is famous for designing the Severn Tunnel. Construction of the lighthouse was completed in 1873.
The tower sits at 19 meters high and is considered architecturally important, as it forms part of the Victorian engineering works to create refuge harbours throughout Great Britain. The lighthouse became automated in 1961.
The lighthouse is located at the end of the Breakwater which is 1.7 miles long, so it requires some effort if you want to pay a visit. On the lower level of the breakwater, which is the longest in the UK, you can see the remains of railway sleepers which were used to carry locomotives. The locomotives were required to transport limestone from the quarry during the breakwaters construction.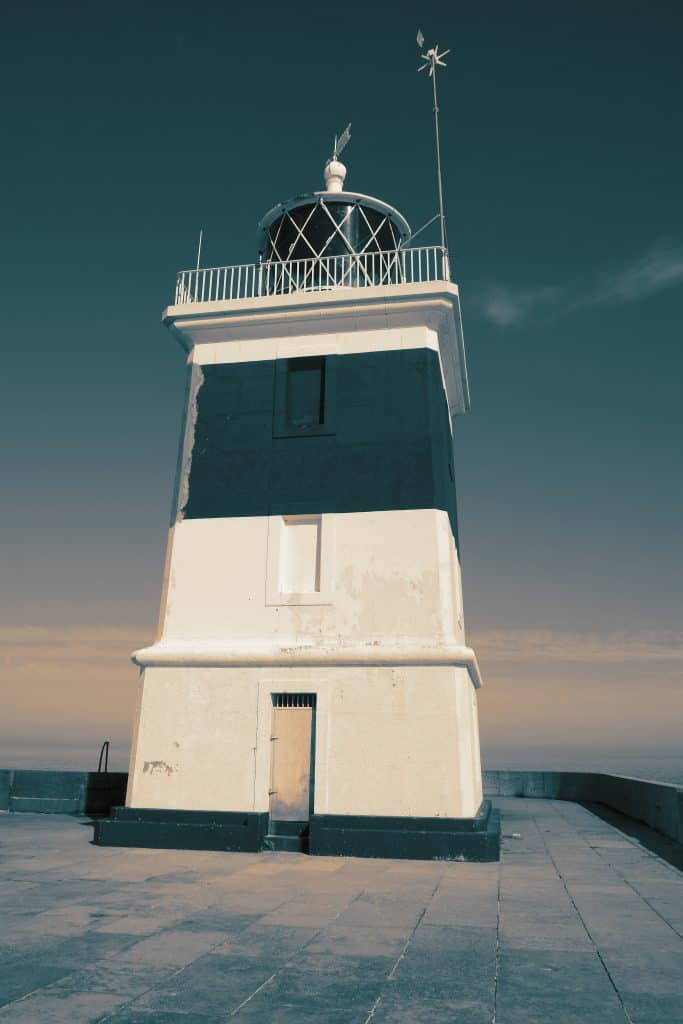 The Skerries Lighthouse
Location – Off Camel Head
In Welsh Skerries is known as Ynysoedd y Moeirhoniad, which translates to the Isle of Seals. However the name Skerries is thought to derive from the viking word for rocks. This name is quite fitting since the lighthouse is built on a platform of semi-submerged rocks.
The Skerries is a series of islets located off the northwest corner of Anglesey. The first Skerries Lighthouse was lit in 1717 to guide ships past submerged rocks north east of Holyhead. It built by William Trench who had tragically lost his son off the rocks at the Skerries. The lighthouse stayed in Trench's family until 1841 when it was bought by Trinity House.
The coal burning grate used to light the way was replaced by an oil lamp in 1804, before becoming electric in 1927. In 1927 it became automated and is now monitored in Harwich, Essex.
Since the lighthouse is located 3km off the mainland the only access is by boat. Companies in Holyhead charter boats to view the island which also acts as a nature reserve, managed by the RSPB.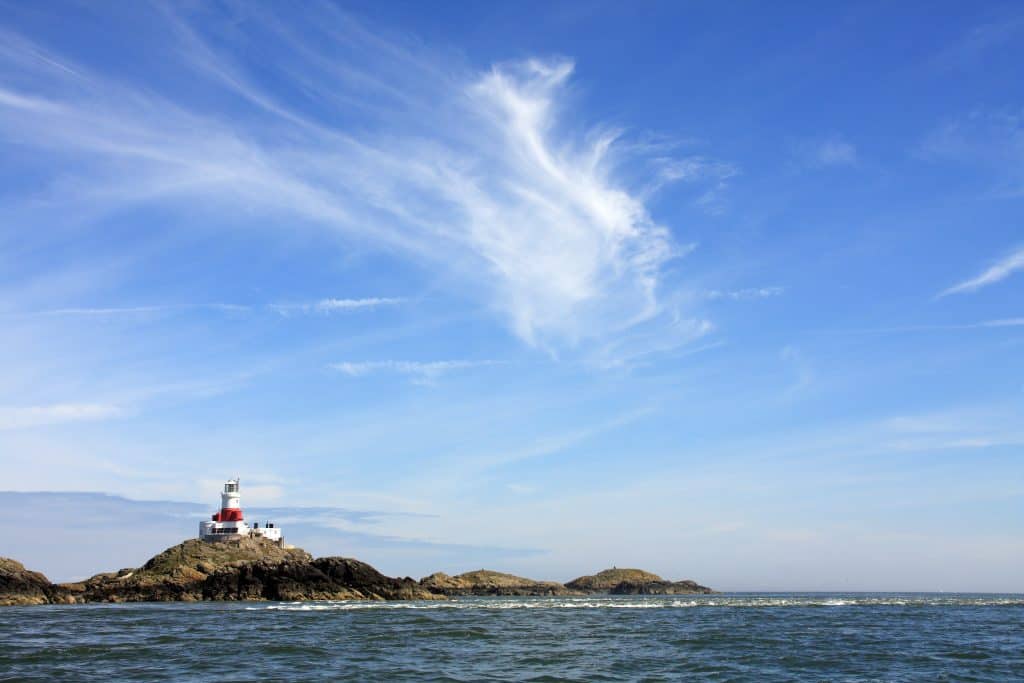 Ynys Llanddwyn Lighthouses
Location – Ynys Llanddwyn, Newborough Forest
Ynys Llanddwyn is a tidal island in South west Angelsey and is part of the Newborough Warren National Nature Reserve. At the tip of the island you can find two disused lighthouses which formerly marked the western approach to the Menai Strait.
Tŵr Bach is a conical shaped lighthouse which was built in the early 1800s. Today it is a grade 2 listed building.
Tŵr Mawr, the bigger but newer of the two lighthouses which was built in 1845 and was modelled on the windmills of Anglesey. It is also a grade II listed building.
As mentioned above Ynys Llanddwyn is a tidal island. For the most part it remains attached to the mainland but at high tide it does become cut off, so be sure to plan for this. Check the tide times here.
It's a flat 3km walk from the car park to the lighthouse walking either along the beach or through the forest. Allow plenty of time to visit Llanddwyn island lighthouse so you can fully explore the whole area.
Llanddwyn Island is located in a site of special area of scientific interest so it's not possible to stay in that area. However, if you want to camp close to the action I can recommend Awelfryn Caravan Park. The facilities here are lovely and the sunrise over Snowdonia is spectacular. Alternatively if you want your own cottage, try Newborough Cottage. Both of these properties are just over 1 mile from Llanddwyn beach.
What's in a name?
Ynys means island and Llanddwyn means The church of St Dwynwen. Dwynwen is the Welsh Patron saint of lovers (the Welsh equivalent of St. Valentine).  Near the lighthouses on Ynys Llanddwyn you can find the ruins of a 16th Century chapel, which was built on the site of Dwynwen's original chapel.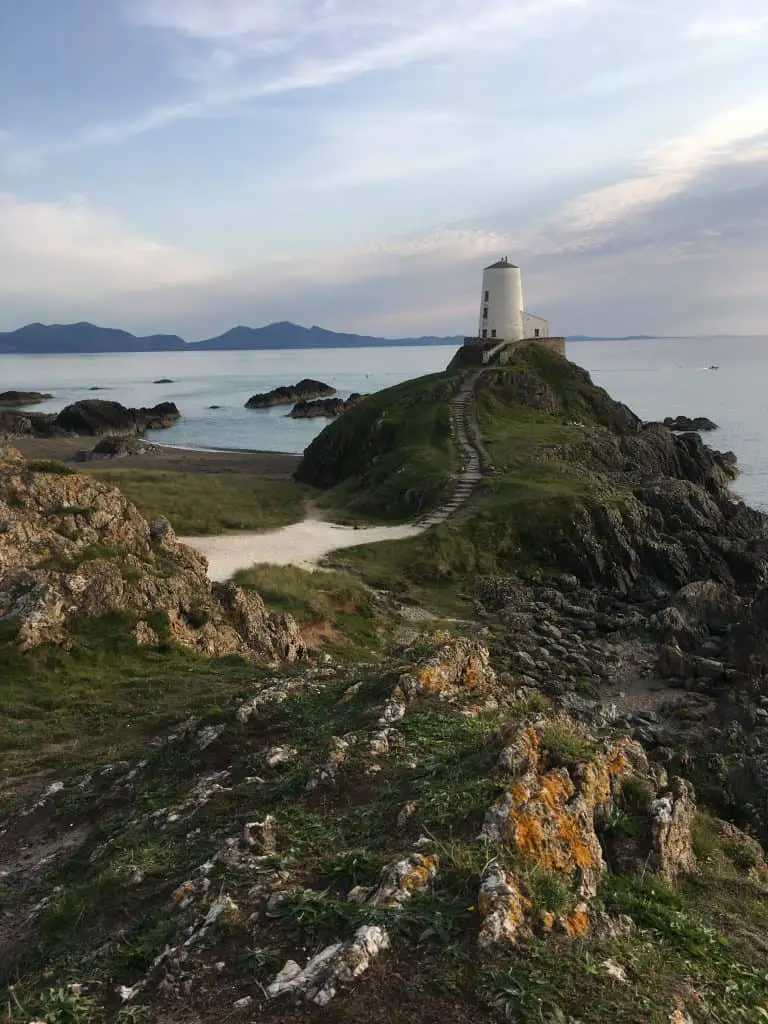 Holyhead Mail Pier Lighthouse
Another important lighthouse in North Wales is Holyhead Mail Pier. This lighthouse was built in 1821 and is found in downtown Holyhead, on Salt Island. Holyhead Mail Pier Lighthouse was designed by John Rennie who was an eminent engineer in the industrial revolution.
This lighthouse is thought to be the second oldest lighthouse in Wales and is a grade II listed building. It is no longer in operation.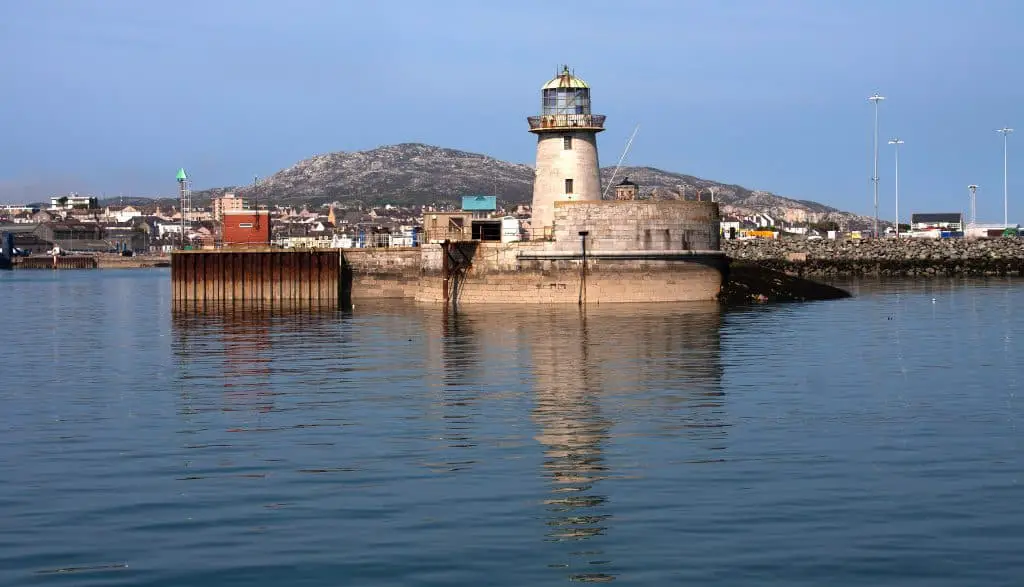 Anglesey Lighthouses
As the largest island in Wales, Anglesey offers a mix of varied history and beautiful landscapes. With rocky outcrops lying hidden beneath the surface, lighthouses have played an important role in Anglesey's history. 
Today there are five operational lighthouses on Anglesey. It is possible to walk to these lighthouses with the exception of Skerries which requires a boat. Entry inside is permitted only at South Stack Lighthouse although the cottages adjacent to Point Lynas are available for holiday lets.
Like It? Pin It For Later!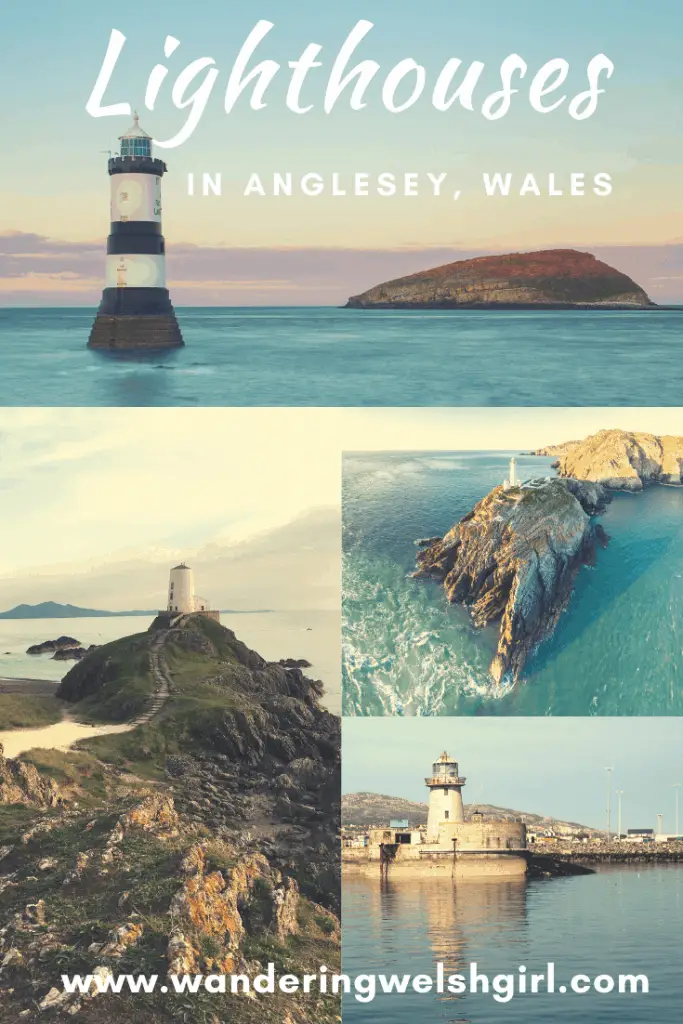 Join My Newsletter Today!