There are so many castles in Wales you could visit one every day for a year and still not manage to get around them all! It has more castles per square mile than any other country in Europe and for this reason is known as the castle capital of the world.
North Wales is particularly renowned for it's castles (as well as it's mountains of course!). They come in all manner of shapes and sizes. Some built solely for pleasure but many built as fortresses to protect the ever contested lands.
To aid in their protection, Welsh castles were often built on high ground. Today this feature provides them with a great platform to showcase the country's natural beauty. This is particularly true in North Wales with the breathtaking Snowdonia mountain range often acting as a mighty backdrop.
If you're planning a trip to North Wales then at least one Welsh castle should be included on your itinerary. But with so many castles in North Wales on offer, which are the best ones to visit?
In this guide I suggest 11 of the best North Wales castles to visit in 2023.
The Top 11 Castles in Northern Wales
The best castles in Northern Wales to visit are:
Caernarfon
Conwy
Harlech
Beaumaris
Gwyrch
Chirk
Dinas Bran
Rhuddlan
Dolbadarn
Cricceth
Dolwyddelan
North Wales Castle Map
Here is a handy map of these beautiful Welsh castles to help guide you on your way!
1. Caernarfon Castle
Location: Caernarfon town centre, Gwynedd
Cost: £7.80
Of the 640 castle sites in Wales, Caernarfon is probably the most famous and the most grand. Work on the site began in 1283 by Edward I when he started his conquest of Wales.
Situated on the River Seiont, Caernarfon Castle, the town walls and quay took 47 years to complete. This castle, along with Conwy, Harlech and Beaumaris, is a World Heritage Site.
It's possible to walk around the outside of this impressive fortress for free but entrance inside the huge wall costs £7.80 for adults and £4.65 for children. There is a long stay, pay & display car park outside the castle in Caernarfon town.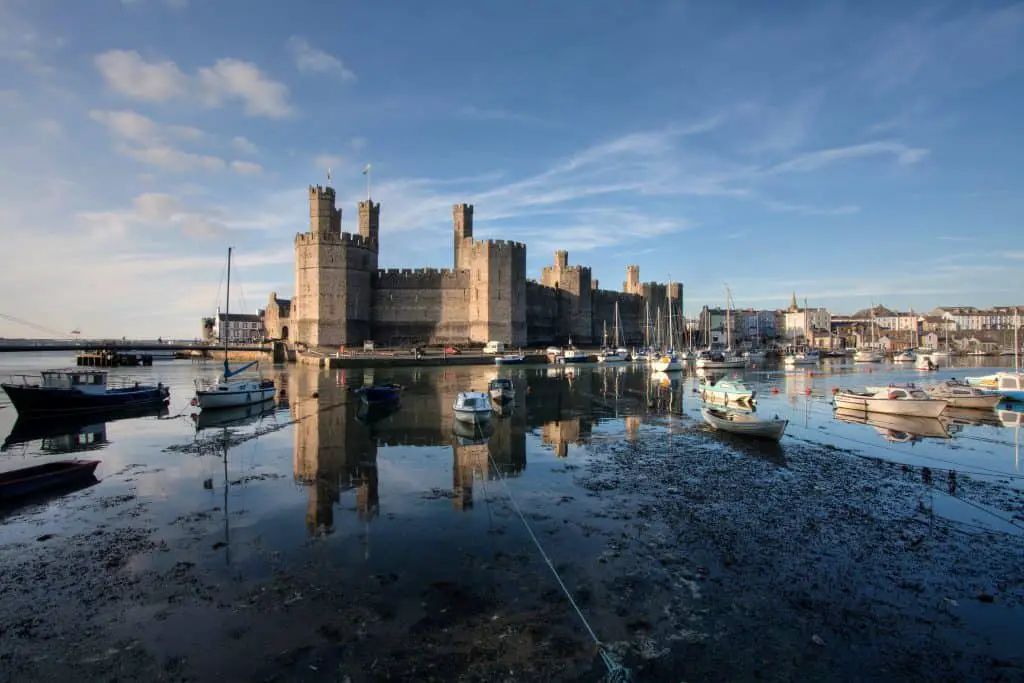 2. Conwy Castle
Location: Conwy town
Cost: £8.80
Some would argue that Conwy castle is the most impressive of Edward I Welsh castles. It's location is surly hard to beat, set as it is on the banks of the river Conwy with Snowdonia National Park looming behind.
As a world heritage site, UNESCO considers Conwy Castle to be one of the finest examples of late 13th century/early 14th century military architecture in Europe.
Large numbers flock to Conwy Castle every year so arrive early to avoid the crowds. A circuit around the battlements is possible and highly recommended during your visit.
Entrance for adults costs £8.80 and £5.40 for children.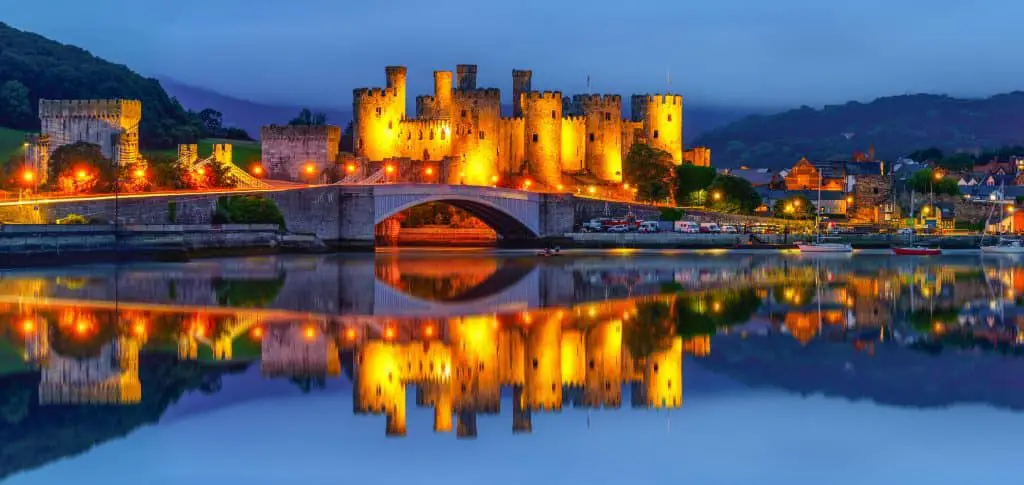 3. Harlech Castle
Location: Harlech town, Gwynedd 
Cost: £6.50
Harlech is another of Edward I's great castles. This impressive fortress boasts two rings of walls and towers, making it almost impregnable and hard to conquer.
The scenic location of Harlech along the coast, with Snowdonia's mountains as a backdrop, make this one of the prettiest castles in North Wales and my personal favourite.
In the winter months the outdoor areas are free and open to all visitors. During summer entrance costs £6.50 for adults and £3.90 for children.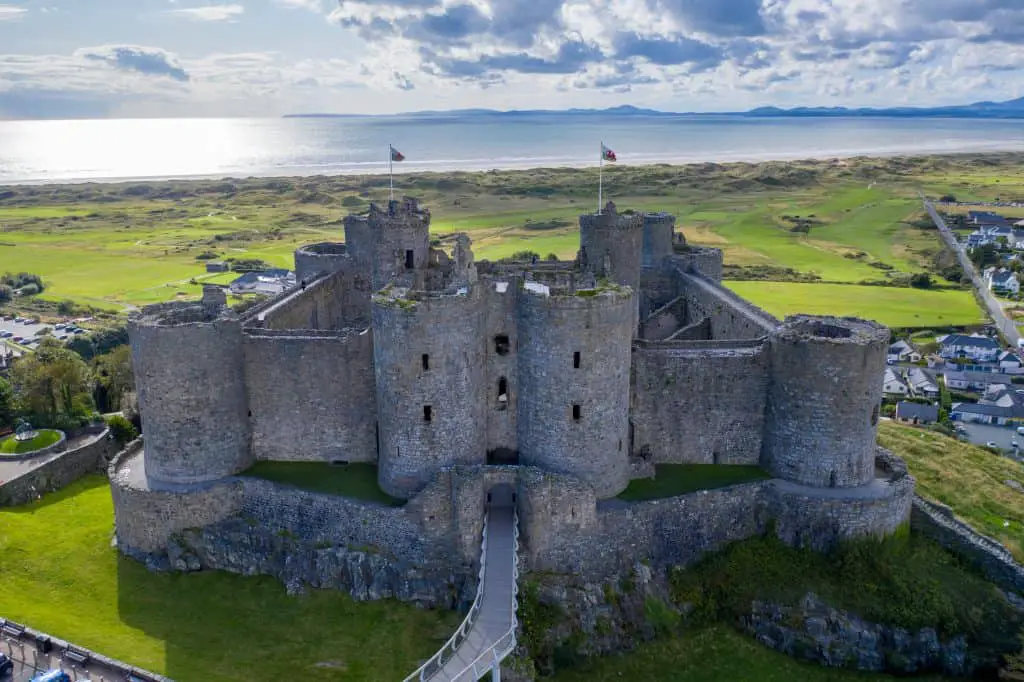 4. Beaumaris Castle
Location: Beaumaris town, Anglesey
Cost: £6.50
The last of Edward I great castles is Beaumaris, however this is the greatest castle that was never built! Or more correctly the greatest castle never completed.
Having already built the castles of Conwy, Caernarfon and Harlech, Edward and his architect planned to make Beaumaris their masterpiece. However lack of money and potential trouble in Scotland, meant this almost perfectly symmetrical fortress was never completed.
As well as being well intact this castle also has a moat which makes it extra impressive in my mind!
Located just over the Menai Strait on Anglesey, entrance costs £6.50 for adults and £3.90 for children.

5. Gwrych Castle
Location: Abergele, Conwy
Cost: £5.00
Gwrych castle is easily the most modern castle on this list and shot to fame in Autumn 2020 with the arrival of I'm a Celebrity…. Get Me Out Of Here! Gwrych translates to Hedge Castle in Welsh and is located near Abergele in Conwy County
Discover how to pronounce Gwyrch Castle and more Welsh place names in this handy guide.
Construction of Gwrych Castle began in 1812 by Lloyd Hesketh Bamford-Hesketh as a memorial to his mother's ancestors. The castle fell into disrepair over the years but in 2018 it was sold to Gwrych Castle Pressrvation Trust, a registered charity who rely on volunteers to preserve the historical heritage of the site.
Entry to Gwrych Castle and it's Estate costs £5 for adults and £2.50 for children. Guided tours are available for £15.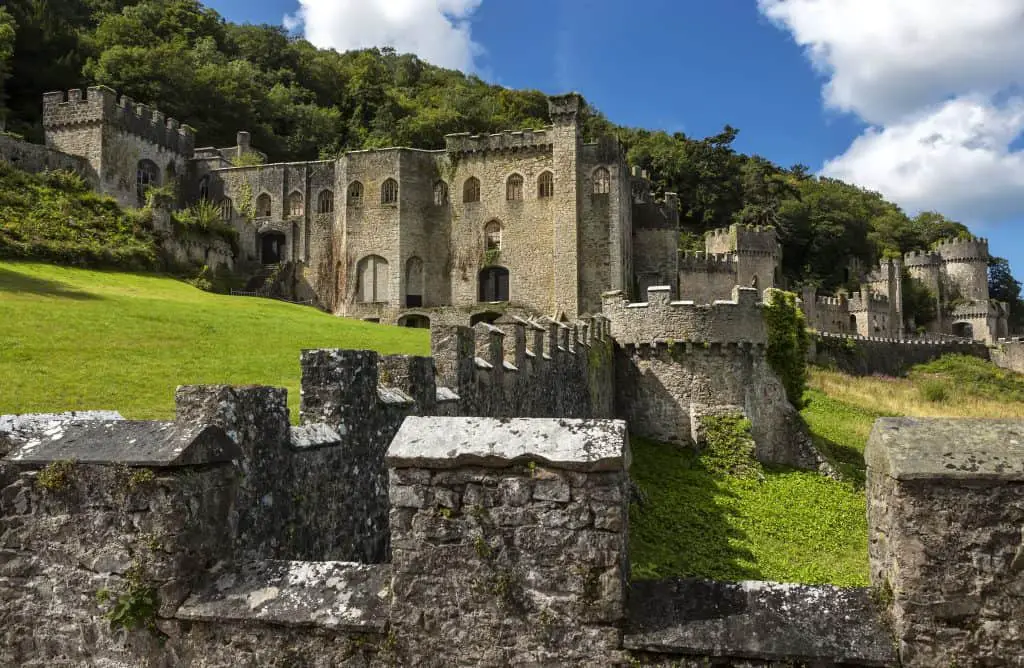 6. Chirk Castle
Location: Near Wrexham
Cost: £8.00
Chirk Castle was a medieval Marcher fortress built along the Welsh-English border to keep the Welsh under English rule. The design of Chirk imitated other concentric castles built in the previous decade by Edward I. This impressive site is the only castle from this period which is still lived in today.
In 1595 the castle was bought by Sir Thomas Myddelton and was later transformed into a stately home. His descendants continue to live in parts of the castle today.
The areas of Chirk Castle which are open to the public is owned and run by the National Trust. A visit to Chirk Castle costs £8 for adults and £4 for children.

7. Castell Dinas Bran 
Location: Near Llangollen, Denbighshire
Cost: Free
If you're looking for a castle with spectacular views then Dinas Bran could be the one for you. Although little remains of this hill fortress, the effort of climbing to this pinnacle is rewarded with views for miles in all directions.
If you're looking for insta-worthy archway snaps, this should definitely make it on to your bucket list!
Dinas Bran, meaning Crow's Fortress was originally an Iron Age Hillfort, but what is visible today was constructed in the 13th century. Historically, little is known about Dinas Bran, however it is associated with many myths and legends. The famous song Myfanwy, composed by Joseph Parry, takes inspiration from the love story of Myfanwy Fychan of Castell Dinas Bran.
Wales' most famous composer Joseph Parry, hails from my home town of Merthyr Tydfil where it's possible to visit the cottage in which he lived. Discover more about this and other things to do in Merthyr Tydfil in this guide 
Dinas Bran is located on a hilltop overlooking Llangollen in Denbighshire and is free to visit. Be sure to walk along nearby Pontcysyllte Aqueduct during your visit.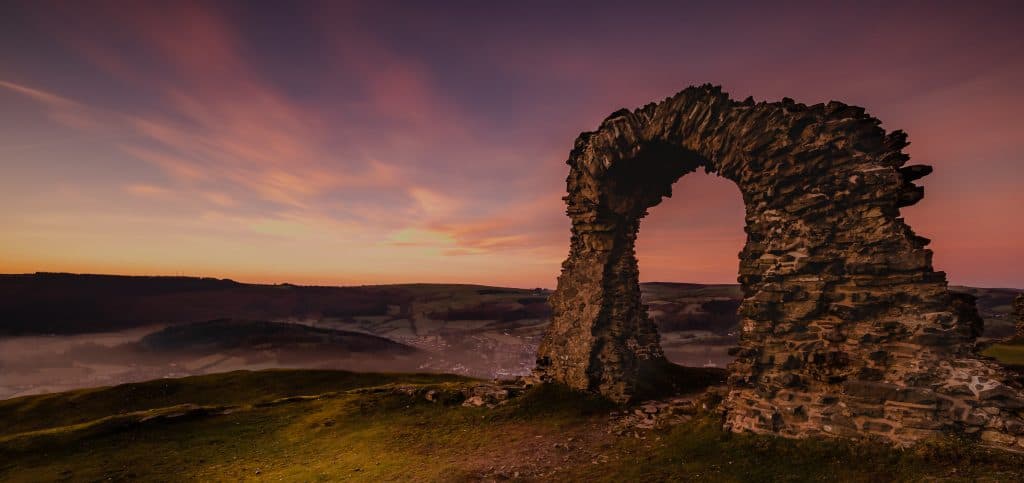 8. Rhuddlan Castle
Location: Rhuddlan, Denbighshire 
Cost: £4.20
Rhuddlan is an impressive castle well worth changing the course of a river for. At least that's what Edward I believed when he built it.
Edward preferred to have his castles build on the coast in order to have access to provisions if the castle came under siege. But with Rhuddlan, he believed this access could instead be provided by the River Clwyd. The only problem was that the river wasn't quite where he wanted it. So instead of looking for a new location, workers were set the task of diverting the river's course.
Ruddlan was also revolutionary as it was the first of the concentric castles where walls were built within walls. This design was later perfected at sites such as Harlech.
Entrance prices are £4.20 for adults and £2.50 for children.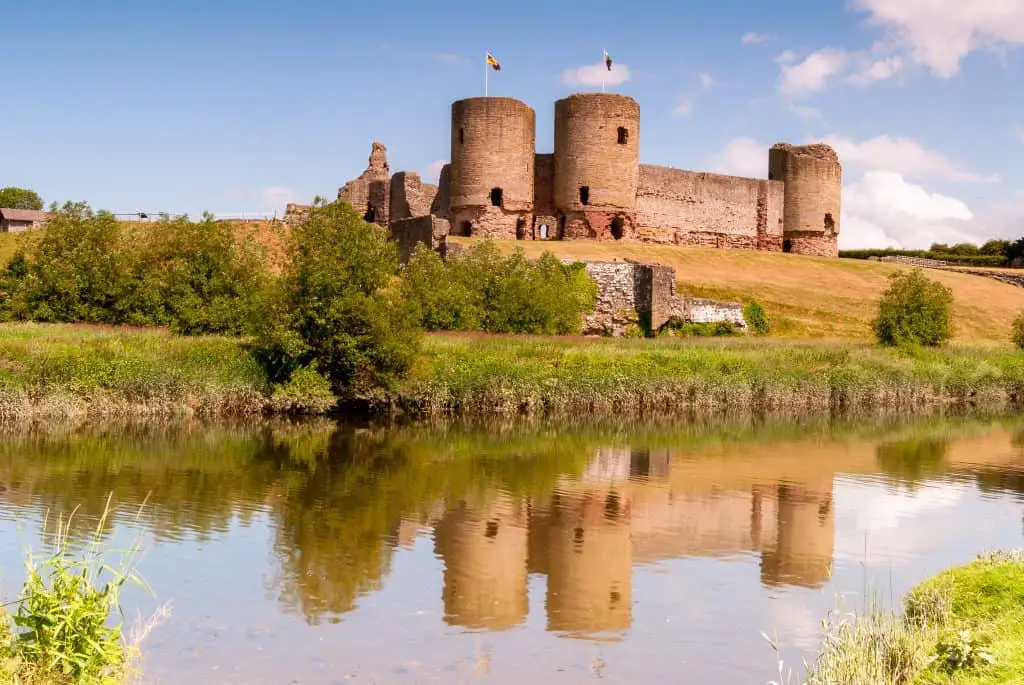 9. Dolbadarn Castle
Location: Near Llanberis, Gwynedd
Cost: Free
The impressive round tower is mostly all that remains of Dolbadarn castle. This solitary fortress which stands on the shores Llyn Padarn (lake Padarn) was once the main protectorate of Llanberis Pass, the gateway to mountains and the rest of Wales.
Today Dolbadarn sits on the edge of Llanberis town which is the starting point for a train journey to the top of Mount Snowdon, Wales' highest peak. For anyone wishing to hike this iconic mountain, Llanberis is also the starting location for an ideal beginners route to Snowdon. 
Entry to Dolbadarn Castle ruins is free.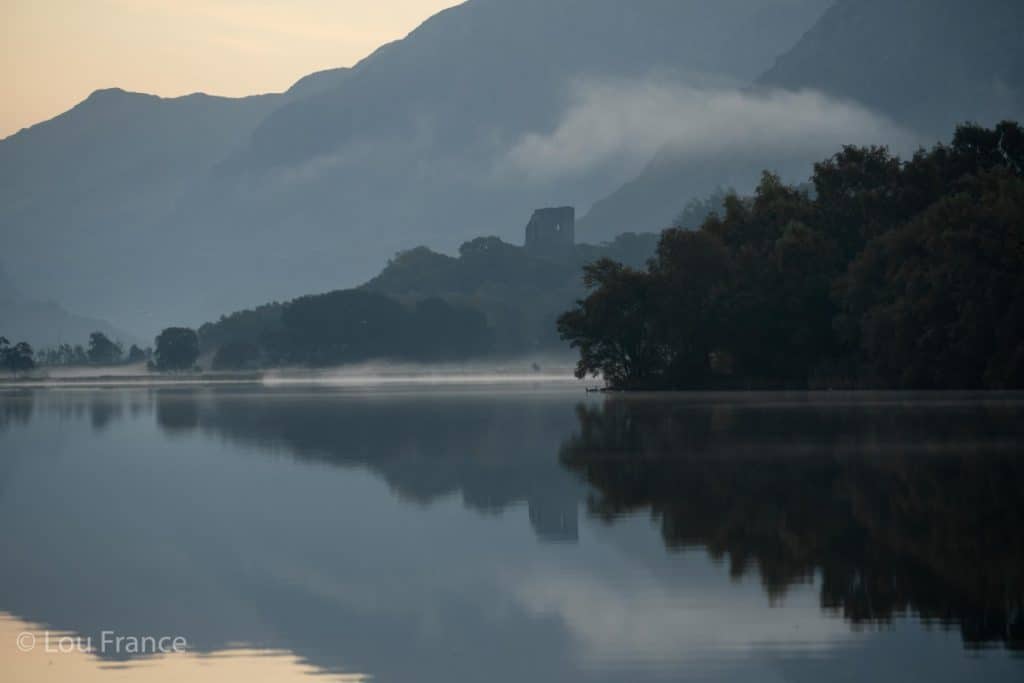 10. Criccieth Castle
Location: Criccieth, Gwynedd
Cost: £5.80
Criccieth is a castle that was built and destroyed by Welsh princes. It was originally constructed by Llywelyn the Great and added to by his grandson Llywelyn the Last. However, even with the added fortifications it couldn't withstand an invasion by the English with King Edward I in 1283. It remained under English control until 1404 when it was sacked by Owain Glyndwr and fell back into Welsh control.
Today Criccieth Castle stands mostly in ruin but perched high on the headland, it commands impressive views over Cardigan Bay and the ocean beyond. Evidence of the torching by Owain Glyndwr can still be seen on the remaining walls.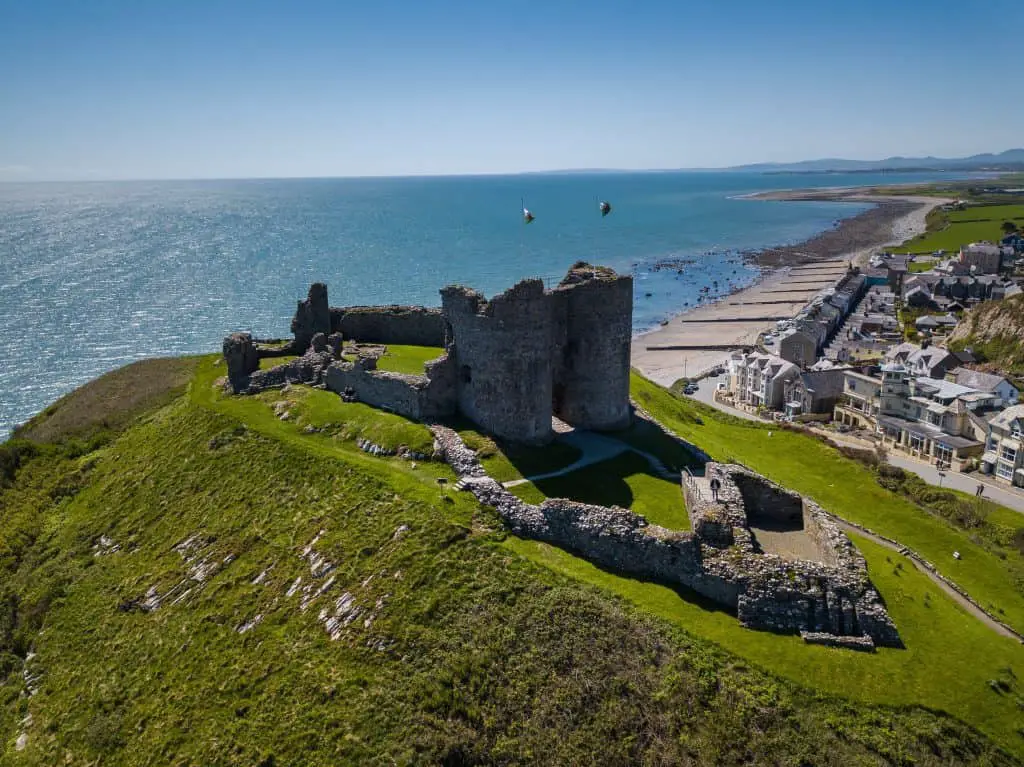 11. Dolwyddelan Castle
Location: Near

Dolwyddelan, Conwy

Cost: £4.00
Dolwyddelan is another castle built by Llywelyn the Great (or Llywelyn ap Lorwerth in Welsh) and conquered by Edward I. Llywelyn the Great was the ruler of Gwynedd and North Wales until his death in 1240.
This castle was built in a commanding spot to protect the mountain passes. Today this spot sits deep within Snowdonia National Park in the shadow of Moel Siabod. For any keen hikers, a visit to Dolwyddelan castle could be combined with a hike up this rocky mountain.
Read more about Moel Siabod and other great Snowdonia hikes in this guide. 
This 13th century fortress ruin was partially restored by the Victorians. There is a good exhibition inside, however a visit to this castle is worth it for the location alone.
Entrance costs £4.00 for adults and £2.60 for children.
Where To Stay On A North Wales Castles Tour
As you can see from the map at the start of this article, top castles in North Wales are spread out across a big area. A good central spot is Betws Y Coed. This small town has lots of restaurants and amenities along with many varied accommodation options to choose from.
The Best Castles In North Wales Summary
With so many impressive castle sites in North Wales, visitors to this beautiful area are surly spoilt for choice! Which castle you decide to visit may be determined by factors other than a simple interest in that particular castles' history. 
For example, if you would like to combine a castle visit with a hike, you could visit Dolbadan near Llanberis and then hike up Mount Snowdon. Or maybe you would like to walk the impressive Pontcysyllte Aqueduct, in which case a trip to Dinas Bran would make sense.
Or perhaps as a family outing, you might prefer the easily accessible and impressive sites of Caernarfon and Conwy? Whatever your interests, hopefully this list will help you decide which is the best North Wales castle for you to visit in 2022.
For further information on any of the castles, please visit Cadw Cymru.
Like It? Pin It For Later!
Join My Newsletter Today!