Gudauri is the biggest and most popular ski resort in the Eastern European country of Georgia. It is located in the Mtskheta-Mtianeti region and sits between the elevations of 1993m and 3279m. There are 14 lifts which provide skiers and snowboarders with 80km of groomed runs to enjoy.
Having run overland adventure tours to Georgia during the Summer and Autumn months, we always said we wanted to return in Winter and experience the Caucasus Mountains with snow. So, in Winter 2022, we drove our converted campervan from the UK to Georgia and spent a month riding Gudauri Ski Resort. 
In this post we discuss the merits of skiing in Gudauri and all the logistics involved. Hopefully this will help you decide whether a Georgian ski adventure at Gudauri is right for you!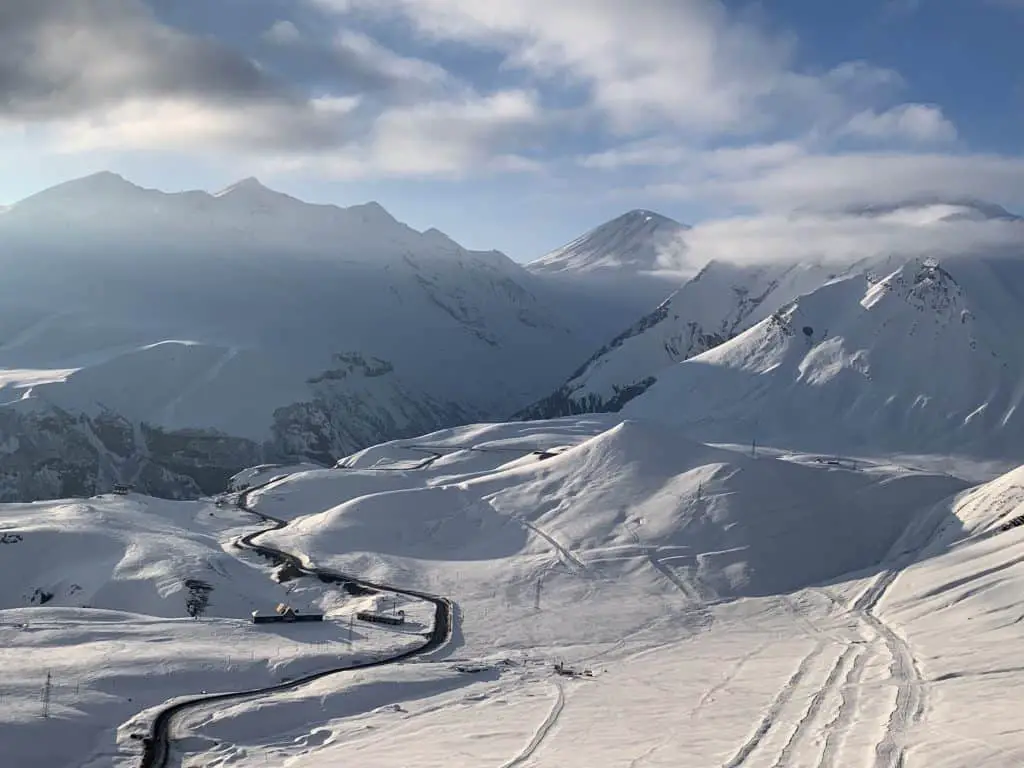 Disclaimer: Some links in this article are affiliate links, which means that if you purchase through them I receive a small commission, at no extra cost to you. This helps cover the cost of running this blog. Thanks for your support!
Georgia: A Brief Introduction
Georgia is a fairly compact, ex-soviet country with a fascinating history and unique culture.
It has a coastline with beaches on the Black sea, fertile lowlands and some of the highest mountains in Europe. The mighty Caucasus mountain range runs along the entire length of north Georgia. 
There is a strong Christian feel to Georgia with many historic churches, often found in idyllic settings.
The capital city of Georgia is Tbilisi, which is well worth a visit. The old town is full of history, markets and amazing restaurants serving stunning Georgian food and wine.
The currency is the Georgian Lari (GEL) and you can check the latest rates here. However, prices will often be quoted in Euros and sometimes USD. For a complete guide to visiting Georgia, take a look at this post.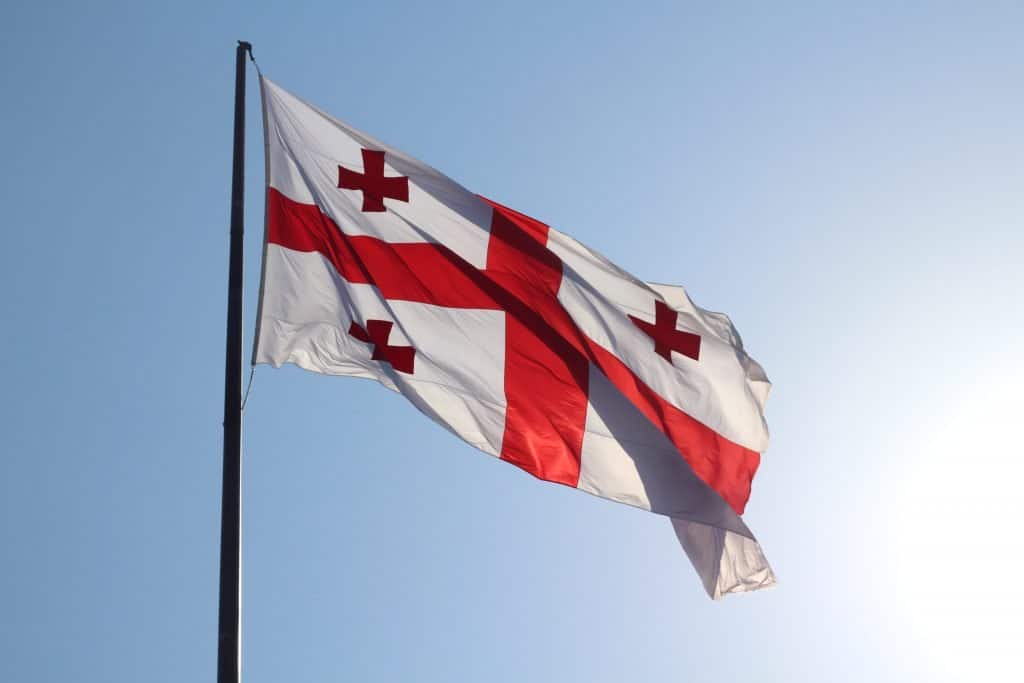 Getting To Georgia
Flight from parts of Europe can take less than 5 hours and just 3.5 hours from Dubai. Turkish airlines and Pegasus offer good deals via Istanbul. For example from London to Tbilisi via Istanbul takes around 8 hours and costs £300 return.
For the best deals on flights to Georgia, check out Kiwi.com.
With Georgia steadily becoming more popular with foreign skiers, package skiing trips to the area are now appearing, in particular backcountry holidays and ski mountaineering trips. With the continued development going on in and around Gudauri, I fully expect more package options to come to market in the future. 
On our latest trip we chose to travel by land in our camper, which obviously took much longer but allowed us great freedom to explore. 
Don't forget Travel Insurance for your trip to Gudauri
Getting To Gudauri
There are several options to consider when travelling to Gudauri. The journey from Tbilisi to Gudauri is 120km will take around 2-3 hours, depending on how many trucks are travelling along the Military Highway.
The easiest option to get to Gudauri by far, will be hiring a car with a driver (hopefully one who speaks your language) Check out gotrip.ge for a hassle free option with no haggling. This costs from 170 GEL per car.
It is also easy to find a driver around the old town in Tbilisi. It will be worth haggling with these guys. Taxis are fairly cost effective for local journeys and self drive hire cars can be booked for airport collection and in major cities. For a taxi from Tbilisi to Gudauri, expect to pay from $60.
Learn everything you need to know about driving in Georgia here.
Marshrutka are local minibus services which run both in cities and beyond. From one of the 2 bus stations in Tbilisi there are regular Marshrutka services to Gudauri. This costs 13 GEL per person. You also book bus tickets online with Allbus.
Skiing In Gudauri, Georgia
Gudauri is spread out along the Georgian Military Highway which connects Mtskheta with Gudauri and Stepantsminda, on the way to the Russian border.
It's true to say that it's not the most attractive ski resort by European standards, but is still very much a work in progress. There are several centres to the resort and most are very well connected to the lift system.
New Gudauri
New Gudauri is very much a hub of new apartments and hotels with plenty of shops, ski hire outlets and restaurants, all within walking distance of the New Gondola lift at its core. For a dedicated ski holiday this is arguably the place to aim for to be close to the action both on and off the slopes.
Old Gudauri
Old Gudauri is a bit further down the mountain and centered around hotel Marco Polo and a new 6 seater Chairlift, which quickly takes skiers up into the heart of the ski area. There are other hotels dotted along the highway but these seem a bit isolated although some do offer free transfers to the lifts where necessary. 
The Highway can get very busy with trucks heading to the border with Russia. We did notice a new tunnel being built which looks like it will send all this traffic under the mountain, however this is likely a few years from being complete.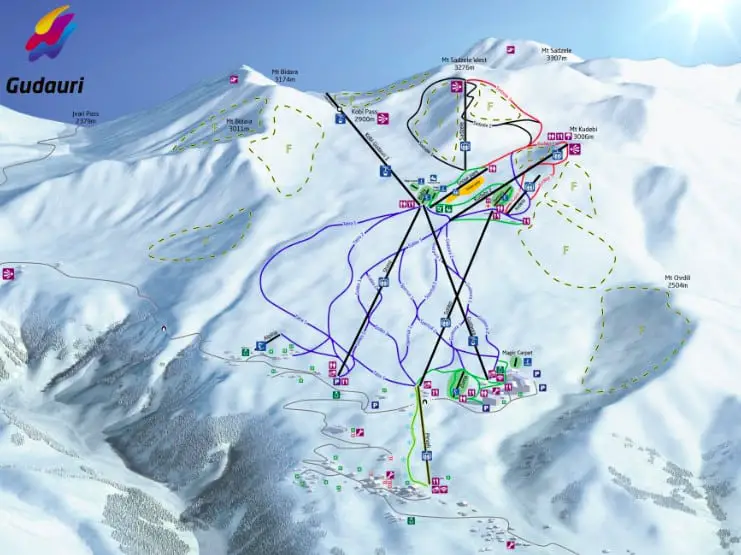 Gudauri Ski Lifts
Gudauri continues to invest in new modern ski lifts. European made, 6 seat chairlifts are commonplace and there is also a new gondola. Gone are the days of rickety slow old 2 man chairlifts with long lift queues.
Currently Gudauri has 14 ski lifts. There are 4 gondolas, 6 chairlifts and 4 button lifts. In Gudauri there's further expansion of the resort to come as it becomes more popular with locals and foreign visitors alike.
Big queues are relatively rare in Gudauri, although it gets busy over the weekends and local holidays. However, the new 6 seat chairlifts and gondolas soon get you moving. 
Kobi
The new Kobi Gondola links Gudauri with Kobi, which is a town further up the valley towards Stepantsminda. This has opened up some north facing terrain and even more side country. 
It also means that it is possible to find accommodation near Kobi or in Sioni and Stepantsminda, where prices are much cheaper than in Gudauri itself.
A car would be required for this option though and skiing down to Kobi from Gudauri is not really an option yet. Kobi is a pretty uninspiring place at the moment with a massive tunnel being built close by. However, once finished I hope Kobi will get a facelift.
Some of the best ski touring of the area can be accessed from the Kobi valley region.
Be aware that the closing time for the Gondola back up to Kobi pass from the Gudauri side is 4.30pm. However, a taxi ride or Marshrutka from Gudauri to Kobi won't break the bank if you do miss the last lift. Plus the views over the Jvari pass are stunning.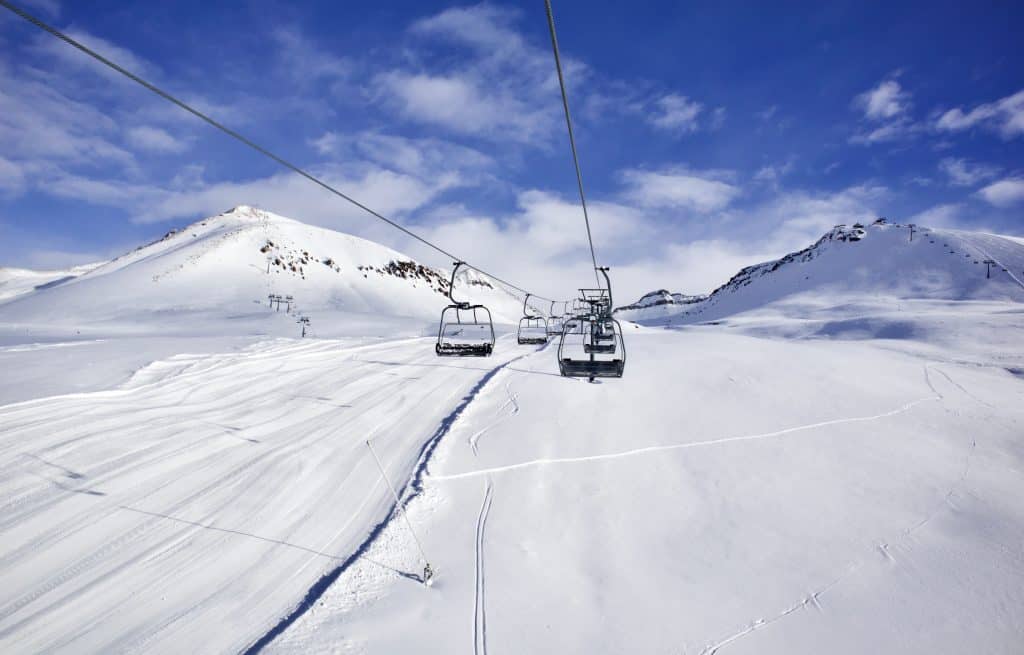 Gudauri Ski Pass
Lift passes are very good value for money, with a 6 day pass for Gudauri in 2022 costing 266 GEL  ($90.40) for an adult (half price for children). For those, like us, who plan an extended visit, there is a season ticket covering Gudauri and all the main ski areas of Georgia for 600 GEL ($204) (2021/2022).
This is less than the cost of a week in most Alpine resorts and the equivalent to a day in Vail, CO!
Check out all the prices here.
Gudauri Opening Times
The ski season in Gudauri typically runs from late December to late April, weather and conditions permitting. Like many things in Georgia, lifts run at the rather leisurely hours of 10:00 – 17:00. A word of warning, don't expect the lifts to open on time after heavy snow!
Night skiing is available on the weekends and specific night skiing passes are available.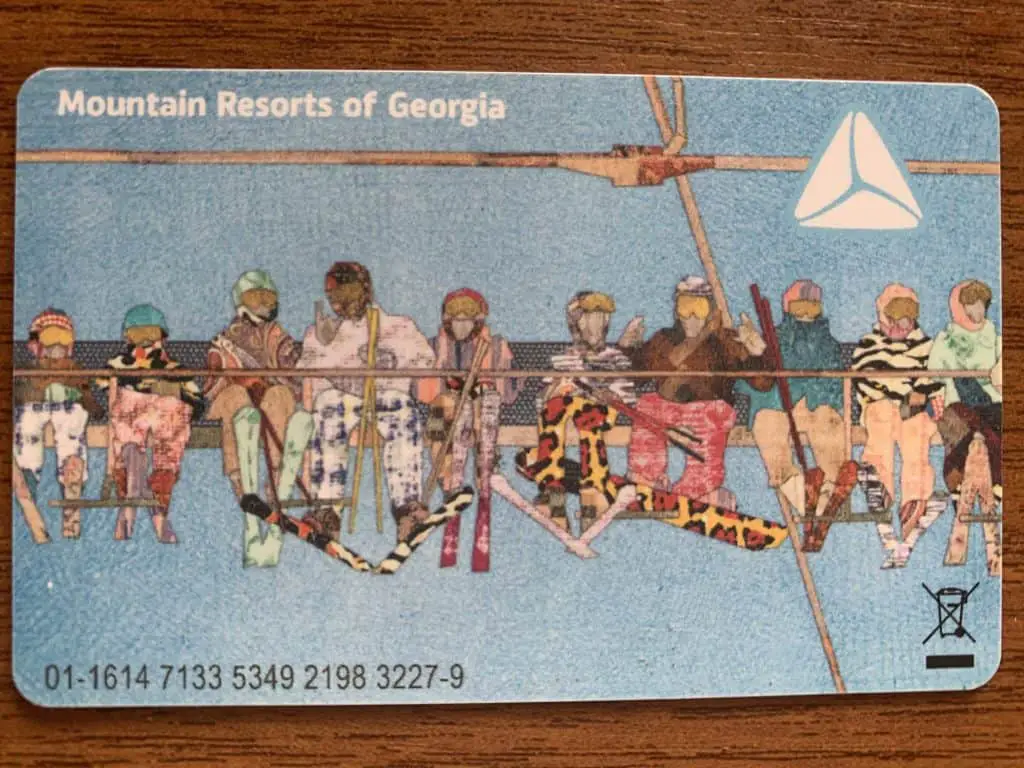 Ski Lessons and Rental Options
One of the renowned ski schools is Vagabond which has an international team of instructors offering regular skiing lessons, right through to ski touring and private tours. There are many ski instructors to choose from and for more information click here. Expect to pay around 60 GEL ($20) per hour for a lesson.
There are a plethora of ski rental shops spread out around Gudauri, with the most situated in New Gudauri at the base of the Gondola. Rental shops such as Buru and Adrenaline will provide ski rental for around 35 GEL ($10) per day. Many hotels will also offer their own ski rental service.
Keep up to date with our latest adventures on the following channels 
Groomed Runs/Pistes
Gudauri offers 80km of groomed runs for skiers and snowboarders to enjoy. There are just 2 black runs running off Mt Sadzele, fed by the lift of the same name. There are 4 red runs and the rest of the trails are blue. This makes Gudauri a great beginner and intermediate friendly resort.
Most of the beginner slopes are near the resort bases as you might expect, with some up at the mid station above New Gudauri. This is perfect for late season skiing when the snow line retreats.
All the runs are well groomed and from the top station it is possible to get a nice long run to the base. Pretty much all the terrain between the marked runs is skiable too, so when conditions allow there is great off-piste skiing, especially for intermediates.
Important note: During our stay the Sadzele lift was closed. This feeds the peak of the same name on which are the best red and black runs. This is the lift that infamously malfunctioned several years ago. So during our stay, unless you had touring equipment or were prepared to boot pack up, this area was closed. Hopefully future lift expansion will address this.
Gudauri Snowpark
Once there is a suitable base level of snow, there is a Snowpark in Gudauri which is serviced by its own 3 person chairlift. The Snowpark has a series of medium sized jumps, medium sized rails and a box line for beginners.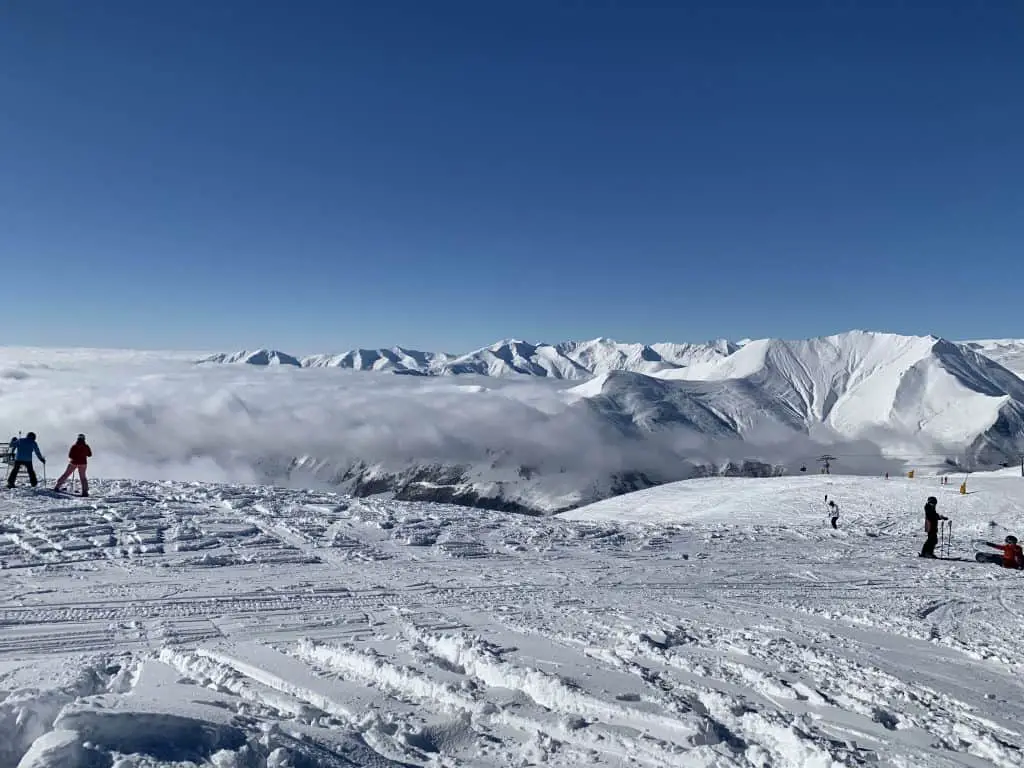 Off Piste, Back Country and Ski Touring
Gudauri is a great place for intermediate skiers to get a taste for off-piste skiing. There is a huge amount of fairly easy, off-piste territory between the runs to practice. There is also a good selection of Ski Schools offering off-piste and back country courses. (Check out Vagabond Adventures)
Where Gudauri does come alive for expert skiers is the back country skiing, which is potentially endless. There are several Freeride areas marked on the trail map, which can be accessed from the chairlifts along with some boot packing/skinning and for which avalanche equipment is recommended.
Be aware that some of these areas spit you out on the Military Highway, a long way from the ski resort, so it's best to arrange transport to pick you up. Alternatively chance your luck with hitchhiking.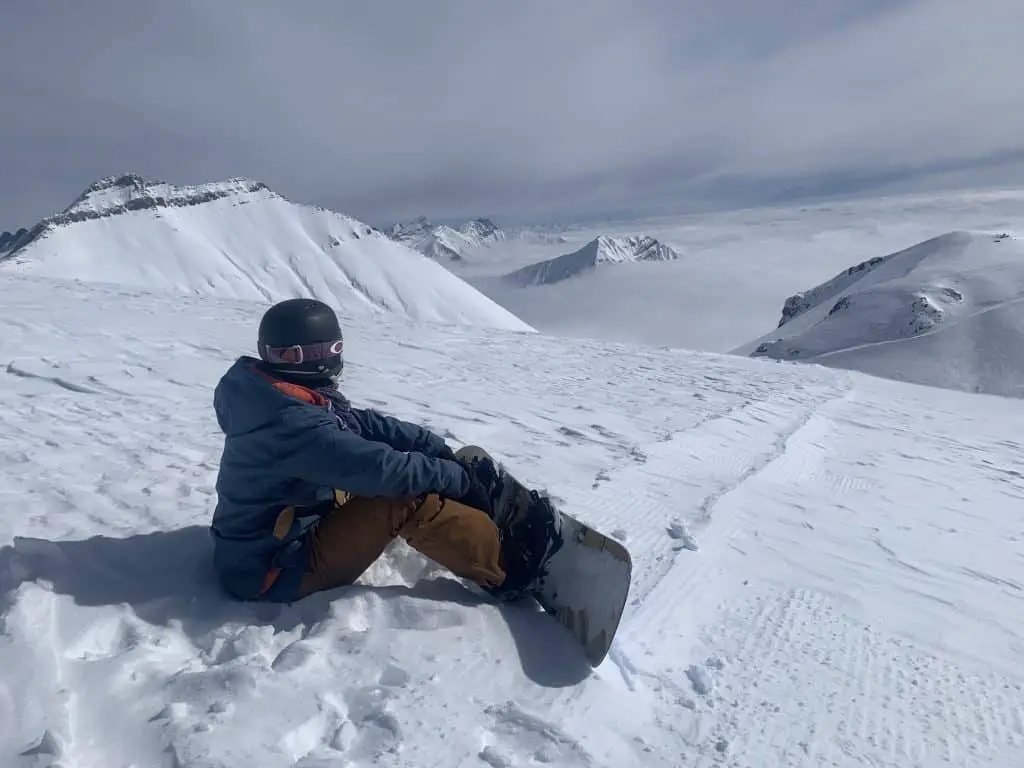 Ski Touring and ski mountaineering are becoming more and more popular in Georgia as a whole and the mountains around Gudauri offer some great routes for day tours, right through to multi-day camping routes (when conditions allow).
There are many publicised routes, both long and short and a growing number of guiding services available offering courses for people new to ski touring. These include avalanche safety courses and organised tours for experienced skiers and ski mountaineers looking for big adventures.
There is a series of guide books covering the main ski touring routes of Gudauri and other areas by Oleg Gritskevich. He appears to be the one of the leading lights in the region and also runs some interesting tours around Georgia and Turkey.
A useful site to check out for backcountry routes is Ski Tour Caucasus.
Heliskiing is also possible in Gudauri and the Kazbegi region. 800 Euros will buy you 5 runs on a helicopter skiing trip. All safety equipment is provided. There is a Heli Ski office based in Marco Polo Hotel or you can visit the websites below.
Heliksir – Heliski Caucasus 
Tel. + 995 595 404 606
Tel. + 995 595 350 900
www.heliksir.com  
Gudauri Heliski 
Tel. + 995 591 119 581 
www.gudauri-heliskiing.at 
Backcountry Gear
Avalanche safety equipment is essential for all this backcountry adventuring. You can rent avalanche equipment at Buru Sports but it's best to bring it with you. Ski shops in Gudauri are limited in general and none of them currently sell avalanche equipment.
Here is the safety equipment Nick and I use for our backcountry adventures:
For more information on ski and snowboard gear in general click here.
The Snow
Snow conditions will undoubtedly vary from day to day, week to week and year to year. We spent a month in Gudauri and experienced a range of conditions. Although it snowed very little for the first two weeks resulting in some hard packed runs and totally tracked off-piste, we did see decent snow in the following two weeks.
That said it is high and cold enough for snow to persist in reasonably good condition for a long time, especially on the upper mountain.
The off-piste does get tracked out quickly, but even a week or so after a snowfall it is possible to find little stashes here and there. A short skin up into the Freeride areas will open up some nice powder. Ski touring enthusiasts will find endless opportunities in the back country. The local guides will know where to take you.
The resort is south facing so whilst being lovely and sunny, the lower slopes in particular can suffer as a consequence. In the morning it can be very hard and crusty, becoming softer as day wears on. There is snow making equipment on some of the busy runs, although we didn't see them working at all even when the lower runs we getting really thin. (like mud patch thin!)
Up at the mid-station and higher the snow remains in decent condition, especially on the pistes which are well groomed every night.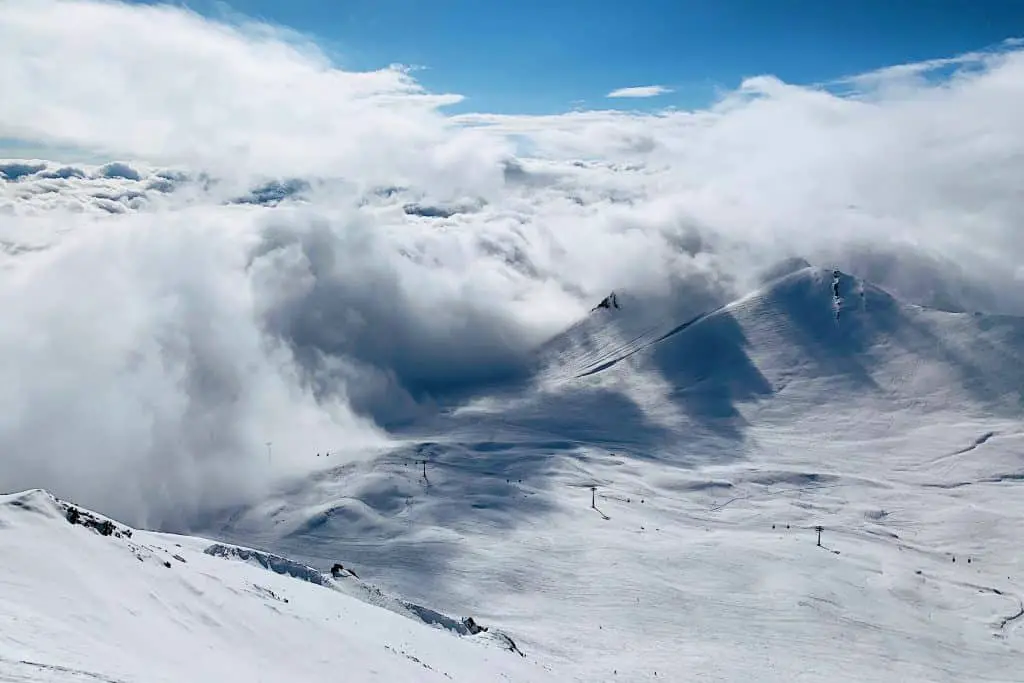 The Weather
There are plenty of bluebird days throughout the ski season. The only downside to this is you might have to wait a bit for fresh snow. The snowiest month seems to be March.
January and February are typically quite cold, so powder can still be found around for about a week after a snowfall especially up high. Longer in the back country.
When there is low cloud or if it's snowing, visibility is very poor. Since the entire resort is above the tree line, there are few defining markers on the landscape. This makes white out conditions very tricky.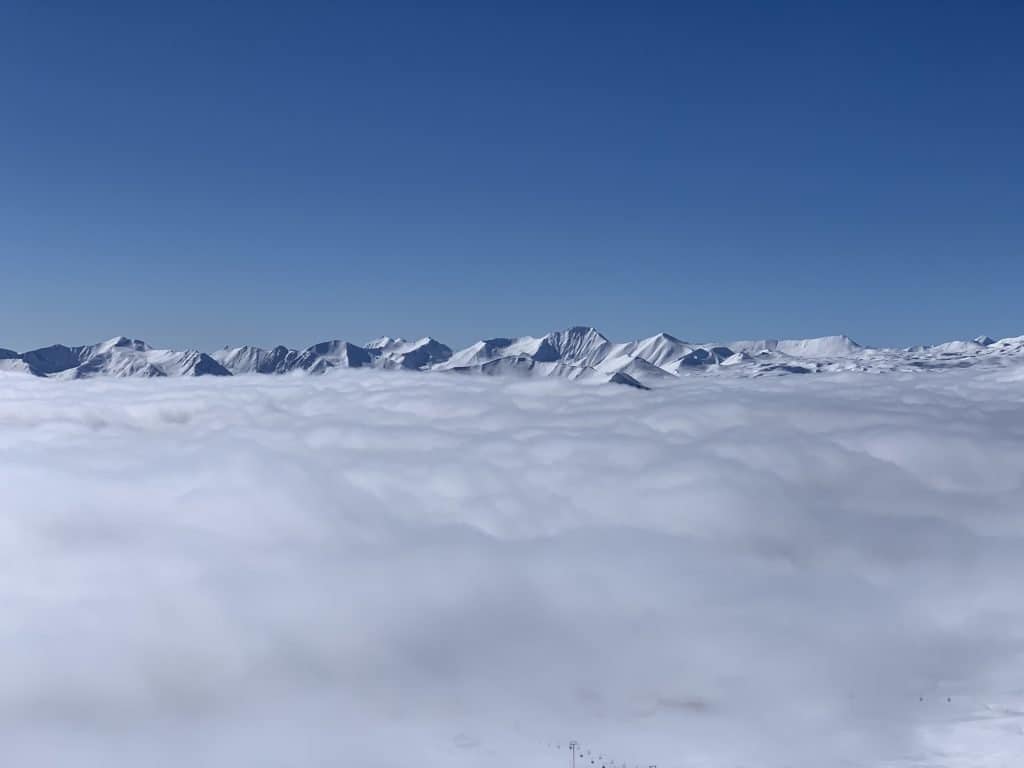 Where To Stay In Gudauri Ski Resort
The options of where to stay are varied. Gudauri is a well developed resort with a good choice of hotels, modern and old soviet style apartments and even hostels offering good deals including meals if required. Accommodation in Gudauri tends to be rather expensive when compared with the rest of Georgia, especially for ski in, ski out options. 
For those seeking a nice 1 or 2 week holiday I would suggest looking at accommodation in New Gudauri, as everything you might need is there and it's away from the busy highway. Old Gudauri and the other centres of the resort are a little spoilt by the road, but once the new tunnel is finished and the trucks are gone, these areas will be most likely be transformed.
For a luxury visit look no further than Gudauri Lodge. This hotel is ski to door and has an indoor swimming pool and outdoor hot tub to ease those aching muscles after a long day on the slopes.
B&B or half board options can be a great option, as Georgian home cooked food is filling and rarely disappoints. Hotel Winerooms has some great half board deals and is located along the Highway. Gudauri House of the Sun also offers half board options and has a lovely cabin feel, with a shared terrace and lounge area.
For the budget minded or independent traveller there are several low cost hostels, some with a bit of a party vibe. Ideal for those looking to meet fellow travellers and hit the slopes. The Paragliding Hostel is in prime location in New Gudauri. It has everything you'd expect from a hostel, as well as a casino, restaurant and best of all, is ski to door.
Self catering apartments such as Gudauri Loft or Powder Inn are also great options to keep costs down. These are both ski to door properties in New Gudauri. It's worth a trip to the markets of Tbilisi to stock up on food before heading to the resort, as the food shopping in Gudauri is fairly limited.
We found the Spar in New Gudauri to be reasonable for a resort shop, with decent fresh vegetables. The Supermarket in Old Gudauri was very expensive and not so well stocked.
Package tours to Gudauri are limited at the moment. There are a few local operators offering packaged ski touring trips but as yet very little for the recreational skier or for family holidays.
Ski Georgia do offer some interesting options.
Other Winter Activities In Gudauri
Paragliding operators are everywhere.  Representatives will be waiting for you as you get off the chairlifts. A flight typically costs 300GEL and takes around 10 minutes. 
Skidoo safaris run from several points on the mountain, for example at the ski base in New Gudauri or at the top of the Pirveli Lift.
The ski rental shops around New Gudauri also rent sleds which is great for kids or if you want a break from skiing!
Several hotels have spa's such as the Gudauri Lodge, Marco Polo and Gudauri Loft. Another option is Tzar Bani in Old Gudauri, which is a dedicated Russian steam bath but also offers accommodation.
For a complete break from the ski hills, take a day trip to Stepantsminda/Kazbegi and see the incredible Gergeti Trinity Church and Mt Kazbek. Check out my complete guide to visiting Kazbegi here.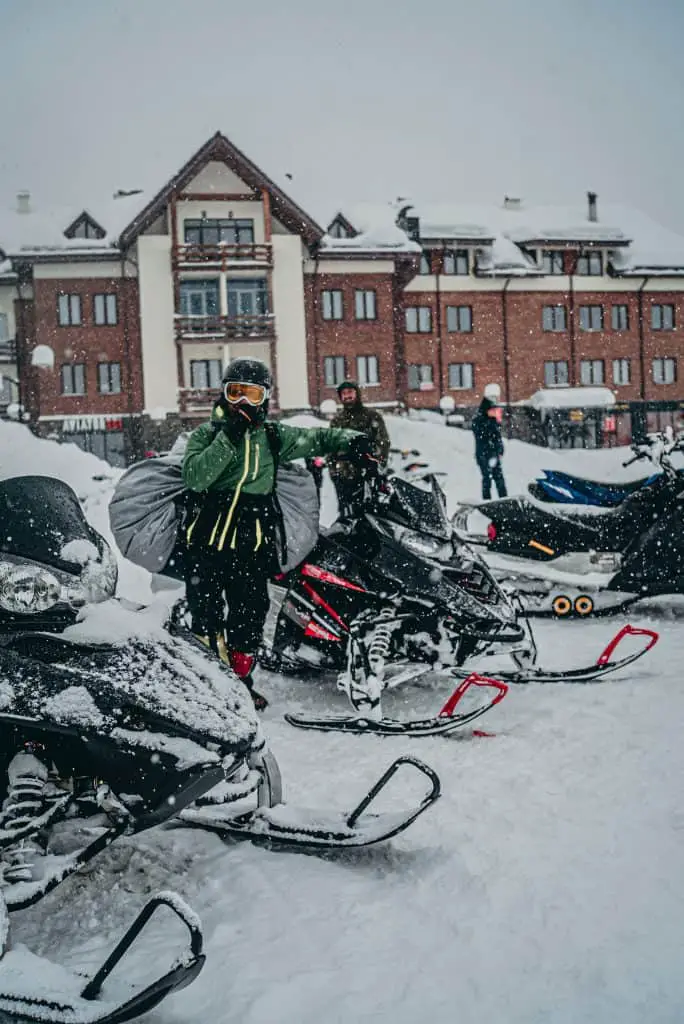 Apres Ski
While Gudauri is a long way behind Europe and North America in terms of Apres options, things are changing fast. A host of mountain cafes, restaurants and bars have popped up around all the ski lift junctions, some pumping out dance tunes.
Some of the bars/restaurants mid-way up the hill offer perfect vistas for sunset drinks. All offer a mix of western and Georgian food and snacks for a reasonable price.
Gudauri Bars
One of the most popular bars in New Gudauri is Gudauri Travel bar. It's a cozy space serving cocktails and a DJ plays good music. It gets busy but that's all part of the atmosphere.
Snow Time Bar is another good option and Powder bar has craft beer! DIDIDisco Bar is the place to dance the night away. The bar scene is likely to evolve very fast, especially if the resort continues to grow at its current pace.
Restaurants In Gudauri
Eating out is relatively cheap and Georgian food is delicious.
There are plenty of Georgian restaurants dotted around the resort to choose from. The food tends to be better than the service, which can be slow especially when restaurants are busy. Lunch can take a long time so if you are in a hurry, one of the fast food style mountain cafes up the hill might be a better option than the restaurants in New Gudauri.
Alternatively, just sit back and enjoy a beer or wine and have a nice tasty leisurely lunch or dinner with you family or friends. Pizzas, burgers and even Indian restaurants are available so theres plenty of choice if you fancy mixing things up a bit.
The Drunk Cherry sets the standards in regards to service, opens late and often has a DJ playing. They serve good Georgian food and some western dishes too. Their outdoor terrace is the perfect place to kick back after a hard day on the slopes.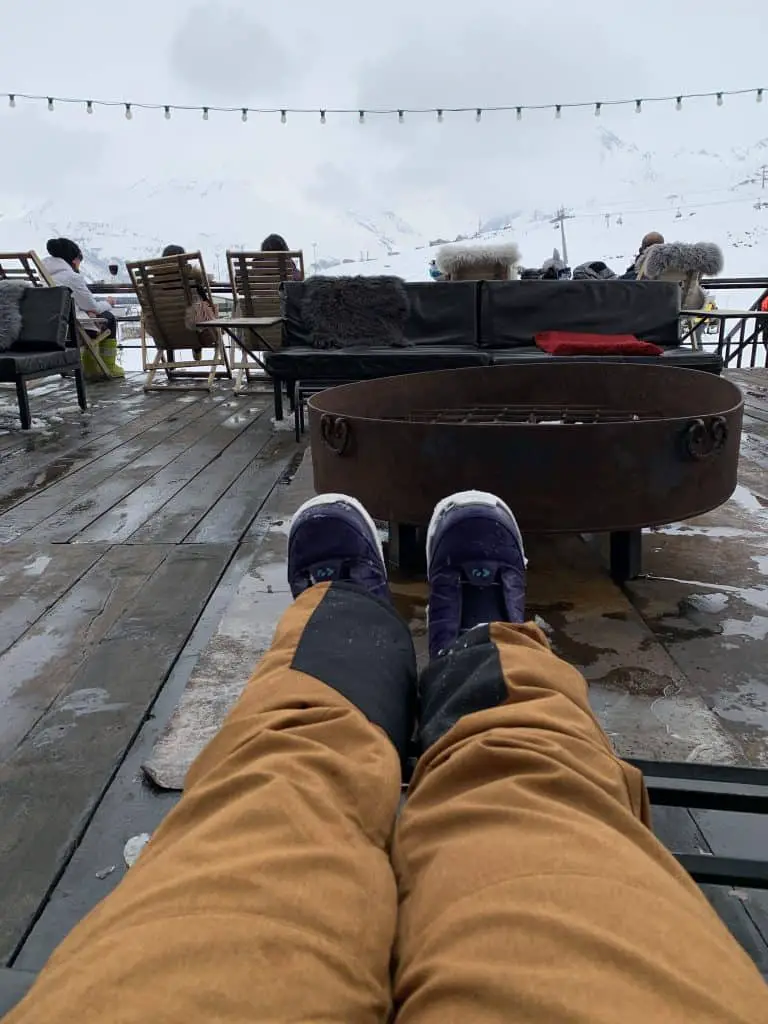 Georgian Food – A Little Taster
Georgian food is delicious and makes the most of seasonal local produce. It's worth trying out a range of dishes so here is a quick list of some dishes to consider:
Khachapuri: This is a kind of Cheesy bread found everywhere. It comes in a few different regional variations, even one with an egg on top. Basically if you had to live on bread and cheese, this is the answer.
Khinkali: Considered by some to be a national dish, these are Georgian dumplings and come with a variety of fillings. They're often filled with lamb or beef in a broth which spills out when you bite into them. They tend to be rather large and very filling. 
Shkmeruli: This is a traditional roast chicken dish with garlic sauce and hugely popular in Georgia.
Lobio: Lobio is a bean soup/stew served in a clay pot which is delicious, although it can be a bit windy afterwards!
Mtsvadi: This is a Georgian Shish kebab, often pork, beef or lamb
Don't expect to loose weight on a trip to Georgia!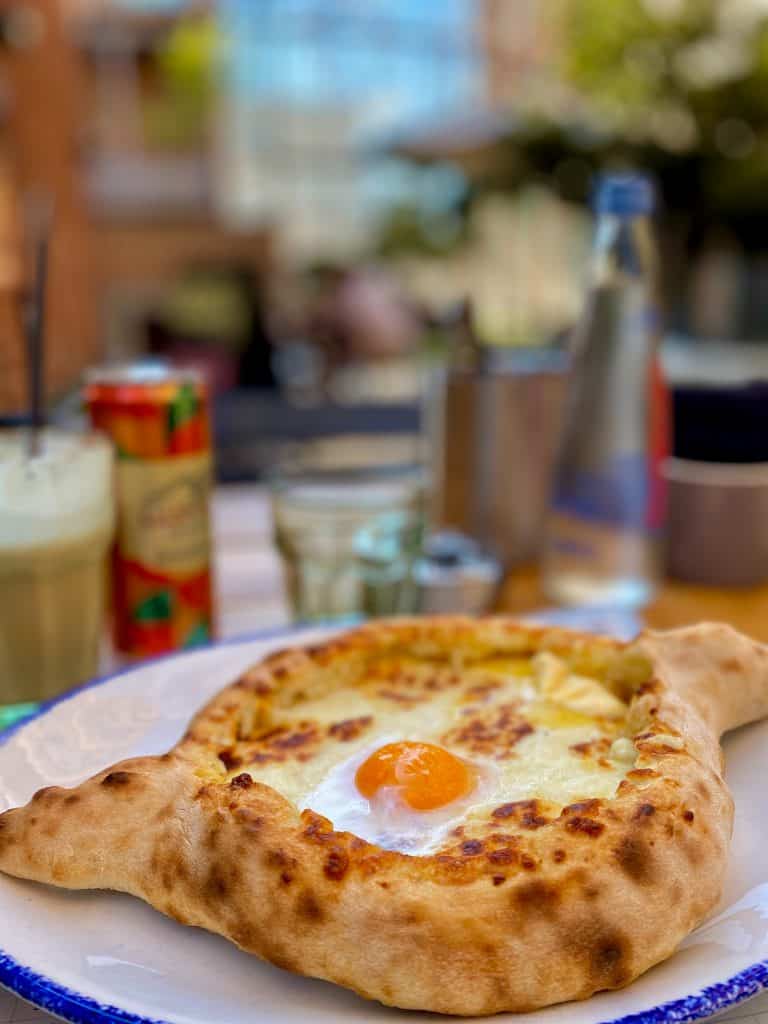 Georgian Wine
We don't come across Georgian wine in the west much, but they have been producing wine in Georgia for millennia. The grapes varieties grown are specific to Georgia and the traditional method of  production involves the use of clay qvevri which are set into the ground.
The process involves using the whole grape to produce an almost black wine with a very distinct flavour. Georgia also employs more modern wine making techniques also resulting in a range of delicious world class wines.
Be sure to try the Seperavi grape wines.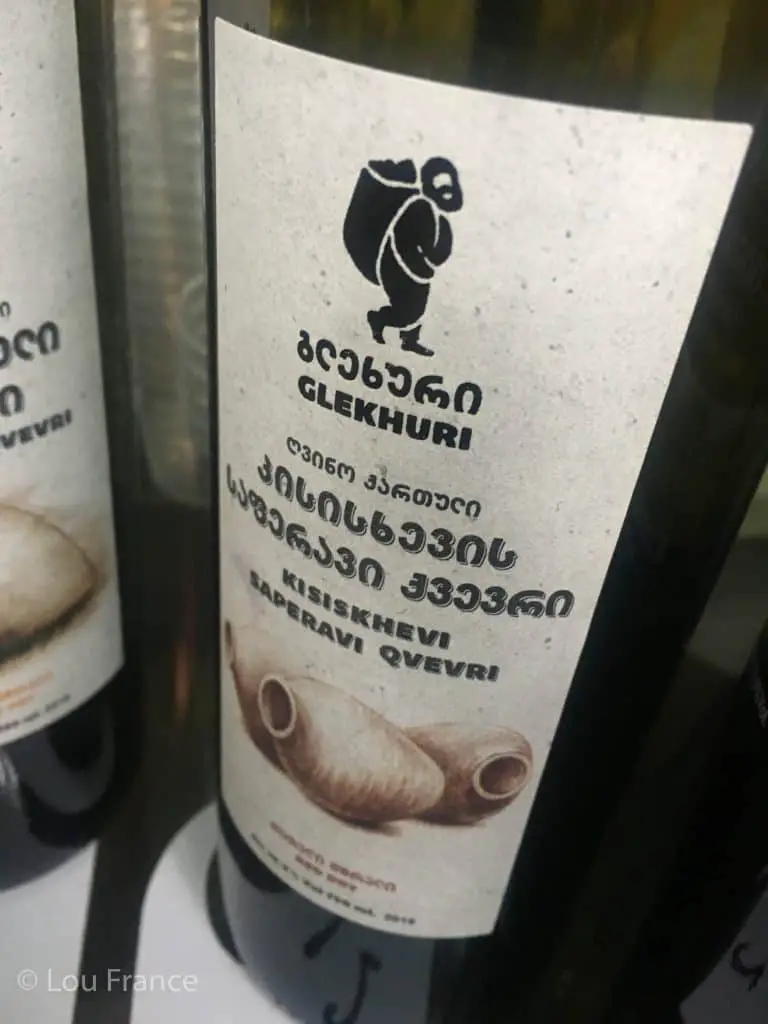 The Pros and Cons of Ski Resort Gudauri
If you are still undecided as to whether Gudauri is worth a visit, here's a list of pros and cons to help you make up your mind.
Pro's
Good value for money
Modern lifts
Great for beginners and intermediates.
Advanced skiers will find some great free skiing options and ski touring
South facing, sunny slopes 
Off-piste areas are very accessible
New Gudauri is a modern resort with everything you need
Skidoos, paragliding and other winter activities are available 
Great wine
Even better food
Stunning scenery of the Caucasus range.
Fascinating culture
Options to combine a city stay in Tbilisi, which is well worth a visit.
Options to visit other interesting sites in Georgia. Some examples include

 Mtskheta

, Gori and Telavi (Wine Tour) amongst others. So if the snow runs out all is not lost!
Some interesting remote skiing options, heli and cat skiing.
A really good choice of ski touring and avalanche safety courses available.
Cons
From the UK, it's a bit further to fly compared to Europe
It's not a quaint Austrian alpine village.
Service in general can be a little slow or unenthusiastic.
South facing slopes can get a bit slushy later in the season.
Piste and lift etiquette is a little "different" from European and American resorts. We actually found this very tiresome by the end of our stay.
Lifties seem a bit lazy or under trained, so expect lumps, bumps and icy patches when getting on and off the lifts.
Maybe less activities available for younger children outside of skiing.
Apres ski is less developed but this is evolving and improving.
Accommodation is surprisingly expensive for Georgia.
Ski Shops aren't the best, although Tbilisi has a good range of ski outlets.
Skiing in Gudauri Summary
Gudauri is Georgia's largest and most popular ski resort. It located in the Caucasus mountains, 3 hours from the capital of Tbilisi. There is 85km of groomed runs serviced by 14 lifts which are a combination of gondolas, chairlifts and button lifts.
With most of the groomed runs being blue runs, Gudauri is a great ski resort for beginners and intermediates. With few red and black runs, at first glance the resort may not offer too much for advanced riders. However, where Gudauri does excel for advanced riders is in the amount of off-piste terrain and Freeride areas.
To use the Freeride zones skiers and snowboarders are recommended to use avalanche equipment. These zones can be accessed through bootpacking or skinning. If you plan to use these areas I suggest bringing your own equipment with you, as rental options for avalanche and ski touring equipment is limited in Gudauri.
Gudauri ski passes are very good value and although accommodation isn't as cheap as the rest of Georgia, it is still comparable with Europe. Overall, Gudauri offers a great alternative to ski resorts in Europe. It's cost effective, offers a unique history and culture as well as hearty food and delicious wine.
Join My Newsletter Today