Kazbegi is a municipality within the Mtskheta-Mtianeti region of Georgia and a popular tourist destination. Kazbegi also refers to a small mountain town in the region, which sits in the shadow of Mt Kazbek. This mountain town is split across a valley with the Terek River running through the middle.
Top things to do in Kazbegi include visiting the Gergeti Trinity Church, walking to the Gveleti Waterfalls, seeing the carved heads at Sno and hiking the Truso and Juta Valleys.
On my trips to Georgia I always include a journey along the Georgian Military Highway to Kazbegi and have seen the region in all seasons. In this guide I outline everything you need to know for your trip to Kazbegi in 2022.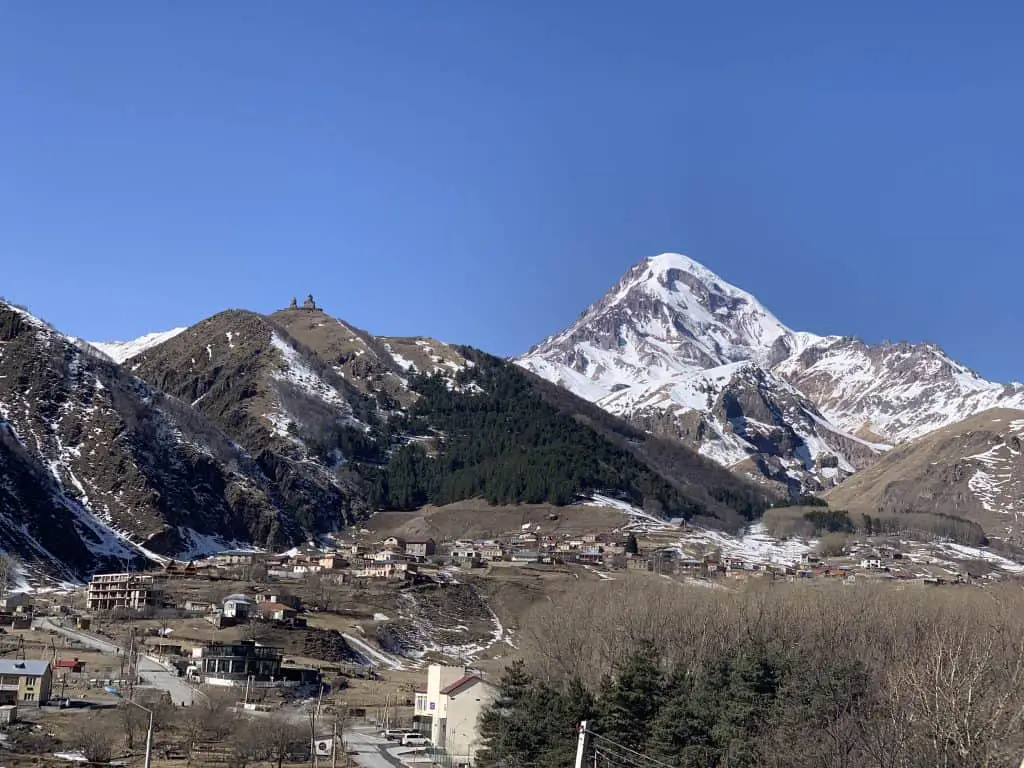 Disclaimer: Some links in this article are affiliate links, which means that if you purchase through them I receive a small commission, at no extra cost to you. This helps cover the cost of running this blog. Thanks for your support!
Kazbegi or Stepantsminda?
Stepantsminda is a small mountain village in the Kazbegi region of Georgia. Originally known as Kazbegi, the village was re-named Stepantsminda in 2006 in honour of Saint Stephen. Stepantsminda is the name you will see written on maps and the name used for booking hotels, however locals still refer to the village as Kazbegi.
So be prepared to use both!
The name Kazbegi is thought to derive from Mount Kazbek, which is the dormant Stratovolcano that looms over the town. At over 5000m, it is the third highest peak in Georgia. According to Greek mythology, Titan Prometheus was chained to the side of a mountain in the Caucasus for all eternity as punishment for teaching mankind how to make fire.
According to the Georgians, that mountain was Mount Kazbek.
How to get to Kazbegi, Georgia
Wherever you're travelling from in Georgia, you will likely need to pass through Tbilisi in order to get to Kazbegi.
How to get to Kazbegi from Tbilisi
The Georgian Military Highway is the main road that leads from Tbilisi to Kazbegi and beyond to the Russian border. This important road was originally constructed in the 17th century. The distance from Tbilisi to Kazbegi is 154km
1. Bus
The cheapest way to get to Kazbegi from Tbilisi is by Marshrutka (mini bus). Marshrutkas depart from Didube Bus Station every hour or every half hour in high season. It costs 13 GEL per person and will take around 2.5-3 hours. Book your bus through Busbud here.
2. Taxi
Private taxis are available for day trips to Kazbegi. You can get a taxi from Tbilisi's old town and the price is negotiable. Expect to pay around 190 GEL / $60. If you prefer to use a private car and driver without the need to haggle, try GoTrip. With GoTrip you can organise your own private itinerary.
3. Self Drive
If you're happy to drive in Georgia it's also possible to rent a car and self drive to Kazbegi. The road is often busy with trucks driving to the Russian border and Georgian drivers are impatient to pass. Like seriously impatient! Along the way there are hairpin corners and extremely dark tunnels (in Winter) so be sure you're comfortable driving in these conditions.
Car rental starts from around $35 per day. In winter you might want to consider a 4 wheel drive car and definitely check the Jvari Pass is open, as this can sometimes close with heavy snow. Check car rental deals here.
4. Tour
There are also many tours and day trips that visit Kazbegi and the cost depends on what is included. On a walk around Tbilisi's old town you will undoubtedly be offered these tours on multiple occasions. If you don't want the hassle of negotiating prices, book your tour with reliable companies here.
Where to Stay in Stepantsminda, Georgia
Boutique 
If you want the best hotel in town with incredible mountain views, modern rooms and a beautiful outdoor terrace, check yourself into Rooms Hotel.
Guesthouse
The Veranda Guesthouse is near the town centre and offers comfortable rooms with a balcony. The shared living spaces also offer beautiful views of Mt Kazbek and the hearty breakfast will certainly fuel your hiking needs.
Budget
For a budget friendly option close to the town centre try Sunny Mountain House. The rooms come with their own kitchen and there is a shared lounge, terrace and BBQ facilities.
Check out todays best deals in Stepantsminda below.
The Best Time to Visit Kazbegi
Summer is the best time for trekking in the region so if that's your main aim then definitely go for that option. This is of course the busiest season though so be prepared for crowds.
In Spring the valleys burst into colour with wildflowers and in Autumn the trees turn magical tones of orange and yellow. These seasons will be less busy than Summer. Having been to Kazbegi several times, my favourite season to visit is during Autumn. Perhaps that's the photographer in me.
An equally impressive time of year to visit though is during Winter. During Winter, Mount Kazbek is covered in snow and the waterfalls become playgrounds for ice climbers. The valleys are closed for hiking and the Jvari Pass may temporarily close with heavy snowfall. However, nearby Gudauri Ski Resort comes to life as a winter Mecca for powder hounds. It's also a good hill for beginners!
If you want to learn more about skiing in Gudauri, take a look at this guide.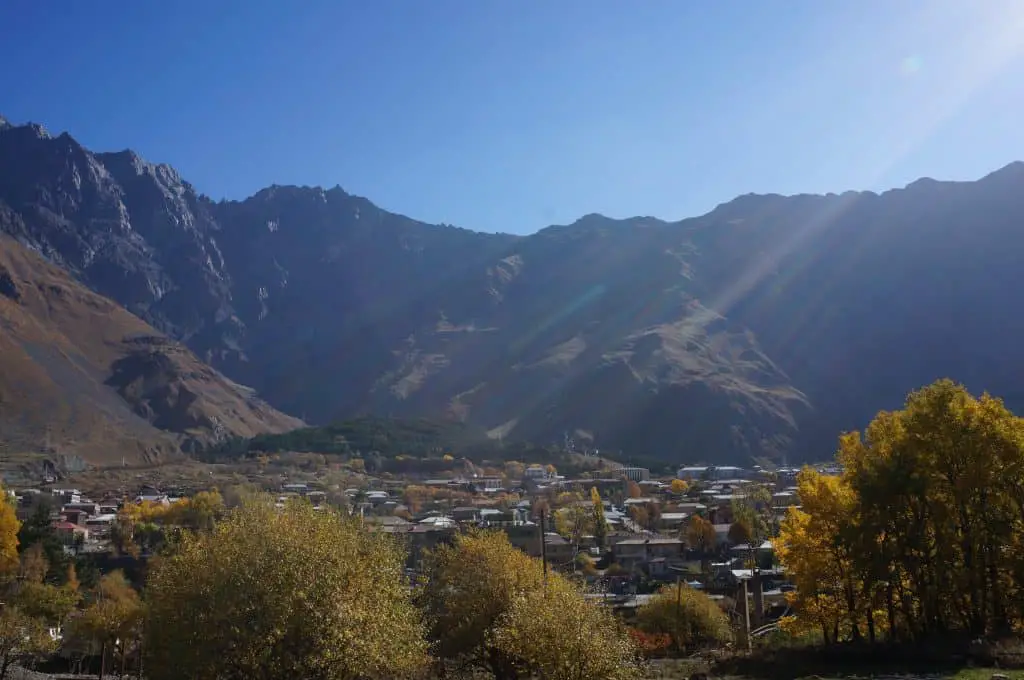 The Best Things to do in Kazbegi
Here is a map of Kazbegi with all the top things to do, places to see, hotels and restaurants that I talk about in this guide. For hiking I actually prefer using Maps.me as it has offline maps and topographical layers.
If you plan on doing hikes around Kazbegi, I strongly recommend picking up a physical map of the Caucasus.
1. Visit Gergeti Trinity Church
The most famous and popular thing to do in Kazbegi is to hike to Gergeti Trinity Church. This church perches on the edge of a cliff with the mighty Mt Kazbek looming behind. The church sits at 2170m and is still an active Georgian Orthodox Church.
A hike from Stepantsminda to the church, through a picturesque valley takes around two hours to complete. The trail is marked by red and white trail markers and is around 3.5km one way. This hike approaches the church from the west through a picturesque gorge. Along the hike you will be able to appreciate the church and the mountains from various different angles and is well worth the effort.
If hiking is not for you, it's now possible to take a jeep ride to the top. These cost from 15 GEL per person or around 60 GEL per car, but again be sure to negotiate if you have a group of people. The drive takes around 20 minutes one way. Taxi drivers offering their services can be found all around town and at carpark after the turn off for Gergeti from the Highway.
Admission to the church is free.
Kazbegi Travel Tip: The Gergeti Trinity Church is a popular destination on day trips from Tbilisi, so if you want to avoid the crowds, visit early in the morning.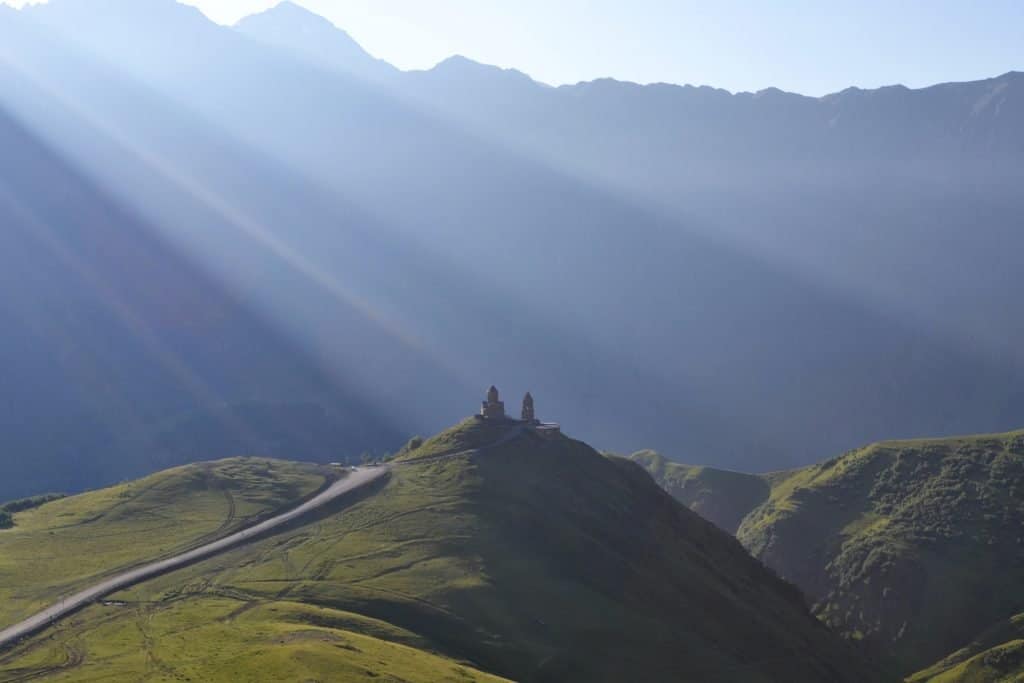 2. Hike to Gergeti Glacier
If hiking to the church is only a warm up for you, you might want to consider hiking another 3.5 hours on to the Gergeti Glacier. From the church walk in the direction of Mount Kazbek At the car park take the path that heads uphill. Eventually the path will fork into two. Both trails merge at Cross Memorial so you can take either trail.
From Stepantsminda to the foot of the Glacier is almost 10km one way so this will be a full day hike. (8-9 hours). There's also a lot of "up" involved in this hike as the base of the glacier is at 3200m above sea level. From Stepantsminda that's a total of 1600m so be prepared and come armed with plenty of water and snacks.
For a packing list of everything I take on a hike like this one, take a look at this complete guide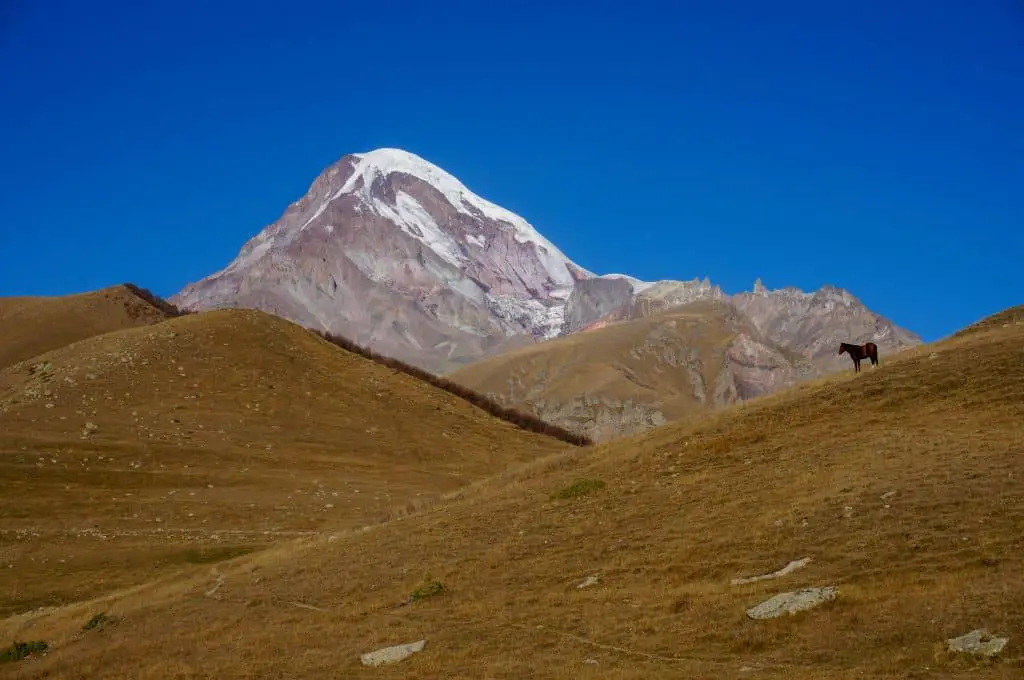 3. Have Lunch at Rooms Hotel to Enjoy Views of Mt Kazbek
For arguably the best view of Mount Kazbek with Trinity Church just in front, take a walk up to Rooms Hotel. Sit back and enjoy a relaxed lunch on the outdoor terrace whilst you soak up the incredible views.
Alternatively you could opt to spend the night here. Splash out on a room with a mountain view and enjoy views of Mount Kazbek, directly from your bed. Be sure to rise early and catch sunrise over the Caucasus – I promise, you won't regret it! (Check the weather forecast first though as it can often be cloudy in the mountains!)
Check availability of Room Hotel here.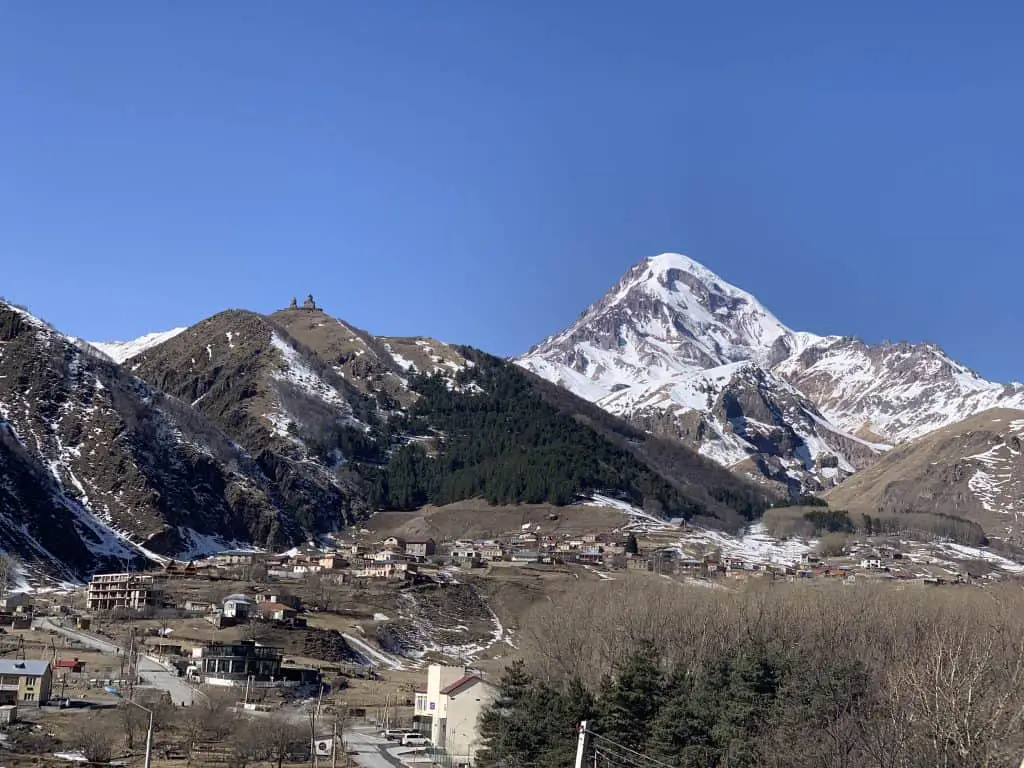 If you're enjoying this content consider following me on social media
4. Walk to Gveleti Waterfalls
Not long after driving north out of Kazbegi, the landscape changes yet again. The Dariali Gorge runs the length of the drive from Kazbegi to the Russian border. The road clings impressively to the side of the gorge and offers spectacular views as you travel.
After 8km there is a left turn for the small hamlet of Gveleti. Just after the road turns back on itself, there is a small car park on the right hand side. You can park your car here for 3 GEL and walk the rest of the way. If you have a driver with 4WD he will likely drive further up to the start of the trailheads.
From the car park it's 850m to the start of the trailheads. The trail to the left is around 300m and leads to the smaller and less busy waterfall. The trail to the right is around 600m and leads to the larger, more impressive waterfall. If you want an easy hike in Kazbegi, then I'd definitely recommend these waterfalls.
Try and time your hike here for late morning when the sun lights up the valley. There are several campsites in this valley which would make an amazing place to stay if you prefer nature over hotels and guesthouses.
In winter these waterfalls freeze over and are possibly even more impressive. However, the trails can be quite dicy when they're covered in snow and ice, so come prepared with good footwear!
Discover more things to see in Georgia in this guide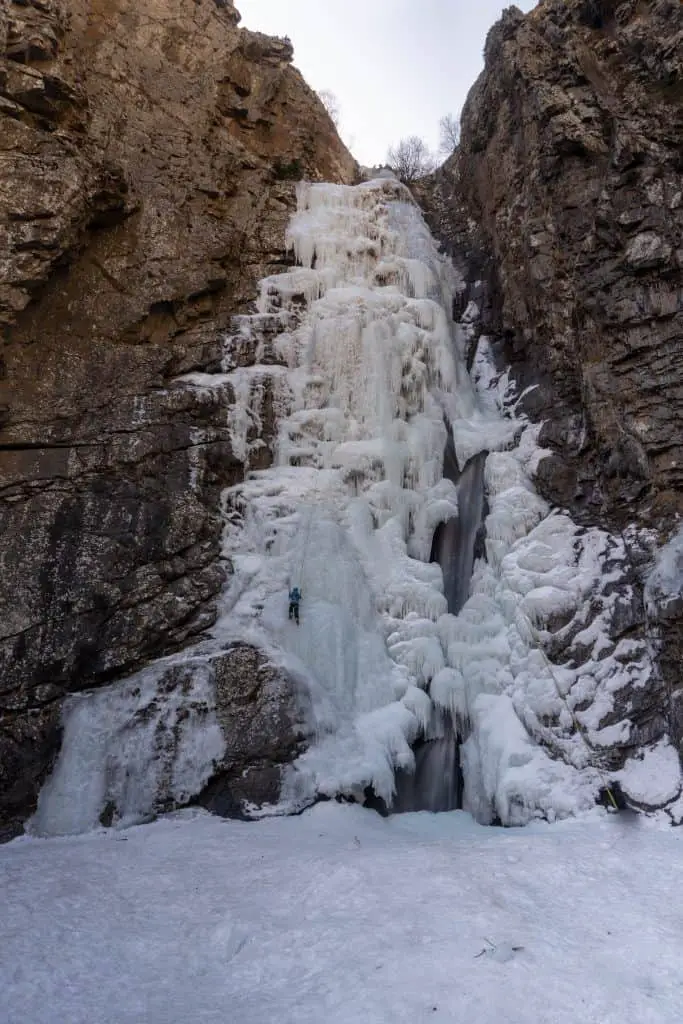 5. Visit Dariali Monastery Complex (Archangel Monastery Complex)
Further along the highway, almost at the border with Russia you will find Dariali Monastery Complex. This impressive complex unites several churches but the main church is dedicated to Archangels St Michael and St Gabriel.
Entrance to the complex is free and a respectful dress code is required. Carry your passport for this trip as it's located close to the border. Mountain Freaks offer a daily bus to Dariali for 45 GEL return. Find their timetable here.
Don't Forget Your Travel Insurance!
For the best deals on travel insurance, check out Safety Wing.
6. See the Sno Stone Heads and Castle
Around 4km south of Kazbegi, just off the Military Highway is the village of Sno. Just before entering the village, on the right hand side, you can find a collection of carved stone heads. Each of these heads is a sculpture of an important person from Georgian history, such as poets and kings.
There is no official entrance fee but there is a donation box in the car park with a suggested donation for the sculptor, Merab Piranishvili, of 5 GEL.
Each head is carved from a single block of locally sourced stone. His goal is to carve 500 heads in total, so he's still got a lot of work to do! This is certainly the most quirky things to see in Kazbegi.
Continue into Sno, turning left at the roundabout. Cross the river and you will arrive at the remains of Sno Castle. This 16th century castle sits atop a rocky outcrop which you can scramble up for closer inspection.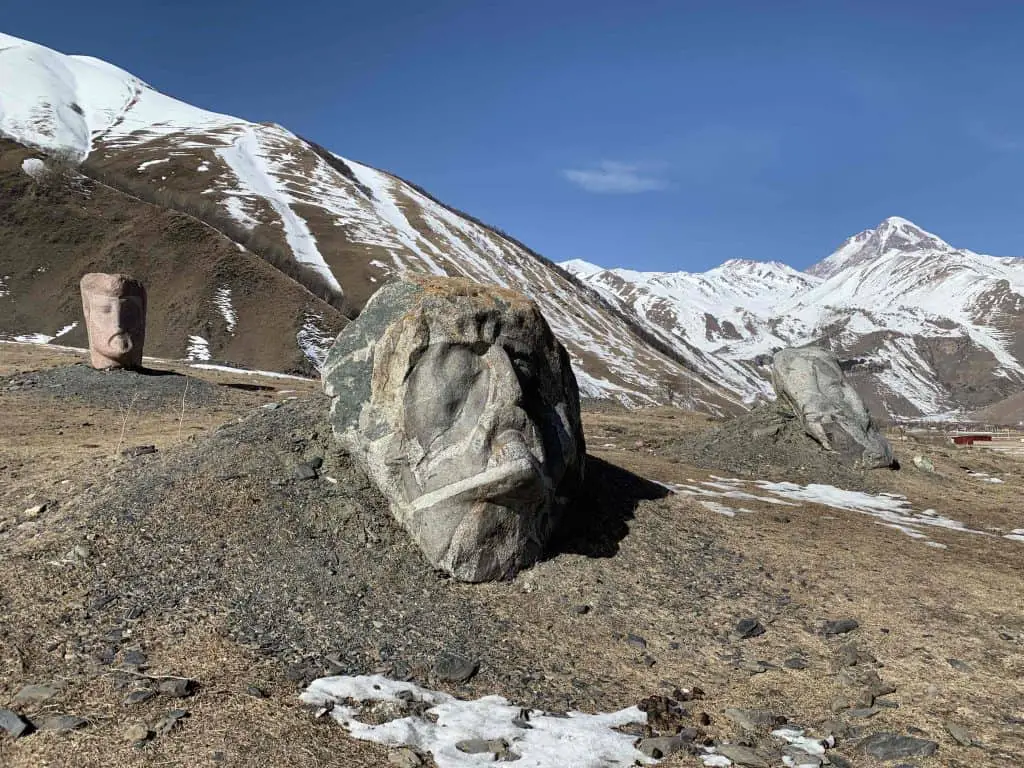 7. Hike Juta and Sno Valley
Trekking in Kazbegi will be at the top of the list for many who visit the area. Billed as the Dolomites of Georgia, Juta is a spectacular valley to enjoy a hike. Juta village sits at 2150m above sea level and is the starting location for several hikes. The Fifth Season Cabin offers food and accommodation to day trippers and multi-day hikers alike.
One of the popular hikes heads up Chaukhi Valley towards Chaukhi Pass at 3338m. Another option is to hike to Artkhmo Gorge. Mountain Freaks offer twice-daily transport to Juta in the Summer months for 45 GEL and a private taxi will cost around 60 GEL.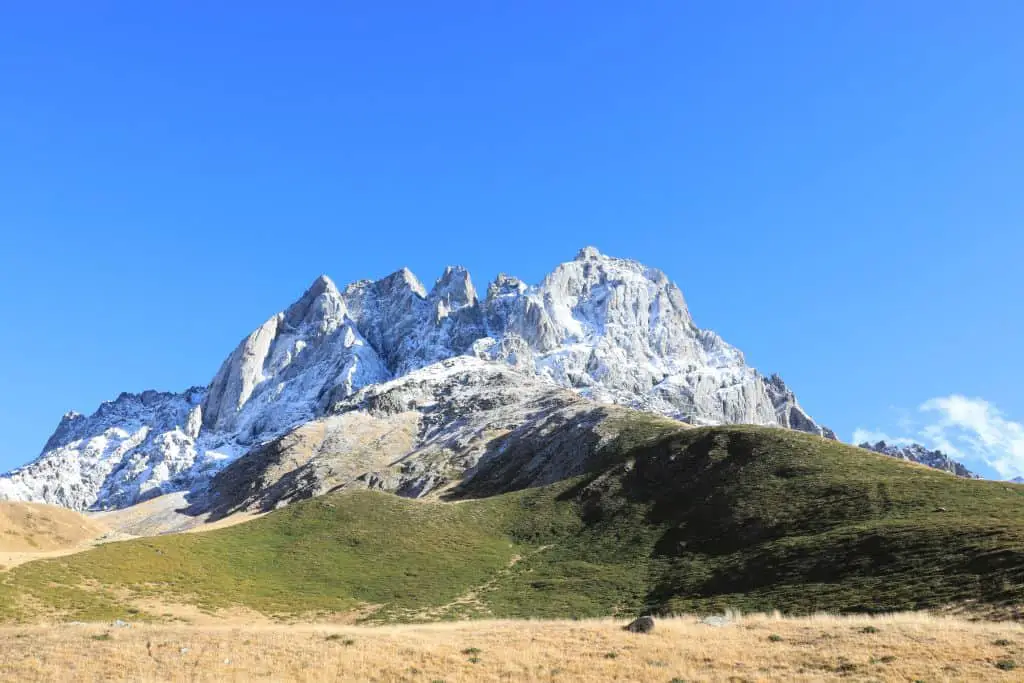 8. Explore Truso Valley and Zakagori Fortress
Truso Valley is another gorge with stunning wild landscapes and colourful springs. One option is to hike from Kvemo Okrokano village to the impressive Zakagori Fortress, which sits on the border with Ossetia. Whilst not big in elevation gain it's a long hike at 22km round trip.
Another option would be a slightly shorter hike to visit the small hamlet of Abano which has ancient Georgian towers. On this Kazbegi trek, you will pass a couple of colourful travertines along the route.
Mountain Freaks run daily cars to Truso in the summer months. These take you to Kvemo Okrokana village. The return trip costs 45 GEL. Another option would be to hire a private car in Stepantsminda and negotiate a price. If the vehicle is 4WD they could drive further up into the Truso Valley and shorten the hike to Zakagori Fortress.
Carry your passports for this one as it's close to the South Ossetia demarcation.
Kazbegi Travel Tip: Access to both Truso Valley and Juta Valley is not possible in the Winter months and they generally don't open up until June/July.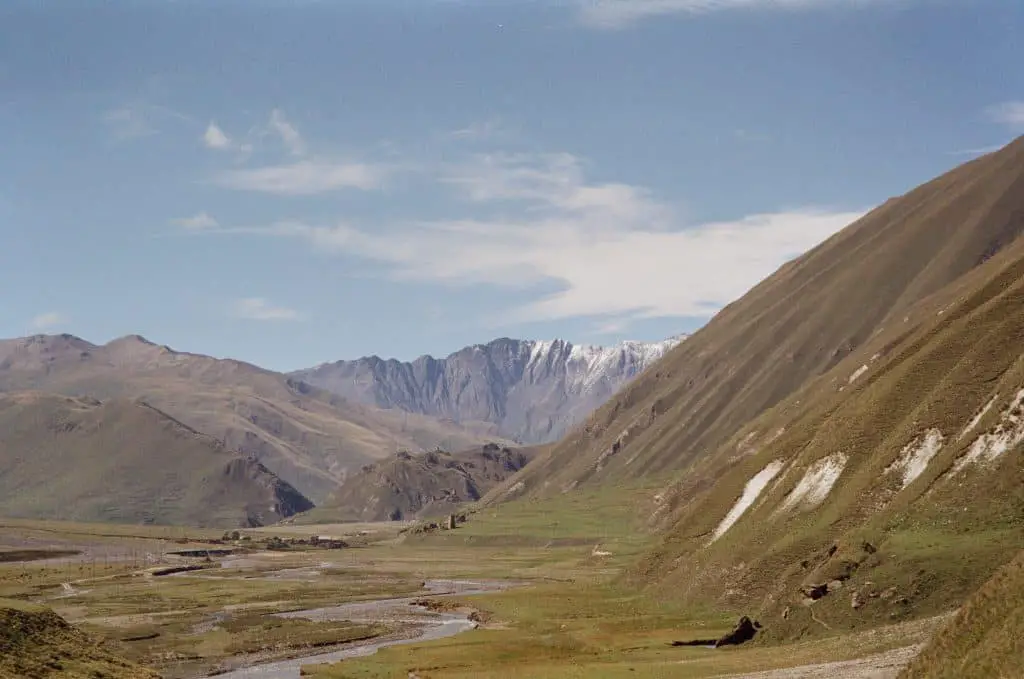 Where to Eat in Kazbegi
The terrace at the Rooms Hotel offers food with the best views in town so be sure to wander up here on your visit to Kazbegi.
For delicious baked goods such as Khachapuri to take away on hike, try Lunch Time which is located on Alexander Kazbegi Street, just opposite the Visitor Centre.
For classic Georgian meals at low prices try Cozy Corner, located on the west side of the river.
Kazbegi Travel Guide Summary
Kazbegi is a region in north Georgia near the Russian border. Along the Georgian Military highway there is a town called Stepantsminda which was also formerly known as Kazbegi. This town is nestled in the  Caucasus mountains and was originally named after Mount Kazbek, which is volcano over 5000m high.
Kazbegi or Stepantsminda is a popular tourist destination in Georgia and is only a 3 hour drive from the capital of Tbilisi. There are many things to do in Kazbegi, with the most popular attraction being Gergeti Trinity Church.
Day trips to Kazbegi from Tbilisi are available, although I would recommend spending several days there to fully explore the area. With more time in Kazbegi you can explore the Dariali Gorge, visiting the Archangel Monastery Complex and Gevelti Waterfalls. You could also hike the beautiful Juta Valley and see the colourful travertines of Truso Valley.
YOU MAY ALSO LIKE
Join My Monthly Newsletter Today