You know the saying good things come in small packages? Well this is definitely true for the little Caucasian country of Georgia. Ever since my first visit to Georgia in 2015 it has remained one of my all-time favourite countries.
In this travel guide I outline the best things to do in Georgia by discussing 7 top Georgia destinations. Travel to Georgia (the country, not the state) is a must for anyone who likes big mountains, a varied history and great wine. 
Sometimes I arrive in a country and it just feels right. I arrived in Georgia on a cold November afternoon from Azerbaijan and instantly fell in love with the country and its people. We stayed that night in a homestay and were introduced to the infamous Georgian hospitality.
We were served deliciously rich food most of which included cheese. We were also provided with an endless supply of very drinkable red wine. I was in heaven!
Travel to Georgia (the country, not the state)
In 2018 I returned to Georgia twice more with different groups, and both times it didn't disappoint. My three visits through Georgia thus far have involved leading overland Silk Road tours. (However, next year I'm hoping to return in my campervan for some winter sport activities!)
Each tour route has been slightly different depending on our exit/entry country and the time of year. As a result I've been lucky enough to see many different parts of this former Soviet country.
Whether you are looking for an active adventure in the mountains or wanting to learn about the distinctive wine making technology, Georgia has something for every traveller.
In Tbilisi, English is widely spoken and trips to all parts of the country can be easily arranged. For those travelling independently, Marshrutkas (public minibus) provide cheap transport to all major Georgian destinations. Guesthouses or homestays are readily available and provide B&B or half board packages.
During my visits to Georgia I have been accompanied by a guide, which certainly provides a more enriching experience when visiting sites. However, it is a very easy country to visit independently.
It is also visa-free unlike most of the neighbouring countries. So with that brief introduction complete, here are my top seven favourite destinations in this small but intriguing country.
Georgia is often included as part of a Silk Route tour, which pass through many of the "stans" such as Turkmenistan, Uzbekistan and Kyrgyzstan.
For more photographs of Georgia, Armenia and Azerbaijan, take a look at this gallery! 
Things to do in Georgia – 7 Top Destinations
1. Mestia: Visit the Guard Towers and hike in the mountains
Nestled high up in the Northwest corner of Georgia sits the mountain townlet of Mestia. It is the main regional centre for Upper Svaneti and has become the starting point for many hikes into the Caucasus mountains.
Svaneti is known for its guard towers which are dotted all around the villages. In Mestia it is possible to take a tour of these guard towers.
During our visit we did a delightful hike through the forest to Chalaadi glacier. Other options include visiting the Church of St George or taking a cable car to mount Zuruldi, to enjoy panoramic mountain views.
2. Kazbegi: Visit Gergeti Trinity Church
I associate a visit to Stepantsminda (also called Kazbegi) with a beautiful hike to Gergeti Trinity Church and copious amounts of cha cha drunk from the horn of a goat!
I'm not recommending copious amounts of cha cha. Neither did I ever particularly enjoy it. However the very jolly host at our Kazbegi homestay was always quite insistent!
Travel to Georgia is always a fun but often rather painful event (on account of all the hangovers!).
Kazbegi, Georgia sits on the Military highway that leads all the way to Russia. It is another great region for exploring the Caucasus mountains. The town is home to the 5000m peak of Mt Kazbegi.
According to Greek mythology, Titan Prometheus was chained to the side of a mountain in the Caucasus for all eternity as punishment for teaching mankind how to make fire. According to the Georgians, that mountain was Mount Kazbegi.
At the base of Mt Kazbegi sits the picturesque Gergeti Trinity Church. A hike from town to the church takes around two hours to complete and offers pretty views of the mountains en route. There is now a road to the church so it is also possible to rent a jeep for the church visit.
3. Tbilisi: Take time to explore the vibrant capital
I'm generally never a fan of capital cities. I find them mostly over-rated. Tbilisi however, is the exception to this rule. It is a city of old versus new. Where crumbling old buildings on one side of the river contrast with curvy space- ship like architecture on the other.
Tbilisi has embraced its checkered past and flung itself forward as a cosmopolitan European city. Travelling in Georgia is not complete without having several days to visit Tbilisi.
Wandering the cobblestone windy streets of Tbilisi's Old Town is a joy in itself but there are many other sights to keep you occupied. You can take a cable car to the top of the city to enjoy panoramic views and to visit the 4th century Narikala Fortess.
Visit the Holy Trinity Cathedral of Tbilisi for its impressive bell tower, take a sulphuric dip in one of the dome roofed bathhouses and dine at Gorgasali for more deliciously rich food accompanied by traditional Georgian dancing.
After dinner join the hipsters and head to Fabrika, where a former sewing factory has been converted to an urban space, which includes a courtyard surrounded by a selection of eclectic bars.
If you happen to travel to Tbilisi in May as I once did, you will be lucky enough to catch the wine festival that takes place in Mtasminda Park. The funicular is the easy route to the top where upon you will find hundreds of stalls from which to enjoy free tastings. A fun and cheap way to spend the day!
4. Telavi: Learn about traditional wine making techniques
Wine tasting in Telavi is an absolute must for any trip to Georgia. Well, unless you don't like wine that is!
Telavi is the main wine producing region in Georgia and a great place to learn about traditional wine making techniques.
Claiming to be the inventor of wine, traditionally Georgian grapes are fermented along with their skins and seeds and stored underground in a clay pot called a qvevri. It is what gives Georgian wine its dark colour.
This 8000 year old practice is even registered by UNESCO!
Schumanns is a beautiful vineyard to visit. Whilst you are out and about seeing the vineyards, pay a visit to Alaverdi Church, where the monks make organic honey vodka. Hiccup.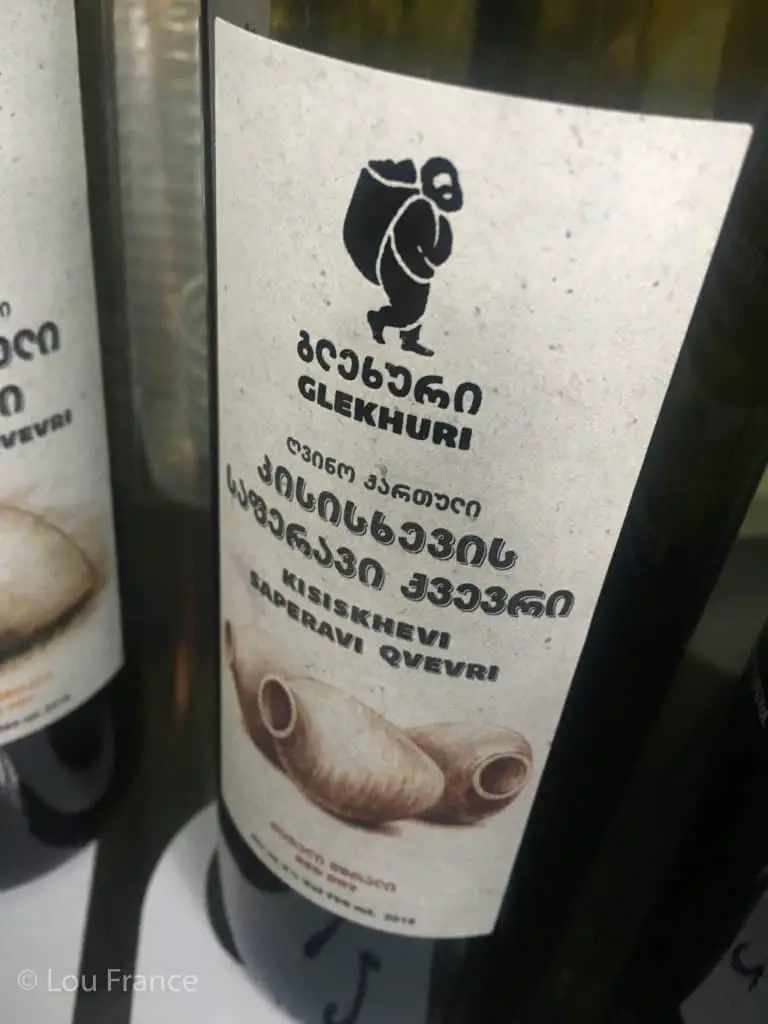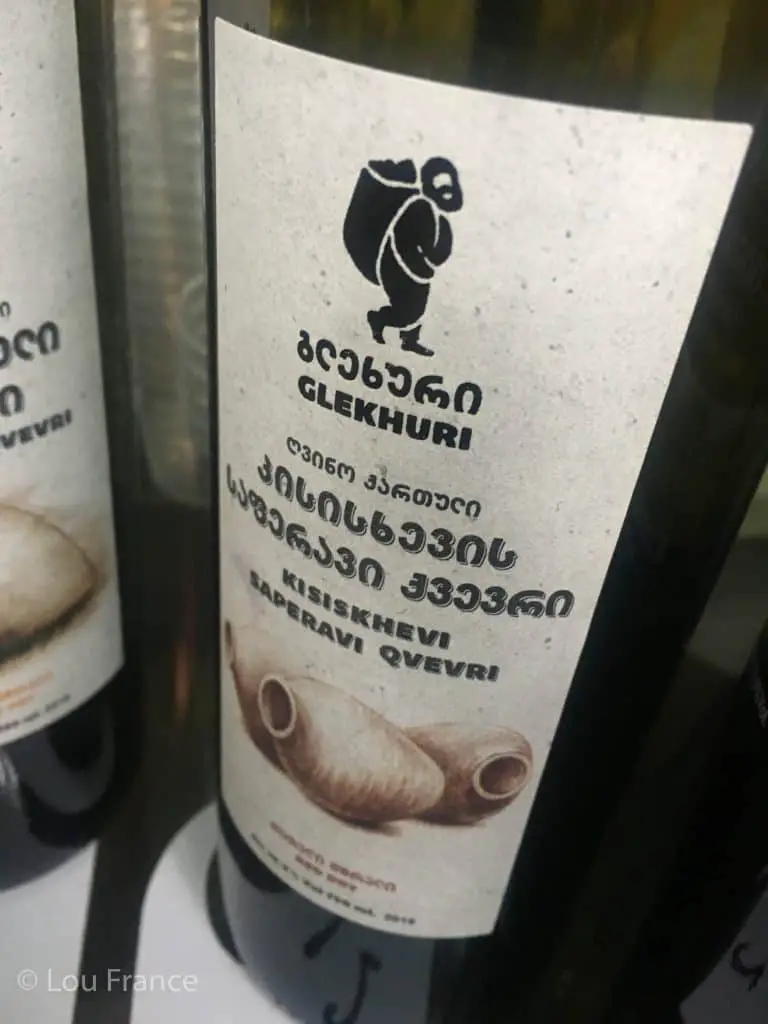 5. Prometheus caves: Wonder at the other-worldly cave formations
If stalactites and stalagmites get you hot under the collar then head to the city of Kutaisi.
East of the city at the top of the hill, you can find the beautiful Gelati Monastery, which is well worth a visit. Then, west of the city pay a visit to the Prometheus caves.
The caves here are lit up in various colours through which you can have a guided tour. If the water levels are right you can enjoy a fun exit from the caves by taking a small boat trip.
6. Uplistsikhe cave houses: Step back in time at this ancient settlement
Perched near the banks of Mtkvari River lies the rock-cut town of Uplistsikhe. This is Georgia's answer to Cappadocia in neighbouring Turkey. Dating back to the Early Iron Age, this fortress is one of the oldest urban settlements in Georgia.
Much of the site has been destroyed over the years but you can still see intricate rock carvings and explore secret passageways. The site also includes a comparatively new 9th century Christian basilica. Uplistsikhe can be visited on a day trip from Tbilisi in combination with the Stalin museum, in nearby Gori.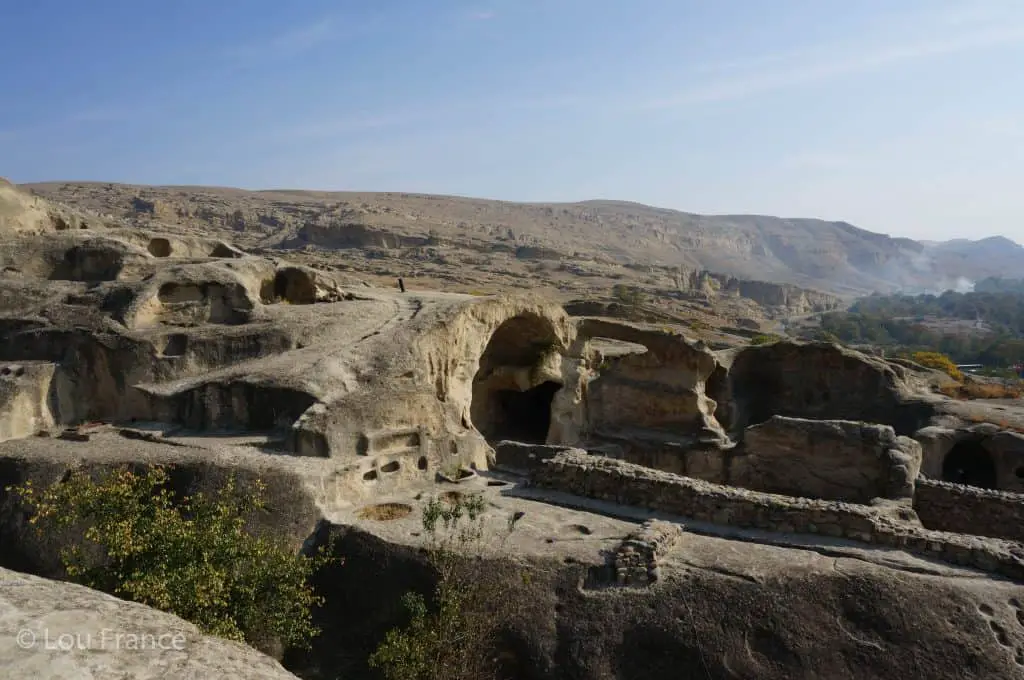 7. Mtskheta: Visit Svetitskhoveli Cathedral.
Mtskheta was the old capital of Georgia and is a great town to visit en route to Kazbegi. The main attraction in Mtskheta is Svetitskhoveli Cathedral. You may see a lot of churches and cathedrals in Georgia but this one holds particular importance.
It was here, during the Kartli Kingdom, that Christianity was first adopted. Svetitskhoveli Cathedral also claims to have part of Jesus Christs' crucifix. The Cathedral is the tallest in Georgia and inside has some impressive colourful frescos.
During one visit to Georgia we were lucky enough to see a traditional Georgian wedding taking place at this cathedral.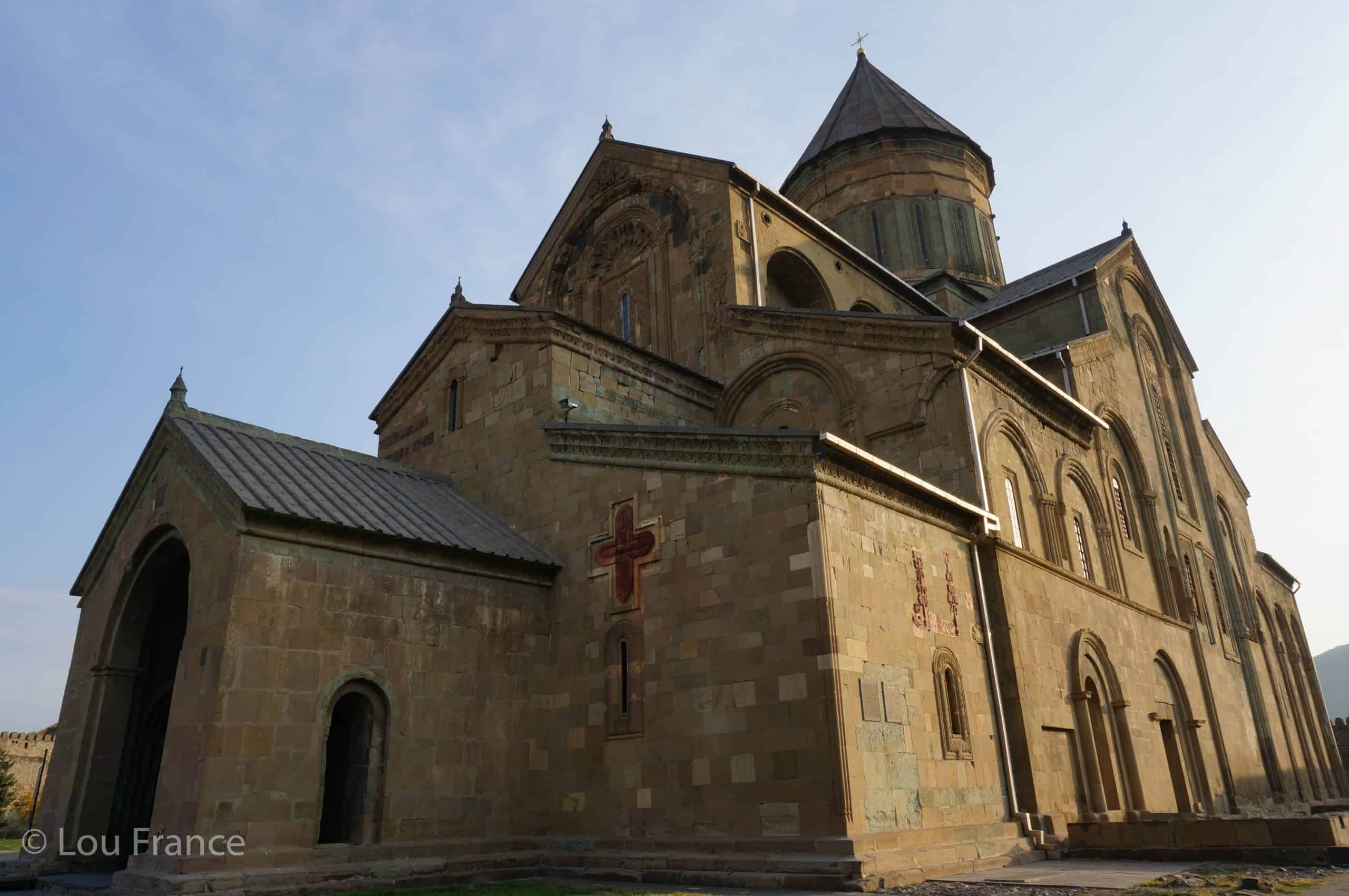 The best time to visit Georgia
As a country that is surrounded by high alpine mountains you might have guessed that Georgia gets pretty cold in the winter months between November to February.
During this time there will be snow in Kazbegi and Mestia, Kazbegi in fact has several ski resorts. So if you want to avoid the snow and cold temperatures, it's best to visit between April and October. July and August are the busiest months for tourists.
For a complete guide to the best time to visit Georgia, take a look at this post.
A Summary of the Best Things to do in Georgia
Georgia is a wonderfully diverse country packed with culture and heritage. Whether you want to hike the wild Caucus mountains, taste wine in the country where it was invented or marvel at the vast array of churches and cathedrals Georgia surely has something for every intrepid traveller.
In this guide I have outlined severn top Georgian destinations that you could include on a visit to Georgia and have hopefully conveyed why I love this country so much. There are many other places you could include on your tour but these are certainly a good place to start.
Have you visited Georgia? Let me know your favourite destination in this fabulous country.
Disclaimer: Some links in this article are affiliate links, which means that if you purchase through them I receive a small commission, at no extra cost to you. This helps cover the cost of running this blog. Thanks for your support!
Like it? Pin it for Later!
Join my monthly newsletter today!