You know the saying good things come in small packages? Well this is certainly true for the little country of Georgia.
Tucked away in eastern Europe, dominated by the lofty peaks of the Caucasus, is the supremely charming country of Georgia. This former Soviet State has an incredible history, a diverse culture and beautiful landscape to explore.
Ever since my first visit to Georgia in 2015 it has remained one of my all-time favourite countries.
In this travel guide, I outline the best things to do in Georgia by discussing all the top Georgian destinations. Travel to Georgia (the country, not the state) is a must for anyone who likes big mountains, a varied history, intriguing culture, over-indulgent food and great wine. 
Disclaimer: Some links in this article are affiliate links, which means that if you purchase through them I receive a small commission, at no extra cost to you. This helps cover the cost of running this blog. Thanks for your support!
Travel to Georgia, Europe
Sometimes I arrive in a country and it just feels right. I arrived in Georgia on a cold November afternoon from Azerbaijan and instantly fell in love with the country and its people. We stayed that night in a homestay and were introduced to the infamous Georgian hospitality.
We were served deliciously rich food, most of which included cheese, and were provided with an endless supply of very drinkable red wine. I was in heaven!
In 2018 I returned to Georgia twice more with different overland tour groups, and both times it didn't disappoint. Then in Winter 2022 my boyfriend and I drove our converted campervan to Georgia and explored the Caucasus in all of their snowy glory. As a result I've been lucky enough to see many different parts of this former Soviet country in all the different seasons.
Whether you are looking for an active adventure in the mountains, are intrigued by the fascinating history or are wanting to learn about the distinctive wine making process, Georgia has something to offer.
For a guide to driving in Georgia, take a look at this post.
Georgia Travel Tips
In Tbilisi, English is widely spoken and trips to all parts of the country can be easily arranged. For those travelling independently, Marshrutkas (public minibus) provide cheap transport to all major Georgian destinations.
Guesthouses or homestays are readily available and provide B&B or half board packages. These provide a great opportunity to sample delicious Georgian homestyle cooking.
During three of my visits to Georgia I was accompanied a by a guide, which certainly provided a more enriching experience when visiting historical and religious sites. However, it is a very easy country to visit independently and a guide is not required.
Georgia has four distinct seasons and travel is possible all year around. However, the mountains do receive snow in the winter so access to these areas can be limited during winter months.
Popularity and prices have risen over the last 5 years but Georgia still offers great value for travellers, particularly away from the tourist hot-spots.
It is also visa-free unlike most of the neighbouring countries and therefore, somewhat of a hotspot for Digital Nomads.
So with that brief introduction complete, here are my favourite destinations in this small but intriguing country. I've split the top things to to do in Georgia by region for convenience. 
Don't Forget Your Travel Insurance
Safety Wing is a great option for Digital Nomads
The 30 Best Places To Visit In Georgia
Despite being a very small country, Georgia is jam packed with beautiful and interesting things to see. So for ease of use I've organised these 30 top Georgian destinations into their regions/administrative divisions.
ADJARA REGION
1. Batumi – Visit the Las Vegas of Georgia
Batumi is Georgia's biggest Black Sea resort. On the outside these modern, brightly light buildings give an impression of a party city, however the cobbled back streets of the old town offer a much more laid back affair.
Take a ride on the cable car for great views of the city, ride the old ferris wheel for views out over the harbour and don't miss the romantic moving sculpture of Ali and Nino.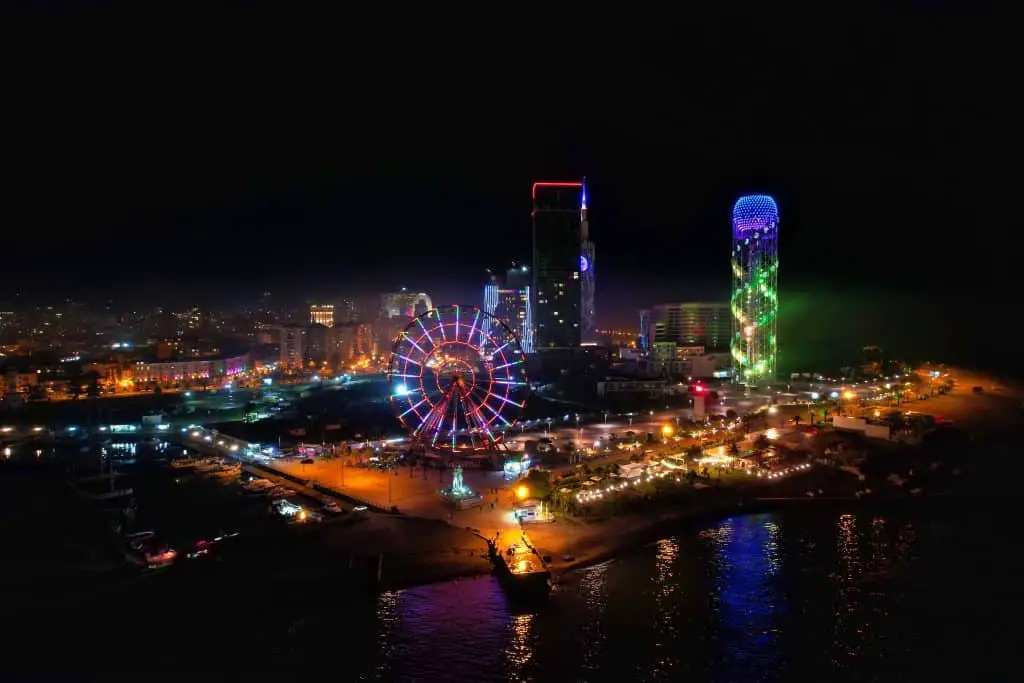 SVANETI REGION
2. Mestia – Explore the unique guard towers
Nestled high up in the Northwest corner of Georgia sits the mountain townlet of Mestia. It is the main regional centre for Upper Svaneti and has become the starting point for many hikes into the Caucasus mountains.
Svaneti is known for its guard towers which are dotted all around the villages. In Mestia it's possible to tour these guard towers and in the Mestia Museum you can learn more about their history.
On your visit enjoy a half day hike through the forest to Chalaadi glacier or for the more adventurous, embark on a hike to Koruldi Lakes. For all the top things to do in Mestia, see this guide.
If you need a place to stay in Mestia I can highly recommend Nino Ratiani Guesthouse, with modern airy rooms and delicious home cooked food. Don't forget to try the Kubdari meat pies, which are specific to this region.
3. Ushguli – Venture to the highest ancient settlement on Earth
If you're a keen hiker then Svaneti is one of the best places to visit in Georgia. The most popular multi-day hike is the 4 day hike to Ushguli. At 2400m, Ushguli is considered to be the highest continually inhabited settlement in the world. The 200 people strong village is also inscribed as a UNESCO World Heritage Site.
Ushguli is 45km from Mestia so if you don't fancy walking all that way you could hire a driver and a 4×4. The bumpy journey will take around 3 hours one way. Admire the beauty and tranquility of this mountain paradise before heading back to Mestia, or stay a couple of nights and enjoy more trekking from there.
A popular option is to trek to Shkhara Glacier and gaze upon the highest mountain in Georgia.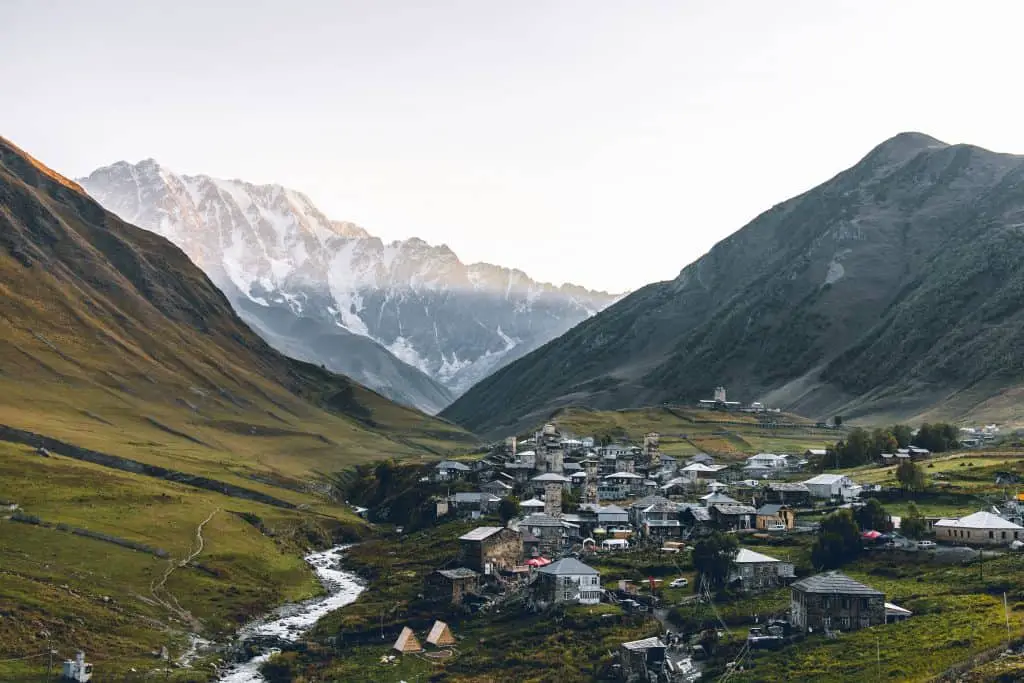 4. Tetnuldi or Hatsvali – Have ski slopes all to yourself
If you visit Mestia in Winter be sure to venture up to Tetnuldi Ski Resort. The road will be covered in snow and will require a 4×4 vehicle but believe me the journey is worth it. Views from the top of the resort will take your breath away (if the altitude doesn't get you first!) and the remoteness of this ski resort will mean you get to enjoy the slopes mostly to yourself.
If the journey to Tetnuldi doesn't sound too appealing opt instead for Hatsvali, which is located on the outskirts of Mestia town. This is a small resort with only four lifts however, the picturesque tree-lined runs will keep you entertained for a day, even if views of the surrounding snowy peaks don't.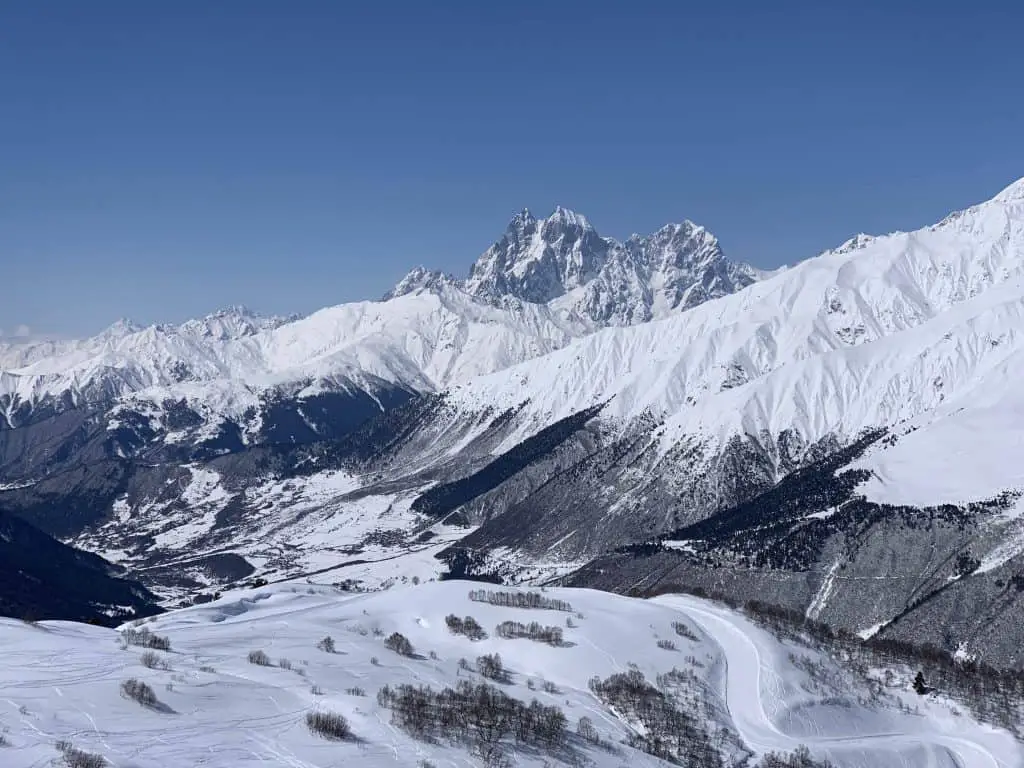 5. Nokalakevi Geothermal Park – See the "Boiling Shower"
The hot springs at Nokalakevi Geothermal Park were an unplanned visit for us on our campervan tour of Georgia, however they were very much a pleasant surprise.
There are building remains and old taps here so I'm guessing it was once an official hot spring centre. However, it has since been abandoned and left to nature. So don't expect changing facilities or toilets at this stop.
There are two stone pools close to the river and a fascinating white cascade where the water flows over the river bank. The water at this point is seriously hot and for this reason has been named the boiling shower.
Would you take shower here?!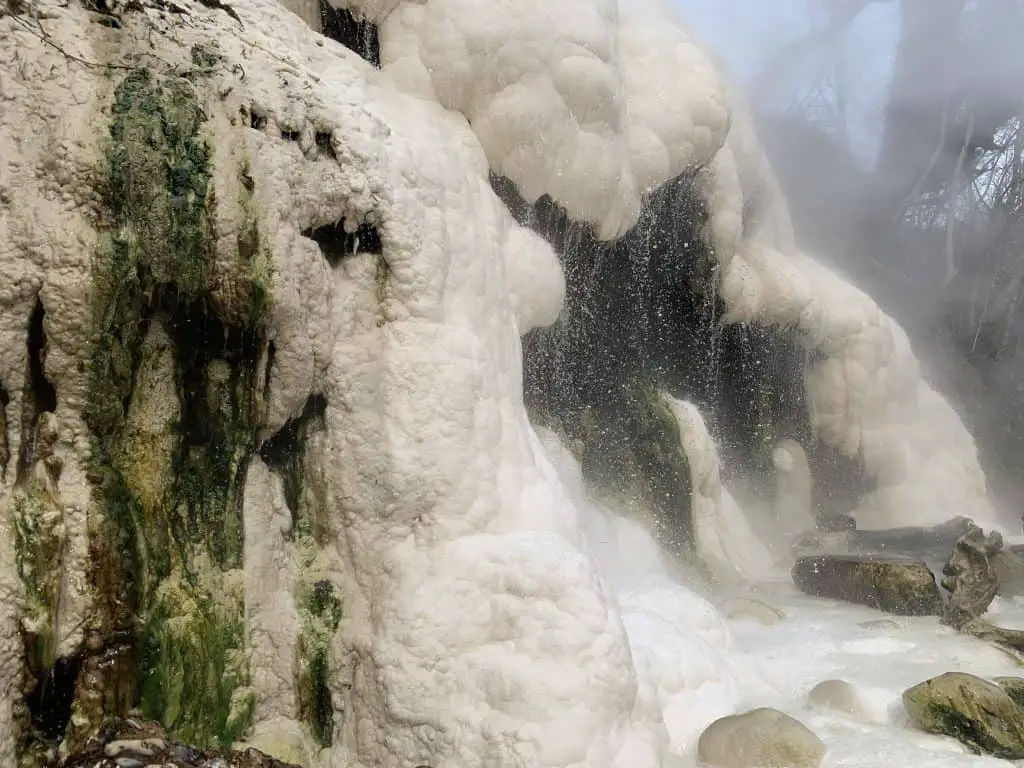 IMERETI REGION
6. Kutaisi – Admire frescos at a medieval monastery
As Georgia's second largest city there are a few highlights here to add to your Georgia bucket list. The Green Bazaar was the best market we visited in Georgia, Bagrati Cathedral offers fine views over the city and the Gelati Monastery is UNESCO listed for very good reason. The frescos inside this medieval Monastery are very impressive.
If you don't have your own transport, this 3-hour tour will cover the main highlights around the city.
Kutasi is also a good base from which to explore some of the other highlights of the Imereti region. (Read on below) You also have the excuse of eating Imereti Khachapuri everyday you spend here! Maybe even learn how to make the perfect Khachapuri for yourself in a culinary masterclass?.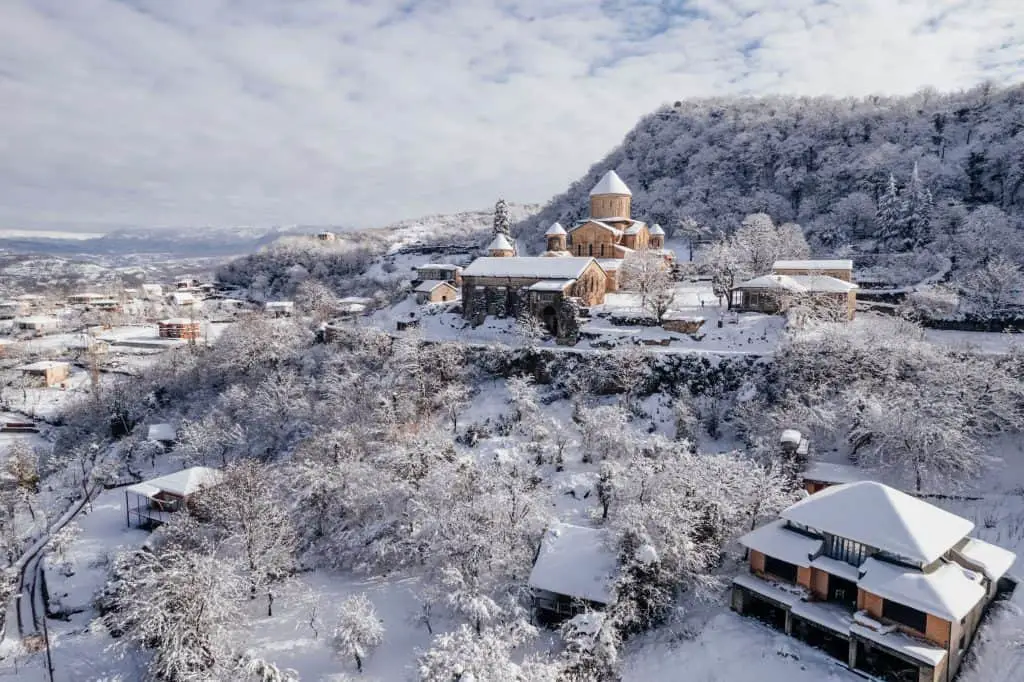 7. Prometheus Caves – Wonder at the other-worldly cave formations
If stalactites and stalagmites get you hot under the collar then head out west beyond the city of Kutaisi. A visit through the caves is via a compulsory guided tour included in the cost of the ticket.
The caves are colourfully lit to highlight the various underground formations. If the water levels are right you can enjoy a fun exit from the caves by taking a small boat trip.
8. Okatse Canyon – Walk the treetop platforms
In this lush region of Georgia there are several river canyons to investigate. At 14km in length, Okatse Canyon is one of Georgia's top tourist attractions. A series of wooden walkways and viewing platforms allow visitors the opportunity to peer down into canyon below. 
If you'd prefer to get down to river level, then instead head to nearby Martvili Canyon where you can explore the river by kayak.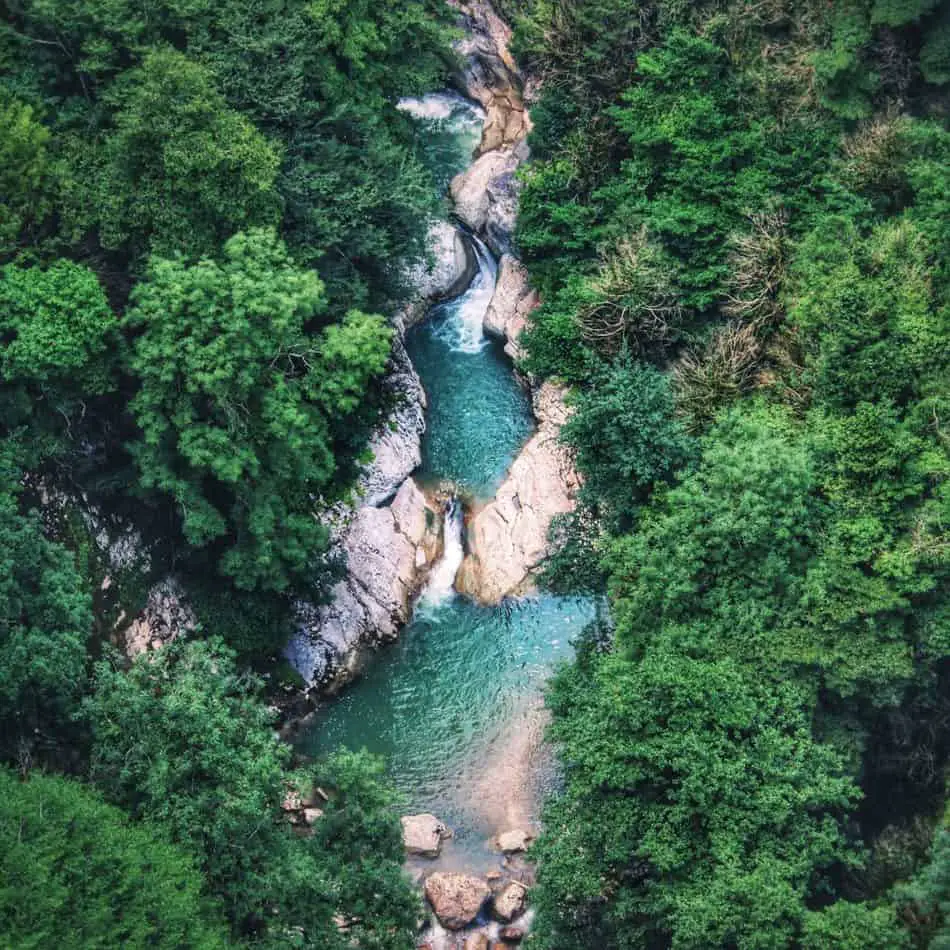 9. Katskhi Pillar – Marvel at the "Pillar of Life"
This incredulous monastery was constructed around the 4th century in an attempt by Stylites to get closer to God. The small matter of how they managed to build a church on top of 40 meter high pillar is still a mystery, but these days there is a rather large ladder that clings to the rock. 
There is one inhabitant of the monastery. A monk by the name of Maxime, who has been living a life of solitude on the pillar for over 25 years. Sadly, no tourists are allowed to climb to the top (imagine the risk assessment!) but you can visit the monastery at the base.
Katskhi Pillar isn't really  enroute to other destinations but it can be combined with a visit to nearby Chiatura.
10. Chiatura – Ride the cable cars
Chiatura is a dilapidated old mining town located in a deep trench along the Kvirila. The city boomed in the Soviet era as one of the largest manganese mining areas in the world. Cable cars were used to transport ore and workers from the valley to mines in the surrounding hills.
Today most of the old cable cars (aka Stalin's Rope Roads or Death Coffins) are out of use but modern ones have been built to replace them. They are still used by locals as a means of public transport.
Known as the Chernobyl of Georgia, Chiatura maybe an unconventional but intriguing visit to add to your Georgia itinerary. 
11. Tskaltubo – Explore abandoned sanatoria
Another unconventional stop in the Imereti region is the spa town of Tskaltubo. Fuelled by the natural hot mineral springs, this town came to life in the Soviet Era as a destination for Right to Rest vacations. Nineteen sanatoria were built to house the plethora of workers that visited the town during their respites.
Today most of the sanatoria are abandoned and have been left to decay, although a few bathhouses inside the town park still operate. Some of the abandoned sanatoria are being used to house refugees but the empty ones provide opportunities for urbex photography and exploration of a by-gone era.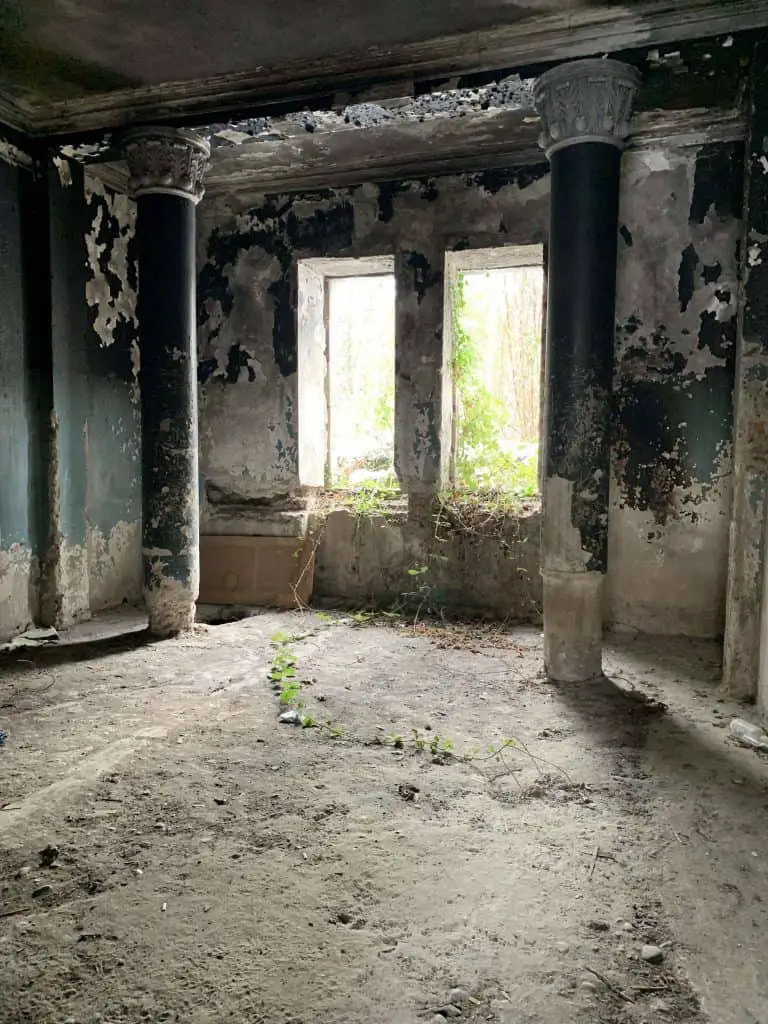 SAMTSKHE-JAVAKHETI REGION
12. Vardzia – Get lost in this vast cave monastery
Vardzia is the first of two cave settlements on this list and by far the biggest in Georgia. This complex system of caves was originally completely hidden from view, until an earthquake caused the front of the hill to collapse and reveal the chambers behind.
An audio guide can help lead you around this large site which can easily take several hours to explore. The chapel is still active and if the monks are present they can allow access to this fresco covered grotto. A trip to Vardzia is best undertaken from Akhaltsikhe or Borjomi.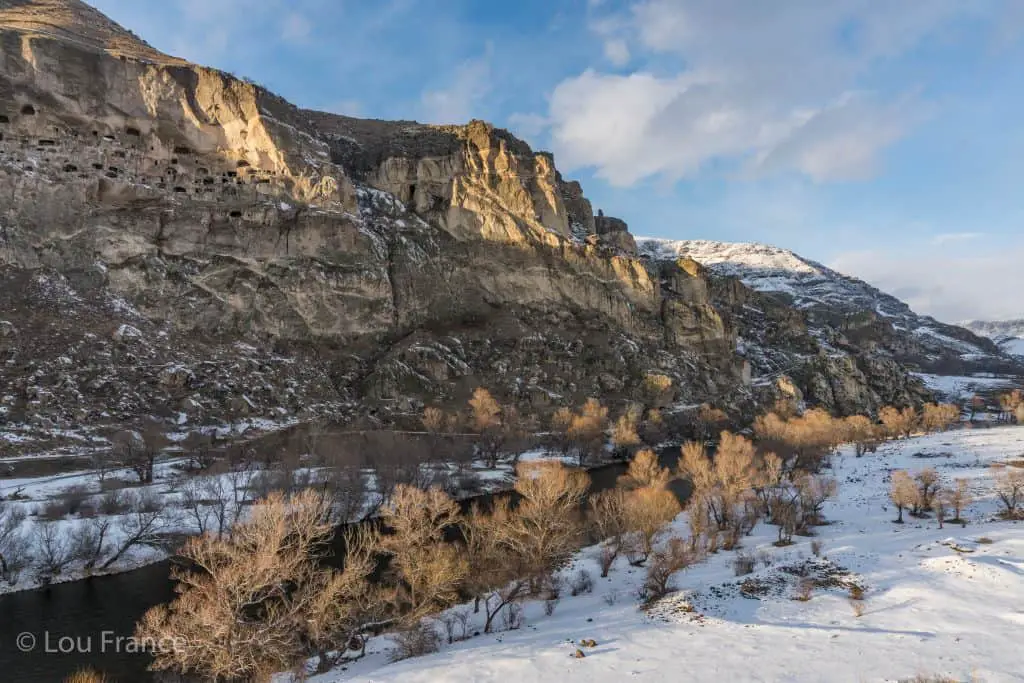 13. Akhaltsikhe – Explore Rabati Fortress
Akhaltsikhe is a small city located in Southwestern Georgia. If you plan to explore Eastern Turkey, then crossing the nearby Turkish border is a good option. Alternatively, if you plan to head onto Armenia, then there are good transport links to Yerevan.
The main reason to visit Akhaltsikhe is explore Rabati Castle. This large fortress originally dates back to the 9th century but has seen extensive renovations which makes it look disappointingly new. Inside the fortress you can find mosques, watch towers and well maintained gardens. In the Summer the castle stage hosts concerns which would be fun to attend. 
I found the people in Akhaltiskhe and this whole region to be particularly friendly and welcoming. If you plan to stay the night here, I highly recommend Hotel Julia, located a stones throw from the Rabati Castle entrance. The friendliest hosts you'll likely ever meet!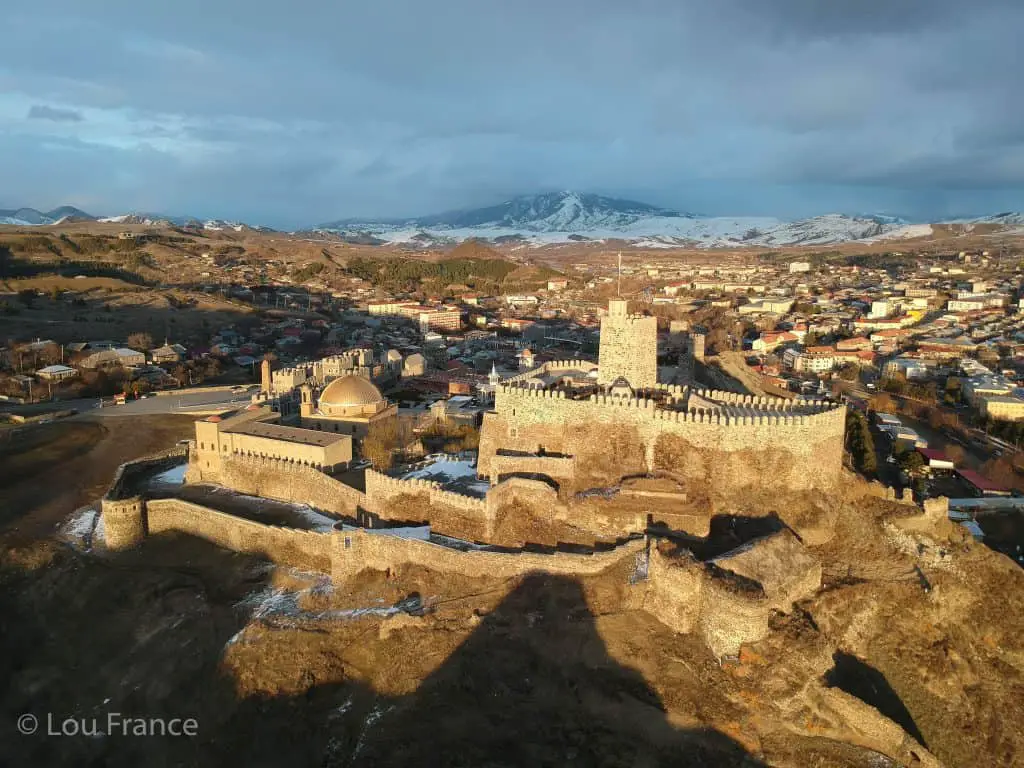 14. Sapara Monastery – Discover this tiny hillside monastery
Just outside Akhaltsikhe, along a windy, mountainous road you can find Sapara Monastery. The oldest church within the Monastery complex is thought to date back to the 10th century and for centuries it played an important role in Georgian history.
The picturesque drive and peaceful setting of this monastery make it a popular side trip from Akhaltsikhe. It's an active monastery but the monks will happily open the church to let you view the beautiful frescoes inside.
15. Borjomi – Stock up on the healing spring water
Borjomi is another Georgian spa town that gained popularity thanks to its natural mineral hot springs. The water here is said to have healing properties that range from curing digestive issues to diabetes. Bottled Borjomi mineral water has been one of Georgia's biggest exports for years.
The main area to explore on a trip to Borjomi is Borjomi Central Park. Here you can find open air thermal baths, a cable car, the Prometheus Monument and Ekterina's Spring. This spring is where you can sample the natural healing waters of Borjomi for yourself.
Travel tip: The spring water is warm and tastes very metallic. However, once it has cooled the taste (and smell) diminishes and is not too displeasing. I can't say I noticed any discernible improvements in my health though!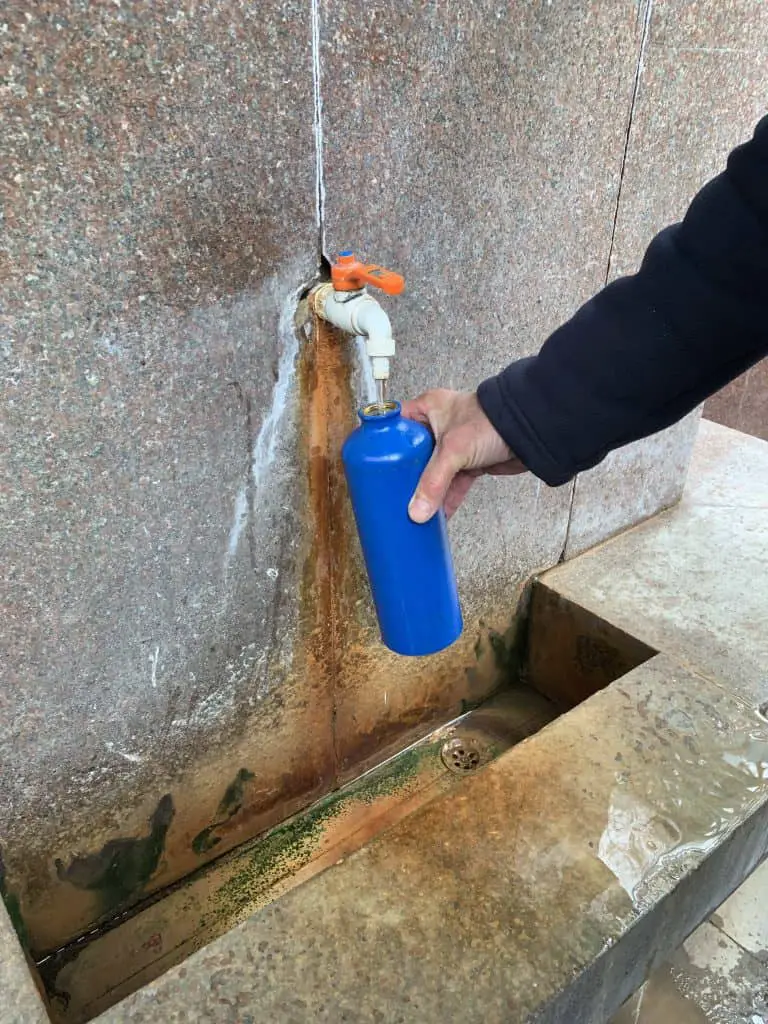 SHIDA KARTLI REGION
16. Uplistsikhe Cave Houses – Step back in time at this ancient settlement
Perched near the banks of Mtkvari River lies the rock-cut town of Uplistsikhe. This is Georgia's answer to Cappadocia in neighbouring Turkey. Dating back to the Early Iron Age, this fortress is one of the oldest urban settlements in Georgia.
Much of the site has been destroyed over the years but you can still see intricate rock carvings and explore secret passageways. The site also includes a comparatively new 9th century Christian basilica. Uplistsikhe can be visited on a day trip from Tbilisi in combination with the Stalin museum, in nearby Gori.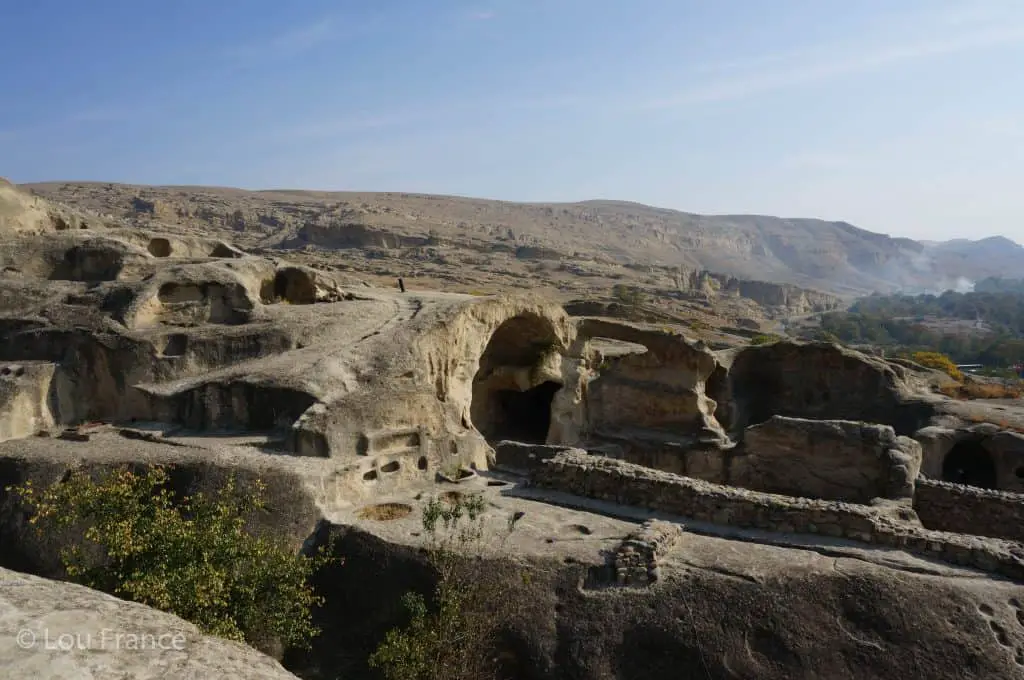 17. Gori – Visit the birthplace of Stalin
Along with Chiatura and Tskaltubo, Gori perhaps falls into the category of Dark Tourism. In the small town of Gori you can find a museum dedicated to the memory of an unlikely hero. 
Joseph Stalin was leader of the Soviet Union for a quarter of a century. It's thought that over 20 million Soviets died during Stalin's regime, making him one of the most murderous dictators in history.
However, this museum somewhat brushes over this fact and focuses more on Stalin as a man.
In the gift shop you can even buy Stalin-themed souvenirs to purchase for friends and family back home!
After touring the museum visitors can take a look inside Stalin's train carriage, which is now parked in the museum grounds.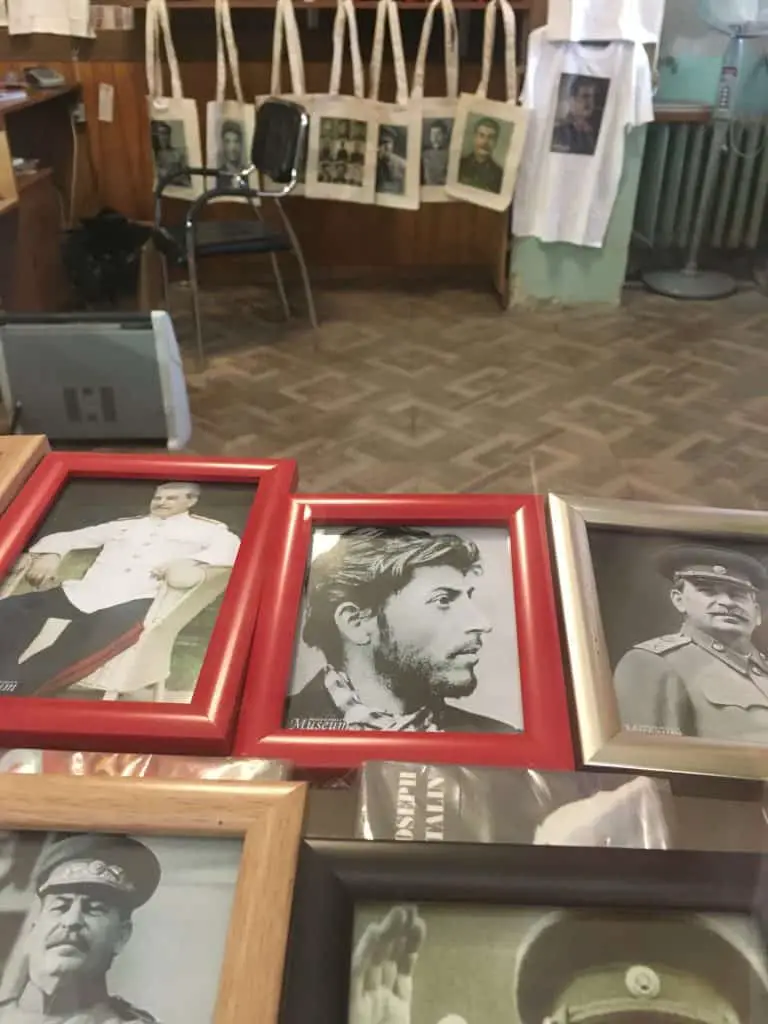 MTSKHETA REGION
18. Mtskheta – Visit Svetitskhoveli Cathedral
Mtskheta was the old capital of Georgia and is a great town to visit en route to Kazbegi. The main attraction in Mtskheta is Svetitskhoveli Cathedral. You may see a lot of churches and cathedrals in Georgia but this one holds particular importance.
It was here, during the Kartli Kingdom, that Christianity was first adopted. Svetitskhoveli Cathedral also claims to have part of Jesus Christs' crucifix. The Cathedral is the tallest in Georgia and inside has some impressive colourful frescos.
During one visit to Georgia we were lucky enough to see a traditional Georgian wedding taking place at this cathedral.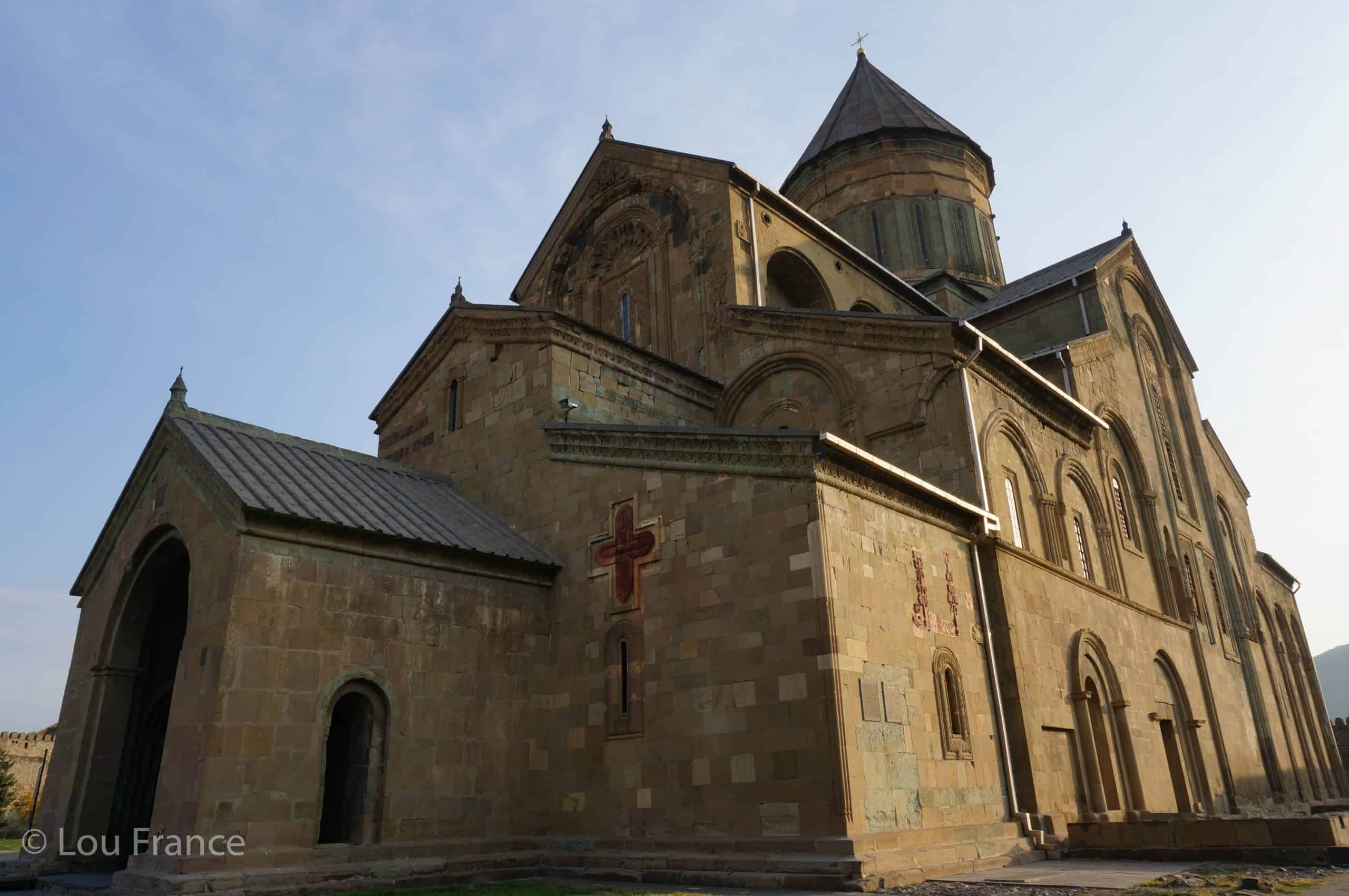 19. Jvari Monastery – enjoy expansive views at this 6th century Monastery
Jvari Monastery was the first church to use the cross shape which later became commonplace in Christianity. This sixth century Monastery is also surprisingly intact for a religious building of this age.
However, one of the main reasons to visit Jvari is to admire the views its position on the hillside offers over Mtskheta and the confluence of the Mtkvari and Aragvi rivers below.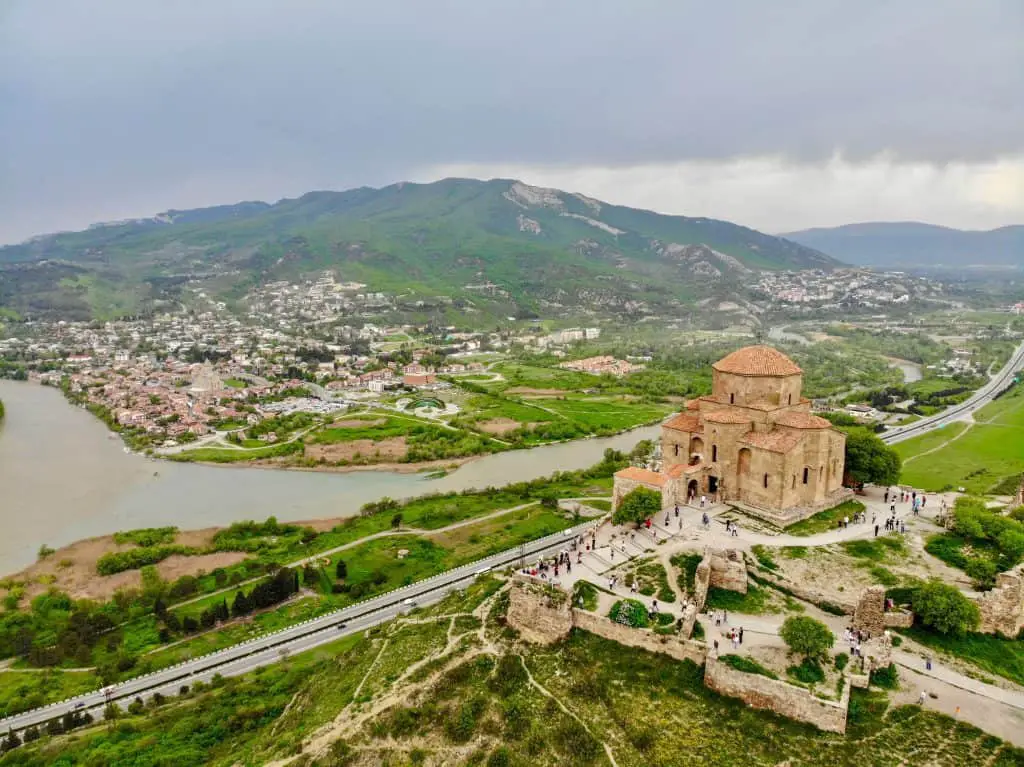 20. Georgian Military Highway – Take a driving adventure along this ancient route
If you're a confident driver, then one of the adventurous things to do in Georgia is drive the Georgian Military Highway. There are numerous places to stop along the way from ancient fortresses to colourful travertines.
For a complete guide to driving the Georgian Military Highway, take a look at this post.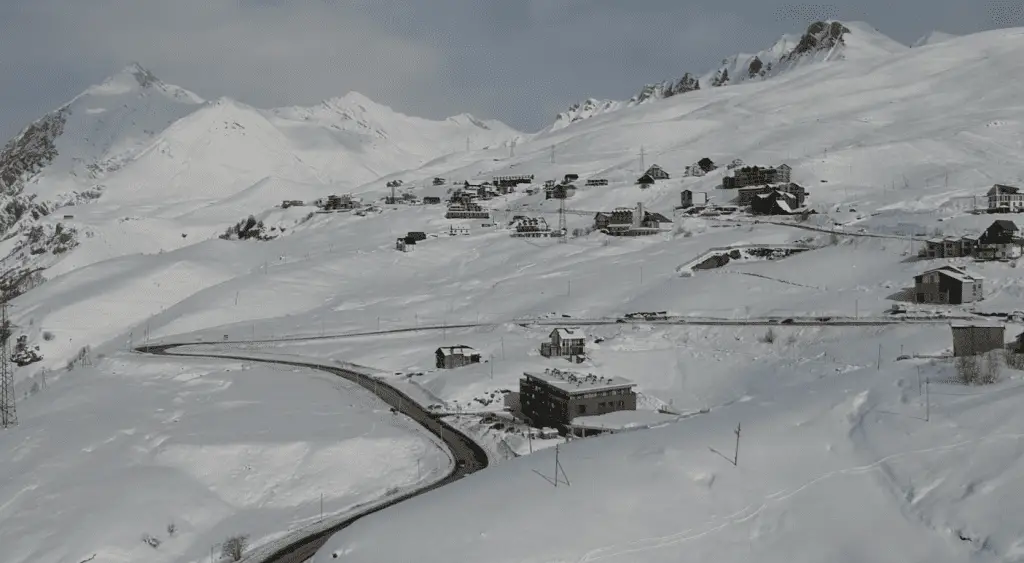 21. Ananuri Fortress – See the intricate carvings at the Mother of God Church
This fortress is a mish-mash of architectural styles dating back to the 17th century. Consisting of two castles and three churches, Ananuri has witnessed many battles and much bloodshed throughout its history .
Take time to explore the Church of the Mother of God within the fortress. The church façade is decorated with intricate carvings and there are remains of some impressive frescos inside.
For the best views over the complex overall, walk out to the bridge further back along the highway. When water levels are low you will also be able to see the old Military Highway which was flooded when the dam was built.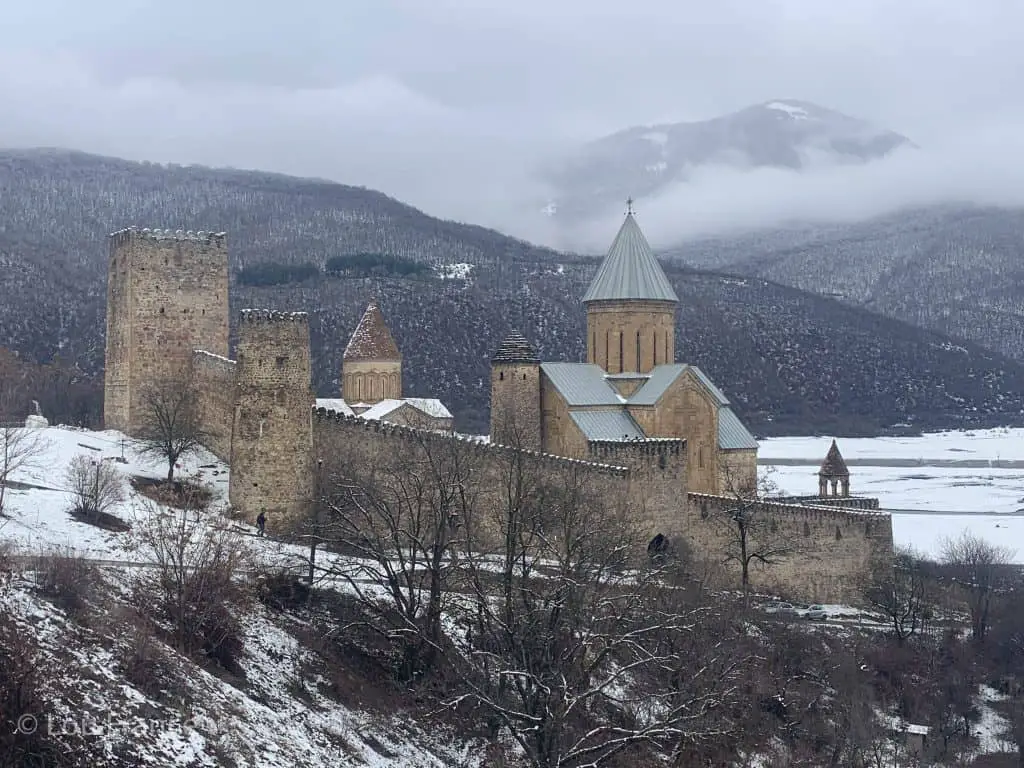 22. Gudauri – Ski or paraglide at Georgia's largest Ski Resort
Gudauri is Georgia's most popular Ski Resort and a great stop on your tour of the Military Highway. If you like skiing or snowboarding, then be sure to visit during the snowy winter months.
Gudauri isn't just a winter stop though as the chairlifts also operate in the summer months. A series of chairlifts provide access to Sadzeli Peak. At 3628 meters high, the panoramic views from on top are seriously incredible.
If you're partial to an adrenaline rush you can also take a tandem paragliding trip. A flight typically lasts around 10 minutes and costs 300 GEL. Instructors wait at the chairlifts for their next unsuspecting victims!
For everything you need to know about skiing in Gudauri, see this complete guide!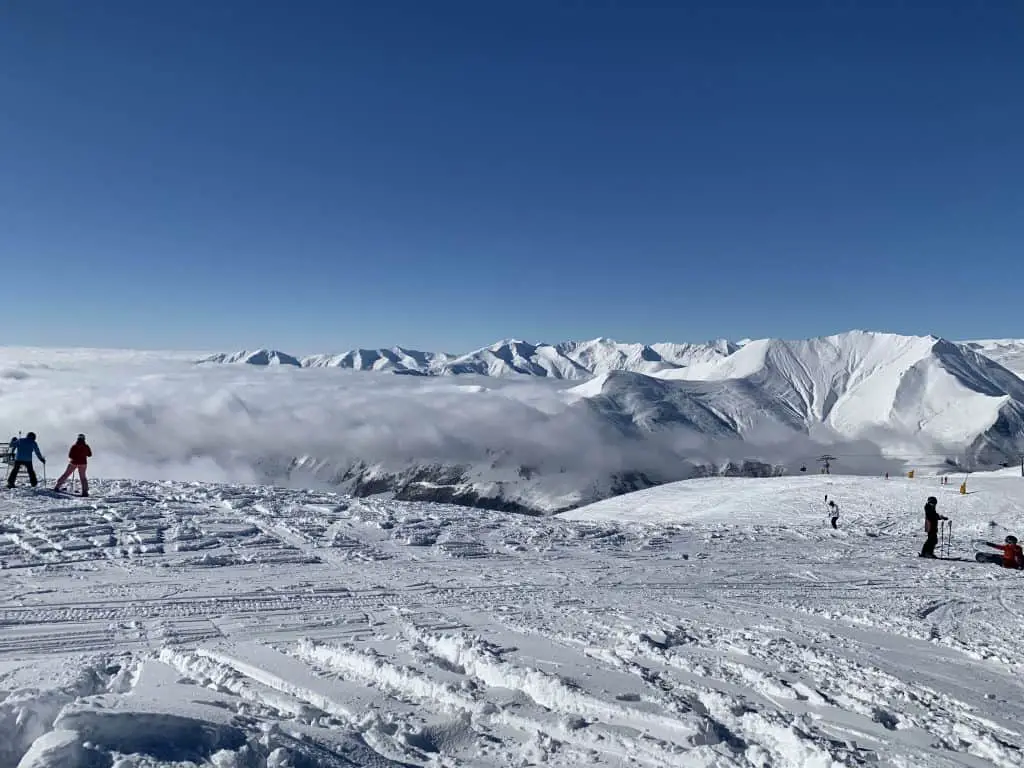 23. Sno and Juta Valley – See the carved heads and embark on a hike
Just 4km off the Georgian Military Highway is the small village of Sno. Sno is home to a collection of single stone, carved heads. Although they make look ancient, these carvings are actually quite modern and are the work of a local sculptor.
Further on from Sno travellers enter the Juta Valley, a stunning mountain region known as the Dolomites of Georgia. One of the popular hikes in this area is Chaukhi Valley to Chaukhi Pass. There are also multi day hikes to pursue in this area.
The Fifth Season Cabin offers food and accommodation to day trippers and multi-day hikers alike.
24. Kazbegi – Visit Gergeti Trinity Church
I associate a visit to Stepantsminda (unofficially called Kazbegi) with a beautiful hike to Gergeti Trinity Church and copious amounts of cha cha drunk from the horn of a goat!
I'm not recommending copious amounts of cha cha. Neither did I ever particularly enjoy it. However the very jolly host at our Kazbegi homestay was always quite insistent! Travel to Georgia is always a fun but often rather painful event (on account of all the hangovers!).
But I digress. 
Kazbegi is home to the 5000m peak of Mt Kazbek (Mt Kazbegi). At the base of Mt Kazbegi sits the picturesque Gergeti Trinity Church. A hike from town to the church takes around two hours to complete and offers pretty views of the mountains en route.
There is a road to the church so it is also possible to rent a jeep for the church visit. Jeep drivers congregate where the highway passes through the town and charge around 15 GEL per person.
For a complete guide to visiting Kazbegi, read this guide.
25. Gveleti Waterfalls – Cool off at two beautiful waterfalls
A little further north out of Kazbegi, there is a left turn for the small hamlet of Gveleti. A relatively short hike from the carpark brings you to an intersection for two trails.
The trail to the left is around 300m and leads to a smaller and less busy waterfall. The trail to the right is around 600m and leads to a larger, more impressive waterfall. The waterfalls are delightfully cool in summer and in winter they freeze over and become an ice climbers paradise.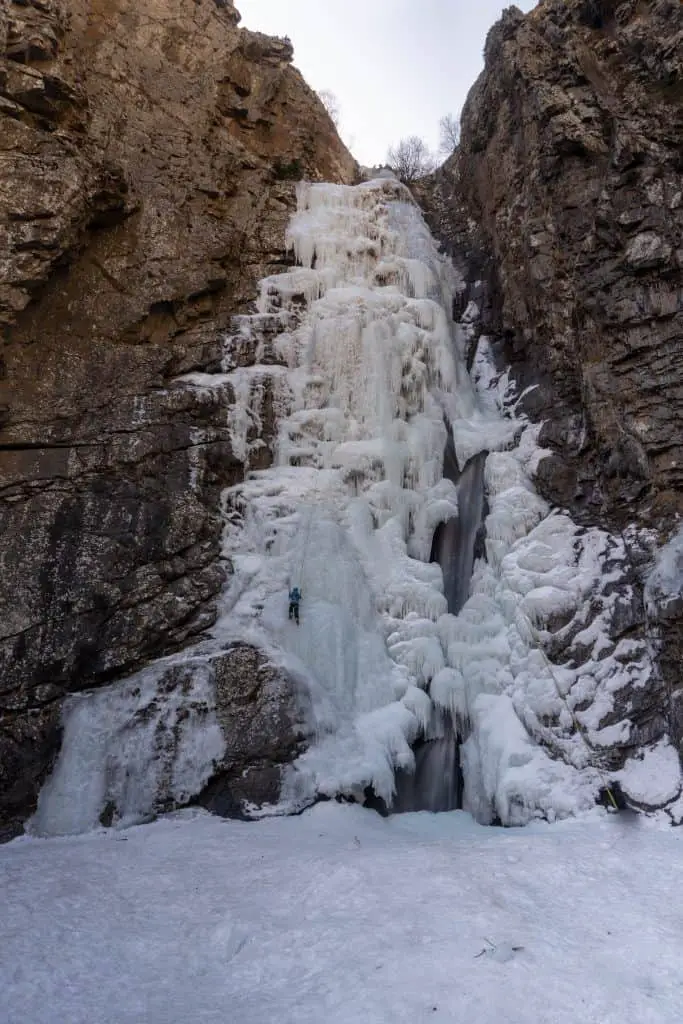 TBILISI REGION
26. Tbilisi – Take time to explore this vibrant capital
I'm generally never a fan of capital cities. I find them mostly over-rated. Tbilisi however, is the exception to this rule. It is a city of old versus new. Where crumbling old buildings on one side of the river contrast with curvy spaceship like architecture on the other.
Tbilisi has embraced its checkered past and flung itself forward as a cosmopolitan European city. Travelling in Georgia is not complete without having several days to visit Tbilisi.
Wandering the cobblestone windy streets of Tbilisi's Old Town is a joy in itself, but there are many other sights to keep you occupied. You can take a cable car to the top of the city to enjoy panoramic views and explore the 4th century Narikala Fortress.
Visit the Holy Trinity Cathedral of Tbilisi for its impressive bell tower, take a sulphuric dip in one of the dome roofed bathhouses and dine at Gorgasali for more deliciously rich food, accompanied by traditional Georgian dancing.
After dinner join the hipsters and head to Fabrika, where a former sewing factory has been converted to an urban space, which includes a courtyard surrounded by a selection of eclectic bars.
If you happen to travel to Tbilisi in May as I once did, you will be lucky enough to catch the wine festival that takes place in Mtasminda Park. The funicular is the easy route to the top where upon you will find hundreds of stalls from which to enjoy free tastings. A fun and cheap way to spend the day!
27. The Chronicle of Georgia – See the monument that was never finished
On the northern outskirts of Tbilisi there is a huge monument that looms over the Tbilisi sea. There are 16 pillars, the lower parts of which depict the life of Christ, with the upper parts chronicling the history of Georgia.
The Chronicle of Georgia was built in 1985 by Zurab Tserteli however it was never finished. Therefore some of the pillars have missing panels. With its out of town location this monument is much less busy than the popular sites of Tbilisi old town.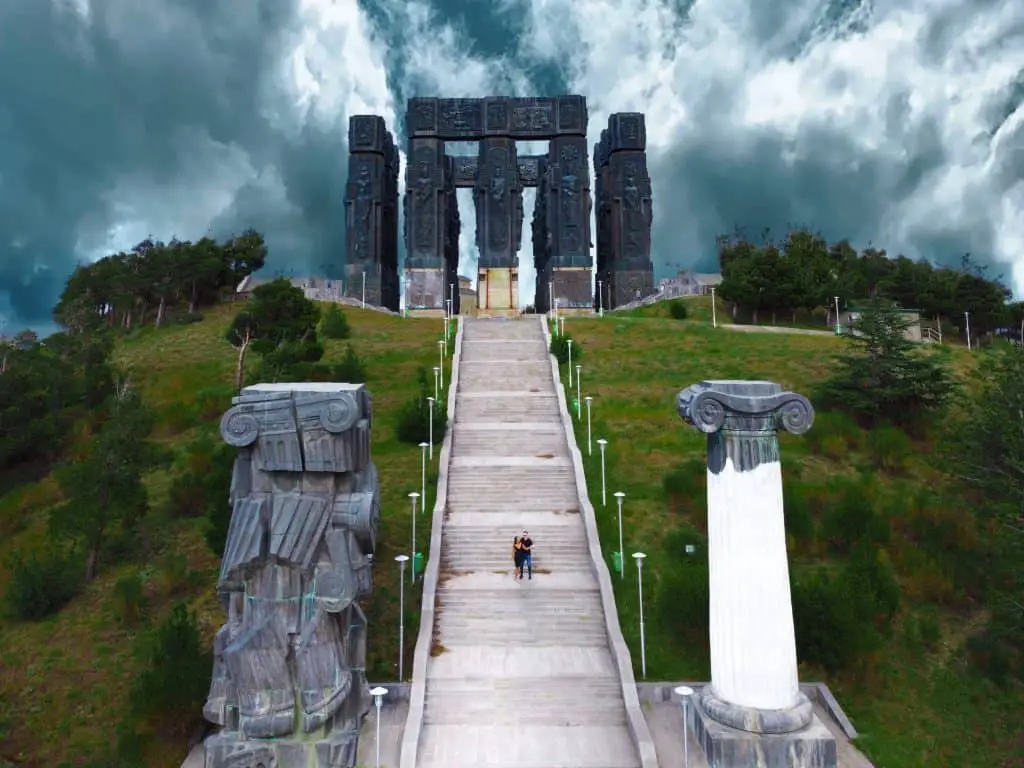 KAKHETI REGION
28. Telavi – Learn about traditional wine making techniques
Wine tasting in Telavi is an absolute must for any trip to Georgia. Well, unless you don't like wine that is!
Kakheti is the main wine producing region in Georgia and a great place to learn about traditional wine making techniques.
Claiming to be the inventor of wine, traditionally Georgian grapes are fermented along with their skins and seeds and stored underground in a clay pot called a qvevri. This is what gives Georgian wine its typical dark colour.
This 8000 year old practice is even registered by UNESCO!
Schumanns is a beautiful vineyard to visit and Twins Old Cellar has a good museum explaining all about how Georgian wine is made. Whilst you are out and about seeing the vineyards, pay a visit to Alaverdi Church, where the monks make organic honey vodka. Hiccup.
29. Lagodekhi National Park – Hike the biodiverse landscape
Kakheti might be famed for its wine production but there are also more active options to enjoy in this region.
Lagodekhi is a biodiverse protected area with lots of hikes on offer. A scenic 8km walk takes you along the river to Ninoskhevi waterfall. Or for a multi-day hike try the 42km hike to Black Rocks Lake.
Autumn is a beautiful time to visit this park with all the trees donning their colourful orange plumage. 
30. Sighnaghi – Visit the City of Love
Last but by no means least is Sighnaghi, the stone-walled city of love. The balconied cobble streets of this little mountain town are a joy to wander around and the high wall ramparts offer stunning views of the Alazani valley and snow capped Caucasus.
The modern Sighnaghi museum is worth a visit and be sure to wine and dine yourself on the best that Kakheti has to offer.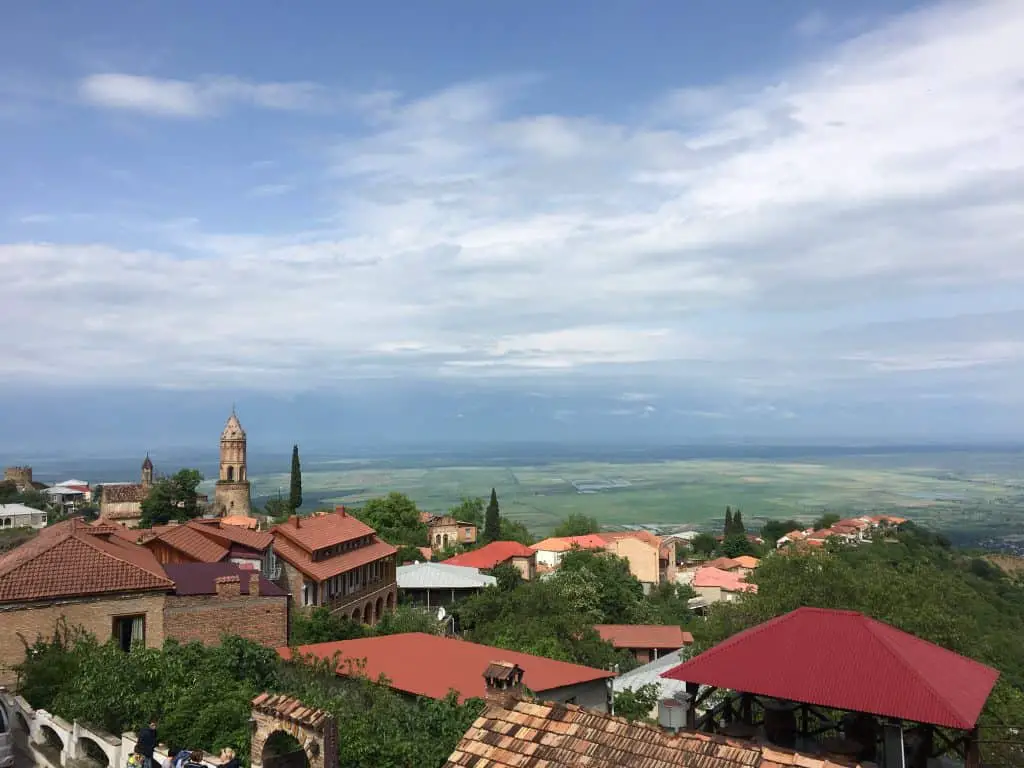 When To Visit Georgia
As a country that is surrounded by high alpine mountains you might have guessed that Georgia gets pretty cold in the winter months between November to March.
During this time there will be snow in the Greater and Lesser Caucasus regions. So if you want to avoid the snow and cold temperatures, it's best to visit between April and October. July and August are the busiest months for tourists.
For a guide to the best time to visit Georgia, take a look at this post.
How To Get Around Georgia
1. Private Car/Taxi
The easiest option by far will be hiring a car with a driver (hopefully one who speaks your language). Check out GoTrip for a hassle free option with no haggling. It is also easy to find a driver around the old town in Tbilisi. Taxis are fairly cost effective for local journeys.
For short trips around Georgian cities it is probably worth downloading a taxi app.  Bolt is perhaps the easiest one for foreigners and also YandexGo.
2. Car Rental
Self-drive hire cars can be booked with relative ease. It's a good idea to opt for fully comprehensive insurance as the roads and the driving in Georgia is likely to be very different from home. 
🔥HOT TIP
If you are looking for the best car rental service, here it is! Localrent is an international car rental booking service that is present worldwide. With Localrent you will definitely find the perfect car for your trip in Georgia
3. Marshrutka
Marshrutka are local minibus (Shared taxi) services which run both in cities and beyond and are a very cost effective way to get about. They link up all the villages in rural areas as well as the cities. Be prepared for a potentially long and cramped trip.
From one of the 2 bus stations in Tbilisi there are regular Marshrutka services to Gudauri for example. Marshrutka's can now be booked online through Allbus which can be displayed in English. Prices are a little cheaper if you simply turn up at the bus station, however pre-booking does allow you to plan your journey with confidence.
4. Rail
Rail services link up the lowland areas of country pretty well. Whilst not the easiest services to understand or book, travelling by train in Georgia would make for an interesting little adventure on its own. 
Check the train timetable and book online here. You can also buy tickets at the train station.
5. Flights
Internal flights may be a convenient option also, with flights possible from Tbilisi and Kutasi to difficult to reach regions like Mestia. Vanilla Sky offer these passenger flights to Mestia and you can check their timetable here.
Be warned though that due to weather conditions these flights are often cancelled and as a result tickets get booked up fast.
A Brief Introduction To Georgian Food
Georgian food is delicious and makes the most of seasonal local produce. It's worth trying out a range of dishes, here is a list of some to consider:
Khachapuri: This is a kind of cheesy bread found everywhere. It comes in a few different regional variations, even one with an egg on top. Basically if you had to live on bread and cheese, this is the answer, it's delicious.
Khinkali: Considered by some to be a national dish, these are Georgian dumplings and come with a variety of fillings, often lamb or beef in a broth which spills out when you bite into them. They tend to be rather large and very filling. 
Shkmeruli is a traditional roast chicken dish with garlic sauce and is hugely popular in Georgia.
Lobio is a bean soup/stew served in a clay pot. It's delicious although it can get a bit windy afterwards!
Mtsvadi is a Georgian Shish kebab often of pork, beef or lamb.
And the list goes on and on. It's all delicious. Don't expect to loose weight on a trip to Georgia!
Vegetarians will find Georgia a little bit more of a challenge, however there is a pretty good selection of meat-free options.
Try this popular starter on your visit:
Badrijani Nigvzit is roasted eggplant with walnut paste. Yum, yum, yum.
And Of Course, Georgian Wine
We don't come across Georgian wine in the west much but they have been producing wine in Georgia for 8000 years. The grape varieties grown are specific to Georgia and the traditional method of  production involves fermenting the grapes in clay Queries which are set into the ground.
The process  involves using the whole grape to produce an almost black wine with a very distinct flavour. Once the wine is bottled the residue is then distilled to make Cha Cha, a type of brandy which is popular in Georgia and is supposedly good for digestion (good for a hangover too!)
Georgia also employs more modern wine making techniques which results in a wide range of delicious world class wines.
A Summary of the Best Things to do in Georgia
Georgia is a wonderfully diverse country packed with culture and heritage. Whether you want to hike the wild Caucus mountains, taste wine in the country where it was invented or marvel at the vast array of churches and cathedrals, Georgia surely has something for every intrepid traveller.
In this guide I have outlined the best Georgian destinations that you could include on a visit to Georgia and have hopefully conveyed why I love this country so much. There are many other places you could include on your tour but these are certainly a good place to start.
Have you visited Georgia? Let me know your favourite destination in this fabulous country.
Like it? Pin it for Later!
Join my monthly newsletter today!