Georgia is a beautiful country to visit with historic cities to explore, big remote mountains, plenty of vineyards and even beaches on the black sea. Public transport is effective and it's easy to travel by taxi or private car.
However, there are great opportunities in Georgia for a truly memorable road trip of your own. Or you may simply prefer the flexibility that driving your own car or rental car may bring. There's nothing quite like hitting the open road for your own adventure!
As a tour leader I've driven overland trucks through Georgia on several occasions. I loved the country so much, my boyfriend and I returned in February 2022 with our own campervan, for a Georgian winter road trip. On these trips we've driven most of the roads in Georgia and wanted to share our experience.
This guide will hopefully provide everything you need to know about driving in Georgia. From insurance, to road conditions to driving styles, we put this together to help you plan your trip and give you some idea of what to expect.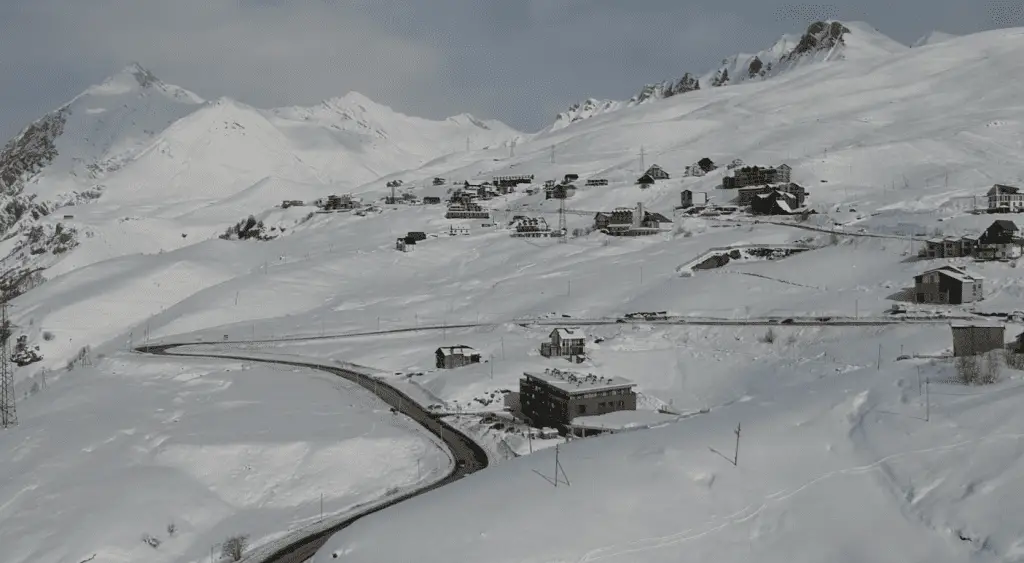 Disclaimer: Some links in this article are affiliate links, which means that if you purchase through them I receive a small commission, at no extra cost to you. This helps cover the cost of running this blog. Thanks for your support!
Rules Of The Road In Georgia
It is important when driving overseas to understand the rules of the road of your destination. Whilst most countries adopt very similar rules and signs, there are always a few differences which you should make yourself aware of.
Here are some of the important rules in Georgia that may differ from home:
Drive on the right side of the road. (If you're from the UK like me this is quite important, but for most of the world I realise this doesn't apply!)
Give way to traffic coming from the left, however on roundabouts whoever gets there first has right of way.
Seatbelts are compulsory for the driver and front seat passenger.
Driving too slow in a fast lane can get you a ticket and you are expected to move over and slow down for any vehicle with flashing lights, including garbage trucks.
Using a mobile phone is illegal although many seem to still do it.
There is zero tolerance to driving under the influence of drink and drugs. Your passengers are not allowed to drink while you are driving either.
Headlights should be on in the rain.
Speed Limits in Georgia
The speed limit is 50 to 70 kmh in built up areas and 80 kms elsewhere. On the Expressway the limit is 110. Observe the signs where they are present.
Georgian Road Conditions
Most rural roads are relatively quiet with plenty of agricultural machinery during farming seasons. Progress tends to be slow but steady so it pays to relax and take your time. Cows are regular road users so be especially watchful in rural areas and give them a wide berth.
Rural roads maybe quite narrow and or even single track in places. They may not have line markings may likely be unpaved.
The majority of roads to tourist destinations are paved, however some are not and require 4WD vehicles. For example, the road from Mestia to Ushguli or the road to Tusheti is not suitable for regular cars. Be aware that some rentals companies will prohibit you from driving these roads.
The main routes through Georgia can get quite busy with trucks transiting between Turkey, Armenia, Azerbaijan and particularly Russia, so the going can be quite slow at times, especially on hilly stretches. This heavy use, along with the harsh winters commonly results in potholes and damaged sections.
Many of the main roads in Georgia are still 2 way roads, so patience is required when following slower vehicles. Overtaking sometimes happens when you least expect it. However, there are some new expressways being built especially on the route between Batumi and Tbilisi. This will speed up journeys considerably when completed.
The Georgian Military Highway to Kazbegi gets particularly heavy lorry traffic as they head to the Russian border. Long truck queues make it slow going, with plenty of damaged sections. For a number of reasons, the drive along the Military Highway is best suited to experienced and/or confident drivers.
I have a dedicated guide to driving the Georgian Military Highway, which you can read here.
Police Checks and Checkpoints Around Georgia
Radar traps and police checks are common and on the spot fines can be handed out for any road offence. Police are usually firm but fair.
It is not uncommon to find police checkpoints along your route. These are usually routine checks of vehicle documents or your passport. Quite often you will be waved straight through as soon as they see you are a foreigner.
The Police in Georgia are very fair and well respected so rest assured they are there to help you. 
Safety Equipment
It is always sensible to travel with the following safety equipment in the car incase of emergencies.
First aid kit
Fluorescent jacket
Warning triangle
Spare bulbs for the car.
Torch
Fire extinguisher
Snow chains(Winter)
Rental cars should come equipped with all necessary safety equipment as required.
Visa and License Requirements for Georgia
Citizens of most countries can enter Georgia without the need for a visa and can stay for up to a year. Check here for full details.
Foreign driving licenses are accepted for up to a year so long as they are printed in a Latin or Cyrillic language. If you have any other license then an International Driving Permit will be necessary.
Seasonal Considerations For Driving in Georgia
Georgia is a wonderful country to explore in any season, although summer is easily the most popular. Summer can be very hot in summer so air-conditioning is quite useful and of course a good pair of sunglasses.
However, winter can be extremely cold and because Georgia has so many mountainous regions, the possibility of snow is high. Roads are cleared of snow and gritted pretty well but this does take time and so extreme caution needs to be taken during snowy weather. Plenty of planning required to avoid the worst weather days.
Mountain roads, especially those leading to popular tourist destinations such as Kazbegi and Mestia can become blocked by snow, avalanches and landslides during severe weather which may take days to clear, in extreme circumstances. Potholes and damaged sections of road are common in these areas.
A 4×4 will be beneficial during winter. The Georgian Government advises the use of winter tyres and it is highly advisable to carry snow chains and a shovel. We used these Michelin material snow chains which were amazing. They got us up to Tetnuldi Ski Resort in Mestia amongst other places, and are super lightweight and compact.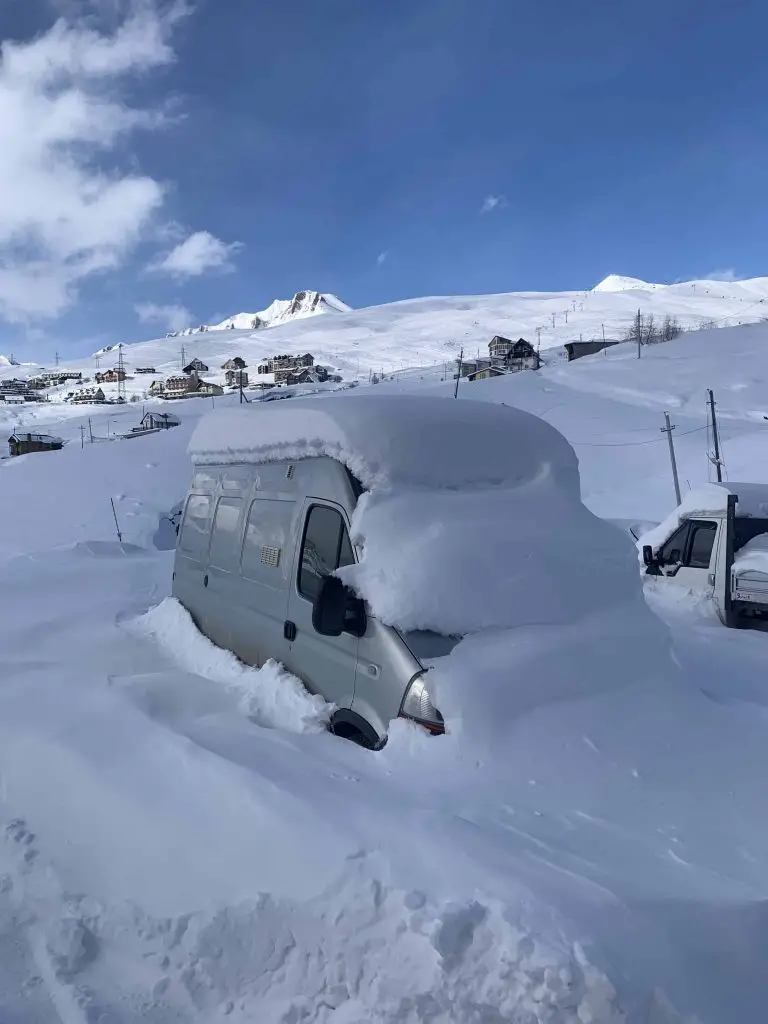 Road Tolls
There are currently no road tolls in Georgia. A welcome and cheap change to those that may have travelled to Georgia from Europe!
The Georgian Driving Style 
Georgians, it seems, tend to like performance cars so there are quite a few high end (often elderly) BMW's and Mercedes cars and hot hatch backs around. It's not uncommon to find people doing doughnuts in local carparks late at night. (As we found out while camping in seemingly quiet locations).
When driving in Georgia whether with your own car or a hire car, insurance is mandatory however this may not be the case for the Georgian drivers. Therefore if you have a mishap it's most likely that you will be expected to take the blame.
According to one of our hosts, if Georgians have an accident they just sort it out between themselves. The amount of cars with missing bumpers is explained by the fact that they are expensive to replace so they are simply left off.
Traffic in most of Georgia is fairly light but often slow moving until you enter a city, in which case driving can get quite pushy and frenetic. Undertaking is common, as is jumping traffic lights and judging by the number of cars missing bumpers, it's not unheard of for a few mishaps to happen.
On the subject of indicators, even if they work, they may not always be used. Overtaking on blind corners is commonplace, as patience for slow driving isn't well tolerated and frequent use of the horn seems mandatory. (Although nowhere near as bad as India!)  
It's recommended to adopt a defensive style of driving in Georgia. Above all expect the unexpected, keep out of peoples way and enjoy the experience. 
Fuel
The cost of fuel in Georgia is much lower than Europe for example at a little over a Euro a litre (2022). Most service stations sell Euro diesel these days which is good quality. You will find slightly cheaper gas stations but the quality of the fuel at these may be questionable. 
LPG is also widely available.
Pump attendants are still employed in Georgia so there's no need to get your hands dirty and fuel stations are found regularly in most areas.
Emergencies
Dial 112 for  all Emergency services in Georgia.
Renting a Car in Georgia
Renting a car is a popular option for a visit to Georgia.  Most of the big multinational hire car companies are represented at all the main international airports, as well as some very good local operators. There is usually a minimum age for renting a car as in most countries (Usually 21).
The well known multinationals offer good service as you would expect, in line with the standards that you receive in Europe.
Georgian hire companies may be a bit of a mixed bag but generally offer very good hospitable service and often at a much more agreeable price. Just check the reviews and understand exactly what you get for the money especially with regards to insurance. All hire companies will try to up-ssell  additional insurance services and it is advisable to factor this cost in when making your purchase.
LocalRent is a solid option and all sorts of vehicles are available including 4×4's. It typically costs about $30 per day. No need to rent a GPS, the offline maps app Maps.Me works fine as does Google Maps.
Cars tend to be a decent standard but it's always advisable to check them over on collection. Especially tyres, lights etc.  They should also come supplied with safety equipment such as first aid kit, warning triangle and spare bulbs.
Driving Your Own Car In Georgia
It is relatively straight forward to drive your own vehicle in Georgia. Whether a car, campervan or motorhome.
Here are the key requirements:
Safety equipment: This will be the same as for Europe (listed earlier the post) and a sticker denoting where your vehicle is from eg UK, D,F, NL etc.
Driving License: Valid for use in Georgia (as mentioned earlier)
Documents for vehicle (For example, for UK registered vehicles this would be your V5 document)
Insurance in mandatory. If you have European insurance it may or may not be valid for Georgia however in is mandatory to buy Georgian Vehicle insurance on arrival.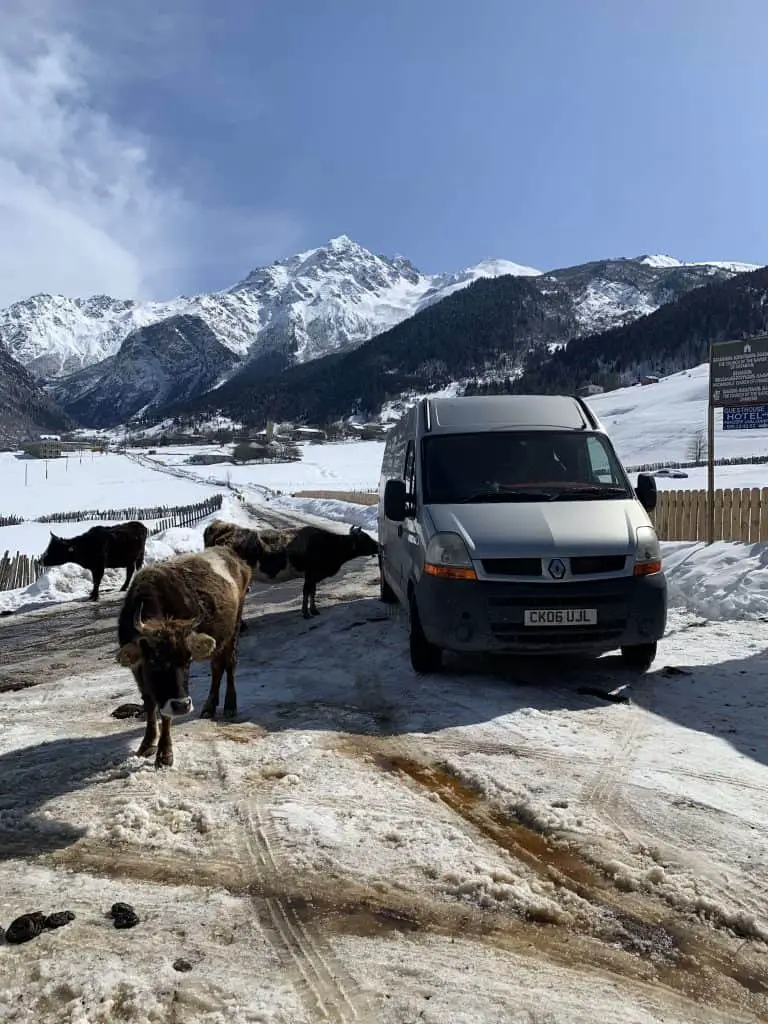 Insurance
After crossing the border to Georgia, the Customs Officer will hand you a leaflet directing you to a service station with an insurance office. There are insurance companies in Batumi where you can buy insurance.
There are also plenty of insurance offices immediately after the border gate, at the stalls. These providers can also change money and supply sim cards for Georgia. You may pay a little more at the border for the convenience but its all in one place. We've bought insurance at the border and at Batumi but honestly, for the 10 GEL the fixer charged at the border, it was well worth it.
The insurance policy is 3rd party only and available for 1 month, 3 months or 6 months. We paid 90GEL ($30) for 3 months for our campervan (plus a 10GEL commission).
Georgian Border Crossings
After exiting the country you are entering from, you arrive and queue in the line appropriate to your vehicle. The officials are usually very polite, helpful and hospitable.
Your passengers may be asked to enter through the pedestrian channel, especially if arriving from Turkey.
Queues should not be excessive unless you are in an HGV in which case the queues extend to kms at times. In a car you drive past the trucks. Arriving at the border late at night or early morning may be beneficial as the border may be less busy.
Most of the time spent at the border is likely to be queueing so be patient.
Once through the border gate there will be a customs check which is usually in the form of a quick visual check. Open the boot etc. It's unlikely to be any more than this for entering Georgia. Very easy.
Occasionally you might come across an official who takes his/her job a bit more seriously than you might have hoped for but generally speaking entering Georgia is a relatively stress free exercise. 
Breaking down
It is possible to get breakdown cover for Georgia but if bought in UK or Europe may be quite expensive. It's worth checking if your EU breakdown cover is valid for Georgia. 
Having a little mechanical knowledge and a few tools might be useful here but Georgia is full of highly skilled mechanics (and some not so highly skilled). Finding a decent workshop is key. A mechanic who speaks your language might be hard so be prepared for some mime and good use of Google translate.
Getting recovered will be the most stressful part and this will require asking the locals for help, but there will alway be help on hand. Perhaps for a fee.
All cities and towns have industrial areas with multiple workshops specialising in fixing everything. Including main dealers for most car makes. Simply look for a workshop specialising in your vehicle make or ask someone. Taxi drivers are likely to know where to find a workshop.
Spare parts in Georgia are generally widely available especially for the popular models.
Driving Campervans and Motorhomes in Georgia
Those planning to make a tour of Georgia in a camper or motorhome will discover a fabulous world of adventure ahead of them. Travelling in Georgia with a camper will allow for flexibility to explore some of the more far flung areas, visit some lesser known and quieter historic sights and camp in some amazing wild spaces and mountains.
While campsites in Georgia are few, generally speaking wild camping is fairly easy, especially outside of summer. Local people are very hospitable and if you ask about possible campspots, you might be directed to some pretty special places. It never hurts to ask and always leave the place spotless.
One consideration will be finding places to empty cassette toilets and grey water in a responsible manner, so staying in campsites, at least every so often, might be advisable if possible. Alternatively use service station facilities. You can also top up your water at service stations. (And maybe get some diesel at the same time!)
Neighbouring Turkey is becoming hugely popular for vanlifers. It's easy to cross into Georgia through the Sarpi border on the black sea coast, so combining these two countries will make for a very exciting road trip adventure.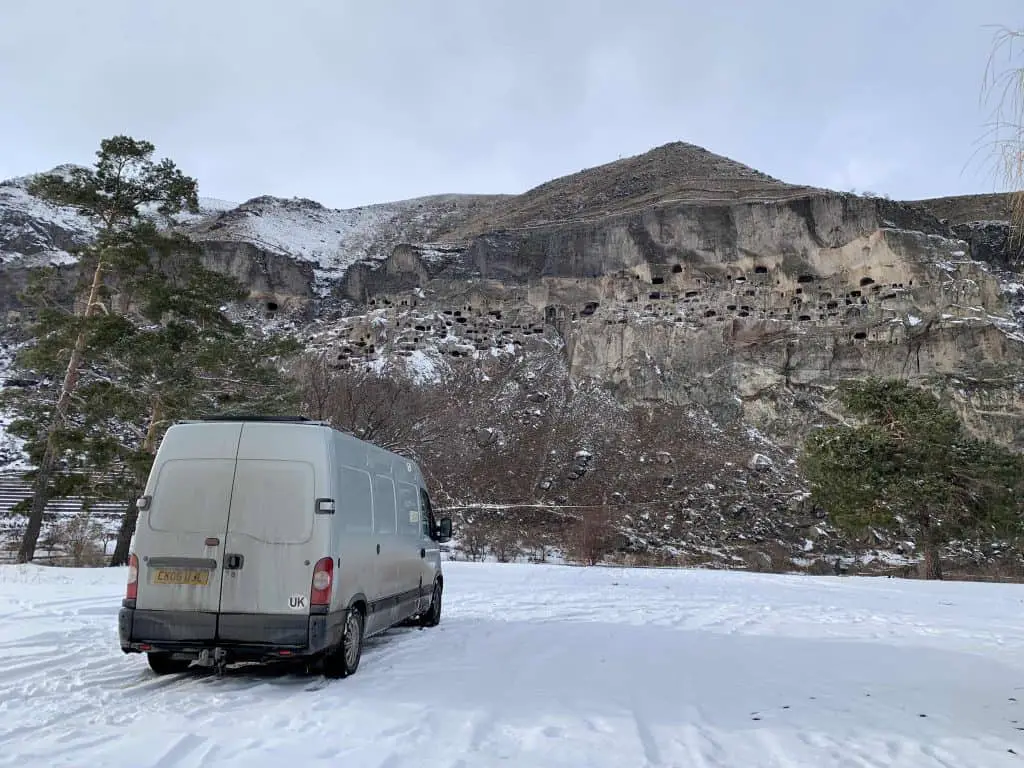 Driving In Georgia Summary
Whilst Georgia might sounds pretty exotic (and certainly is when it comes to its history and landscapes), when it comes to driving in Georgia there's not too much worry about. 
The roads are generally good and even when they are not they are still acceptable (you'll soon get the hang of missing the odd pothole or cow)
The standard of driving is ok, though a little erratic and impatient. It pays to be particularly vigilant and expect the unexpected at times. Just take your time and keep out of other peoples way and you'll be all good.
Renting a car is straight forward, as is driving your own vehicle in Georgia. It's also easy to find a mechanic to fix your car or if you rent a car, help is just a phone call away. 
For the really adventurous it is possible to get really off the beaten track and find some amazing  roads in the mountainous areas. A 4×4 would be the perfect vehicle for this purpose but with a little care it is possible to get to pretty remote areas, even in a campervan as we discovered.
Your biggest issue with driving in Georgia might be that there is so much beautiful scenery to admire, you might struggle to concentrate on the roads. Drive carefully and have a great adventure!
Don't Forget Your Travel Insurance!
For the best deals on travel insurance, check out Safety Wing.
Join My Newsletter Today