North Wales is a paradise for landscape photographers. From rugged coastlines to stunning waterfalls, from iconic castles to other-worldly mountain tops. As a photographer in North Wales, you are truly spoilt for choice.
Two of the best areas to capture beautiful photographs in North Wales are Snowdonia National Park and the Isle of Anglesey.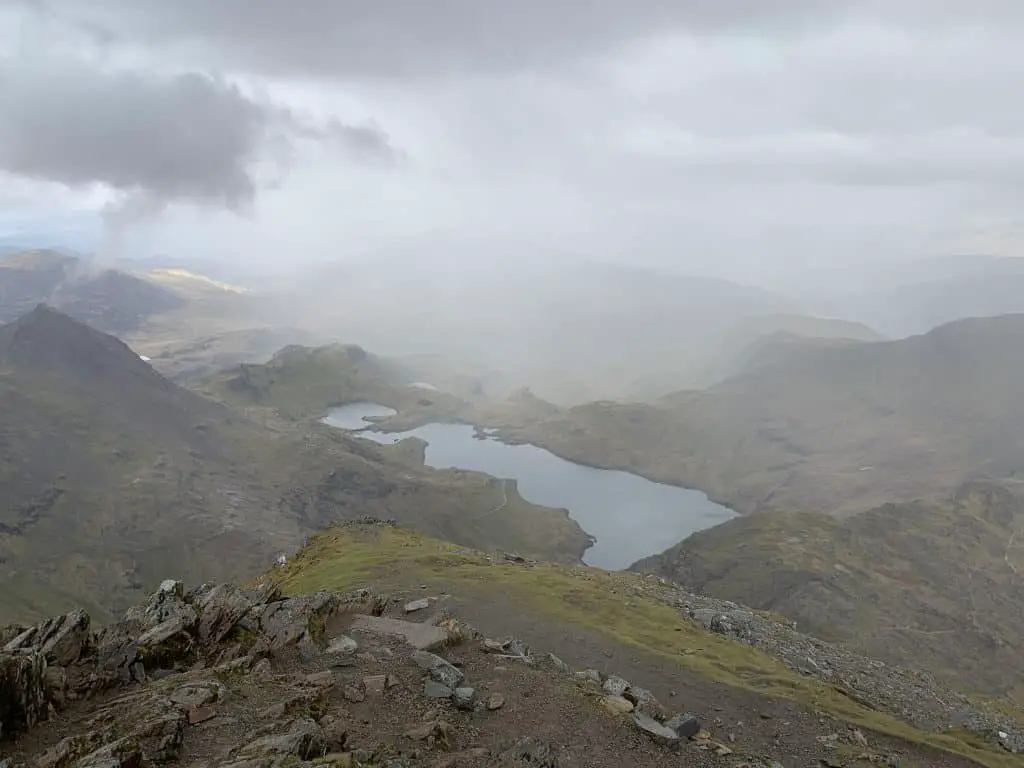 Disclaimer: Some links in this article are affiliate links, which means that if you purchase through them I receive a small commission, at no extra cost to you. This helps cover the cost of running this blog. Thanks for your support!

What Makes Photography in North Wales So Good?
Collectively North Wales comprises of six counties – Conwy, Denbighshire, Flintshire, Gwynedd, Wrexham and Anglesey (Yns Mon). Within these counties there is a stunning mix of natural beauty and history.
Three out of the five Areas of Outstanding Natural Beauty in Wales are found in North Wales, along with Snowdonia International Dark Sky Reserve which is one of only ten reserves in the world!
Snowdonia National Park makes up 2132 square kilometers of northwest Wales. Within this park you can find an abundance of photo opportunities amongst the craggy peaks, lakes and waterfalls. Snowdonia is one of the best places to photograph in North Wales.
Further to the north is Wales' largest island, the Isle of Anglesey. On Anglesey you can snap several beautifully placed lighthouses and miles of rugged coastline.
Historically, land in North Wales has been highly contested and evidence of this can be found at the many medieval castles that still stand to this day. Grab your camera and take your pick from a multitude of North Wales castles.
Finally, scattered all around North Wales are pretty villages, beaches, aqueducts, bridges and quarries, all of which offer the potential to capture some unique images.
With all this choice I want to share the top 20 locations for North Wales photography.
My Recommended Photography Gear
20 Top Spots For Photography In North Wales
1. The Lone Tree
Llyn Padarn is a lake near the small town of Llanberis in Gwynedd. Tucked away in a small bay on the south west side of Llyn Padarn you can find the iconic Lone Tree.
The Lone Tree sits on the lake shore through summer but as the lake rises in winter, it becomes partially submerged. The tree sits perfectly lined up against a backdrop of mountains in Snowdonia National Park. 
Use postcode LL55 4EL on your SatNav and park up in Padarn Country Park Car Park, near Snowdonia Watersports. This car park is free to use. Walk to the lake and turn left. Follow the edge of the lake around to a bay just a few hundred meters from the car park to find this perfectly placed tree.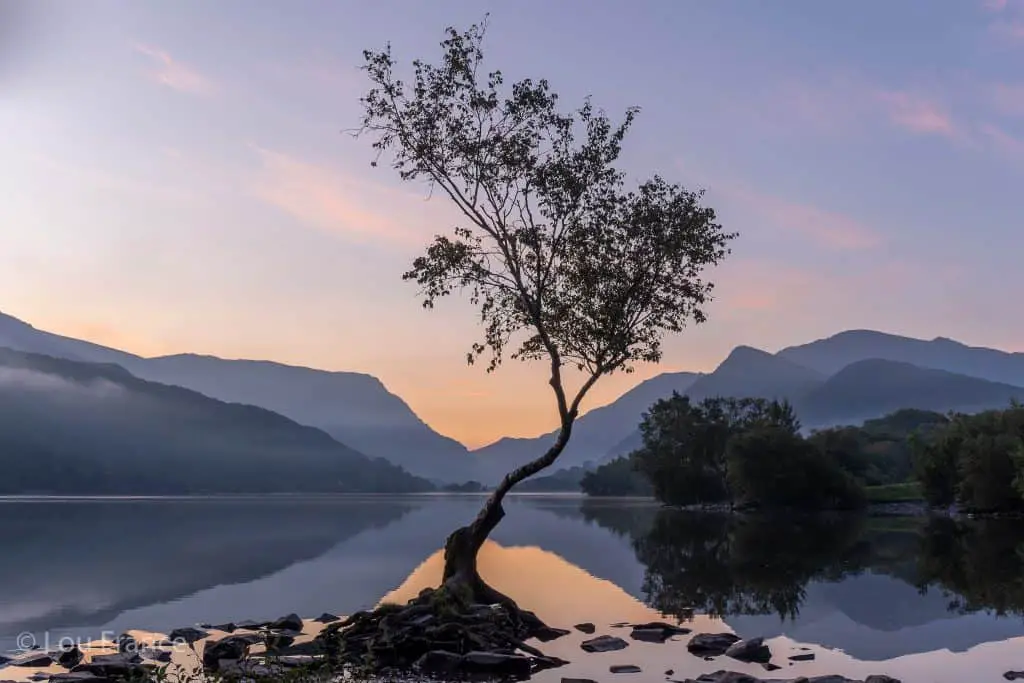 2. Llynau Mymbyr
Llynau Mymbyr are two lakes found in Dyffryn Mymbyr, a valley which arguably offers the best view of the Snowdon Massif. If the weather permits, from Llynau Mymbyr you are able to see the full route taken by hikers enjoying the Snowdon Horseshoe.
Use postcode LL24 0ET on your SatNav and park in a layby on the A4086, just outside Capel Curig.
3. South Stack Lighthouse
Found on Holy Island in the north, South Stack Lighthouse is one of several beautifully photogenic lighthouses found in Anglesey. This is also an active lighthouse which offers tours of the inside.
To learn more about the lighthouses in Anglesey take a look at this guide.
The lighthouse is signposted from Holyhead or alternatively use postcode LL65 1YH and park at the RSPB centre. From the car park a short walk is required along the coast or up the road, to reach a view point above the lighthouse.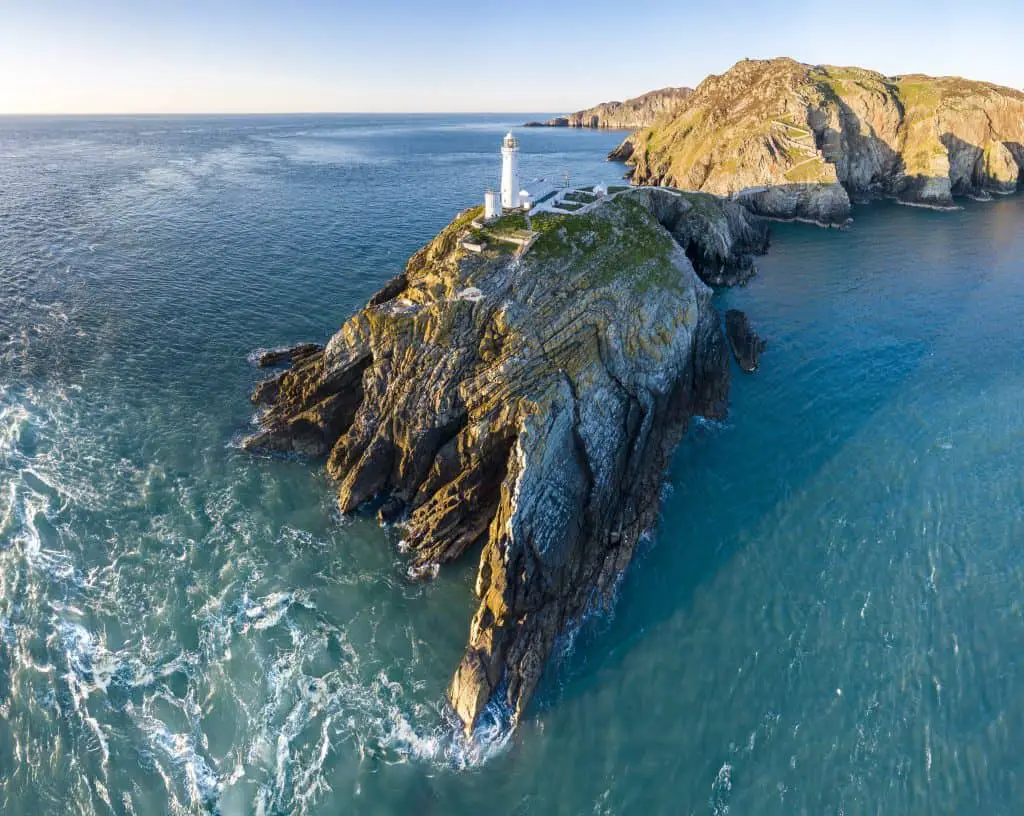 4. Lake Ogwen and Mount Tryfan
This is one of the classic Snowdonia photography locations and is found in the Ogwen Valley. At this spot landscape photographers can enjoy views of Mount Tryfan and Llyn Ogwen (Ogwen lake), with Afon Lloer in the foreground.
Find parking on the A5 near the turn off for Glan Dena (postcode LL24 0EU). From this point hike up the side of Pen yr Ole Wen using the walking trail which follows the Afon Lloer. Jump off the trail to find compositions alongside the river.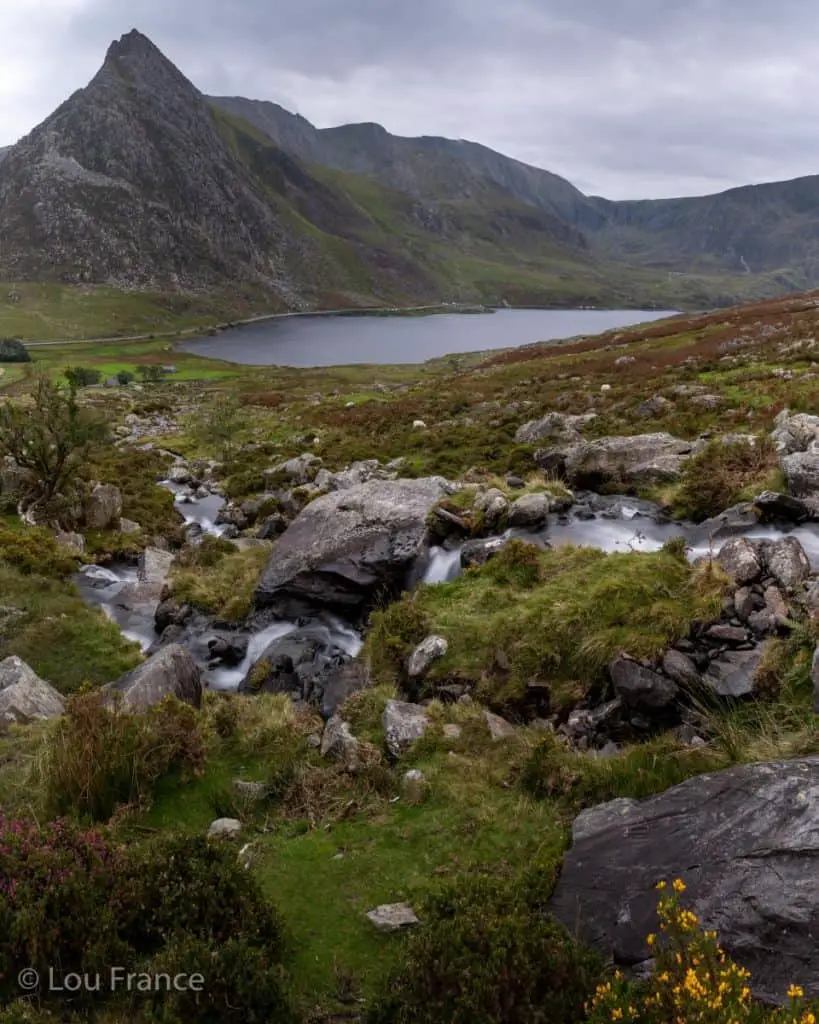 Follow my adventures on Social Media
5. Ogwen Cascades
At the other end of Llyn Ogwen there are more photographic opportunities of a cascading river with Tryfan in the background. The river that tumbles down from Llyn Ogwen offers plenty of options for long exposure shots.
The nearest official parking is at the Ogwen Valley Visitor Centre which is pay and display. There is a layby on the A5 just opposite the bridge, but there are double yellow lines so be warned. The cascades are west of Llyn Ogwen, just off the side of the A5.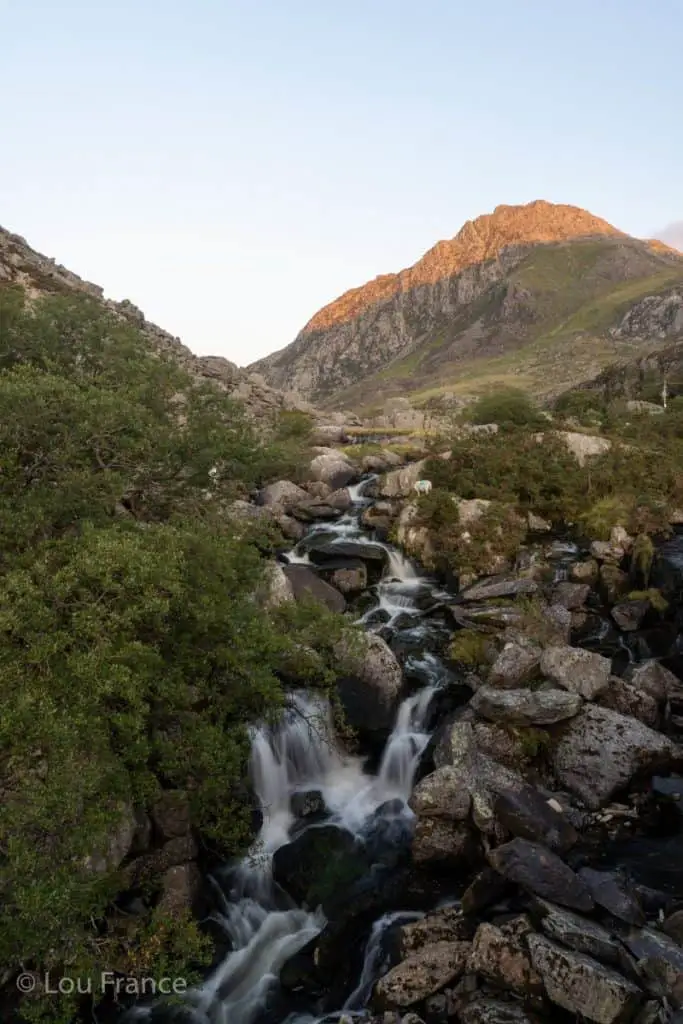 6. Fairy Glen
Fairy Glen is a secluded gorge on the Conwy river. This charming ravine offers great opportunities for long exposure shots and is even more spectacular during the Autumn. A 20 minute walk is required to reach the Glen, along a well marked trail from the car park.
Use postcode LL24 0SH for the Afon Gwyn Hotel on the A470. Turn left after the hotel onto a gravel road just before crossing the bridge. There is a designated car park on the left. Donations can be made at a box on the trail head.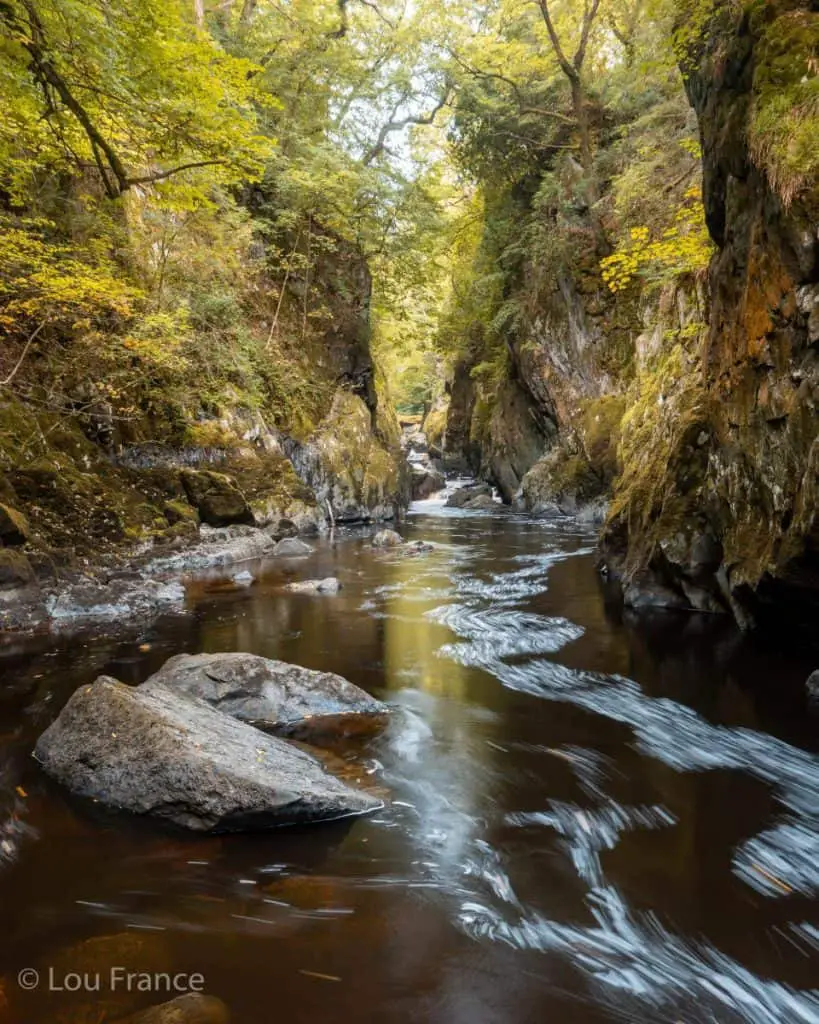 If you want to create a beautiful photography website to share your photos with the world, then I can highly recommend Smugmug, who I've used for several years. The platform is easy to use and even provide unlimited online storage for your photos. They offer a 14 day trial so you can test it out for free. Click here to take a look!
7. The Menai Bridge
Menai Bridge is the bridge that connects Anglesey to the mainland of Wales. Thomas Telford's Menai Bridge (Pont Menai) was the world's first iron suspension bridge and is 305m long. At night the bridge is illuminated so great photos are possible both day and night.
To capture this scene head to the Menai Bridge view point on the A5 using postcode LL61 5YH.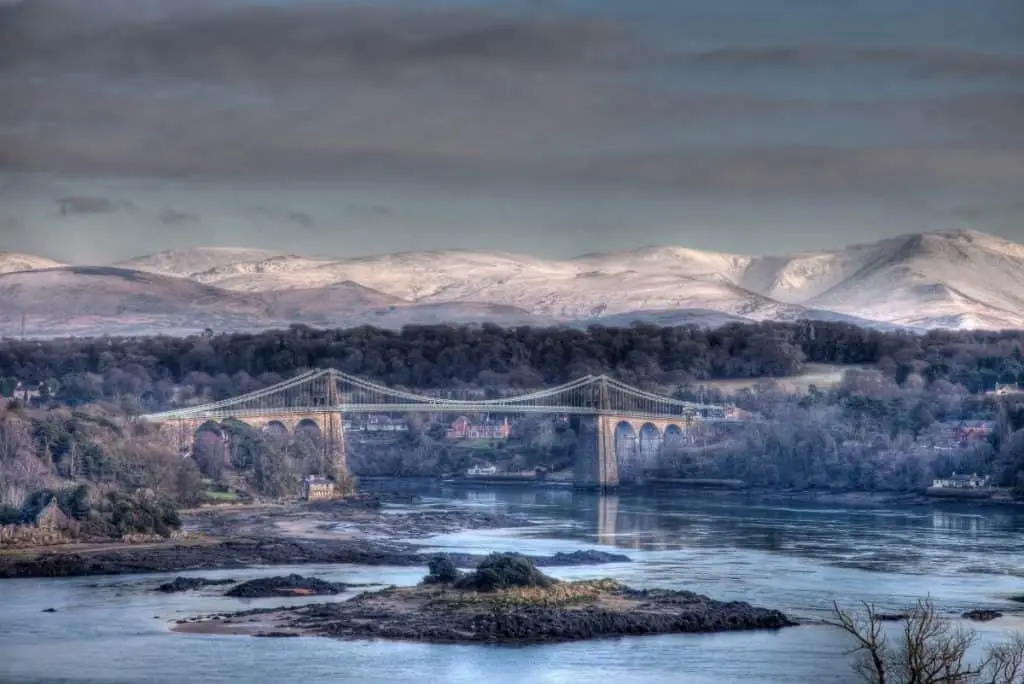 8. Conwy Castle 
There are lots of castles in North Wales which could be included in this list and which one makes for the best photographs will, I guess, be a matter of personal preference.
Many would argue that Conwy castle is the most impressive of Edward I's Welsh castles and on a calm evening with the castle illuminated, it's hard to disagree. 
For a full list of the best castles to visit in North Wales take a look at this article.
For this view cross the bridge head north of the castle. Park in a layby on the A546 and use the walkway to find your desired location along the bay.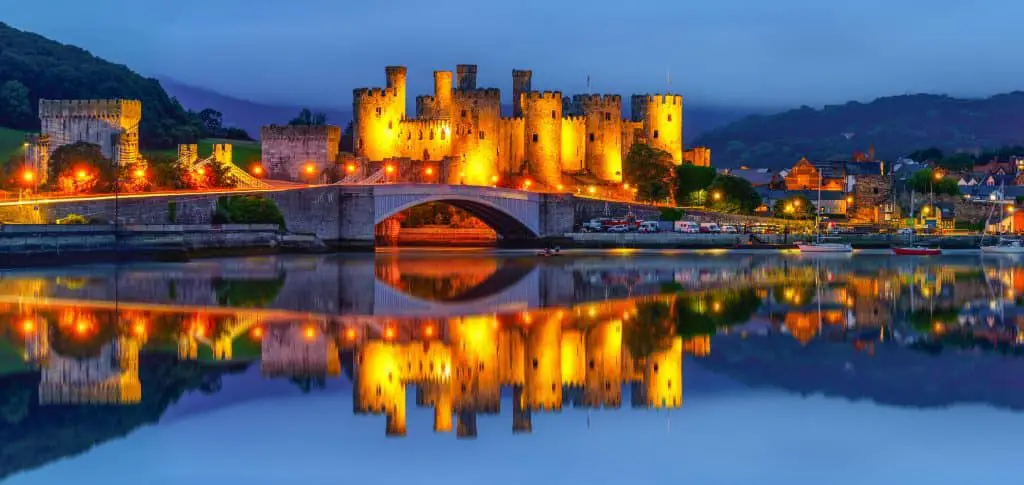 9. Glyderau Summits
The most unique mountain summits in Snowdonia can be found on Glyder Fawr and Glyder Fach. These are the two highest peaks in the Glyderau range. The Glyderau are an incredible area for North Wales landscape photography as the rock formations are so unusual.
From the summit of Glyder Fach you can photograph spire-like rock formations collectively known as Castell y Gwynt, with the Snowdon Massif looming behind. These rocks look spectacular in the early morning light, however reaching this point is no stroll in the park!
Glyder Fach summit can be accessed via a multitude of hiking trails, most of which start in the Ogwen Valley and require several hours. To learn more about these trails and decide which one is best for you, take a look at this guide.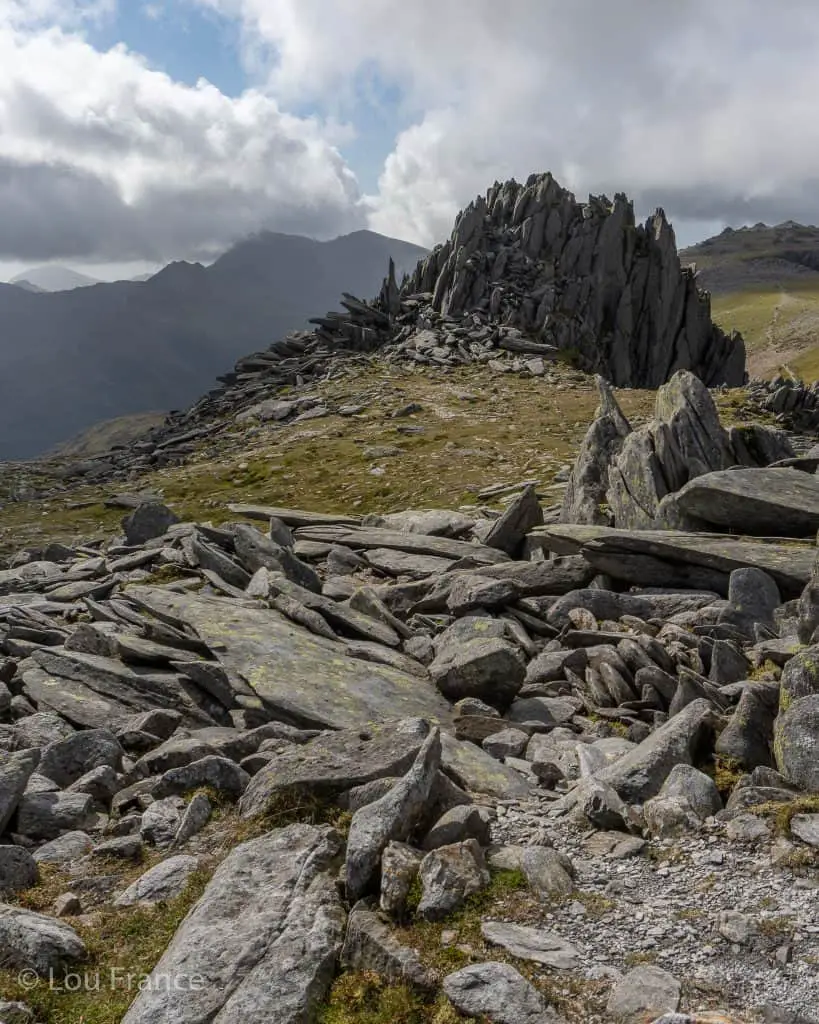 10. Dolbadan Castle
The impressive round tower is mostly all that remains of Dolbadarn castle. Found on the shore of Llyn Padarn, this solitary fortress was Llywelyn the Great's main defence of the Llanberis Pass.
Found near the town of Llanberis, a trip to Dolbadarn can be combined with a visit to the Lone Tree. Llanberis is also the starting location for a hike to Wales highest mountain, Snowdon.
There is a large pay and display car park just opposite the castle. Use postcode LL55 4TY in your SatNav.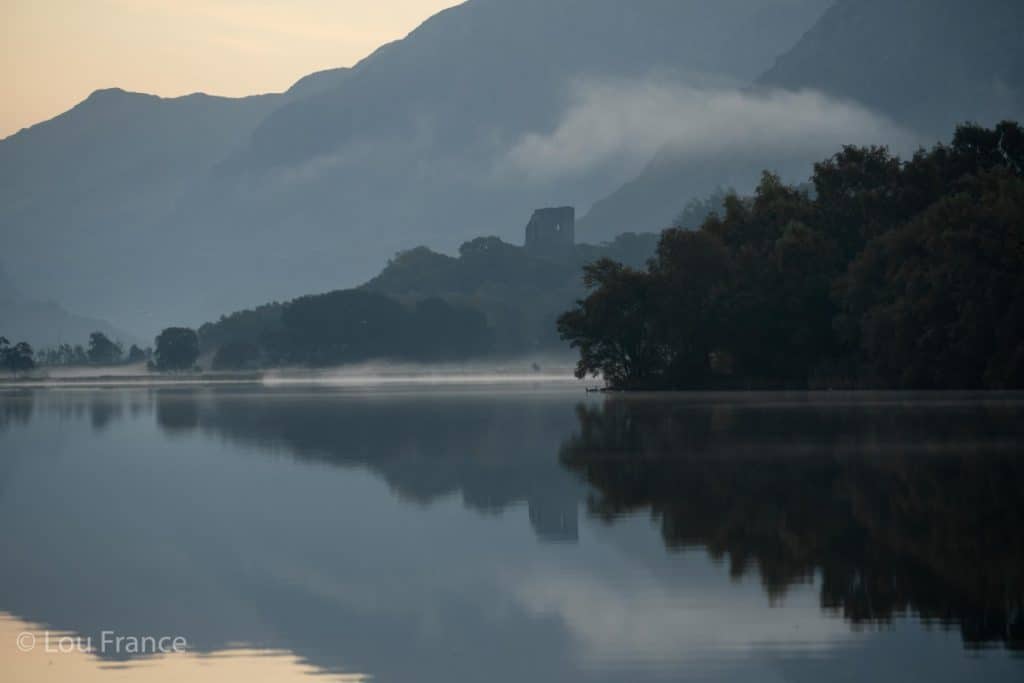 11. Ogwen Boathouse
At the north end of Llyn Ogwen just before the Afon Ogwen flows out towards the sea you can find Ogwen Boathouse. This partially submerged building with Tryfan in the background, is a popular photography spot for sunrise.
Did you know? Llyn Ogwen is claimed to be the final resting place of Excalibur, King Arthur's famous sword!
Use postcode LL57 3LZ and park in the Visitor Centre car park.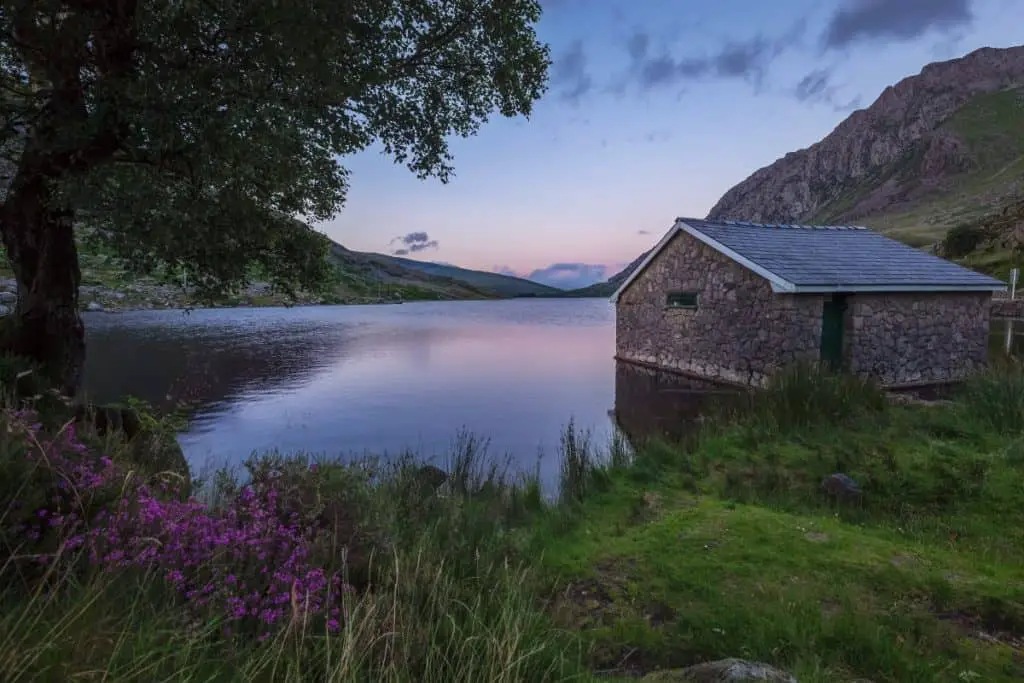 12. Cwm Idwal
Cwm Idwal is a valley found within Ogwen valley. Cwm Idwal is surrounded by high mountains and has a lake, Llyn Idwal, in the middle. This makes Cwm Idwal a great plce for landscape photography in North Wales.
The Cwm is accessed via a short uphill walk from Ogwen Valley Visitor Centre.
There are multiple photo opportunities from all sides of the lake but I think the best views of Cwm Idwal as a whole, are from near the Devil's Kitchen or on top of Y Garn mountain. To learn more about hikes to the Devil's Kitchen and Y Garn click here.
To access Ogwen Valley Visitor Centre use postcode LL57 3LZ. Full day parking costs £5.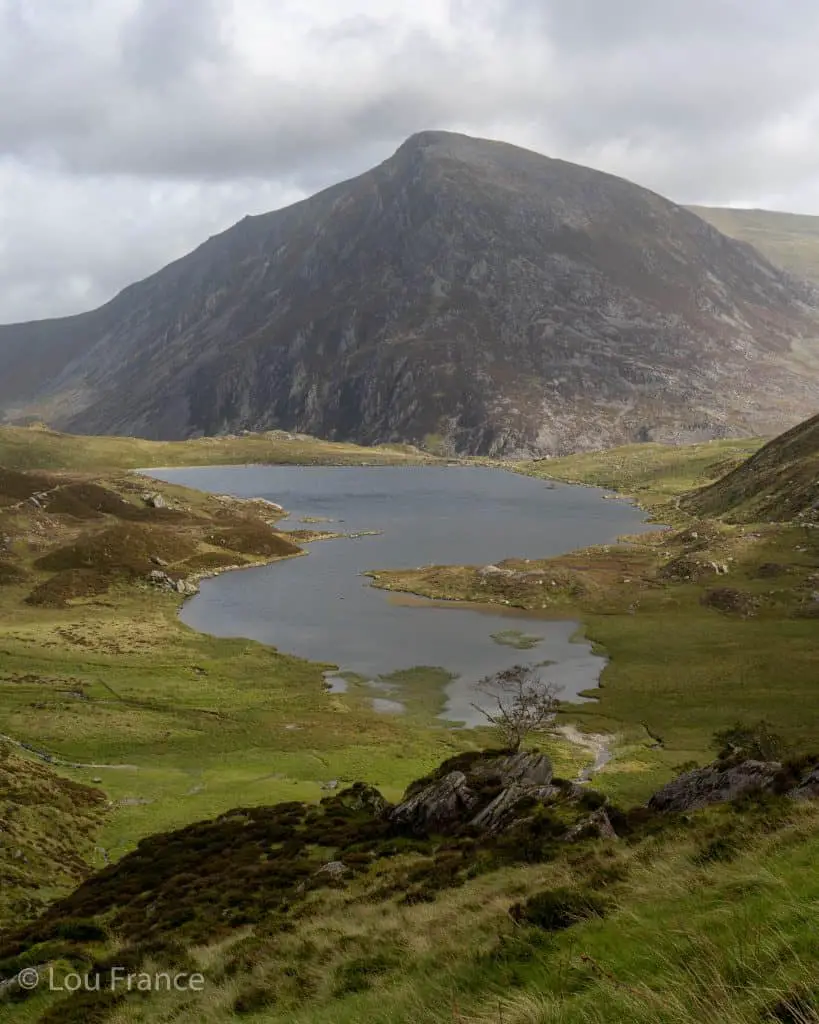 13. Ynys Llanddwyn Lighthouse
Another of Anglesey's famous lighthouses is Tŵr Mawr, which is found on the tidal island of Ynys Llanddwyn. Near the lighthouse you can find the ruins of a 16th century chapel dedicated St Dwynwen, who is the Welsh patron saint of lovers.
Ynys Llanddwyn is a great location for sunrise, sunset and Milky Way shots. Use Photopills to plan the best time to visit and don't forget to check the tide times before you set off. To learn more about Photopills, My Tide Times and other landscape photography apps, take a look at this guide.
The island can only be accessed by foot from Newborough Forest. There is an entry fee to enter the forest which is paid at the toll booth. Use the beach car park which is a 3km walk to the lighthouse (one way).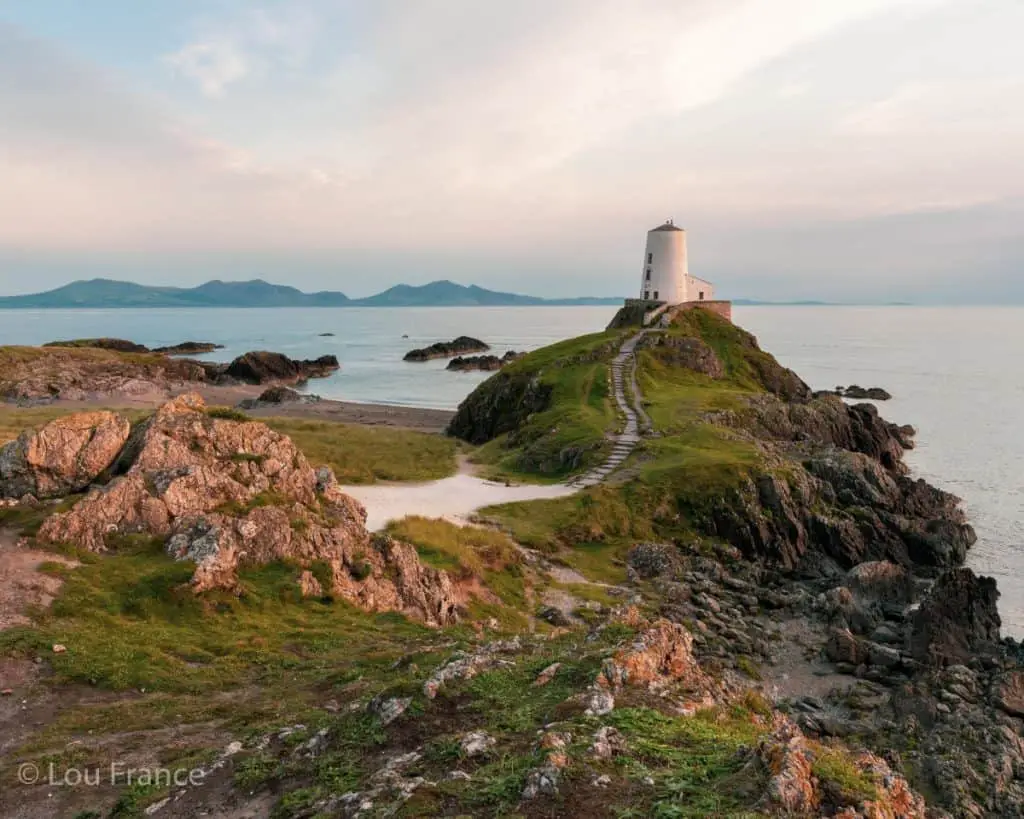 14. Pontcysyllte Aqueduct
The Pontcysyllte aqueduct is a navigable aqueduct that carries the Llangollen Canal over the river Dee. You can walk along the aqueduct and there are several trails which take you downstream and upstream, providing plenty of angles to get a shot.
Use postcode LL14 3SG to get to the main pay and display car park near Cefn Mawr, from which there is a short walk to the aqueduct.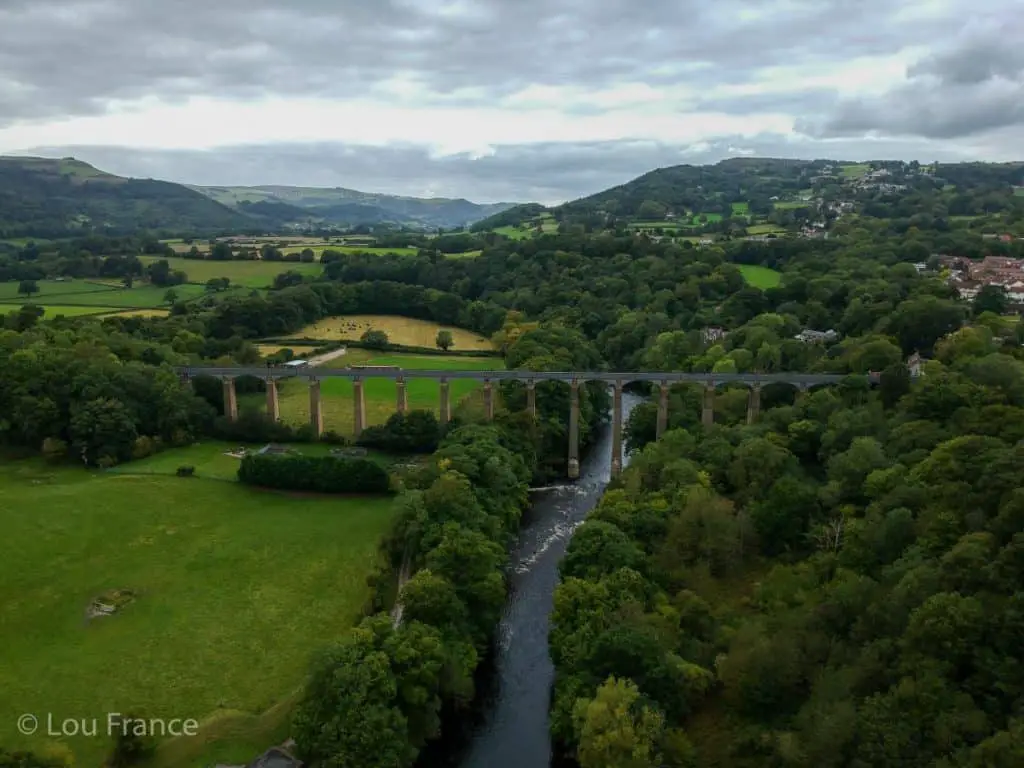 15. Dolgoch Falls
North Wales is blessed with many large waterfalls such as Aber, Pistyll and Swallow falls. Any of these can provide some epic photos so click here to learn more about them. However, my favourite collection of waterfalls is found at Dolgoch, in southern Snowdonia.
Dolgoch is an atmospheric gorge with two large waterfalls and multiple smaller cascades, all of which provide ample opportunities for slow shutter captures.
Use postcode LL36 9UW and park in the large pay and display car park.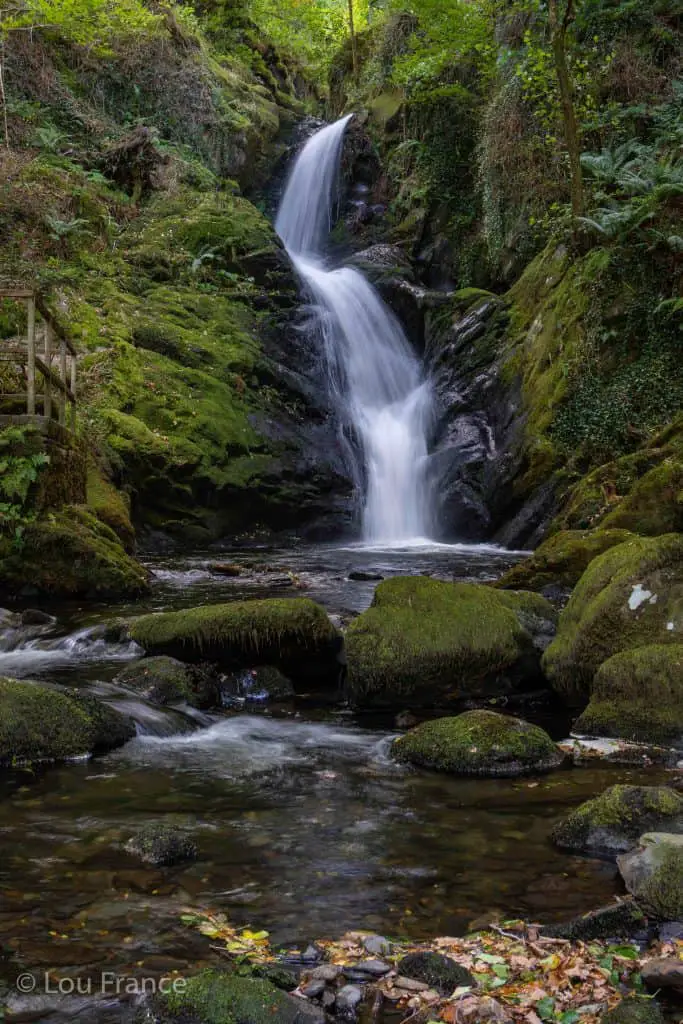 16. Tu Hwnt Tea House
Tu Hwnt is a tea room in Llanrwst which is famous for it's Virginia creeper. The leaves usually start to turn red towards the end of September and stay red for around five weeks. (For reference, I took the photo below in mid September which was a week or two too early)
The tearoom has it's own car park for customers, so if you pop in for afternoon tea along with your photo you can use this (Postcode LL26 0PL). If not there are pay and display car parks over the bridge in Llanrwst itself.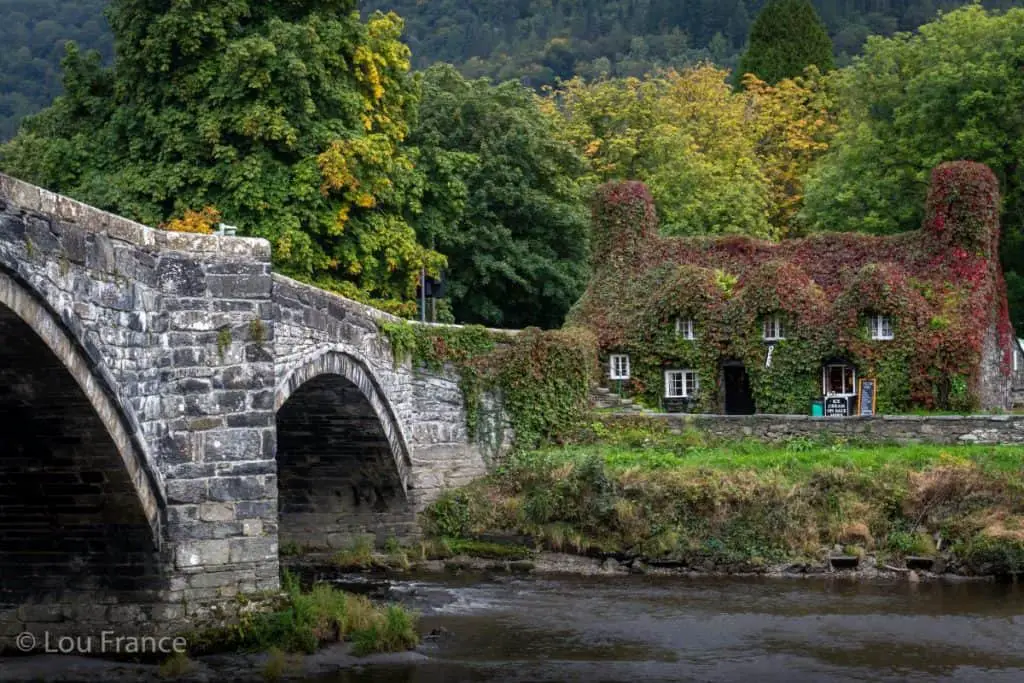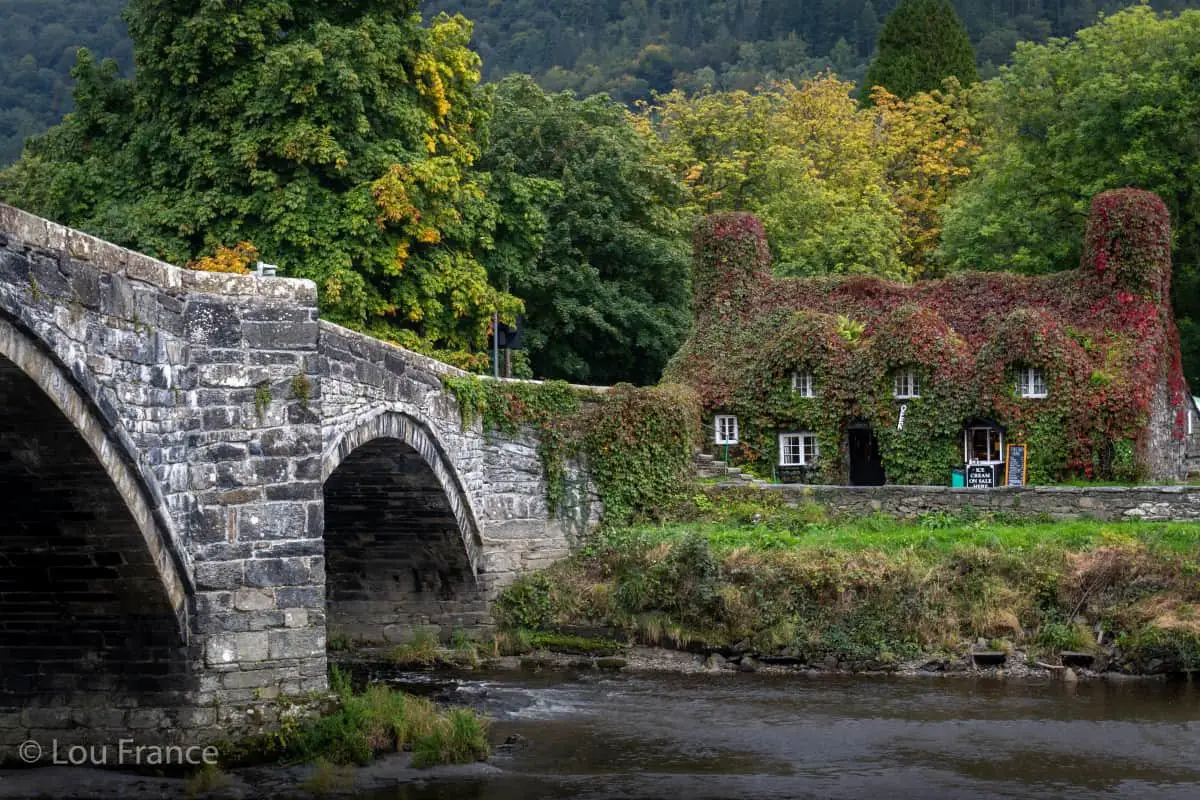 17. Snowdon Summit
Mount Snowdon probably needs no introduction, but just in case you didn't know, it's Wales' highest mountain. In the summer months you can catch a train to the summit otherwise the only option is to walk. The shortest hike is the Pyg Track at 11km round trip.
The summit is great for sunrise or sunset but obviously this means hiking in the dark at some point.
Click here to find out which hiking route to Snowdon's summit is best for you.
Parking for the Pyg Track is at Pen y Pass which is pay and display and requires advance booking between March and November. If hiking from Pen y Pass the easiest way is to use the park and ride Sherpa Bus from Nant Peris. Use postcode LL55 4NU.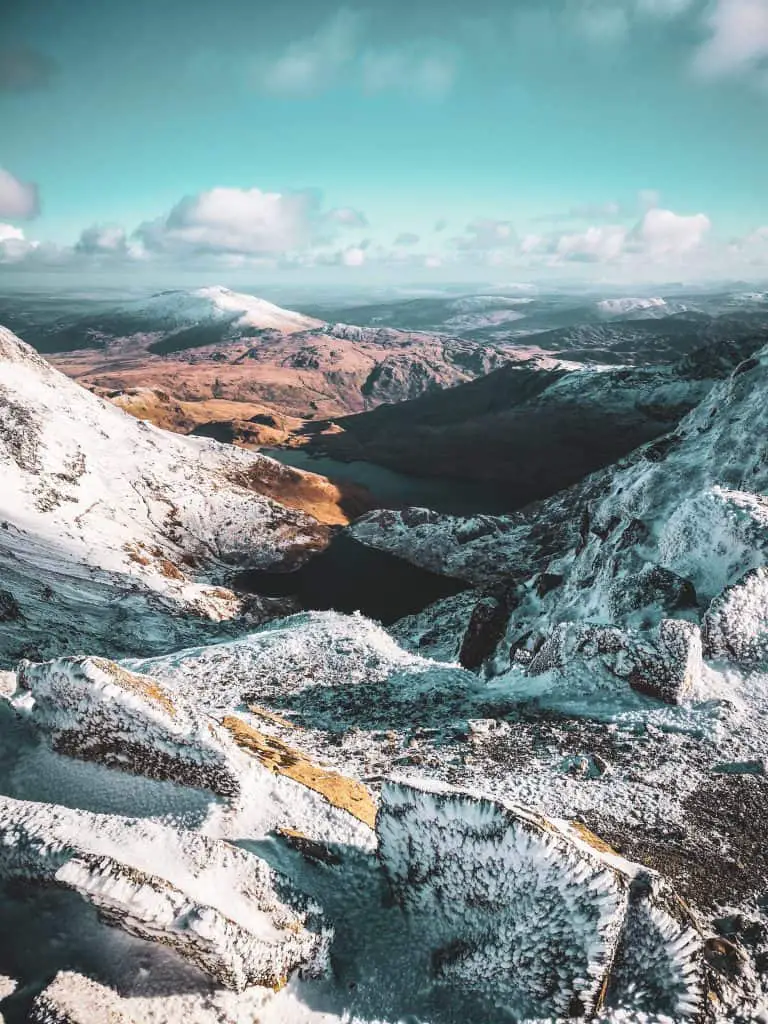 18. Penmachno Bridge
Penmachno is an old packhorse bridge which spans the Afon Machno. It's often described as a Roman bridge though my research suggests it's medieval or post-medieval. Either way, it's a very photogenic bridge with hanging ivy drooping over both sides.
There are some tasty compositions to be found down stream from the bridge, along the riverbank.
There are two small laybys near the bridge which can be used for parking. Take the B4406 from the Conwy Falls Cafe towards Penmachno. Take the first right at Penmachno Mill and cross the bridge over the Afon Machno. The laybys are on the left-hand side. Postcode LL24 0PP.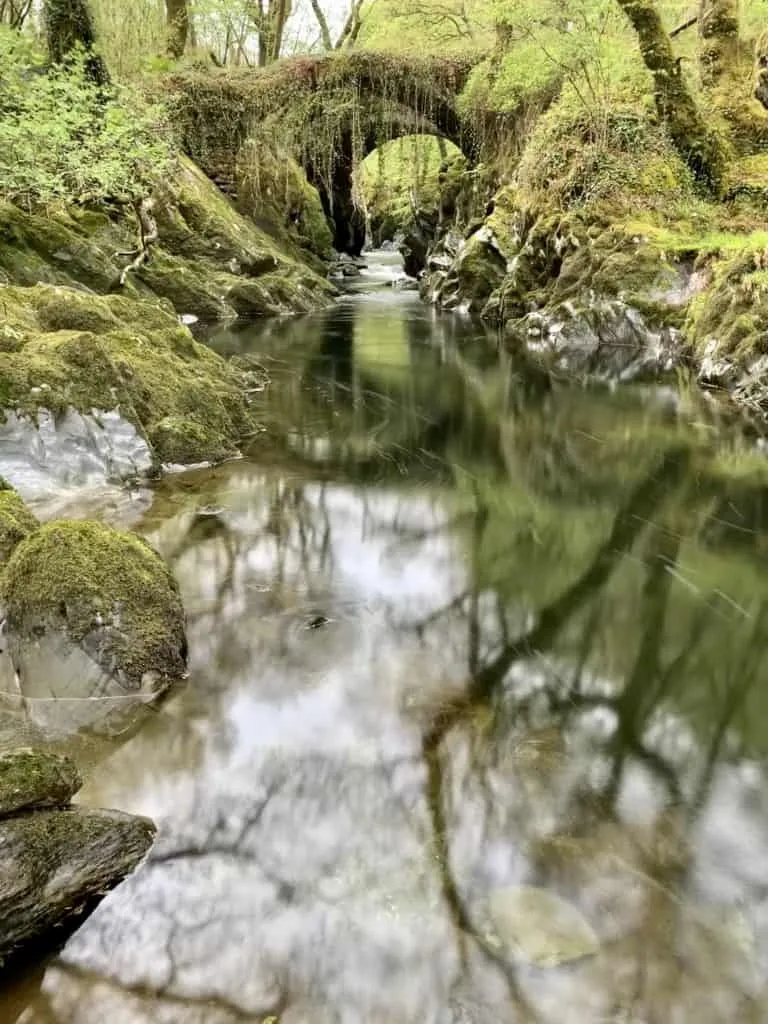 19. Llyn Cau and Cadair Idris
Hiking Cadair Idris is a fabulous way to spend a day in southern Snowdonia. There are several routes to the summit but to enjoy views of Llyn Cau with Cadair Idris behind, take the Minfordd Path.
From the car park there is a steep hike up through a wooded gorge which eventually opens up to this beautiful valley view.
Dôl Idris car park is situated at the A487 and B4405 junction at postcode LL36 9AJ.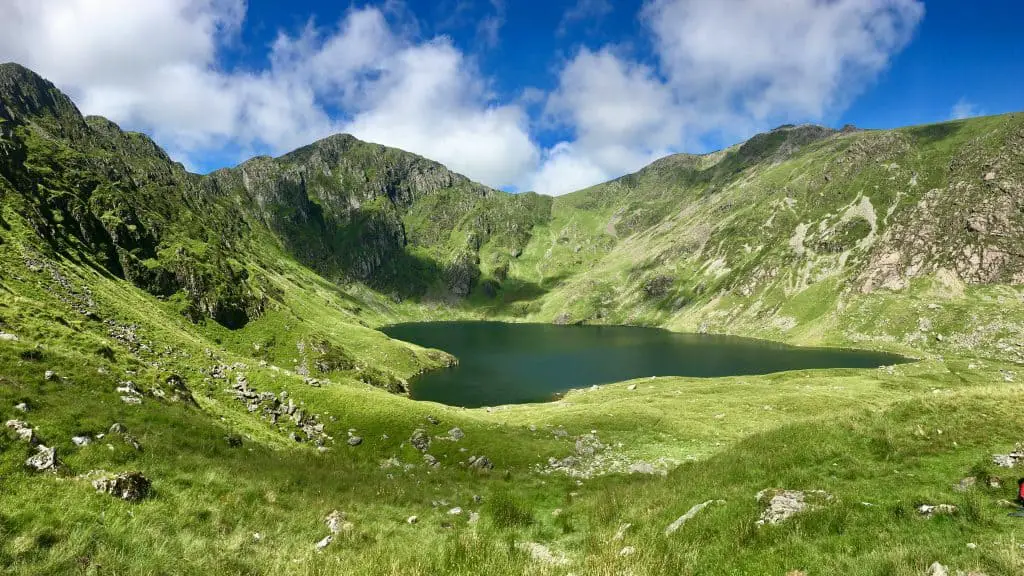 20. Cwm Bychan
Cwm Bychan, with it's old copper mine and aerial ropeway offers some unique photo opportunities, as well as a great low-level Snowdonia walk. From the layby near Llyn Dinas there is a 1.6km walk to reach Cwm Bychan.
In this valley you can find well a preserved aerial ropeway once used to transport copper ore.
Park in the layby on the A498 near the southern end of Llyn Dinas.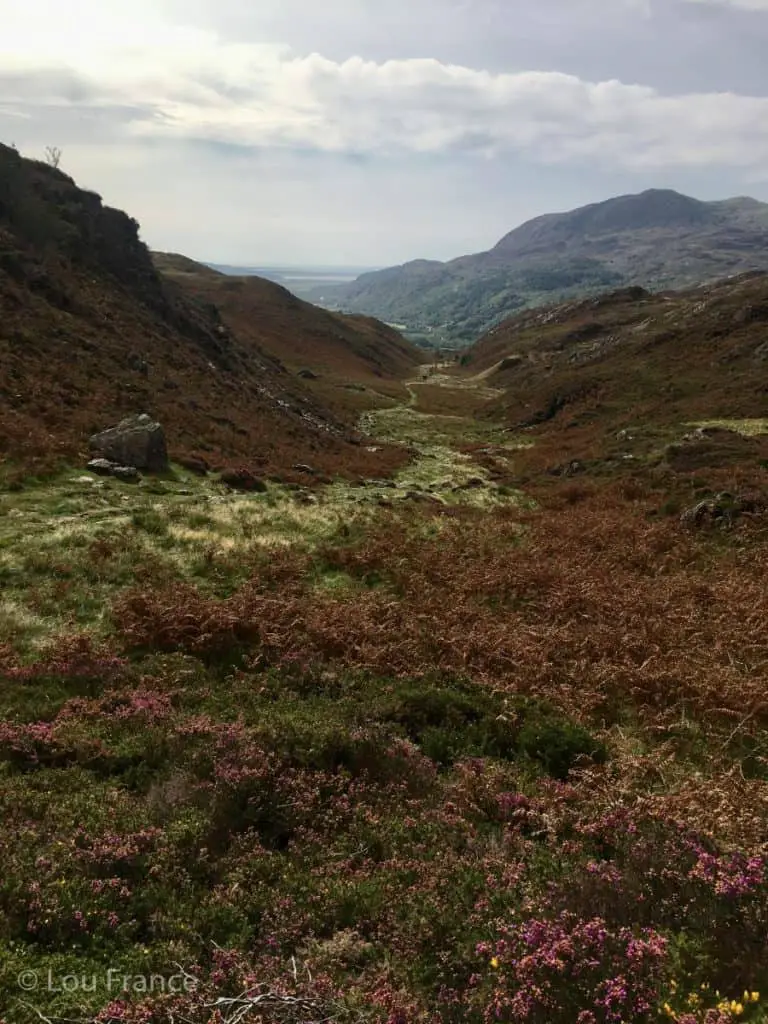 Top Locations To Stay On A North Wales Photography Trip
The locations I've described are spread across North Wales, so to visit all of these spots would require at least several days. Being such a mountainous region, travel between places is often slow on A and B roads.
On my trips to North Wales I've stayed in a variety of locations in different types of accommodation. Good bases from which to photograph North Wales include Llanberis, Capel Curig or the Ogwen Valley and on Anglesey.
Llanberis
Idan House is a great little BnB if you're looking to spend a few days in Llanberis, where you can capture the Lone Tree and Dolbadarn Castle.
Whilst in Llanberis be sure to visit Pete's Eats for a proper mug of tea and a hearty breakfast!
Capel Curig
Capel Curig is the best place to stay if you want to experience sunrise at Llynau Mymbyr. There is a fabulous hostel just outside the village called The Rocks which is the perfect budget option.
Ogwen Valley 
Ogwen Valley has multiple photography locations to explore and is my favourite area of Snowdonia. If you want to keep things cheap and basic try Gwern Gof Uchaf campsite. If you prefer glamping try Gwern Gof Isaf. These two campsites are located a few miles from each other and are easy to confuse, so be sure to double check directions before you set off.
Anglesey 
If you want to capture South Stack lighthouse for sunrise/sunset you could stay at these fabulous Coastal Glamping Pods. Or for a place close to Ynys Llanddwyn, try Newborough Cottage.
Like It? Pin It For Later!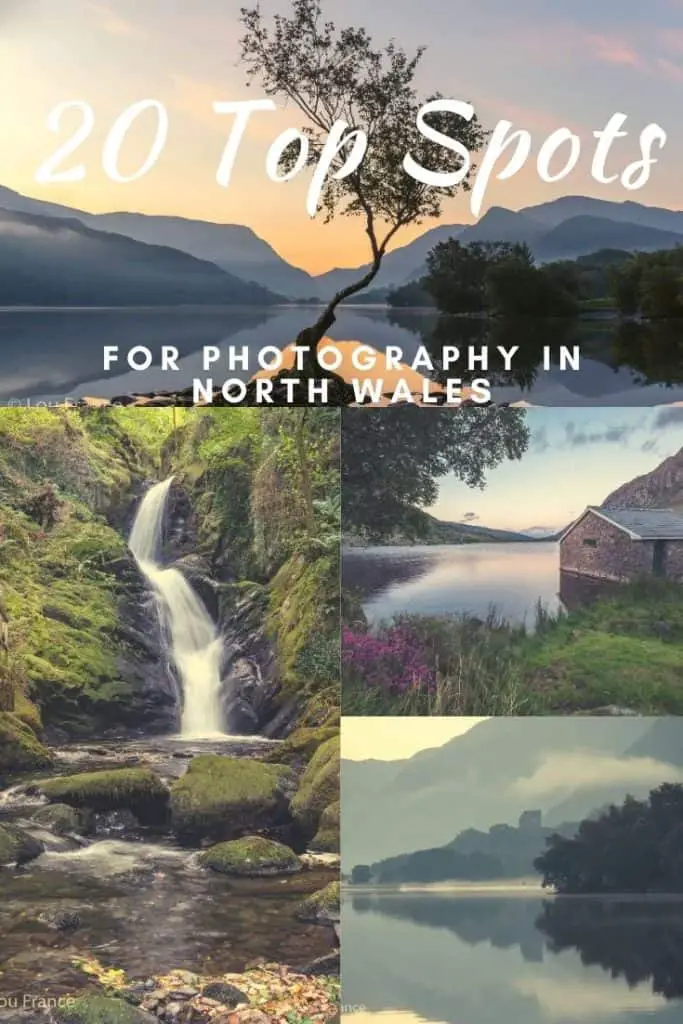 Join My Newsletter Today!