Mestia is a beautiful town tucked away in the Svaneti region of Georgia, high up in the Caucasus mountains. Mestia is well known for its defence towers which are dotted about the town and also in many other villages of the Svaneti region.
As popularity increases in Georgia, Mestia has grown its reputation as a world class trekking destination. Everything is possible here, from day hikes to multi-day or even multi-week treks, as well as mountaineering expeditions. Because of its remoteness, Mestia remains relatively unspoilt and uncrowded. 
With a range of hospitable guesthouses in and around Mestia, it is the ideal place to base yourself for a memorable adventure in the pristine mountain wilderness of Georgia.
This is a complete guide to visiting Mestia including all the top things to do, the best places to stay and how to reach this remote region of Georgia.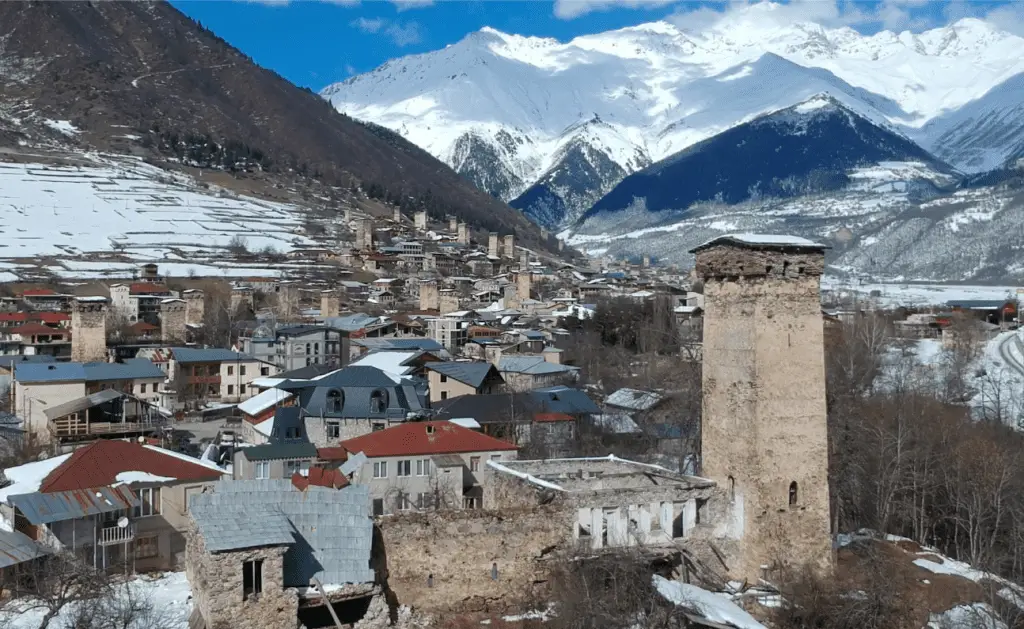 Disclaimer: Some links in this article are affiliate links, which means that if you purchase through them I receive a small commission, at no extra cost to you. This helps cover the cost of running this blog. Thanks for your support!
How To Get To Mestia
Flights landing in Tbilisi or Kutaisi will be your most likely route into Georgia. Tbilisi deserves several days for exploring as does Kutaisi and its surrounding canyons and caves.
To get to Mestia there are a few options.
1. Flight
The easiest option to get to Mestia is to fly as it does have, an albeit small, airport (airstrip). There are 4 flights a week from Tbilisi and 1 from Kutaisi. Vanilla Sky offer these passenger flights to Mestia and you can check their timetable here.
However these are very much dependant on weather conditions.
2. Private car/taxi
The only other way is by road and in winter a 4×4 is highly recommended. A private transfer/taxi  can be organised from Tbilisi and Kutaisi. Private transfers are available to book online with Viator.
Gotrip offer good 4×4 cars with a driver to anywhere in Georgia. Tbilisi to Mestia one way will cost $150-$180 Per car. (2022). Another option is to approach one of the travel agencies un Tbilisi old town and try and negotiate a good deal.
3. Car rental
Self drive car rentals are another good option and can be rented in all the main cities in Georgia. This option offers excellent flexibility to explore Georgia along the way. Consider hiring a 4×4 especially in winter.
In our most recent Winter trip to Georgia we drove to Mestia in our Campervan in March and the road was surprisingly clear of snow. However, in Winter this road can close temporarily due to snow and rockfalls.
The drive up to Mestia takes you from the lowland plains by the Black sea up into the Caucasus on a good but often bumpy, landslide prone road. Unless you fly in this will form the start of your adventure to Mestia. The road follows a gorge which opens up to big mountain views as you start spotting the defence towers in the villages approaching Mestia.
Learn more about what to expect when driving in Georgia in this guide.
4. Train
It is also possible to take a train from Tbilisi to Zugdidi or Batumi and take a car (with or without driver) or Marshrutka from there, but this will be time consuming. Check the train timetable here.
5. Marshrutka
The cheapest option will be to take a Marshrukta (Local bus/minibus). There is one direct bus from Tbilisi Samgori Bus station at 7am to Mestia, which arrives at 4.30pm (if all goes well). The cost is 40 GEL ($12).
Marshrukta services link up all of Georgia and are a cost effective way to explore the country.
Allbus is a useful site which will allow you to book Marshrukta services in Georgia.  Otherwise you can rock up at the bus station and chance your luck.  For local journeys it is commonplace to wave a marshrutka down along the way.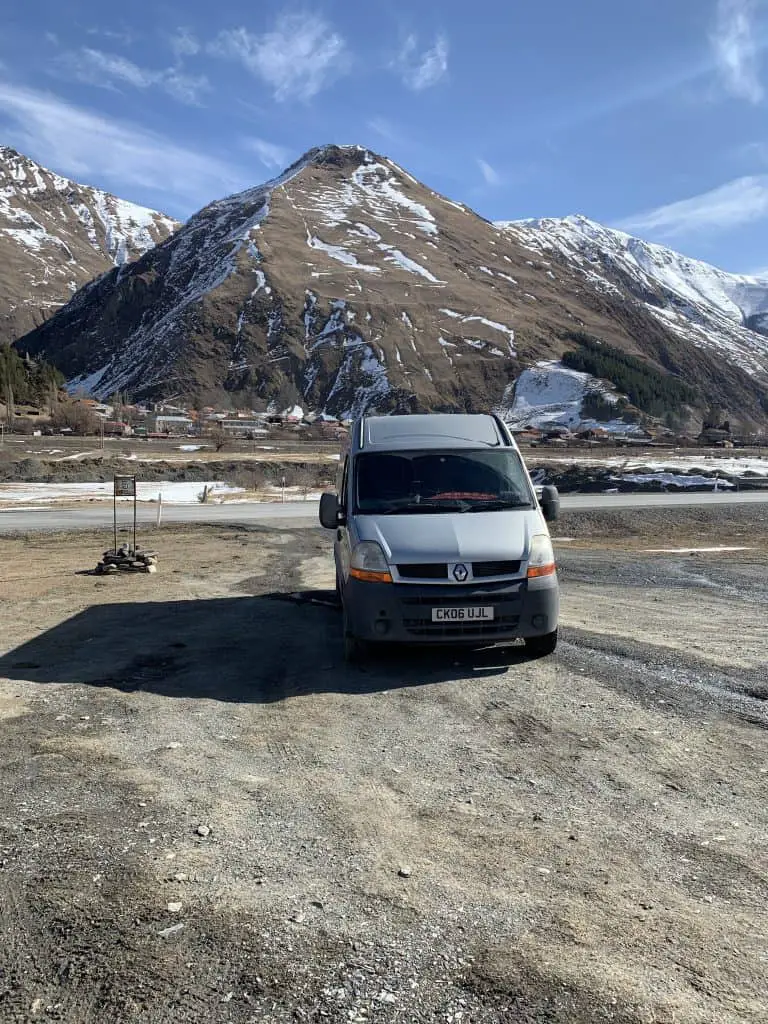 The Best Things To Do In Mestia
The main attraction of Mestia for most people is likely to be the beautiful mountain scenery and pretty Svan houses, with their defence towers dominating the village views.
Mestia is not a big town but has a good choice of family run and hospitable guesthouses, restaurants and bars to keep you fed, watered ands rested. There is enough to do in and around town to keep you occupied for a few days and to orient yourself before pushing on further into the Svaneti region.
If you like trekking the options are endless.
For 30 unique and interesting things to do in Georgia, see this guide.
Sightseeing In Mestia
1. Museum of History and Ethnicity
This is the ideal place to start your visit in Mestia as it offers a good insight into the history of this intriguing area. It houses historic artefacts from the region and explains the purpose of the famed towers. Its only a small museum but well worth a short visit.
Entrance to the museum costs 10 GEL and it's open everyday except Mondays. The view of Mestia from the museum is pretty nice too. 10GEL Entry.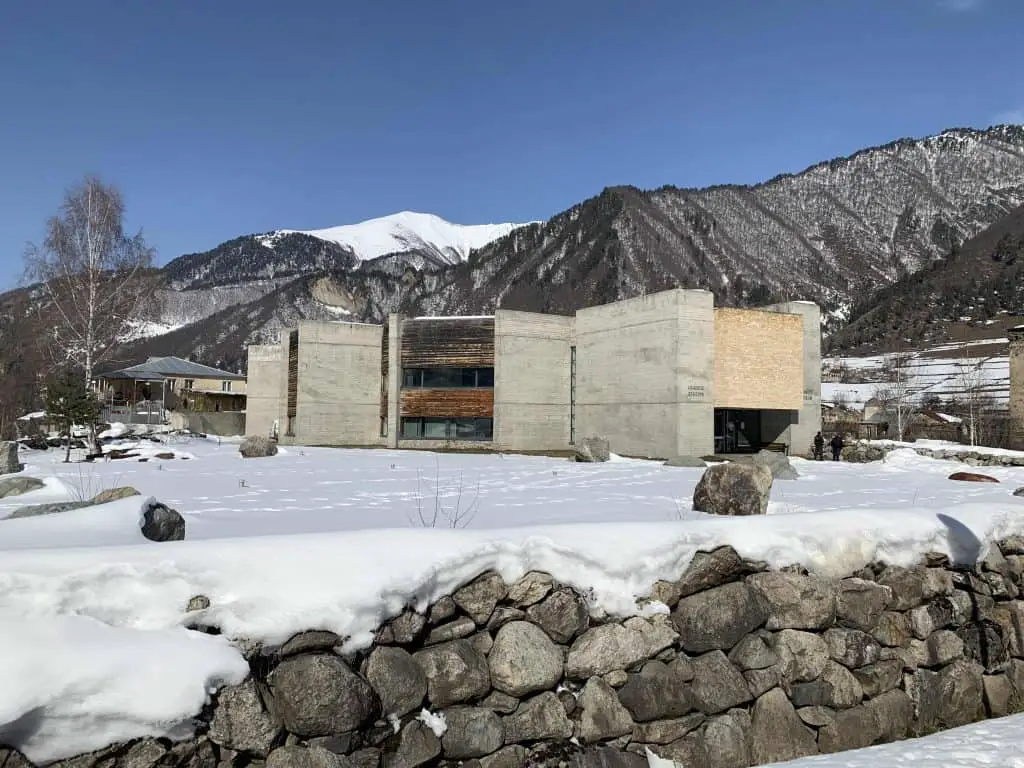 2. Wander Laghami
Explore the back streets in Laghami, which is oldest part of Mestia. This is a great place to experience the history and atmosphere of old Mestia while capturing some nice photos. Be sure to visit the Transfiguration Cathedral for its frescoes and painted facade. 
3. Margiani's House Museum
Set in the North east edge of Mestia this historic home offers a glimpse back in time and the opportunity to climb inside a guard tower. Originally the family owned 8 towers but only 4 remain. Inside the buildings are decorated as they traditionally would've been and as you'd expected the views from the top of the tower are quite impressive.
The entrance cost is 10GEL and it's closed on Mondays.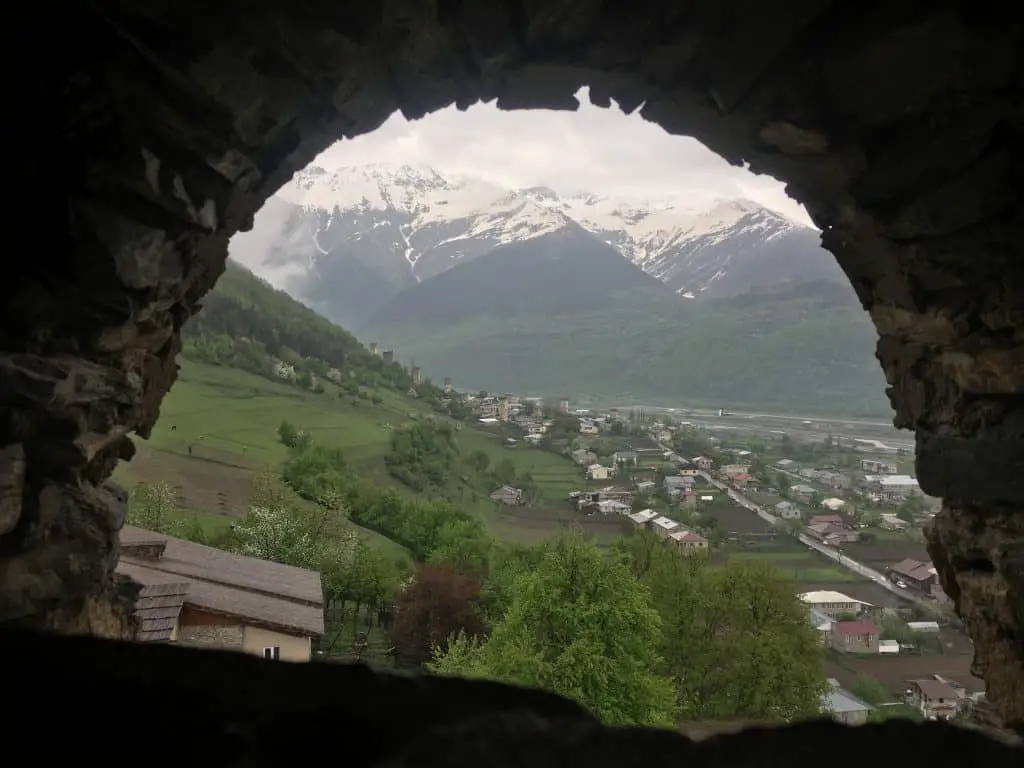 4. Mikhail Khergiani House Museum
This museum gives a glimpse into the life and lifestyle of a famous local, gold medal winning mountaineer. Set in a traditional Svan home, exhibits document the career of this talented local hero. 
5. Hatsvali Ski Area (Mt Zuruldi)
Just up the road from the H & E Museum is the chair lift that links Mestia to Hatsvali ski area. In the summer it is great to ride to the top for great views, to enjoy the fresh mountain air and to eat in Georgia's highest restaurant. (Apparently! I think those in Tetnuldi would give them a run for their money!). There are some nice hiking trails accessible from the top of the Hatsvali gondola.
The ride to the top costs 15GEL for a return trip and involves a chairlift and a gondola.
Skiing in Georgia might not be on the radar for many people, however there are some top ski resorts to ride, one of which is Hatsvali. In Winter perfectly groomed slopes carve their way through the trees and freeride areas provide more fun for the advanced skier and snowboarder.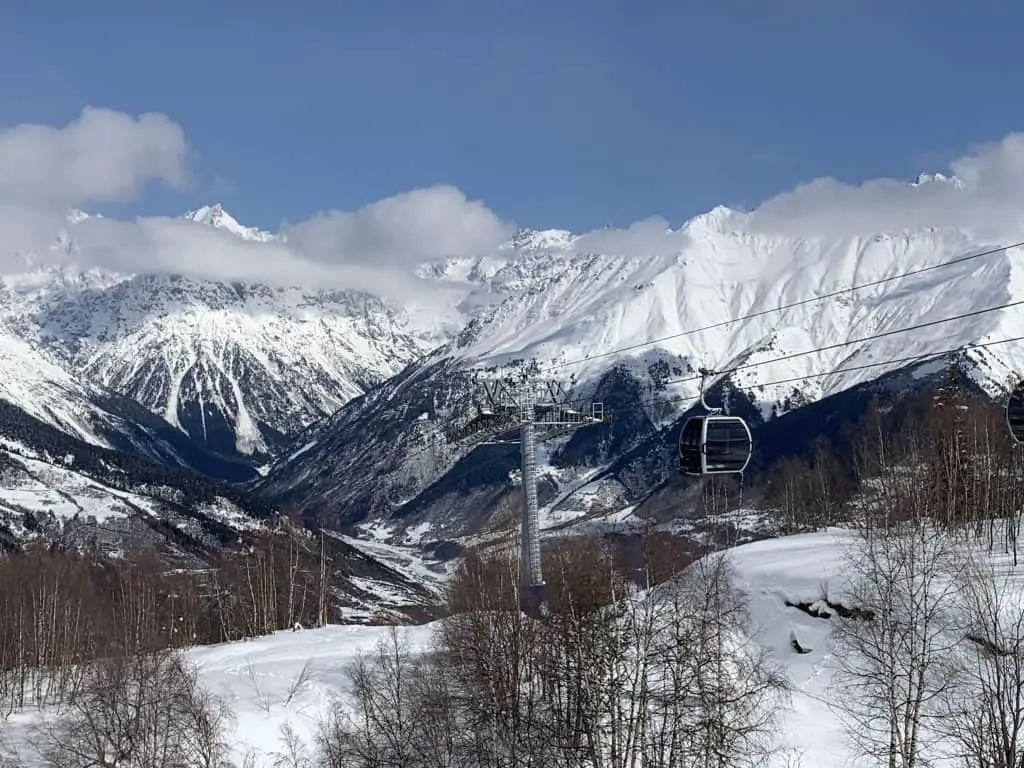 6. St Nicholas Church  
This nice new church sits on a small hill overlooking Mestia. Its well worth a visit while you are in Mestia and there's a good view of the town from here. 
7. Explore Tetnuldi Ski Area
Tetnuldi is 15km from Mestia and offers snow sure skiing in winter, often until May. During the summer the high altitude slopes offer stunning hikes and fabulous mountain views. In winter the area offers 30km of marked trails and plenty of great backcountry skiing.
For a complete guide to skiing in Tetnuldi, see this post.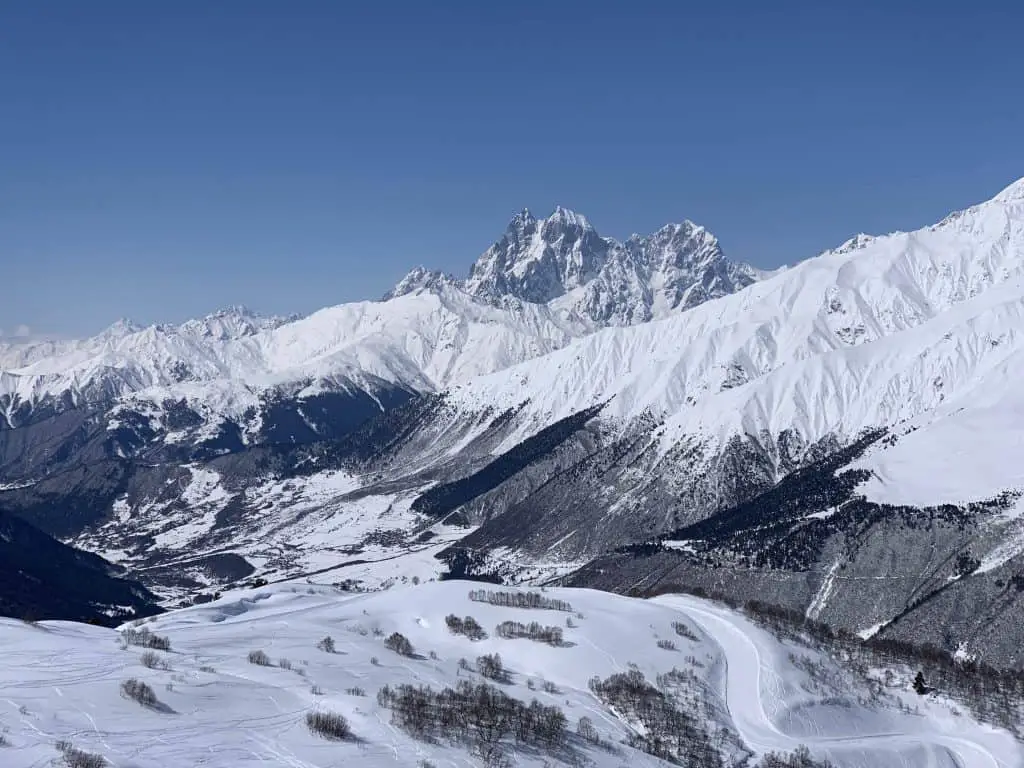 8. Watch Live Georgian Music
Traditional Folk music is popular in Mestia and there are several bars and restaurants offering this.  Bar Restaurant Lile and Cafe Laila are 2 popular choices. Keep an eye on their chalkboards to check when and at what time performances happen
9. Watch the Award Winning Dede
For a movie night, Pub and Cinema have 3 daily showings of the locally made, award winning film DeDe. If you didn't have plans to visit Ushguli before, you certainly will after watching this movie! Entrance costs 15GEL. 
10. Venture to Ushguli
There are 4×4 trips available to Ushguli and other Svan villages in the area. If a multi-day hike isn't your idea of fun fear not, there are endless possibilities for exploring in a 4×4. The local drivers know all the best spots, some no doubt not mentioned in this post.
Don't forget to stop at the Tower of Love along the way!
Minivans are available from the main square or it is easy enough to find a taxi. In the future this road may be accessible to regular cars but at the moment only part of the road is paved. For that reason 4WD is recommended. In my opinion the bumpiness of the journey adds to the adventure so enjoy it while it lasts!
If you have more time then you may choose to stay in Ushguli longer and explore the stunning scenery there too. The hike to Shkhara Glacier is a popular option from Ushguli. Accommodation in Ushguli is quite basic but I suggest trying Hotel Koshki Ushguli or for a budget option try Caucasus Guesthouse.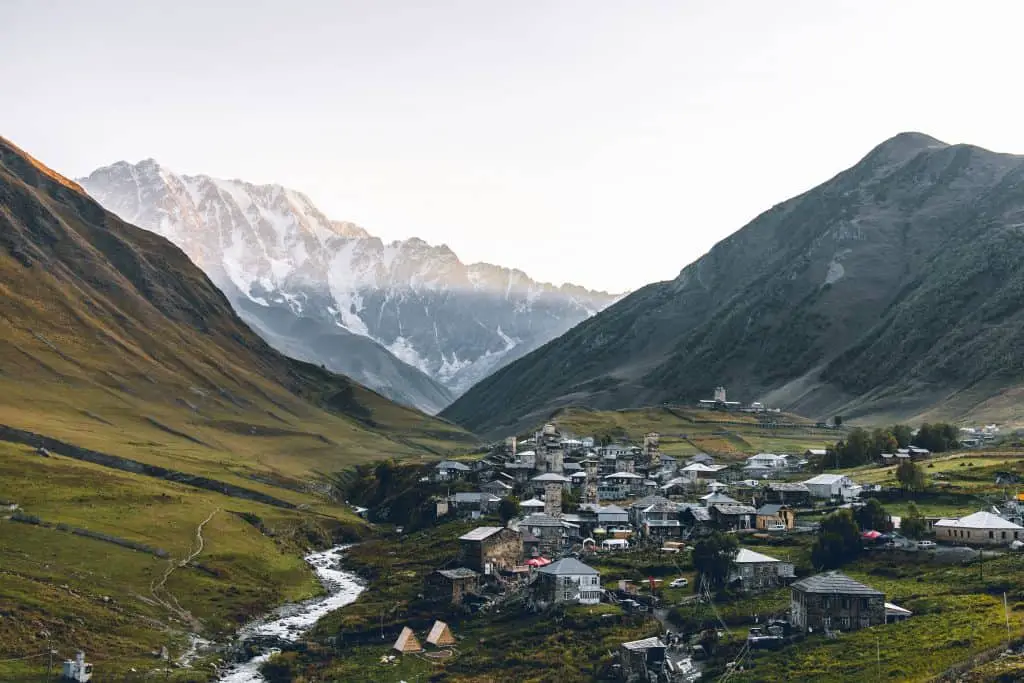 Short Hikes
11. The Cross over Mestia hike
This local landmark offers up great views of Mestia and is a relatively strenuous 1 to 2 hour hike. This site can be combined with a hike to Koruldi Lakes.
12. Hatsvali Ridge hikes
There are marked trails along the ridge running east from the top of the Hatsvali Gondola, with great views and easy access.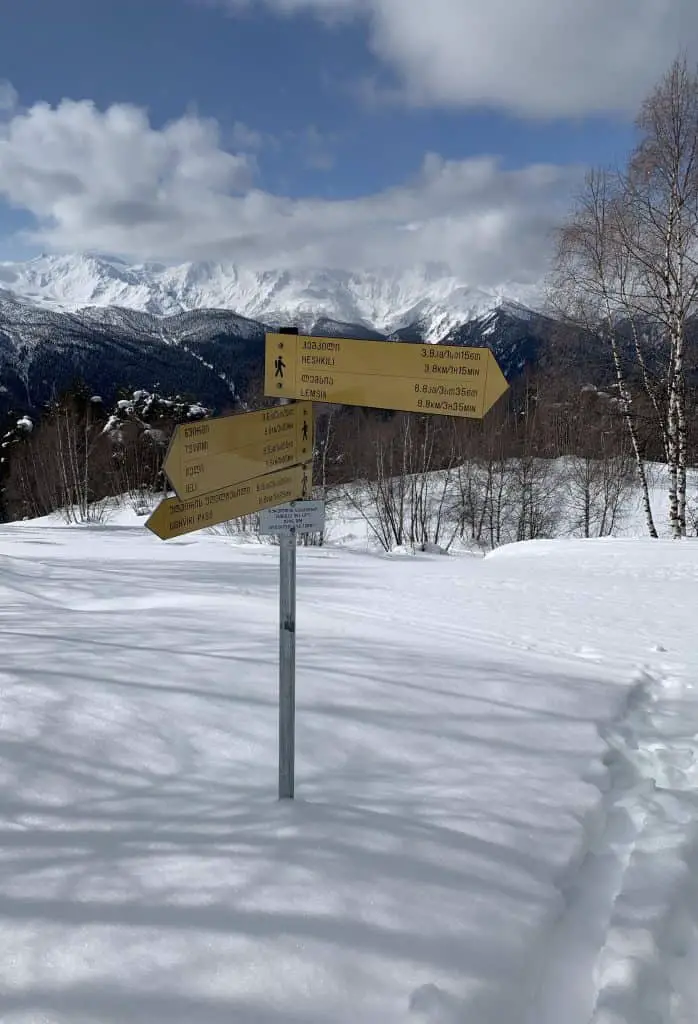 Day Hikes
13. Koruldi Lakes
It takes about 4 to 5 hours to reach these stunning lakes at the foot of Mt Ushba. The trail is well marked from Mestia and it is quite a strenuous hike. However the views on the way up and from the lakes are more than ample reward for your effort. 
It makes for a long but very rewarding day on the mountain. With camping equipment you could camp by the lakes or climb further up Mt Ushba and spend a memorable night under the stars. Hiking to Koruldi Lakes is a popular thing to do in Mestia.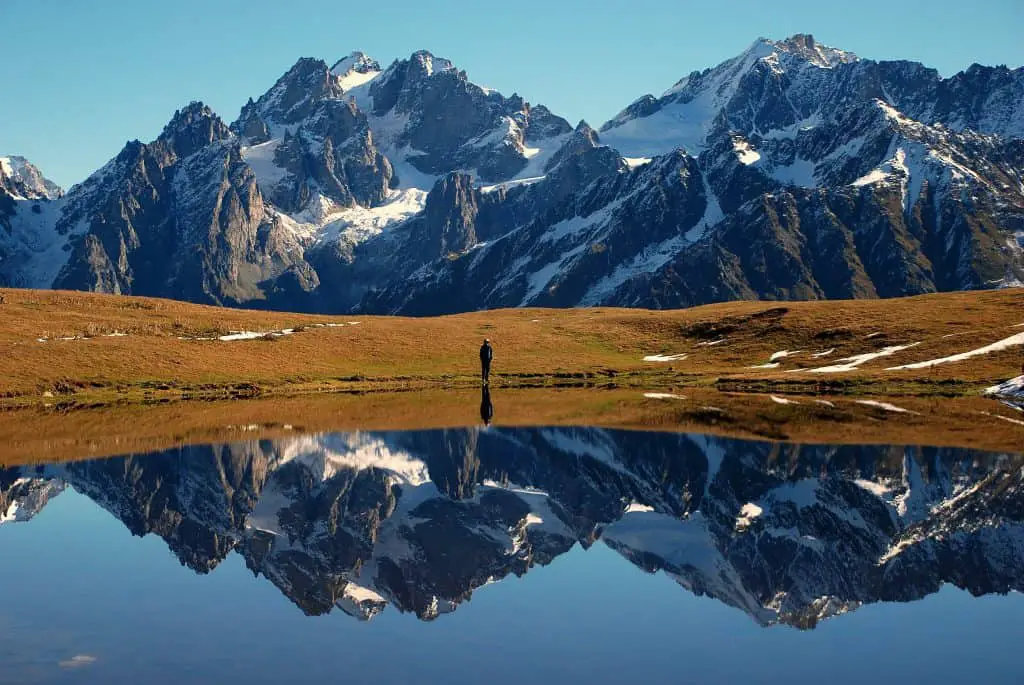 14. Chalaadi Glacier
The Chalaadi Glacier hike officially starts from Mestia however, I'd suggest getting a taxi to the start of the trailhead as the walk up to that point from town is now along a highway. Taxi drivers will charge around 40-50 GEL.
From the bridge it takes a just over and hour hiking uphill to reach the Chaladi Glacier. The walk is 5km round trip. This makes for a very pleasant half day excursion from town.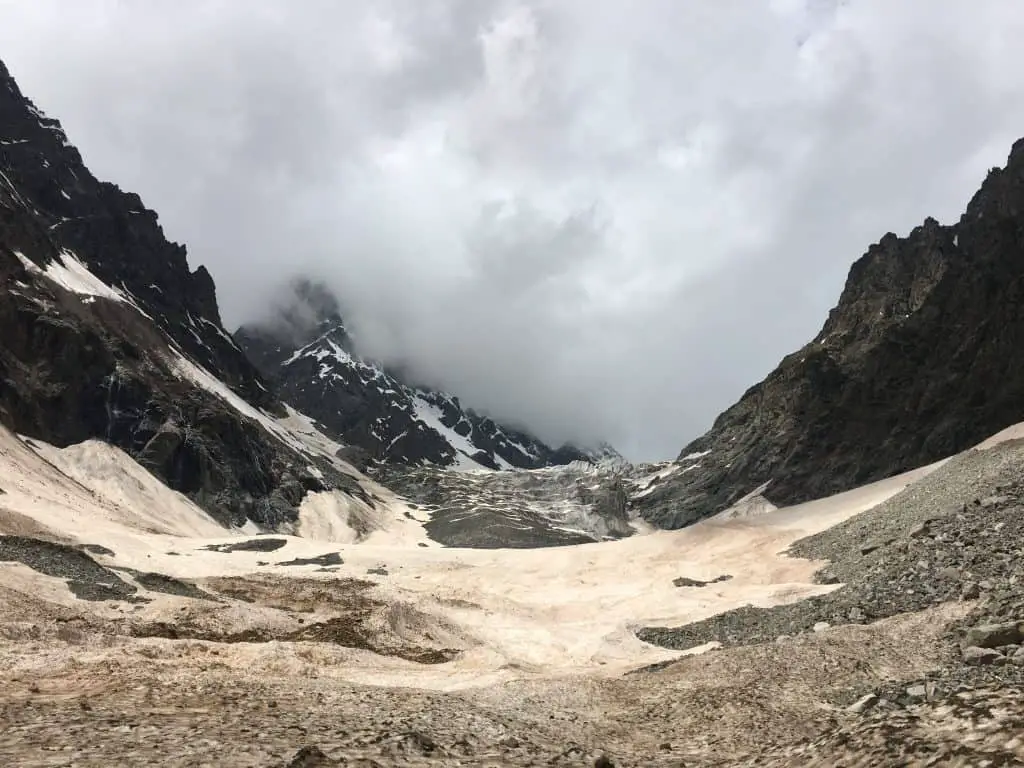 Multi-day Hikes
15. Classic Hike to Ushguli
Multi-day hikes are a top adventurous activity to enjoy in Mestia. This multi day hike is the classic route of the area and the 42km adventure usually takes 3 to 4 days one way. This route can also be done as a ski touring trip in winter with a guide. This is one of many multi day possibilities around Mestia and the most popular.
Click here to see guided hiking trips to Ushguli.
16. Mestia to Mazeri
This 32km one way hike can be done in one big day but better to take it slowly and enjoy the walk. The reward is arriving in the stunning picturesque village of Mazeri.
Hikers could easily spend months exploring the mountains of this area. If you are prepared to carry camping equipment then the options are endless.
Even if you were to run out of trails to explore here then you could also take a trip on the Georgian Military Highway to explore the Caucasus mountains around Kazbegi. 
High Adventure
17. Get unrivalled views on a paragliding flight
For some of the best views why not take a flight amongst these magnificent peaks. Mestia Paragliding and Geo paragliding company are both located in Mestia town and have good safety records.
18. Get serious high on a mountaineering trip 
If climbing mountains is your thing then there is plenty of choice around Mestia. I would suggest taking a good local guide to find the most interesting routes or to visit ExploreShare for guided climbing trips.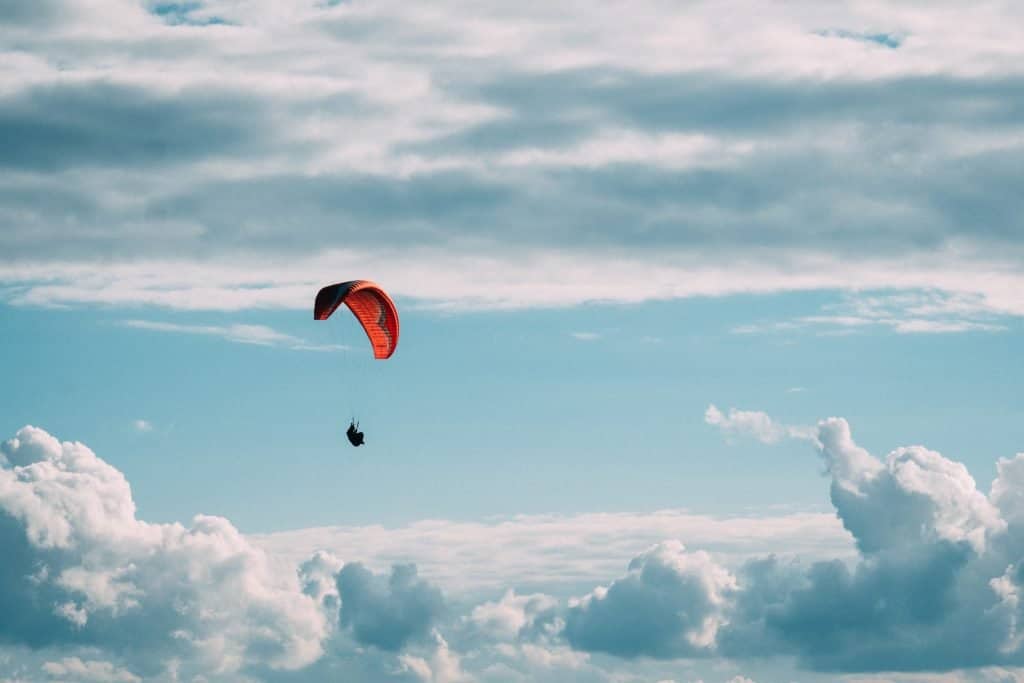 Where to stay in Mestia
Most of the hotels and guesthouses in Mestia are family run and fairly small. Many are more like home-stays offering home cooked Georgian meals often with local wine included.  Hospitality in Svaneti is well known despite having all those defensive towers.
There are plenty of options for places to stay in and around Mestia itself and in the Summer months I'd recommend booking ahead. Because of the trekking there are good guesthouses in all the villages around the area too, most remain open in winter and offer great deals often with meals included.
A couple of the best options in town are Family Hotel Kala and Nino Ratiani's Guesthouse. Nino's is a very sociable place and a top choice if you want to meet other hikers.
For an excellent quality, family self catering chalet, check out Winterfell Mestia. 
For a more boutique, 4 star option try Gistola Hotel which has a spa.
There are plenty of guesthouses in the neighbouring villages too which makes it ideal for hiking from village to village. You can easily get a taxi back too.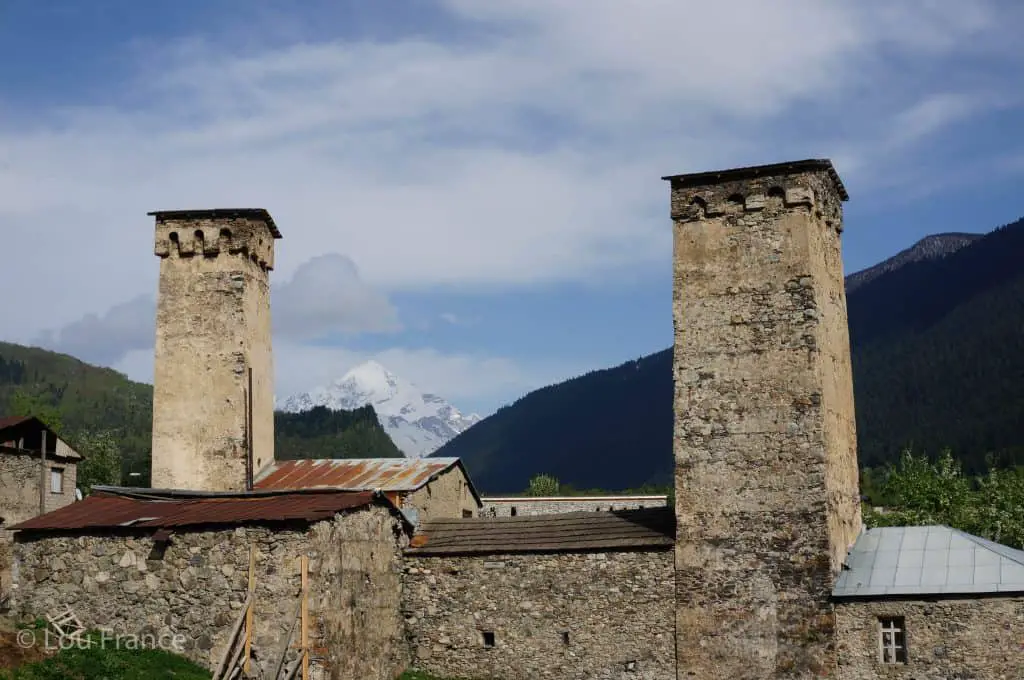 Bars and Restaurants
Eating out in Mestia is well catered for. Many guesthouses offer home cooked meals but there are plenty good Georgian restaurants, cafes and bars offering regional Svan dishes, typical Georgian food and great wine.
Local dishes to try include Chvishdari which is a type of cornbread, Kubdari which is a meat pie and Tashmijabi which is like mashed potato.
For bars in Mestia try Grannys Bar which has a lively atmosphere. Alternatively, Wine and Theatre is a nice wine bar with a more laid back vibe.
Cafe Bar Buba is another top bar for good a night out, while the centrally located Cafe Laila is a popular haunt with live music and serves good food.
Lushnu Qor restaurant has a great beer garden for relaxing in the sun after a day spent exploring Mestia. It's a good place to try Kubdari and the lamb Ojakhuri was also delicious. This became our go to restaurant in Mestia.
These are just a taste of what's on offer. There are plenty more to choose from besides.
In the villages around Mestia and further up the valley expect a quieter life. Most Guesthouses will offer half board and often include wine with dinner. This is more of a homely vibe, great for family time and experiencing Georgian hospitality at its best.
Mestia Travel Guide Summary 
If you haven't discovered Georgia yet, now is the time and Mestia offers up a great opportunity to get amongst nature. Mestia is a paradise for hikers as it offers up some of the best hiking in Georgia, with uncrowded trails and a great choice of local guesthouses set in idyllic mountain villages.
However, even if you prefer a less energetic adventure, there is plenty to see and do in Mestia at a more restful pace. More relaxed activities involve visiting the various museums and tasting the local cuisine.
Mestia is a fabulous gateway into the Caucassus mountains and if you push on a bit further into the region you will find some truly remote gems. The only crowds you might find will be a herd of cows or goats.
Be warned though you might eat too much and take too many photos of this magical land.
Mestia in Svaneti is waiting to be explored.
Join My Newsletter Today