If you want your campervan to feel light and spacious with a good airflow you'll need to fit some windows. There's no right or wrong choice when it comes to van conversion windows, more just a matter of personal preference dependent on your own wants and needs.
Fitting windows in your camper van allows natural light and air to enter your living space, making it feel bigger and providing a comfortable, healthy environment. For those of you who enjoy camping in the wild, windows allow you to enjoy that wonderful view from within the van, often without having to get out of bed. 
However, there is a compromise to be found here as windows do not provide great insulation in cold weather and can create heat inside the van on sunny days. And whilst they may be great for letting in light and air they're not great for stealth camping or privacy.
When we bought our partially converted campervan it didn't have any windows in the back end. We soon discovered that this made the van far too dark and far too hot and so began our journey into finding the best van conversion windows.
In this guide we want to share the pros and cons of each style of window so that you can decide on the best option for you. So, whether you're looking for a large opening window along the side panel of your van or want a small porthole to act as a quirky van life feature, we've got you covered! 
Disclaimer: Some links in this article are affiliate links, which means that if you purchase through them I receive a small commission, at no extra cost to you. This helps cover the cost of running this blog. Thanks for your support!
Van Side Windows: Top Picks at a Glance
In a hurry? No worries!
From our research and experience, here are the two best campervan windows on the market: One for a high-end finish and one for those on a budget.
Best High-end Window:  Seitz Dometic S4 Top hinged window
Best Budget Window: Shield Autocare Sliding window 800x450mm
Why Do You Need Campervan Windows?
Adding windows to a DIY campervan conversion will definitely increase the build cost so careful consideration to the amount and placement of the windows is required. As with most things on a van conversion, there are positives and negatives to making modifications so you should weigh up your needs before making a decision.
Benefits of Fitting Camper Van Windows
You can get a great view when you wake up in the morning or while cooking.
Natural light fills your van during daylight hours.
Opening windows allow for good ventilation inside the van and helps to reduce the build up of condensation in your van.
Double glazed windows provide some insulation.
Windows can allow for communication with the family outside if you are busy inside.
Windows can keep the van cooler and fresher in summer without having the door wide open. This is especially useful at night.
Windows with mosquito mesh allow for ventilation without the bites.
A van without windows can feel dark and claustrophobic.
There is less dependancy on electric lights if you have sufficient windows.
Windows can be stylish and provide a fun feature on your van.
Potential Problems With Fitting Camper Van Windows
Glass in a van, even the double glazed units, can create heat inside the van so too many windows can make your van unbearable in hot climates.
Heat can escape through a window faster than through an insulated panel causing uncomfortable conditions for winter van life. Double glazed units mitigate this problem to some extent as they do with heat in hot days.
Poorly fitted windows or those with worn or faulty seals can lead to water leaks.
Condensation can form on windows especially while cooking and sleeping.
There are times when you might prefer more privacy as passers-by can easily look in.
Windows might make your van look more like a caravan and less like a stealthy panel van.
Some windows might provide easier access for intruders.
Related Reading
Positioning Your Van Windows
Where to place your windows will depend heavily on the layout of your van. They will most likely give the most benefit if placed where air and light is most needed or where you spend most of your time.
Before you decide what window to buy you'll need to know where you want to position them.
Perhaps the most obvious place to fit a window in a van conversion is in the sliding door (if there is one). Having just one opening window however does limit both light and airflow within the van. Therefore fitting an additional opening window towards the back of the van, perhaps in conjunction with a roof vent (with or without fan), greatly increases light and airflow through the van. This is particularly beneficial for summer travels in warm climates.
Windows can be fitted in any panel on the van including the rear doors. Some van conversions use an old minibus as the base vehicle offering glazing all round. These provide great views, however these may get a little hot on sunny days. 
As a minimum I would suggest a window in the cooking area, one in the living space and perhaps one in your sleeping area. In smaller vans where living space becomes a sleeping area then fewer windows might be necessary.
At the end of the day it is all about personal choice, needs and budget.
I suspect for most campers having plenty of windows to look out of is most likely a good idea. Fitting these windows in such a way as to optimise the experience and look of your van will take some time and thought. It's is a good idea to sketch your van with different window options so you have an idea of the overall look.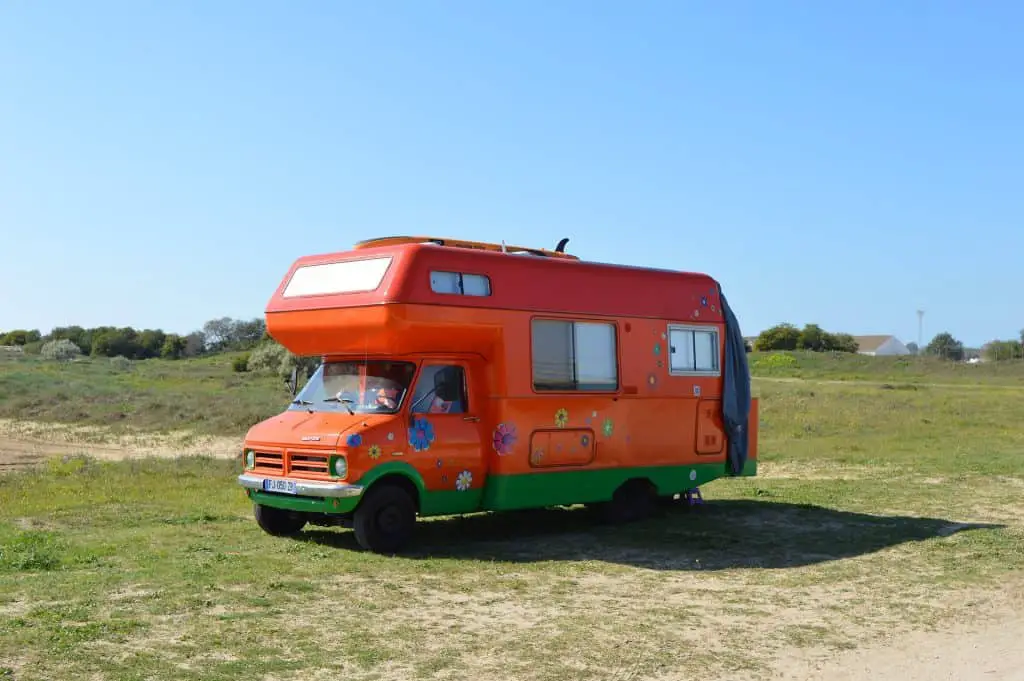 Types of Campervan Windows
Campervan windows come in all different shapes and sizes from circular portholes to narrow, boat-style sliding windows. Windows for campervan conversions are typically made of either glass or polyplastic to comply with safety standards and they also have different methods of opening and locking out. 
You can choose tinted glass windows or opt for see-through windows with blinds and mosquito nets in built. If you know you will be spending most of your time in hot climates with bugs then mosquito nets are a must!
Let's look at some of the options.
Opening vs Fixed Windows
One decision to make when choosing your window is whether you want to be able to open it or not. I would suggest that the ability to open windows for ventilation is one of the main reasons for having windows. (Unless you are going to fit many windows in which case they don't all necessarily need to open).
Windows that don't open will be much cheaper but the choice of options will be limited to bonded or simple single glazed units.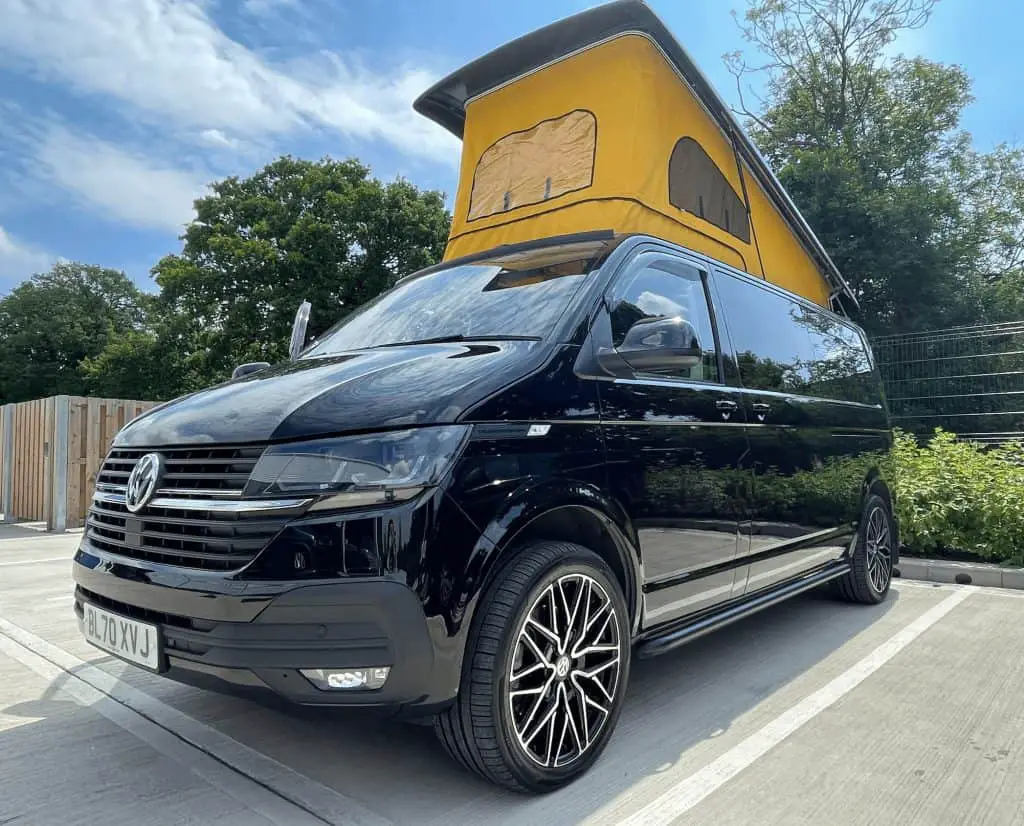 Top-hinged vs Sliding Windows
Opening windows are available as top hinged or sliding. Top-hinged windows give more of an uninterrupted view and allow the entire window to open, whilst sliding windows have a vertical bar in the centre so only open half-way.
The benefit of a sliding window is that if you forget to close the window when driving off, you won't smash it on the campsite gate when you hit the road! As a keen photographer, I prefer a sliding window so that I can easily take photos at any angle from inside the van. (Yup I'm a lazy photographer!)
Bonded Glass Windows
These windows are single glazed and are manufactured to fit seamlessly into specific panels of different vans. Since they are glued directly to the van, it is important to get the correct ones for your model and age of vehicle.
These are good options to fit to your sliding or rear doors and tinted glass versions are perfect for stealth camping. They also have sliding opening options.
Click here for some good bonded glass window options.
Portholes
Although designed to fit in boats, another option often used in campervans are portholes. These can be a nice addition to a van build especially for those wishing to get creative. Fitting these can be tricky but they might be a cool way to get natural light into your bathroom/wc. Be sure to get one with tempered glass if possible.
We found two great options to suit different tastes:
 Click here for a budget porthole window
 Click here for a luxury porthole window
Boat-style Oblong Windows
These are quite popular in van builds looking for a stealth option and for those with limited space. These narrow windows can be a cost effective way of getting some air and light into a space.
Skylights and Roof Vents
Skylights and roof vents are useful additions to a van and used in conjunction with windows can create great light and much needed airflow. These are particularly useful if you prefer a van with fewer windows.
For more information on these, check out my post dedicated to campervan roof vents. 
Glass Windows
Because of the market for minibuses and crew cabs there are many windows available to fit specific van models. These can fit into any panel on the van including the doors. The vast majority of these windows are single glazed, using tinted, toughened glass.
These can look very stylish as they match the panels in which they fit.
Simple DIY glass windows with rubber seals are still available, although these tend to be available with sliding panes or are non-opening.
Pros
Can be cheaper.
Available in different shades of tinted glass.
Often specifically designed for specific models of van therefore can look great.
Are available to fit in the side and rear doors.
Tinted or even blacked out glass can look very stylish
Available as opening windows.
It is possible to find double glazed toughened glass options.
Adding blackout curtains is possible (and advisable).
Cons
Glass can break or be broken.
Can create a lot of heat inside the van.
Single glazed units don't provide good insulation.
Can lead to condensation on the glass.
Don't tend to come with blinds built in.
Modern designs are bonded to the van so professional fitting might be advisable.
Older designed windows with rubber seals can be broken into more easily and are prone to leaking.
Glass windows are heavier than plastic options.
Double Glazed Glass Windows
These modular van windows are also available, allowing for DIY fitting into any van and come with fly nets and blinds in the form of a cassette. These are a good, cost effective alternative to the top-end acrylic windows.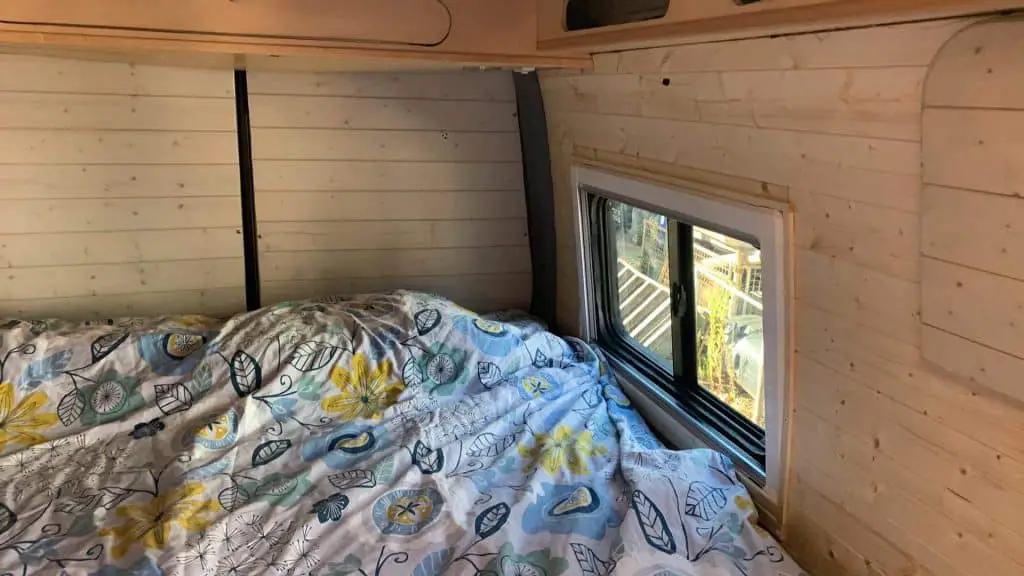 Plastic/Acrylic Double Glazed Windows
Another choice are custom-made, polyplastic camper van and caravan windows which generally come as double glazed units with mosquito nets and blinds built in. These are commonly available and are fitted to most modern caravans and mobile homes. They come in a multitude of sizes and can be fitted by a competent DIY'er with the right tools.
Pros
Double glazed units are better for insulation.
Come in a selection of opening options.
Can come tinted or frosted options.
Standard units can fit into any van (be aware of wall thickness).
Spare parts are readily available for many branded windows.
Generally not easy to break into.
High security options are available.
Most come with integrated mosquito and blackout blinds (usually as a cassette).
Lighter than glass windows.
Cons
Tend to be more expensive than glass options.
The catches on cheaper options can seem a bit weak.
Can make your van look a bit like a caravan.
The acrylic windows can stick out a little from the side of the van and are prone to scratching from overhanging branches, especially if you find yourself driving down narrow lanes (although there are products available to polish out any scratches)
Double glazed units can fog up with age.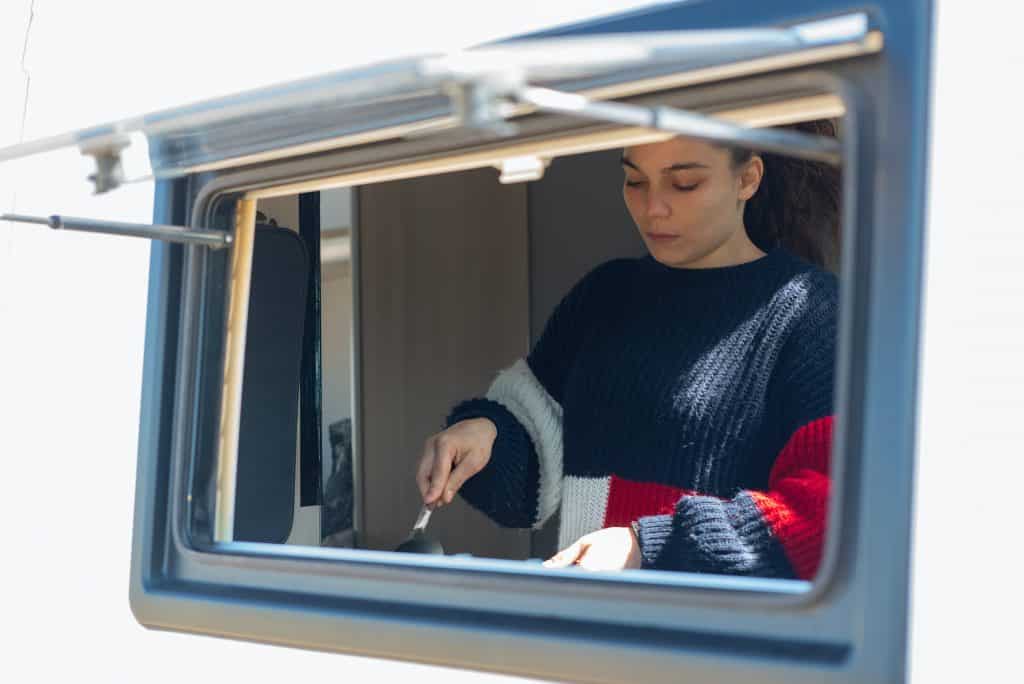 What are the Best Camper Van Windows on the Market?
We spent weeks pondering which windows would best suit our van and lifestyle and we narrowed it down to the following options.
Best Camper Windows Overall
The best known and arguably best quality option are the Seitz/Dometic range of windows, which are available with top hinged and sliding options. These come with matching blackout blinds and mosquito net built in as well as market leading security features.
They come in a multitude of sizes and specs and range from the classic S4 and updated S5 models up to their top of the range S7 version, all of which are attractive, strong and expensive.
You pay a premium for a high quality product.
Another advantage of Seitz windows is that the range of sizes are second to none and spare parts are readily available from good campervan and caravan outfitters. 
These may not the ideal choice for those with budget restrictions but offer market leading quality and service, especially for those fitting out a new van where quality finishes are desired.
Be aware these windows, like others, require plenty of thought and skill when fitting into a panel van as they are designed for motorhomes with 30mm wall thickness. 
Best Mid-range Camper Windows
We found two good quality mid-range window options. These options come as double glazed glass or double glazed acrylic and have a choice of either sliding or top hinged windows, all at very reasonable prices.
1. Double Glazed Glass Windows
Shield Autocare W-SLD-6 is a double-glazed, tempered glass sliding window for campers, which has built-in blinds and nets. These are a good option for fitting into a sliding door and/or side panel.
They are double glazed to minimise draughts and condensation and since they're a sliding window you won't have to worry about driving off with the windows open!
These are a good, cost effective option for those looking for a glass or sliding window option.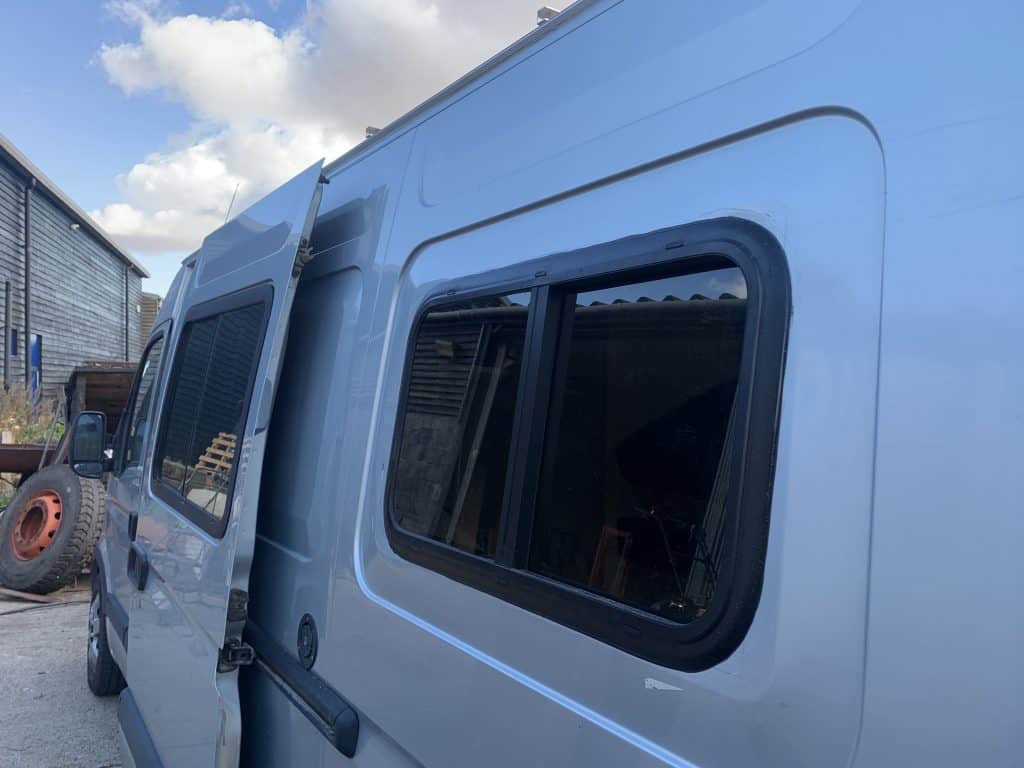 To save you time, simply click on the size you are looking for from the list below.  
500×350, 700×280, 700×400, 700×500, 800×450, 800×500, 900×450, 900×500
These windows are quite heavy but are solidly built and relatively easy for a competent DIY'er to fit. 
Please note the cassette supplied for this window containing the fly net and blind is a generic unit which also fits other products and as such is a different shape from the window itself. Therefore some skill is required to obtain a fully seamless join between window and cassette, especially when fitted into a panel van. 
2. Double Glazed Acrylic Windows
Shield Autocare W-SH-5 are a good quality acrylic top hinged window available in a wide range of sizes with built in blinds and nets. They are a very similar design to the Seitz windows but at a more acceptable price.
These are the ideal choice for a self build where you want to keep to a tight budget.
Here are links to the sizes for windows with square corners.
500×350, 500×450, 500×500, 600×350, 700×400, 700×450, 700×600, 800×500, 900×450, 900×500, 900×550, 900×900,1000×500, 1100×450, 1100×550, 1200×350, 1200×700, 1450×550
If you prefer these windows with rounded corners, here are the available sizes.
350×450, 700×400, 700×500, 900×450, 900×500. 
Camper Van Window Fitting
Here are some top tips for fitting your van window installation.
Take your time and be sure to read and understand any fitting instructions that come with your windows. 
For those wishing to fit their own windows, arguably the best option is to buy a self-contained cassette style window which includes a fly net and black out blinds. If you are fitting windows without these then you may need to consider fitting blackout curtains.
Motorhome windows are designed for use in motorhomes and caravans with a wall thickness of 30mm. For fitting into panel vans where the van side thickness may vary, consideration also needs to be taken in regards how to incorporate your window into the inside panel of your van to create a seamless finish.
Making a square frame from 30mm x30mm timber to use as a frame might be a good way to begin. 
Double check the position of your window

 

both outside and inside to ensure you have considered and structures in the van and wiring.
When cutting the hole for your camper window it is important to double check all measurements  as mistakes at this point can be disastrous.
Make sure the window sits straight and flush so it doesn't look ridiculous from the start and also that it fits snugly to minimalist leakage.

 

Do a dry fit before applying any sealant to make sure you are totally happy with how the window fits.
Cutting the hole can be done with a jigsaw fitted with a metal cutting blade. It is important to wear all the relevant safety equipment such as gloves and eye protection. If using a grinder be super careful where you direct any sparks, as they can cause a fire hazard. Also hot sparks will damage any other windows they come in contact with, not to mention other peoples eyes too. 
Try not to set the whole van on fire so cutting holes is best done before any liners are fitted.
If in doubt take the job to a professional.
If you need to buy extra sealants or screws make sure you get the recommended products. I would also suggest opting for stainless steel screws for any fixings in a campervan.
A Word on Window Sealants
Sealants come in so many forms. Good window suppliers will recommend a suitable option which will most likely be a semi-setting PU sealant that offers good flexibility and UV resistance.
Sikaflex522 or Soudaflex 40FC are generally recommended for bonding camper windows and roof hatches. Soudal Butyrub is a good option where the window is fixed in place by screws as it offers more of a semi-setting solution. 
Be sure to get the correct colour to suit your window or van. 
Be aware that high strength PU adhesives will work great but you might not be able to remove your window at a later date in case of a leak or breakage.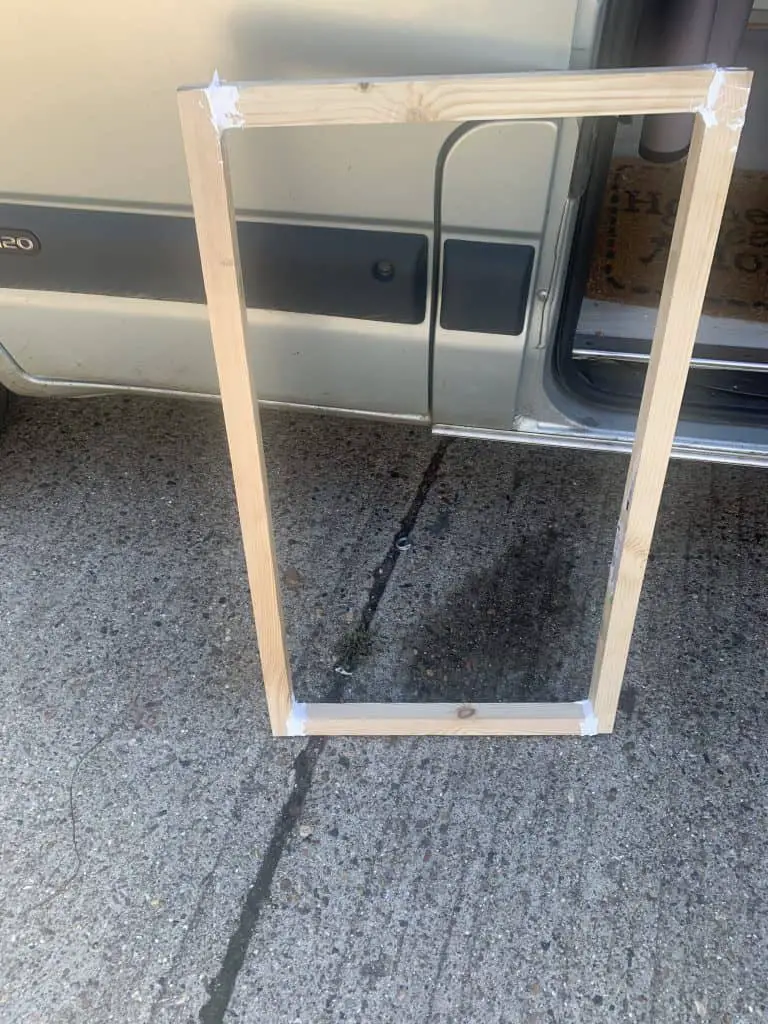 Final Thoughts On Camper Van Conversion Windows
When converting a campervan, windows should be the first thing you consider as they will be harder to fit once the lining and insulation is installed. At the same time as you fit your window/s it will also be important to consider a roof vent in order to optimise ventilation inside your living space.
Poor ventilation can lead to condensation which if left to build up can lead to untold damage in the van and create a potentially unhealthy environment. Well positioned, functional windows will also provide an essential source of natural light and help the van feel bigger inside.
In this guide we outlined the best camper van window options for varying styles and budgets. The most common and practical windows are rectangular windows that fit inside the panel dimensions of your van. They can be made of glass which is less expensive but heavy or polyplastic which is light but expensive.
Windows can be fixed or have the ability to open either through sliding or on a hinge. They can also be tinted or see-through and often come fitted with built in blinds and mosquito nets. Some alternative window options include boat-style portholes which can add a fun feature to your van.
Fitting your own windows, although quite a skilled job, is possible for a keen DIYer and is hugely rewarding when completed. However, if in doubt find some help or hire a professional.