Living and travelling in a campervan during winter opens the door to a whole host of activities and adventures, without the crowds that are experienced in busy summer months.
However, living in a camper van or motorhome in winter, whether travelling or stationary requires some thought, preparation and resilience. It's important to be mentally prepared for your adventure, understand the climate of where you are planning to go and accept that there will be some element of discomfort, however good your van is.
We spent the winter of 2021/2022 exploring Turkey and Georgia in our converted Renault Master. We enjoyed skiing and snowboarding at various resorts, saw beautiful landscapes in all their snowy glory and had many tourist sites to ourselves. But it wasn't without its challenges.
In this guide we discuss the essential requirements of winter van life and offer some practical solutions to help you prepare for your next winter adventure.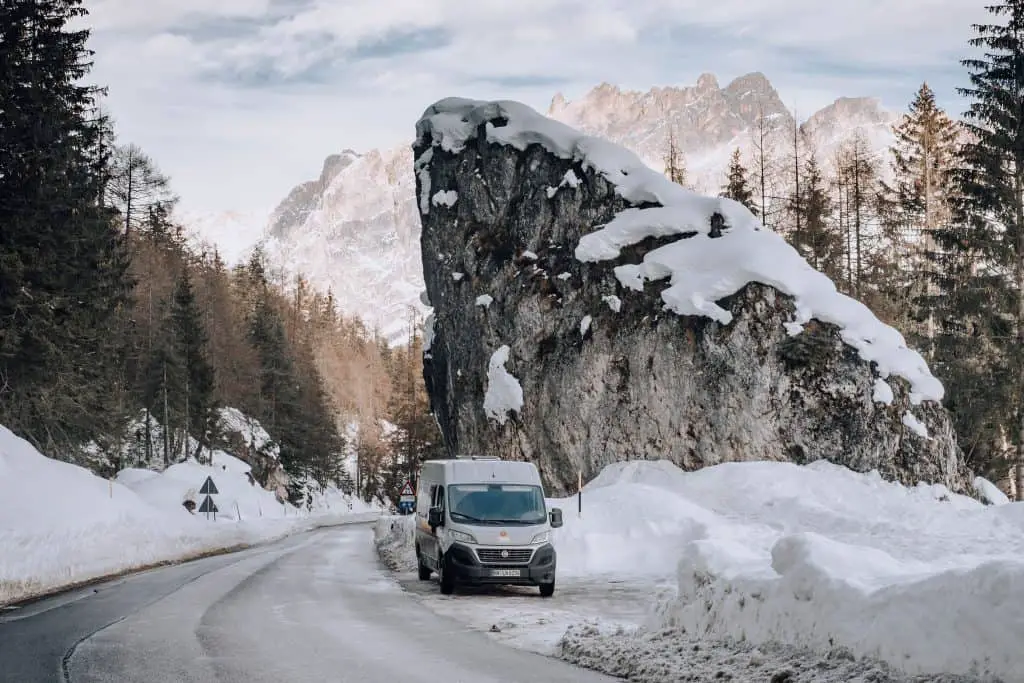 Disclaimer: Some links in this article are affiliate links, which means that if you purchase through them I receive a small commission, at no extra cost to you. This helps cover the cost of running this blog. Thanks for your support!
How To Survive Winter Van Life
1.  Invest in a good heater
Without heating in your van, winter could become a miserable, cold, damp experience that puts a strain on your quality of life, health and relationships. This should be your first consideration. Get this one thing right and the rest is relatively straight forward.
There is nothing worse than getting into a cold damp bed every night.
I would suggest that in some parts of Europe and the UK in particular, heating will be useful for most of the year so fitting a decent heating system will be a good idea.
What is needed is a functional system that works for you. You should understand how it works so you can get it fixed if required. There are many different options for heating a camper using, various energy types.
Diesel heaters
These are a very popular choice with van lifers as it's possible to supply the heater directly from your vans diesel tank, so no extra energy supply is needed. Commercial trucks have been fitted with these for years and they are very effective, efficient and reliable.
The choice of heater available depends very much on your budget. German made Webasto and Eberspacher are perhaps the most tried and tested, however demand a premium price tag.
At the other end of the scale are Chinese versions of these heaters which can be bought for just over £100 and which many people find to be highly effective and reliable. One advantage of the Chinese ones are that they are cheap enough to perhaps carry a spare one just incase.
For a complete guide to diesel heaters, take a look at this post.
Gas heaters
Gas heaters are another popular choice as you may already have a gas system for cooking or hot water. Again there is a good selection of products to choose from.
Good ventilation is essential with any gas heating and cooking system. 
It will be important to consider your gas supply as it will be very frustrating to run out of gas all the time. If using bottles you will need a spare and if travelling abroad the bottle available may be different from the ones you are carrying.
One solution is to fit a gas tank which can be filled directly from a fuel station. Once fitted these are much cheaper and easier to get filled and can be topped tip before running out.
Wood burners
Wood burners are often fitted to vans and add a certain charm. One advantage is that it's possible to cook on some stoves. The challenge here, especially when moving around, is securing a supply of firewood.
Fire and CO2 safety needs to be paramount and most stoves tend to leave everything smelling of woodsmoke (which may or may not be desirable).
Electric heaters
Electric heaters are another possible idea. However powering them may require a very good solar and battery set up. Carrying a small fan heater or oil filled radiator might be a useful addition for when you have access to an electrical hookup. For example campsite in European ski resorts have options for a hook up.
With all these systems it is critical to have them fitted in a safe a professional manner and to also fit a CO2 detector so be absolutely sure they are working safely. This CO2 detector has a 7 year sealed lithium battery for extra piece of mind.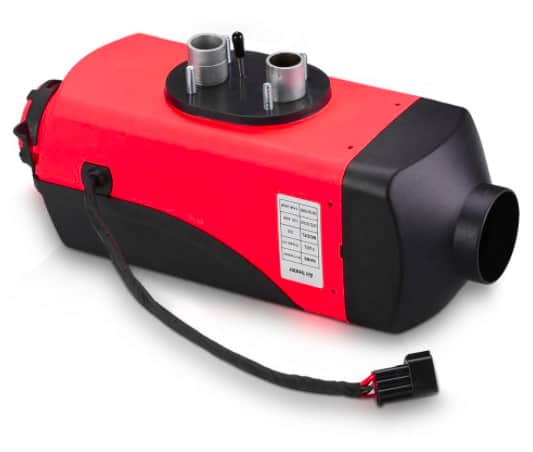 2.  Insulate your van well
Insulation is important not only for winter to help keep you toasty warm but it will also help keep the van cool in summer.
There is a limit to how thick the insulation on your van is likely to be but I suggest if you are building a van, to go for the best insulation available. Insulating the floor of a van is an area often forgotten and is an area where an improvement can be made.
Modern, purpose built camper windows are typically double glazed but just check this is the case. The van windscreen and door windows won't be double glazed so it's a good idea to get some window insulators.
Ventilation is required for example behind fridges or in bathrooms, but this also means they will allow a draft. So just be aware of this when prepping your campervan for winter.
Water systems will also benefit from thorough insulation especially any pipework, pumps or fixings. More about this later.
3. Buy adequate bedding
It might sound obvious but warm bedding is critical. A good winter duvet is the minimum requirement. I also strongly recommend carrying good quality, four season sleeping bags if you plan on going to sub zero climates. 
Why? 
Just incase your heating system fails in anyway. In this situation, these could be a life saver.  We have, in extreme circumstances, slept in sleeping bags under two duvets! Super cozy.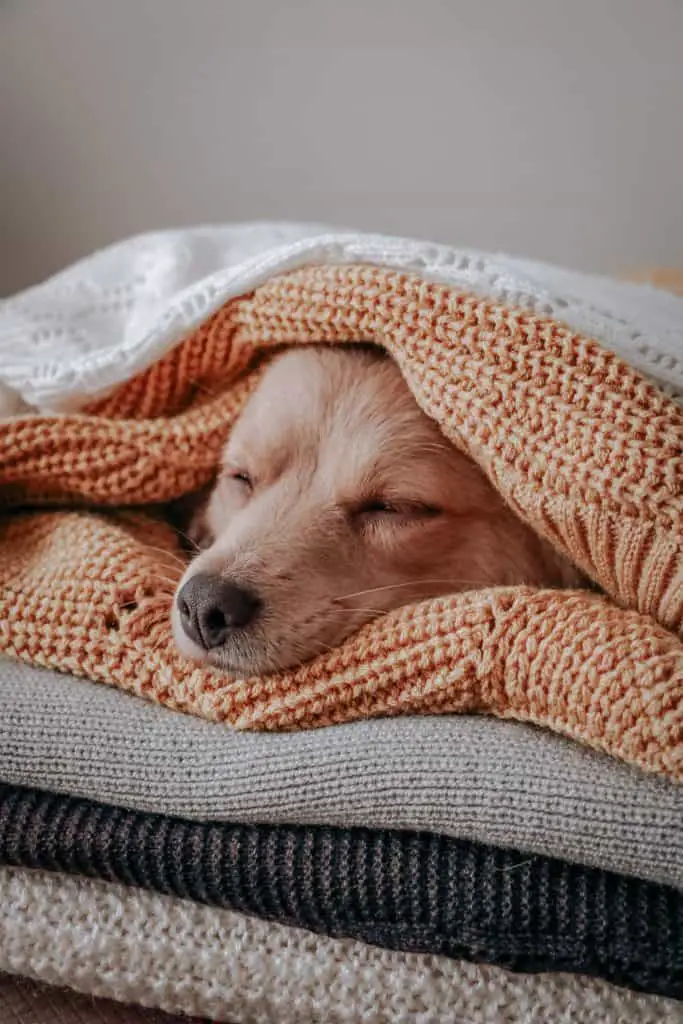 4. Invest in quality winter clothing
Part of the joy of van life is spending time in the great outdoors and being close to nature. Being cooped up in the van all day is not particularly good for mental health. So having a suitable wardrobe that allows you to enjoy the spaces around you is super important.
From thermal under garments, quality mid layers and jumpers right through to a high quality down jacket, I would suggest talking it all.  We are into snow sports so carry all of the above plus ski clothing too.  In fact we spent many weeks while travelling around Georgia in March living in our ski gear, even when out shopping!
5. Insulate your water system
Hot water is another very useful asset in a campervan during the winter months. Yes you can boil a kettle for washing up but having hot water on tap is a huge advantage. Even better, a hot shower.
Hot water systems are most likely to run on gas, in which case you hopefully already have a reliable gas system in place.
Our van doesn't use gas but heats water from the van cooling system, allowing a 50 litre water tank to be heated while we are driving. We can also heat the tank from a hook up as the tank is also fitted with an electric element.
Cold water is equally important. Filling tanks and jerry cans should be easy enough in winter but keeping them from freezing is crucial. Water tanks are best fitted internally for protection from frost but either way it is important to insulate these and any pipework.
It is possible to get heated jackets for tanks for use in extreme climates, however this may get expensive, complicated and may still not completely solve the problem of pipes freezing. 
Our van is insulated to a degree as are our tanks and pipes. We have 2x 50 litre tanks (one hot and one cold). We were fine most of the time, but at anything colder than -12 celsius the tanks, pumps and pipes froze solid, which took days at a warmer climate to thaw out (even the cassette toilet froze solid).  
Running the heating all night would offer one solution and improving the insulation another. Personally, we prefer to turn our heating off at night to save on fuel. If a hook up is available an oil filled radiator may well be enough to keep everything from freezing. 
Top tip: A hair drier does a pretty good job of thawing frozen pipes but make sure you have the right inverter for the job. 
Be aware that frozen pipes can often lead to leaks in really difficult places underneath panels etc so best avoided if at all possible. 
6. Install a solid solar setup
Electricity is a key consideration for winter van life. A power hook up is very useful when using campsites, however the ability to be totally off grid allows for more flexibility while travelling. For this you will need a solar setup which consists of a few key elements.
First off you will need suitable batteries to store energy and a means to charge them. There are several types of batteries available but I suggest for winter use it is best to fit high quality and capacity batteries. AGM or Gel batteries are a solid cost effective choice, however lithium batteries perform better in cold weather.
For a complete guide to choosing the best leisure batteries, take a look at this post.
 For charging I would consider fitting all of the options below for winter use. 
Battery charger:

  

A smart charger fitted to an electric hook up is a good idea as it allows you to top up your batteries when in campsites and also when at home not using the van.
Split charger:

  

This device, connected between your van running batteries and your leisure batteries, allows your van alternator to charge your leisure batteries whilst you are driving.
Solar system: This requires a solar panel and charge controller to be fitted to your van. I suggest getting the largest wattage of solar panel that will fit or fit 2 panels. For the solar charge controller you will need one with enough capacity for your solar panels. If in doubt I suggest buying a recommended kit from a specialist supplier. Renogy supply a good selection of kits with Flexible panels or Rigid panels to suit your preference and budget. Pair these kits with a good AGM battery or Lithium battery and you are all set. 
Learn more about the difference between rigid and flexible solar panels in this guide
It is important to understand that in winter your solar system will not perform so well, especially in bad weather when it will produce pretty much nothing. The days are also much shorter in winter so there are less solar hours available.
Hence you will need to supplement it by using a split charger and\or topped up via an electric hook up.
I also recommend having some portable power storage in the form of a power bank incase you have power issues and need to power up a phone for emergencies. These come in compact pocket sized units right up to a powerful  "power station". 
7. Service your van well
It's always good idea before taking a long trip to ensure your van itself is well serviced. Breaking down in a freezing wilderness is not always a great experience, even if your van is well equipped for it.
A good running battery is essential. If your battery is a little tired, invest in a new high quality one. We fitted this Bosch battery, which was solid and never let us down, even at -20 celsius. AGM batteries like this one perform well in cold conditions. 
Brake shoes and discs need to have ample wear for your entire trip and it would be a good idea to have a full service done before heading off.
Particular attention should be given to your radiator coolant, which will need to be of a high quality and suitable for extreme winter use. A good garage can check the protection your coolant offers and rectify accordingly if needed.
It's is a good idea to carry spare antifreeze, windscreen wash(winter) ,engine oil, clutch fluid and steering fluid with you incase something springs a leak.
8. Consider a breakdown/recovery policy
There are workshops all over the world so if you have any problems don't hesitate to seek out professional help when required. Besides the local mechanics have access to the right tools, parts and diagnostics equipment necessary.
A good roadside recovery policy should be considered for the UK and Europe. Basic cover will get you recovered to a local garage, if they can't get you going there and then. This will allow for peace of mind.
Getting recovered from a motorway in Europe alone, is likely to cost well over the policy fee.  The level of cover available increases with the cost so you can pick cover that you feel comfortable with.
Beyond Europe this cover may get too expensive and besides local garages tend to be good value in countries like Turkey, Georgia, Morocco and beyond. If you breakdown, people are very helpful and will even call a mechanic for you.
9. Invest in winter tyres & snow chains
For a winter trip in Europe a full set of all season or winter tyres rated for snow use is required. Look for the 3PMSF (3 peak mountain, snow flake symbol)
In Some EU countries it is mandatory to have winter tyres and in the Alps it is essential. We fitted GT maximiler all season tyres and they have been an incredible and cost effective investment. On snowy roads they have allowed us to confidently drive on and get to places that otherwise would have been out of reach.
On Wet and dry roads they are quiet enough not to notice any difference from our old tyres. Besides we are talking camper vans so it's not likely you will be pushing any limits. All your pots and pans will fall out of the cupboard long before your tyres start screeching! 
A good set of snow chains complete your tyre needs. We used Michellin ones which while not being the cheapest were very lightweight, easy to fit and performed great. For camper vans they suggest fitting them on all 4 wheels so 2 sets are required (Although we manage fine with one set on the front). Its also a good idea to practice putting them on and off before you have do do it at -10 in a blizzard. 
A 4×4 of course would be an advantage, especially if you are wild camping and want to access mountain areas in winter. However with the above kit you will be amazed at how well a front wheel drive van will perform in the snow!
For rear wheel drive vans again with the right tyres and chains you will get on fine most of the time,  but front wheel drive or 4×4 will be a safer option on snow. Rear wheel drive will be better for doing doughnuts, if that's your thing.
10. Make sure you have adequate insurance
Make sure you have adequate vehicle insurance for the duration of your trip . Be aware that insurance valid for EU will most likely only be valid in Turkey as far as Istanbul.
In some countries, regardless on your insurance policy, you will have to buy local insurance as well. For example in Morocco, Tunisia and Georgia you need to buy a local policy.
11 Safety Equipment
You should always carry safety equipment on your travels, as required by law in most countries. Legally compliant kits can be bought in a compact kit. 
High visibility Jacket
Warning triangle
Spare bulb kit
First aid kit
Torch
On top of this, it is a good idea to carry some extra winter equipment. Again the AA sell a choice of kits which include items such as:
A Tow rope or ratchet strap, incase you get stuck in a snow drift.
A shovel for clearing snow. We have ski touring lightweight shovels which although small, are quite effective.
De-icer and windscreen scraper will always be handy.
Some

Traction mats

might be useful to get you out of trouble.
12. Be prepared to drive in adverse weather
Driving in heavy rain , Snow or ice takes a bit of courage and a lot of concentration. Having the correct tyres fitted as described earlier will help give you confidence but practice is the only way you will master the skill.
Basically good driving practices still hold true. But you allow for more space, drive much slower and go gently while breaking, accelerating and steering. Simply put just take it easy and don't worry about the nutter behind you flashing his lights.
It would be a good idea to get some practice if possible on a deserted airfield or skid pan if you are new to this or your van, so you can practice braking, and turning. Even have a go at sharp braking to see how to handle a skid.
You will find that on a snowy road your snow rated tyres will grip pretty well, but on ice you will need to be extra careful not to start sliding. If you feel she's starting to slip or your driving wheels are spinning too much then back off the accelerator and slow down.  If that doesn't work its most likely time for snow chains.  
Theres no rush and if it starts getting super scary theres always tomorrow.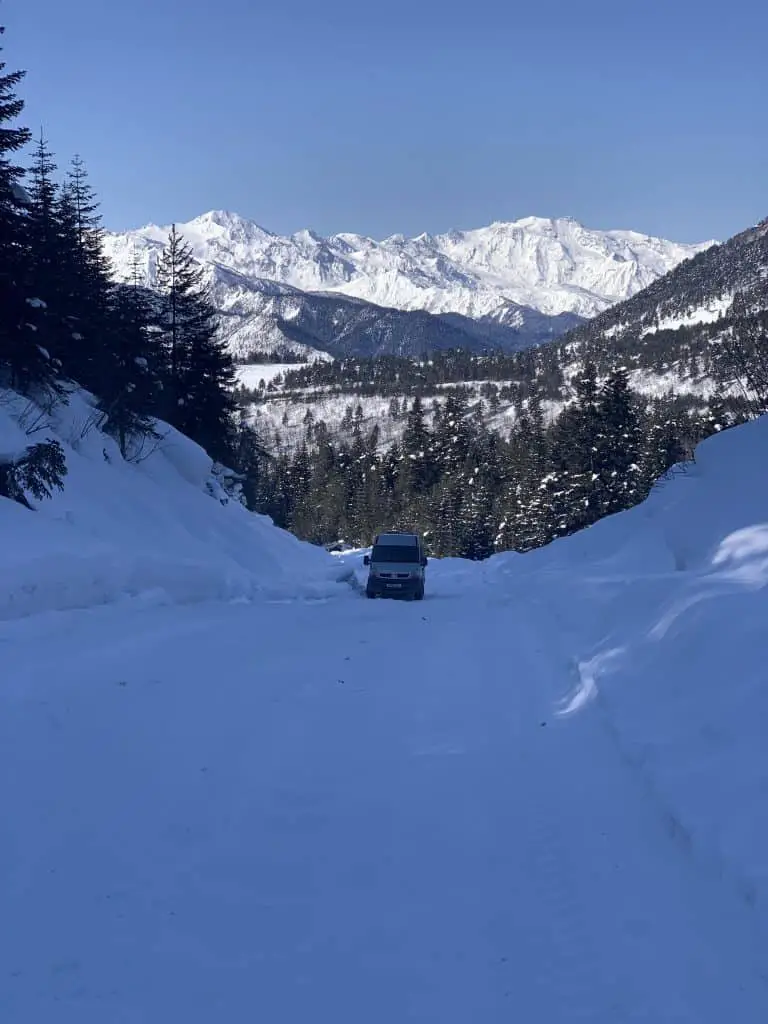 13. Do a practice run first
If you are the slightest bit worried about van life in winter, especially if you are not sure how the van will perform, then go for a short trip in winter to try everything out. It's not just managing cold and wet weather, you also need to adjust to living in such a small space, which gets even smaller when the doors are constantly closed.
14. Keep an eye on the weather forecast 
When you're travelling in your campervan during winter, especially in mountainous areas or where snowfall is likely, it's useful to know when snowstorms are coming in so you can plan accordingly. That might mean making a trip a day early to hit a ski hill in prime conditions as well as to avoid getting stuck in a full on snowstorm.
Always have some emergency food and water just incase you get stuck somewhere remote and need to wait out a storm.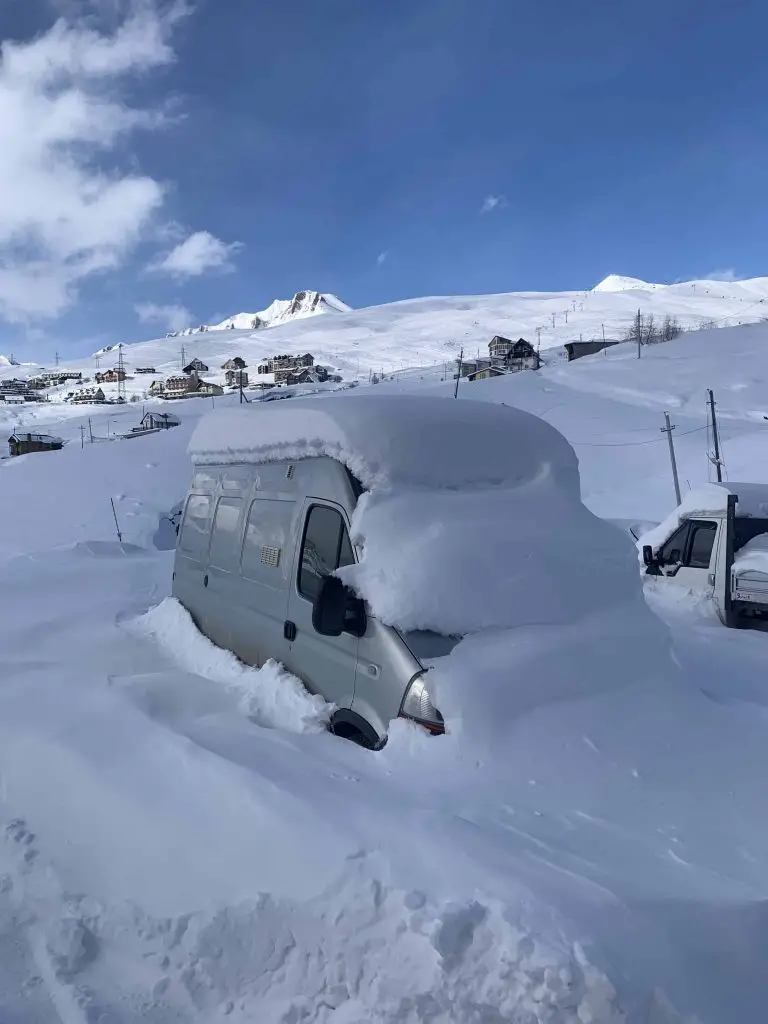 15. Ask the locals for advice
Be flexible and ask the locals about road conditions to more remote areas (Bus and lorry drivers are a good source of road information). Be prepared to pull over or even turn around if the conditions look like getting you in trouble. There's always tomorrow. 
Look for traffic coming in the opposite direction. If heading towards a mountain pass in the snow and big lorries are coming the other way, then there's a sign the road is still passable. If nothing is coming in the opposite direction it might be a sign of trouble.
If you see lots of trucks pulled over on your side of the road its possible they know something you don't.
16. Be prepared to work harder to find wild camping spots
Camping in the wild is one one the big advantages of van life especially in more remote areas. Be aware that in winter the landscape and its accessibility changes. That little track into a secluded spot by the river is now a muddy slope into a swamp and when it snows you can't even see that track.
If camping down by a lovely river, be sure you will be able to get back up the track to the road even if it snows all night. Best spots might be ones which you drive up into. Planning how to get back out needs to be done before you go in. 
Finding your camping spot becomes harder as it gets dark earlier so consider camping earlier, rather than pushing on and be searching in the dark. Do some research. There are apps (Park4night) which list good spots other campers have used. But don't assume these are still possible especially if it's snowy.
Public car parks are often cleared of snow and although there may be a fee, you may also be able to get permission to stay and have the benefit of some security.
We camped a night an icy carpark at the base of the ski Lift in Bakuriani Ski Resort, Georgia. The attendant wouldn't accept any payment, so we had free, ski in, ski out camping and first chair on powder days (Although all the water in the van froze overnight).
Every time you get in and out of the van the snow and mud seems to follow so it's important to have a system to keep the outside out. Invest in a good doormat and build a box for shoes.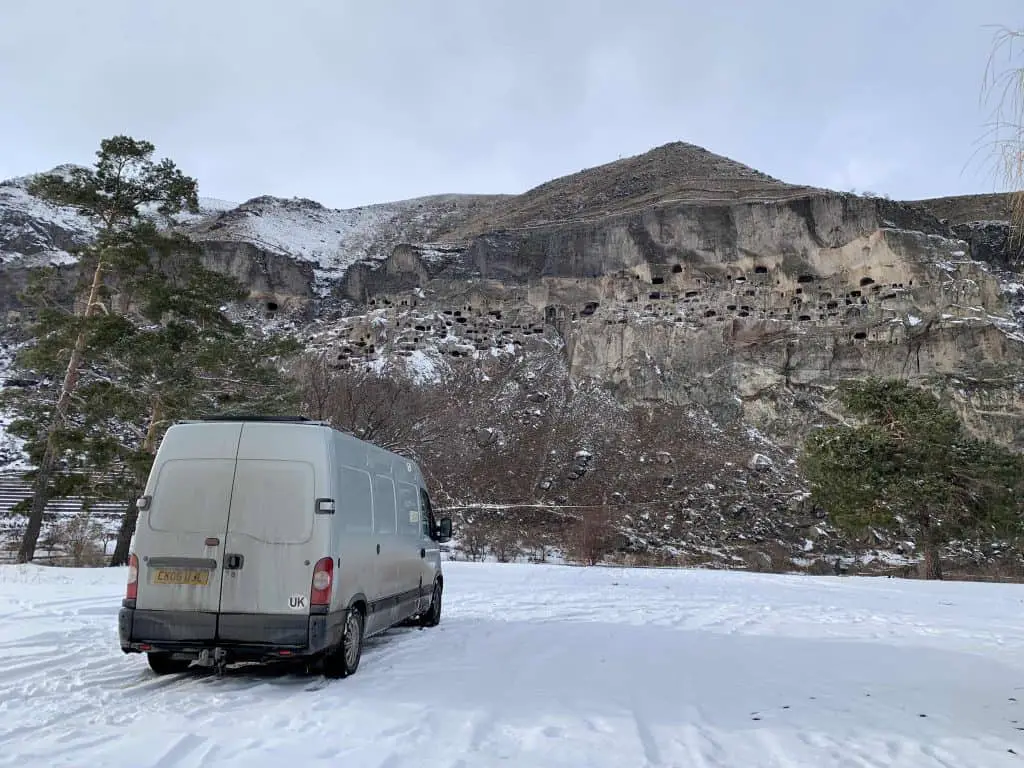 17. Be aware that campsites typically close over winter
Most campsites tend to close overwinter. However, with more interest in winter van life this has been changing a little. For example in Turkey sites may say they are closed however if you turn up they may well let you in or suggest you just go park up on the local beach front.
The advantage of staying in campsites is it allows you to spread out a bit. Do laundry, maybe take a shower and empty the toilet and grey water in a responsible place without having to hunt for one. Try to schedule campsites into your itinerary to take care of life's chores.
18. Budget for using Hotels and Guesthouses occasionally 
But you're on a camping trip? Err yes but if it's -10 every night, go easy on yourself and don't rule out a night here and there in a local hotel. In some trips you may decide to factor this in at the planning stage or you might just fancy a night in a warm bed with a nice shower for a day or two (or three). 
It's always good to be open minded and flexible on your travels. You may even find situations where in a city it costs €20 to camp or park up for the night but you can find a guesthouse with parking for €15 per night.
Only you can decide what your budget can afford but I highly recommend having contingency for some sort of hotel stay here and there. It's also good for relationships on road.
19. Invest in a cassette toilet
Having a toilet on board is an absolute must in winter, whether you are wild camping or in campsites. It's not good practice to leave a mess in wilderness spots in any case, but its too cold to keep getting out in the night if you need to.
In campsites the facilities may be a little way from you too so having a toilet in the van is much more pleasant than having to plod across a cold campsite. 
The issue might come when the toilet freezes and can no longer be flushed. This can be avoided by keeping the heater on or alternatively using a compost toilet.
We have a shower cubicle in our van which houses our toilet. We also use this space for hanging wet gear as it's essentially a wet room. Very handy for van life in winter.
20. Embrace wintersports
Campervan travel is ideal for those seeking action sports and activities of all kinds at any time of year. It allows you to travel will all the kit necessary to enjoy all manner of outdoor activities.
We carry an inflatable sea kayak (our favourite van life accessory), on top of hiking kit and in winter our skis and snowboard gear.
The idea of coming back from the slopes to a freezing cold little van, with hardly any space to dry you kit might not sound appealing, however it doesn't have to be as bad as it sounds.
An electric radiator is one idea, if you have access to a hook-up, so you can keep the van constantly warm. This will also help keep the space free of condensation which can be a nuisance. In the Alps there are campsites which stay open all year, many with heated facilities and hook ups. An awning may come into its own here allowing a bit of extra space to hang kit and store skis.
Campsites in the Alps can get quite busy with camper vans and motorhomes through the ski season. We stayed at a municipal campsite in Montgenevre recently and enjoyed ski in, ski out camping and access to a huge ski area in France and Italy for a fraction of the cost of other options. 
The other benefit of the van is that it allows you to explore different resorts in a region. For example during our winter in Turkey and Georgia we visited four Georgia ski hills and four ski hills across Turkey. This would've cost considerable more without our trusty campervan.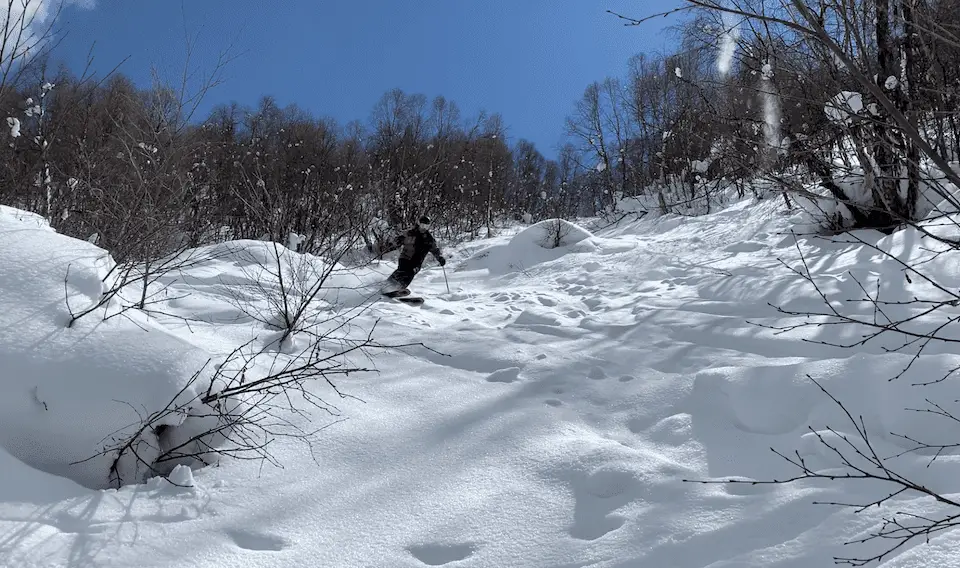 Winter Van Life Summary
Wintering in a campervan is certainly more challenging than during the summer months. There are many considerations to take on board, from van essentials such a heating, insulation and effective solar setups to being confident with winter driving and having a flexible itinerary.
It's important not to get worked up over all the potential equipment you might need or pain you might suffer on a winter van trip. Our van is not fancy at all but we managed to survive.
Understanding the limitations and being flexible enough to deal with any shortcoming is more important than throwing endless cash at the problem. You can always improve some features along the way if you identify a need. That goes for you as much as the van. There's a learning curve to winter van life, that's all part of the fun.
Winter in a campervan is a far cry from summers on a warm beach, watching the sun goes down over a few tinnies. But you will still get some epic sunsets, and tinnies may be swapped with something a little more warming. There is a great experience to be found and some unique adventures in near and far flung lands alike.
Besides if adventure was too easy it would get boring. Drive carefully and expect the unexpected. Most of all have a great adventure!