If you know someone who lives in a campervan, you'll know that space is at a premium and unwanted items waste this preciously limited commodity. All items in a campervan are carefully evaluated based on how much value they provide, how much room they take up and how much weight they add to the van.
Due to these limitations on space and weight, those that live full-time in their tiny homes on wheels can prove a tricky challenge when it comes to gift ideas for Christmas or birthdays.
Nick and I have lived full time in our van for the last two years, so we've learnt a few things about what we need and what we don't need for our adventures and we'd like to share these thoughts with you.
In this post we offer up some fun, practical and unique campervan presents for all budgets that you can share with your campervan friends and family.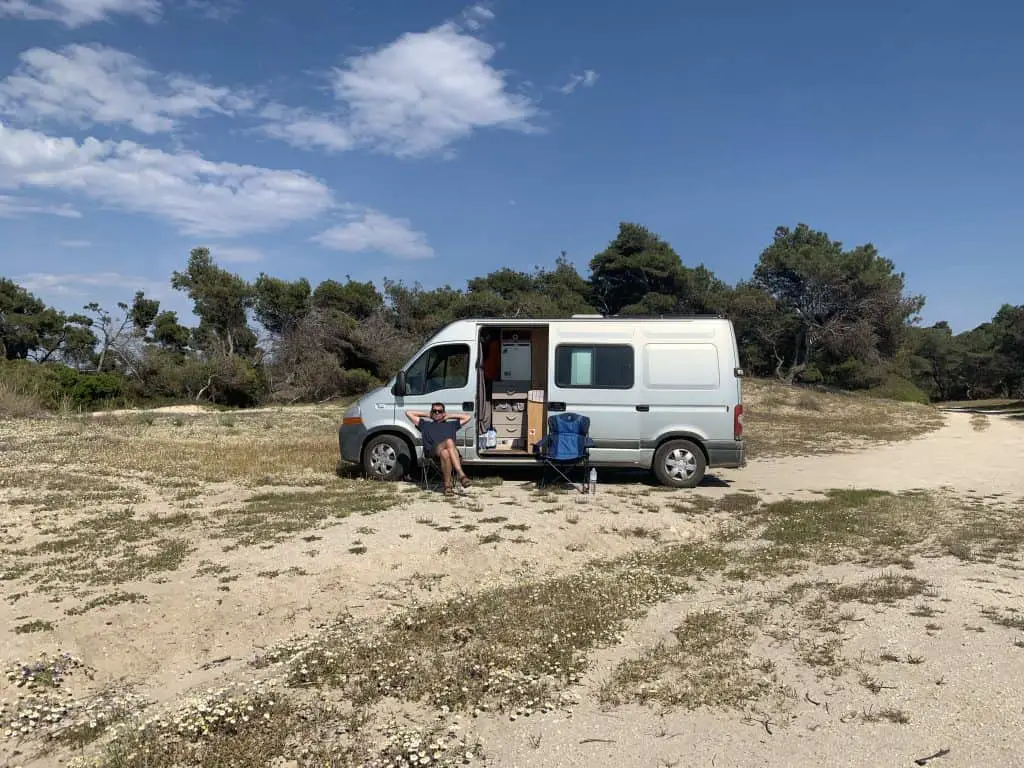 Disclaimer: Some links in this article are affiliate links, which means that if you purchase through them I receive a small commission, at no extra cost to you. This helps cover the cost of running this blog. Thanks for your support!
The Best Gifts For Van Life
In this guide we have arranged the gifts into sections depending on whether you want to buy something practical or fun as well as ideas for a limited budgets and more generous bank balances. These are items that we either own or have on our wish list for the future. 
Practical Gifts For Camper Van Life
1. Self-build Campervan Conversions Book
For those who don't have the van yet, this well written book might well be the best place to begin the dream journey. Also, don't forget to check out our free campervan conversion blog post where we provide top tips on everything van conversion from windows and vents, to heaters and batteries.
2. Earth Kind Shampoo
This Earth Kind shampoo gives vanlifers the opportunity to wash in the wild without feeling guilty about harming nature. These soap bars have come a long way and now actually produce a decent lather for a variety of hair types. There is no plastic involved in the packaging and a storage tin is also available. 
3. Head Torch
Head torches are ideal for hands-free, outdoor cooking, sunset hikes or if you have a breakdown late at night. This rechargeable head torch from Petzl is well made and can be used either with regular batteries or a replaceable rechargeable battery. This is a really useful van life accessory and Petzls are our head torches of choice.
4. Vanlife T-shirt or Hoodie
Been there, got the t-shirt! Or maybe even the hoodie? These retro van life t-shirts and hoodies are a fun gift for van lifers that won't break the budget. Sizes and fits are available for both women and men.
5. Camping Chairs
Camping chairs may seem like an obvious piece of kit but there are cheap camp chairs that break easy and are awful for your back and then there are deluxe camping chairs that are a delight to sit in. Buy your van life dwellers a top-notch camping chair, so that they won't get chair envy when they stop at any European campsite and see all the motorhome owners enjoying their sundowners in their portable armchairs. 
6. Espresso coffee maker
An espresso coffee maker is the ideal gift for all the coffee drinkers out there. Compact and easy to use with plenty of options to choose from, this coffee maker can be used on the stove top or even on the camp fire with a little care. Nick never leaves home without his!
7. Scrubba Wash Bag
Whilst this might not be the most glamorous campervan gift it is certainly one of the most practical. The Scrubba Wash Bag is twice as effective as hand washing, packs down flat and doubles up for use as a drybag. This makes the Scrubba bag an ideal item for van lifers.
8. Snug Rug Blanket   
Being warm is an essential ingredient for campervan comfort, so even though blankets may seem a little middle-aged, they will soon become a well used van life item. 
9. The Comfy Wearable Blanket
An oversize hoodie or wearable blanket is ideal for those campers wanting to stay outside to enjoy the sunset. This is a blanket that stays with you around camp and is the perfect gift addition for winter vanlife. 
Gifts For A Campervan That Take Up Zero Space
10. VPN Subscription
A VPN allows us to stream movies from Amazon Prime or Netflix during our extended van journeys overseas. Another benefit is that in some countries you need a VPN to access certain social media sites. We use Surfshark as it has proved to be effective and really great value.  
Get the best deal on Surfshark here.
11. RAC/AA Membership
This is a great gift for those looking for peace of mind. Breaking down on a motorway anywhere in the UK or Europe costs far more than the cost of decent breakdown cover. Some sneaky questioning may be required to check that your van life friends don't already have some sort of breakdown cover in place, but if they don't you'll be onto a winner!
12. Online OS maps
One general requirement for being a campervan owner is a love for the outdoors. If, like us, your campervan pals love exploring the outdoors through hiking, then a brilliant gift idea is a subscription to a GPS map provider such as OS. OS are the best maps when it comes to hiking in the UK and for just £29.99 you can get an annual subscription for all UK maps on any device.
Buy the annual subscription as a gift card here.
13. Amazon Prime Video or Netflix Subscription
As much as van life is about making the most of the great outdoors, sometimes you just want to snuggle up and watch a bit of TV. With plenty of great series, documentaries and movies available, Prime Video will keep anyone entertained and informed on those dark, damp nights.
Get a 30-day free Amazon Prime Video trial here. Alternatively, buy an Amazon gift card and they can choose whether they'd prefer music, video, audible or books.
Fun Gifts For Vanlife
14. Kite
Rather than huddling up in the van on a windy day, set your campervan friends inner-child free with a cool kite. There are plenty to choose from and since they pack down well they take up minimal space. These modern kites are a lot of fun for adults and pretty full on. For a simple fun kids kite, try this one.
15. Cards Against Humanity
If you're looking for a funny campervan gift that takes up very little space, look no further than Cards Against Humanity. Nick and I have enjoyed some hilarious evenings playing this game with friends over the years. Be warned this card game is strictly a game for adults with a slightly dark sense of humour!
16. Skittles 
When the weather is good and the campervan is parked up in a campsite, an enjoyable way to spend an evening is with an outdoor game. A classic game that's easy to play is Skittles.
17. Kubb
An alternative outdoor game is the Scandinavian favourite of Kubb. This is a fun team game to play with new found friends around the campsite. I mean, who doesn't enjoy throwing sticks across a field?!
Related Reading
The Ultimate Vanlife Gifts (Luxury Campervan Gifts)
18. GoPro

10

GoPros are the ultimate action camera to record van life adventures around the world. This is a fabulous gift idea for campervan owners who like to indulge in adventurous activities or for those who simply want to record their travels.
19. Dji Mini 3 Pro Drone
A drone has allowed me to record some amazing and unique footage of our van adventures around the UK and Europe. This state of the art drone weighs in at under 250gms, which means it doesn't require registration in many countries and folds down to fit in the palm of your hand. This is therefore a great choice to take on campervan travels. 
20. Mini projector
For the ultimate in home (campervan) cinema experience, try a portable mini projector. This allows the latest TV shows and movies to be displayed on a large screen or wall rather than on a small IPad or Laptop. This quality projector by Ankor is designed for use in low-light environments, making it perfect for those dark and wet winter nights.
21. Projector Screen
A white screen may also be a good idea to get the best results from a projector, unless the campervan has a suitable white wall available. This screen comes with hooks, ropes and a storage bag which makes it ideal for campervans.
22. Inflatable Watercraft
A great gift for van life and one that is currently super popular is a stand up paddle board (SUP). These are a perfect addition for those wanting to explore lakes, rivers and oceans they find themselves parked next alongside. 
Although expensive, these can offer up a great activity provided there is space in the van for all the equipment.
We have an inflatable, two-man kayak in our van which allows us to enjoy many adventures around the coast or in rivers and lakes. Although SUP's are great fun, if you're looking to cover some distance then kayaks are a better option.
Be sure to invest in suitable safety equipment if planning to spend time on the water. Life jackets are a must and wet suits might be advisable in some climates. 
23. Electric Scooter – The ultimate vanlife gift!
The awesome thing about touring in a campervan is being able to park up where ever you want and enjoy the surroundings for several days at a time. However, sometimes you just need to pop to the shop to pick up some supplies without having to pack everything away in the van to switch to drive mode.
That's when a bicycle or even better, an electric scooter comes in handy! Although bikes are a cheap and easy option, they take up valuable space and require a bike rack. Electric scooters, on the other hand, pack down and can be easily stowed. This is the ultimate gift for van lifers.
Camper Van Gift Summary
If you are looking for a suitable gift for campervan owners, or perhaps you are a van lifer in need of some gift inspiration, we hope you've found some useful ideas in this article. 
In this guide we have included camper gifts that we use and find useful as well as some items that we have own our own wish lists. There are items to suit a range of budgets so that you can find the perfect van life gift you're looking for.
Like it? Pin it for later!