Good ventilation in a campervan or motorhome is one of the most important factors to consider when building or improving your van and one that often gets overlooked.
Campervans tend to get very hot inside on sunny days and can get very damp inside on wet days or whilst cooking or showering. A roof vent therefore provides an essential solution to combat these problems.
In this post we discuss the best options for roof vents and skylights for campervans, motorhomes and RV's.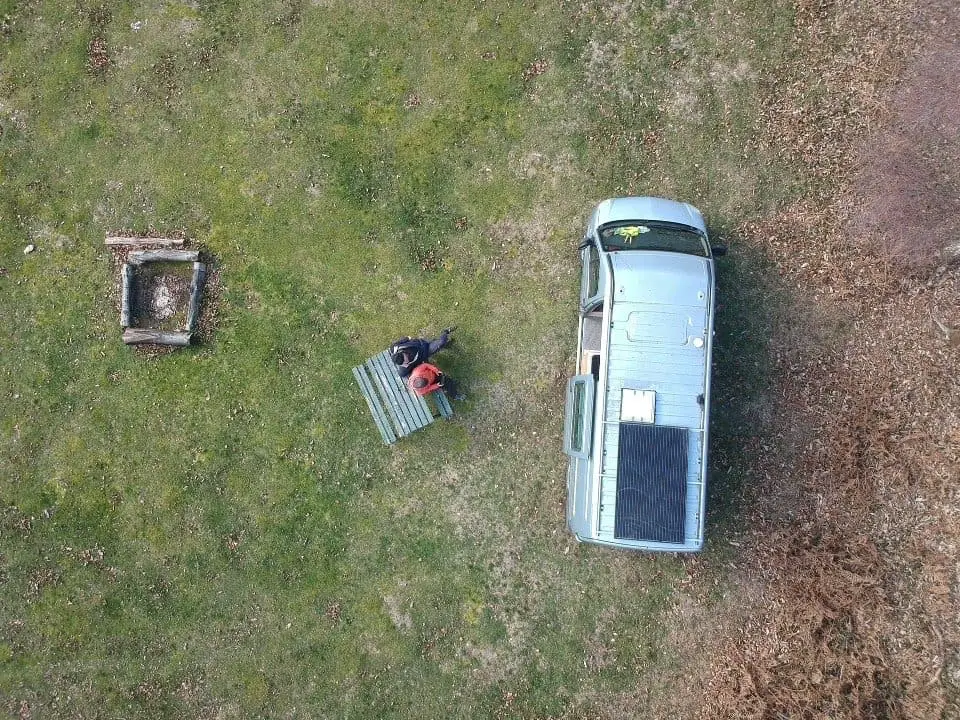 Disclaimer: Some links in this article are affiliate links, which means that if you purchase through them I receive a small commission, at no extra cost to you. This helps cover the cost of running this blog. Thanks for your support!
Why Do I need A Camper Vent Fan?
Roof fans or vents are important for temperature control in your campervan, the longevity of your campervan build as well as for your own personal health and well being.
Custom built vans will often have two vents to allow for airflow through the living space. Not only will a vent provide cool fresh air on hot day, it will also help to disperse condensation thus keeping your living space fresh and healthy. 
Condensation in a van can lead to mildew, mould, fungus and even rotting in wooden internal structures. Therefore It is crucial for the longevity of your van built to avoid long term build up of condensation. 
Moulds developing in your van can have detrimental effects on your health so it is important to be able to limit any such developments.
Roof vents are also a huge advantage whilst wild camping, since a roof vent allows for ventilation with the security of not having to open windows.
Another advantage of fitting roof vents in your campervan is that they provide a source of light through the van. Plenty of natural light in your van is particularly important on bad weather days, when you may spend more time inside than you might have hoped.
If you're embarking on a DIY campervan conversion, check out this guide first!
Top Picks At A Glance
In a hurry? No worries! Here are the best campervan roof vents that come either with a fan or without a fan.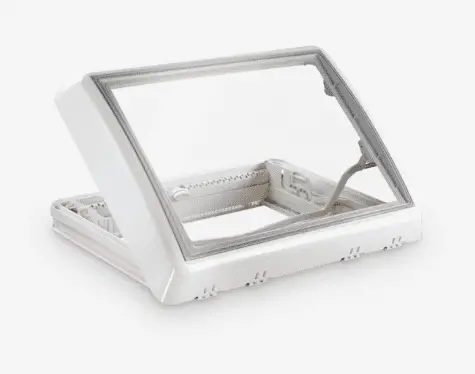 Factors to Consider When Deciding the Type & Number of Campervan Roof Vents
Size of Van and Planned Usage
The type and number of vents you choose will most likely be dependant on the size of your van as well as how and where you plan to use it.
For a smaller VW transporter sized van, one small vent is likely to be sufficient and you may well get away without a roof vent if you have multiple opening windows in the front and back of your van.
For larger campers and mobile homes I would suggest having two roof vents. One near the front and one near the rear. One idea would be to fit a large clear vent above your bed, which can be used for star gazing (if your van design allows for this). Then perhaps a vent with a fan towards the front or above the cooking area which has a reverse feature to extract heat and moisture from cooking.
If you only use your van on occasional weekends or for festivals, then an expensive vent with a fan probably isn't necessary.
If you are planning to live in your van or take extended trips, especially in warmer climates, then good ventilation is a necessity. After living in our van for the last two years I would suggest that you can't have too much available ventilation.  
Cooking in Your Van
Will you be living and cooking in your van or are you just a weekend warrior?
When cooking, a lot of condensation is produced by the burning gas and from the cooking process. Good ventilation is essential and in foul weather it's not always possible to cook with the doors and windows open. That's when an extractor fan becomes paramount.
Condensation in a van can cause untold damage and lead to mould which is detrimental to your long term health. For full time vanlifers, it's well worth fitting a roof vent with a reversible fan.
Van Bathroom
Many larger vans are fitted with a toilet and even a shower. Toilets need good ventilation since nobody wants a smelly van! A roof vent can also help to dissipate any steam from hot showers. Alternatively, if you have a dedicated shower room, you might consider fitting its own ventilation or ideally a separate extractor fan.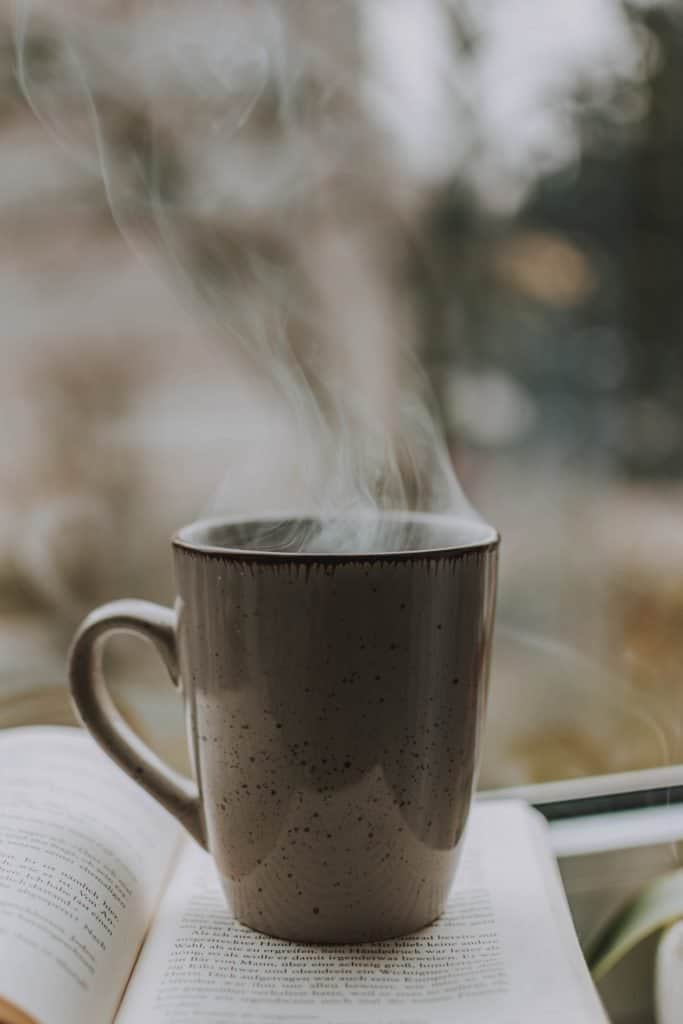 Windows & Positioning
You will obviously have some windows in your van, so it is useful to consider the airflow provided by a combination of your vent/s and windows. For best airflow, an opening at each end of the van is ideal as the air can pass through the entire space.
If you fit just one vent in the rear of the van, then an opening window near the front is a good idea. A roof vent at either end of the van is another good way of getting good airflow, and one of these could be a vent with a powered fan allowing for fast movement of air through your living area.
Our  pre-converted van didn't come fitted with windows or an air-vent in the rear and we quickly learned how hot and stuffy a van can be during the summer months.
Light
Roof vents provide light in the van as well as ventilation, so consider where you want the light to be delivered and also make sure the vent is fitted with black-out blinds for sleeping. Some vents have black-out blinds integrated in the design while others require these to be added afterwards. 
Insects
No matter where you plan to use your van, flies or insects of some description are likely to be an issue. Therefore, a roof vent should be fitted with an insect mesh to prevent unwanted flying visitors into your van, especially while you are sleeping. 
Temperature Control
In hot climates the vent needs to keep the van cool and limit the greenhouse effect from the sun, but in cold climates the vent needs to keep the heat in and cold out. Good quality vents therefore need to be double glazed.
If you don't plan on having air conditioning in your van then you'll need to invest in a high quality roof vent with a fan that sucks cool air in.
If you plan to use your van in winter, you'll need a good heater. Check out my guide to diesel heaters here!
Budget
The quality and number of vents may be determined by your budget. Vents without a fan are much cheaper and may well be sufficient in small vans if used in conjunction with opening windows. However, whilst vents with fans that suck air in and push air out provide superior air flow, they do come at a higher cost.
Roof Space
If you have roof mounted solar panels, a roof rack or plan on fitting either, then these need to be considered when choosing the number, size and positioning your roof vent/s.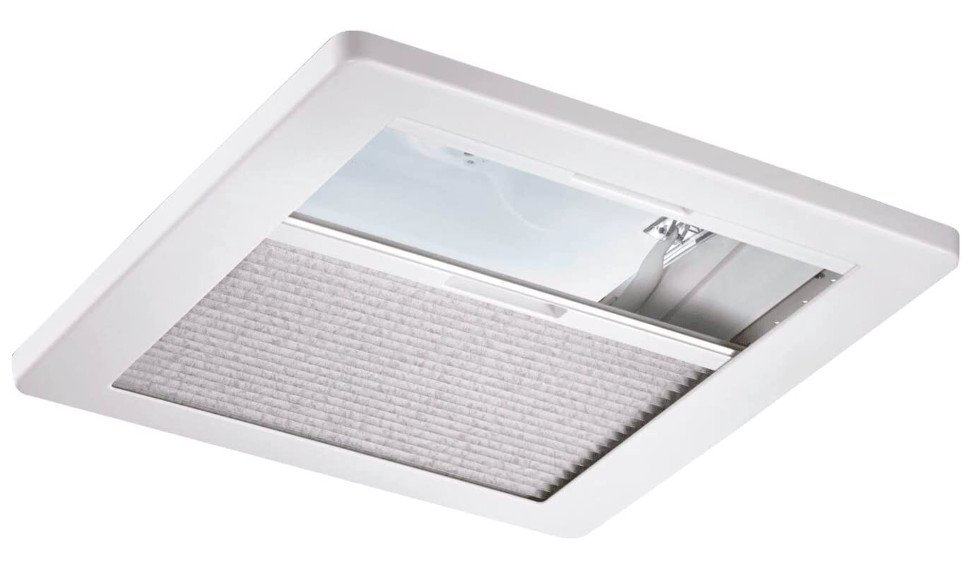 Important Features of Camper Van Roof Vents
Size
A larger vent will offer more light and more ventilation but you do need to be sure you have space for it.  The most common size is 40cm x 40cm but smaller and larger ones are available. This standard size is well worth considering as they often provide the best value for money.
Roof vents are also available in the following common sizes; 70 x 50 cm and 28 x 28 cm
Fan Speeds
Roof vents with fans will have various fan speeds. Often there are three speed options of low, medium and high, but sometimes they have a range of speeds from 1 – 10. The more fan speeds you have, the better you will be able to control the temperature inside your van.
Power Demands
Vents with a fan considerably increase airflow in the van. However, you will need to ensure you have enough energy available to power the fan. Although the power draw from a fan is quite low (between 1 – 5 amps), it is a constant draw so these vents are best suited to vans with a leisure battery connected to a solar system. If you stay regularly in campsites, then fans need to be able to run from a hook up/shore power.
Our van is set up to be entirely off grid as we have a split charger and solar. It is important in this case to calculate the charging capacity of the solar set up and batteries before fitting any powered equipment.
Airflow Direction
Vent fans are available that suck air in, blow air out or do both (reversible). I suggest you consider one with a reversible fan, allowing air to be sucked into the van to keep cool in hot weather and to blow air out of the van to prevent condensation when cooking. 
Clear, Tinted or Frosted
Vents come with different outer covers to suit your preference. A clear or tinted lens allows for some star gazing if fitted above a bed for example.
Roof Thickness
Vents are often offered in different versions to suit different roof thicknesses or with an optional kit for thicker roofs. Be sure to order the correct vent to fit your vans roof thickness!
Thermostat and Remote Controls
More premium roof vents will operate automatically based on a set temperature which is monitored by an inbuilt thermostat. Less expensive models will be operated manually. The same is also true of included remote controls. These are probably a luxury rather than a necessity and may be determined by your budget.
The Best Camper Roof Vents
As we've discussed, the best camper roof vent for you will depend on your needs and usage. Camper roof vents can be divided into those that have a fan and those that don't. The price between vents with and without fans differs widely, so we've broken down the best camper roof vents into these two distinct categories.
All of these vents are fitted with black out blinds and insect screens.(unless stated otherwise)
The Best Roof vents without Fan
Best Overall (money no object)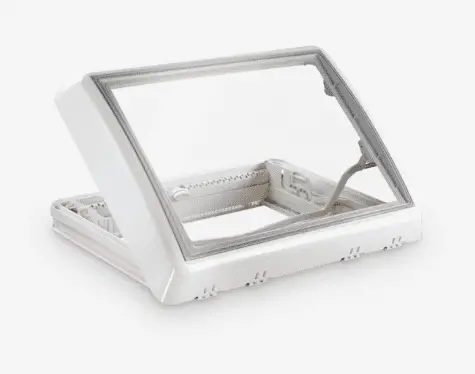 A larger version of the well regarded Mini Heki vent. This is the ideal option for star gazing, letting in plenty of light and optimal ventilation. This would be our first choice for a larger van, however this size and quality does come at a price!
Best Overall
This 40×40 skylight is simple to use, sturdy and a great option for those looking for a quality product  that will last for years. (Also available in a smaller 28 x 40 cm size).
Best Mid-range
This is another good quality, fairly priced vent that comes in white or crystal. The standard 40×40 version opens by way of a knob which opens the vent in a single plane to about 70 degrees, allowing for plenty of ventilation. There is also a larger  50×50 version of this roof light with a 5-way opening. ie you can simply open the front, back or both. Available in Crystal or White.
Please note, if you require a blackout blind you will need to purchase a Fiamma Rollo-vent in addition to your Fiamma roof vent.  
Best Budget
This is a decent-quality, streamlined vent which offers single handed and wide opening (up to 70 degrees). It has a tinted clear dome for excellent uv protection. Overall we like it because of its modern looks, ease of use and value for money. (caution, this may not be delivered with clear fitting instructions)
The Best Roof Vent with Fan
Best Overall
This top quality powered vent sets the standard with a quiet reversible 10 speed fan capable of moving 26 cubic metres of air per minute. It has a remote control, thermostat and can be used when raining.  It comes complete with an insect screen however, for blackout blinds you will also need Maxshade Blind, which also has optional integrated lights. This fan comes in White (7000) or smoke (7500).
Best Mid-range
This quality fan is a reliable, well-made option which has a powerful, super quiet variable speed fan with thermostatic control and low energy requirement. It had a sturdy manual opening system. While it may not have remote control or automatic closing features, it is a high performance option at a very acceptable price and well worth considering. Please note, if you require a black out blind for this product you will need to purchase the Fiamma Rollo-blind separately.
Best Budget
Air Max Ultra (2012 RV Fan 360)
If you're looking for cheap and cheerful and aren't too bothered about buying a well known brand, then the best value campervan roof vent with a fan is this model. This standard-sized 40×40 model has a brushless fan that results in low noise and a longer motor life. It has a rain sensor, reversible ventilation, remote control and fly net. The downside is that it lacks a black-out blind.
Tips on Fitting Roof Vents for Campervans
With all roof vents the installation is critical as even the smallest leaks can cause untold and often unseen damage to the van interior.  Some vents are supplied with a high quality, specialised sealant and clear instructions on how to fit. Preparation is paramount so take your time over the installation process.
The sealant required needs to be non setting or semi setting, weather proof and UV resistant. Sika 522 and Soudal Butyrub  are suitable options. Avoid high strength PU adhesives as you may have difficulty removing the vent in future if there's a leak.
Cutting the hole for your roof vent is best done with an angle grinder fitted with a thin cutting disc or by using a jigsaw fitted with a steel cutting blade. It is important to take your time and double check the measurements thoroughly.
It will be best to remove any interior linings so as to avoid a fire risk from sparks or if your van is a new build, consider cutting the holes for vents and windows before lining the van. If in doubt take it to a professional. If replacing an existing vent be sure to remove any old sealant and clean all surfaces thoroughly. 
If your current vent does leak a little, it is usually best to remove it completely and refit it with better quality sealant rather than smearing more sealant over the old seal.
Related Reading
The Best Van Roof Vent Summary
Campervan roof vents are an integral part of keeping good airflow circulating throughout your van and preventing mould, rot and rust. Campervans tend to get very hot inside on sunny days and can get very damp inside on wet days or whilst cooking or showering. A roof vent provides an essential solution to combat these problems.
The type, number and placement of roof vents will depend on a number of factors including the size of your van, planned usage (full time vs part time, climate), light requirements and budget. 
Roof vents are available with and without fans. Whilst vents with fans are more expensive, they provide superior circulation through sucking air in and blowing air out. Vents with fans require a power supply which needs to be factored in the buying decision.
Whether upgrading an existing van or building from new, it is important to use good quality products and fit them correctly to improve your comfort for years to come.
Any of the products mentioned in this post will improve the airflow of your van, so fitting or adding a roof vent can be done in a very cost effective way if necessary.