Gaziantep is a thriving market town in the heart of a very productive agricultural region of eastern Turkey. Also know as Antep, the city dates back to the Bronze Age and has been an important regional centre for millennia.
Famed for the production of pistachios and baklava, the Gaziantep region is also said to produce 20% of the worlds watermelon. Gaziantep is known as the Gastronomy capital of Turkey and is therefore a must for all the foodies out there.
For tourists visiting the area, it might be easy to overlook Gaziantep in favour of Sanliurfa and Mardin, which seem to get more press. However, Gaziantep is a friendly town, full of history and culture and jam packed with a variety of sights to see.
For this reason, Gaziantep is a must visit destination on your eastern Turkey itinerary. Read on below to discover all the best things to do in Gaziantep.
Disclaimer: Some links in this article are affiliate links, which means that if you purchase through them I receive a small commission, at no extra cost to you. This helps cover the cost of running this blog. Thanks for your support!
Top Things To Do In Gaziantep
1. Zeugma Mosaic Museum
This much publicised museum could be the main reason for your visit to Gaziantep. Zeugma is a modern museum on the outskirts of the city, which contains a staggering number of stunning mosaics from the region.
Many of the old mosaics on show in the Gaziantep Mosaic museum were recovered from old Roman settlements alongside the Euphrates river, which were flooded when the river was dammed in 1999.
The highlight of the museum is a much publicised mosaic called the Gypsy Girl, which seems to have become the image of Gaziantep.
The eyes of the Gypsy Girl follow you around the room much like the Mona Lisa, with which it is compared. This mosaic was smaller than we had envisaged but the wandering eyes were indeed incredibly impressive.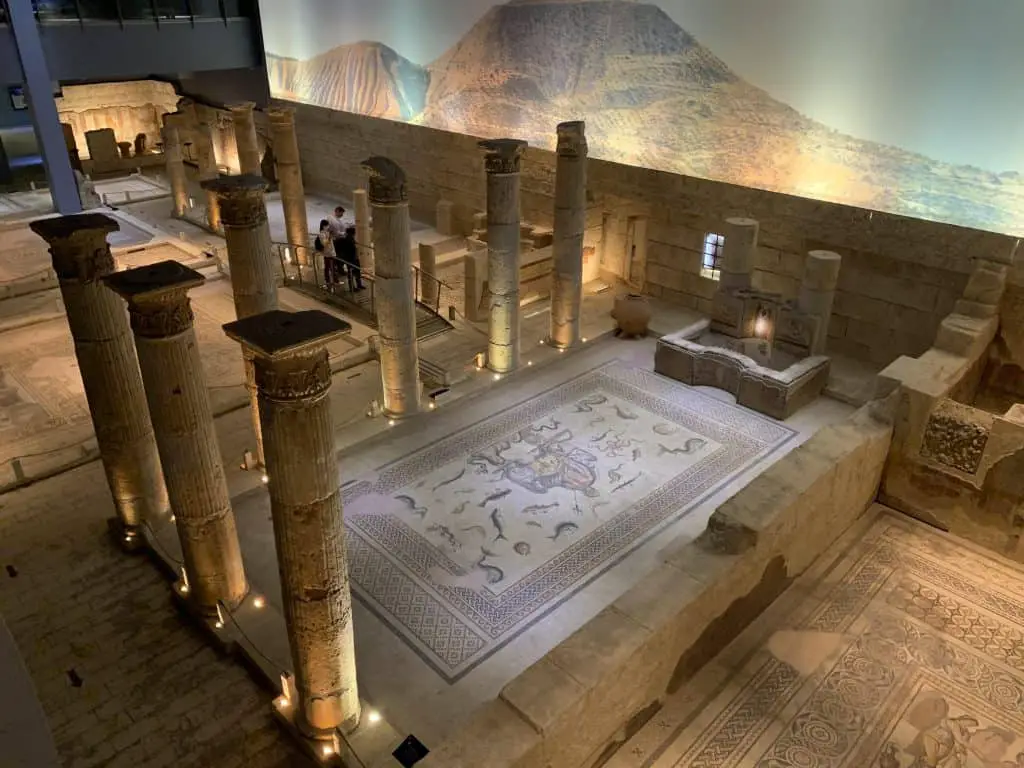 2. Gaziantep Citadel
Strategically perched atop a hill, Gaziantep Castle dominates the centre of the old town. Although there have been settlements on this hill from as early as 3500 BC, the current castle dates back to the Seljuk era of the 12th and 13th century.
Inside the castle, an excellent display documents the struggles the city faced during the Franco Turkish war of 1918-21. This war was centred on this part of Turkey, in particular Gaziantep, and played an important part in the early history of the Republic of Turkey as we see today.
After exploring the displays inside the castle (known as the Gaziantep Defense and Heroism Panoramic Museum), wander up to its grand battlements to admire views out over the city.
There is a small fee to enter the castle which is taken either by card, phone or through purchasing a city attraction cards. (No cash accepted).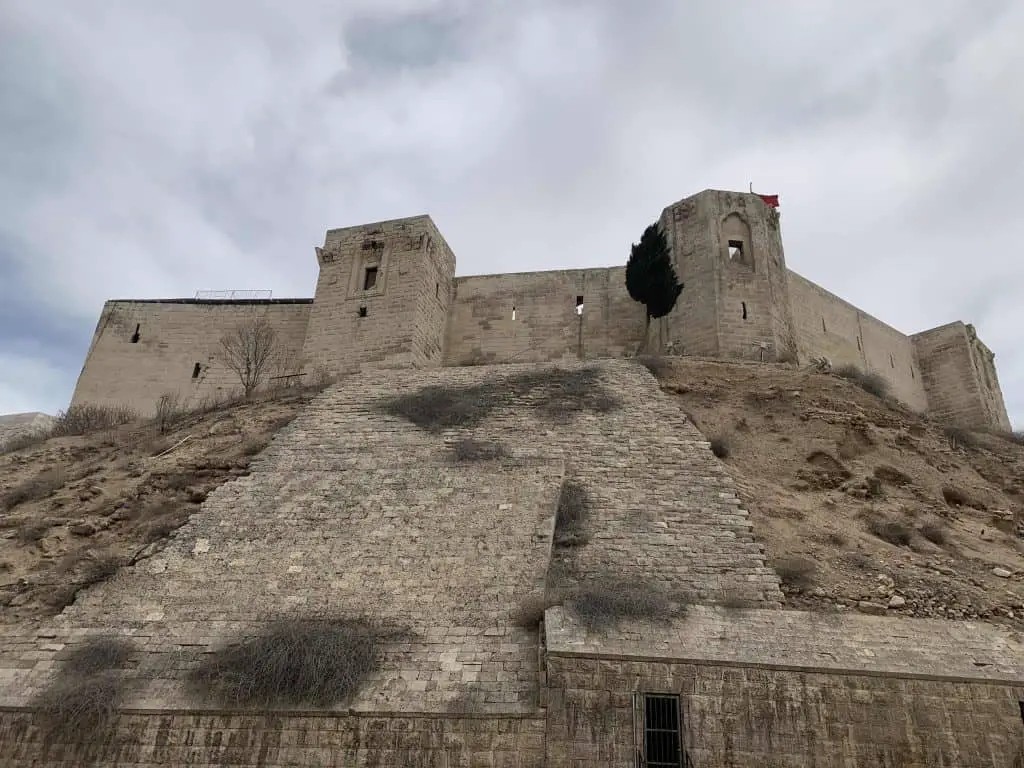 3. Gaziantep Bazaar (Elmaci Pazari)
Behind the castle to the south sits the extensive Gaziantep bazaar. Most of the bazar shops on the main streets have quite modern facades, although some areas are found in beautiful old buildings (Hans) and historic shopping streets. Be sure to visit the beautiful Covered Bazaar (Zincirli Bedesten) which was built in 1718. This historic shopping street is named after the black tiled floor.
Most famously sold in the bazaar are pistachios (known locally as Antep Fiskars), of which there are many stalls to choose from. Other local specialities include copper ware, spices and Yemeni shoes, which movie buffs will recognise from films like Troy and Harry Potter.
As well as pistachios, Gaziantep is famous for making the best Baklava in Turkey. There are Baklava shops everywhere, offering this sweet treat which is made from pistachios covered in pastry and dripping in sugar syrup. You can buy this local delight by the kilo – delicious!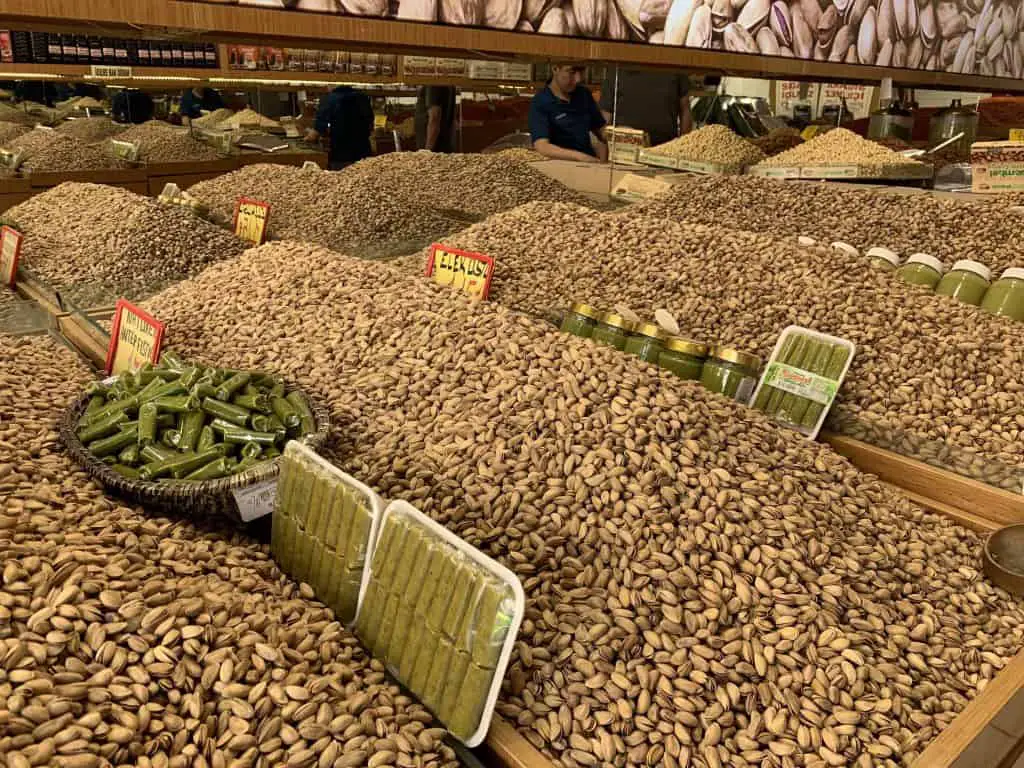 4. Tahmis Kahvesi (Coffee House)
Built back in the 17th century by a Turkmen aga, this old institution has survived despite various fires and wars over the years. It is still the place to go for breakfast or a Turkish coffee.
If you like coffee and are a fan of pistachios, I recommend trying the menengiç coffee. I'm not a fan of coffee but I love this this sweet treat.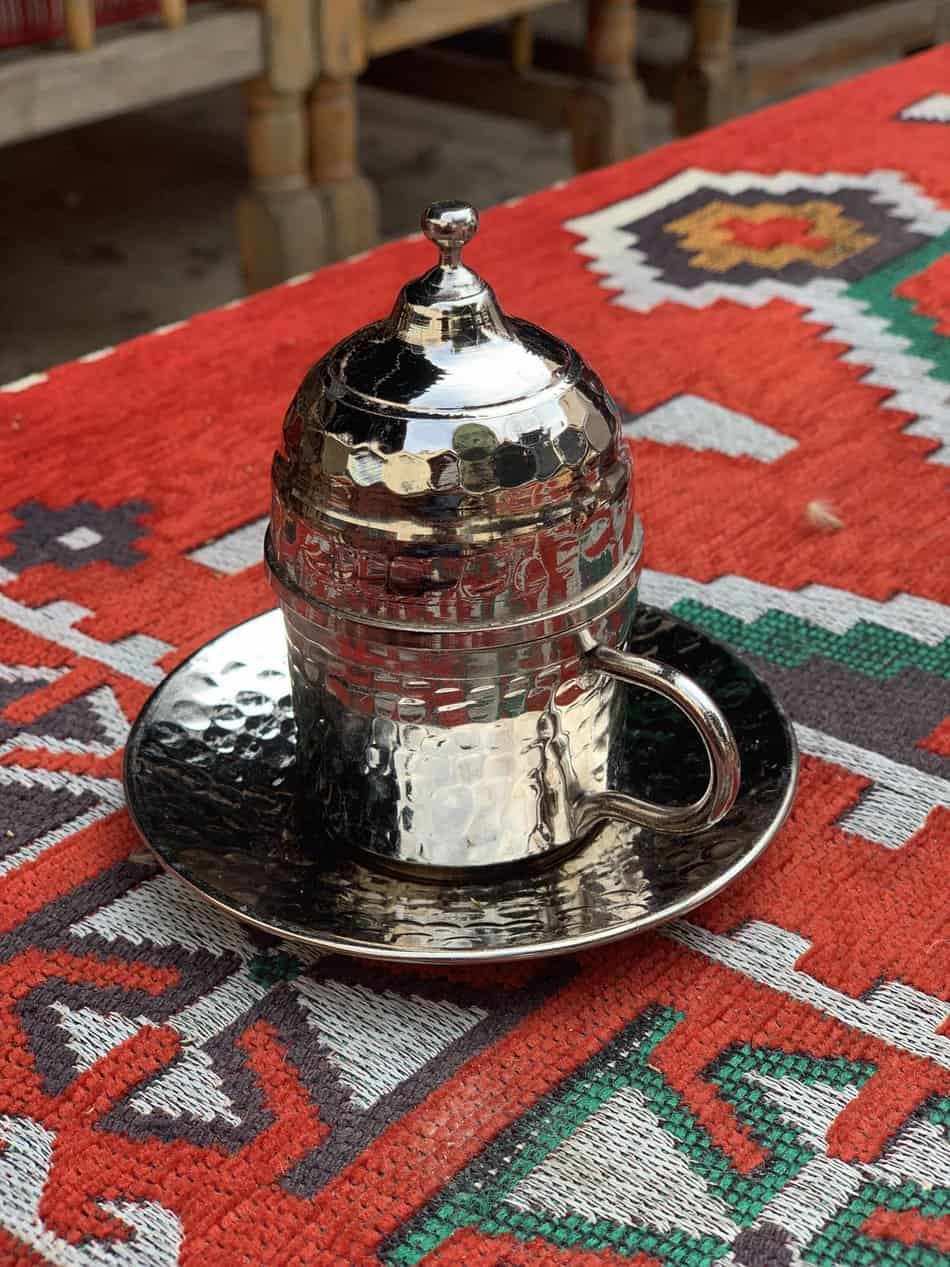 5. Gaziantep Mevlevi Lodge Foundation Museum
This small museum can be found off the courtyard, inside Tekke mosque. The museum once served as a dervish lodge and has displays explaining the life of whirling dervishes. Whirling dervishes follow the Sufi arm of Islam and are known for the whirling dances which are said to elevate them to a state of calm.
6. Hamam Musesi
There is no shortage of museums in Gaziantep – 13 in fact! – so you might want to just pick a few that are of particular interest to you.
Opposite the castle is an old bathhouse, which has been delightfully restored as a museum. It exhibits many elements of the traditional Turkish bath including soaps and fragrances commonly used. If you haven't experienced a hamam during your time in Turkey I certainly recommend exploring this unique museum in Gaziantep.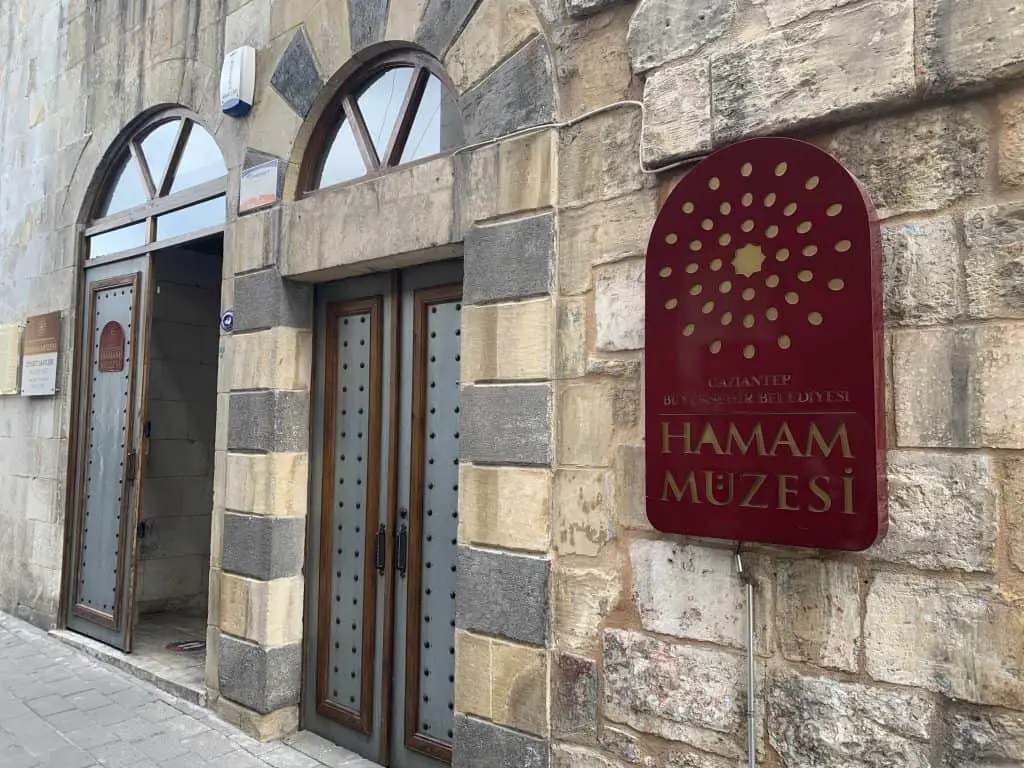 7. Gaziantep Toy Museum (Oyun ve Oyuncak Muzei)
For something a bit different how about this fine museum dedicated to the more childish aspects of life through the ages? The toy collection here comes from all over the world. Many of the toys are handmade and range in age up to 150 years old.
8. Mosques
There is also no shortage of mosques in and around Gaziantep. Many of the mosques can be visited on a stroll around the old town. There are several that are worth visiting:
Liberation Mosque. Formally an Armenian cathedral, it was converted after the Franco-Turkish war in 1921 when the city was liberated.
Boyaci Mosque. Built between the 13th and 14th century, its minaret is considered one of the symbols of the city.
Sirvani Mosque is one of the oldest mosques in Gaziantep.
Tahtani Mosque. This wooden mosque from 16th century has a red marble mihrab.
Sey Fethullah Mosque. Located in Kepenik this historic mosque has an adjoining Turkish bath and madrasa.
Kurtulus Mosque is another well restored mosque which started life as a church.
9. Pisirici Kastel 
Pisirici Kastel is a fountain located underground in an impressive vaulted room which is thought to date back to 1282. Fountains like this one were designed for washing, relaxation and prayer. It was the place where local people could come to access water. These fountains are quite unique to Gaziantep.
10. Gaziantep Archaeology Museum
For the history buffs, Gaziantep has its own Archaeology museum. Although quite a small collection, the pieces on show are from sites local to Gaziantep. In particular there are some nice steles from magnificent burial mound at Nemrut Dagi.
Pro Tip: If you only plan to visit one archaeology museum in Turkey, hold out for the very impressive and comprehensive museum in Sanliurfa. This is a must if you plan to visit Gobekli Teppe.
11. Emine Gogus Cuisine Museum
This museum is set in an old stone house. Displays are packed into rooms over two floors and document the story of local cuisine, with displays of cooking equipment from the past. Not all displays are in English which was a little disappointing but since Gaziantep has been declared by UNESCO as the world Gastronomy City, this museum with a nominal entrance fee, is worth a short visit.
There is also a small cafe/restaurant where you can sample some local cuisine and which also hosts cooking workshops.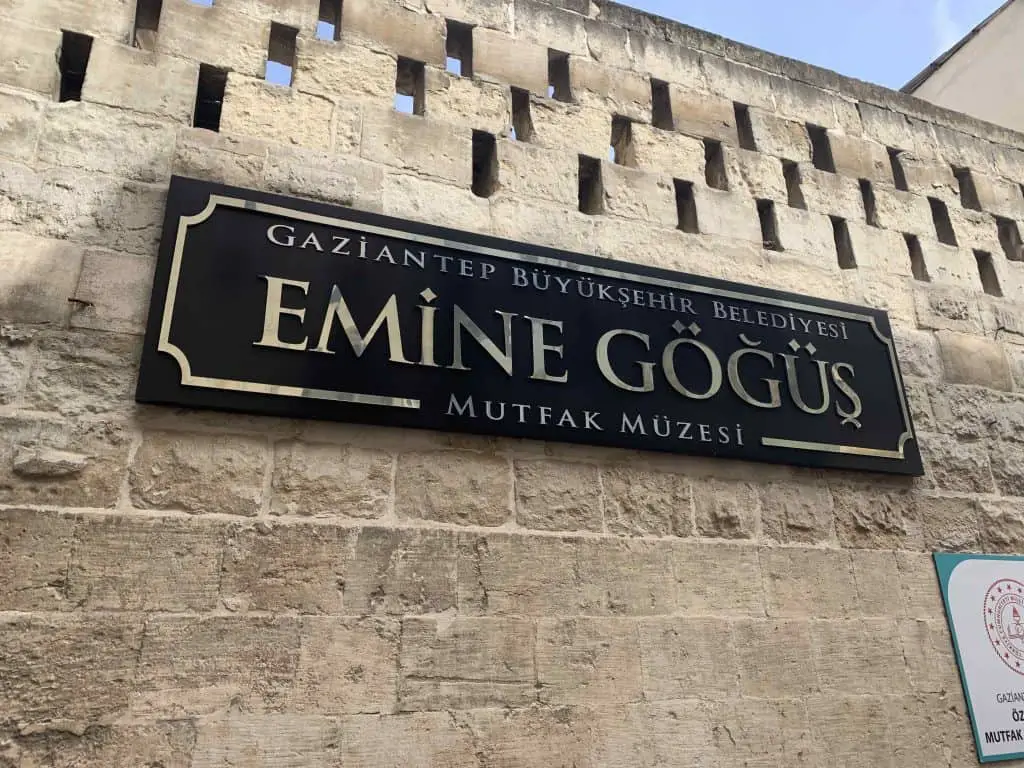 12. Gaziantep City Museum
This museum is set in the Bayazhan building and contains interactive displays documenting the crafts of the city, in particular Baklava and shoemaking.
There is a cafe and bar in the courtyard.
13. Botanical Gardens
These beautiful gardens are a great place for a relaxing walk, especially in the spring. Wander amongst the colourful display of flowers, in particular Tulips, which are particularly popular in Turkey.
14. Dulukbaba Tabiat Park
If you need a place to relax after visiting all the sights, head to Dulukbaba Park. This pretty park has a pond next to which you can relax, drink cay and eat some more baklava.
15. Gaziantep Zoo
I'll be honest, I'm not the biggest fan of zoos but Gaziantep Zoo is the largest in Turkey and has a huge collection of animals from around the world. It has many enclosures as well as an aquarium and a museum. If you choose to visit the zoo, be sure to set aside several hours to fully explore everything it has to offer.
16. Gaziantep Ataturk Ani Müzesi
Ataturk played a huge part in the formation of the Republic of Turkey. This small museum is deidcated to this important figure and has displays of some of his possessions such as books. It also has displays documenting the city's history. 
17. Gastro Antep Food Festival
As already mentioned, Gaziantep is particularly well known throughout Turkey for its food. The city holds the Gastro Antep food festival each year in September to much acclaim. This 3 day festival kicks off with the pistachio harvest and showcases all the high quality food of the region for which Gaziantep is particularly famed.
Places To Visit Around Gaziantep
1. Eski Halfeti and Rumkale Fortress
Eski Halfeti (Old Halfeti) is an old village which was partially flooded when the Euphrates river was dammed in 2000. The old mosque is half submerged along with much of the village, but the hilly parts of village remain.
All is not lost for some of the residents of Halfeti, as the destination has become a popular tourist stop. There are  a few restaurants and tea houses left in old Halfeti overlooking the reservoir which are kept busy by the many tourists making their way to this unlikely attraction.
A 30- 45 minute boat trip from Halfeti marina is a popular activity on which you can view Rumkale fortress perched on the hillside above the reservoir and also the sunken minaret of Savasan, another settlement lost to the flood.
Its a great little spot and a nice way to break up a journey between Gaziantep and Sanliurfa or as a day trip from either city. Eski Halfeti is around 90km from Gaziantep.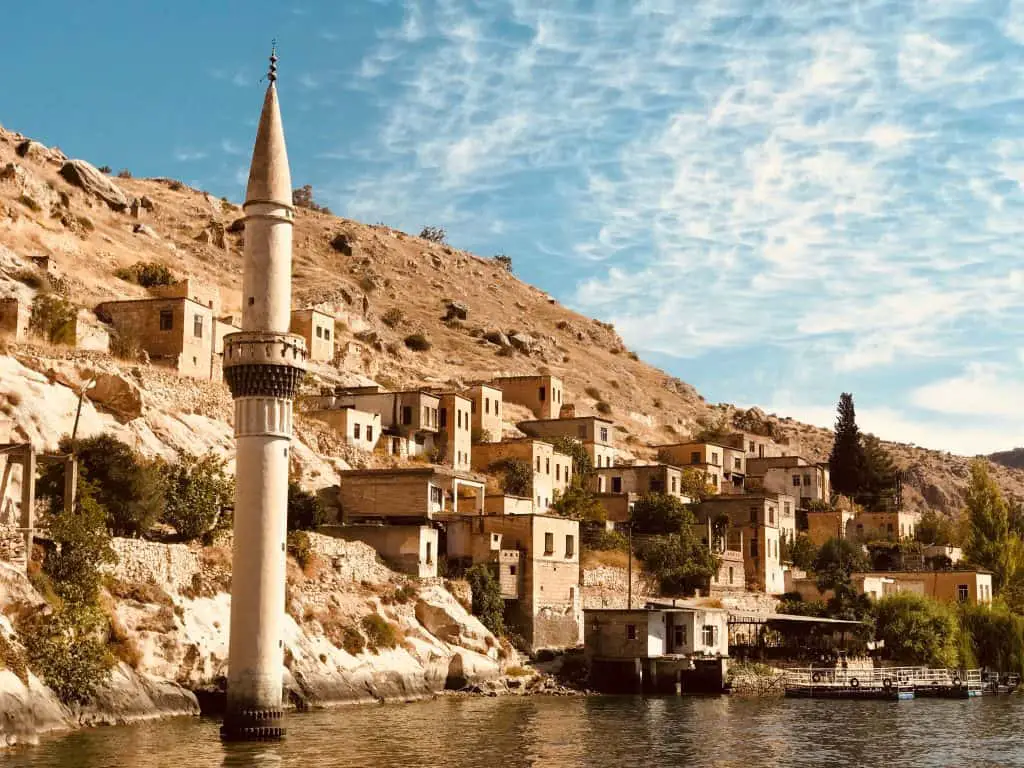 2. Belkis Zeugma
Belkis Zeugma is a settlement which had its heyday under Roman rule, until the Persian invasion sacked the town. This site was partially flooded by the Birecik Dam in 2000, however the important and impressive mosaics discovered on the villa floors were first moved to the Zeugma Mosaic Museum in Gaziantep.
Despite the flooding the site is still worth a visit and makes a nice day trip from Gaziantep.
3. Sakcagoz
Situated around this town 50km northwest of Gaziantep are five old settlement mounds which date from the Stone Age through to 1st century AD. Extensive excavations have uncovered many levels of civilisation and have discovered palaces, defensive walls and carved reliefs.
Nearby Cobahoyuk has evidence of an early Bronze Age settlement.
Where To Stay In Gaziantep
If you are looking for hotels in Gaziantep, there are many stunning boutique hotels set in renovated historic buildings to choose from.  Here are a few interesting ideas. 
Ali Bey Konagi is a friendly hotel in a stunning old house set in the heart of the old city is very popular so book early.
Dilek Hanim Konagi is a highly rated boutique hotel, close to the city centre set in a stunning historic mansion house. This is great value for money.
If you're looking for somewhere a bit special to stay in Gaziantep, then try the historic hotel of Hisvahan. The rooms here come at a premium but are sure to make your stay a memorable one.
Places To Eat In Gaziantep
Baklava is perhaps the most famous edible treat in Turkey and Gaziantep Baklava sets the standard. There are plenty of Baklava shops, cafes, and historic teahouses selling Baklava, so it's a great place to try this Turkish speciality.
Imam Cagdas Baklava Emporium is family run and has been around since 1887, so they know a thing or two about making the best Baklava. They also serve a full food menu. Their shop is a short walk from Gaziantep castle and you can even order through their website. 
Another local delicacy is Katmer or Katmerci which is a fried dough filled with clotted cream and covered in Pistachios (naturally). Often served with tea it's a popular breakfast dish and is well worth a try. Katmerci Zekeriya Usta has the best reputation in town for Katmerci.
If you don't have a sweet tooth there are some great restaurants serving savoury dishes too.
Kebapci Halil Usta is popular with locals which is always a good sign and Culcuoglu Et Lokantasi is close to the castle and offers a pleasant relaxed atmosphere.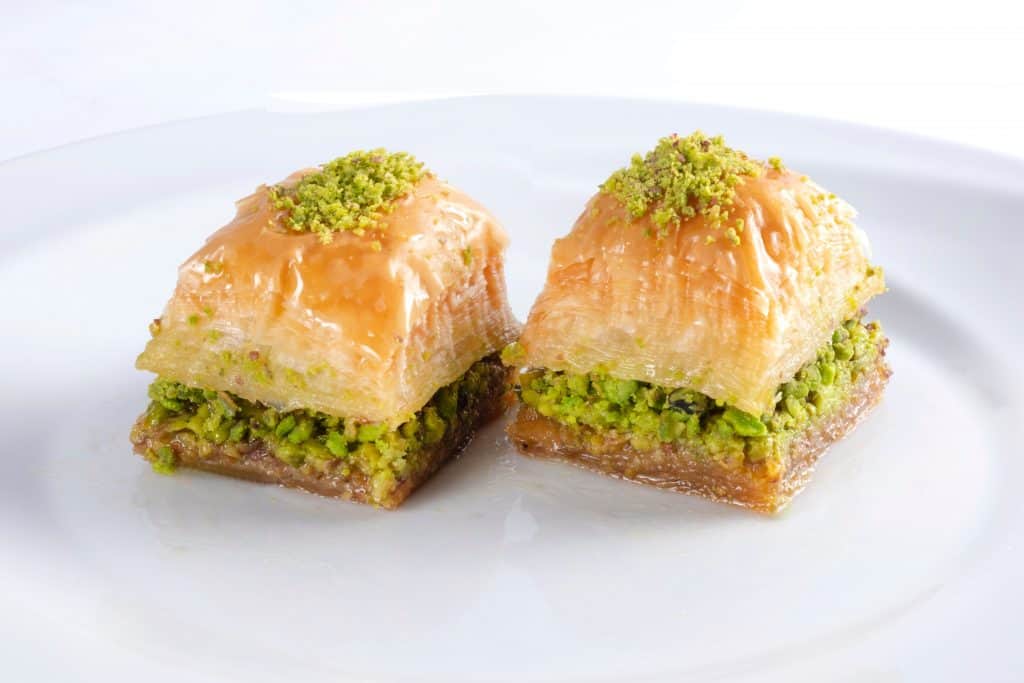 How To Get Gaziantep and Around
There are regular flights to Gaziantep from other cities in Turkey including Istanbul and Ankara. International flights from outside Turkey are possible with Turkish airlines and Pegasus via these main hubs. For competitive flight deals check out Kiwi.
Long distance bus services in Turkey are extensive so it is possible to take a bus from Istanbul to Gaziantep and from many other major Turkish cities Including from Ankara, Sanliurfa, Diyarbakir, Adana and Mardin. You can book these buses on Busbud.
Dolmus services link up all the villages around the city and to other local towns and sights. Taxis are readily available throughout the city.
A good way to explore this area of Turkey is with a hire car or by hiring a car with a driver. This allows for freedom and good use of time. If hiring a car with a driver or a taxi make sure you agree a fair price first to avoid any surprises.
If you plan to rent a car in Gaziantep, they can be picked up from the airport or at city rental offices. If you want to organise your car rental in advance, I recommend using Local Rent who offer competitive prices. Don't miss my guide to driving in Turkey.
Weather in Gaziantep: Best time to visit
As with much of inland Turkey, the weather in Gaziantep tends to be cold in the winter and very hot and dry in the summer.
If visiting in winter the sites will be very quiet and you may feel you have some places to yourselves. It is possible to get snow here in the winter months of December to March.
In the summer months of July and August, the temperatures can reach over 40 centigrade, so be prepared for hot, sweaty days. It is also peak season.
The best time to visit Gaziantep is spring and autumn as temperatures will be more comfortable for exploring the many sites. In spring the surrounding landscape is lush, green and full of wildflowers. In late autumn, the trees display their orange and yellow bloom and the sites become quiet once again.
A Guide To Visiting Gaziantep Summary
Gaziantep is a fabulous city to visit in Turkey if you have a love for history, culture and food at its very best.
There is a vast array of museums to visit and plenty of interesting mosque architecture to appreciate. As the largest mosaic museum in the world, Zeugma Museum is certainly a highlight of Gaziantep. As of course is Gaziantep bazaar, which is packed full of delicious local produce and intricately made handicrafts.
This friendly city has some great and historic choices for accommodation and plenty too keep you busy for several days.
If you're a foodie with a sweet tooth, Gaziantep should certainly be on your Turkey bucket list but be warned, you might end up eating too much Baklava!
Join My Newsletter Today!