On the tallest peak of the Eastern Taurus mountain range, high above the Euphrates River, sits an incredible feat of engineering. An ancient tomb and funerary mound marked by huge stone statues dating back to the 1st Century BC.
The iconic head statues of Nemrut Daği perhaps need no introduction as they are a real gem of eastern Turkey and a popular ancient ruin in Turkey to visit. This eerie ruin is a must for any eastern Turkey itinerary and in my opinion any trip to Turkey.
This is a complete travel guide to exploring the mesmerising Mount Nemrut in Adiyaman. I describe what you can expect on your visit, where to stay and how to get there.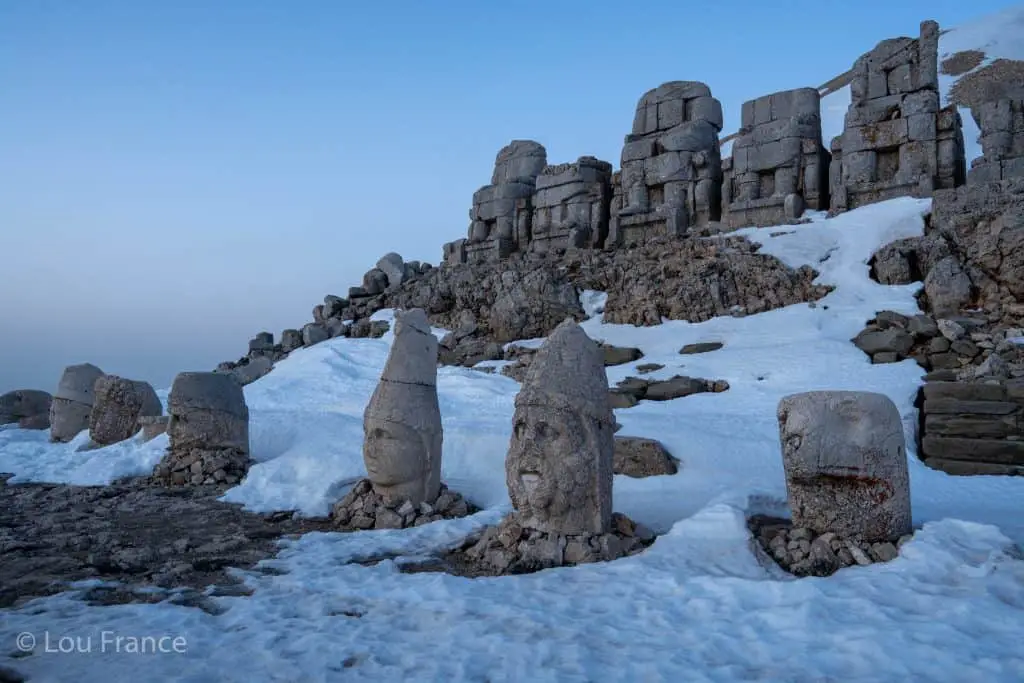 Disclaimer: Some links in this article are affiliate links, which means that if you purchase through them I receive a small commission, at no extra cost to you. This helps cover the cost of running this blog. Thanks for your support!
A History Of Nemrut Dagi
Nemrut Daği (Turkish for Mount Nemrut) is a peak in the Eastern Taurus range. The summit of this peak has been built into a pyramidal peak (burial mound) through the placement of smaller stones and rocks. Around the peak sits a series of stone statues that are around eight to nine meters tall.
The statues were constructed in 62 BC for King Antiochus Theos of Commagene, who was an important Armenian King.
There are two sets of statues, one set on the west terrace and another set on the east terrace. The seated statues consist of Grecco-Persian gods – Zeus, Hercules, Apollo, Commagene – and the king himself. At either side of the gods sit lion and eagle guardian statues.
On the north and south side of the mound there are broken reliefs of Antiochus's ancestors. The man-made mound is thought to be a burial mound in which Antiochus' tomb is concealed. However, despite extensive archaeological work the tomb has never been found.
The technology that must have been used to construct Mount Nemrut is unlike anything else found during the Hellenistic period and an incredible feat of engineering. Quite how the statues lost their head is often debated with some citing natural events such as earthquakes and strong winds. However, the fact that many heads are missing their noses points more towards iconoclasm by early Christians or Muslims.
The site was originally excavated in 1881 and was inscribed as a UNESCO World Heritage Site in 1987.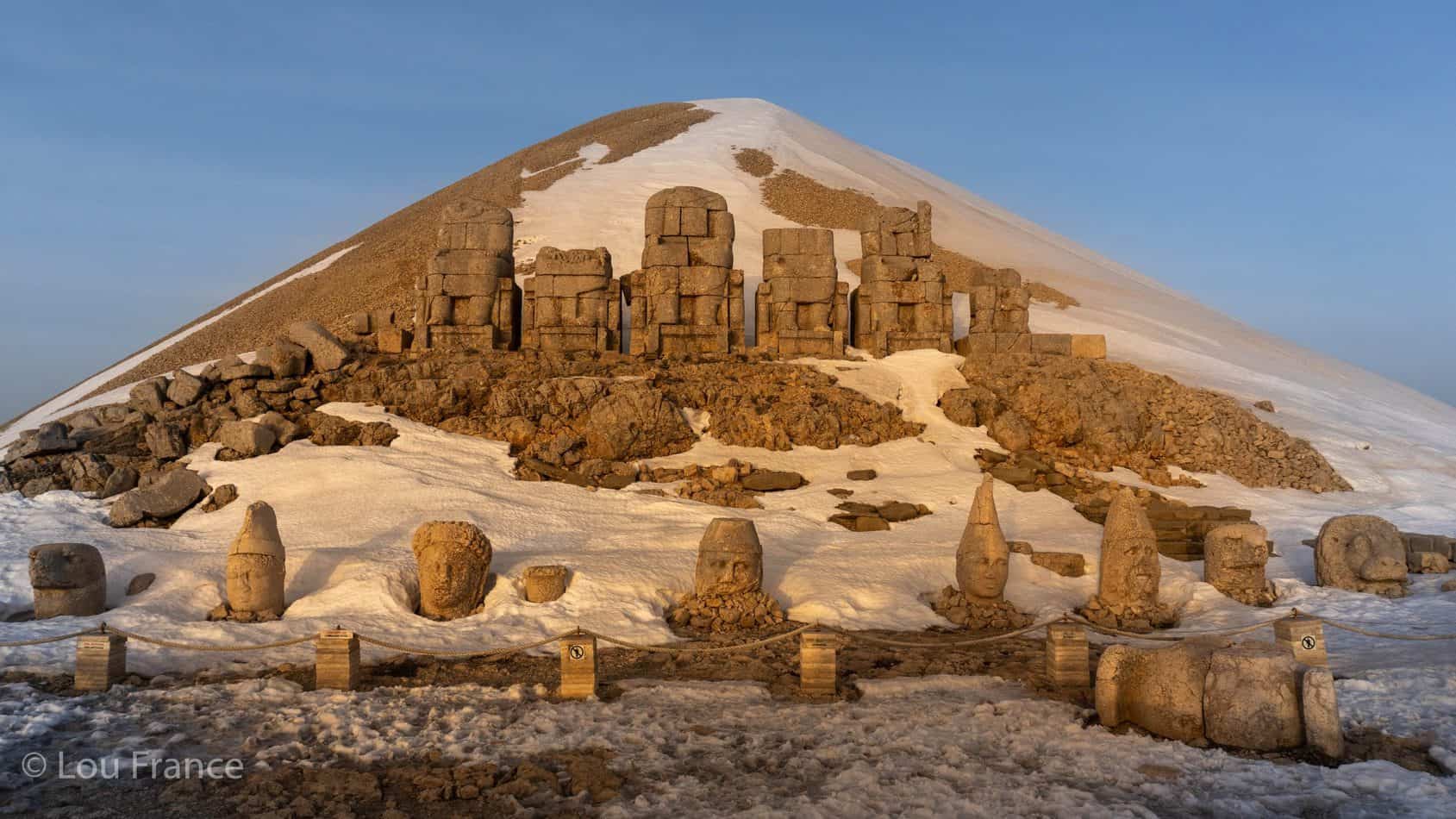 Nemrut Dagi: What To Expect At The Site
First of all visitors should be warned that the summit Mount Nemrut is 2134 meters high. This means that if you're not used to altitude, then you might find the 600m hike from the car park to the site a little challenging. There are several benches along the path to allow for breaks to catch your breath.
Secondly, because of the altitude, the mountain can get very cold, even if it's warm where you are staying. If you're visiting at sunrise or sunset in particular, be sure to bring warm layers.
The statues on the East Terrace are the most complete and this is arguably the best place to watch sunrise. The statues on the West Terrace are less complete and more scattered, but the heads themselves are better preserved. The West terrace is the better place to watch sunset.
Most people visit at sunrise and therefore this is the most popular time of day to see Mount Nemrut.
Nemrut Daği is based in Nemrut National Park for which there is an entrance fee of 25 TRY.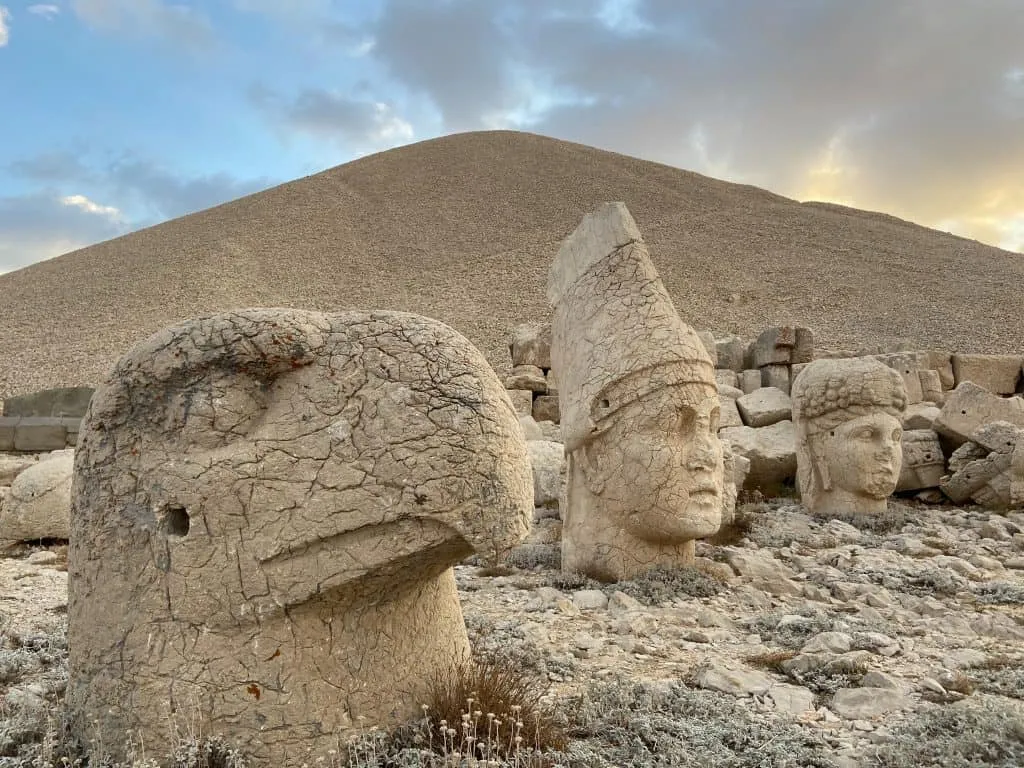 How To Get To Mount Nemrut
Mount Nemrut is located 13km north of Karadut, which is the closest town to the mountain. The biggest major city to Mount Nemrut is Adıyaman, which also has an airport. Domestic flights to Adıyaman are available from the major airport hubs in Turkey such as Istanbul and Ankara.
Adiyaman to Nemrut Dagi
From Adiyaman there are several options to reach Mount Nemrut. If staying in Adiyaman, your accommodation may offer a shuttle service which would be the most convenient option. If staying Karadut, your accommodation may offer a transfer from the airport and a shuttle/tour to Mount Nemrut.
From Karadut it's also possible to take a taxi or hitchhike up to the statues. Staying in Karadut means you don't have to get up so early to catch that sunrise!
Alternatively you could rent a car from the airport. Car rental in Turkey is relatively cheap and straight forward and don't miss my guide to driving in Turkey.
🔥HOT TIP
If you are looking for the best car rental service, here it is! Rentalcars, an international car rental booking service that is present all over the world. With Rentalcars you will definitely find a perfect car for your perfect trip wherever you are.
Alternatively you could join a tour from Adiyaman or Karadut and let someone else do the hard work for you.
Istanbul to Nermut Dagi
Turkish Airways offer a daily flight from Istanbul to Adiyaman. Then, from Adiyaman choose one of the options above. The flight takes 1.5 hours and costs around $60. You can check for cheap airline flights on Kiwi.
Read Next: Unmissable things to do in Istanbul
Cappadocia to Nemrut Dagi
From Cappadocia the quickest way to get to Mount Nemrut is by car, which will take around 7 hours. (494km)
There is a daily bus which leaves Nevsehir and heads to Malatya, which costs around $15. From Malatya it's then a two hour taxi ride to Adiyaman, which will cost around $25. Then you have to get to Mount Nemrut from Adiyaman as per above.
Unfortunately there are no direct flights from Cappadocia to Adiyaman. Flights from Nevsehir or Kayseri via Istanbul to Adiyaman will take around 11 hours.
By far the easiest way to see Mount Nemrut from Cappadocia is to join a tour like this one.
When Is The Best Time To Visit The Mount Nemrut Statues
During the winter months Mount Nemrut is covered in snow and the statues cannot be seen. Therefore, the best time of year to visit Mount Nemrut is between April and October. Even on my visit in early April, there was still a considerable amount of snow and the upper path had become an icy traverse. 
However, July and August is peak tourist season which would make your visit a very crowded experience. Also this is the hottest time of year in Turkey so the hike up to the statues will become an uncomfortable, sweaty affair.
The best months to visit Mount Nemrut would therefore be May, June, September and October.
Sunrise or sunset?
The most complete statues are on the East Terrace of the mountain, therefore for the best views of the complete statues visit during sunrise, when the first morning light illuminates the rocks in a golden hue.
On the West Terrace though, the heads themselves are better preserved, so this is an equally magical scene. On my visit to Nemrut I opted to do both and I'm glad I did as the weather at sunset was very overcast, so I had another shot at sunrise.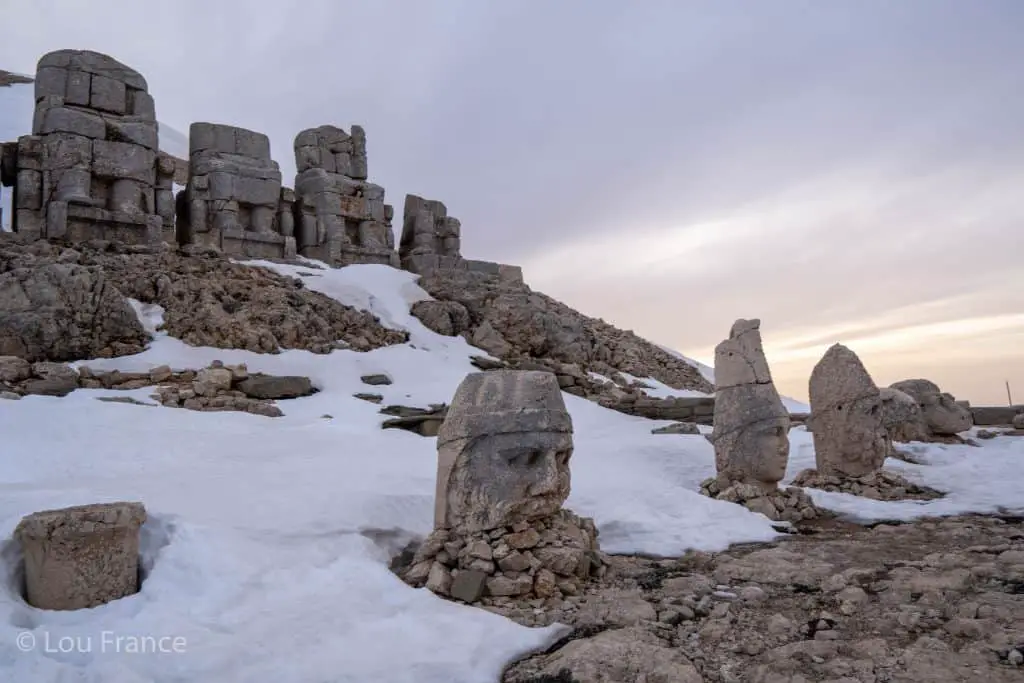 Related Reading
Where To Stay On A trip To Nemrut Mountain
Karadut
Karadut is a small town just 12km from Mount Nemrut and the best place to stay if you want to visit for sunrise or sunset.
Nemrut Dagi Isik Pansion – This is a good budget option. It's basic but does the job and puts you close to the action.
Closer yet is the Hotel Euphrat Nemrut, which is a little more comfortable and also includes breakfast.
For something more luxurious, try the beautiful stone building of Nemrut Kervansaray, which has the added benefit of an outdoor swimming pool to cool off in after your adventure.
Top Things To See Near Nemrut Dagi: Exploring Nemrut National Park
Arsameia (Eski Kale) 
A beautiful drive through the gorges of Nemrut National Park brings you to another ancient site called Arsameia. This is a small site with various stone reliefs scattered across the hillside. The most impressive of the reliefs is at the top of the hillside and depicts King Mithridates shaking hands with Heracles. Next to the relief is long inscription which tells the history of the town.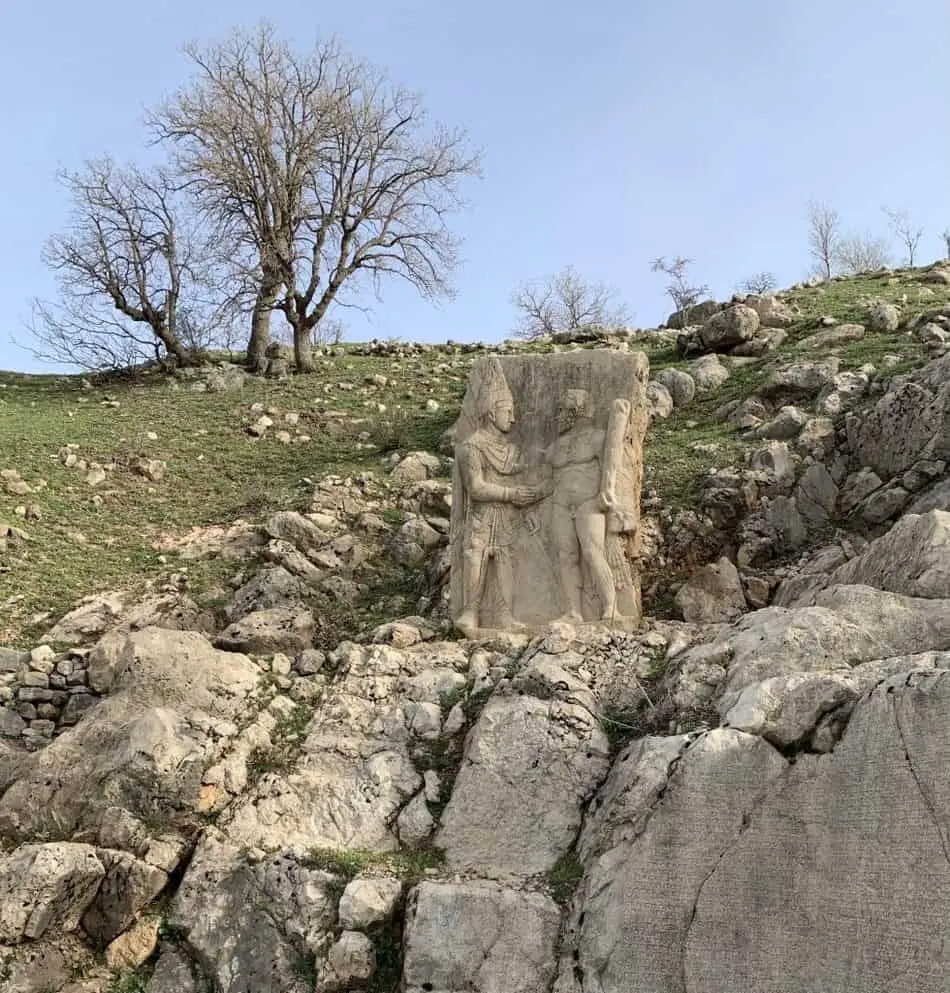 Castle viewpoint (Yeni Kale)
Across the river from Arsameia was a royal palace where the kings of Commagene used to reside. However a castle was built over the top. For the best view of Kahta Castle, which snakes along the ridge line, drive along the road to Kahta Koprusu (Kahta bridge).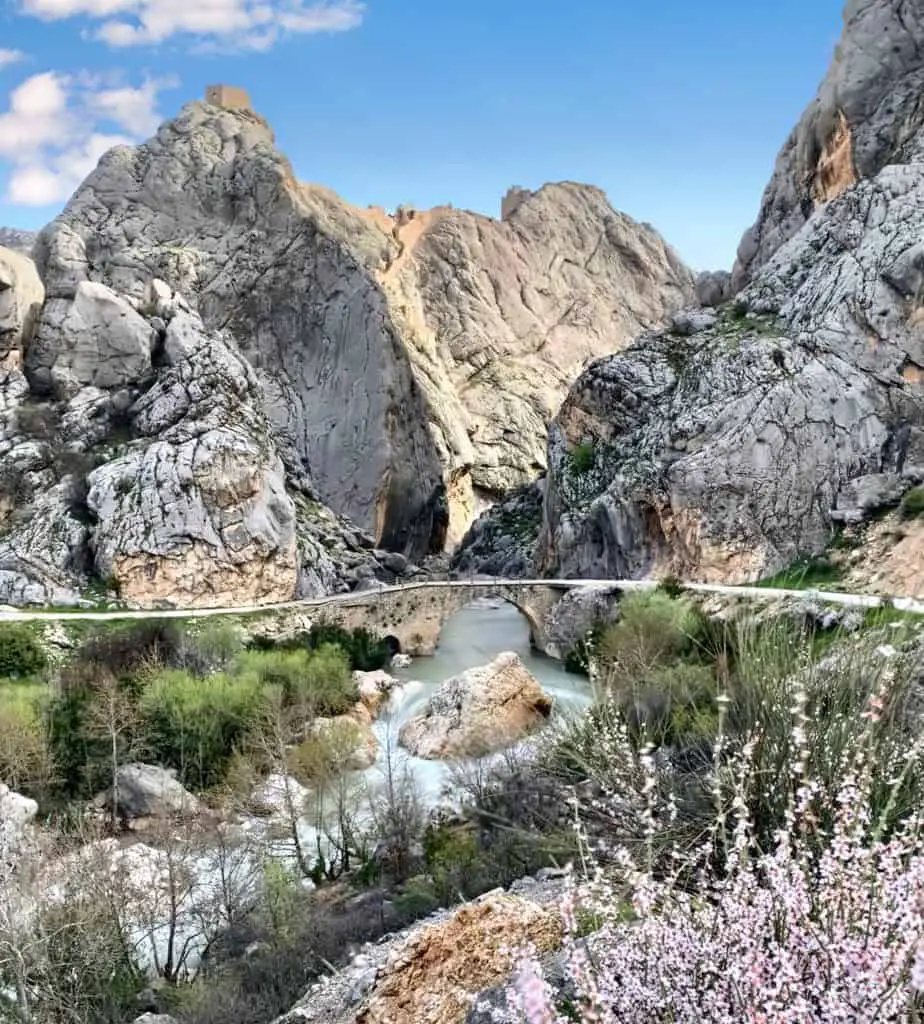 Severan Bridge
Severan Bridge (also known as Cendere Bridge) is a fabulous Roman bridge spanning the Cendere River and one of the hidden gems of Turkey. This beautiful, single arch bridge was built in the 2 century AD and is easily the most impressive Roman bridge I've ever seen. Amazingly, three out of the original four Corinthian columns are still standing.
There is a picnic area down alongside the river if you need to have a rest after your morning of exploration.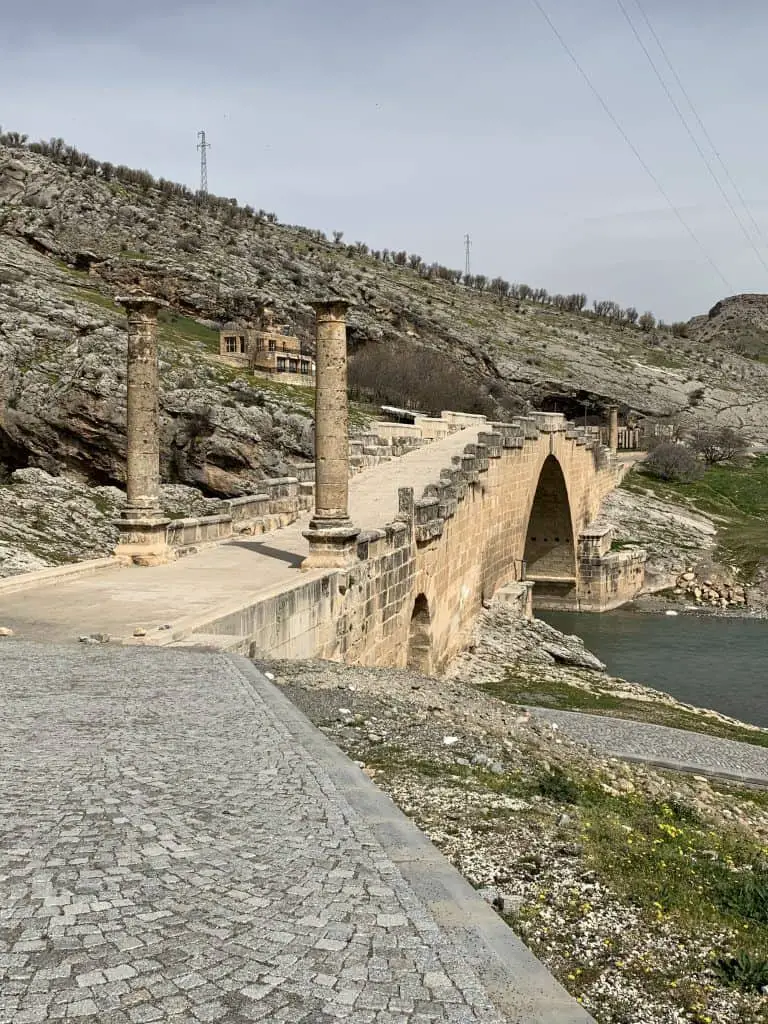 Karakuş Tumulus 
The Karakus Tumulus is a funerary monument built by Mithridates II of Commagene in 30 BCE. The monument was built as the final resting place of his mother, sister and niece.
The burial mound is surrounded by three groups of limestone Doric columns each standing 9 meters high. On top of the columns stand reliefs and animal statues, some of which still remain. Notably the eagle on the south side column.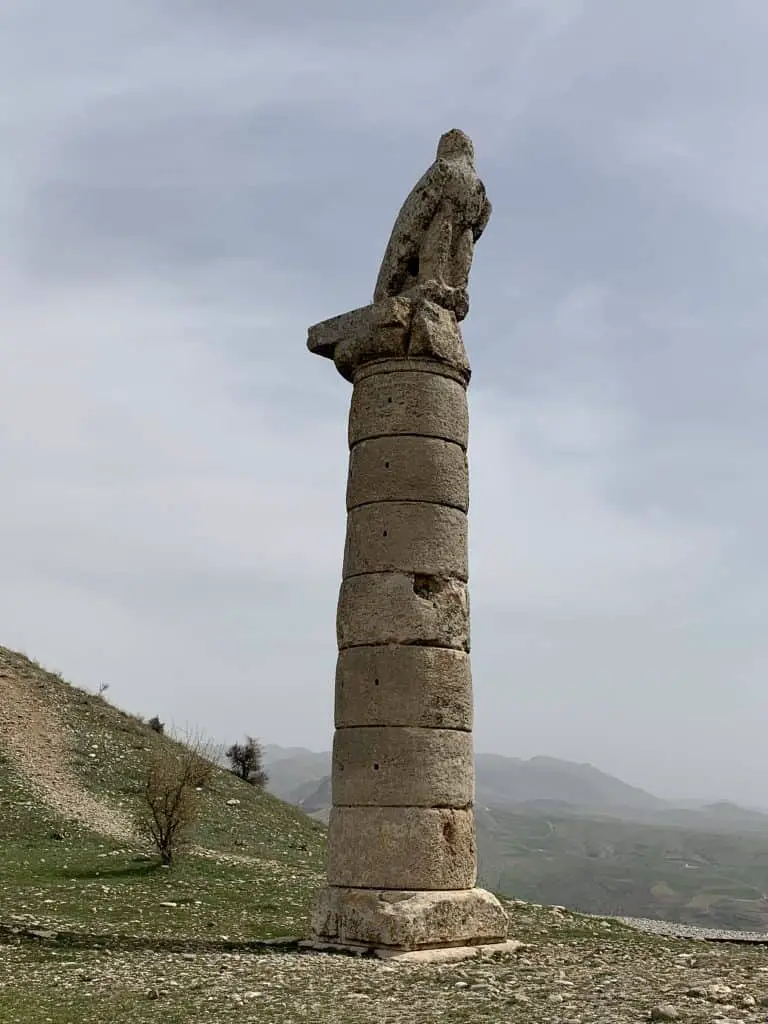 Onward from Mount Nemrut
There's a lot more to see in south Anatolia after your visit to Nemrut Dagi.
Head south to Sanliurfa to see the oldest temple in the world and wander the wonderfully authentic old bazaar. Then head west to Gaziantep to see the Gypsy Girl Mosaic and feast on Baklava. Or head east to experience life in the ancient Silk Road towns of Mardin, Diyarbakir and Hasankeyf.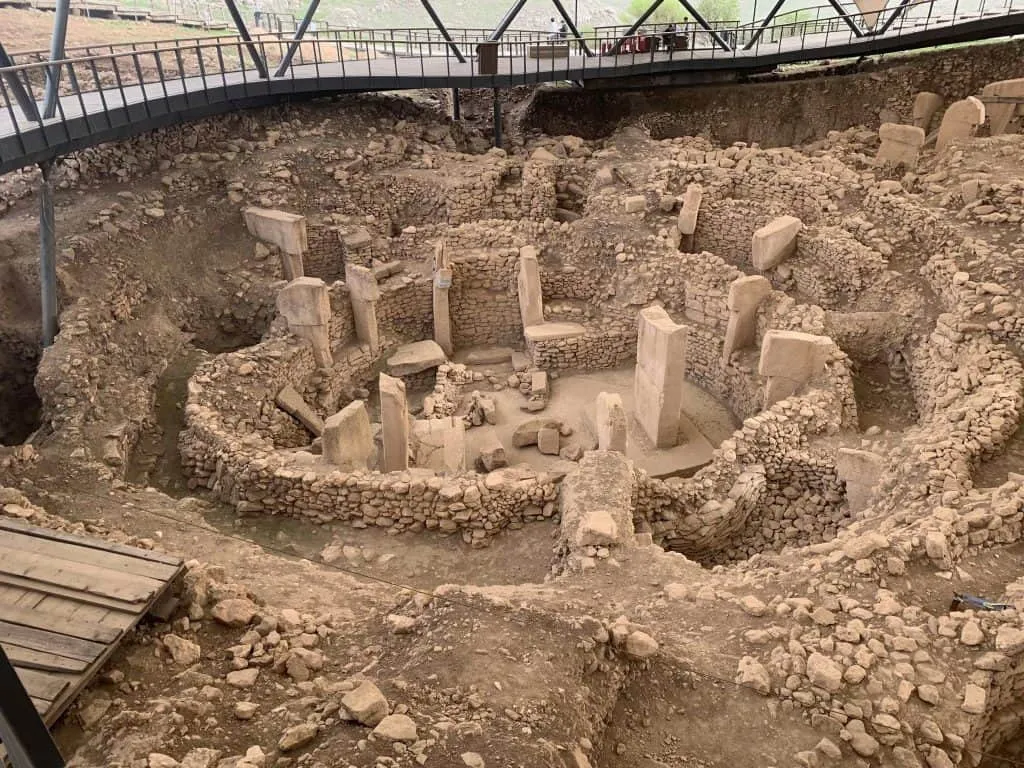 What To Take For A Visit To Mount Nemrut
1. Hiking boots/trainers
The hike from Nemrut car park to the statues is along a paved path for the most part, so trainers will be adequate in the summer months. If you are visiting earlier in the year (March/April) there may be snow on the ground and hiking boots are definitely recommended.
2. Breathable clothing
The hike up from the car park to the terraces will likely get you a little hot and bothered so breathable tops will be a winner
3. Warm layers
It can be quite cool at the top, especially at sunrise/sunset so a hoodie is a must. Again, if visiting during Spring or Autumn months it will be cold at the top so I recommend a good puffy jacket.
4. Water bottle
It's always important to stay hydrated, especially at altitude and especially during the hot summer months, so don't forget your water bottle. For a guide to filtered water bottles, take a look at this post.
5. Head torch
My head torch has a permanent home in my day hiking backpack so I never leave without it, however this is a must if you visit for sunrise or sunset.
6. Camera
Well I guess this is given but just in case you didn't think of it, don't forget your camera! You'll want to capture that magical moment when the sun lights up the statues and turns them a bright shade of orangey/red. For travelling, I use my Sony A6600. It 's light, compact and doesn't break the bank.
Don't forget insurance. For a good deal on adventure travel insurance, check out SafetyWing.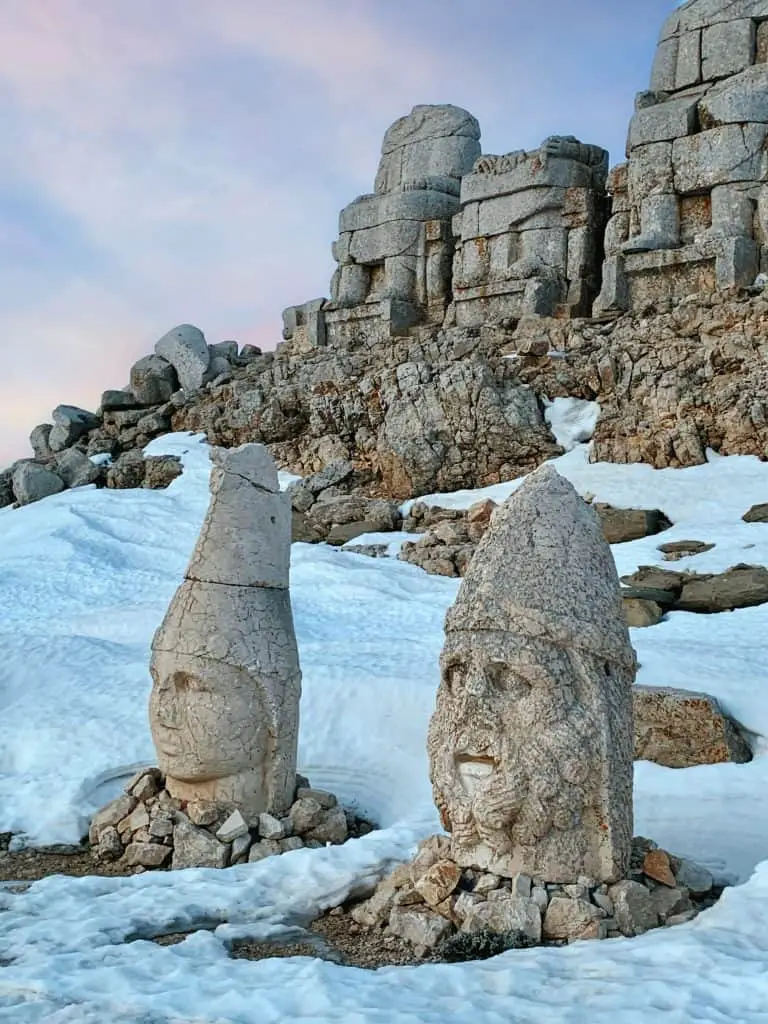 A Summary For Visiting Nemrut Dagi
Mount Nemrut is an ancient burial mound at the summit of a peak in the eastern Taurus mountain range. The burial mound is flanked by intricately carved statues of Grecco-Persian Gods and King Antiochus, who himself ordered their construction.
The Mount Nemrut statues are a spellbinding sight to witness and are rightly one of Turkey's top tourist attractions. A journey to this lowly mountain isn't a straight forward affair, but your effort will be rewarded once you set eyes on this remarkable piece of history.
Join My Newsletter Today!