With turquoise coastal waters, forested mountain peaks, ancient historic sites and deliciously fresh food, Turkey (Türkiye) has it all. Whether you're looking to relax on a white sandy beach, soar in a hot air balloon over other-worldly landscapes or get lost in ancient history, as a tourist destination Turkey has something for everyone.
The culture across the country is diverse and the religions are varied. There are a huge amount of national parks to explore and a plethora of UNESCO World Heritage Sites to delve into.
There are modern cities and cities steeped in history, there are pretty coastal towns and remote mountain villages. From mosques to monasteries and hot springs to ski slopes, Turkey is a travellers paradise.
This vast, transcontinental country has such a huge selection of beautiful places to visit it can be difficult to choose which destinations to put at the top of your list.
After living and travelling in Turkey for several years, I've narrowed down the 21 prettiest places in Turkey to add to your travel itinerary.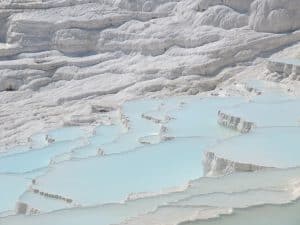 Disclaimer: Some links in this article are affiliate links, which means that if you purchase through them I receive a small commission, at no extra cost to you. This helps cover the cost of running this blog. Thanks for your support!
The 21 Most Beautiful Places in Turkey 
For those looking for a relaxing break, Turkey has a Mediterranean coastline complete with white-sand beaches, rocky coves and stunning lagoons. The natural landscape also makes Turkey a paradise outdoor enthusiasts whether it be hiking the long distance Lycian Trail, scuba diving ocean wrecks or skiing on the frozen, snowy peaks.
It's a country where east meets west and where battles for power have been fought over millennia. The result of these ever changing civilisations has left a plethora of historic sites scattered across the country. Cities provide a chance to shop in ancient bazars or modern malls, whilst the small towns and villages demonstrate the unique culture and Turkish way of life.
So, let's discover the most gorgeous places in Turkey to visit.
1. Butterfly Valley
Butterfly valley is a spectacular gorge on the Turquoise coast of Turkey which is surrounded by sheer cliff faces. Flowing down the steep limestone cliff into the back of the valley is a large, multi-tiered waterfall.
The valley floor is filled with lush vegetation and a golden sandy beach which opens out into the turquoise-blue waters of the Mediterranean sea. Reputedly home to over 100 species of butterflies and only accessible by boat trip or a hair-raising hike, this pretty Turkish delight is like something straight off the cover of a travel magazine.
For a complete guide to visiting Butterfly Valley, see this handy guide.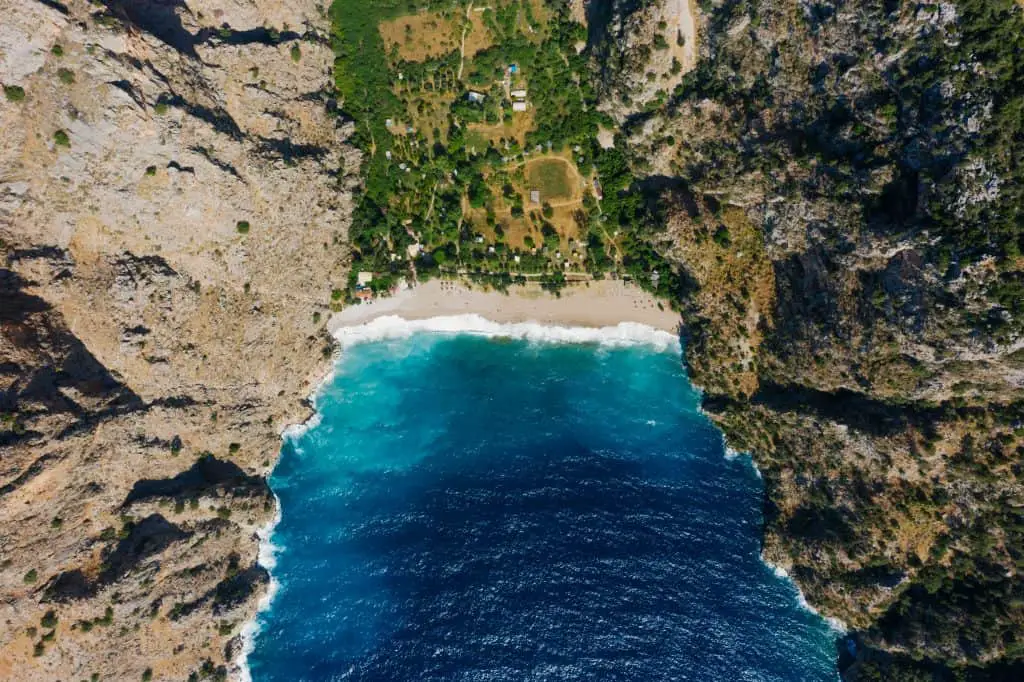 2. Mount Nemrut (Nemrut Daği)
High above the Euphrates river on the tallest peak of the Eastern Taurus mountain range lies one of Turkey's most famous ancient sites. Atop the pyramidal burial mound sit a series of carved stone statues representing Grecco-Persian gods.
Over the years a combination of iconoclasm and natural disasters has led to the statues losing their heads but this only serves to add to the atmosphere of this unique site.
The iconic head statues of Nemrut Daği perhaps need no introduction as they are a popular Turkish tourist attraction, however this eerie ruin is certainly a mesmerising place to visit in Turkey. Be sure to wear warm clothes and sturdy shoes as theres a steep hike up from the carpark and can get cold especially at sunrise and sunset, the best times to visit.
For more information on visiting Nemrut Daği, see this guide.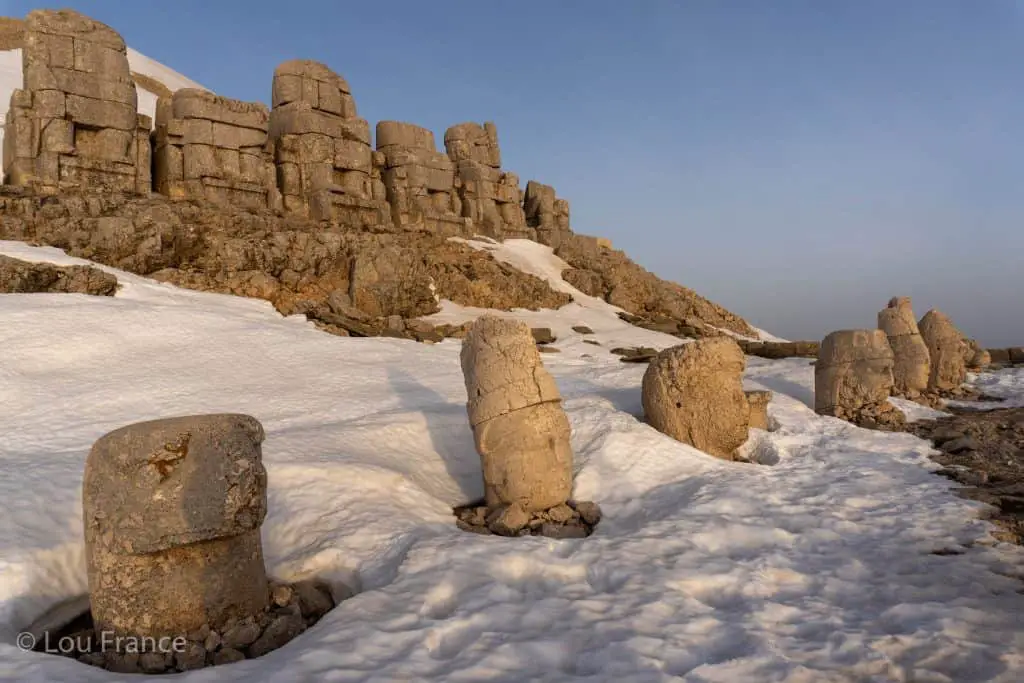 3. Cappadocia 
Cappadocia is an incredibly unique landscape and one of the top destinations to visit, not just in Turkey, but in the world. This semi-arid region of Central Turkey is home to unusual rock and earth towers affectionately known as Fairy Chimneys.
For a long time this pretty region of Turkey has grown in popularity with tourists and is now a must-visit destination for any trip to Turkey. Explorations of this other-worldly landscape can be enjoyed on foot, on horseback or, as it's become most famous for, by hot air balloon.
Get your perfect Cappadocia itinerary here.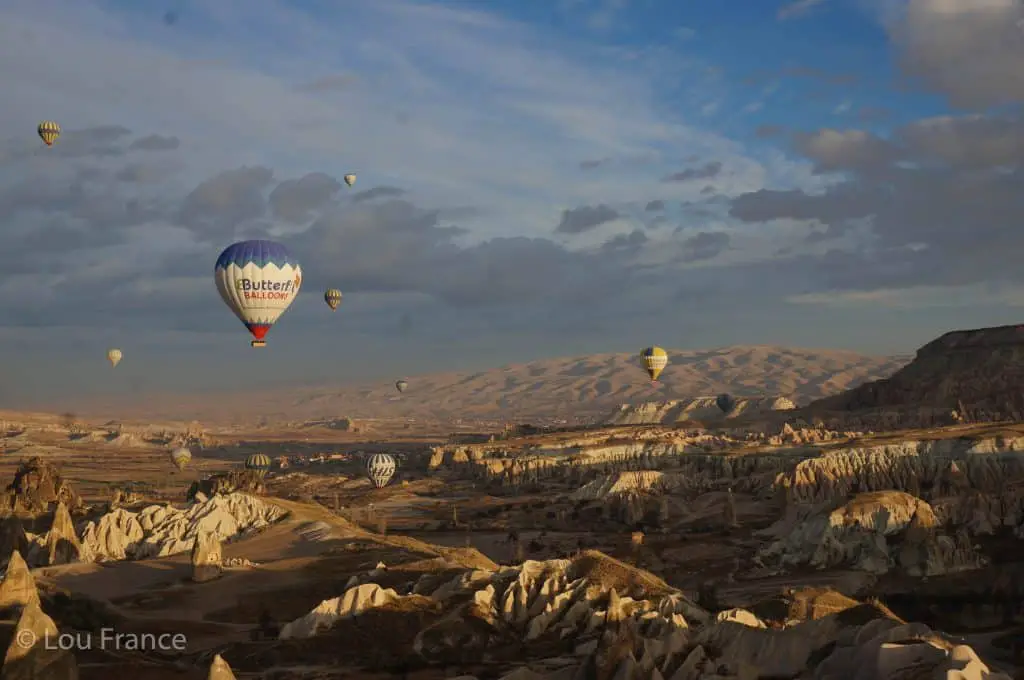 4. Istanbul
Istanbul: the city fought over for centuries, the gateway between east and west, and hands down one of the best cities in the world. Not only is Istanbul a city with great historical importance, it's the only city that crosses continents and a place that lives long in the memory.
Situated on the European side, the old city of Sultan Ahmet is home to several historically important sites such as the magnificent Hagia Sofia and the jaw-dropping Basilica Cistern. Visit the beautiful Blue Mosque and enjoy the hustle and bustle of the Grand Bazar.
Cross the Golden Horn via Galata Bridge to energetic Taksim Square or take boat trip across the Bosphorus to experience the Asian way of life. As Turkeys largest city, there are lots of things to do and with many unique hotels in Istanbul, there is no shortage of accommodation options. Be sure to allow several days to fully explore this beautiful and memorable city.
Top Istanbul Tours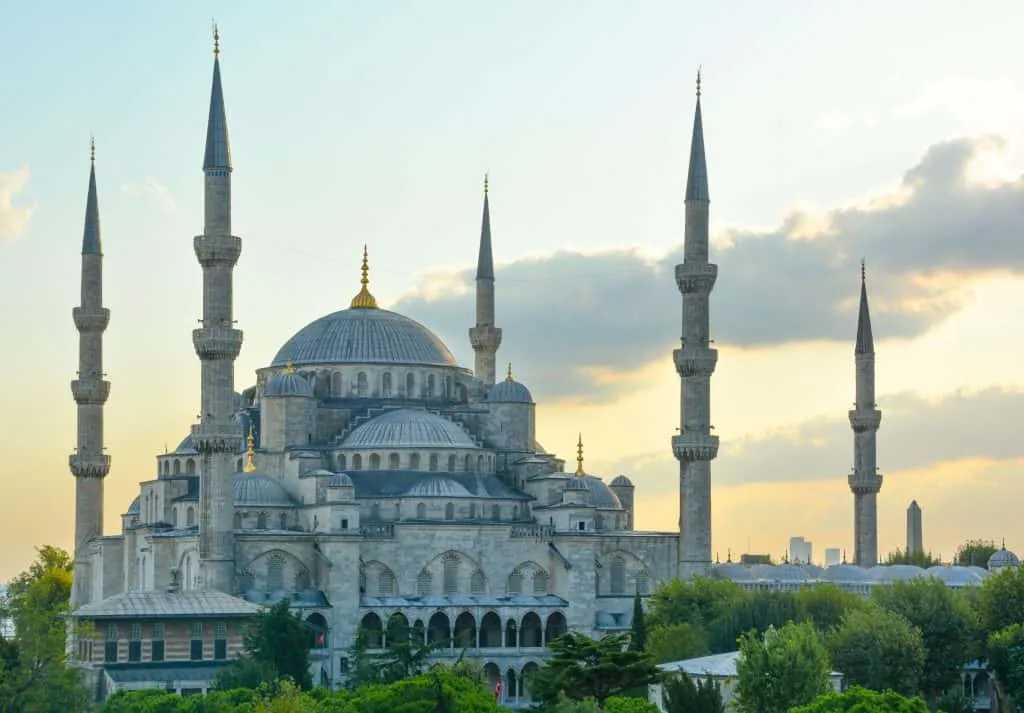 5. The Blue Lagoon, Ölüdeniz
The Blue Lagoon on the Turquoise Coast is a dreamy location of white sand beaches with a backdrop of tree covered mountains. The Lagoon feels like a slice of paradise as access from the town of Ölüdeniz is limited and gives the feeling of seclusion.
Paragliding is probably the most famous activity in Ölüdeniz and no doubt offers the best view of the Blue Lagoon. If you have a fear of heights the next best way to see the Lagoon is to walk part of Lycian Way long distance hiking trail.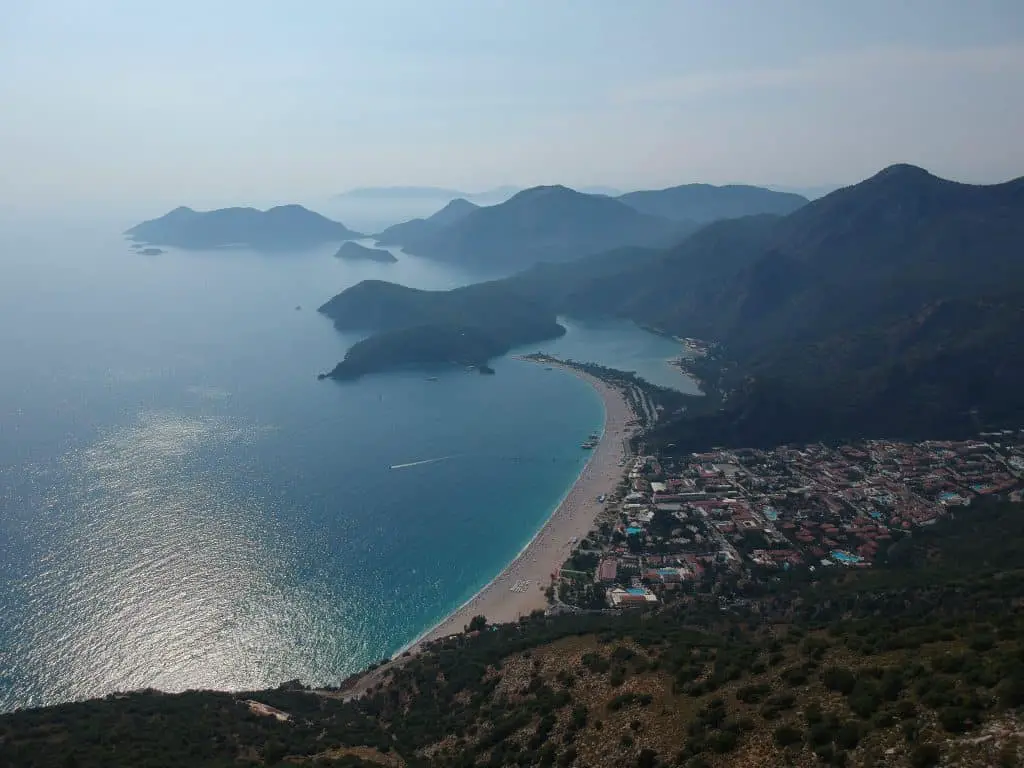 6. Lake Van
Located in eastern Turkey, Lake Van is a salt lake which is the largest body of water in Turkey. This vast lake is surrounded by mountain peaks which dominate the skyline.
In the city of Van the lake can be admired from atop a hill in ancient Van Fortress. Explore the lake by boat to visit one of the many small islands, the most notable of which is Akdamar Island, that is home to the intricately carved Armenian Holy Cross Church.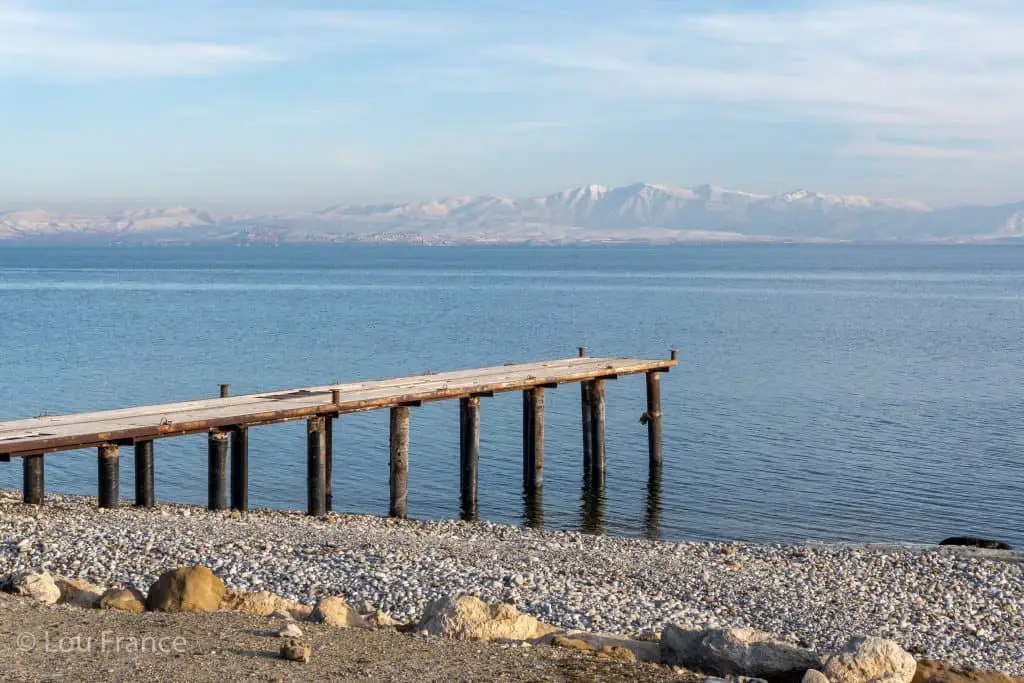 7. Ani
Situated near the Armenian border in eastern Turkey lies the ancient city of Ani. Ani was once one of the largest cities in the world and a bustling commercial centre along the ancient Silk Road.
Although much that remains lies in tatters, this ruined ghost city was inscribed as a UNESCO World Heritage Site in 2016, no doubt thanks to its massive historical importance.
A visit to this remote region offers an eerily mesmerising experience and a chance to get off the beaten track in Turkey.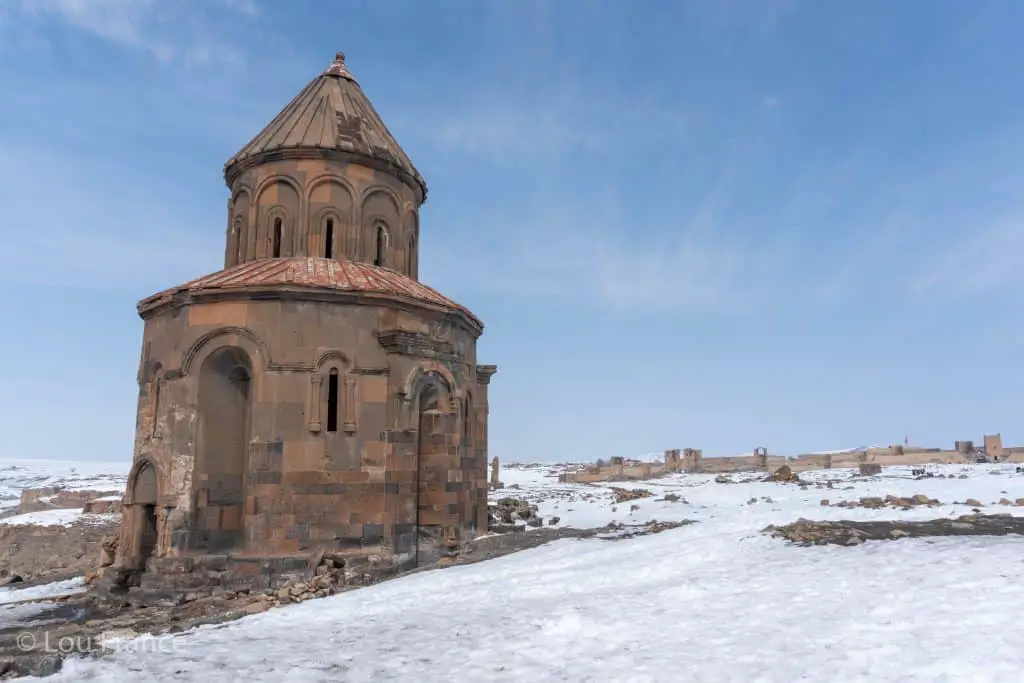 8. Mardin
Not only is Mardin a place of historic importance, it's also one of the prettiest cities in Turkey. Picturesquely perched on a hillside above the plains of Mesopotamia, this small Silk Road city offers visitors a fascinating glimpse into the past.
The city is made up of cobblestone alleyways that criss-cross their way around the hill and the cityscape is dotted with minarets attached to the numerous mosques and madrasas. The bazar is alive with the smell of spices and soaps, whilst the the rubbish laden donkeys trot amongst streets too narrow to fit cars or trucks.
For a complete guide to visiting Mardin, see this post.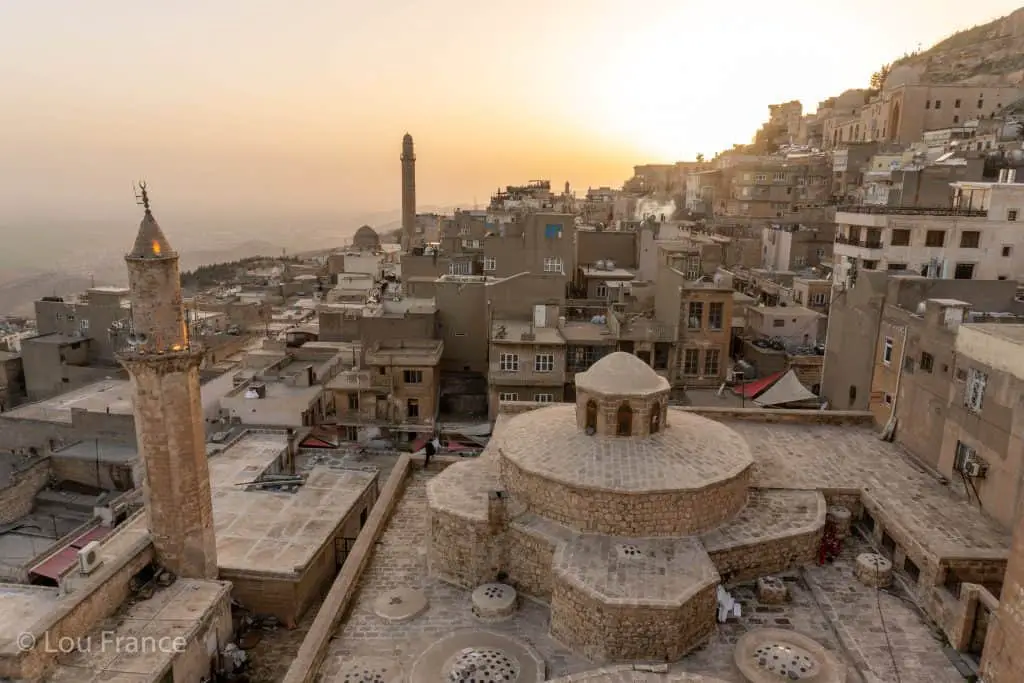 9. Termessos Theatre
There is no shortage of ancient theatres in Turkey. Some impress with their scale such as Ephesus, some impress with their intactness such as Aspendos, whilst others impress with their importance such as the theatre at the Lycian Capital of Xanthos.
But for me, the prettiest theatre in Turkey is that of Termessos. The 4000 seater theatre of Termessos lies partly in ruin, with little time given to its reconstruction and I think this adds to the atmosphere. However, the most impressive aspect of this theatre is the incredible location and amazing views it offers.
Uniquely, Termessos is also known as being one of the few cities Alexander the Great was unable to conquer.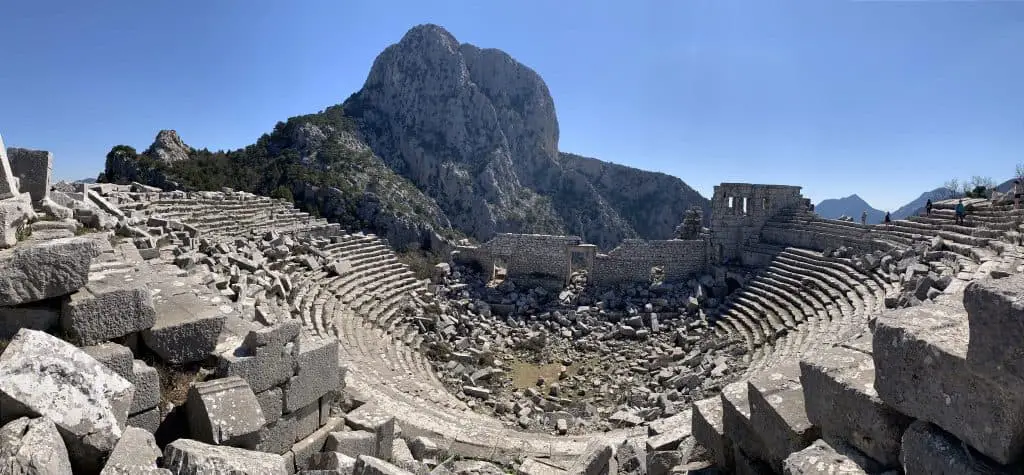 10. Kas
I love Kas (Kaş) and since I live part-time in the nearby hills, is easily my most visited place in Turkey. This seaside town is packed with charm and character and is quieter than other resorts like Fethiye, Marmaris or Antalya.
The pretty cobbled streets and white-washed houses make Kas a beautiful place to visit in Turkey where you can relax on the pebble beaches and dine in shoreside seafood restaurants. But Kas isn't just a seaside town, it's a place steeped in history. The town is built on the ancient Lycian site of Antiphellos and evidence of this is still visible today in the form of several sarcophagi and a small amphitheatre.
For more information on Kas, take a look at this guide.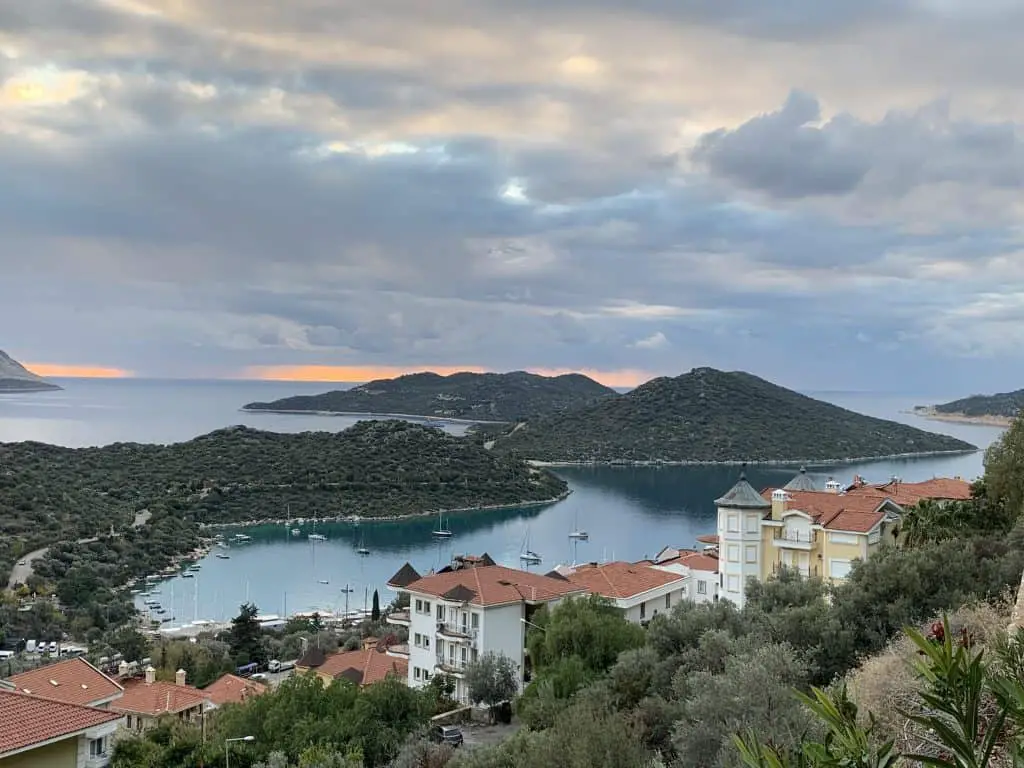 11. Pamukkale
Pristine white travertines filled with warm aqua-marine pools of water are what await you at the popular Turkish tourist spot of Pamukkale. Take time to soak your feet in this enchanting landscape before exploring the attached Roman ruined city of Hierapolis.
The white terraces of Pamukkale are formed from calcium carbonate that have slowly been deposited by the flowing water of multiple hot springs. When the Romans happened upon the area they discovered the hot springs were a great place to rest their weary bones and promptly decided to build a city at the top!
Enjoy a visit to Pamukkale on en epic Turkish road trip from Istanbul to Cappadocia.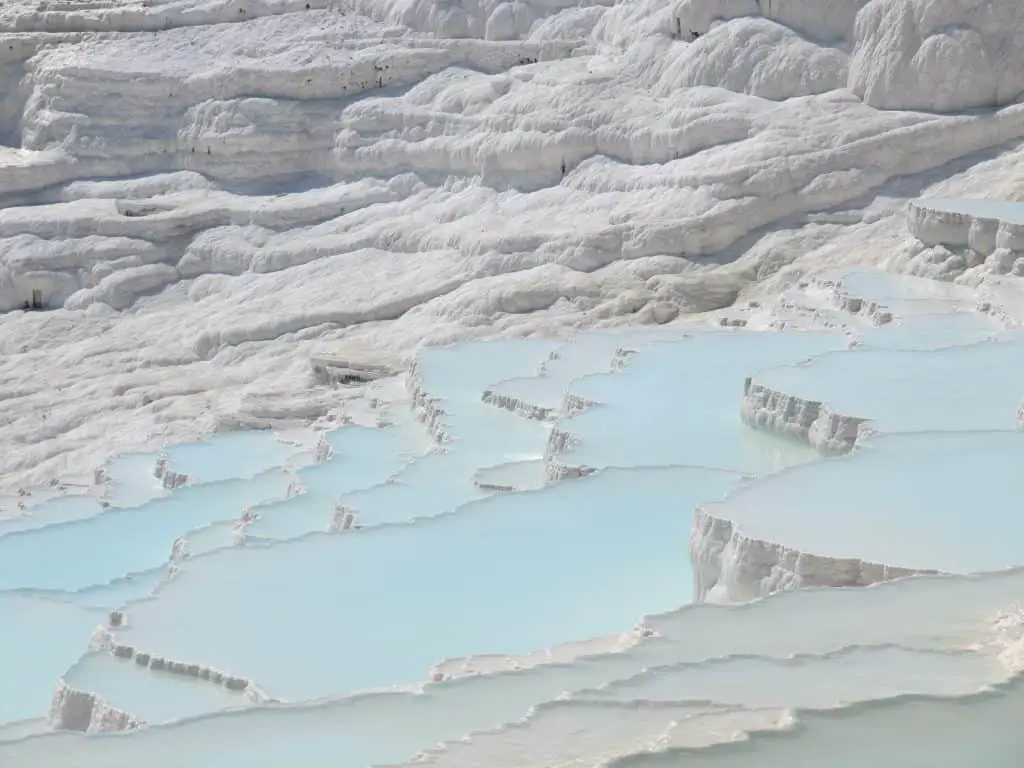 12. Lake Tuz
Turkey's second largest lake is the captivating Lake Tuz (Tuz Gölü). Located at the heart of the country, this large but shallow saline lake is home to migratory birds and is a sanctuary for pink flamingos. The lake gets it's pink/red colour from algae that produce a pigment called beta-carotene when temperatures rise. Flamingos in turn get their pink colour from feasting on pink brine shrimp that live in the lake.
Lake Tuz only develops this pink hue in the summer months and as soon as the rains arrive it returns to a normal blue colour. So, if you want to witness this colourful act of nature be sure to plan your visit during the hot summer months.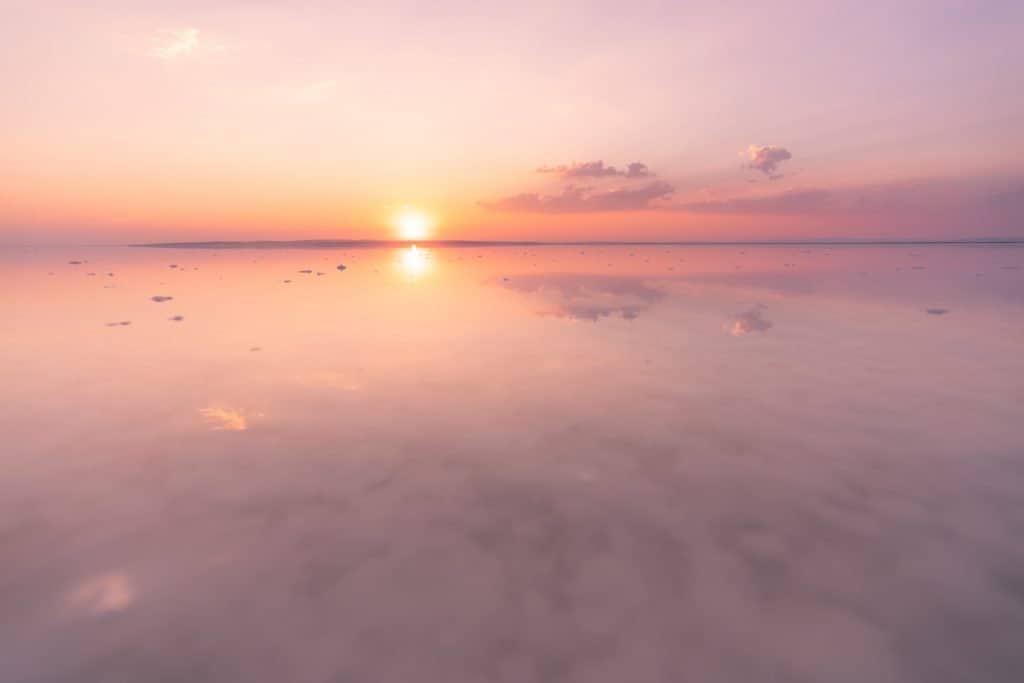 Don't Forget Your Travel Insurance!
Get the best deals on your travel insurance with the guys over at SafetyWing
13. Ephesus
Turkey has so many Roman ruins that you could spend your whole vacation hopping from site to site, however the most impressive of them all is the mighty Ephesus. In its day Ephesus was considered the most important Greek city and the most important trading centre in the Mediterranean region, though much of what remains today was built under Roman rule.
Built by the Greeks, the Temple of Artemis was one of the Severn Wonders of the World, although sadly only one column still stands. However, the Great Theatre in Ephesus is enormous, (the largest in the ancient world) the aqueduct system is staggering and the ornately carved Library of Celsus is mesmerising.
Even those with no interest in history will be amazed by the beauty of Ephesus.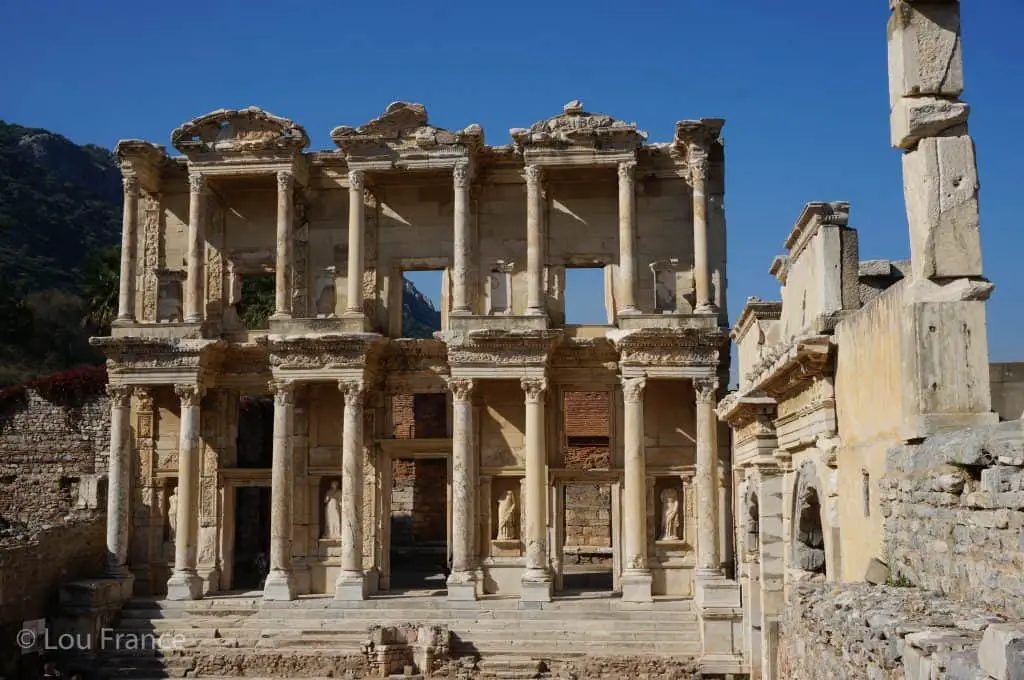 14. Mount Ararat
Revered as the final resting place of Noah's Ark, Mount Ararat is a dormant volcano in the far east of Turkey. In fact the mountain consists of two volcanic cones, Greater Ararat and Little Ararat, with Greater Ararat standing at 5137m tall.
This natural giant is covered in snow all year around, however it is possible to hike to the summit on one of the guided tours offered from nearby Dogubayazit. Due to the high altitude, climbs often take several days to reach the summit. Will you join the hunt for Noah's Ark?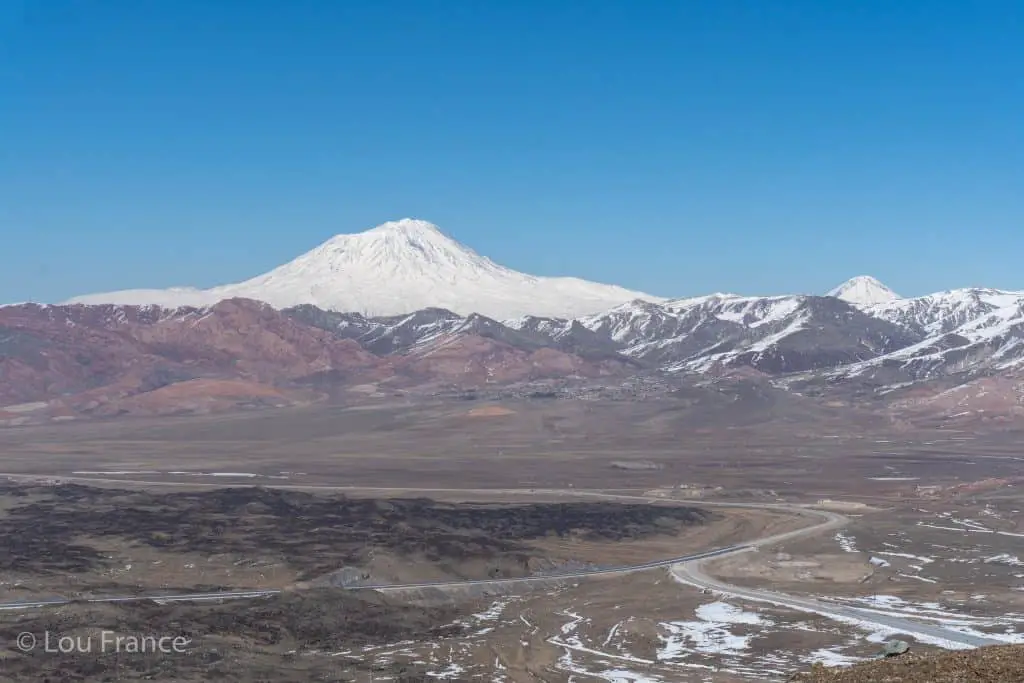 15. Gaziantep
Gaziantep is the place to go for all the foodies out there! Gaziantep is famed as being the home of Pistachios and Baklava and is the Gastronomy capital of Turkey. It was even inscribed by UNESCO as a city of gastronomy in 2015.
However, there is more to Gaziantep than just food. The city has roots that date back to the Bronze Age and has been an important regional centre for millennia.
There is a citadel to explore, a thriving bazar to shop around and there are numerous museums to visit, including the stunning Zeugma Mosaic Museum which is home to the famed "Gypsy Girl".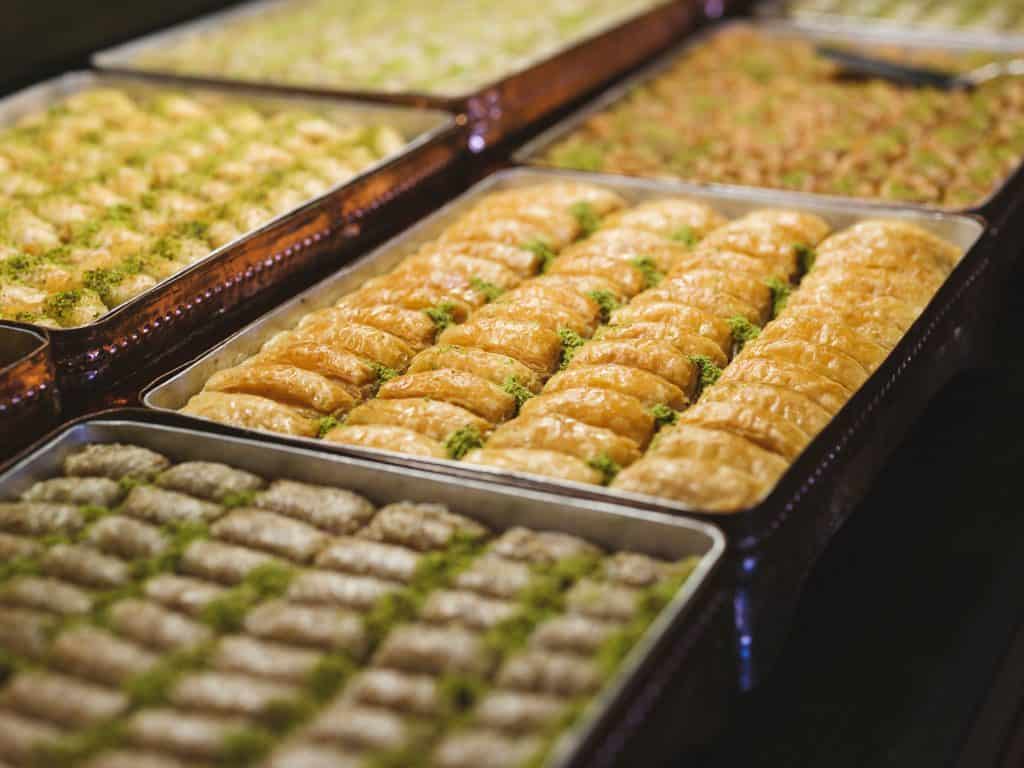 16. Sumela Monastery
Perched improbably to the side of a huge cliff, Sumela is a monastery that was built in the 4th century by Greek Orthodox priests. The monastery is located in a deep valley of Altindere National Park, not far from the city of Trabzon on the Black Sea Coast.
Gaze in wonderment at how the building clings to the side of the sheer rock face before venturing inside to view the striking frescoes depicting scenes from the story of Christ and the Virgin Mary.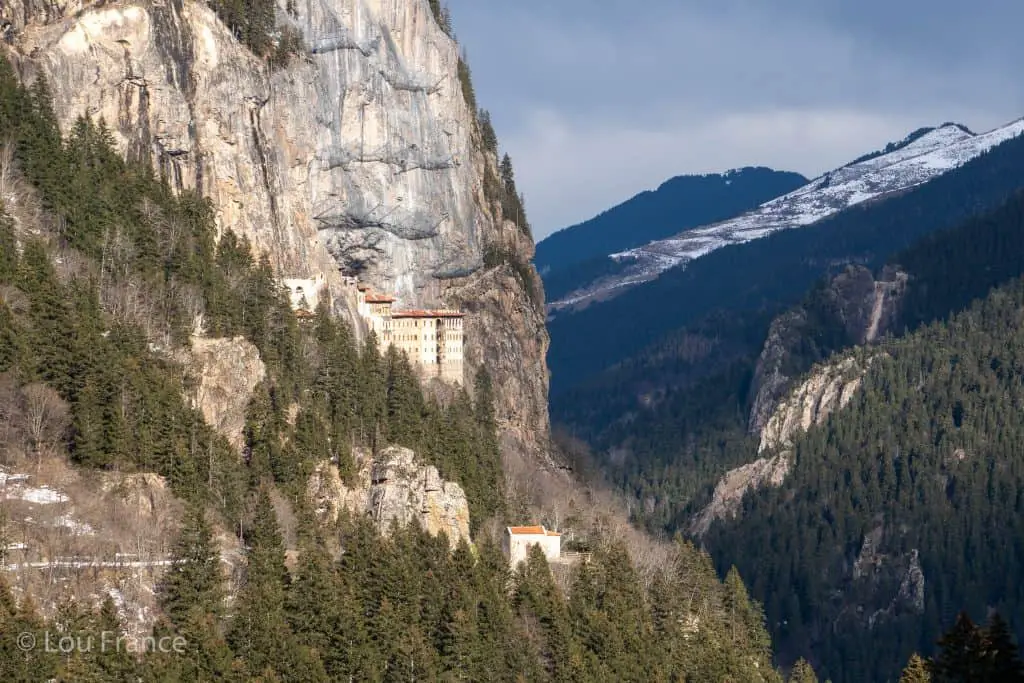 17. Myra
The ancient city of Myra once served as the capital city of Lycia and is a unique archaeological site to visit in Turkey. Myra is a relatively small site located just 2km from the town of Demre.
The theatre has intact corridors leading into it which is quite rare to see however, the star attraction at Myra are the rock cut tombs. When they were built they would've been painted in bright colours and even though they are now faded, you can still appreciate the delicate carving of the rock which, at first glance, you could be fooled into thinking was wood.
For a guide to visiting Myra and the town of Demre, see this post.
18. Saklikent Gorge
Saklikent Gorge is the longest canyon in Turkey and is a great place to cool off in the hot summer months. Upon entering the gorge the water is quite shallow and the gorge is quite wide but the more you venture in, the deeper and narrower it becomes.
For an extra cost you can try some river tubing along the gentle rapids and there are also plenty of restaurants at the entrance to feed your hunger once you're finished. This is a beautiful place in Turkey to visit for families.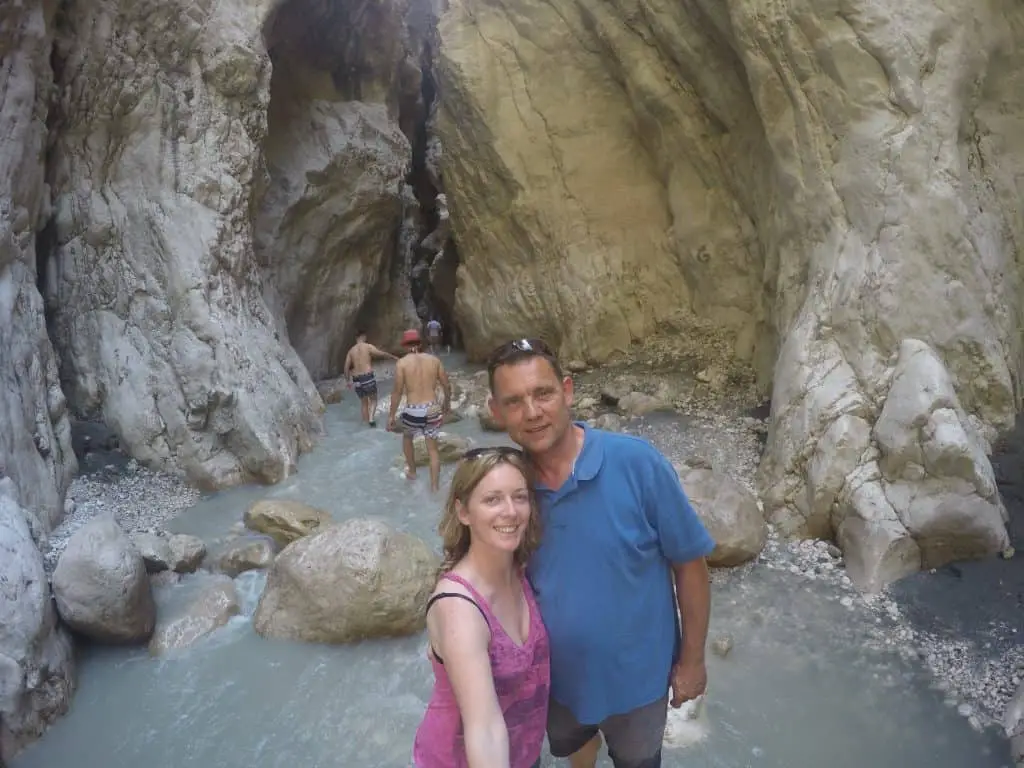 19. Kayaköy
Kayaköy is a large ghost town just a short drive away from Fethiye. It was once a bustling town comprised of Greeks and Turks living happily alongside each other. However, after the rise of the Turkish National Movement, minorities like the Greek Orthodox were forced to flee or face persecution.
What remains, is an open air museum village consisting of hundreds of abandoned Greek houses which have been left to ruin. Wandering around this mountain side village provides an eerie glimpse into Turkeys more recent history.
20. Dolchiste (Kekova Sunken City)
Dolchiste is an ancient Lycian settlement off the island of Kekova which has been engulfed by the sea, curtesy of an earthquake that occurred in the 2nd century. The whole area is now  protected so it's not possible to swim amongst the ruins, however boat trips and kayaking tours offer visitors the chance gaze through the turquoise waters at the ruins that lie below.
This region of the Turquoise Coast has abundant coves and bays and the hillsides are covered with pines and olives, making it a gorgeous place in Turkey to explore. Kekova is a great place to combine history with adventure as you embark on a kayaking trip over a submerged Lycian city.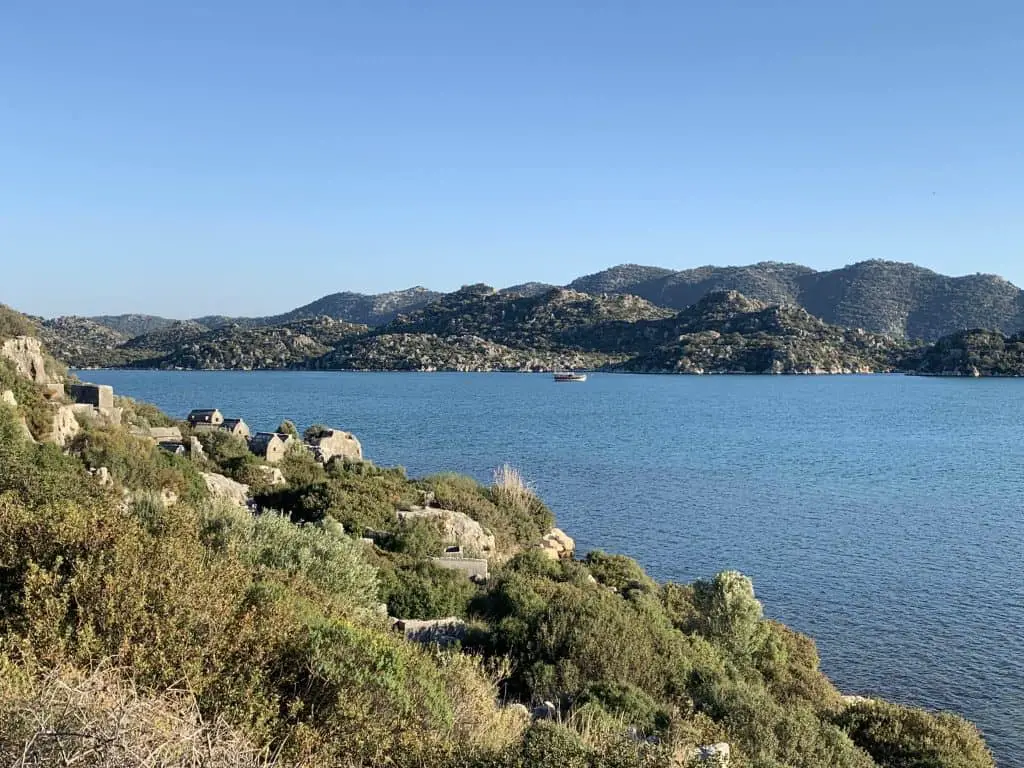 21. Antalya
Antalya is a popular destination on the Turkish Riviera. With red-roofed Ottoman buildings and ancient Roman ruins, the old town of Kaleici deserves some exploring. Wander the maze-like cobbled streets making stops at Hadrian's Gate, Hidirlik Tower (Roman Fortress) and Yivli Minare (fluted minaret) Mosque.
If history isn't for you head to the harbour which is filled with yachts waiting to explore the surrounding turquoise waters or to the beaches that are filled with holiday makers relaxing in the Mediterranean sun. Nature lovers should head just outside of the city to view the impressive Duden waterfalls.
For all of the top things to do in Antalya, see this guide.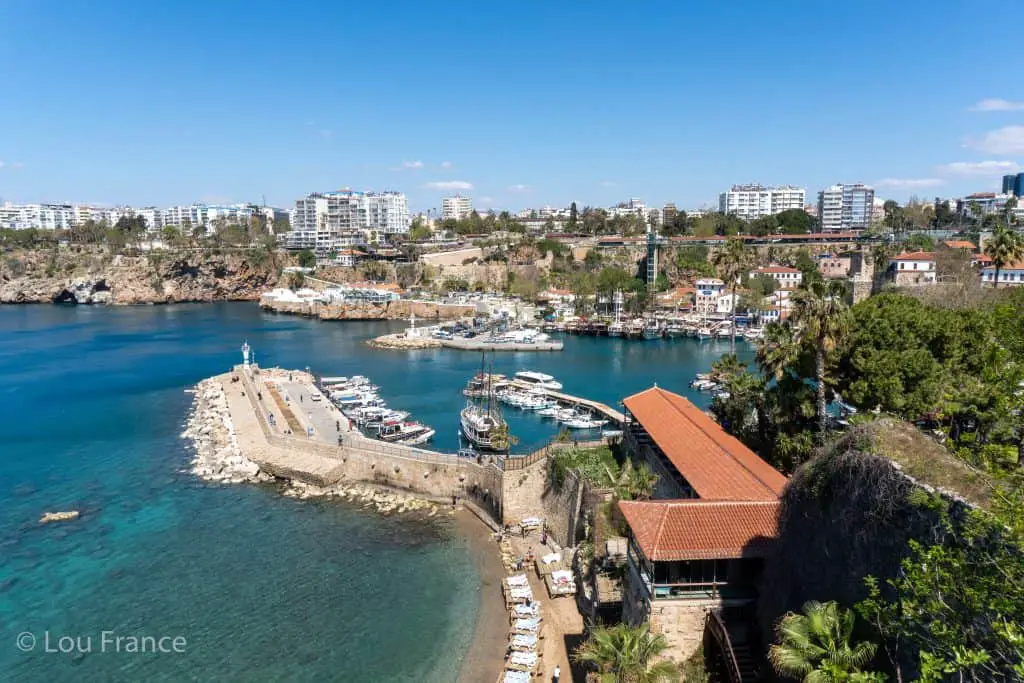 More Turkey Inspiration
The Prettiest Places In Turkey Summary
Turkey is a transcontinental country that is blessed with a stunning Mediterranean coastline, far-reaching mountain peaks and an abundance of historical sites. There are so many beautiful places to visit in Turkey that is can be difficult to choose which ones to visit first. Having lived and travelled in Turkey for many years, I put together this list of the 21 prettiest places in Turkey to add to your travel itinerary.
Join My Newsletter Today For Monthly Updates!