Istanbul, the crossroads of Europe and Asia, is one of the world's most vibrant and dynamic cities. With a rich history, stunning architecture, and a thriving cultural scene, Istanbul offers an unparalleled travel experience.
As the former capital of both the Byzantine and Ottoman empires, Istanbul is a treasure trove of incredible architecture, fascinating history, and unique experiences that must be on your Turkey bucket list. 
Whether you're a first-time visitor or a seasoned traveler, there are a plethora of experiences that you simply can't miss in Istanbul. As the starting location for Silk Road Tours, I've been lucky enough to visit Istanbul multiple times and I always find something new to do with every visit.
In this article, we'll take a look at some of the must-have experiences in Istanbul, Turkey.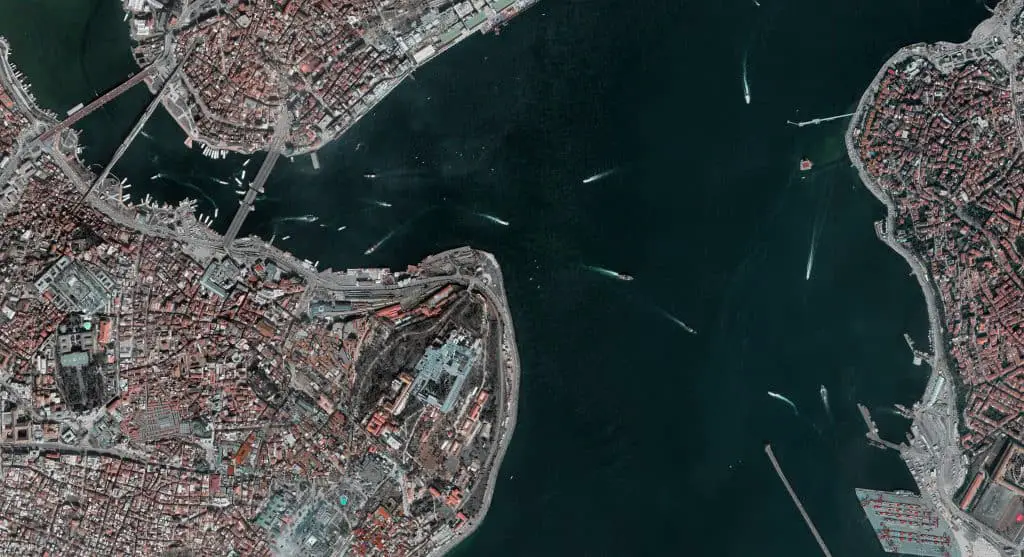 Disclaimer: Some links in this article are affiliate links, which means that if you purchase through them I receive a small commission, at no extra cost to you. This helps cover the cost of running this blog. Thanks for your support!
The Best Sights To See In Istanbul
1. The Hagia Sofia (Aya Sofya)
One of the most iconic landmarks in Istanbul, the Hagia Sophia offers a unique blend of Christian and Islamic architecture and is a must-visit for any traveler. 
Often considered one of the most beautiful buildings in the world, the Hagia Sophia is a stunning piece of architecture that dates back to the 6th century. This former cathedral, mosque, museum, and now mosque once again, is a fabulous attraction in Istanbul. The magnificent dome, the intricate mosaics, and the stunning views of the city from its terrace make it one of the most popular tourist destinations in Istanbul.
As the Hagia Sofia is now a working Mosque, there is no entrance fee required. All visitors are welcome outside of prayer times which take place 5 times every day. On Friday, visitors are welcome after 1:30pm.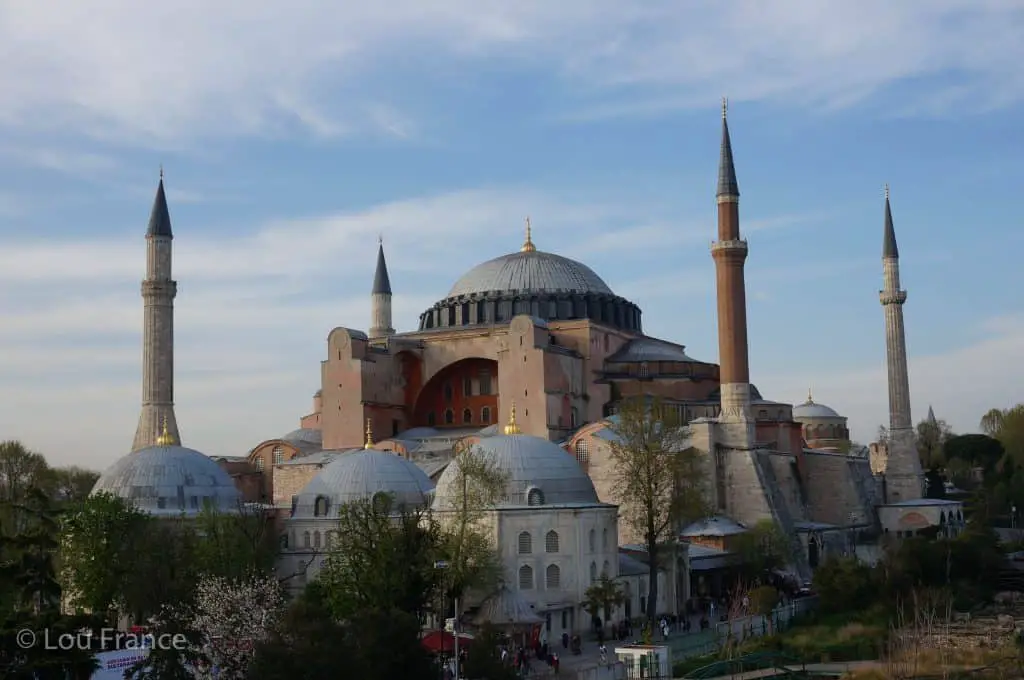 2. The Blue Mosque (Sultanahmet Camii)
The Sultanahmet Camii, also known as the Blue Mosque, is one of the most stunning examples of Ottoman architecture. Its beautiful blue tiles, elegant minarets, and ornate interiors make it a must-see for any visitor to Istanbul.
The Blue Mosque is built on top of the Great Palace of the Byzantine emperors and gets its name from the blue tiles that decorate the domed ceiling.
The mosque is still an active place of worship, so as always be respectful of the dress code and visiting hours (the mosque closes for 90 minutes during prayer times).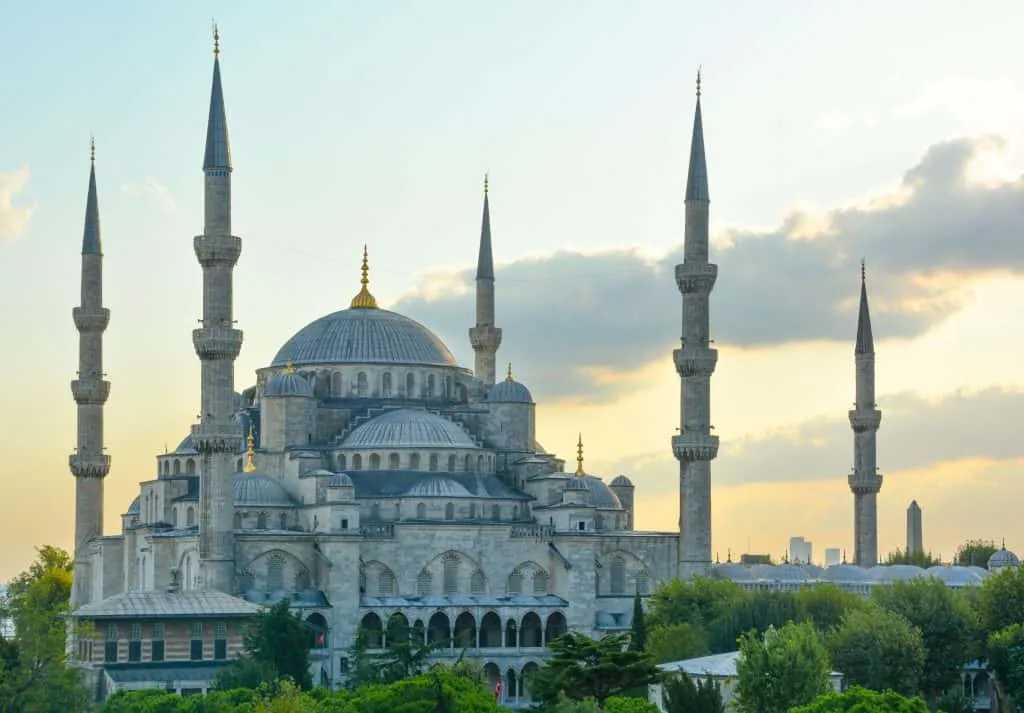 3. The Grand Bazaar
The Grand Bazaar is one of the largest covered markets in the world, with more than 5000 stores it's a true shopping paradise. This historic market has been in operation since the 15th century and offers a wide range of goods, from spices and textiles to jewellery and souvenirs.
The Grand bazaar is not as authentic as bazaars in Eastern Turkey such as Sanliurfa or Mardin, however it is a real sensory overload and no trip to Istanbul would be complete without a visit to this labyrinth of narrow alleyways.
Haggling is expected and welcomed, so be ready to barter for a good deal.
4. The Basilica Cistern
The Basilica Cistern is one of Istanbul's (not so) hidden gems. This ancient underground cistern was built in the 6th century to hold the city's water supply and is now a fascinating and unique attraction in the city.
Visitors can walk through the eerie chambers and admire the stunning columns that support the cistern. At the base of the columns are large, carved medusa faces which are curiously stacked side-ways or up-side-down, and only add to the spooky atmosphere.
No tripods are permitted in the Basilica or many of the other sites in Istanbul so it's best to leave them in the hotel room. Most phones do a decent job at capturing images in this dark space.
5. The Topkapi Palace
Once the residence of the Ottoman Sultans, the Topkapi Palace is now a museum that showcases the opulence and grandeur of the Ottoman Empire. From the ornate throne room to the harem quarters, the palace is filled with fascinating exhibits and intricate details.
Be sure to visit the Treasury section to see the magnificent collections of jewellery and artefacts. Topkapi Palace is another iconic site in Istanbul and one that's not to be missed.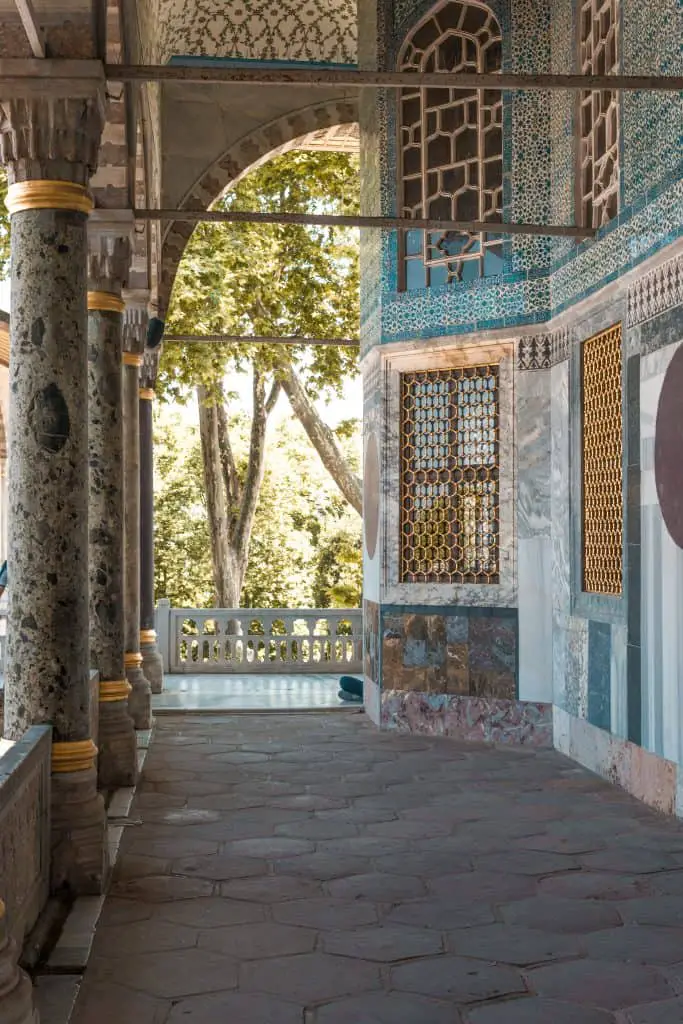 6. Galata Tower
Galata Tower is a medieval stone tower that offers panoramic views over Istanbul and the Bosphorus Strait. Located on the North Bank of the Golden Horn, up until the 1960's it acted as a watchtower for city fires, however today it operates as a tourist attraction.
Visitors can climb to the top of the tower for a breathtaking view of the city, or simply enjoy a meal or drink at one of the tower's many cafes and restaurants.
7. Sultanahmet
The Sultanahmet neighbourhood is the heart of Istanbul's Old City and is a must-visit destination for anyone interested in the city's rich history. This area is home to some of Istanbul's most iconic landmarks, such as the Blue Mosque, the Hagia Sophia, and Topkapi Palace.
Take a leisurely stroll through the narrow streets, dine on delicious Turkish cuisine and soak in the atmosphere of this historic neighbourhood.
Top Istanbul Tours
8. Istikal Street (Istikal Caddesi)
Istiklal Street is the main shopping street in Istanbul, and it's a must-visit for anyone looking for some serious hustle and bustle. This street is lined with elegant boutiques, vintage shops, and quaint cafes, making it the perfect place to people-watch and take in the city's vibrant energy.
At the end of this 1.4km long pedestrian walkway is Taksim Square. Situated in the district of Beyoglu, Taksim Square is the meeting point for protests, demonstrations and celebrations. Here, you can view the monument of the republic, Taksim Mosque and dine at a vast selection of restaurants. 
With multiple nightclubs in its arsenal, Istikal Street and Taksim are great areas to enjoy Istanbul at night.
9. Walk the Galata Bridge
The Galata Bridge is an iron bridge that spans the Golden Horn Bay. It has long acted as a link between the old town of Istanbul and the more modern neighbourhoods of Beyoglu. The current bridge is the fifth incarnation of the bridge and it's usually lined with fisherman looking for their daily catch.
Walking towards the old city, the bridge offers great views over Sultanahmet.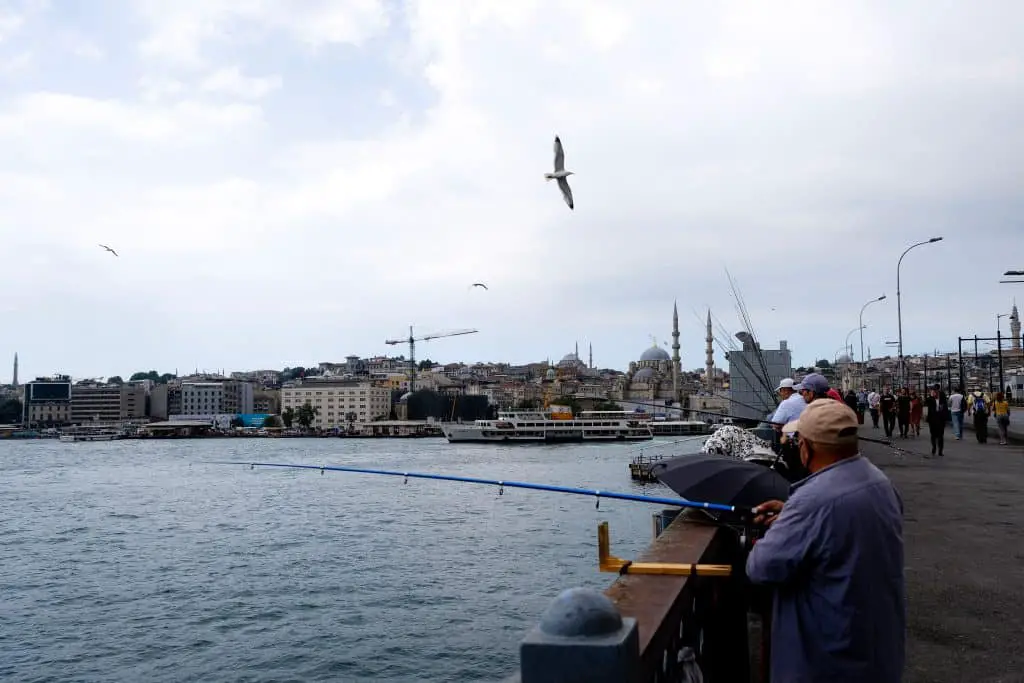 10. Cruise the Bosphorus
The Bosphorus is a stretch of water that separates Europe from Asia, and a cruise on this waterway is one of the most memorable experiences you can have in Istanbul. Take a leisurely boat tour and admire the stunning views of the city, including the impressive Ottoman palaces and modern skyscrapers.
There are multiple ways to enjoy a boat trip on the Bosphorus, from a basic ferry ride to a luxury yacht cruise. Here are some of the best Bosphorus boat trips available.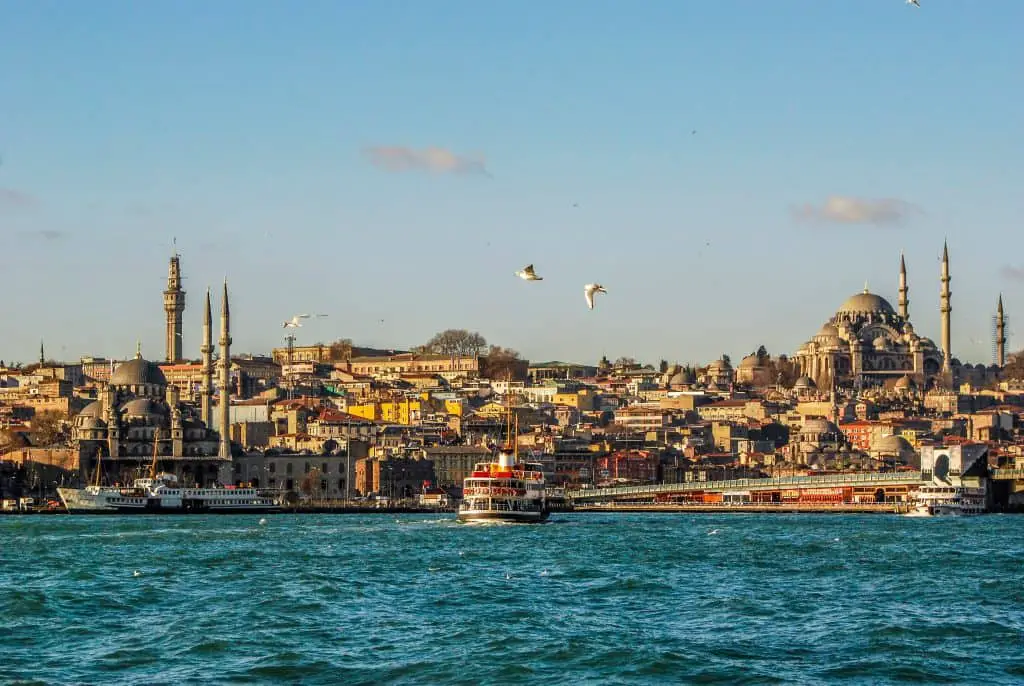 11. Suleymaniye Mosque
The Suleymaniye Mosque is Istanbul's largest and arguably most impressive mosque, and is considered one of the finest examples of Ottoman mosque architecture. Visitors can admire the mosque's stunning interior, with its ornate tiles, intricate carvings, and towering domes.
Located on the Third Hill of Istanbul, Suleymaniye Mosque offers fabulous views over the city. The mosque's surrounding gardens and courtyards are also well worth a visit, offering visitors a peaceful and serene escape from the hustle and bustle of the city.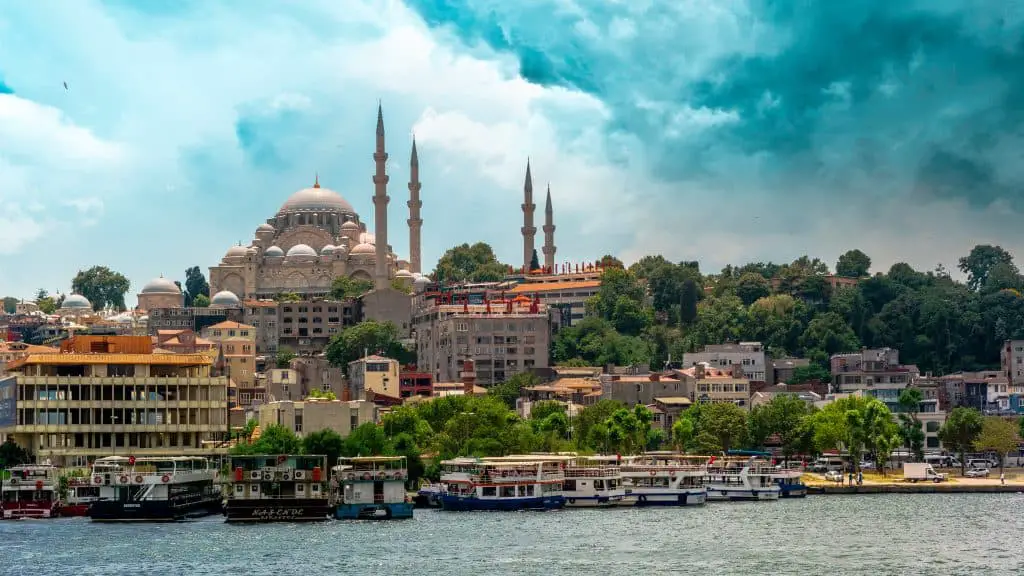 12. Archaeological Museums
The Istanbul Archaeological Museums are a complex of museums that showcase the complex history and culture of the city and its surrounding regions. Visitors can see collections of Ottoman ceramics, Byzantine mosaics, and Roman sculptures, as well as learn about the city's ancient civilizations and civilizations of Anatolia.
13. The Dolmabahçe Palace
The Dolmabahçe Palace is a stunning palace that served as the primary residence of the Ottoman sultans in the 19th century. With its ornate interiors, magnificent chandeliers, and beautiful gardens, the palace is a true masterpiece of Ottoman architecture and design.
The Palace is divided into two areas, the Selamik and Harem, each charging an entrance fee. Visitors can tour the palace's many grand halls and salons, and get a glimpse into the lives of the Ottoman sultans.
14. Enjoy a Turkish Bath
A traditional Turkish bath, or hammam, is a unique experience that should not be missed. These steam baths are a great way to relax and rejuvenate after a long day of exploring the city. Many of the hammams in Istanbul date back to the Ottoman Empire and are adorned with intricate details and stunning mosaics.
This traditional bathhouse is a place where you can relax, rejuvenate, and experience the city's culture in a unique way. Try a traditional hammam experience, complete with a massage, scrub, and steam room.
15. Walk the Rainbow Steps
In Sali Pazari Yokusu, between the districts of Findikli and Cihangir you can find the Rainbow Steps of Istanbul. This colourful stairway was painted by Huseyin Cetinel, not in an act of demonstration or activism, but for no other reason than to make people smile.
Huseyin spent $800 and four days painting the steps, which inspired people all over Turkey to paint staircases and walkways in vibrant rainbow colours. You'll also find more colourful steps like these in the quirky Istanbul neighbourhood of Balat.
The original rainbow steps fell into disrepair after a few years, so in 2015 they were replaced by new stairs with permanent rainbow tiles. There are in fact, several sets of rainbow steps in this area on adjacent streets which get repainted periodically.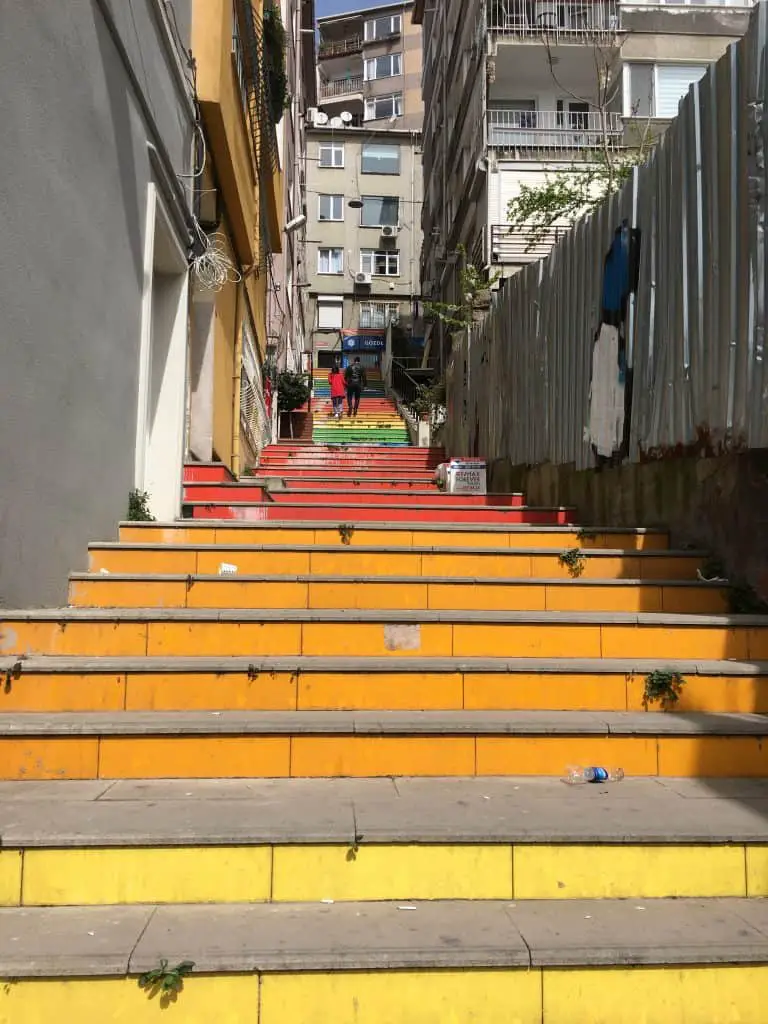 16. Indulge in Turkish Cuisine
Turkish cuisine is a unique blend of flavours and ingredients, and is a must-try for anyone visiting Istanbul. From kebabs to baklava, there is no shortage of delicious food to sample in the city. Some of the most popular dishes to try include doner kebab, manti (Turkish dumplings), and pide (Turkish pizza). 
Turkish Delights are a must-try when in Turkey. These sweet treats, which originate in the Gastronomy city of Gaziantep, come in a variety of flavours and are typically made with a mixture of sugar, nuts, and rosewater. The perfect way to end a meal, or just as a sweet snack, Turkish Delights are a staple in Turkish cuisine and should not be missed.
Also make sure to try Turkish tea which a staple beverage in the country. Or for the coffee lovers, there is of course, plenty of Turkish coffee too.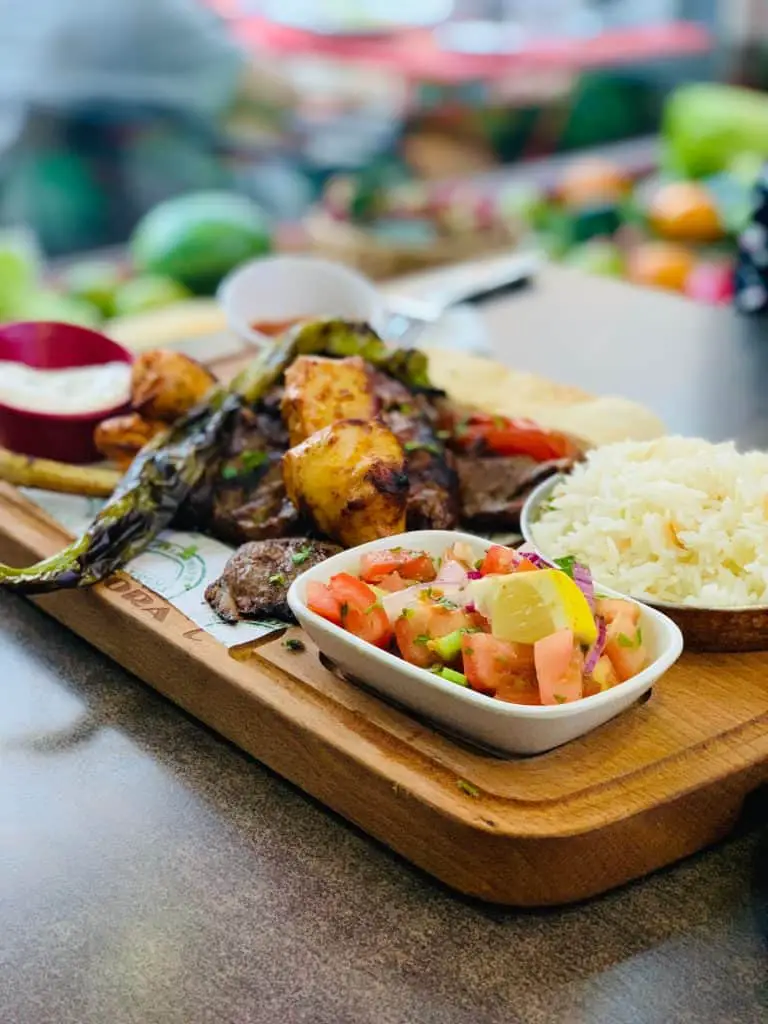 17. Istanbul Modern Art Museum
The Istanbul Modern Art Museum is a contemporary art museum that showcases the best of Turkish and international art. Visitors can see exhibitions of modern and contemporary art, as well as attend workshops, lectures, and cultural events.
The museum is housed in a stunning building on the banks of the Bosphorus, offering visitors breathtaking views of the city and its surroundings.
18. View a Whirling Dervish Ceremony
Another cultural must-do whilst in Istanbul is to witness a Whirling Dervish Ceremony. The Whirling Dervishes are a branch of Sufi Muslims known for their trance-like spinning dances. These are performed during worshipping ceremonies known as Sema.
The lesser-known Turkish city of Konya is the Turkish home of the Whirling Dervish however a Sema can be watched at the Galati Mevlevi Museum in Istanbul. Performances take place every Sunday and be sure to book your tickets in advance as numbers are limited.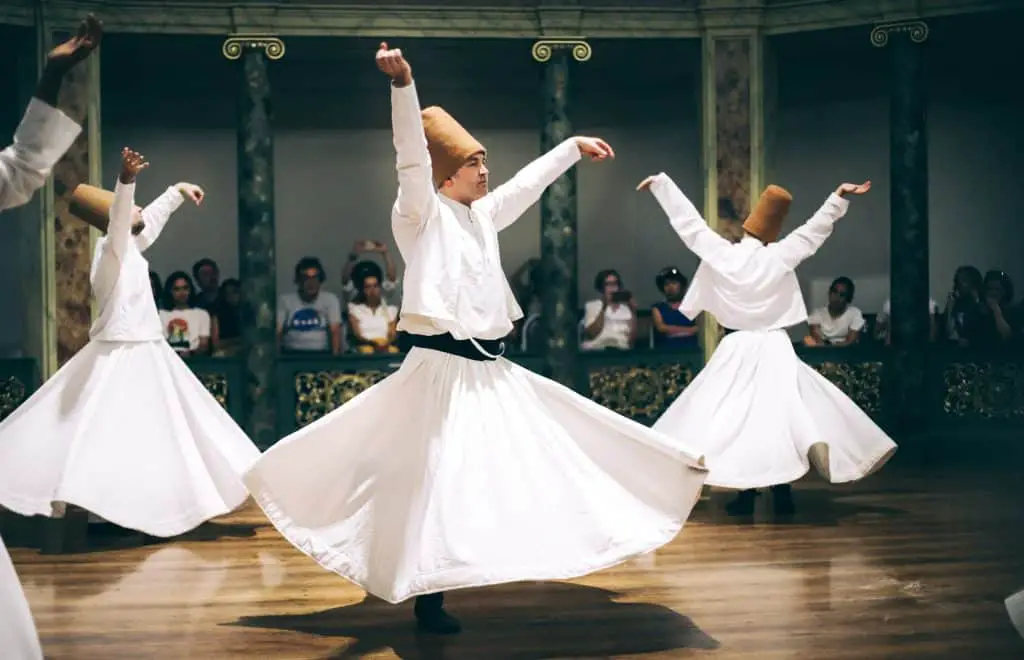 19. Chora Church (Kariye Mosque)
The Chora Church is one of the best-preserved examples of Byzantine architecture in Istanbul, and its stunning frescoes and mosaics are not to be missed. Built in the 11th century, the church was converted into a mosque in the 16th century, then to a museum and in 2022 it was re-established as a mosque.
2023 Update: Renovations are currently taking place at the mosque and its hoped these will be finished by the end of 2023.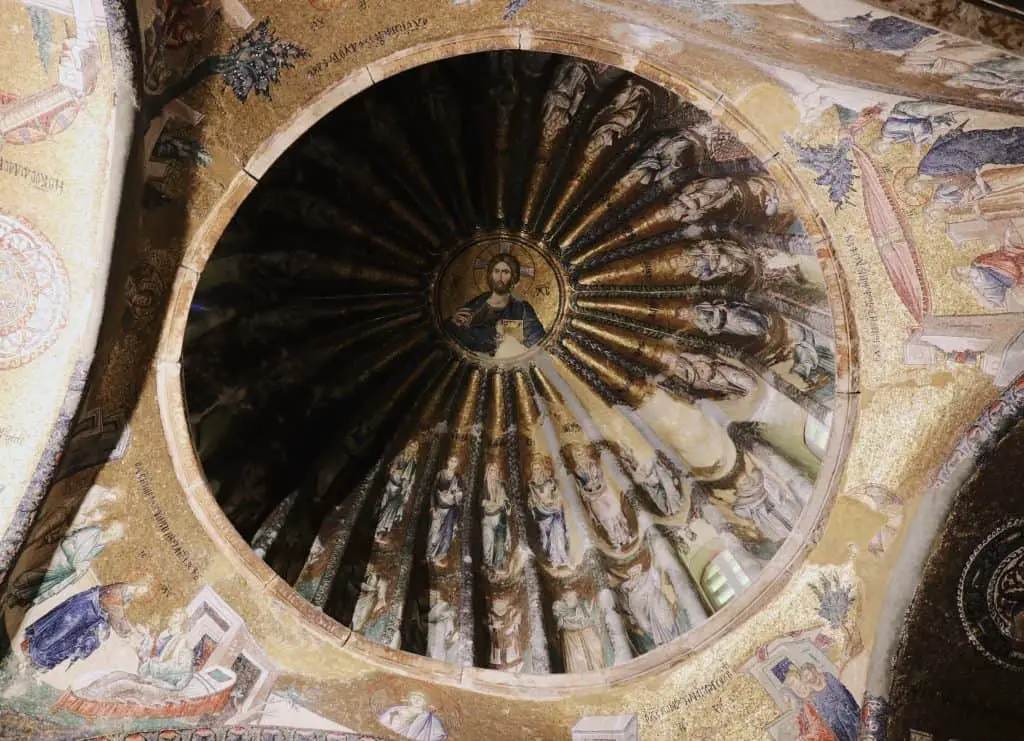 20. Enjoy Sunset at a Rooftop Restaurant
There are several restaurants and bars around Istanbul that take full advance of their rooftop terraces. These restaurants are some of the best places to enjoy sunset over the city. I like the Severn Hills Hotel which has the best views over the Hagia Sofia along with views over the Bosphorus. You'll need to book your table far in advance if you wish to be seated in the prime position.
A more budget friendly alternative is Snog Roof Bar which offers rooftop drinks with views of the Galata Tower.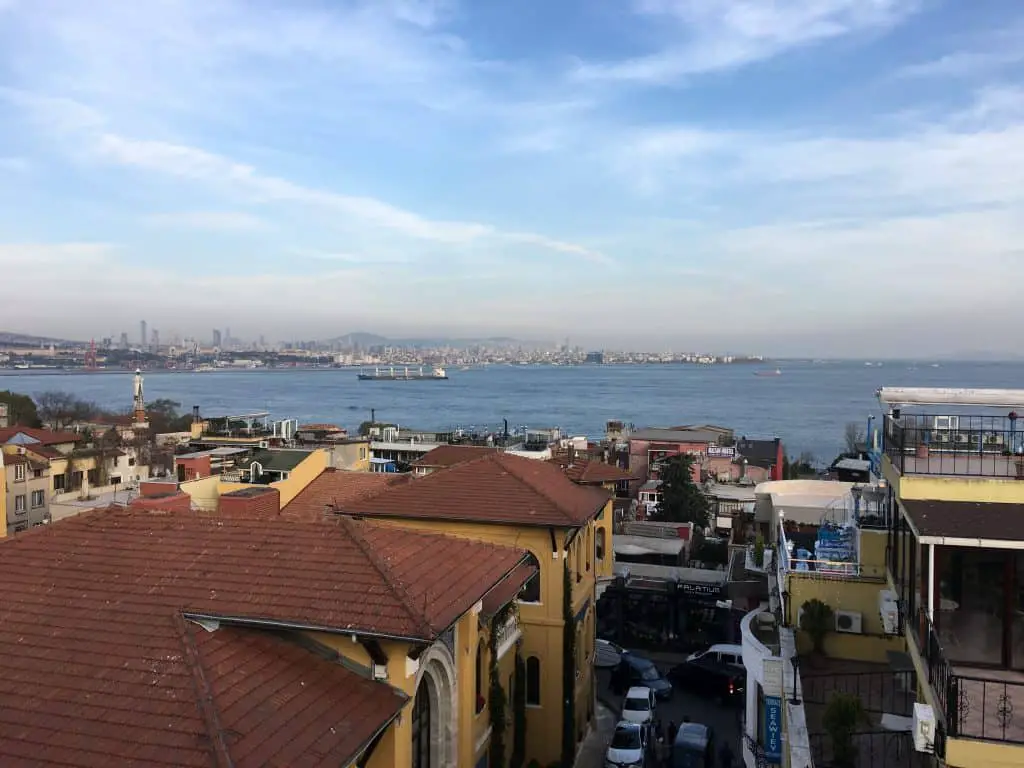 How To Get To Istanbul
Istanbul is a world transport hub, so getting to Istanbul is very easy by air. Most international airlines fly in and out of the newly built, Istanbul Airport (IST).
Domestic flights to Istanbul from popular tourist cities around Turkey, such as Antalya, Izmir, Goreme (Cappadocia) and Fethiye, are readily available.
Airport transfers are usually offered by your hotel, but if not you can book an airport transfer here.
Places To Stay in Istanbul
Sultanahmet
If you want to stay in the heart of Istanbul with the major sites situated right on your doorstep, then Sultanahmet district is the place for you.
A good budget option is the Antique Hostel. The hostel has a great terrace for enjoying views of the Bosphorus and is in a perfect central location in Sultanahmet.
For something more luxurious try the White House Hotel. The rooms are exceptional and the terrace views overlooking Sultanahmet are amazing.
Taksim
If you'd prefer to be at the heart of Istanbul's nightlife, then base yourself near Taksim.
For a modern, boutique hotel near Taksim Square try the Trinity Hotel Taksim, which is offers good value for money and has a delightful rooftop terrace bar.
Getting Around Istanbul
Getting around Istanbul is very easy thanks mainly to the tramway lines and metro system, but since sites are located so close to each other, often the best way to get around is by foot.
There really is no need to have a car in Istanbul and driving (and parking), especially in Sultanahmet, can be challenging. If you plan on starting a Turkey road trip from Istanbul, be sure not to pick your car up until the day you leave the city. Also, check out my top tips for driving in Turkey before you set off.
HOT TIP
If you are looking for the best car rental service, here it is! Discover cars is an international car rental booking service that finds the best deals. With Discover cars you will definitely find the perfect car for your perfect trip in Turkey.
Istanbul Museum Pass
The Istanbul Museum Pass allows holders to skip the lines and can potentially save some money. It provides access to 12 museums, which is where the saving comes in. If you only plan to visit a few of the museums in Istanbul then it doesn't provide much of a discount. The card is valid for 5 days.
Don't Forget Your Travel Insurance!
For the best deals on travel insurance, check out Safety Wing.
Final Thoughts On The Best Things To Do In Istanbul
Istanbul is a city that is steeped in history and culture, and there is never a shortage of things to do. From visiting ancient landmarks to exploring vibrant bazaars, there is something for everyone in this incredible city.
So, what are you waiting for? Pack your bags and head to Istanbul for an unforgettable travel adventure.