Mardin is an historic city in South Eastern Turkey, close to the border with Syria. In ancient times it was an important Silk Road town with links to Mesopotamia in the South, Europe to the west and Asia to the East. 
The city itself is full of history and historic buildings. With its narrow alleys criss-crossing the old town, Mardin is a fabulous place to simply wander around and explore. Mardin is also a shoppers paradise, with plenty of typical products of the region available to peruse or taste in the shops and markets.
There is very much a multicultural community here, sustained in part by modern day travellers visiting this fascinating region of Turkey. Mardin is an excellent place to get a taste of a Silk Road city. Its bazaar and madrasas, churches and mosques have been welcoming visitors for thousands of years.  
Surrounding Mardin there are a multitude of interesting sites and villages to visit, making Mardin an excellent base from which to explore the region of southeast Anatolia. 
This is a complete guide to all the best things to do in Mardin, Turkey's best kept secret.
Disclaimer: Some links in this article are affiliate links, which means that if you purchase through them I receive a small commission, at no extra cost to you. This helps cover the cost of running this blog. Thanks for your support!
Top Things To See And Do In Mardin
There are lots of things to do and places to see in Mardin, from visiting the old mosques and madrasas to wandering the cobbled streets and bazaar. There are also many impressive sites to visit around Mardin, both near and far.
I would therefore recommend spending at least 3 days in Mardin, more if you choose to use it as a base from which to explore other sites.
Here are my top 16 things to do in Mardin.
1. Wander The Narrow Streets of Old Mardin (Eski Mardin)
Picturesquely set on a hillside above the plains of Mesopotamia, Old Mardin is the ideal place to simply wander and get lost. There is one main street along which the traffic still flows and along this street you can find any number of gift shops and restaurants. We found a delightful handmade soap shop whose owner was excited to inform us he sold soap to Prince Charles (He had the photos to prove it!)
However, branching off this street are countless side streets and alleyways and that's where you can really explore Mardin's charm. These streets are limited to pedestrians, trash-carting mules and small cars that think they can squeeze through.
Once the wandering and Mardin sightseeing gets too much, kick back and drink tea or coffee in one of the many rooftop cafes. With its endless passages and beautiful old houses who knows what experiences you might find around the next corner.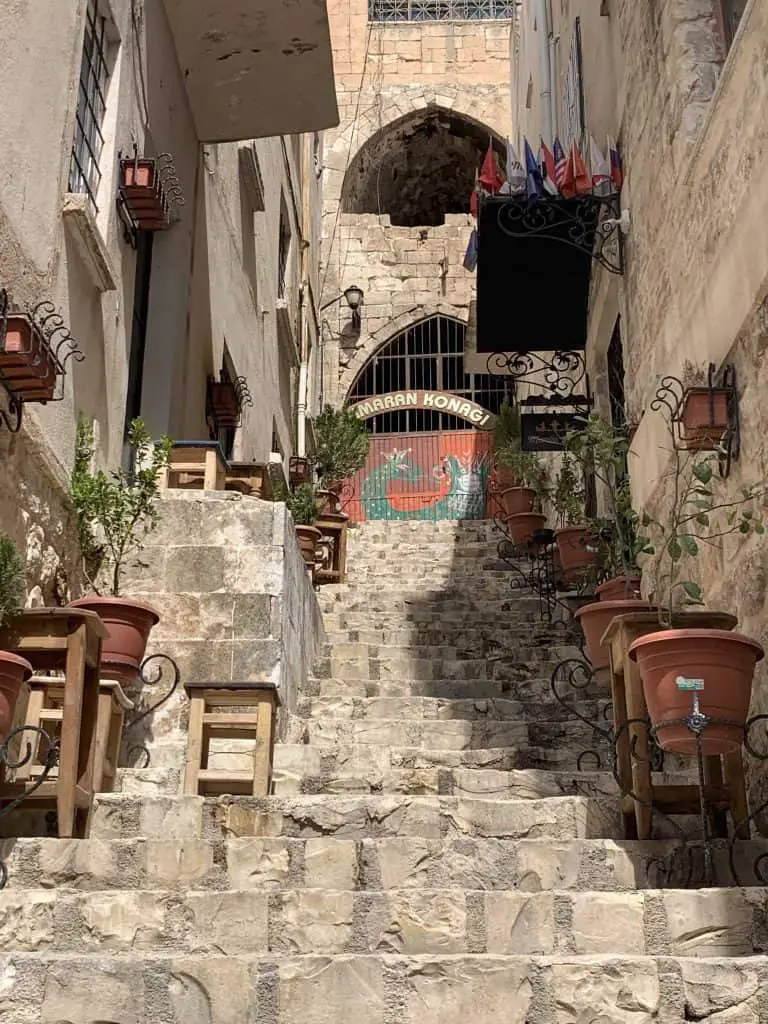 2. Mardin Bazaar
The main bazaar area of Mardin runs adjacent to the main street, through the old town. It hints back to the past with its workshops of coppersmiths, tailors and carpenters.
There's very little you can't buy here. Fresh meat and vegetables, spices and breads, and for tourists there's a huge choice of souvenirs, handmade natural soaps and jewellery to browse.
Amongst the bazaar you will find mosques, historic houses, hamams and tea houses. It's easy to spend an entire day wandering the bazar and old town.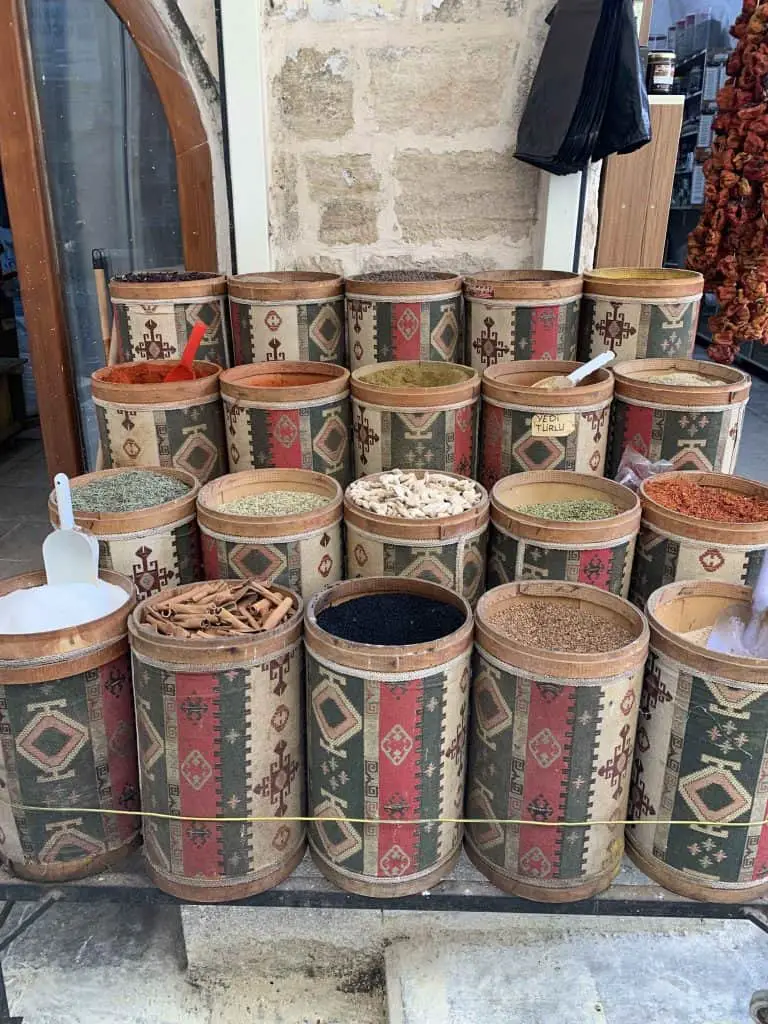 3. Mardin Museum
Set in a lovely 19th century church, Mardin Museum tells the story of Mardin from the Bronze ages to the 20th century. This is one of two museums in Mardin which are great places to kick off and get an understanding of the history of this fascinating city.
4. Sakip Sabancı City Museum
The other main museum in Mardin is set in a restored old army barracks and has artefacts which help to explain the history of Mardin. This museum also puts into context many of the ancient sites that can be found around the region, making it a popular Mardin attraction.
In the basement is an art gallery showcasing works by prominent Turkish artists.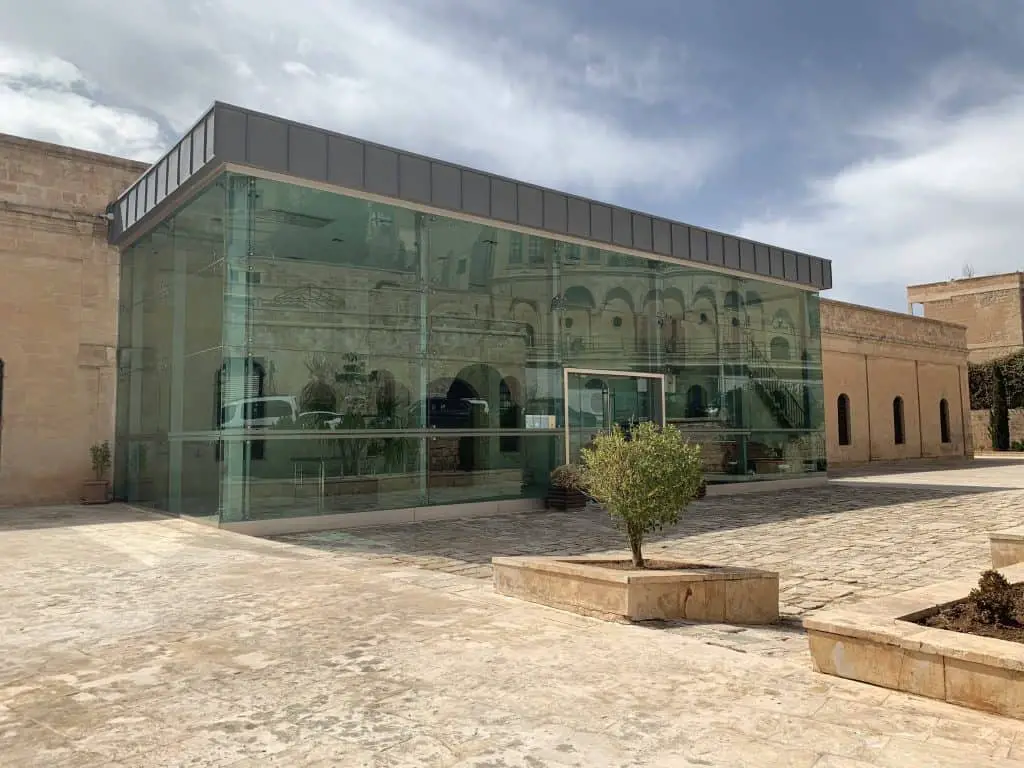 5. Grand Mosque (Ulu Cami)
There are several lovely stone mosques in Mardin, the Grand Mosque being the most famous. This 11th century mosque has a striking minaret which dominates the skyline of Mardin, soaring high above the surrounding bazaar. 
The mosque itself is still active so you will need to dress appropriately to visit inside. Take time to explore the courtyard with its intricate, ancient carvings. This is a popular mosque for pilgrimages and a is therefore a busy Mardin tourist attraction. 
6. Zinciriye Madrasa and Mosque 
Built in the 13th century, this stunning old building overlooks the old town. The rooftop is a great spot for snapping photos of the city and is a very popular spot for newly weds due to its popularity on Turkish TV shows.  
The Mosque is free to visit but access to the rooftop demands a nominal entrance fee. (5TL)
7. Sehidiye Mosque and Madrasa
All of the old Mosques and Madrasas are well worth a visit in Mardin. None more so than this masterpiece with its stunning stone work, majestic minaret and a cool and calm atmosphere inside.
8. Melik Mahmut Mosque
Melik Mahmut is another historic mosque in the old town. It has been very nicely restored and it's well worth taking a little time to appreciate its atmosphere and elegance.
9. Erkulu Mosque 
This compact working mosque, towards the western end of the Bazaar retains all of its historic charm, with old trees in the courtyard and some skilled stonework. It has the feeling of not having changed for centuries.
10. The Forty Martyrs Church (Kirklar Kilisesi)
This beautiful 4th century church sits in its own pleasant courtyard and gets its current name after 15th century Cappadocian martyrs who are depicted in reliefs above the stunning old main door. Inside is a beautiful functioning church with plenty of interesting depictions of the life of Christ.
Services are held on Sundays in Aramaic and are open to tourists. The church is free to visit but closes at lunchtimes.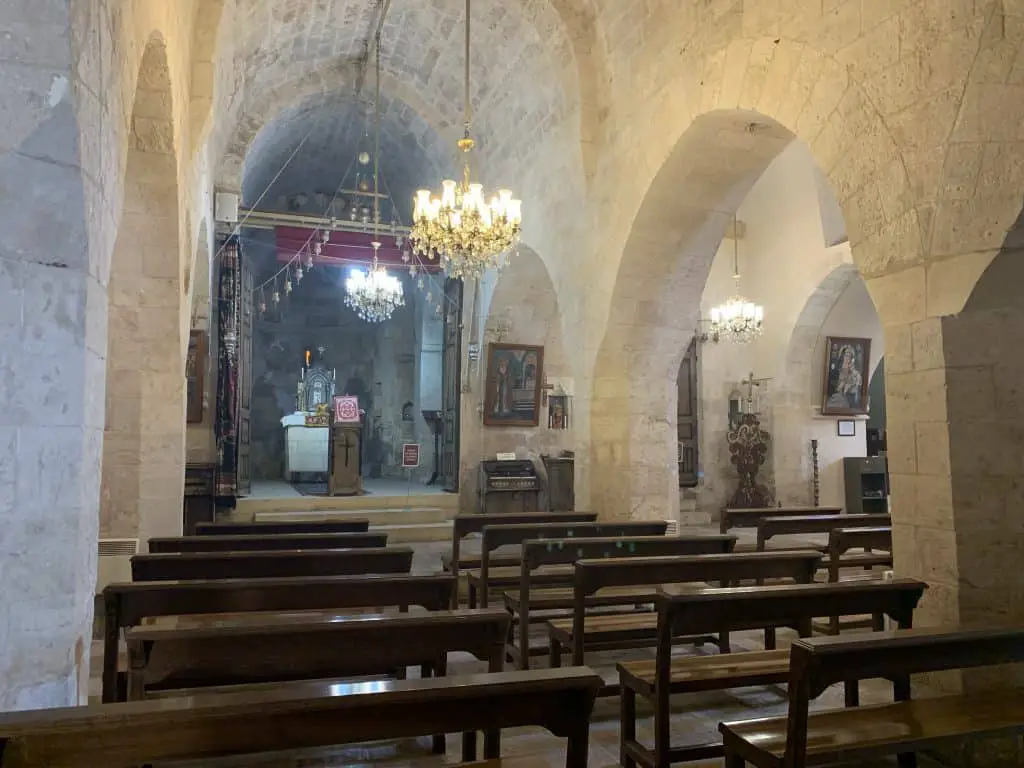 11. Mardin Protestant Church (Behnam Kirklar Kilisesi)
This charming little church is active and the story behind its existence is fascinating. The 160-year-old church is one of the oldest Protestant churches in the Middle East. Over 60 years ago the church was abandoned and left to ruin, but following extensive restoration work it's once again holding congregations.
The local devotees are hospitable and very engaging. We sat and drunk chai whilst they talked to us about their respective ties to the church. Some were Turkish, some were Kurdish and some were Syrian. The church held a special place for them all which was a delight to witness.
12. Mardin Post Office (Ptt)
Although not currently operating as a post office, the old caravanserai is the main attraction here with its stunning staircase inside, leading up to a fabulous rooftop with equally rewarding views of the old town.
There is a small fee to go inside and explore and the stairs are a popular Instagram photo opportunity. There is also a cafe on the roof however it was closed on our out of season visit.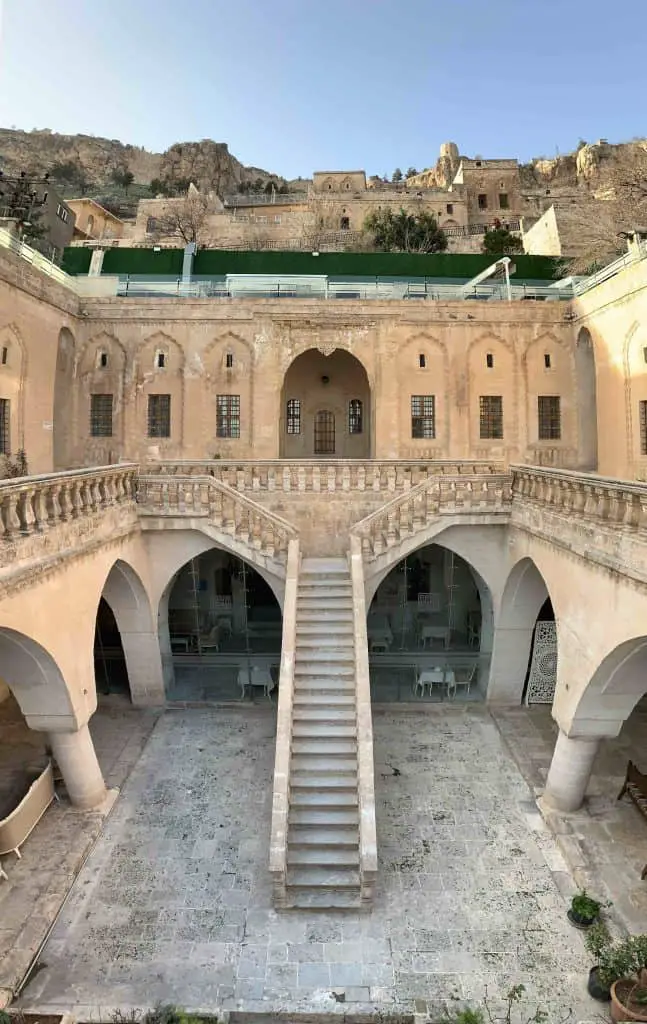 13. Emir Hamam
This working hamam (bathhouse) dates back to Roman times and is a great place for some nostalgic ablutions after a day spent getting lost in the many alleyways of Old Mardin.
Opening times are as follows:
Men 6.30am – Noon and 6pm – 10pm.

 

Women Noon – 5.30pm.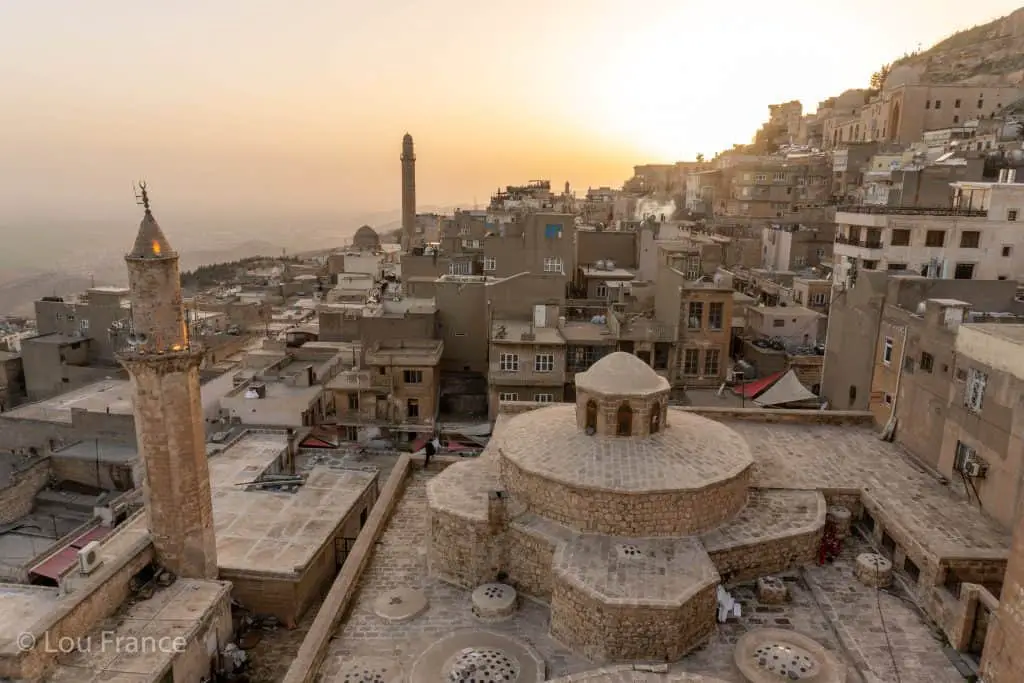 14. Kasimiye Madrasa
This fine Madrasa sits down the hill, 2km south of Old Mardin. It's a bit of a hike from the old town but your effort is rewarded with stunning views over the plains, through the arches of this immaculate building.
Inside there is pretty courtyard with a pool and several informative exhibitions explaining some of the work that was undertaken by those who studied here throughout the ages. There is a small fee to enter.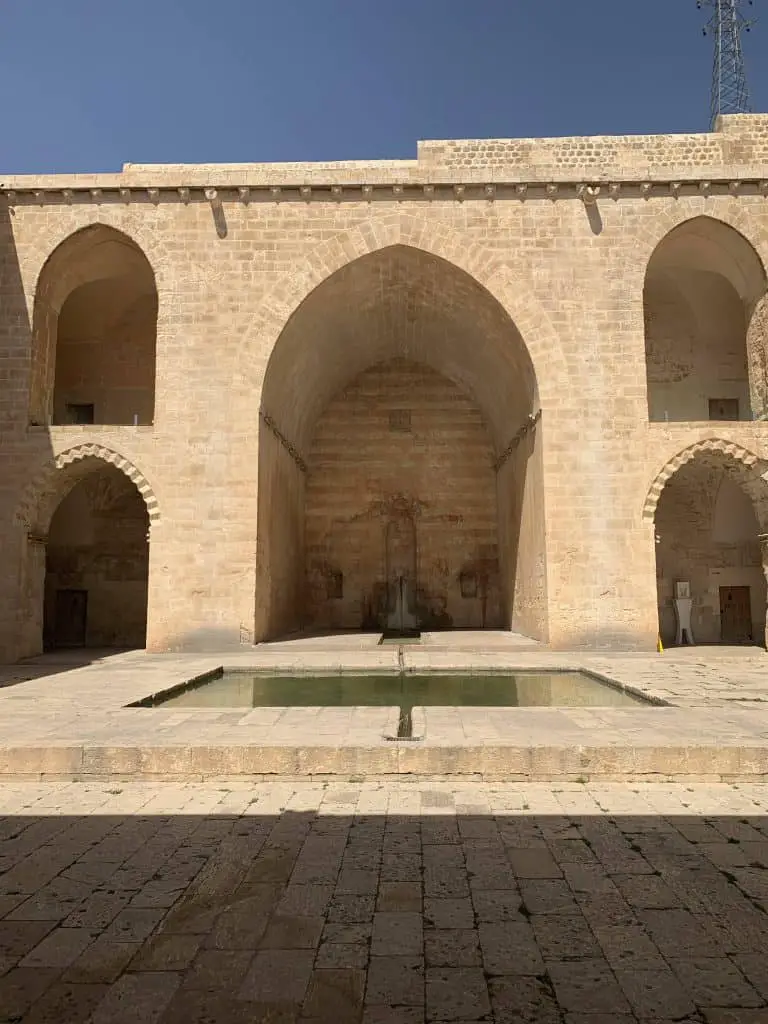 15. Mardin Castle
Perched on top of the hill above Mardin, the 10th to 13th century castle is currently occupied by the military. Legend has it that the earliest development on the site was way back in the 4th century BC when a Babylonian Fire Worshipper built his palace there.
Sadly the castle is currently out of bounds to tourists but there's a nice view of the city from below the fence which surrounds the castle.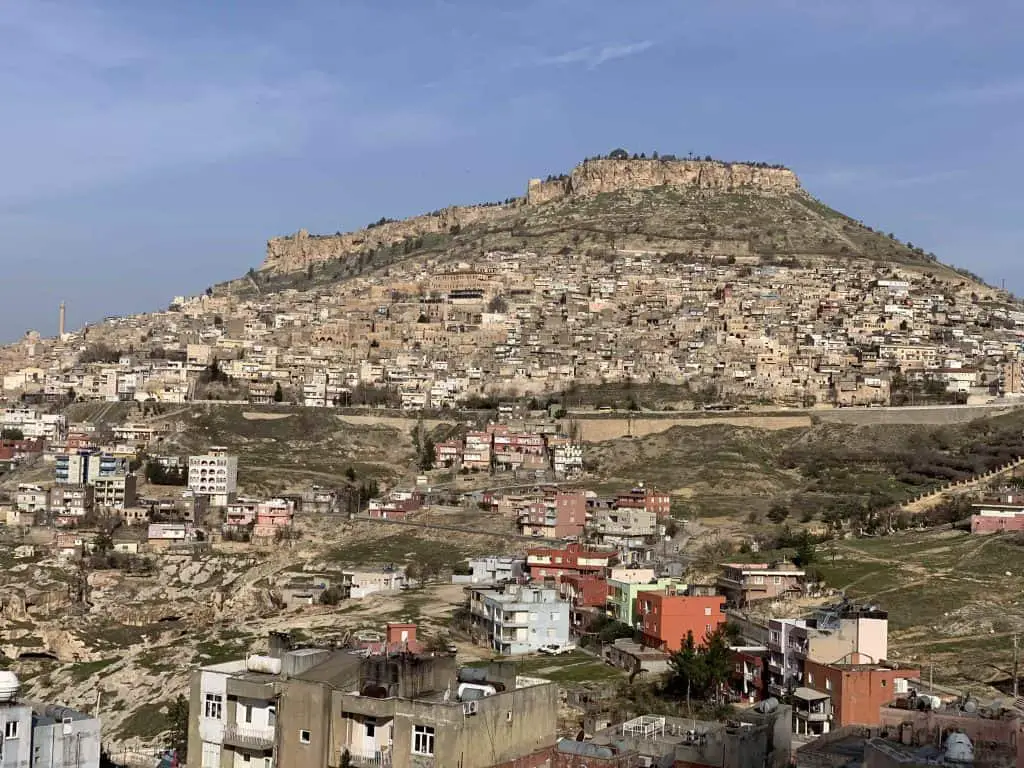 16. Old Merchants Houses of Mardin (Mardin Evleri)
Dotted around the old town are a multitude of old merchants houses and mansions, often with stunning stone work and interesting architecture. Some are open to the public, others are boutique guesthouses and hotels or restaurants and some are still family homes.
A top thing to do in Mardin is to stay in an historic boutique guesthouse or eat in one of the many characterful restaurants. (See where to stay in Mardin below, for some unique accommodation ideas!)
Related Reading
The Best Things To Do Around Mardin
Mardin is a fabulous little city with lots to see and do, however there are also many things to see near this gem of eastern Turkey. On your visit to Mardin, I would also recommend visiting the following sites.
1. Deyrulzafaran Monastery (Mor Hananyo)
Deyrul Zafaran Monastery is 5km southeast of Mardin and easily reached by taxi. This important monastery was the seat of the Syriac orthodox religion from the 12th to the 20th century before being moved to Damascus. The original monastery was said to have been build in 495AD on top of a sun worship temple.
As with many of the Syriac monasteries in the area, it is a practicing monastery serving the local Syriac populations. The Syriacs speak the Aramaic language (the language spoken by Jesus himself) and to this day their church services are still held in this ancient language. 
Allow plenty of time to explore this major historic and religious site. A good half day tour might combine a visit here with Midyat and Mor Gabriel. You might even be able to add Hasankeyf and make a busy full day trip.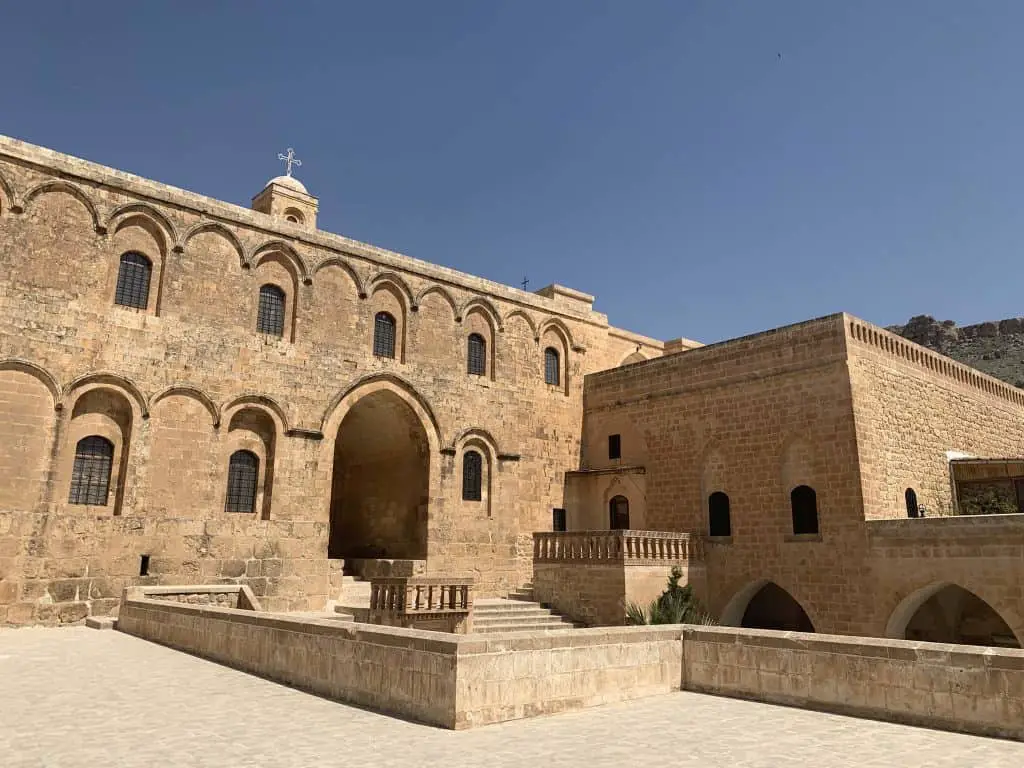 2. Midyat
By which I mean Old Midyat, is a maze of old stone houses set around walled courtyards and is home to the remaining Syriac orthodox community. There are plenty of churches dotted about the old town though finding one open to tourists is a challenge. 
Midyat is an interesting place to wander around and much quieter (less touristy) than Mardin. If you're a fan of old wooden doors then this place is a must! There are a few pretty caravanserais in the bazaar area where you can grab a Turkish cafe or chai.
If you want to see more beautiful caravanserais and hans, be sure to add Diyarbakir to your eastern Tureky trip!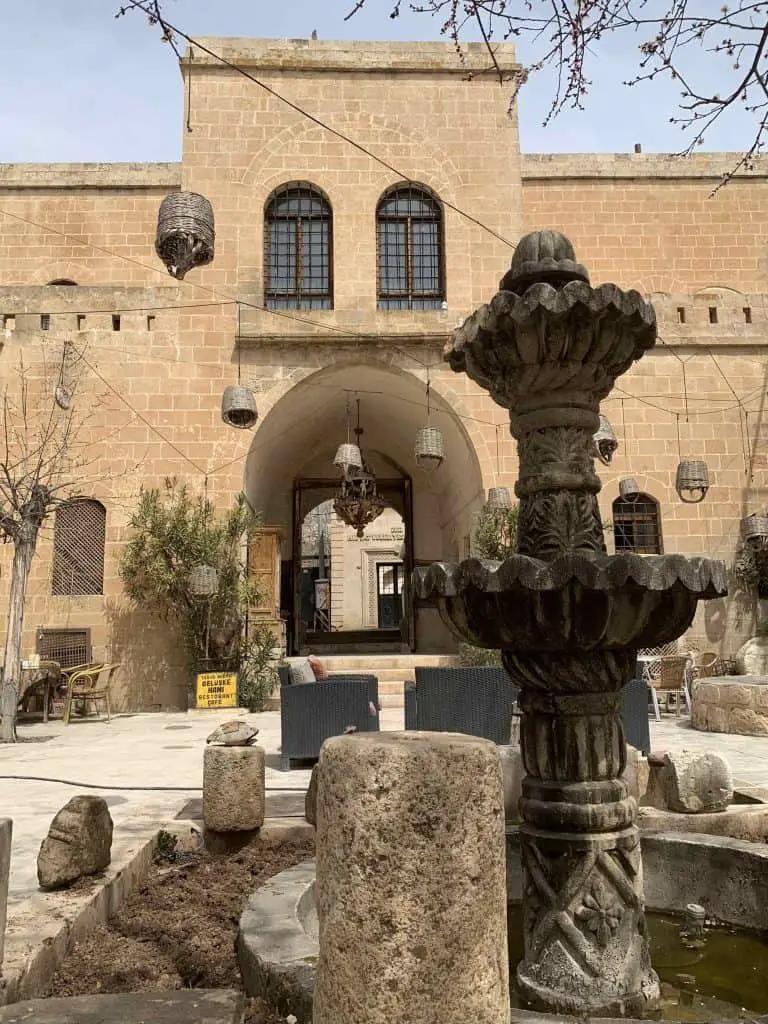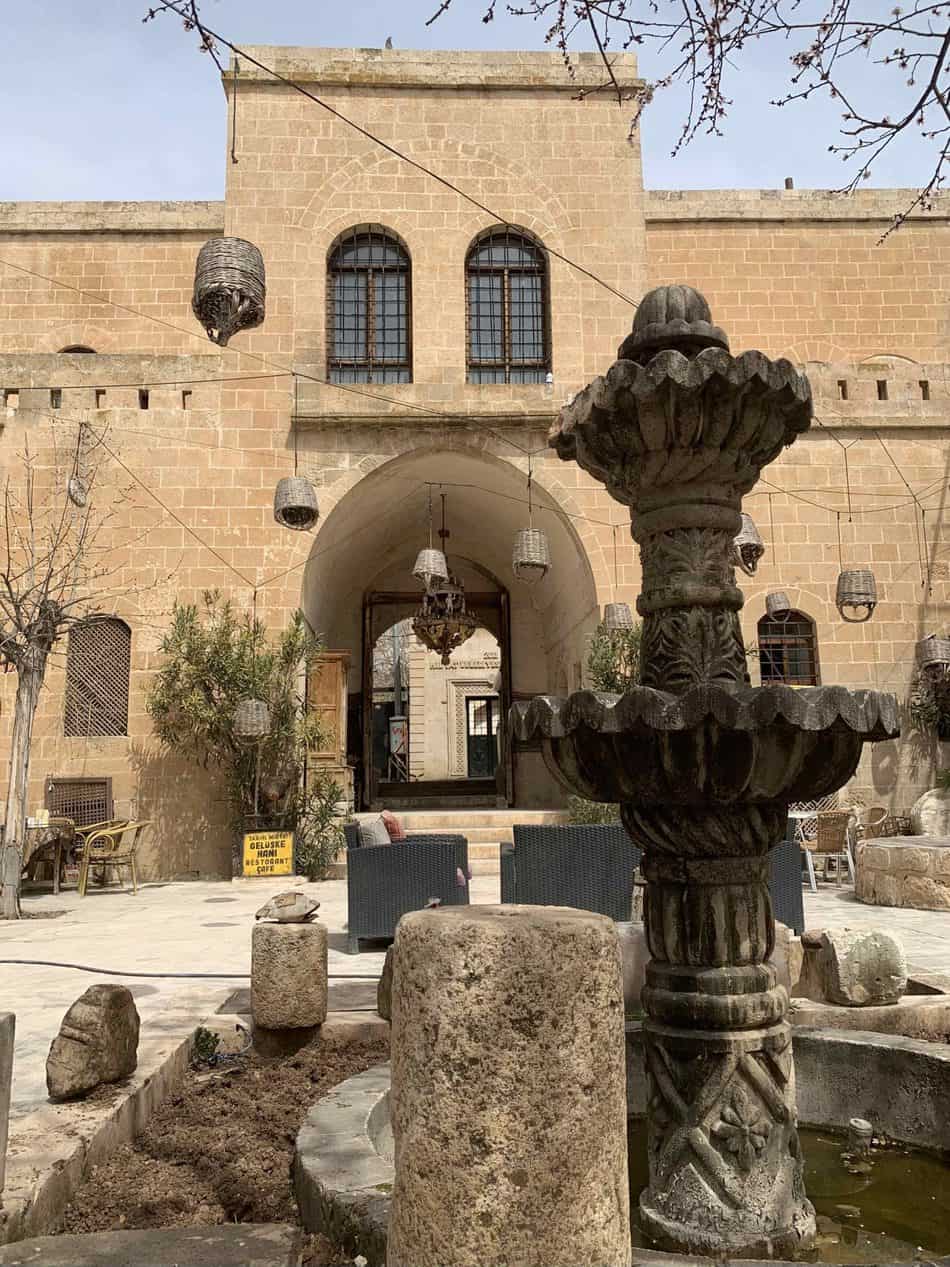 3. Virgin Mary Church (Meryem Ana Kilisesi)
The Virgin Mary Church is fabulous little monastery tucked away in the rural countryside to the east of Mardin. The courtyard is quaint and interestingly the church roof is a dome on the inside but rectangular on the outside. (Or at least I thought that was pretty unique!)
Not too much time is needed for exploration here so it can be visited enroute, or in combination with, Mor Gabriel and/or Hasankeyef.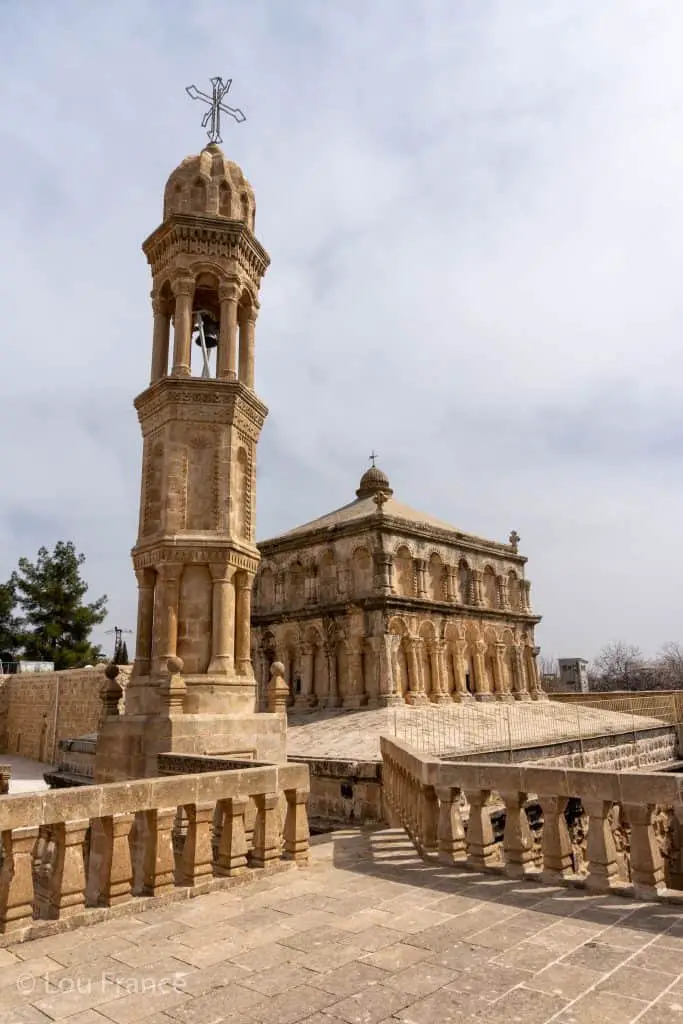 4. Mor Gabriel (Saint Gabriel)
This grand monastery sitting on a hillside overlooking the plains of Mesopotamia has been meticulously renovated in recent years. However, the original monastery was founded in 397AD, making it one of the oldest Christian monasteries in the world.
As this is an active Assyrian Orthodox monastery, so you will be guided around by a local Syriac volunteer who will explain the history of the building and the religion. The guides speak many languages and are very knowledgeable and engaging. 
Like many of the monasteries in the region, Mor Gabriel closes to visitors at lunchtime which is from 11:30 – 1:00.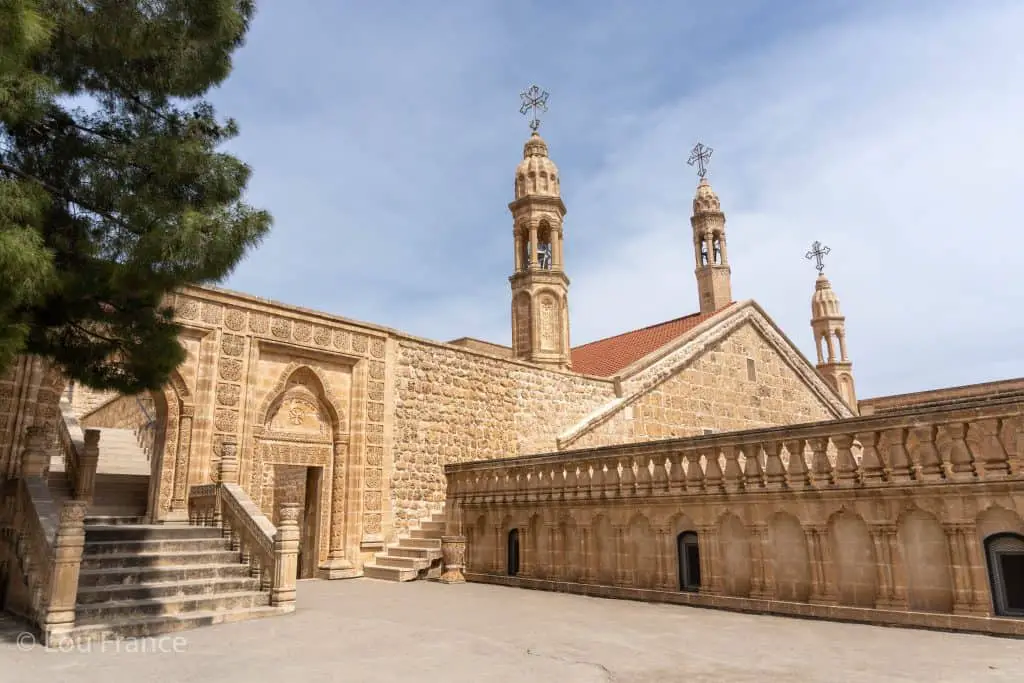 5. Dara Ancient Ruins
Dara is a ruined old Roman town situated southeast of Mardin. Many people are put off visiting Dara due to its proximity to Syria, but wandering around the deserted ruins, nestled amongst which sits the current village, makes for a very unique experience.
Many governments warn against travelling this close to the Syrian border so please check the recommendations beforehand.
The local folk around Dara are super friendly as you wander through what is essentially their farmland and even underneath their homes in the case of the incredible underground cistern. 
When arriving in Dara you will first see the necropolis with rock cut tombs. The bus tours stop here but it is well worth venturing further into the village to explore the roman bridges, walls, agora, cisterns and even part of the Silk Road itself.
You can easily spend hours exploring this little historic gem.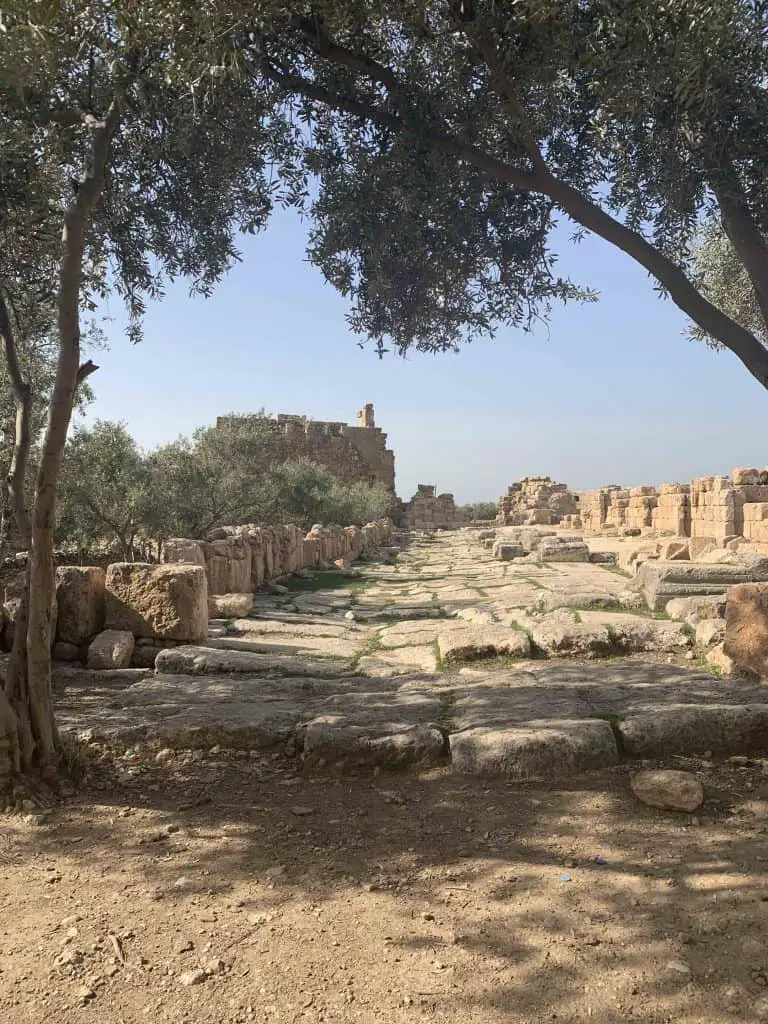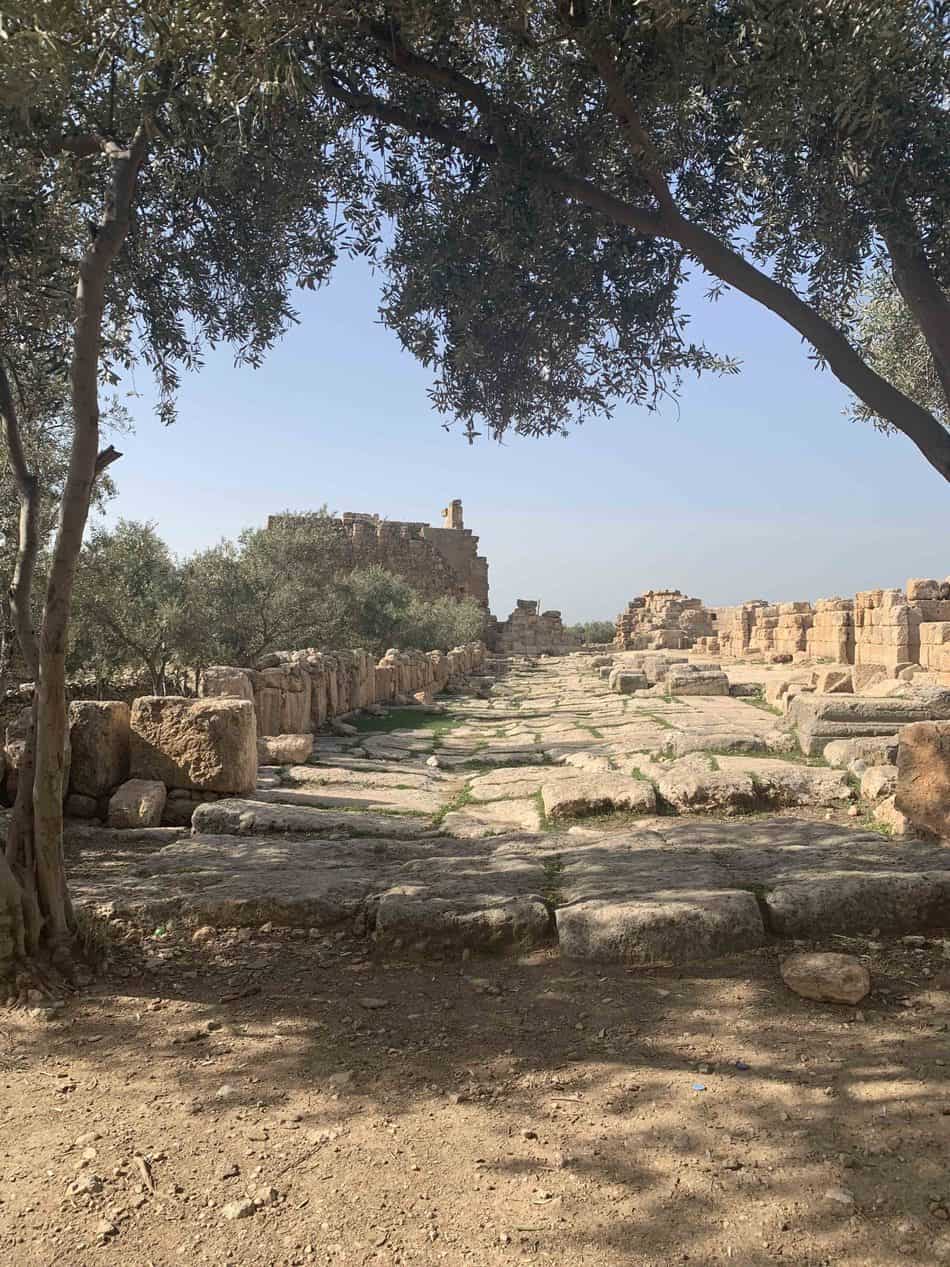 6. Savur
Savur could be described as a mini Mardin, with its Citadel surrounded by natural stone houses. Savur is set in a pleasant green valley with a river fed from spring snow melt.
There are two restored churches to explore in this peaceful and uncrowded Syriac community. Savur could be visited en route to Mardin if arriving from the east, otherwise it's a pleasant half day trip from the city.
Places To Stay In Mardin
Many of the old mansions and merchants houses of old Mardin have been converted into quaint, quirky and luxurious boutique guesthouses and hotels. Mardin is a great city to spend a few days soaking up the atmosphere while staying in a historic building. Here are a few ideas catering for all budgets and tastes.
Top Places To Eat In Mardin
There is plenty of choice for eateries in Mardin from fancy mansion restaurants serving food fit for kings, to quirky cafes and tasty Turkish doner kebabs. 
Here are some of our favourite places to eat.
Seyr-i Merdin: This restaurant arguably has the best view in town. Everything from coffee, to a menu serving a good mix of local specialities and Turkish favourites, is available. As a result of this combination, Seyr-i Merdin is very popular, at sunset in particular. It's best to book ahead if you plan to eat here.
Bagdadi restaurant serves middle eastern food in a stunning historic building.
Leyli Muse Mutfak offers good set menus in a fine setting with great views over the plains. 
For those with a sweet tooth try the baklava, a very sweet desert of pastry, pistachios and sugar syrup, hugely popular in Turkey especially this region. (Gaziantep Baklava is the absolute best!)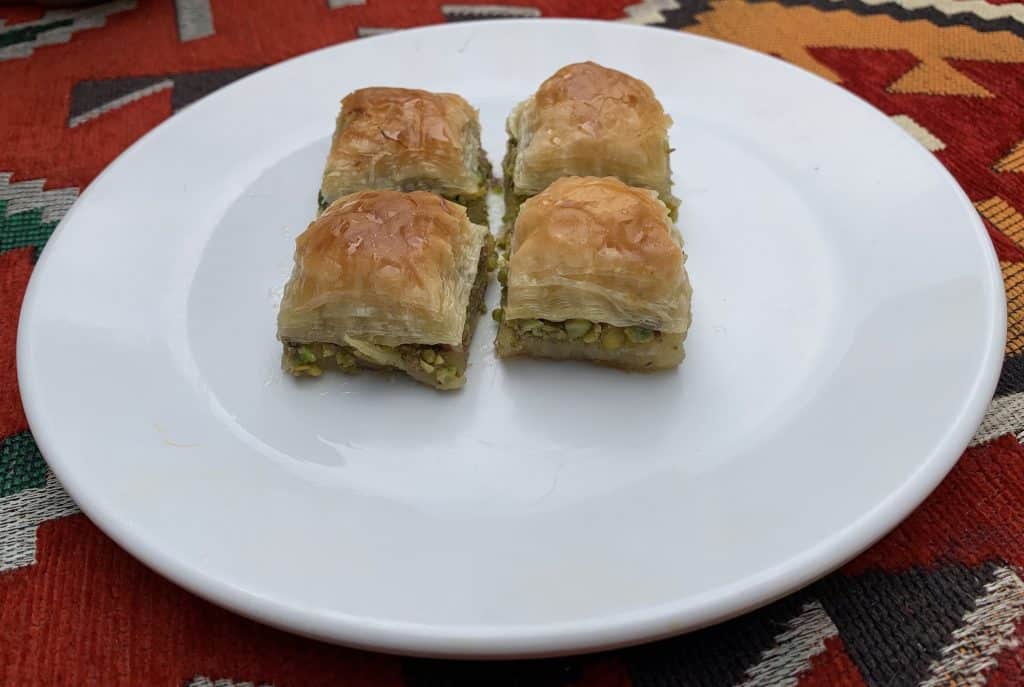 How To Get To Mardin
1. Flying
Mardin has an airport with flights from several major Turkish cities. Turkish Airways and Pegasus can offer flights to Mardin from most of Europe and beyond, via Istanbul or Ankara. Check latest airfares here.
2. Car hire
Car rental is available throughout Turkey and travelling in a car is perhaps the easiest option for exploring the area, although you won't need one in Mardin old town where parking might be problematic in high season. 
A car will be a huge asset if you plan to make a road trip of the South Eastern Anatolia area as a whole. This would allow you to explore the many interesting villages and monasteries dotted around the area. Get a great deal on car rental online here.
If you plan on renting a car for your trip, see this guide to driving in Turkey.
3. Taxis
Taxis are a relatively cost effective way to get from the airport to the city centre and to some of the sights around Mardin. Consider hiring a taxi for a day to explore the sites outside the city itself.
4. Local Transport
Bus links in Turkey are generally excellent. There is a daily bus service from Istanbul to Mardin which takes 20 hours. From Ankara it takes 15 hours.  
For shorter journeys the local Dolmus services provide regular services pretty much everywhere else in between. 
There are local buses serving Dara (3 a day), Savur (10 a day) and Midyat (Regular service).
5. Trains
Trains are possible but time consuming, with the Ankara to Bismil service taking almost 24hrs and from Bismil it's still and hour and a half by taxi to Mardin, This will be the option for rail enthusiasts, but I suggest the bus will be a quicker and cheaper option.
The Best Time To Visit Mardin
Mardin is a great city to visit all year round. In the summer months it will be very hot and can get very busy, especially during Turkish holidays.
Spring would be my favourite time to visit as the landscape is bursting with spring growth and the temperatures are comfortable during the day. Autumn also offers cooler temperatures and less crowds. 
In winter it can get very cold with the possibility of snow, however the benefits are no crowds and the snow capped hills off in the distance offer a great backdrop.
Bear in mind, if you are going to visit Mardin in winter or early spring and plan to visit Nemrut Dagi, there may be lots of snow covering much of the sight, or even making it unreachable.
Mardin Things To Do Summary
Mardin is a hidden gem of Turkey and offers a real taste of the east. With its old mosques, traditional bazar and narrow streets, there's lots of things to do in Mardin.
The old town is like a living museum in its own right, with shopkeepers selling products their great, great grandfathers used to sell. This makes Mardin a top place in Turkey for purchasing local handicrafts and produce.
However, as an old Silk Road city, Mardin is also steeped in history. Learn about Mardins fascinating history at its museums and religious buildings. There are some amazing caravanserais and old mansions, now given a second lease of life as hotels, restaurants or tea houses. 
If you venture a little further from Mardin, there are many more fascinating places to visit meaning an extended tour of this region is highly recommended.
Join My Newsletter Today