Diyarbakir is a sizeable town at the heart of the Kurdish part of South Eastern Anatolia. It is often regarded as the capital of the Kurdish region of Turkey.
This attractive, historic, walled city has a long history, a bustling bazaar and a super hospitable local population. Much of the stunning old architecture is constructed from a striking black basalt, giving Diyarkbakir a style all of its own and a beautiful place to visit in Turkey.
We spent two days exploring this little known city on our tour of Eastern Turkey. Read on to discover all the best things to do in Diyarbakir.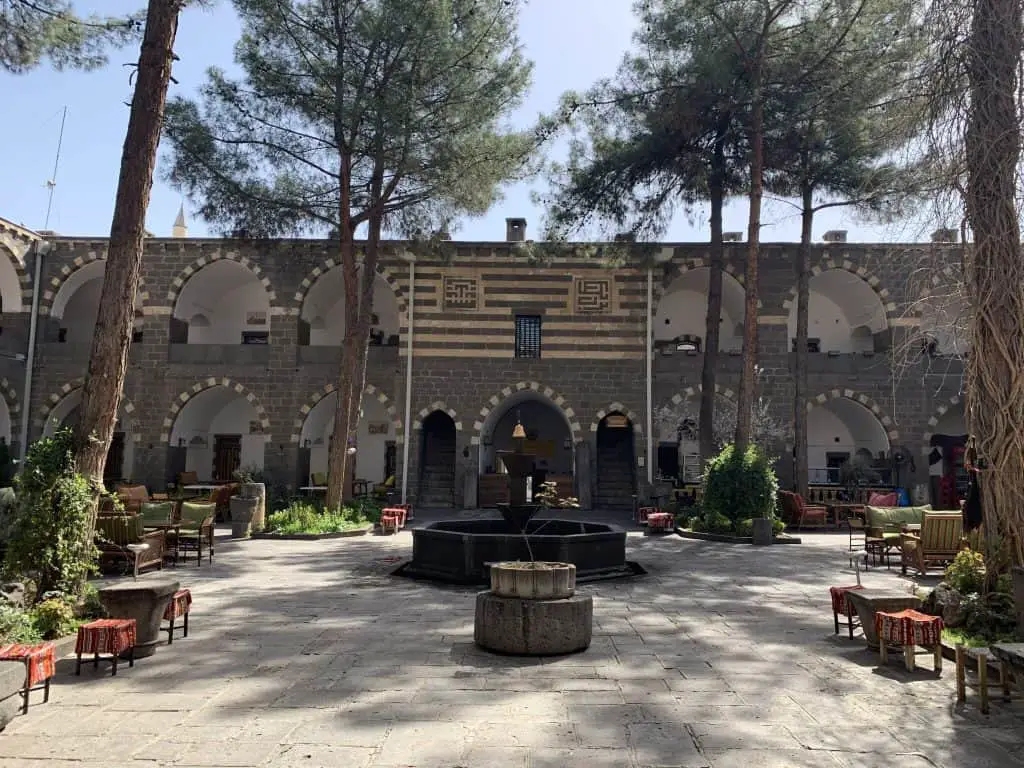 Disclaimer: Some links in this article are affiliate links, which means that if you purchase through them I receive a small commission, at no extra cost to you. This helps cover the cost of running this blog. Thanks for your support!
A Troubled History: Is Diyarbakir Safe To Visit?
Diyarbakir hit the news in 2015 for all the wrong reasons, after an incident led to a pretty brutal uprising. The resulting war caused much loss of life and extensive damage to a large part of the old city, areas of which have since been demolished. 
The troubles continued for several years and since then Diyarbakir has been a place many national foreign offices recommend avoiding.
However, the unrest appears to have calmed down now and although political differences no doubt still simmer below the surface, visiting Diyarbakir has become an option once again.
During our visit to Diyarbakir in the spring of 2022 we felt completely safe and were very welcomed by the locals. Of course you should take the usual precautions when visiting a city and check with your countries foreign office advise before you visit.
The Best Things To Do In Diyarbakir
Walk The City Walls
These stunning Black basalt walls encircle the old town and it is possible to walk round most, either on top of or alongside this majestic wall. To the south and east of the city there are magnificent views of the Tigris valley below, stretching off into the distance.
A good sunset viewpoint can be found up on the wall at Keci Burcu to the south, overlooking Hevsel Gardens and the Tigris river.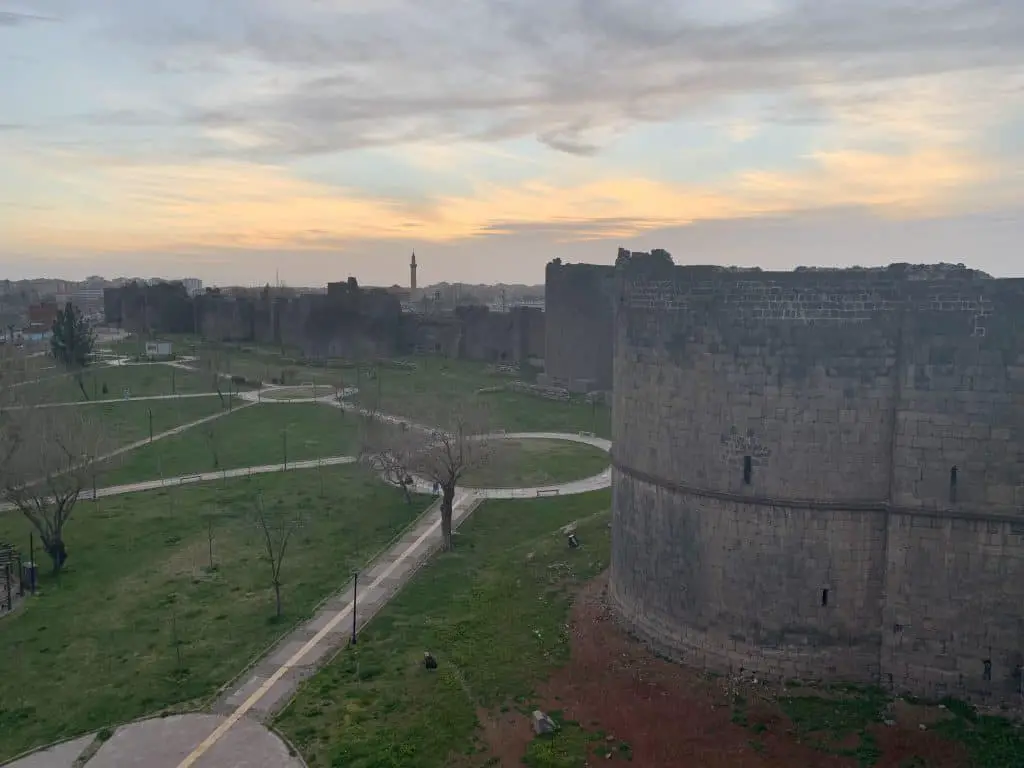 Get Lost In The Old Town Alleyways
Large areas of the old town were damaged in the unrest in 2015. As a result, most of the eastern part of the city has been demolished and redeveloped. On Google Maps and Maps.me you will see this area marked as a blank grey space and as a tourist there is little to see here now.
However, much of the historic old town remains intact. In the old town west of the main street (Gazi Caddesi), there are narrow alleyways, grand mansions and hidden Mosques waiting to be explored.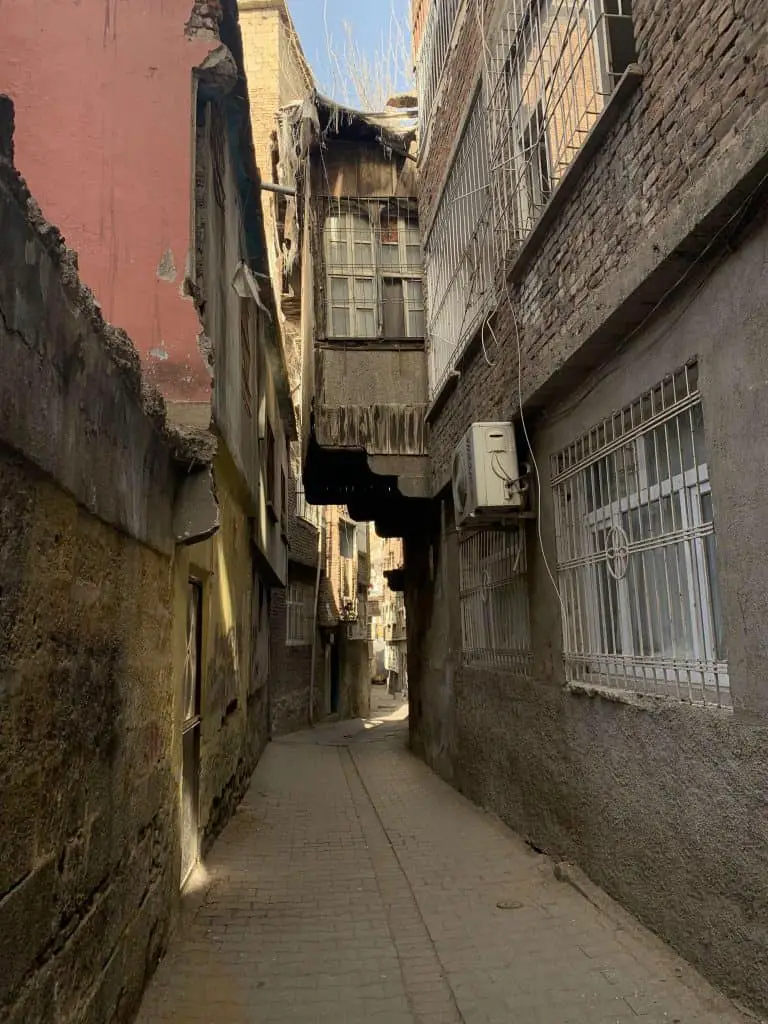 Visit The Grand Mosque (Ulu Cami)
Situated in the heart of the city is this magnificent 11th century basalt mosque. Its design was influenced by the Umayyad mosque in Damascus and, for some, this mosque is thought of as the fifth holiest site of Islam.
It forms the hub of the community and is hugely busy during prayer time especially on a Friday. During our visit I was offered a seat next to some friendly locals. Between my limited Turkish and their limited English (and a lot of miming) we had a great old conversation.
We also met a fabulous local guide here called Omar who despite fasting on Ramadan, was happy to show us around his city. If you want a guided tour of the city with some real local insights, I can highly recommend him. Contact Omar through his website here.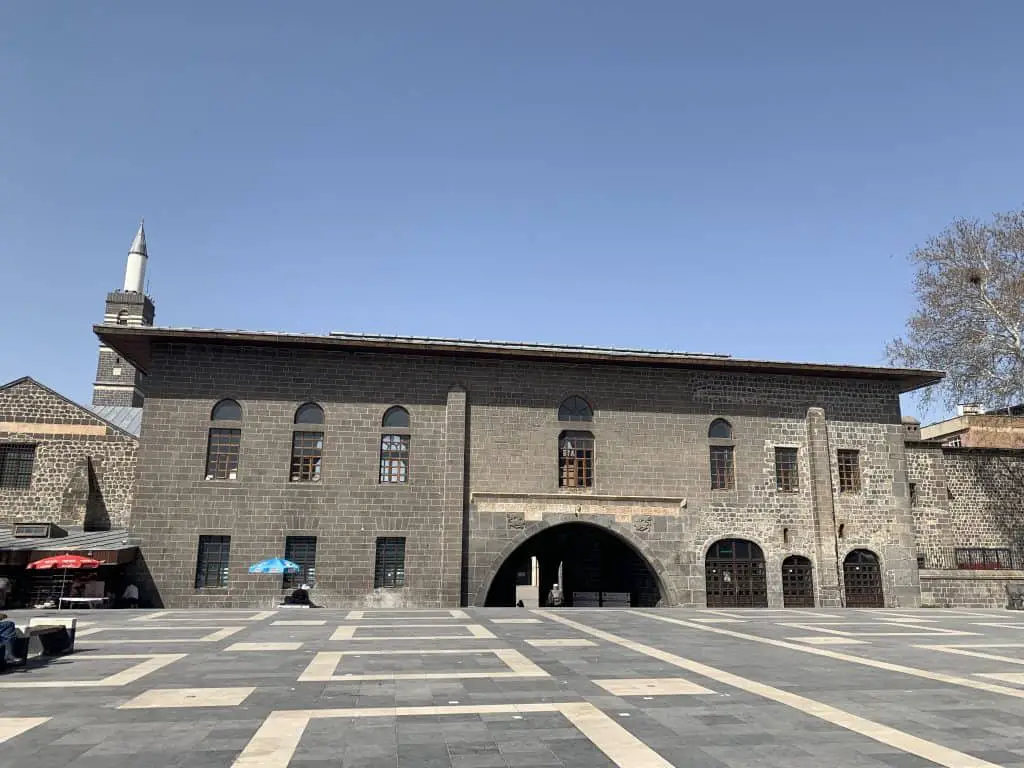 Discover Beyrem Pasa Mosque
Another magnificent basalt mosque, hidden away amongst the narrow streets of the old town is Beyrem Pasa.
With a stunning minaret and attractive domes, this is another standout example of Diyarbakir's fine architecture.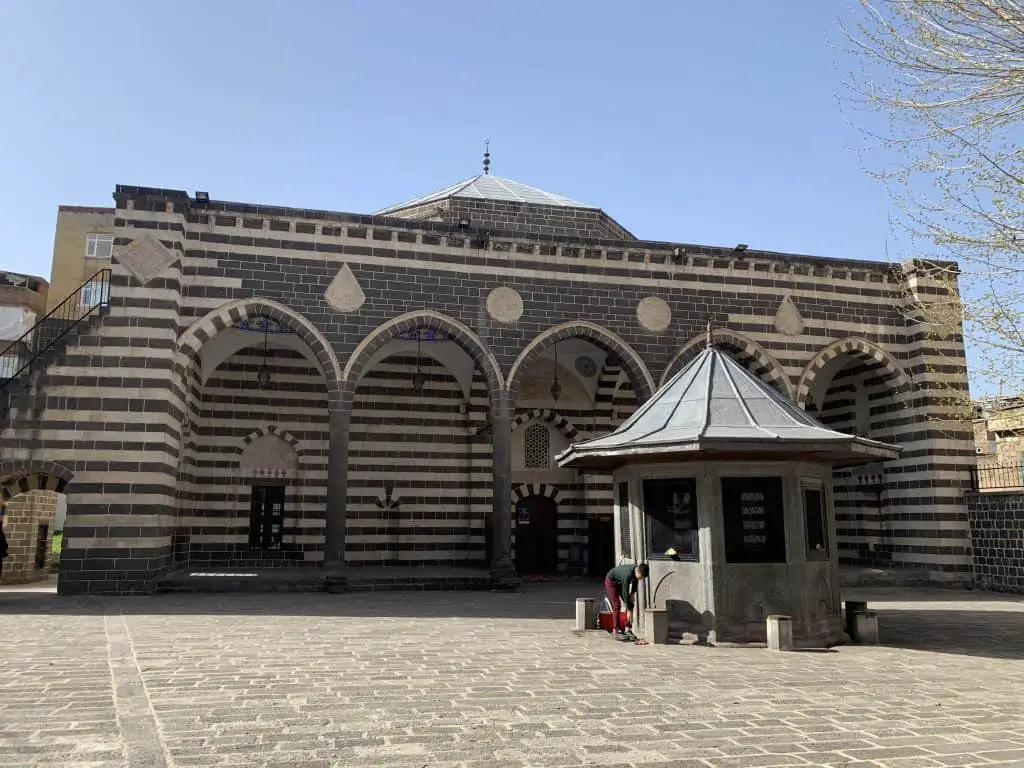 See The Unique Sheikh Matar Mosque
This mosque is well known for its very unique four legged minaret. This has also become a symbol of the recent troubles as the bullet holes in the minarets "legs" can attest to.
Standing in the centre of a small square, this precarious looking basalt structure was built in the 10th century and was later converted into a minaret when the mosque was built. It is one of a kind and a popular spot to visit in Diyarbakir.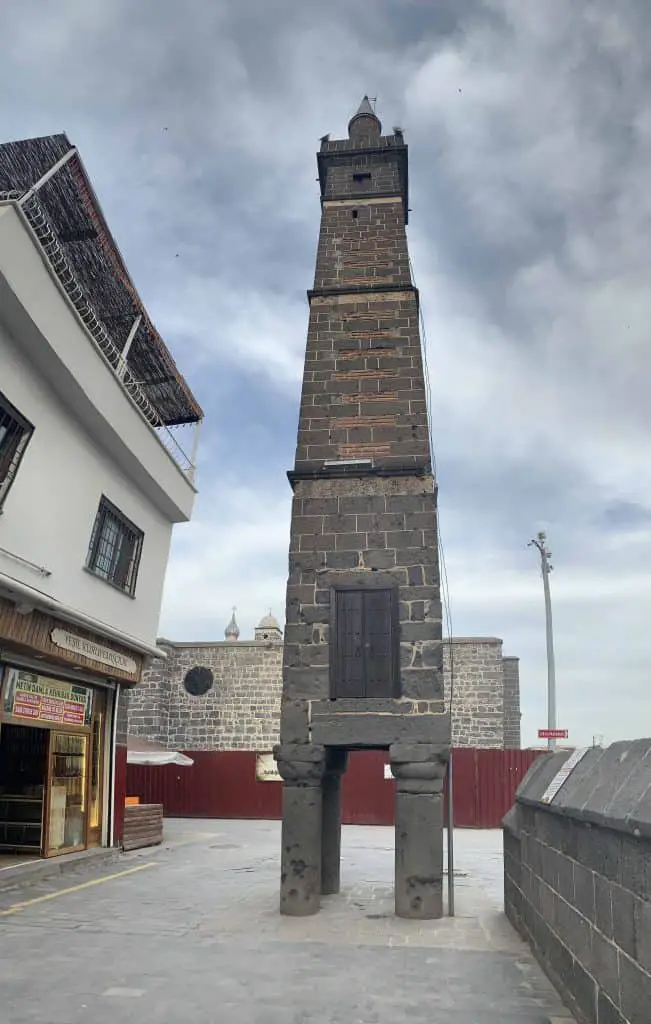 Mingle With The Locals at Hasan Pasa Hani
This beautiful Old Inn sits opposite the Grand Mosque and contains a selection of fine tea houses, restaurants and a really impressive book store in the vaults below, which is in itself worth seeing. The Inn was built in the 16th century by Vezirzade Hasan Pasha and is reminiscent of the Caravanserais of old.
The tea houses within the courtyard are a great place to mingle with the locals especially, on Fridays after prayer. Join them in their favourite past time or perhaps grab a bite to eat. During our visit we drank tea here with some local gents who filled us in on the local political scene.
Relax at Suluklu Han
Another fine Han with a tree-shaded courtyard is Suluklu Han. Suluklu Han is much smaller than Hasan Pasa and has a much more intimate feel to it. The leafs from the tree offer much needed shade on hot days.
This is a great place to drink tea or coffee, mingle with the sociable Kurdish folk or simply relax after a busy day exploring the old town sites.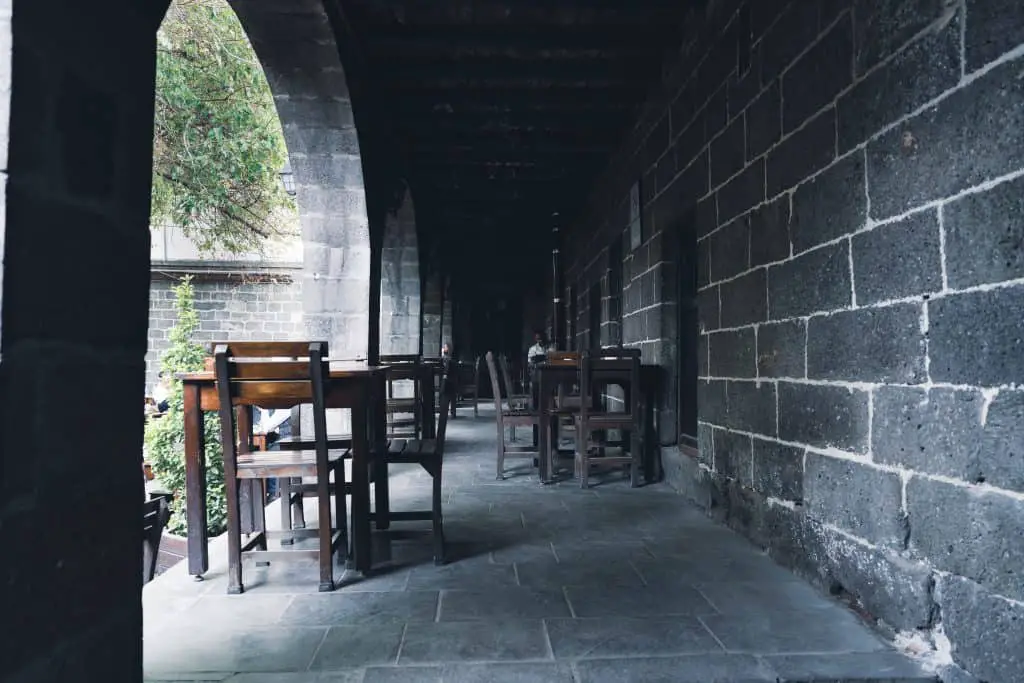 Visit St Giragos Armenian Church
This magnificent church was damaged in 2015 and was in the process of being totally refurbished on our visit. However a key holder let us have a sneak preview through the door and this unique church looks amazing inside.
There is only a small population of Armenians left in the city but once completed the church will provide a beautiful place to worship.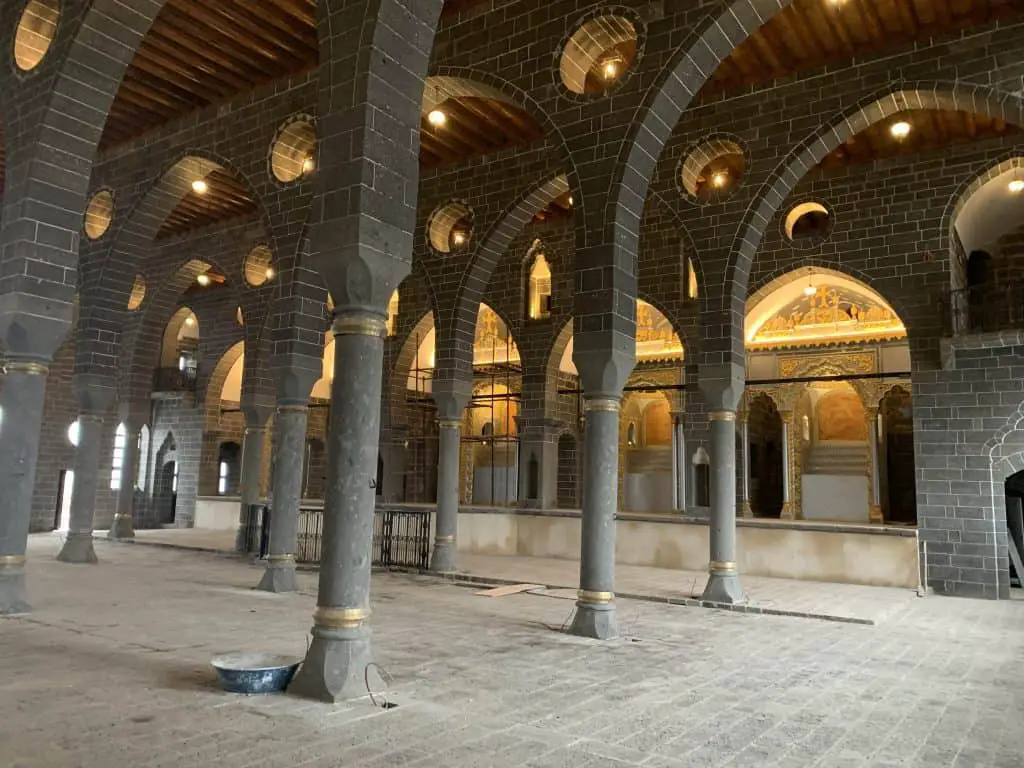 Seek Out The Grand Old Mansions of Diyarbakir
Cemil Pasha Mansion
This stunning mansion is hidden away behind high walls in the old town of Diyarbakir. Only once inside can you appreciate its grandeur and learn about the family who clearly played a huge part in the life of the city. Not to mention the politics of the region.
Ultimately some of the Cemil Pasa family were imprisioned or exiled in the 20th century for their involvement in the Kurkish Independence Movement, resulting in this stunning house falling into disrepair.
Now though, it has been thoroughly restored and is open to visits from tourists.
Top Tip: This is considered a museum and like all other museums in Diyarbakir, is closed on Mondays
Iskender Pasha Mansion
Iskender Pasha is another huge house made from black basalt. Built by the 12th Governor of Diyarbakir, it currently operates as a pleasant cafe offering live music performances. 
Coffee lovers should try the Dibek coffee. Dibek coffee is a type of Turkish coffee which is ground in a specific way and contains eight different ingredients.
Top tip: Dibek coffee is believed to aid with food digestion.
Denbej Evi House
Denbej Evi offers visitors the privilege of a unique experience, as the Deng Bej singers gather to demonstrate the art of storytelling and debating through song and music. As you'd expect, much tea is served in the courtyard while the stories are told.
This is one of those special places that preserve old traditions and at the same time entertain guests.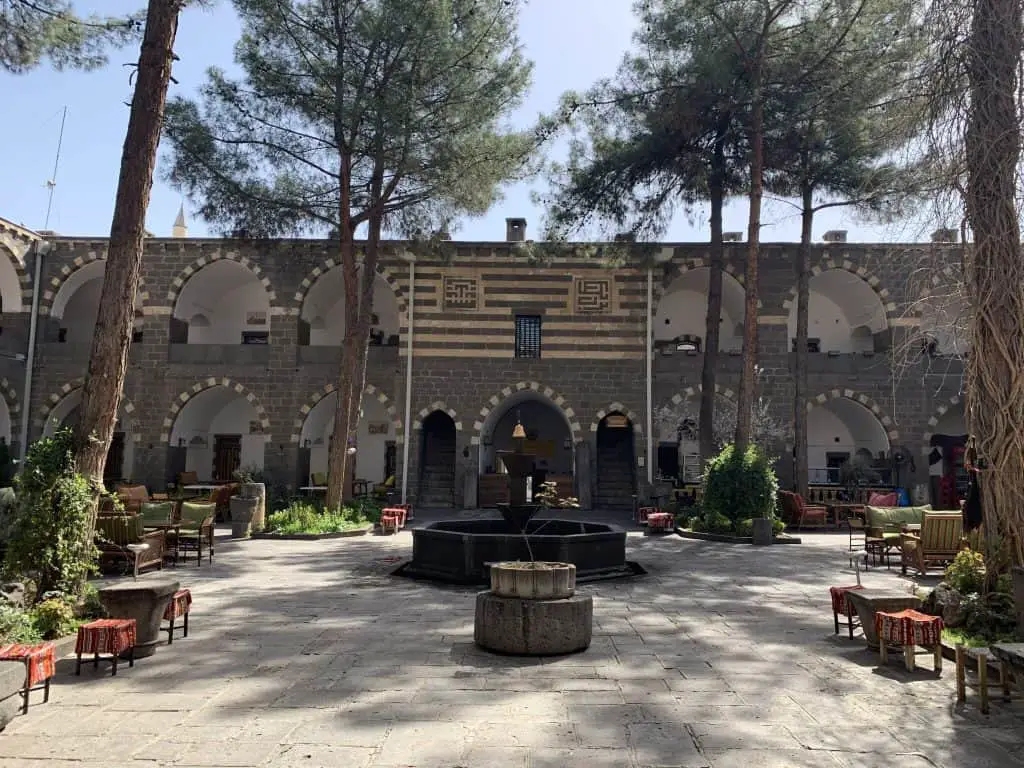 Explore Diyarbakirs' Museums
There are also several specialist museums set in restored, old Diyarbakir houses which are worth visiting.
Ahmet Arif Literature Museum
Cahit Sitki Taranci House cultural museum
Ziya Gökalp House Museum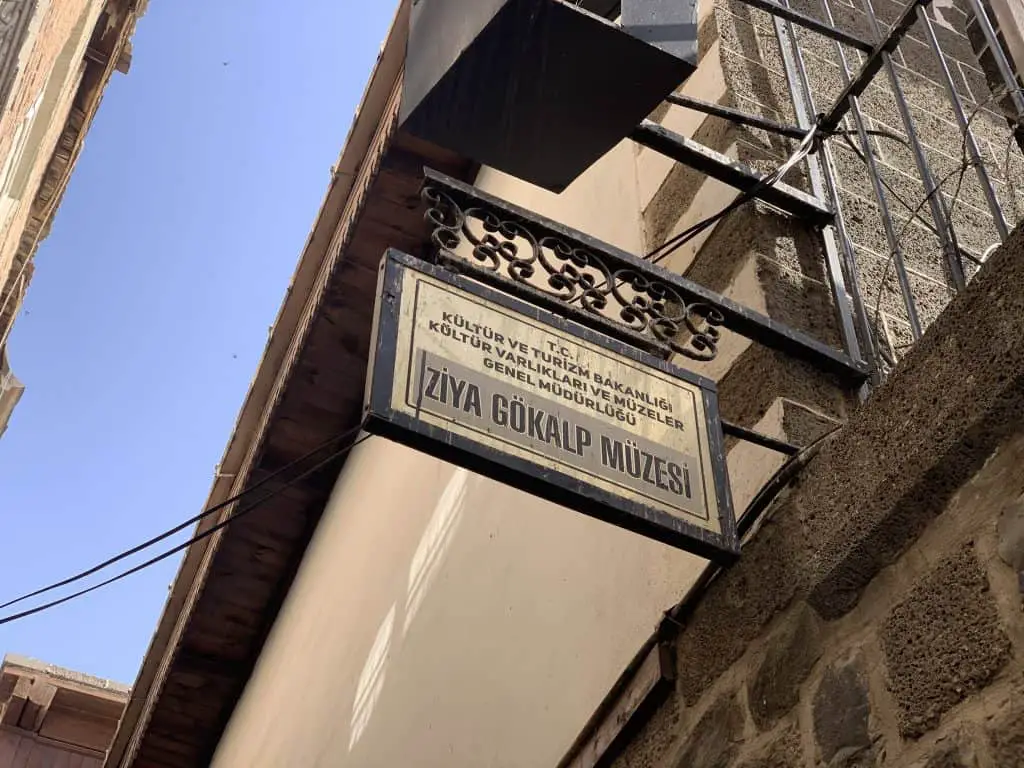 Visit The Virgin Mary Assyrian Church
Built on the original site of a pagan temple, this 3rd century church has been renovated many times through history and still sees active use by the local Syriac community. Check with locals to see if it's open or hire a guide to take you there. 
Picnic at The Ten Eyed Bridge (Ongozlu Kopru, Dicle Bridge)
As you approach Diyarbakir from the south, following the Tigris river, you will spot this magnificent old black basalt bridge. Named because of its ten arches, it is a popular spot for residents of Diyarbakir, especially at weekends.
The bridge is 2.5km from the south of Diyarbakir so its best to grab a cab if you don't have your own transport. At the bridge there are plenty of cafes, restaurants and picnic spots to enjoy and a glorious smell of barbecue fills the air.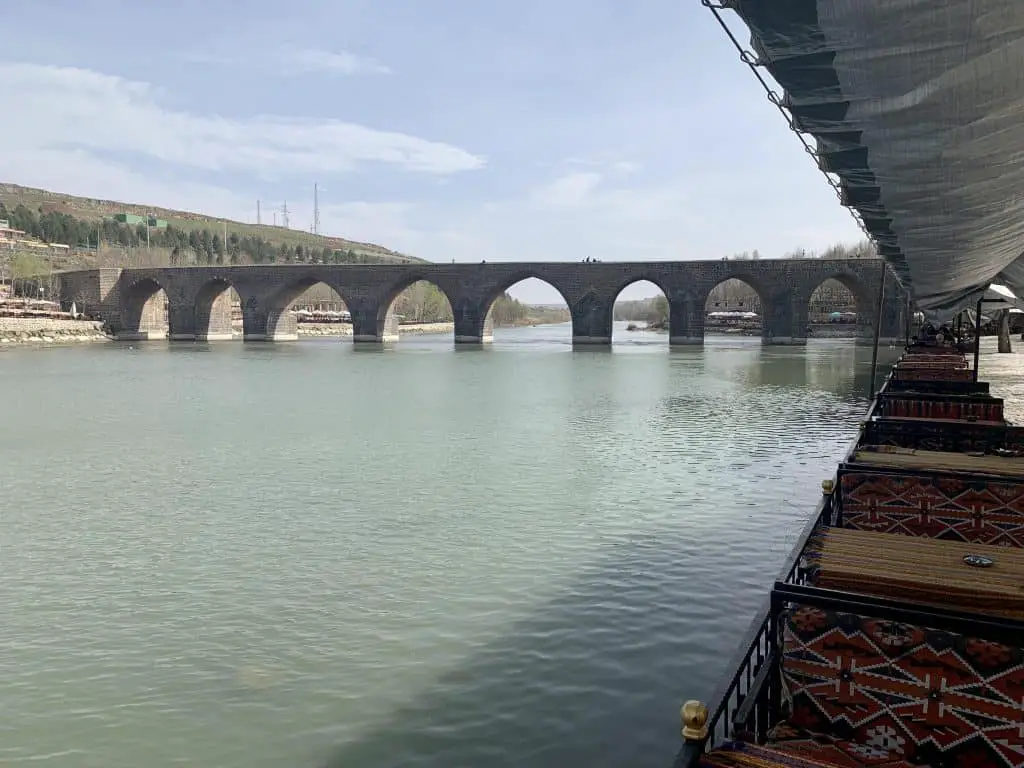 Wander The Hevsel Gardens
The Hevsel Gardens are the fertile green plains that line the Tigris river to the south of Diyarbakir. You can view the gardens by walking along the southern city walls or you can wander amongst the them on various footpaths.
This productive area has been producing fresh food for the city for thousands of years.
Explore Diyarbakir Citadel
This whole area has seen a facelift of late, with excavations of the site searching for its ancient roots still ongoing. Restorations to the citadel, city walls and St Georges church are nearing completion and soon to be reopened, along with a pleasant park surrounding the area. 
In the Citadel, which is to the northeast of the city, you can find the following buildings.
Diyarbakir Archaeology museum
This fine museum sets out to explain the history of Diyarbakir and is the centrepiece of the citadel compound. 
Artuklu palace
Although not much remains of the palace, the mound it occupies is currently closed for excavations in search of remnants of the earliest part of the city's history.
St Georges Church
This well restored ruin dates back to 3rd century. There is a pleasant cafe at the back of the church with a nice view over the city walls and to the river below.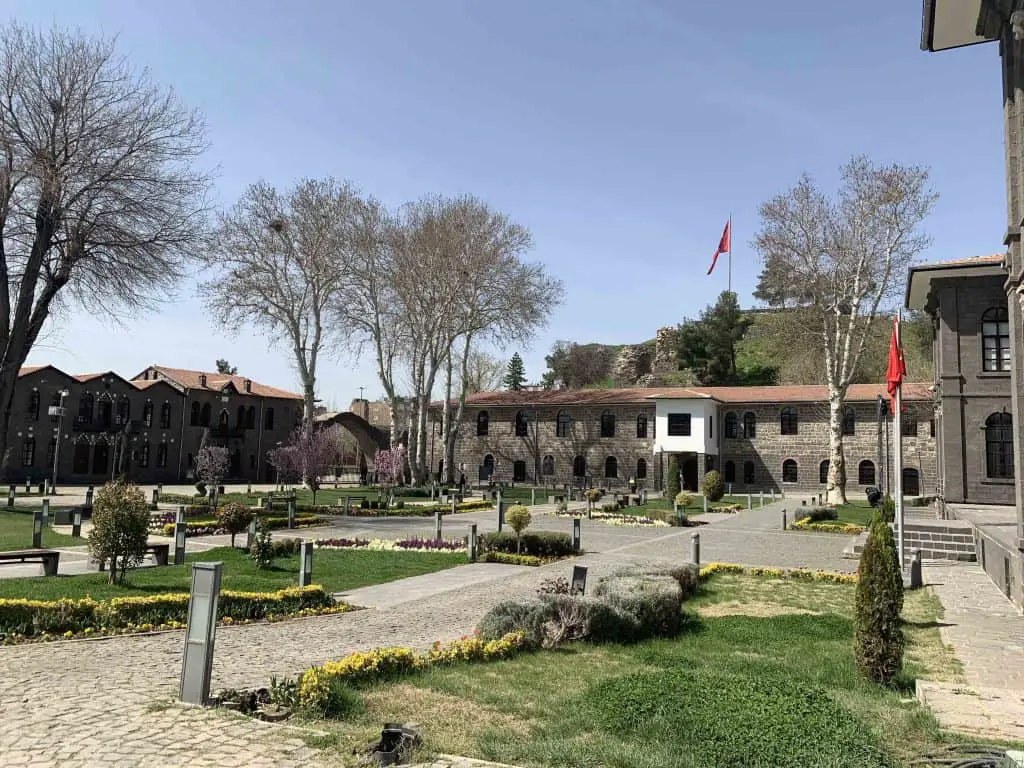 Places to Stay in Diyarbakir
Diyabakir may not be blessed with the range of boutique hotels that you find in Mardin, but there are some nice comfortable options available for very acceptable rates. Since mass tourism hasn't arrived here yet you can get a lot of bang for your buck!
Green Park hotel has a great location right in the heart of the old town. With 5 stars at an acceptable price why not splash out on a combination of comfort and convenience?
New Garden Hotel is a comfortable option in the Yenisehir area of town, just north of the old town. Free parking and breakfast tend to be included in the room rate.
Dies Hotel is another very comfortable modern hotel in the Yenshehir district just outside the city walls.
Hotel Akdag is a budget friendly option. Friendly, conveniently placed and good value for money.
Places to Eat in Diyarbakir
As with most places in Turkey you won't struggle to find delicious food in Dyarbakir. If you want a quick bite there are several vendors offering kebabs on the main street and for restaurants set in marvellously historic buildings, you are simply spoilt for choice. Here are a few options:
Carsi Konagi offers typical Kebabs and grilled fish dishes set in the lovely shaded courtyard of a

 

450 year old house.
Diyarbakir Kahvaltı Evi is another heritage property offering everything from breakfast onwards. Saturday night is usually live music night.
Meşhur Kahvaltıcı is set in the stunning Hasan Pasa hani. Serves up fabulous Turkish breakfast dishes and has tables on the balcony overlooking the square.
Safak Kahvalti and Yemek salonu. Typical Turkish dishes including delicious Pide

 

in a busy restaurant that's always open.

Selim Amcanın Sofra Salonu. Just outside the city walls is famous for Kaburga dolmasi, a sumptuous dish of lamb stuffed with rice and almonds. If you like lamb this is the dish for you!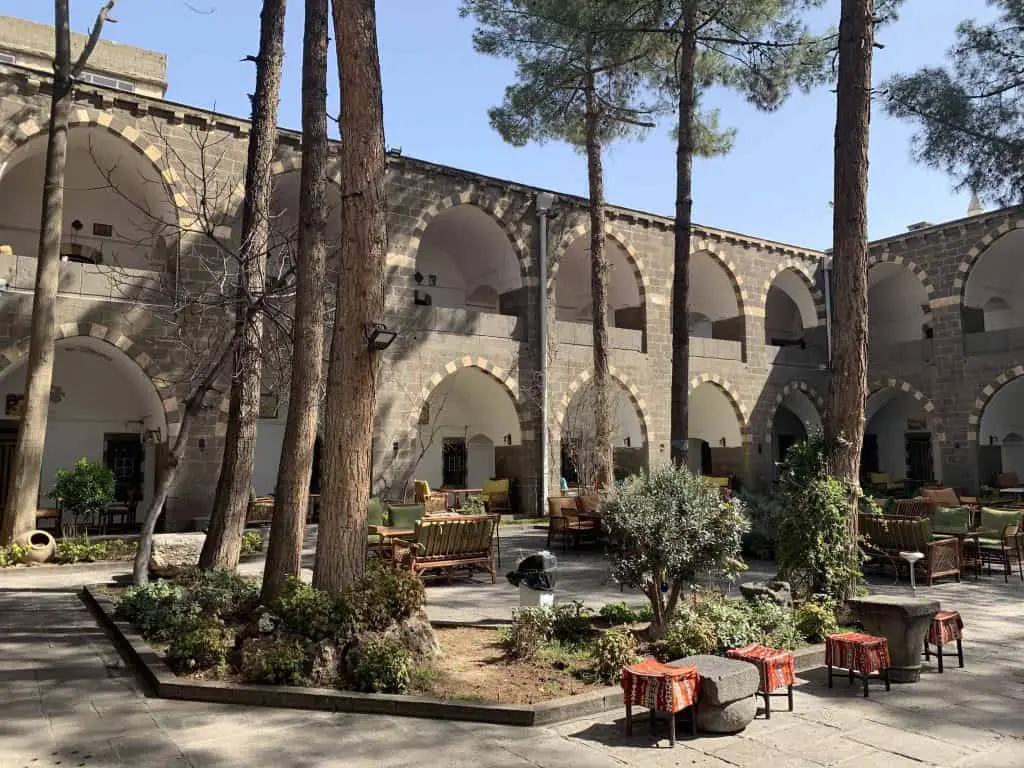 Getting To Diyarbakir 
Flights are available from Istanbul, Ankara and a few other cities in Turkey with a few seasonal flights from cities in Germany. Turkish Airway and Pegasus offer flights to Diyarbakir via Istanbul from most of the wider world. You can check for cheap airline flights on Kiwi.
Intercity busses link Diyarbakir to many cities throughout Turkey, including Istanbul, Ankara, Antalya and Kayseri. This is a cheap and easy way to explore Turkey. Check out Busbud to book your tickets online.
Local Dolmus busses link up all the towns and villages around Diyarbakir so its relatively easy to explore the surrounding area.
Self drive car hire is also a convenient option as cars can be booked for collection at the airport or in the city itself. Car rental in Turkey is relatively cheap and straight forward. Check out car rental prices here and don't miss my guide to driving in Turkey.
Hiring a car with a driver or taxi is the easiest way to explore the areas around Diyarbakir. Day trips to Nemrut Dagi, Hasankeyf and Sanliurfa are all easy to organise through local travel agents or by negotiating a deal directly with the driver.
Around Diyarbakir
Diyarkbakir is also a great place to base yourself for an extended visit to South Eastern Anatolia. Rent a  car, book onto a tour or splash out on your own personal car with a driver to explore the surrounding highlights.
Head west to Sanliurfa to see the oldest temple in the world and wander the wonderfully authentic old bazaar. Take a hike to the famed heads of Nemrut Dagi, then continue onto Gaziantep to see the Gypsy Girl Mosaic and feast on Baklava.
Or head south to experience life in the ancient Silk Road towns of Mardin and Hasankeyf.
Join My Newsletter Today