As a tourist destination, Turkey has a lot to offer with a rich and diverse history, incredible scenery and amazing food. Turkey is also a good choice for travellers on a budget. With meals costing around $5 it's much cheaper than the rest of Europe.
But being such a big and varied country you could be left wondering, what are the best places to see on a Turkey road trip from Istanbul to Cappadocia?
I first travelled through Turkey in 2015 as part of a Silk Road tour. I loved it so much I've been back many times since and live part time near the seaside town of Kas.
So I decided to put together this guide to visiting the best destinations on a Turkey road trip from Istanbul to Cappadocia. At each destination I describe what to see, which activities to try and where to stay.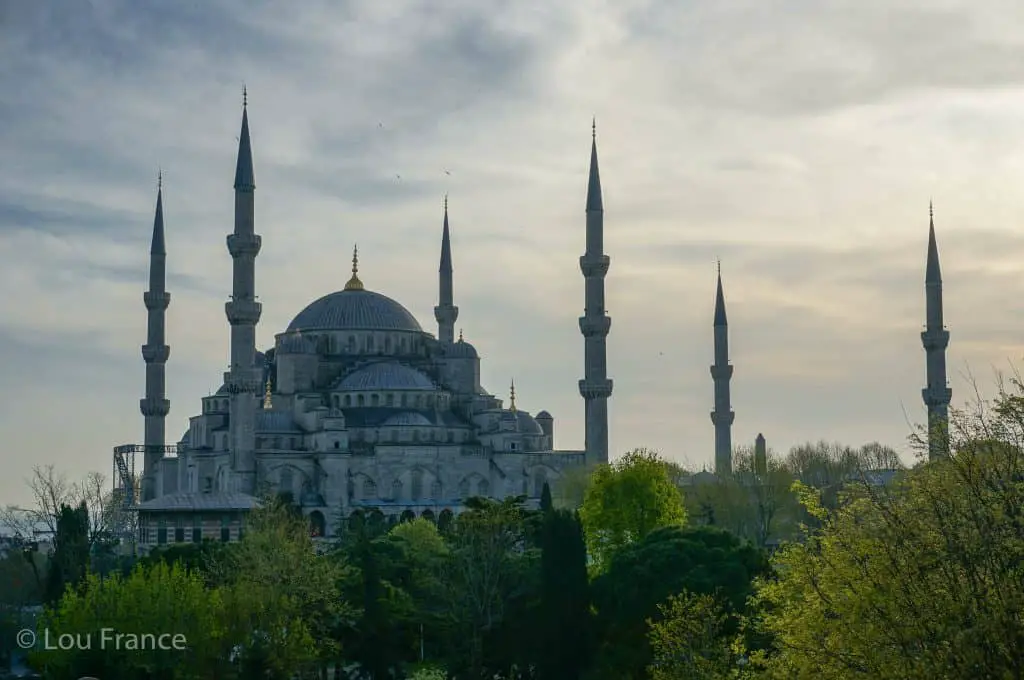 Disclaimer: Some links in this article are affiliate links, which means that if you purchase through them I receive a small commission, at no extra cost to you. This helps cover the cost of running this blog. Thanks for your support!
General Info

on Türkiye (Turkey)
Capital City – Ankara

Currency – Lira

Language – Turkish

Population – 79.8 million

President – Recep Tayyip Erdoğan
Europe or Asia? The Bosphorus marks the edge of Europe so technically Turkey is in both Europe and Asia. However, the majority of the country is in Asia, and to me it feels more Asian than European, so I'm going with Asia!
Why Visit Turkey?
Travelling to a country is made great for me by a few simple things – great people, great food and great sights. Turkey has all of this in abundance. When I first entered Turkey, our overnight stop was Trabzon on the Black Sea Coast.
I'd arranged a place to stay but my phone decided to malfunction and suddenly I didn't have directions to the hotel. Speaking zero Turkish, I stopped to ask a local man for directions.
He didn't speak any English but he was determined to help me so, unbeknownst to me, he called his son. Five minutes later his son, who handily spoke English, joined us and was able to call the hotel on my behalf.
Then he, along with his dad, drove us to a point where the hotel owners had brought mini-buses to collect me and my group. What legends!
My subsequent visits to Turkey are all filled which similar stories of kindness and helpfulness.
In terms of exploration, Turkey has a plethora of historic sites to visit, along with beautiful landscapes to admire along the way. I'll touch on some of them in this post.
And as for the food, well that's a whole other topic, which I cover in more depth in this post.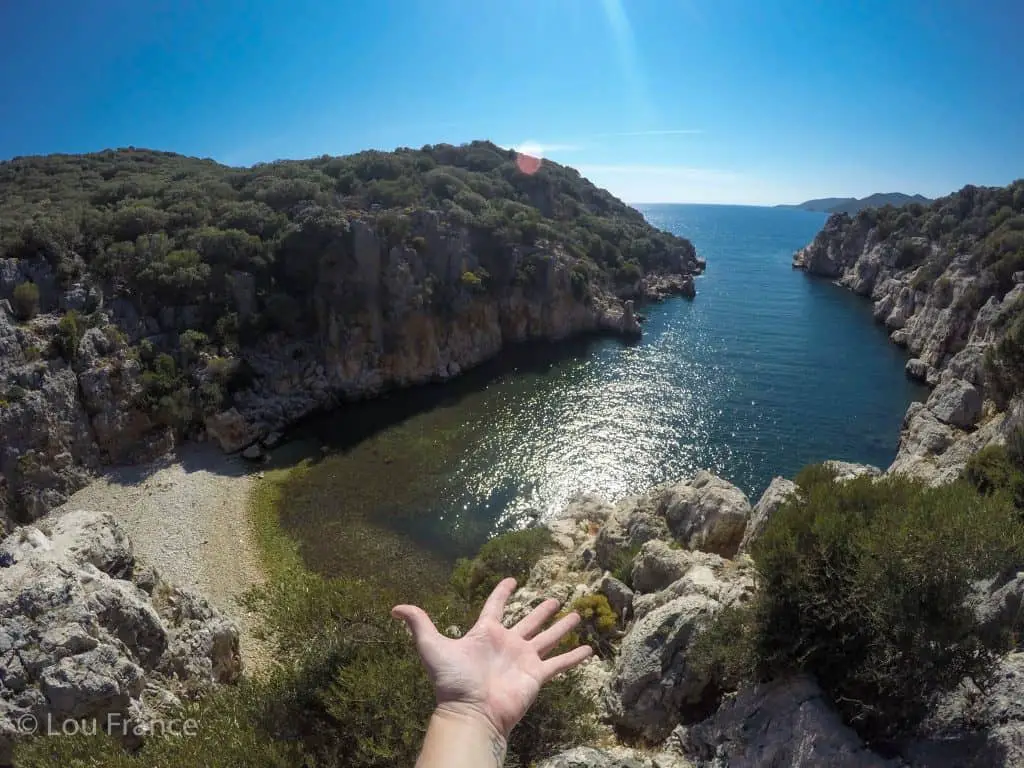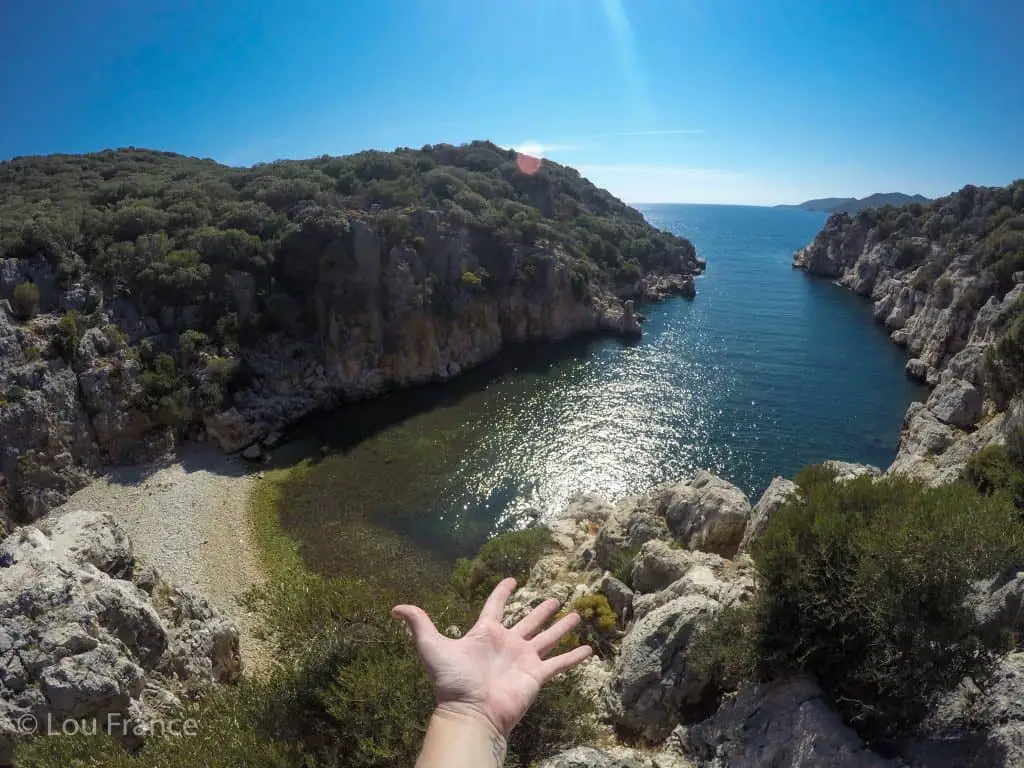 How To Travel From Istanbul To Cappadocia
There are several options to get from bustling Istanbul to the unique landscape of Cappadocia.
1. The fastest option is to take an Istanbul to Cappadocia flight. Flights are offered by Turkish Airlines and Pegasus and fly from Istanbul to Neveshir or Kayseri. These will cost around $50 USD. (Check latest prices here). From these towns one must take a shuttle or bus to Goreme, which is the best base for exploring Cappadocia.
2. Another option is to take an overnight bus. These typically take 10 to 12 hours and are a cheaper option than flying. (Around $20 USD)
3. The third option, and in my opinion the best option, is to embark on an epic Turkey road trip from Istanbul to Cappadocia.
Car rental in Turkey is pretty cheap and very straightforward and I can recommend LocalRent. Whenever I visit Turkey, typically to Dalaman airport, I book the car online and then once I arrive, there is someone from the car rental agency waiting outside the airport to hand me the keys. A few signatures later and I'm on my way.
4. The final way to make this journey overland is to join an overland tour much like the trips I run 🙂
Read on to discover more about the best places to visit in Turkey, on a classic overland route from Istanbul to Cappadocia.
Top Tips for Driving in Turkey
1. In Turkey they drive on the right (In case you're flying in from the UK!)
2. There are several types of roads in Turkey which include:
High speed highways, officially called Otoyol. These are toll roads for which you need a prepaid tag that is displayed in your windscreen. However, this is not required on this route. If you find yourself on one of the roads without a tag, you can pay at the manned barriers or take a ticket at the unmanned barriers. These can be paid later at a post office (PPT) or Zirat Bank.
State roads, which are free dual carriageways but have intersections and traffic lights
Provincial roads which are typically single carriage country roads
3. The speed limits vary according to the type of road but these are well signposted.
4. An international driving license is compulsory for most foreigners so that your license is translated to Turkish.
5. Speed cameras are often fixed to overhead gantries and are commonplace at intersections. Sometimes there are traffic cars parked along the roadside with radars to monitor speed and police checkpoints to ensure you are wearing your seatbelt. Also, you may spot cardboard cutout police cars, complete with flashing lights designed to slow motorists down. These always make me smile 
Turkey Road Trip Map: Istanbul to Cappadocia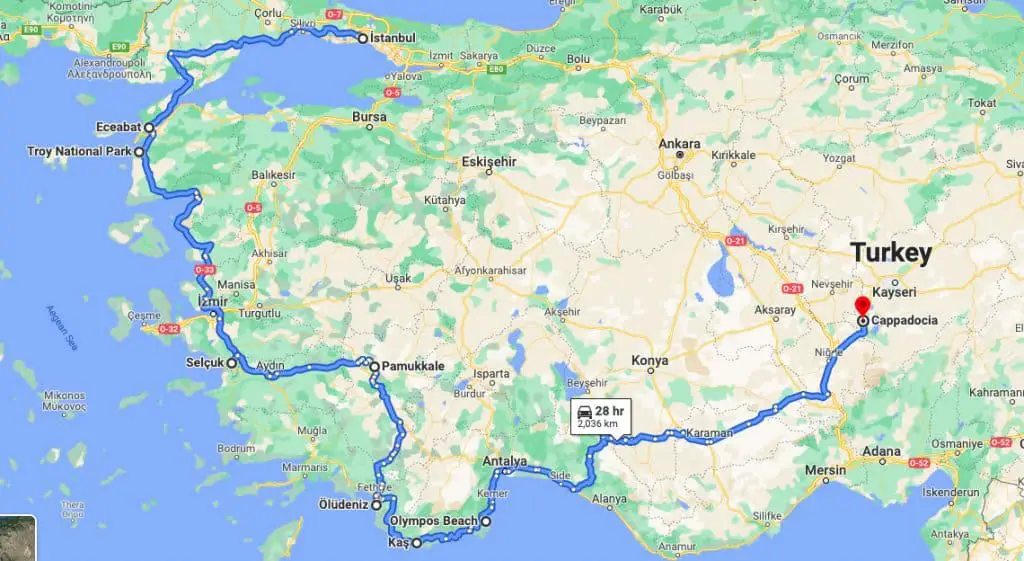 Turkey Road Trip Itinerary
Here's a quick look at the best Turkey road trip itinerary from Istanbul to Goreme. This itinerary will take around two weeks to complete:
Istanbul
Eceabat
Troy
Selcuk
Pamukkale
Oludeniz
Kas
Olympos
Antalya
Cappadocia
1. Istanbul
What can I say about this great Turkish city that hasn't already been said before? The city where East meets West, where empires have reached new heights and where cultures have collided. It truly is a magnificent city.
It's the start and finish of the fabulous Silk Road, so it was quite fitting that my first visit to Istanbul was at the conclusion of a 119 day overland adventure that started at the opposite end of the continent, in Mongolia.
This is a route that I have since completed twice more, so time spent in Istanbul before and after trips has added up over the last few years. It's a city where I have always felt at ease (as far as cities go), although as a solo female traveller in Istanbul it's always best to have your wits about you.
What to do
There is so much on offer in Istanbul and most of it is well documented so there are no surprises, but here are my personal favourite things to do.
They are focused on the Sultanahmet area of Istanbul. I would recommend spending 2 or 3 days in Istanbul to fully explore this fabulous city.
1. Hagia Sofia / Aya Sofya
This incredible building has to be at the top of the list as it's such an iconic landmark. It has had many incarnations initially as a church, then as a mosque and now as a museum. A fabulous building to admire from outside and from within.
Travel Tip: No tripods are allowed in any of the museums in Istanbul.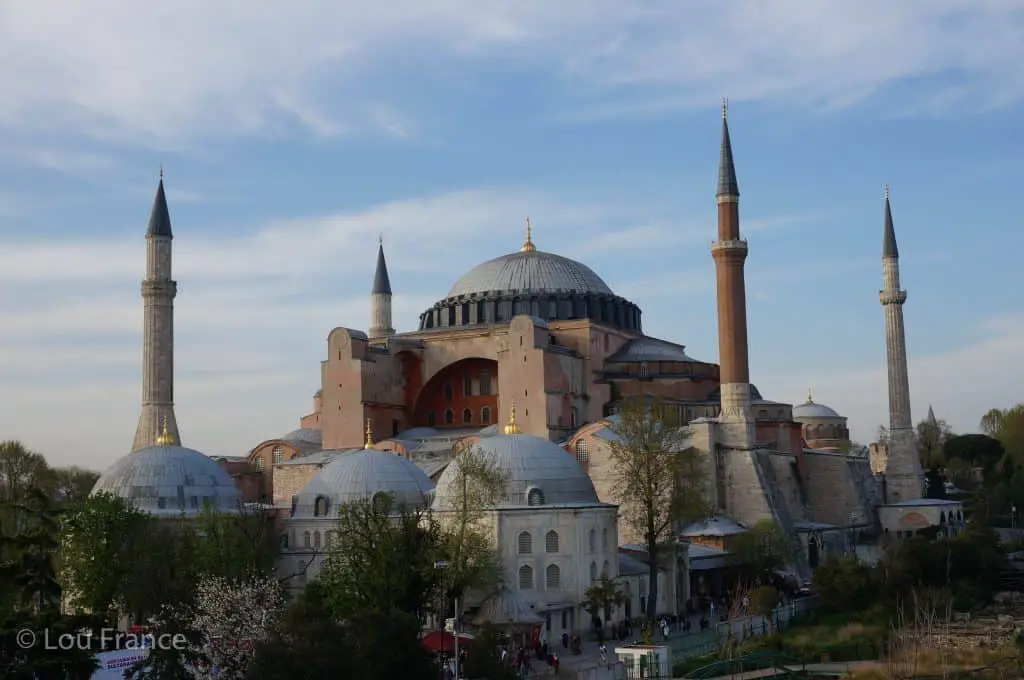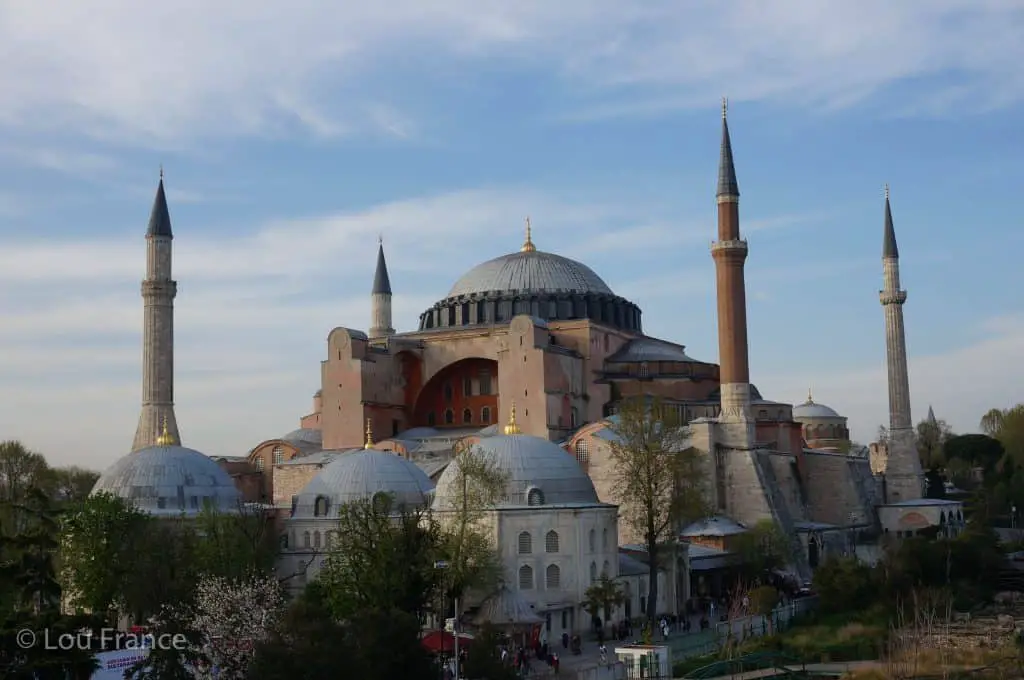 2. Grand Bazaar
You can get lost for hours just wandering the alleyways of the Grand Bazaar. The Grand bazaar is not as authentic as bazaars in Eastern Turkey such as Sanliurfa or Mardin but it gives you a good feel for what once was. Practise your haggling skills as there are certainly some bargains to pick up.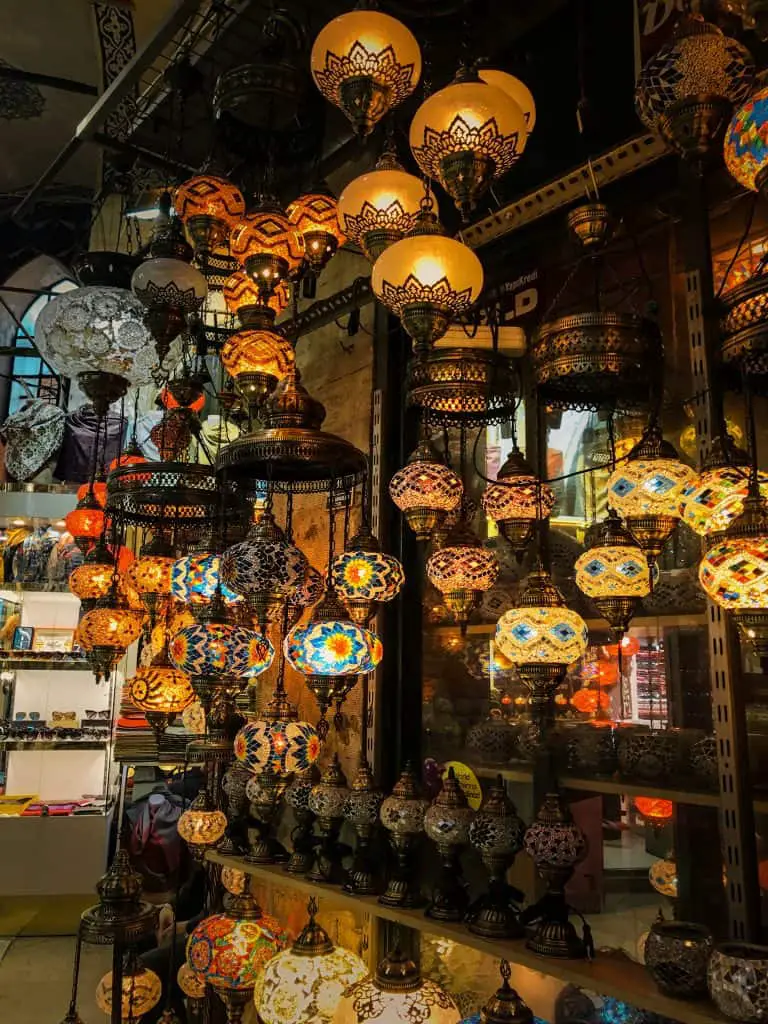 3. Basilica Cistern
More than just a great place to escape the summer heat, the Cistern has 336 columns to admire. It was originally built to store water for the Great Palace and other buildings above, but was left to decay under the Ottomans. Thankfully in the 1980's it was cleaned and renovated for all to enjoy.
4. Sunset on a rooftop in Sultanahmet
There are many rooftop restaurants on which to enjoy a meal and a drink in Sultanahmet. Some offer better views of the Bosphorus and some better views of Hagia Sofia and the Blue Mosque.
The Severn Hills restaurant I think offers great views of both. The best tables get reserved so get in early if you want prime position!
Top Istanbul Tours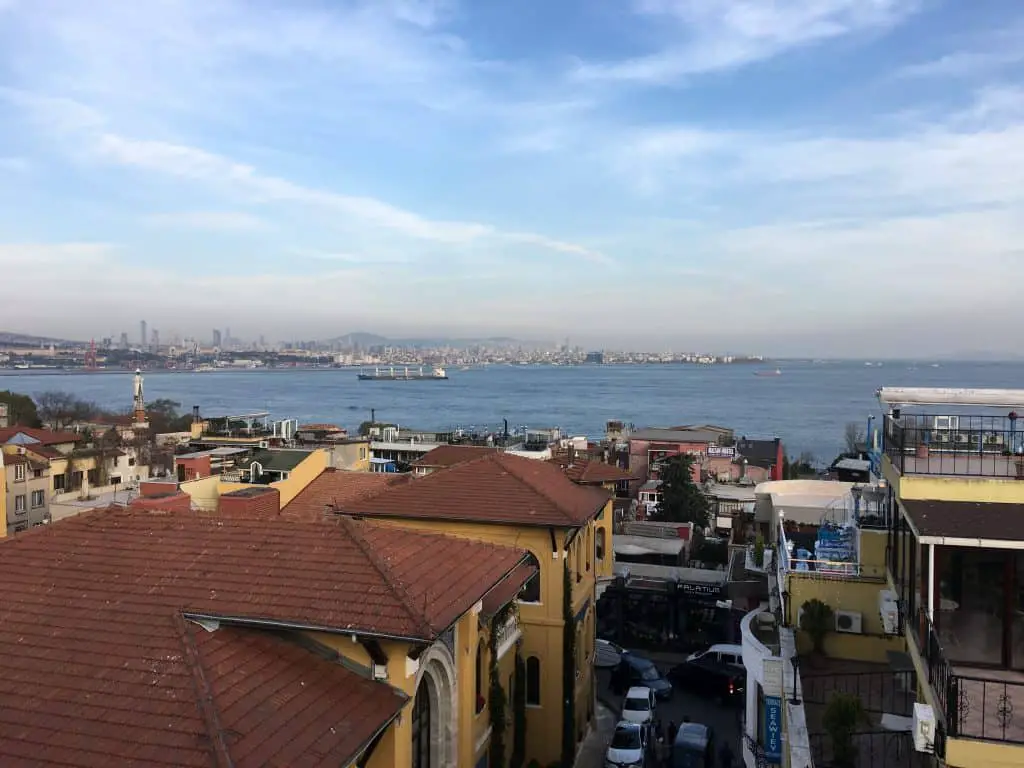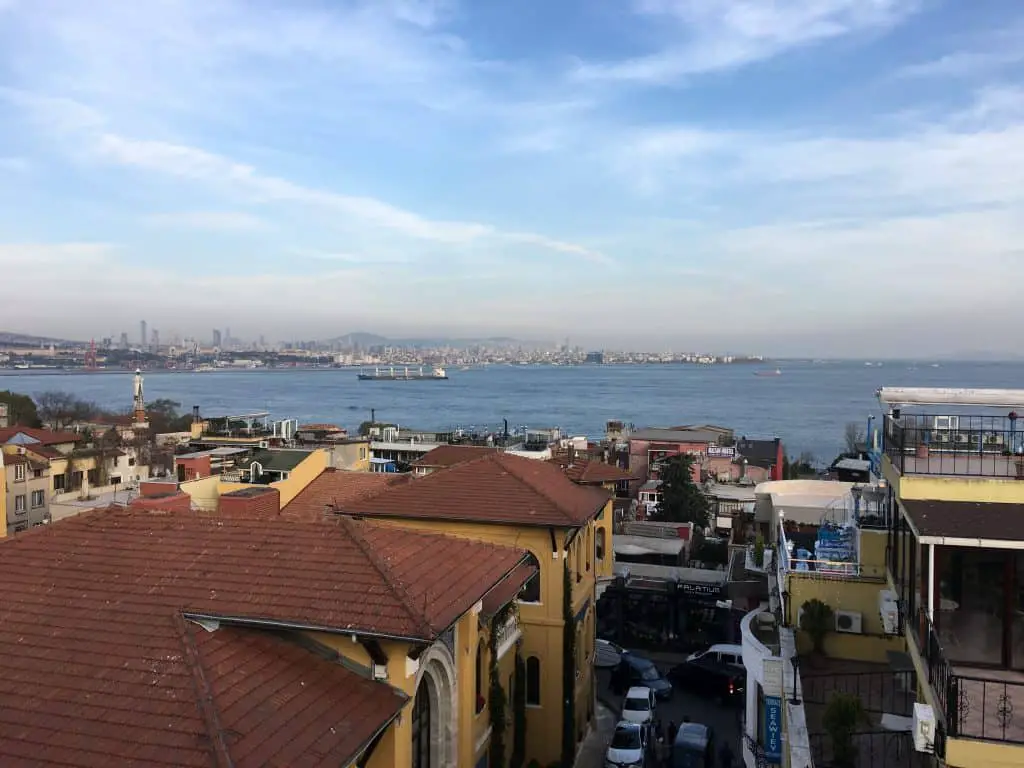 Where to stay
On our last visit we stayed at the Antique Hostel. We got a private room for under 30 euros a night which I think is a pretty good deal for a capital city! The hostel has a great terrace for enjoying views of the Bosphorus and is in a perfect central location in Sultanahmet.
For something more luxurious try the White House Hotel. The rooms are exceptional and the terrace views overlooking Sultanahmet are amazing.
2. Eceabat – 340km, 5 hours
The first stop on this Turkey road trip is at Eceabat, which is a town located on the Gallipoli Peninsula at the edge of the Dardanelles. It is the closest town for a visit to the Gallipoli battlefields and memorials.
Gallipoli is now a beautiful pine forest but in 1915 it was the site of a horrible battle where thousands of brave men lost their lives.
During the First World War the Allied forces attempted a land invasion on the Gallipoli peninsula in order to secure safe passage through the Dardanelles straits. With safe passage they could sail up the Strait and capture Constantinople (Istanbul).
The mission was a massive failure, resulting in huge losses for both the Allies and the Turks.
What to do
Do a tour of Gallipoli and discover some of the horrors of trench life during WWI. If you can plan your visit in line with ANZAC Day, you will be able to attend the moving memorials that take place at the cemeteries. I recommend booking a tour with TJ Tours (see below).
After a day spent learning about  Gallipoli, head to Boomerang bar for a BBQ next to the beach. If you're feeling brave try some Raki with the owner.
Where to stay
TJ's Hotel is a good little hotel run by a great guy called, you guessed it, TJ! TJ is also a tour guide for Gallipoli so if you stay with him he can arrange your tour for the site. Also, if one of your relatives was involved in the landing, you can e-mail TJ in advance and he'll do some research on them for you.
Alternatively you can book a Gallipoli day tour from Istanbul here.
The new 1915 Canakkale Bridge which crosses the Dardanelles is now complete (March 2022). This is the longest suspension bridge in the world and is quite impressive to drive over. If you have no interest in visiting Gallipoli you could bypass the peninsula and head directly to Troy.
3. Troy – 37km, 1 hour plus a ferry to cross the Dardanelles
You must know the story of the Trojan wooden horse right? Perhaps seen the movie with Brad Pitt as Achilles? Well, a short distance from Eçeabat across the Dardanelles, you can find the famous site where the Trojan Wars took place.
To cross the Dardanelles to Canakkale you need to catch the ferry. These leave regularly throughout the day.
What to do
Take a tour of the 3000bc archaeological site and a have a compulsory selfie with the wooden horse!
Pro tip: The horse that was used in the 2004 movie Troy with Brad Pitt, is now on display in the city centre of Çanakkale. The horse at the site is just a replica 🙂
A new museum was opened in 2018 to celebrate the year of Troy. The museum is on the left just before you enter the main car park. It wasn't open when we were there but I've heard good things. This tour of Troy from Çanakkale includes a tour of the new museum.
Opposite the museum is a restaurant where you can enjoy some çay and a bite to eat. The owner, Mustafa Askin, is probably the best guide you can get for Troy. He knows so much about Troy he even wrote a book about it! 
Haggle for a good price as he will make the site come alive for you. Without a guide the site won't mean much as it's very much in ruins. At the very least, get the audio guide available to purchase at the entrance windows.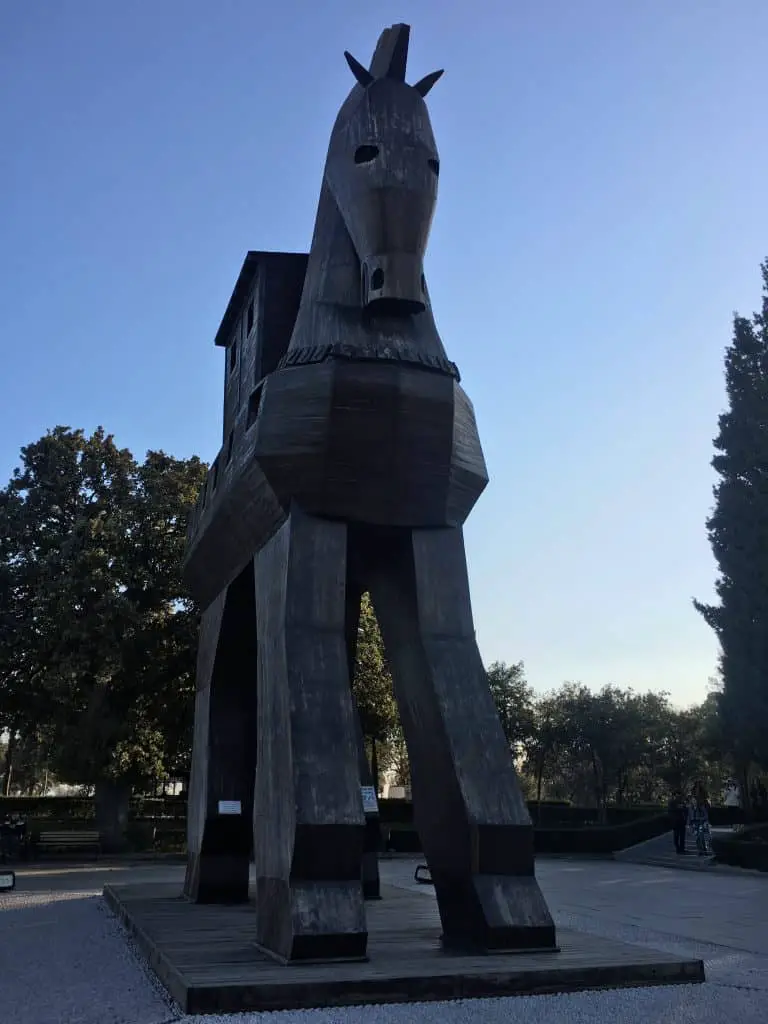 Where to Stay
On our last visit we opted to camp on the coast just 11km from the site near Yeniköy. There is a basic campsite right next to the beach so you can sit back and imagine a fleet of a thousand ships sailing by to make their attack on Troy.
Assos / Behramkale – if you would prefer not to camp you could drive south, a further 64km from Troy, to the pretty pre-Roman port of Assos. Assos Hotel has fairly cheap rooms and is located right on the water's edge.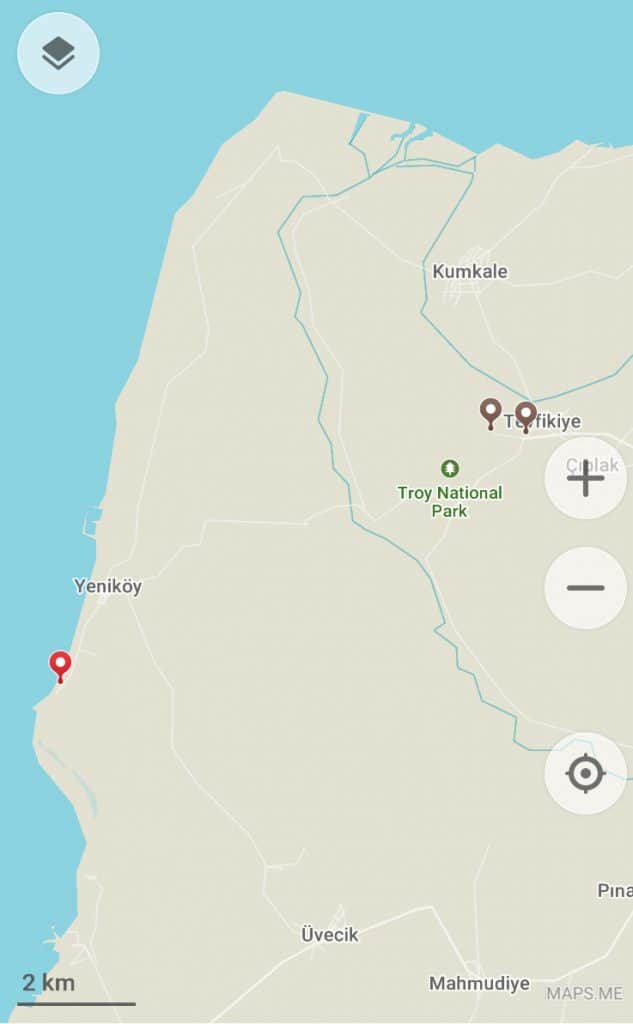 4. Selçuk – 369km, 5 hours
The next stop on this Turkish road trip is at Selçuk, a small but bustling town known as the gateway to the mighty Ephesus. The town itself has lots of places to explore such as Saint John's Basilica, the Temple of Artemis and the cemetery of the Severn Sleepers.
Alternatively, if you happen to be in Selçuk on Saturday, you can experience the local farmers market and get a glimpse of rural Turkish life.
What to do
1.
Ephesus
The ancient city of Ephesus was the 4th largest city in the eastern Roman Empire and is an absolute must visit on your trip to Turkey. You will need at least half a day here and I recommend arriving early to avoid the heat and big tour groups.
As one of Turkey's best ancient ruins, even those not interested in history won't fail to be impressed by the Grand Theatre and Library of Celsus.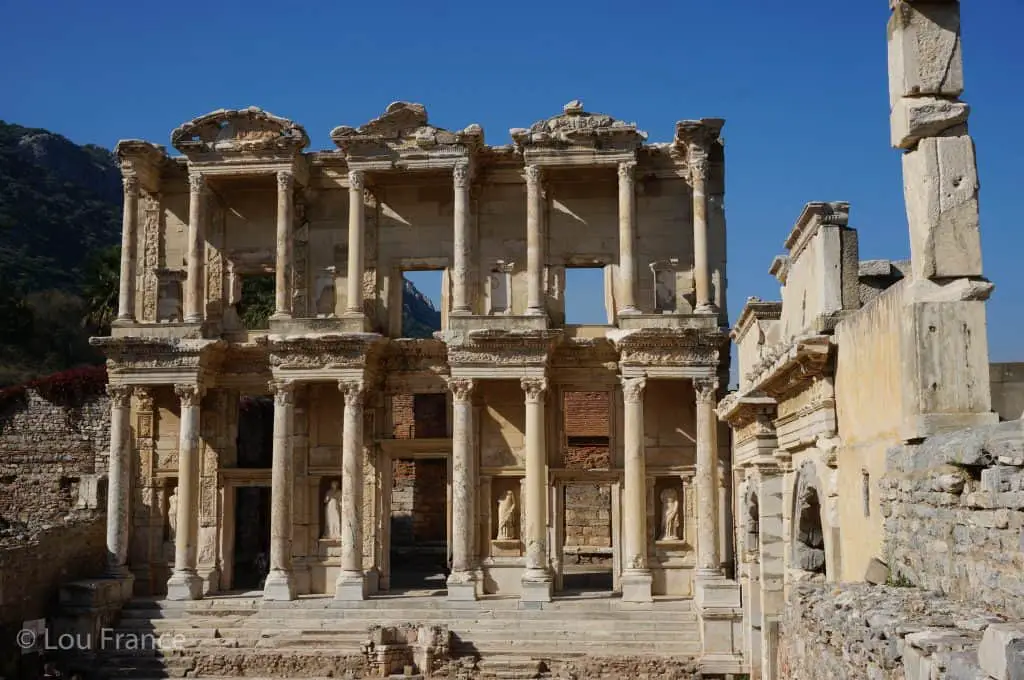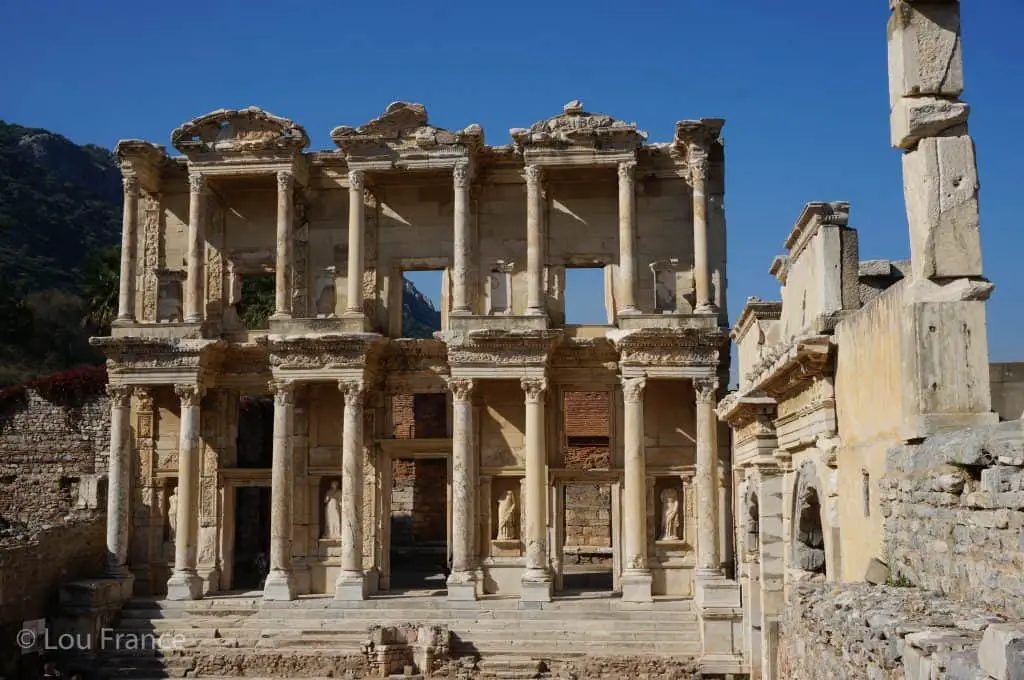 If you're enjoying this content this consider giving me a follow on social media
2.
Şirince
A short drive up into the mountains from Selçuk will bring you to Şirince village which is a real hidden gem in Turkey. The village was was previously inhabited by Greeks and their influence is still clear to see, however Şirince is most famous for it's fruit wine.
I'll be honest, the fruit wine isn't really to my taste but it is still fun to try as you wander around the cobbled stone alleyways.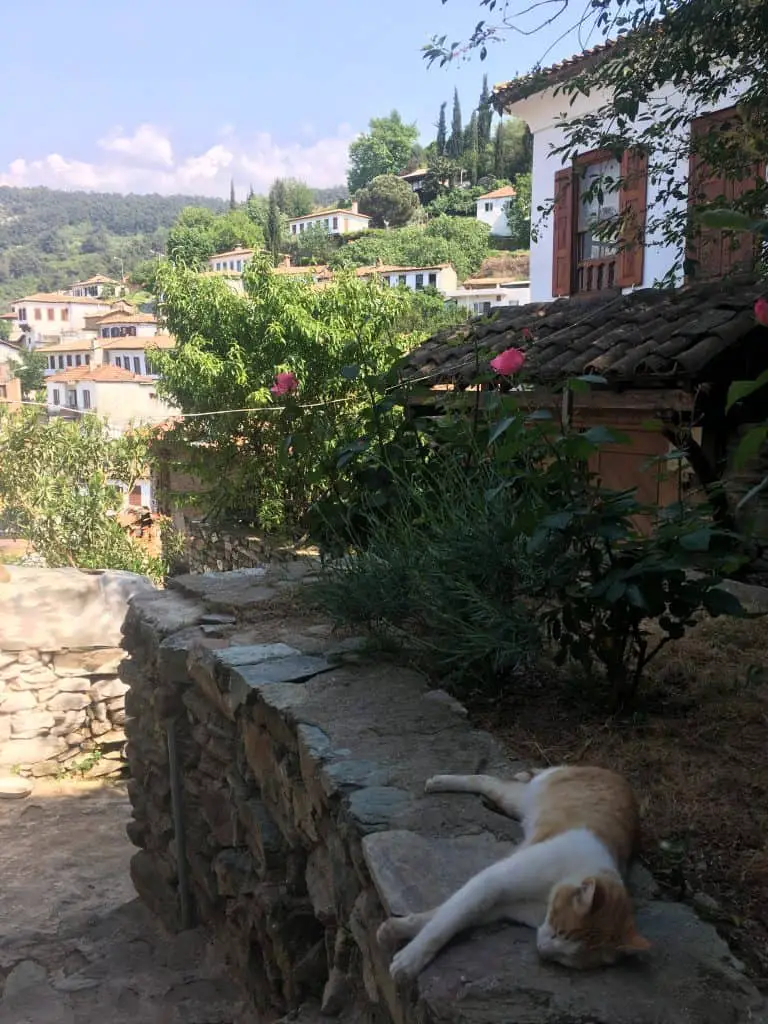 Where to stay
Atilla's getaway – Love, love, love this place! Atilla's Getaway has always been a stop on the classic Turkish overland route from Istanbul to Cappadocia, predominantly as a camping spot.
Now luxurious rooms have been added, so along with an outdoor pool, bar, terrace and pool table, it's the perfect place to spend a night or two after a day of exploring. Atilla also cooks amazing food if you want an easy evening meal.
If you'd prefer to be based in the town itself, try the Celsus Boutique Hotel. This gorgeous hotel boasts an indoor and outdoor pool and is conveniently located near the main town attractions.
5. Pamukkale – 191km, 3 hours
Travelling further along on our Turkey road trip we now head inland towards Pamukkale, which is a two for the price of one kind of site. Pamukkale consists of travertine terraces filled with pools of water, as well as the ruins of a Greek-Roman city.
The white terraces have formed from calcium carbonate that has slowly been deposited by the flowing water of multiple hot springs. When the Roman's happened upon the area they discovered the hot springs were a great place to rest their weary bones and promptly decided to build a city at the top!
What to do
Enter the site from the bottom and walk up through the terraces. No shoes are allowed on the travertines themselves in order to prevent erosion, so take a bag to carry them in. Once at the top you can then explore the ruined city of Hierapolis which is famed for its colonnaded street, intact theatre and numerous sarcophagi.
If you're happy to pay a little extra you can then bathe in the ancient pool at the top of the terraces (Cleopatra's Pool), much like the Romans would've done. You can spend most of the day exploring this sight and as always, arrive early in the morning to beat the crowds.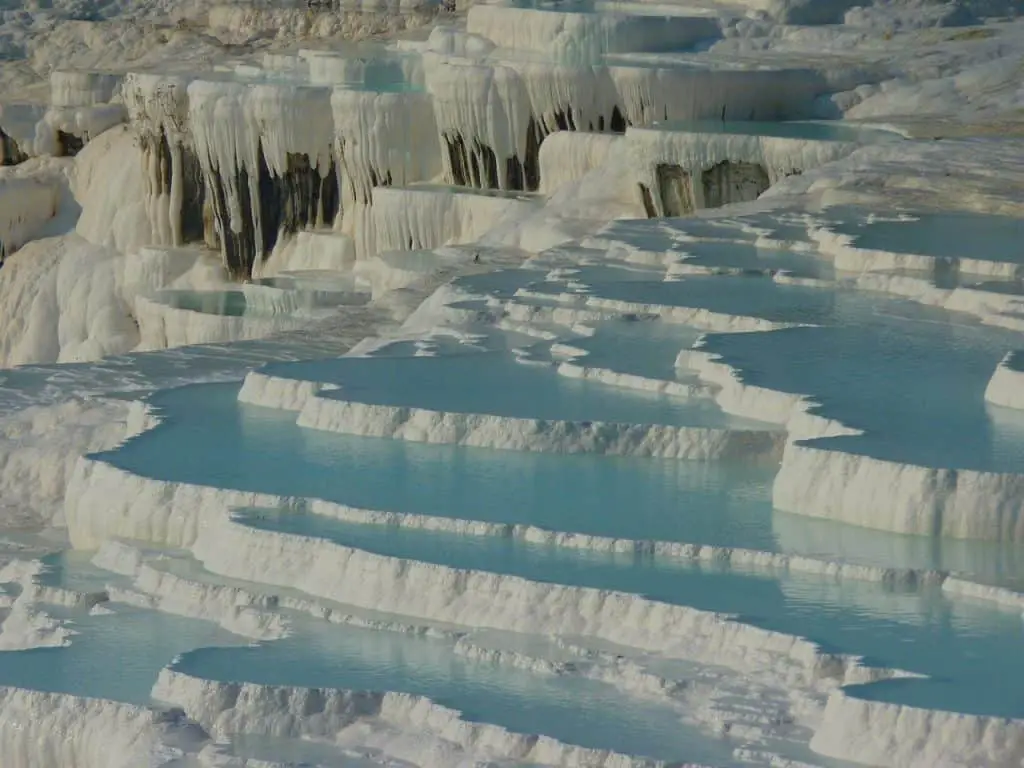 Where to stay
There are numerous places to stay in Pamukkale. For a budget option but try Baydil campsite located right at the bottom of the terraces. The campsite comes complete with its own waterpark which is open in the summer months.
For a hotel with the best views over the terraces try Hotel Sahin. It has an outdoor pool and some rooms have private balconies overlooking Pammukale. Don't miss the traditional Turkish breakfast on the roof terrace before you start you day.
The Natural Park just across the road can provide some nice reflection photos of the terraces, especially at sunset.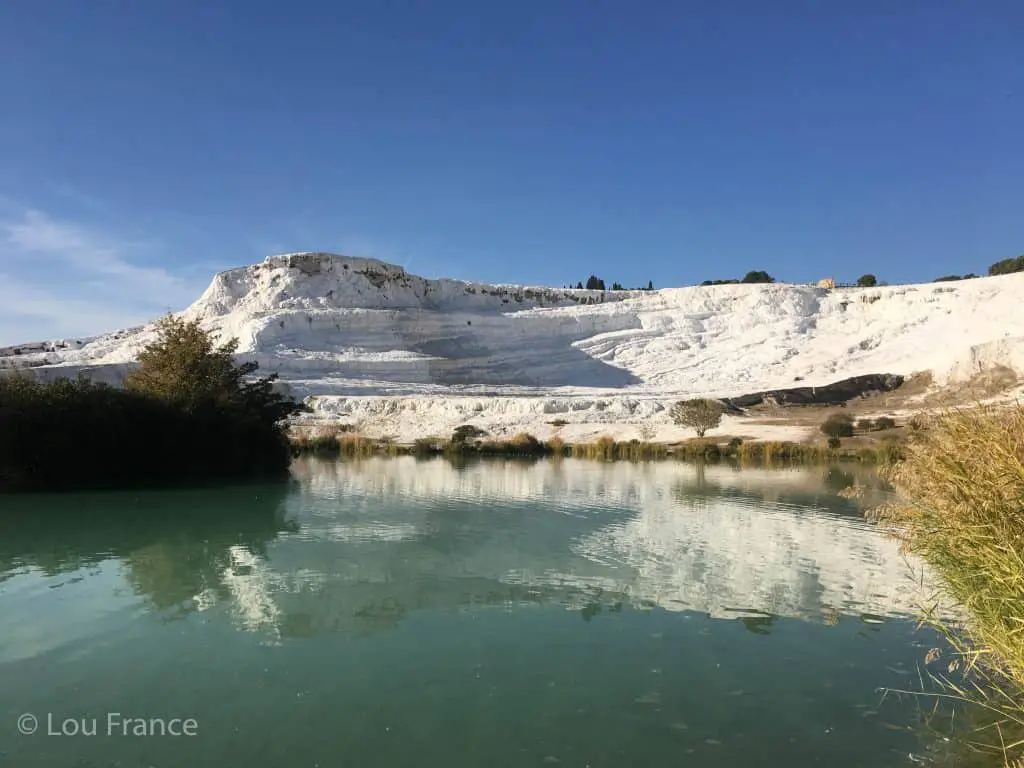 6. Ölüdeniz – 206km, 3 hours
Ok I'll hold my hands up and say Ölüdeniz wouldn't normally be the kind of place I would visit as it's more of a beach vacation town. However, if travelling on this route from Pamukkale to Kaş, it makes sense to stop here and use it as a base for lots of other activities.
What to do
For a complete list of all the things to do in Ölüdeniz, see this post. However, some of the best things to do in Ölüdeniz include the following.
1.
Paraglide over the Blue Lagoon
This is probably the most famous activity in Ölüdeniz and no doubt offers the best view of the Blue Lagoon. There are various outfitters that offer paragliding tours which you can book online here.
2.
Get wet in Saklikent Gorge
Saklikent Gorge is one of the deepest gorges in the world and is a great place to cool off in the hot summer months. Upon entering the gorge the water is quite shallow and the gorge is quite wide but the more you venture in, the more narrow it becomes.
River shoes are highly recommended along with a waterproof camera, just in case. For an extra cost you can try some river tubing for 30 minutes along the gentle rapids. There are also plenty of restaurants at the entrance to feed your hunger!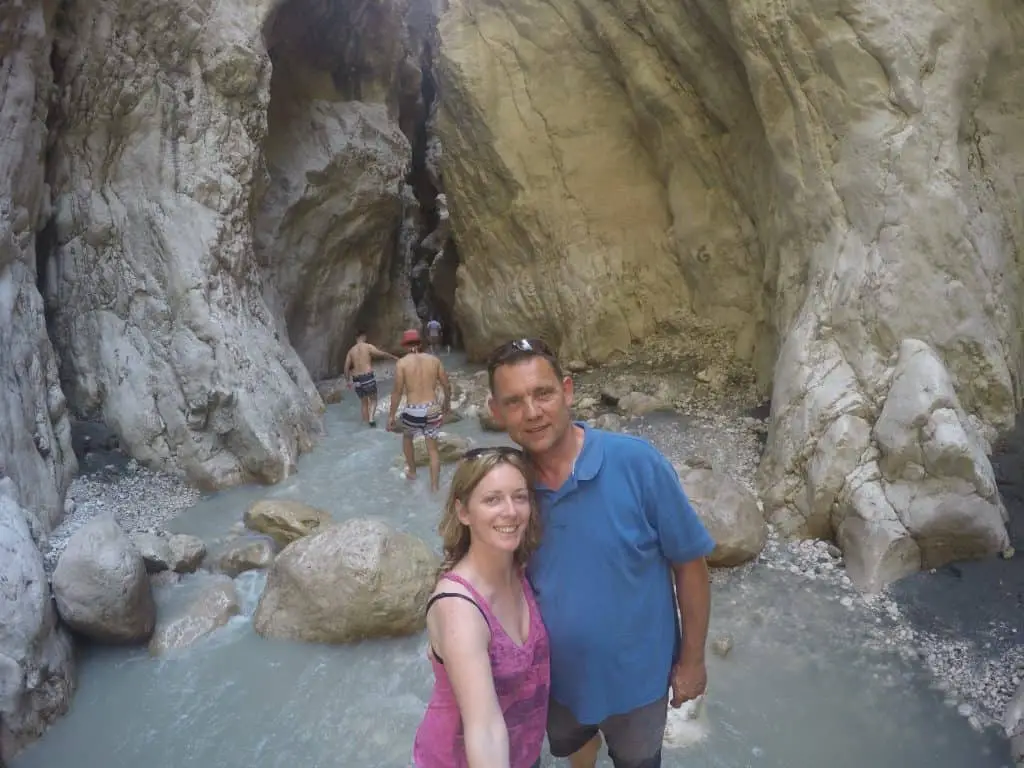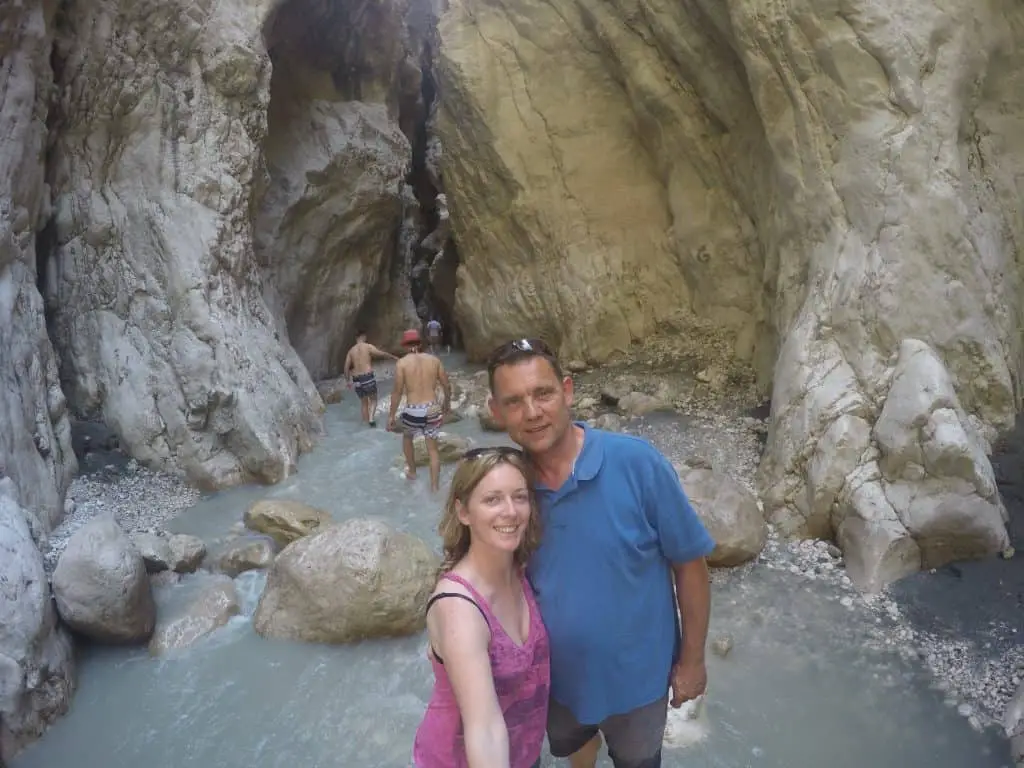 3. Visit the ruined Greek town of Kayaköy
This is a huge Ghost Town just a short drive away from Ölüdeniz. It was once a bustling town comprised of Greeks and Turks living happily alongside each other.
However, after the rise of the Turkish National Movement, minorities like the Greek Orthodox were forced to flee or face persecution. What remains, is a museum village consisting of hundreds of abandoned Greek style houses which are free to roam around.
Click here to see a short video of visiting Kayaköy.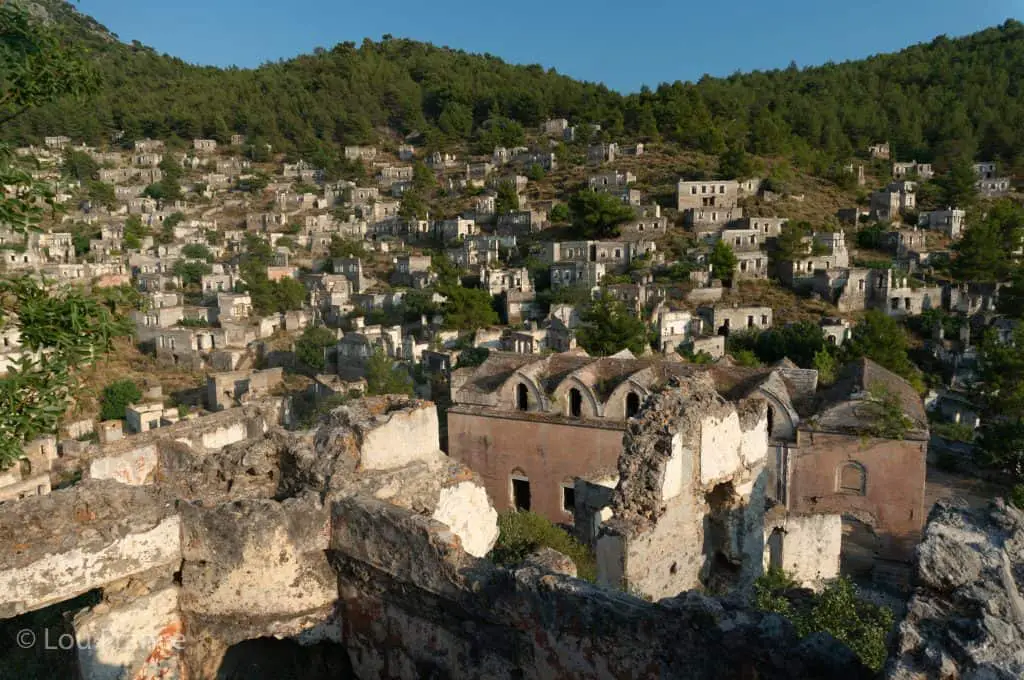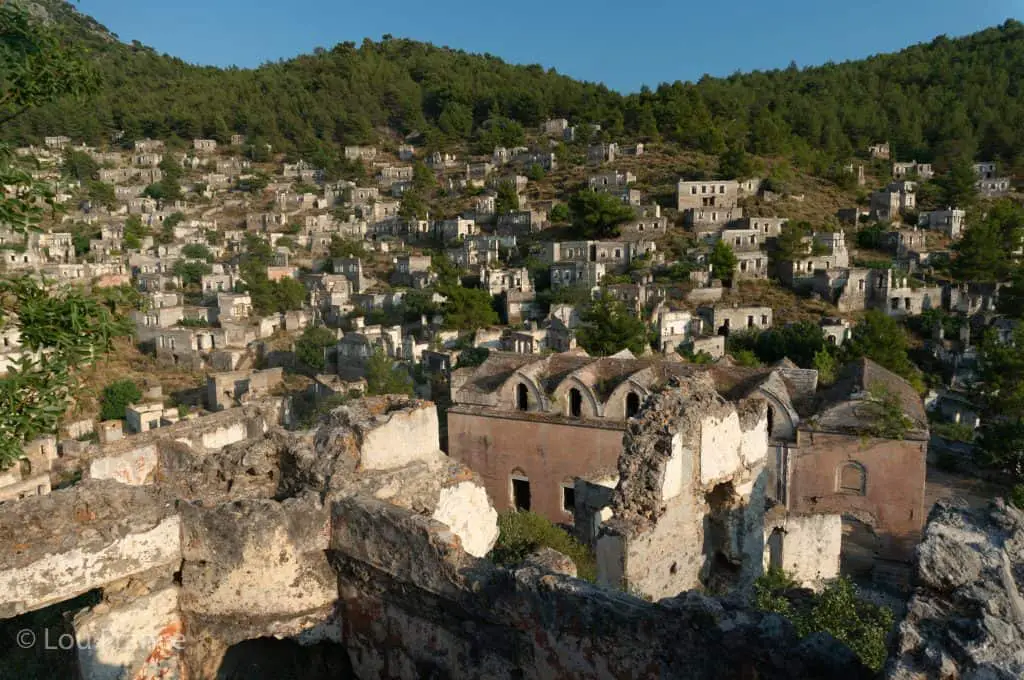 4.
Hike the start of the Lycian way
The Lycian Way is a long distance trail that runs for 540km along the Turkish coast from Fetiye to Antalya. The start of the trail is on the mountain just above Ölüdeniz. Taxi drivers in town will be more than happy to take you to the start and wait for your return.
By hiking just a few kilometres you can get a feel of what the trail has to offer. It also provides the best views of Ölüdeniz beach and the blue lagoon (aside from paragliding!)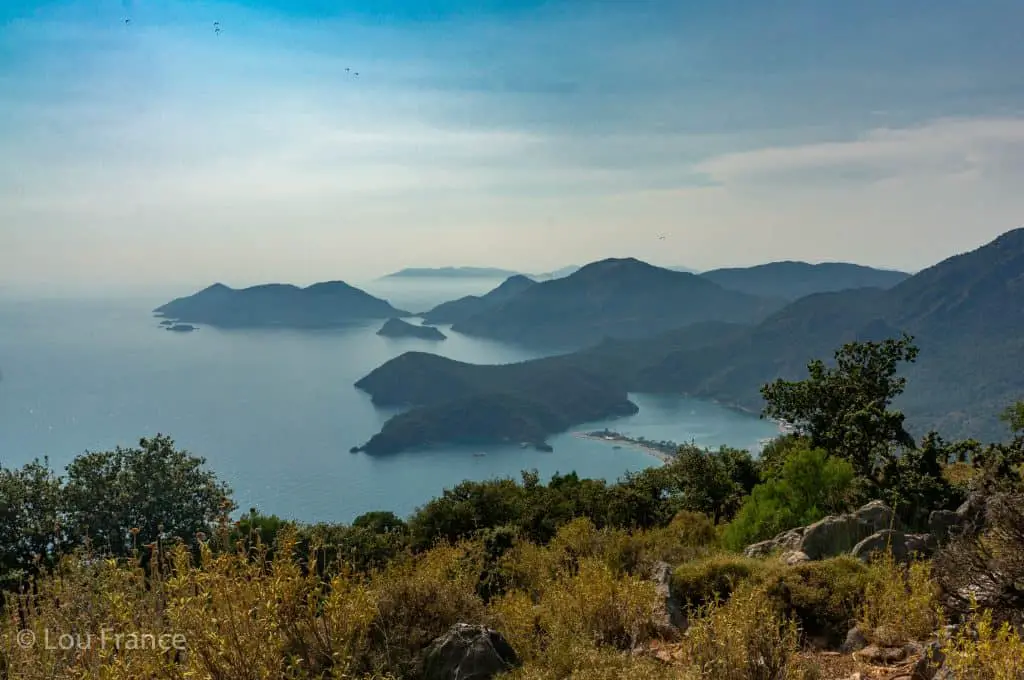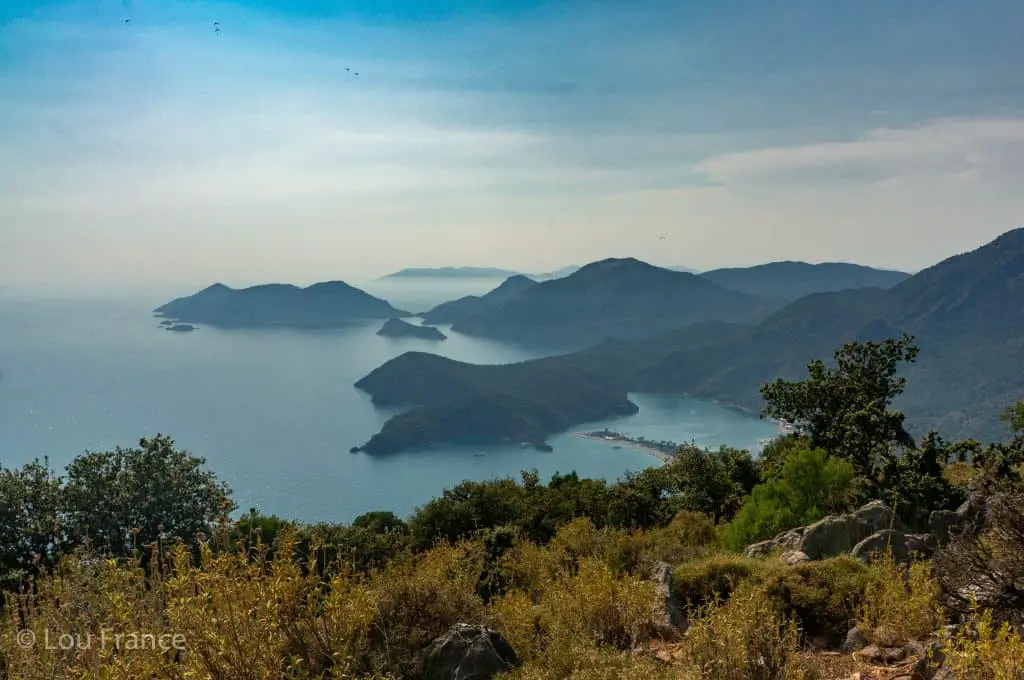 5.
Take a boat trip to Butterfly valley
The beautiful bay of Butterfly valley can only be accessed by boat. There are many vendors in Ölüdeniz that offer full day tours to Butterfly valley. If you're not keen on a boat trip you can drive to a view point high upon the cliffs above, just 10 minutes from Ölüdeniz or you could even hike down into the valley if you're brave enough!
For a complete guide to visiting Butterfly Valley, take a look at this post!
6.
Explore Patara
Patara is another two for one kind of place, in that you have a beach and a Lycian/Roman ruin in close proximity to one another. Patara was an important Lycian city and was one of the "Big 6".
Patara's importance is demonstrated by the presence of a parliament building. A place where members of the elected Lycian League met to discuss state affairs.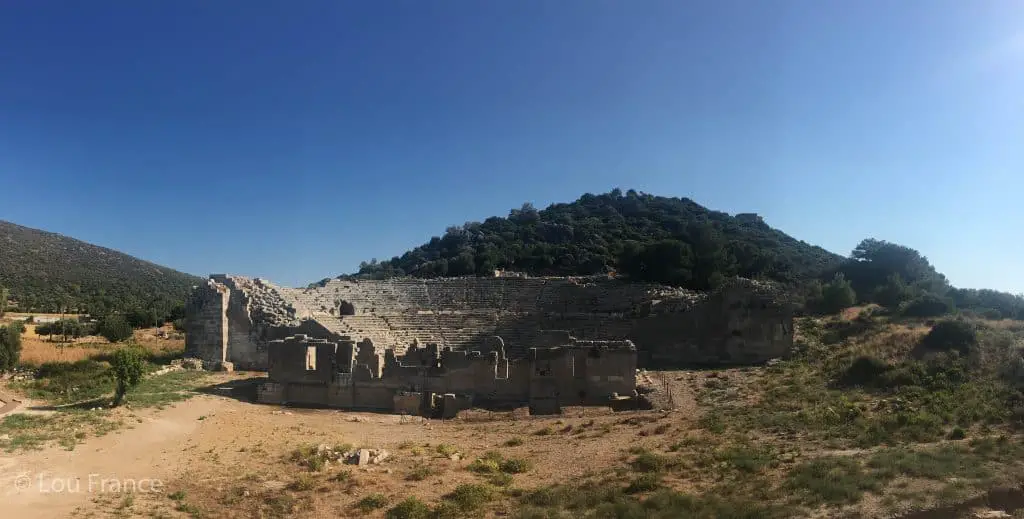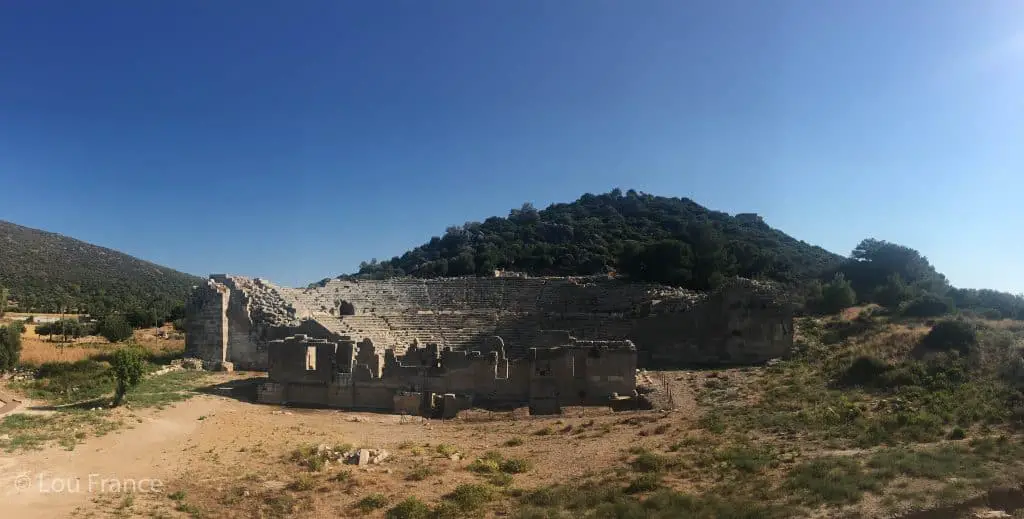 7. Visit Xanthos
Xanthos was another important city in Lycia and was the capital city of the Lycian Federation. As well as the Harpy and pilar tombs, the amphitheatre and the Roman-Byzantine street, Xanthos also contains the Xanthian Obelisk. This pilar is covered with the longest Lycian inscription known to exist, a language which we still haven't fully decoded.
This day tour includes visits to Xanthos, Saklikent Canyon and Patara Beach.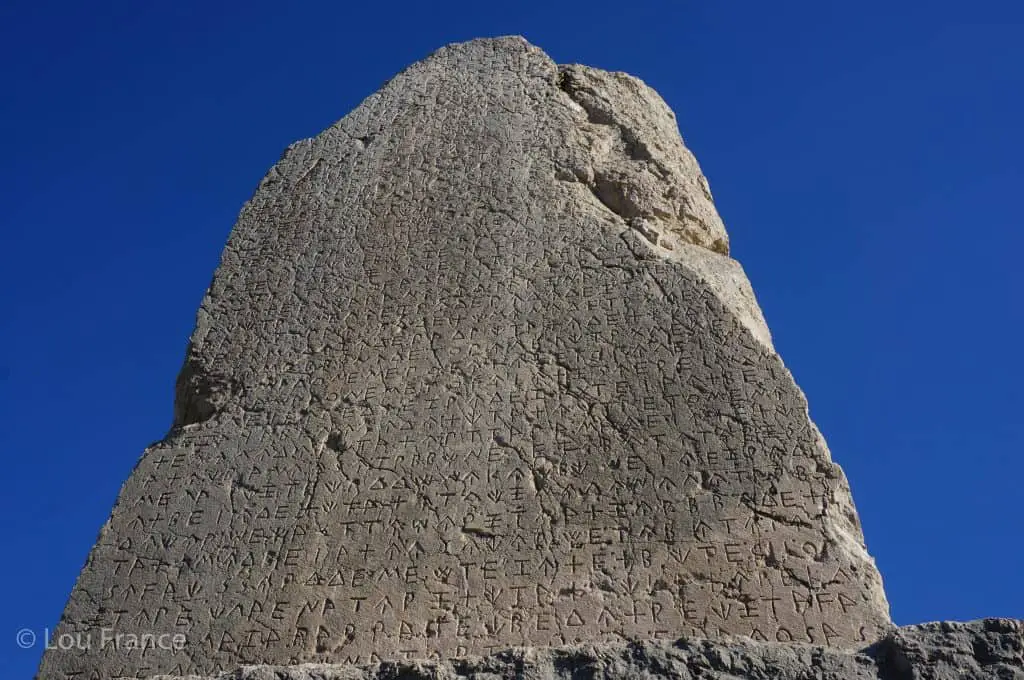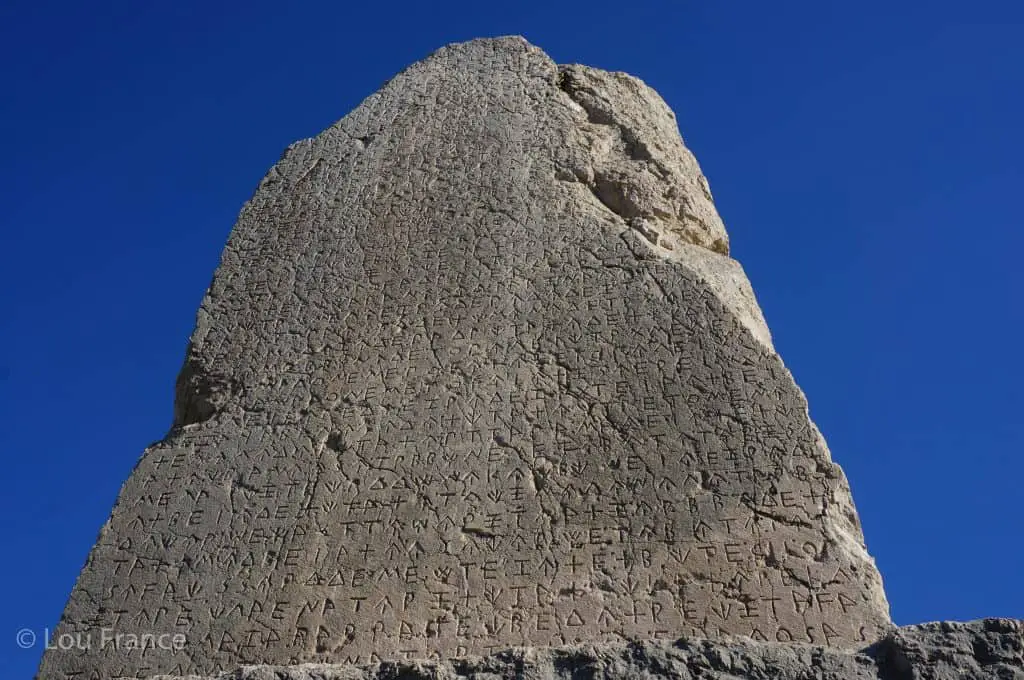 Where to stay
If you want to splash out on an all-inclusive resort with multiple pools, located right on the seafront, try Liberty Lykia. For a hotel situated in the famous Blue Lagoon try Sugar Beach Club or for a gorgeous apartment in the heart of Oludeniz try the Salonika Suites.
7. Kas – 131km, 2 hours
Ah I love Kas (Kaş). It has a special little place in my heart and is my most visited place in Turkey. This seaside town is quieter than other resorts like Fethiye, Ölüdeniz or Antalya as it's a little further away from either Dalaman or Antalya airports.
Time spent in Kaş can be as busy or as relaxed as you would like it to be, since it has a variety of beaches and activities to suit. Top activities include wandering the pretty cobble streets and shopping at the local boutique stores, scuba diving, visiting the ancient amphitheatre and relaxing on the beaches.
For a detailed post on things to see and do in Kas, read this guide.
Where to stay
The budget option for tonight is Kas Camping but for a beautiful glamping experience, try Joy Glamping on the other edge of town. For a comfortable hotel with incredible views over the bay choose Luna Kas.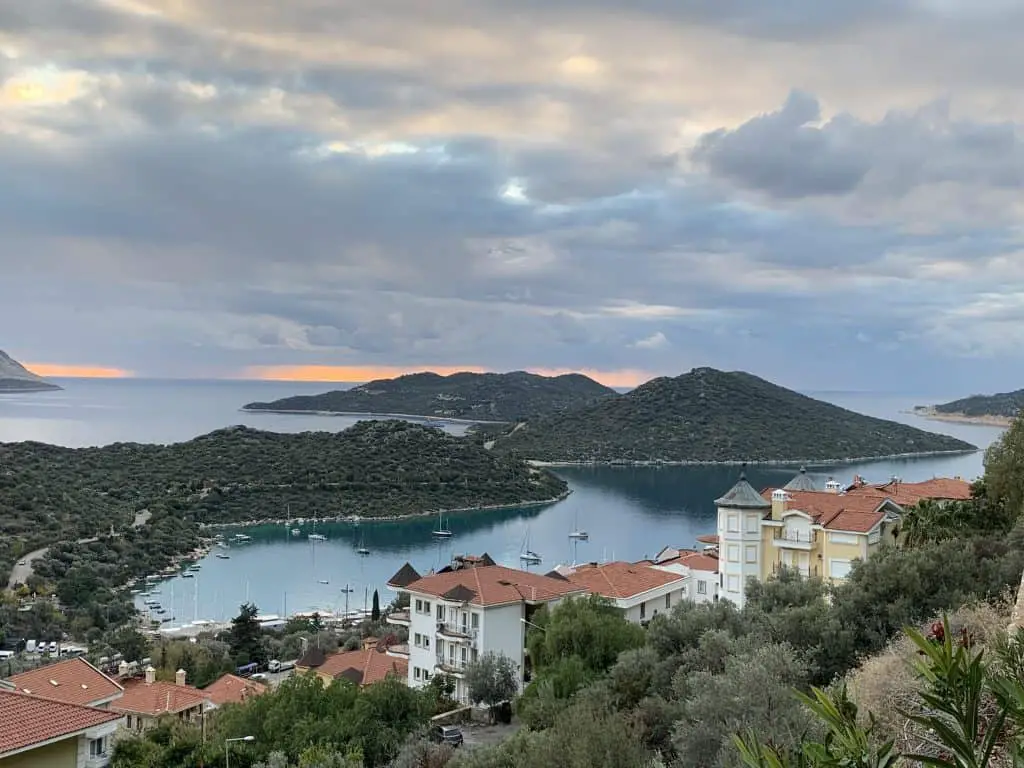 8. Olympos – 121km, 2 hours
Having driven along the coast for the final time on this Turkey road trip, you will next arrive at Olympos. Olympos is also the last of our Lycian cities before we head inland to central Turkey.
What to do
1.
Chimaera flames
At night take a trip to see the Chimaera flames. From the car park it is a 20-30 minute hike up the side of Mt Olympos to see the naturally occurring cluster of flames that constantly burn from the rock. Most trips will run after dinner as the flames are best seen at night.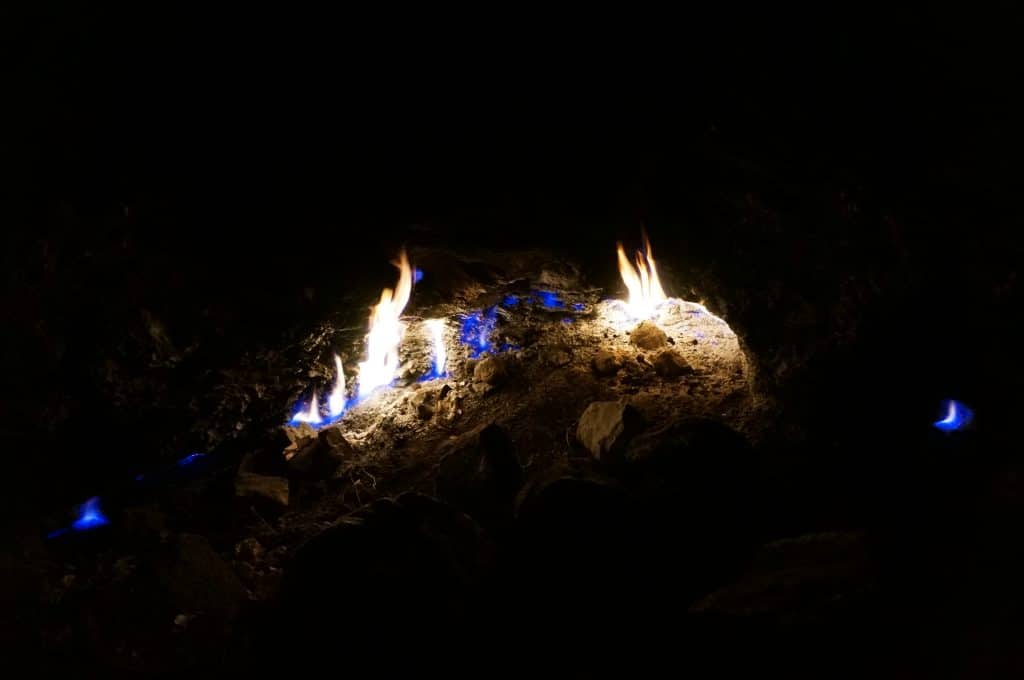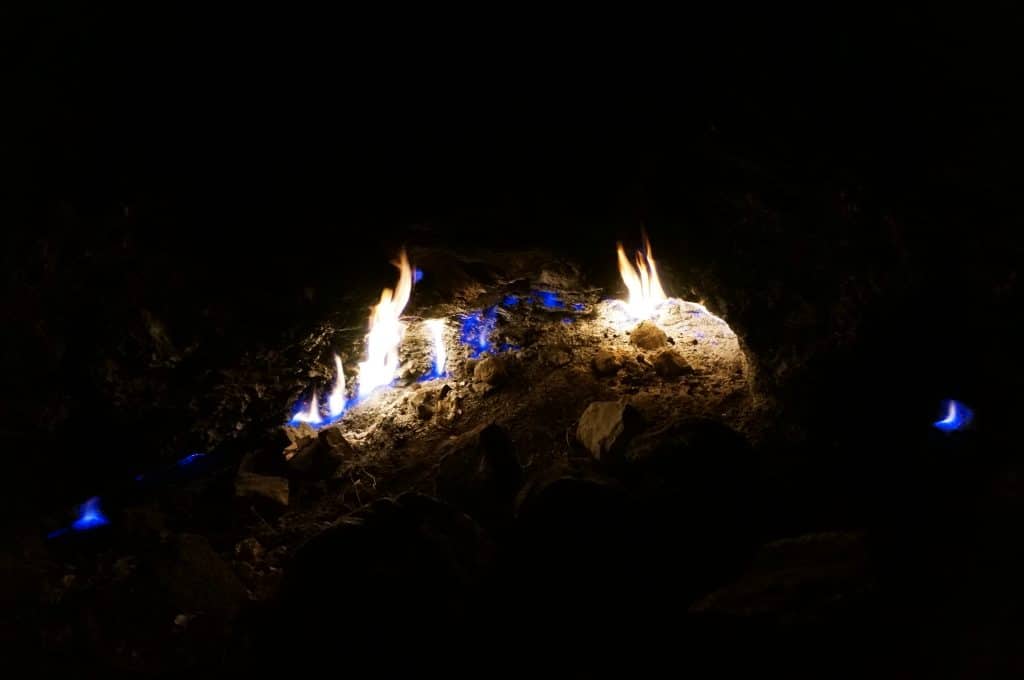 2. Beach and ruins
To access the beach you have to pay an entrance fee. This fee also grants you access to the ruins of Olympos, which you have to walk through in order to get to the beach beyond. The ruins are only small but worth a look around on your way to/from the beach.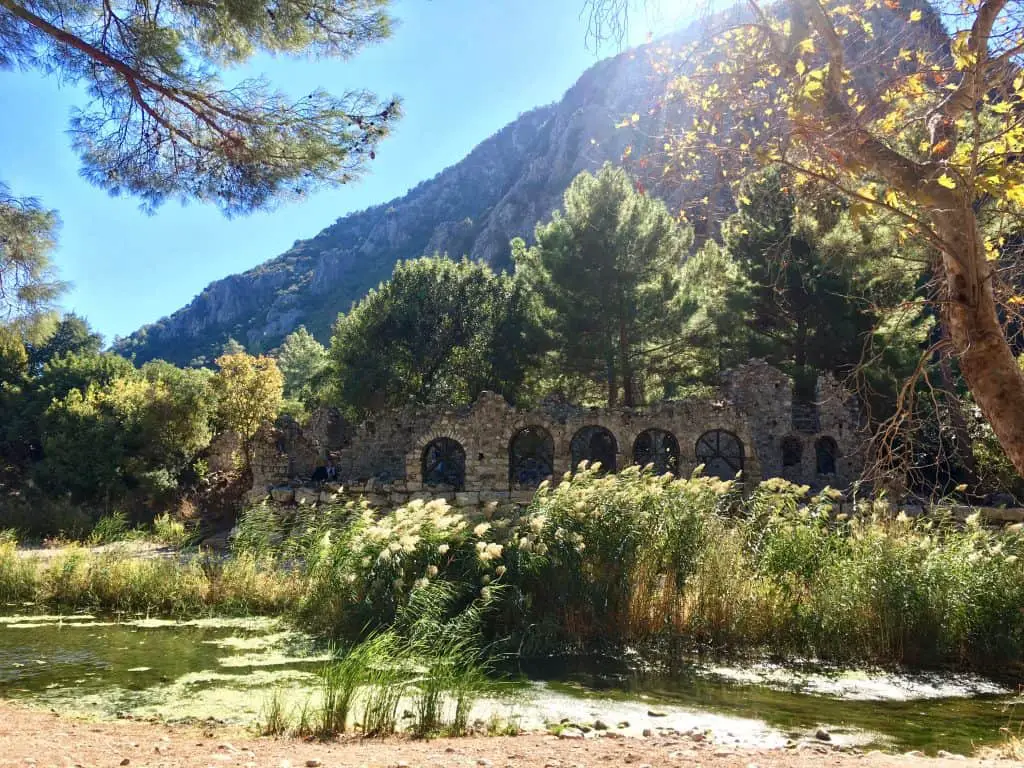 Where to stay
Why in a tree house of course! It is the thing to do at Olympos and there are many places to choose. My favourite tree house stays are Saban Tree Houses and Bayrams Tree Houses
If you don't still harbour your childhood dream to sleep in a tree house, more comfortable en suite rooms are also available.
9. Antalya – 78km, 1.5 hours
The next stop on this epic Turkish road trip is Antalya. Located in a region known as the Turkish Riviera, Antalya is Turkey's largest international coastal resort city. The city is known for its beautiful Mediterranean beaches, historical landmarks and cultural attractions.
Top things to do in Antalya include wandering the streets of the Old Town to see impressive sights such as Hadrian's Gate and the Fluted Minaret, taking a boat trip to see the thunderous Duden waterfalls or enjoying a day trip to nearby Koprulu Canyon,  Aspendos or Thermessos ruins.
For a complete guide to all the things to do in Antalya, see this post.
Where to Stay
For those on a budget, check out Camp & Hostel Antalya which offers shared accommodation with a traveller-friendly vibe.
For a family friendly resort, located right on the beachfront, try the Sealife Family Resort Hotel which  has everything you need for your time in Antalya including swimming pools, a spa and a traditional Turkish bath.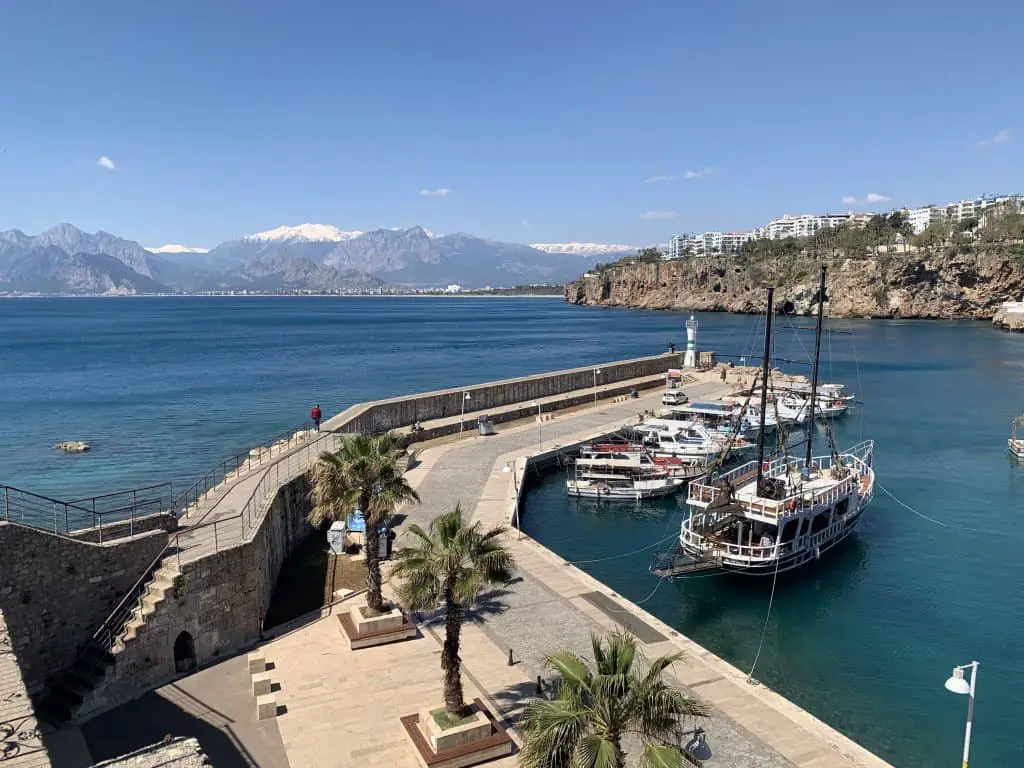 10. Göreme, Cappadocia – 537km, 7 hours
Göreme is the gateway to a big adventure playground! It's the place where you can rise at the crack of dawn to take a hot air ballon flight, find adventure on a quad bike tour or go for a hike and get lost in places with romantic names such as love valley.
Spoiler alert! Love valley isn't actually that romantic…you'll discover why once you get there!
For many, Göreme the final destination on a cross-country road trip in Turkey and the drive to get here is easily the biggest on this Turkey itinerary.
The geology in the region of Cappadocia is very unique so it's definitely worth having a few days to explore. This is without doubt one of the prettiest places in Turkey.
For all the top things to do in Cappadocia see this guide.  Alternatively, if you're looking for an easy Cappadocia itinerary see this 3 day Cappadocia itinerary.
If you plan on visiting Cappadocia in Winter, don't miss this guide.
Where to stay
In Göreme itself, a budget friendly option is Kookaburra cave hotel. It's small, centrally located, with a lovely rooftop terrace from which to admire the views (and balloons). 
With a more premium budget take a look at Cappadocia Cave Suites or Sultan Cave Suites, both of which are centrally located in Göreme.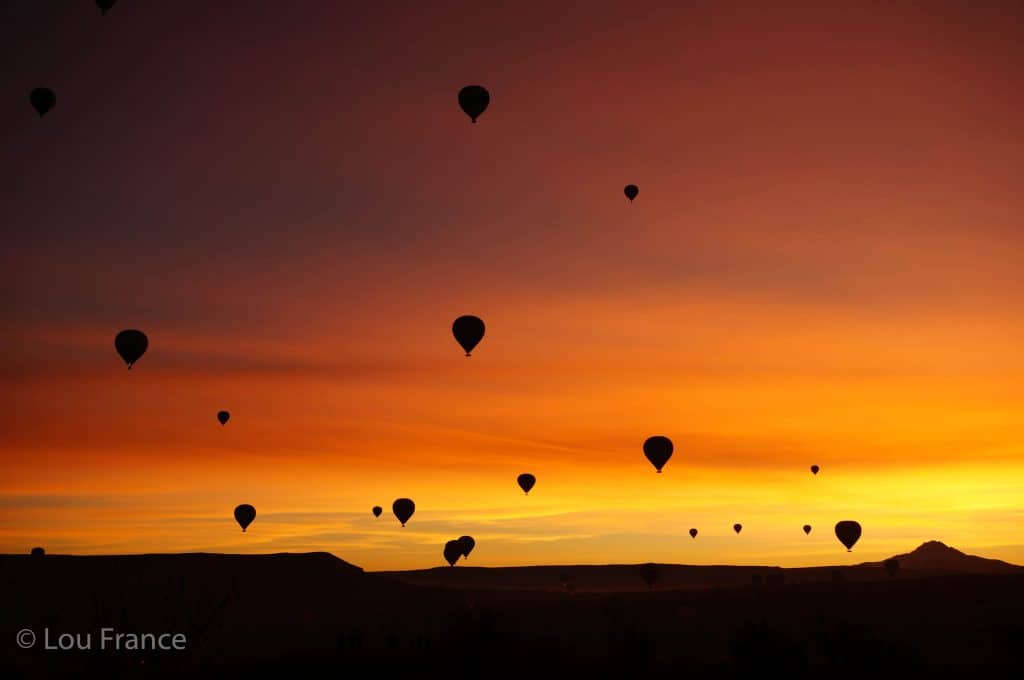 Beyond Cappadocia
Onwards to Northern Turkey
Why stop your Turkish road trip in Cappadocia? If you want to continue your overland adventure why not continue on towards Georgia? This small mountainous country is fabulous for trekking, has lots of history and is home to some of the best wine in the world!
If continuing onto Georgia a great sight to visit is Sümela monastery, don't miss the local market at Maçka and take a little time to explore the Black Sea City of Trabzon.
Onwards to Eastern Turkey
If your onward travels takes you towards southern Anatolia be sure not to miss the best bazaar in Turkey at Sanliurfa, the spellbinding statues of Nemrut Dagi and the charming Silk Road city of Mardin.
Don't Forget Your Travel Insurance!
Basic Turkish
How to pronounce all the squiggly letters
Atatürk was a very forward thinking leader so as part of his reforms he decided that Turkey should convert to a latin based script. Thankfully for us Westerners that makes trying to pronounce Turkish words a little easier.
However, you will notice there are a few strange looking letters in there, so here is a basic introduction to get you going.
ç – 'ch' as in church. For example çay (chai)
ş – 'sh' as in should. For example Kaş (Kash)
ğ – is silent so just ignore it. For example President Erdoğan (Erdoan)
ö – 'ur' as in fur.
ü – just like German ü
ı – the undotted i makes an 'uh' sound as in plus
Helpful phrases
Hello – Merhaba

How are you? – Nasilsin?

I'm fine. How are you? İyiyim (pronounced 'ee eem') sağol, sen nasılsın?

Thank you – Teşekkür ederim

Please – lütfen

OK – tamam

Yes – Evet

No – Hayır

or yok

Where are the toilets? – Tuvalet nerede?

Sorry – Pardon
The Best Time To Visit Turkey
The best time for a trip to Turkey is between the summer months of April and October. Be warned it can get very hot on the coast in July and August and the areas away from the coast, such as Cappadocia, get pretty cold in the winter months.
Turkey Road Trip Summary
This concludes my Turkey road trip planner from Istanbul to Cappadocia. I hope you enjoyed reading this as much as I enjoyed putting it all together.
Turkey is a huge country with lots of incredible destinations to see. This road trip covers a small section of the country from Istanbul, along the coast to Cappadocia in Central Turkey. Along this classic overland route there are many incredible sights to see such as Troy, Ephesus, Pammukale, Olympos and Cappadocia.
The best way to enjoy this route is to rent a car and embark on an epic Turkish road trip!
Are you planning a road trip in Turkey? I'd love to hear your thoughts.
Like it? Pin it for later!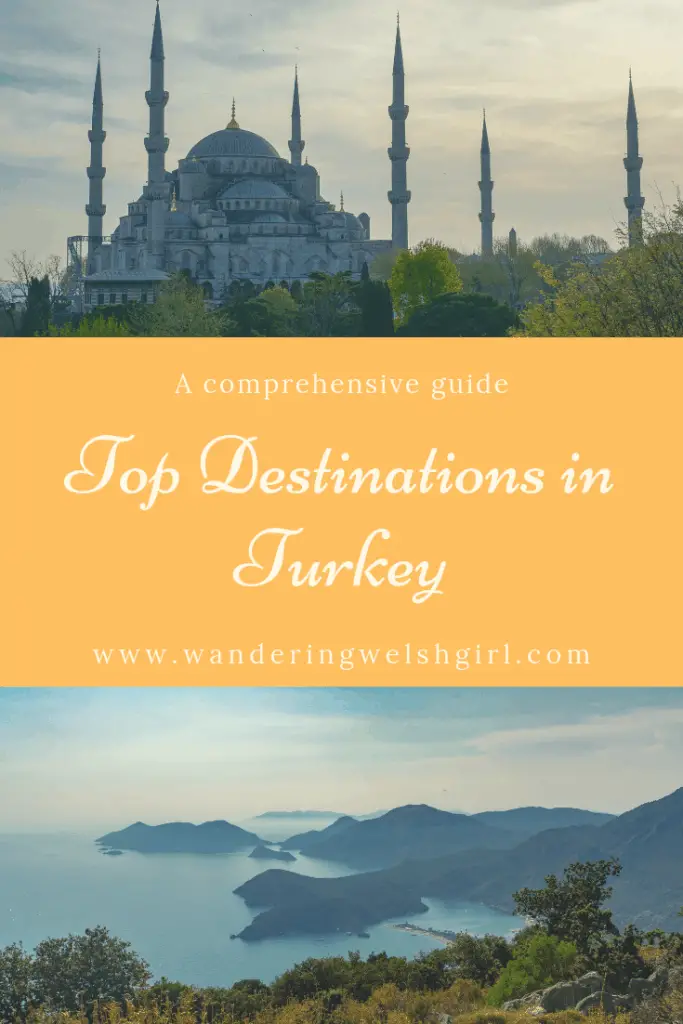 Sign up to my Newsletter here for all the latest news!