A guide to hiking the Grand Canyon rim to rim in 3 days. I provide information on route options, how to obtain permits and what gear to take with you.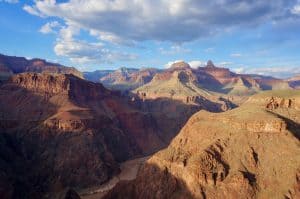 Have you ever thought about a Grand Canyon rim to rim hike?
I'll admit that for my first visit to the Grand Canyon that thought hadn't crossed my mind. For my first visit I wanted to see the Grand Canyon in all it's glory and I figured the best view was from the air.
So in 2012, during my first visit to this iconic Southwest National Park I splashed the cash and did a helicopter ride over the canyon. It was seriously unbelievable and one of the best experiences of my life.
However, even though a fifty minute flight sounded like a long time it was all over too fast. At the time I was on a group tour and our guide told us that for some of the best views of the Grand Canyon, we should also try a hike down into the canyon.
It was during this hike later that same day that the adventurer in me started to wonder, what would it be like to hike the Grand Canyon from one side to the other?
Disclaimer: Some links in this article are affiliate links, which means that if you purchase through them I receive a small commission, at no extra cost to you. This helps cover the cost of running this blog. Thanks for your support!
If you are interested in top hikes in the South West, check out this post about the best things to do in Moab!
Why hike rim to rim?
Fast forward 3 years and there I was stood at the top of the North Rim trailhead about to start a 2night/3 day rim to rim adventure in the Grand Canyon.
I'd been to the Grand Canyon for both work and play four times since my first visit. On my second visit I even hiked down to the bottom and camped near the Colorado River.
However, it was during my last visit as I day hiked the Bright Angel trail, that I promised myself I wouldn't set foot in the park again unless it was to do a rim to rim hike!
Related Reading
A Guide to Completing the Grand Canyon Rim to Rim Hike
Now, hiking the Grand Canyon rim to rim, if you're incredibly fit and at the right time of year, can be done quite easily in one day. Some people even run rim to rim and back again in a day!
But for us mere mortals it takes a bit longer and so requires a little, no a lot, of organising. In this post you can find everything you need to know to plan your Grand Canyon rim to rim hike.
Rim to Rim Routes
Most people will do their Grand Canyon rim to rim hike from the North Rim to the South Rim. There's one very simple reason for this. The South Rim is lower than the North Rim, so hiking in that direction means there's a lot less 'up' involved!
There are two routes you can choose when you hike from the North Rim to South Rim.
Grand Canyon Rim to Rim via Bright Angel trail – Facts and figures
Descend North Kaibab Trail to Colorado 14.3 miles 5781ft elevation change

Ascend Bright Angel Trail to South Rim 9.6 miles 4400ft elevation change

23.9 miles total

Water sources available on the Bright Angel Trail.
Grand Canyon Rim to Rim via South Kaibab trail – Facts and figures
Descend North Kaibab Trail to Colorado 14.3 miles 5781ft elevation change

Ascend South Kaibab Trail to South Rim 7 miles

 

4800ft elevation change

21.3 miles total

No water available on South Kaibab Trail.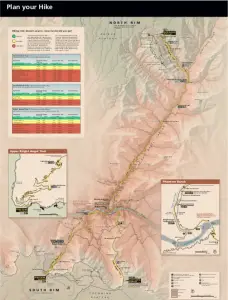 I hiked the Grand Canyon as part of a Southwest road trip. For the ultimate American Southwest road trip, take a look at this post.
Hiking the Grand Canyon Rim to Rim in 3 days 
Pre-trip permit planning
Our 3 day hike of the Grand Canyon was a part of a 6 week road trip around the States for me and my friend Emma. We didn't have too much of a plan with the exception of a musical festival, so we had time on our side.
We first went to the backcountry office on the South Rim to see if we could get some walk in permits, but as suspected things were mostly booked up.
We reserved 2 nights for a little later that week at Cottonwood campground, which is about a third of the way up the North Kaibab trail. Not ideal, as it would've involved one really huge day of hiking (see map above to get an idea).
We were told that the backcountry office on the North Rim has walk in permits that only they can issue, so our best bet was to go there early morning and try our luck.
It's a long way to drive from the South Rim to the North but I was keen to take a chance, so off we headed. En-route we managed to hike in a secret lava river cave, have a few too many beers in Flagstaff and get our car stuck in the sand on Lake Powell!
However, thanks to the help of some friendly locals we got unstuck and as recommended, we got to the backcountry permit office as soon as it opened. There was only one couple in front of us.
After they had managed to get what they were looking for it was our turn. He punched some things into the computer and hey presto, we were in!
Grand Canyon 3 Day Rim to Rim Hiking Itinerary
We were able to switch our second night of camping at Cottonwood to a night at Indian Gardens campground. Indian Gardens is about one third of the way up Bright Angel Trail which was perfect for what we wanted. The itinerary for our Grand Canyon rim to rim hike was now set and looked like this:
Day 1 – North rim to Cottonwood Campground
Day 2 – Cottonwood Campground to Indian Gardens
Day 3 – Indian Gardens to South rim
Day 1 – North rim to Cottonwood Campground
We were a little slow out the gates and didn't start until 10:30am, but we knew we didn't need to get to camp too early. When we started the hike it was all pretty socked in and you couldn't actually see the canyon from the rim!
Thankfully though, within 10 minutes of starting the hike the weather lifted. Hiking down the North Kaibab trail was incredibly beautiful as we descended through the many layers of the Grand Canyon. 
We enjoyed the leisurely trek to our first camp, Cottonwood Campground. This campground is located next to a river, which is great for dipping your feet in after a days hike.
At each campsite you have your designated camping spot and must display your permit on the outside of the tent.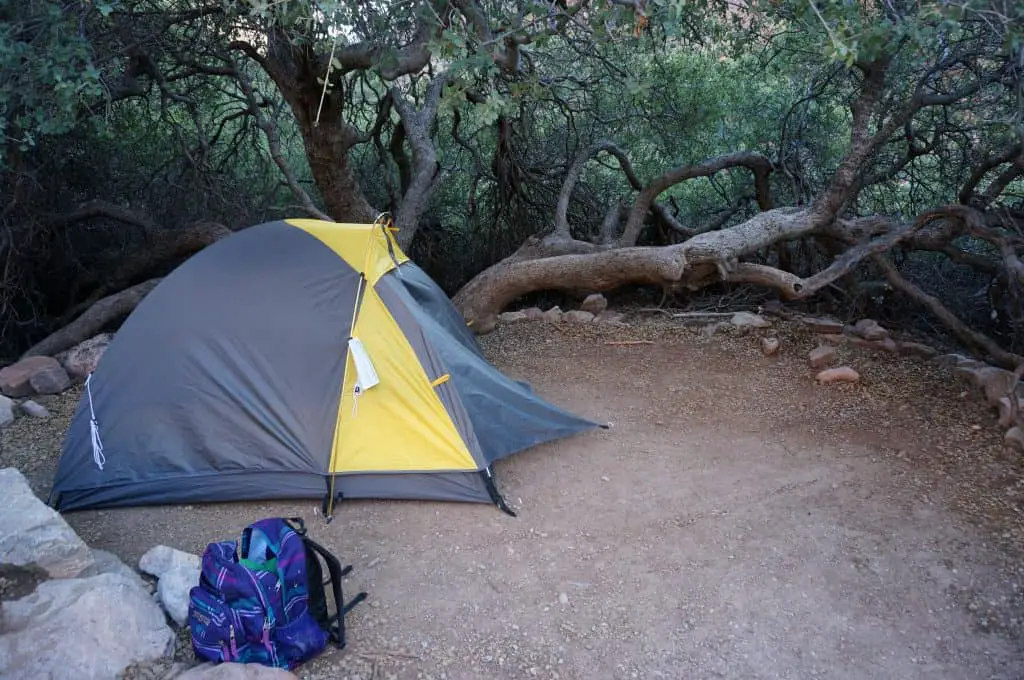 Day 2 – Cottonwood Campground to Indian Gardens
This was our biggest of the 3 days, as we planned to hike down to the Colorado River and then start our ascent of the south rim to reach our camp at Indian Gardens.
En-route to the river there is a spur just under a mile long to Ribbon falls. I decided it was worth an investigation, and a nice opportunity to wet my bandana and feet. If you think you have the energy I would definitely recommend this short side walk.
The ascent from the river was fairly steep and hard going during the heat of the day, so when we found a shady spot near a stream about halfway up we took the opportunity to rest for a while.
We were both pretty tired by the time we got to camp, but decided the opportunity to head out to Plateau Point to enjoy sunset was too good to miss.
Leaving most of our heavy gear at camp, we bounced off on the 3 mile round trip to enjoy sunset from the prettiest viewpoint in the canyon.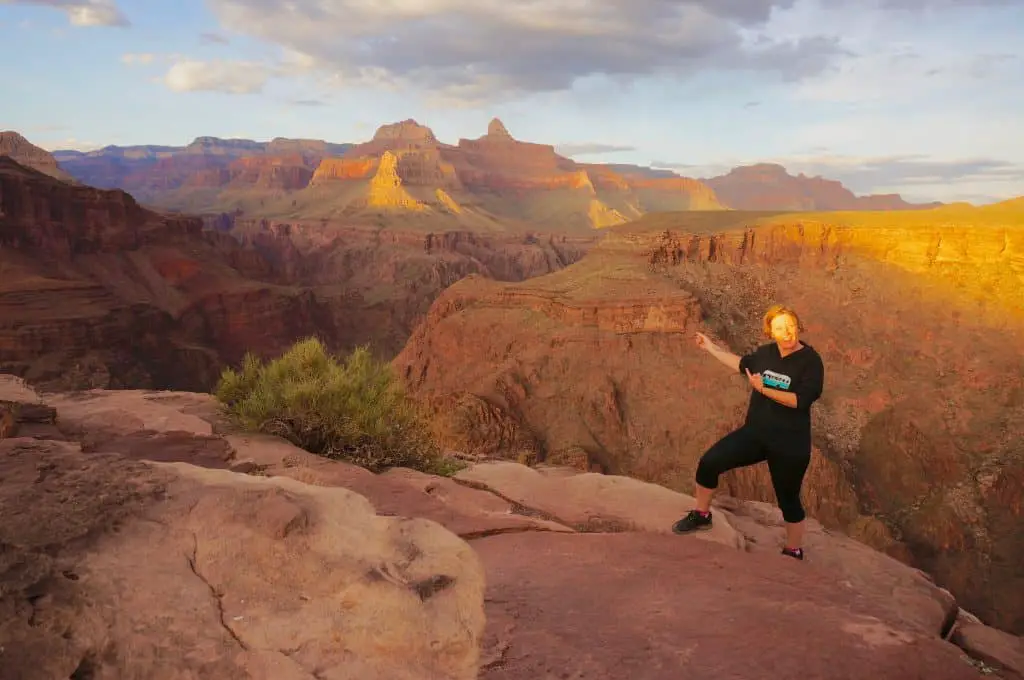 Day 3 – Indian Gardens to the South rim
Our last day was gratefully our shortest day, as we made our final push for the South Rim. We started at dawn to ensure we would be out before the midday sun, and in time to catch our 1:30pm shuttle that would take us back to our car on the North Rim.
The final ascent up the Bright Angel Trail was a fairly straight forward affair along the well maintained trail. Be prepared to share this path with mules carrying luggage down to Phantom Ranch.
We got to the top with enough time to grab some food and buy our souvenir t-shirts, before we collapsed into the shuttle bus.
A job well done!
North Kaibab trail & Bright Angel Trail with Ribbon Falls and Plateau Point spurs – our plan to hike the Grand Canyon rim to rim in 3 days was complete!
Total hiking distance – 28.9 miles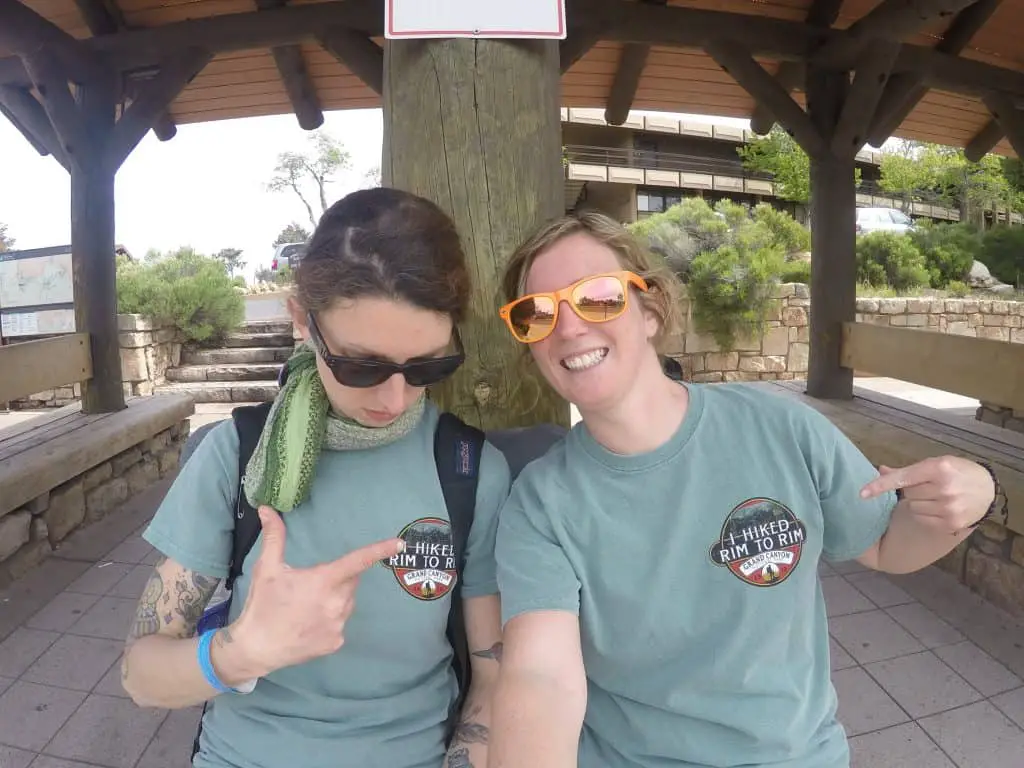 Grand Canyon rim to rim permit
To camp anywhere inside the canyon a backcountry permit is required. There are a limited amount of permits issued every day. You can apply 4 months in advance by faxing your request to the Backcountry Information Centre.
Permit cost: $10 plus $8 per person (or stock animal!) for every night spent inside the canyon. (Prices correct for 2021.)
Don't forget you will also have to pay the usual park entrance fee to get into the National Park. This is $35 for a car or $20 on foot or bicycle and is valid for 7 days. It is valid for both the North and South rim.
How to apply
For a full explanation on how to get the permits visit the nps website. This page also provides information on trail conditions, rules and regulations and everything else in between, so I won't repeat it all here.
If you would prefer not to camp you could stay at the only lodge inside the canyon, which is Phantom Ranch. They also provide meals for an extra cost. Reservations are taken on a lottery basis (new for 2019) which you can read about here.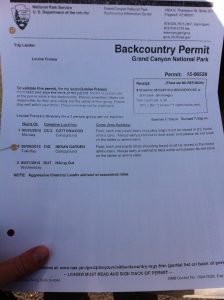 Transport

around the Grand Canyon

If you are only hiking rim to rim in one direction then you will obviously need transport to return to the start of your hike. There are shuttle buses that will provide this service, usually running twice per day.

Prices, times and bookings are available on this website.
A packing list for hiking the Grand Canyon rim to rim
Good boots or trail shoes, along with flip flops for around camp.

A good Hiking backpack.
Water and the ability to carry lots of it! I use a water bladder for my multi-day hikes.
Water purification tablets/filter or a filtering water bottle.

Food and salty snacks. As well as staying hydrated you will need to keep sodium levels up which is a great excuse to eat some yummy trail mix.

Sunnies and hat.

Suncream.

Basic first aid kit including plasters/second skin for blisters and pain killers.

Head torch.

Trail map or guide.

Change of socks and underwear.

Camping gear – tent, roll mat and sleeping bag/sleeping bag liner.

Stove and fuel. Jetboils get your water boiling in about 2 minutes. They're awesome when you get to camp and want some food, pronto!
Camera or phone to capture the magic moments.
Trekking poles to look after those knees!
What is the best time of year to visit the Grand Canyon?
The Grand Canyon gets extremely hot during the summer months and it gets hotter as you descend. It also gets sub zero cold during the winter months, so the best times for Grand Canyon trekking are in the shoulder months (April, May, September, October).
If you're interested in snowy adventures, check out this guide to visiting national parks in the US during winter time.
At any time, always try to avoid hiking during the hottest hours of the day (12-3pm)
Grand Canyon guided hikes
If you want to avoid the hassle of planning a trip, making the reservations and applying for the permits, you could always do a guided Grand Canyon rim to rim hike.
Personally I have never done a guided trek in the Grand Canyon but I have heard good things about the guys at Wildland Trekking, if you want to check them out!
Practicalities
Overnight parking North Rim – Parking lot trail head.

Overnight parking South Rim – Backcountry Information Centre parking lot. A short walk to the Bright Angel Trail and a bus trip on the free Park Shuttle Service from South Kaibab Trail.
No tour of the South West is complete with a visit to Monument Valley. Discover the best way to visit this incredible destination in this post!
After your Grand Canyon Adventure
If you follow a similar Grand Canyon rim to rim itinerary you'll want a nice place to recover from your hike. Once we finished our hike we headed back to the town of Page for a night. From here you can visit the equally beautiful Horseshoe Bend and Antelope Canyon.
This modern and spacious hotel in Page has an outdoor hot tub and was perfect for soaking our weary muscles.
The Grand Canyon is a top destination for any trip to the states and a must on your US West Coast road trip.
What does it mean to hike the Grand Canyon Rim to Rim?
I truly believe that if you really want to fully experience the Grand Canyon then you should try a multi day hike of some description. Whether it's supported by mules and staying in a lodge, or packing everything you need with you and going it solo.
Only as you wander down through the layers of rock that took millions of years to form, do you see what an incredible place it is. Only when you camp inside the canyon and watch as the sun sets up on the rim for the rest of the world, do you feel what a magical place it is.
And only when you walk from one side to the other and know what it takes to finally make it out, do you fully appreciate the true vastness of the Grand canyon.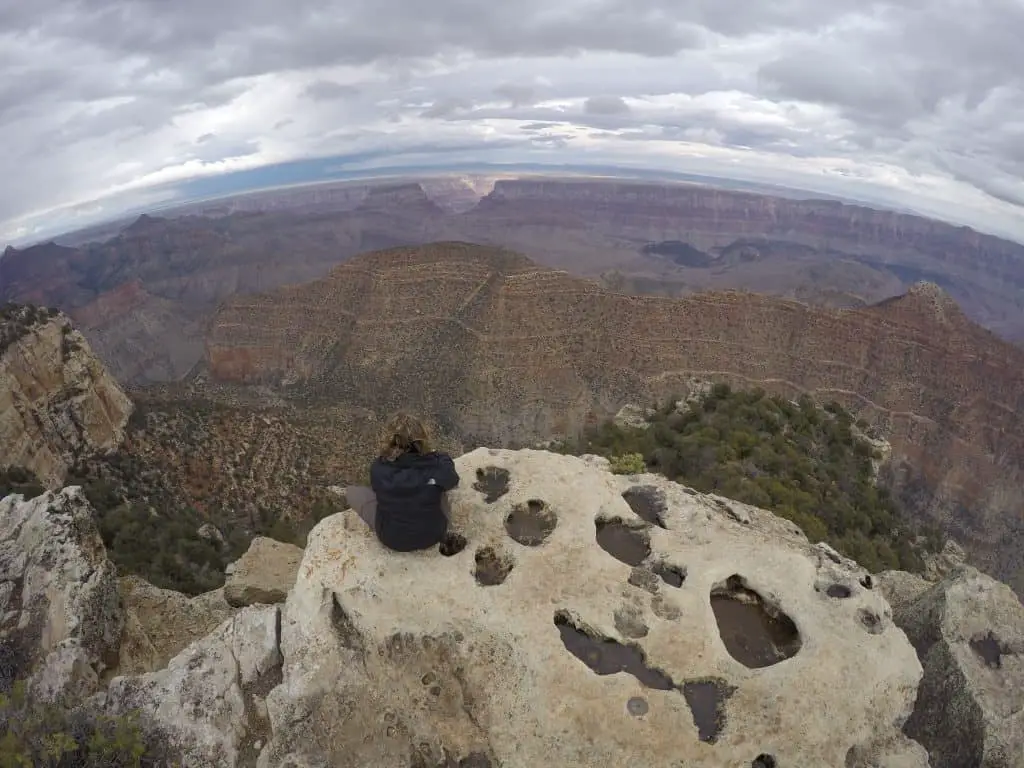 Disclaimer: Some links in this article are affiliate links, which means that if you purchase through them I receive a small commission, at no extra cost to you. This helps cover the cost of running this blog. Thanks for your support!
Like it? Pin it for later!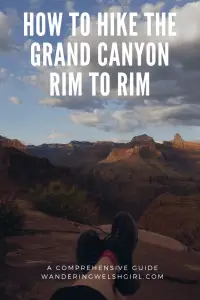 Join my Newsletter to see all the latest posts!