Home to over 400 national parks, the United States boasts some of the most incredible outdoor adventures in the world.
With so many to choose from, however, how do you even start deciding where to go next? Some of my favourite national parks are located along the West Coast, so I highly believe focusing on this area is a wonderful place to start.
From the top of Washington to the bottom of California, the continental US West Coast is jam-packed with stunning natural landscapes to explore. There are many, many more amazing national parks in western states but in this guide, we'll focus on the states that hug the coast.
So whether you're plotting a road trip along the West Coast and want to make sure you hit a few national parks along the way or you're simply looking for ideas on where to visit next, here's a list of some of the best national parks on the West Coast to keep on your radar!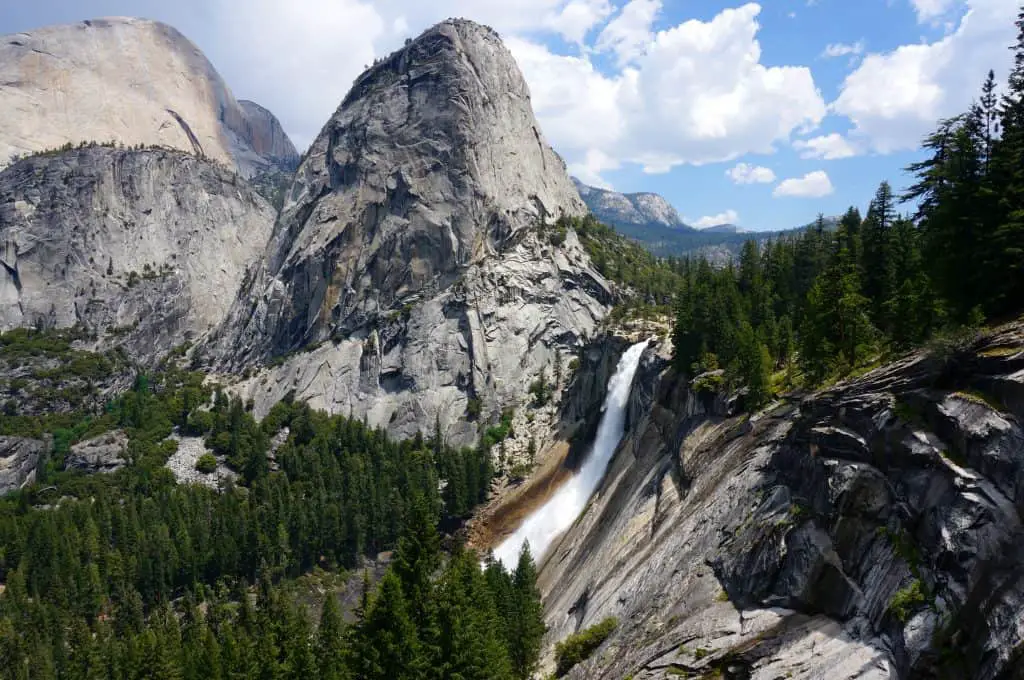 Disclaimer: Some links in this article are affiliate links, which means that if you purchase through them I receive a small commission, at no extra cost to you. This helps cover the cost of running this blog. Thanks for your support!
National Parks West Coast Map
Things To Know Before Your West Coast National Park Trip
Vehicle entrance to the following National Parks costs between $20-$35 each, so if you plan on visiting three or more national parks in a year, it makes sense to purchase the America the Beautiful Pass. This pass costs $79 and provides entrance to ALL National Parks in the US for one year. You can do the math!
Dogs are not allowed on hiking trails in most national parks so keep that in mind if you want to bring along your four-legged friend.
Many of these parks get very busy during peak summer months which means accommodation can sell out fast. Book ahead to avoid disappointment. Also, Yosemite National Park requires a reservation for park entrance, so be sure to book ahead. (Link included below).
Car camping is a great, budget-friendly way to explore the West Coast National Parks. Check out this car camping packing list before you go.
10 Must-Visit National Parks On The West Coast
1. Redwood National Park, California
Ever wondered what it'd be like to walk inside a storybook forest? Visiting Redwood National Park is as close as you can get to that! Walking amongst these natural giants seriously blew my mind and yes there was lots of tree hugging involved!
Boasting an area of a whopping 130,000 acres, Redwood National Park encompasses several forests where redwood trees reign supreme. Redwoods are the tallest trees in the world, and getting to walk, drive, or hike amid them while being backdropped by views of snow-capped mountains, is an experience you won't soon forget.
One of the best ways to explore the massiveness of the park is by driving the Newton B. Drury Scenic Parkway. This road winds right through the Redwoods and provides access to some of the best trailheads in the park, in case you want to park the car and go on a hike. Click here to learn more about this drive and other scenic routes in the US.
The park also includes 40 miles of rugged coastline where whales can often be spotted, so don't forget to pack your binoculars. This great western states national park can be visited at any time of year although mosquitos can be a pain in the summer so be sure to pack some insect repellant. (I like this DEET free spray)
2. Olympic National Park, Washington
When it comes to diversity in landscapes, Olympic National Park in Washington surely takes the cake.
During your visit, you'll get the chance to choose from a wide variety of terrain, which ranges from glaciers, mountains, beaches, meadows, and even the largest temperate rainforest in the country – all within one single national park!
There's so much to do here that choosing activities can get pretty overwhelming. If it's your first time visiting this West Coast National Park, I recommend hiking through Hoh Forest, hiking the High Ridge Trail, driving Obstruction Point Road, adventuring over the glacial Lake Crescent, and going on a waterfall chasing challenge (Sol Duc Falls and Marymere Falls are musts!).
3. Mount Rainier National Park, Washington
Home to an active volcano and the most glaciated peak in the continental United States outside of Alaska, Mount Rainer is one of the most incredible national parks to visit on the West Coast for unrivalled scenery and adventurous outdoor feats.
Here, you can spend a few days hiking or driving across different ecosystems (think subalpine meadows, ancient forests, mountains, etc), all while getting to see waterfalls and lakes galore with views of Mount Rainer looming over every step you take.
There's plenty to do on Mount Rainer National Park's menu, but if your time is limited, be sure not to miss hiking the Skyline Trail, visiting Myrtle and Narada Falls, and checking out Reflection Lake. These activities make for a great day trip from Seattle.
Mount Rainier is a top national park to visit in October if you want to avoid the crowds of summer.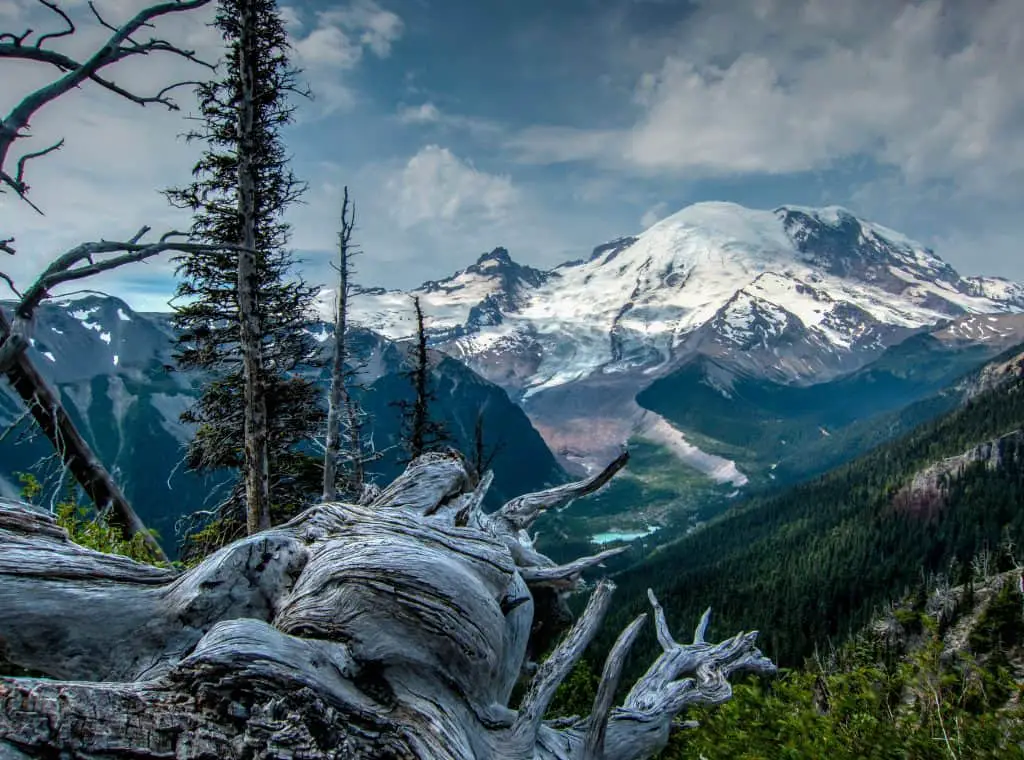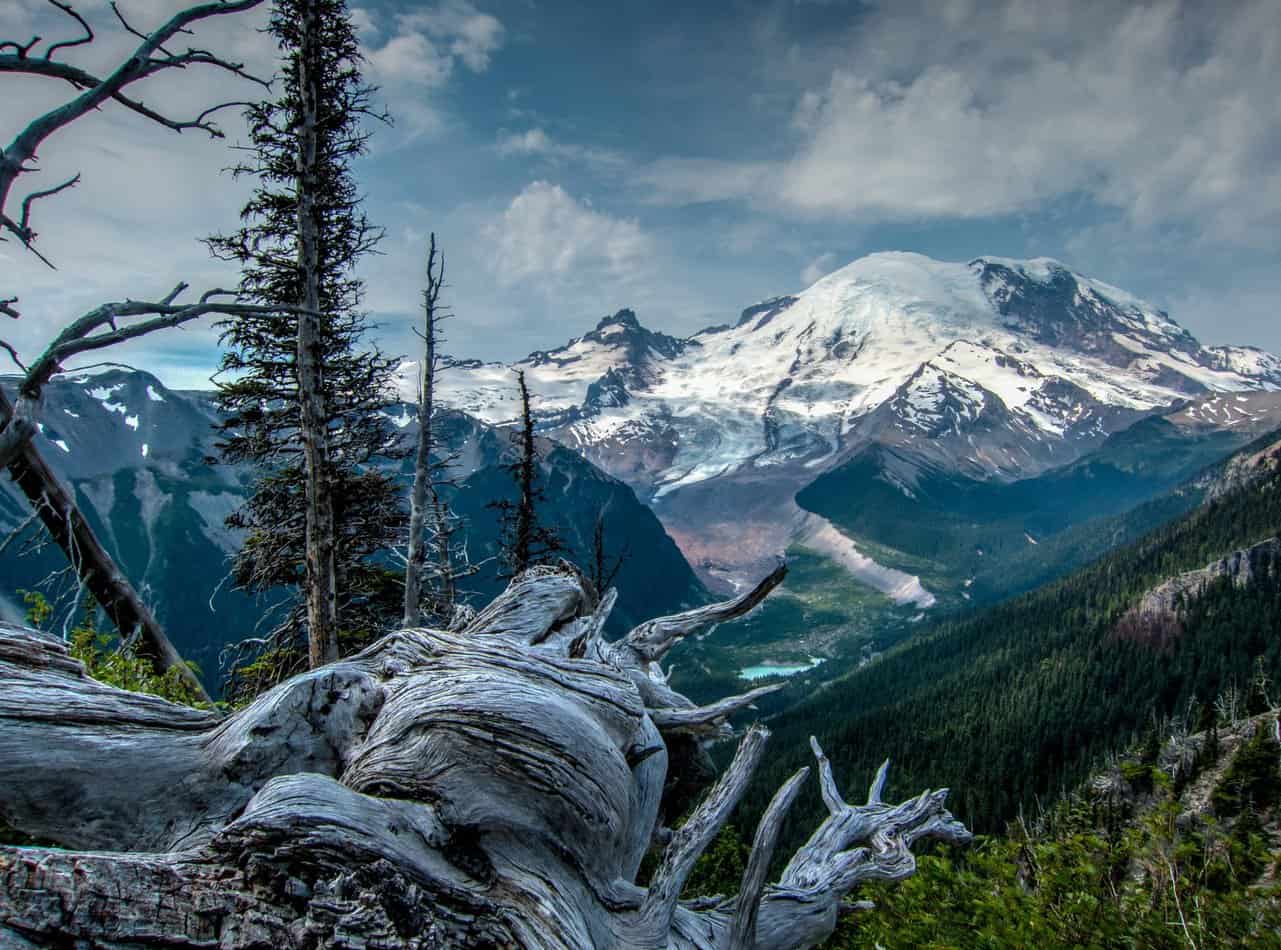 Related Reading
4. Lassen Volcanic National Park, California
If a hidden gem is what you're after, Lassen Volcanic National Park in California is a great option.
Home to a landscape pretty similar to Yosemite, Lassen makes for a perfect destination if you want to get a similar experience without the crowds.
Lassen Volcanic is home to four different types of volcanoes, which creates the perfect recipe for scenery as unique and unusual as it can get. A few of the sights guaranteed to make you go ooh-aah at Lassen include bubbling mud pots, sulfur vents, and geothermal terrain.
The Bumpass Hell Trail is a wonderful hike to see some of the most splendid geothermal features of the park, while the Sulphur Works Sidewalk Trail will give you easy access to mud pots and vents. For gorgeous views of the highlights of the park, drive the Lassen Park Highway. Make sure you also visit the Devil's Kitchen, which is the second-largest hydrothermal region in the park.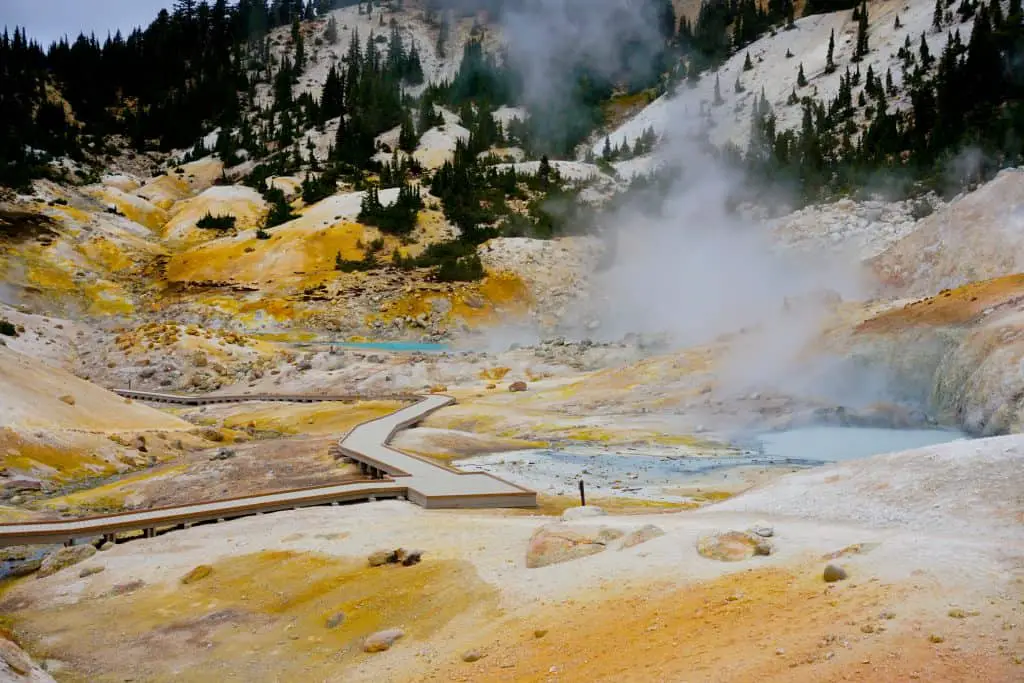 5. North Cascades National Park, Washington
Commonly nicknamed the Alps of America due to its resemblance to its European sister, North Cascades National Park is a wonderland of gorgeous alpine scenery, with over 300 glaciers, sky-high mountains, and tons of idyllic lakes on its menu.
During your visit, you can choose from various activities, including hiking trails for every experience level, driving Highway 20 for the most scenic viewpoints of the park, and even checking out a small community that calls the park their home!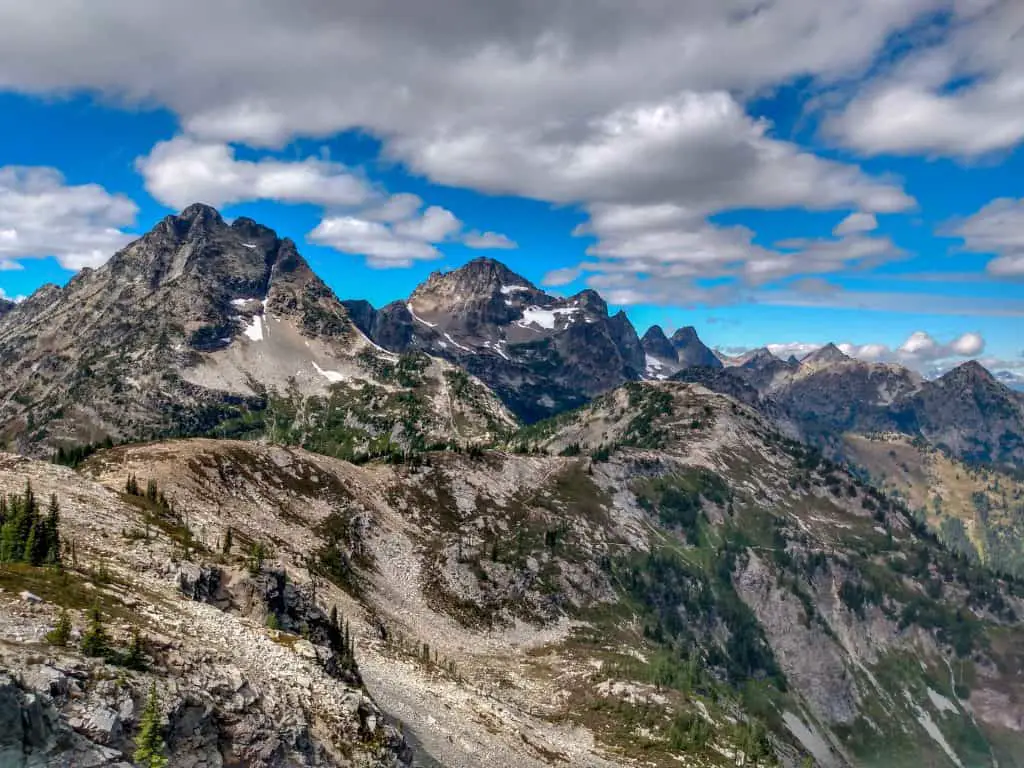 6. Sequoia and Kings Canyon National Parks, California
Tucked away in the Sierra Nevada mountains, Sequoia and Kings Canyon is a culmination of two striking national parks that are so close together that they're often regarded as one.
At Sequoia, you'll get the chance to walk under canopies of… you guessed it, sequoia trees. Sequoias are the largest trees in the world, and getting to see them up close is the only way to truly get the magnitude of their size.
As if that weren't enough reason to pay this national park duo a visit, Kings Canyon just happens to hold two records: The tallest mountain in the continental United States (Mount Whitney) and one of the deepest canyons in North America, Kings Canyon (yes, it's even deeper than the Grand Canyon!).
There's a lot to do here, but if you have to choose, I absolutely recommend checking out General Sherman (the largest tree in the world), climbing Moro Rock, and driving through the park's famous tunnel log. If you're feeling up for a challenging hike, you can also hike to the top of Mount Whitney!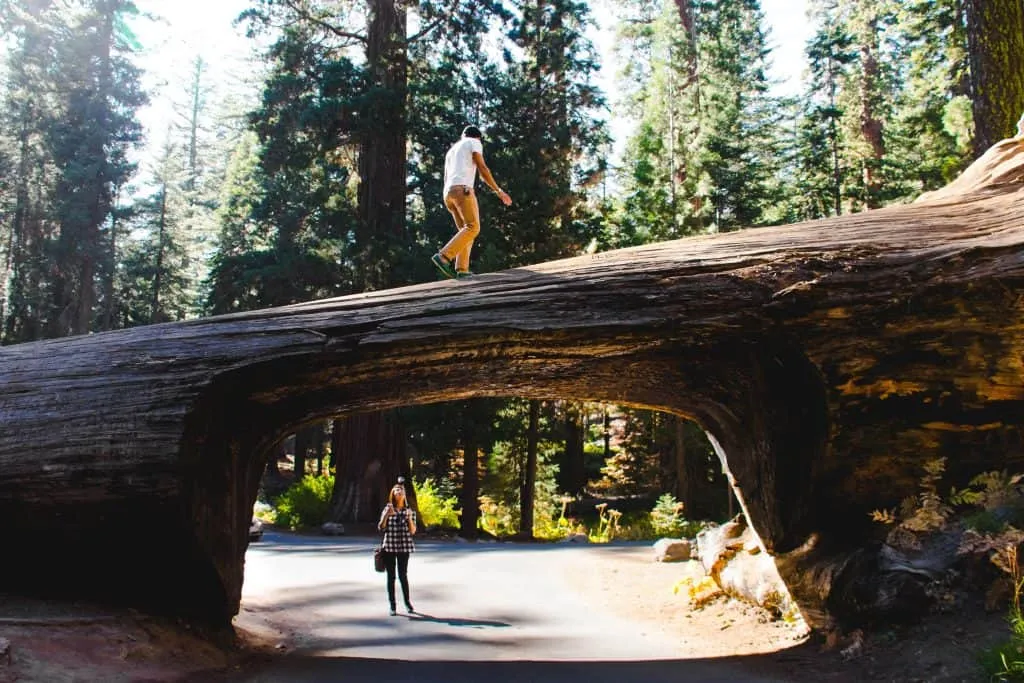 7. Yosemite National Park, California
How can we talk about west coast national parks without mentioning Yosemite? This iconic national park is simply one not to be missed and, as the first national park I ever visited in the US, holds a special place in my heart.
With towering granite peaks and gushing waterfalls, Yosemite is an icon of the US, but with this legendary beauty comes great popularity. Yosemite is one of the most visited national parks on the west coast so you will have to plan your trip accordingly.
Between May and September it's so busy visitors are required to make a reservation to visit. Whether you are planning to just drive through the park or want to stay a few days and enjoy some hiking, a park reservation is required. Reservations cost $2 and can be booked online here. 
Alex Honnold may have thrown Yosemite into the world spotlight, but you don't need to be a professional rock climber to enjoy the cliffs of Yosemite. There are numerous hikes to enjoy for all abilities. Explore the valley floor with a stroll to the base of Yosemite Falls, hike Nevada Falls Trail for incredible views of Half Dome and Nevada Falls or for a more strenuous challenge, hike Half Dome itself.
Be sure to head to Glacier Point for the best view of Yosemite Valley and wander to Mirror Lake for those epic reflection photos. If you want to visit Yosemite without the crowds, plan your trip for winter, spring or fall. Visit in February if you want to see Horsetail Fall display its orange light show.
Did You Know? Yosemite's Half Dome is the classic icon used by the outdoor brand The North Face. The north face of Half Dome can be fully appreciated from Glacier Point.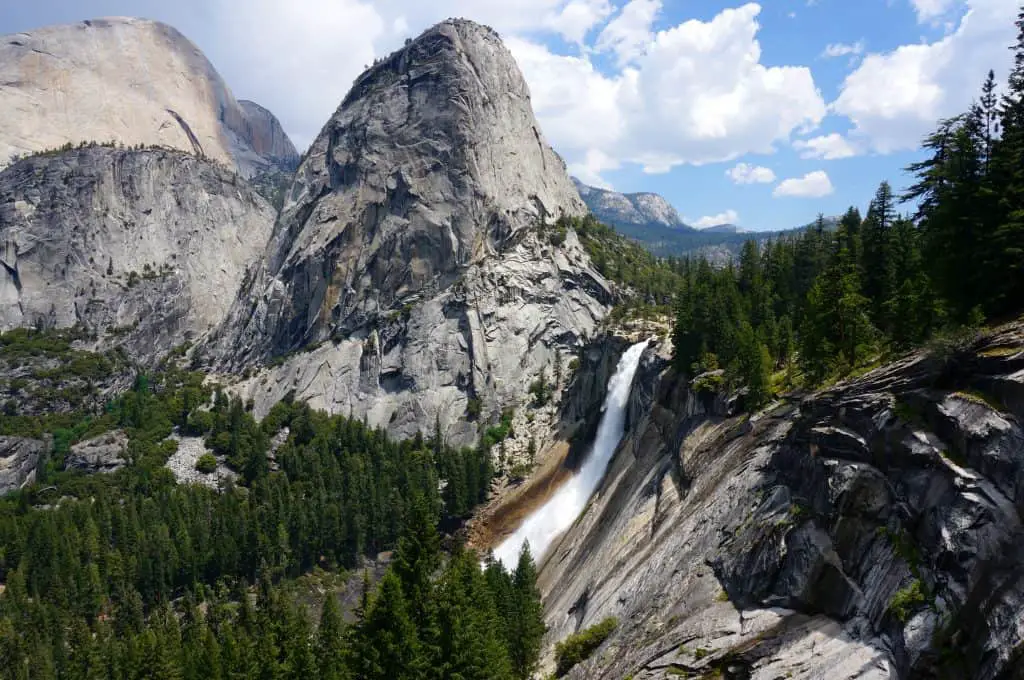 8. Death Valley National Park, California/Nevada
If you ever wondered what it would be like to walk on Mars, then surly a visit to Death Valley will give you a good idea. This Southwestern National Park is the hottest, driest place in North America, some of which is located below sea level itself.
On your visit to Death Valley, venture 282 feet below sea level to view the salt flats of Badwater Basin, enjoy views of the colourful Badlands at Zabriskie Point and witness the highest dunes in California at Eureka Valley.
I visited Death Valley in March and it was already very hot. My cars' AC was working hard and only short walks were bearable. Unless you want to discover why Death Valley got its name, avoid visiting this west coast national park during the summer months and instead plan your trip for the cooler winter months.
If you love Death Valley you'll really love all the National Parks in Utah.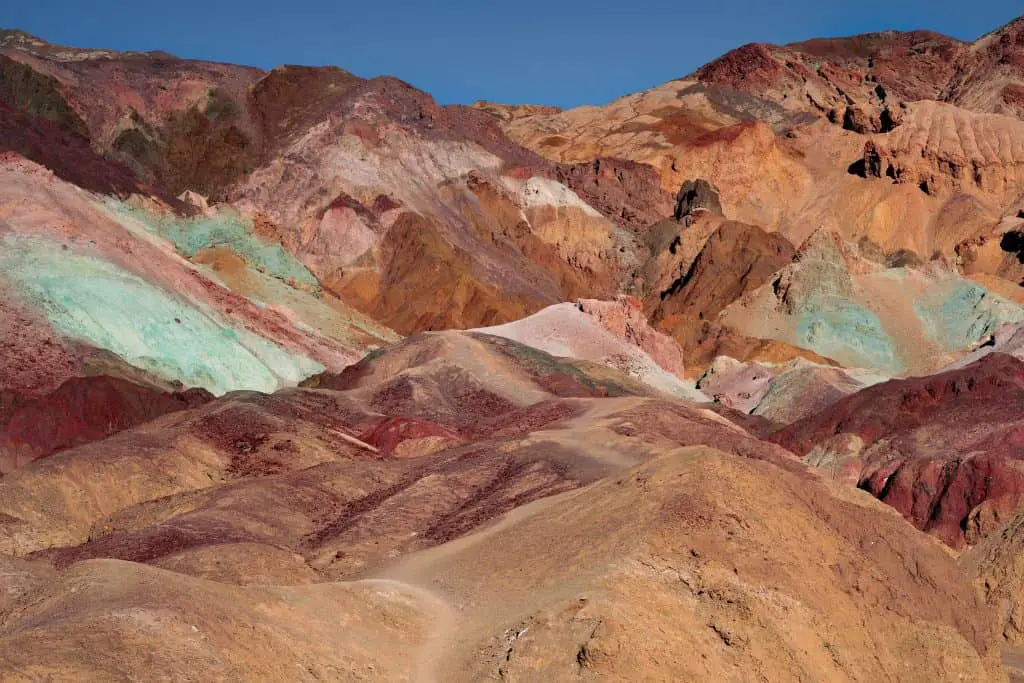 9. Crater Lake, Oregon
You will never see a more blue lake than Crater Lake! Now, this may seem like a bold claim but with over a decade of travelling to more than 70 countries, I can safely say I've never seen a bluer lake than this gem in Oregon.
On your visit, enjoy a scenic drive around Crater Rim Road, take a ferry to Wizard Island and cool off with a dip in the lake itself. There are several hiking trails to enjoy around the rim which provide panoramic views of the lake, the most popular of which is Discovery Point Trail. 
This might be Oregon's only national park, but as the deepest and most pristine lake in US, it's a must for your west coast national park bucket list.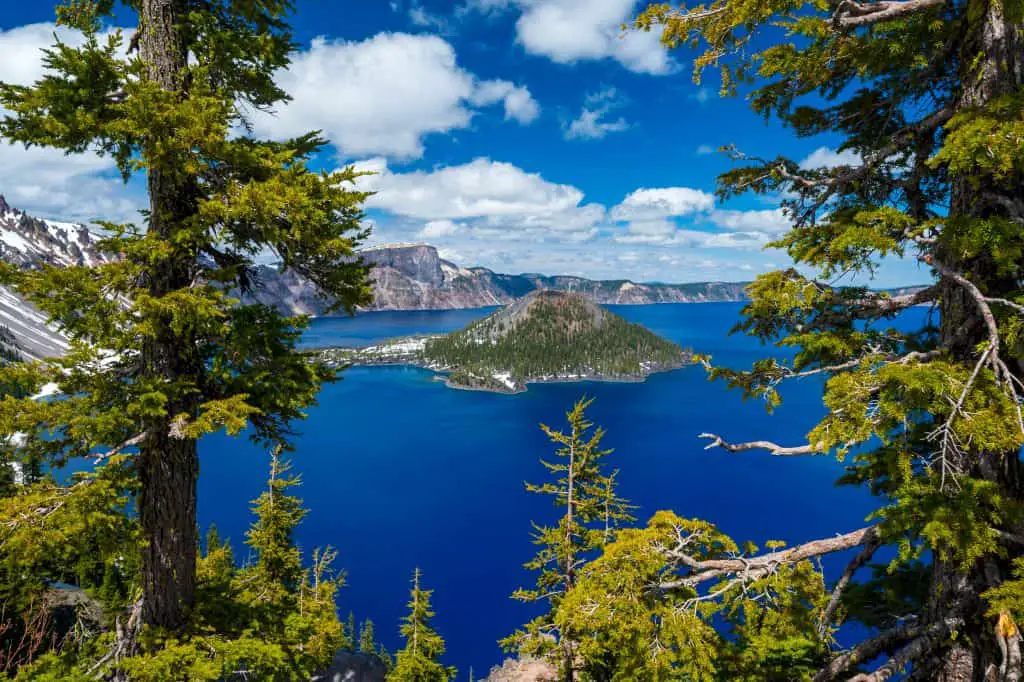 10. Joshua Tree National park, California 
Is there any other national park that has an all-time, great music album named after it? This alone might be enough to make Joshua Tree National Park iconic, but even if you're not a U2 fan, you will still be blown away by the majestic desert beauty of this Southern Californian park.
Joshua Tree National Park is made up of the Mojave Desert, which contains many of the classic Joshua Trees and the Colorado Desert, which is full of cacti. As well as crazy desert trees and cacti, there are also unique rock formations on offer.
During your visit, hike Barker Dam to get views of the famed Joshua Trees and for cool rock formations check out Skull Rock and Arch Rock hike.
Since this national park out west is desert terrain, its best to avoid visiting during the hot summer months. Instead, add it to your winter national park bucket list.
For all the best places to stay in Joshua Tree, whether it's a classic converted Airstream or an ultra-Instagrammable hacienda, click here.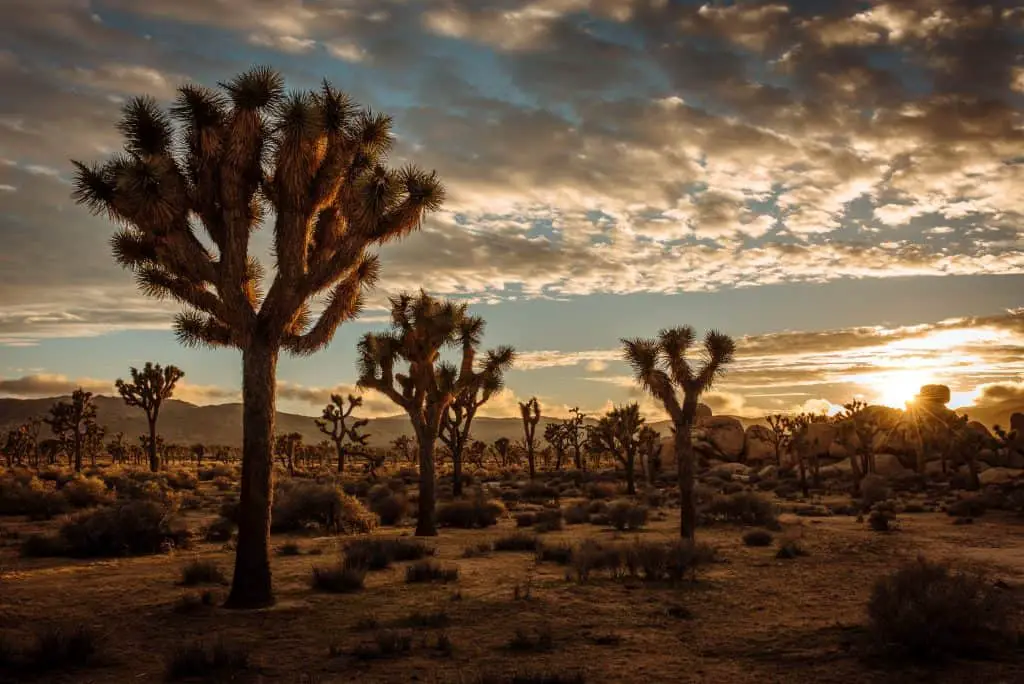 The Best West Coast National Parks Summary
A visit to the national parks of the west coast is a trip that will be filled with diverse landscapes and amazing outdoor adventures. There are colourful deserts, glaciated mountains, geothermal springs and rugged coastlines to explore. You will stand in awe at giant Redwoods and Sequoias, be blown away by powerful waterfalls and admire visas of incredulous beauty.
If you're looking for a west coast adventure, then these 10 national parks of Washington, Oregon and California are a great place to start.
Join My Newsletter Today!