Home to dramatic red rock deserts, sandstone spires that look as though they pierce the clouds, and landscapes that look straight out of Mars, visiting Utah's national parks is an experience like no other.
The Beehive State is home to what's commonly referred to as the Mighty Five, and when it comes to the best national parks in Utah to choose from, all I can say is: check them all out!
If you want a road trip itinerary that includes all 5 Utah national parks, then check out this guide!
The parks in Utah are pretty close to each other and some of them are quite small, which means you can cover a ton of ground in just a day. From the expansive canyons of Canyonlands to the beautiful natural rock arches of Arches National Park and the striking hoodoos of Bryce Canyon, here's the best of what Utah's national parks have to offer.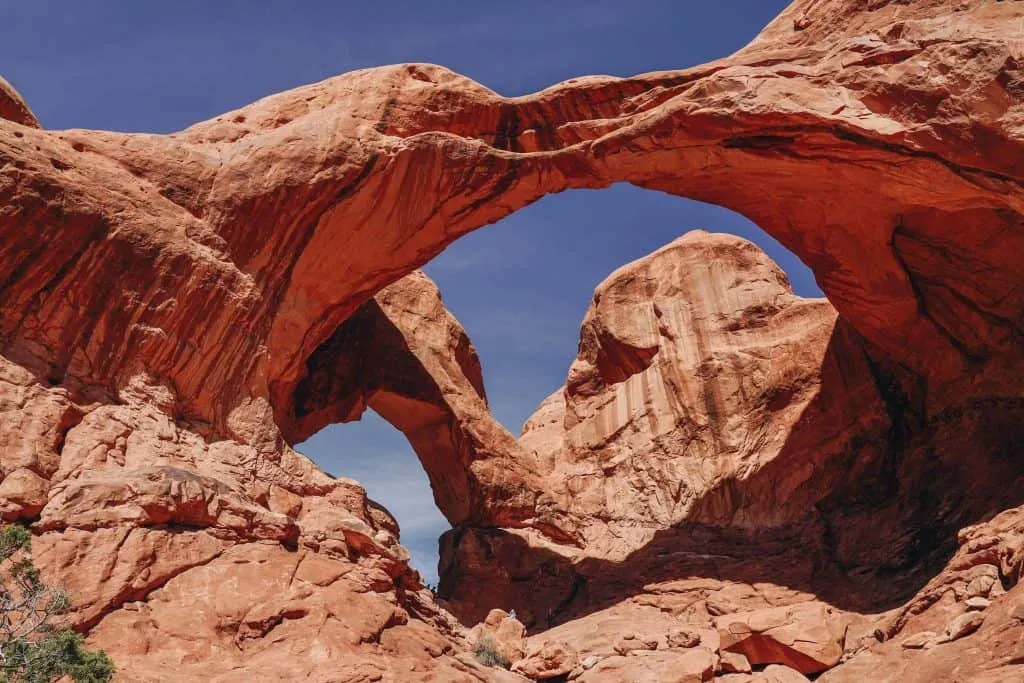 Disclaimer: Some links in this article are affiliate links, which means that if you purchase through them I receive a small commission, at no extra cost to you. This helps cover the cost of running this blog. Thanks for your support!
What Is The Best National Park In Utah?
As mentioned, I believe all the national parks in Utah are so unique that they all deserve a visit, however if you only have time to visit one or two, then there are some criteria that you might want to consider. These include:
Accessibility – how easy is the park to visit? Is it close to an airport or city?
Crowds – how busy does the park get? Do you want solitude or are you happy to battle crowds at a viewpoint?
Activities – what type of activities are on offer? Do you want extreme hikes or family strolls?
Beauty – what unique scenery does the park offer?
You won't be disappointed by the scenery in any of Utah's Mighty Five, but some are easier to access and some get extremely busy.
If I had to pick just one national park to visit in Utah I would opt for Canyonlands (sorry Zion, you are breathtaking but your crowds just too much). This is just a personal preference and everyone will, of course, have their own favourites.
However, for me the combination of vast canyon views, dramatic rock arches and unique needle and joint fracture formations, make Canyonlands an absolute delight to visit. Whilst a few spots can get busy, it's not hard to escape the crowds in this massive park.
National Parks In Utah Map
Zion National Park
Pros:
Incredible hikes with beautiful scenery – from Angel's Landing to The Narrows, all the hikes in Zion offer amazing scenery. 
Easily accessed from Las Vegas which is just 2.5hrs away. 
Cons:
Crowds, crowds, crowds – this is a popular and much visited national park which can lead to long shuttle bus waiting times and crowded trails.
Area: 146,597 acres
Home to humongous white and red-hued cliffs, swinging gardens, lush meadows on mesas, and hidden grottos, Zion National Park is king when it comes to variety in landscapes.
Aside from its striking terrain that ranges from deserts to lush greens, Zion National Park also boasts a variety of wildlife unique to the park as well as plenty of Native American history, making a visit here a pretty well-rounded getaway that combines the best of all worlds.
Zion Canyon, which was formed by the Virgin River, is serviced by a shuttle bus system which provides access to all the major trailheads. Get the earliest morning bus to escape the worst of the crowds.
Can't miss activities at this Utah national park include learning about the Paiute people at the Zion Human History Museum, ooo-ing and ahh-ing at the Checkerboard Mesa, checking out the Watchman and the Tower of the Virgin and hiking a few trails such as Canyon Overlook Trail, Emerald Pool Trail, and The Watchman Trail.
If you're not afraid of heights, brave the ever-alluring Angel's Landing hike. If you can't get a permit for Angel's Landing there are plenty of other hikes to enjoy in Zion, including the less exposed and equally beautiful, Observation Point Trail. If you visit during the hot summer months, don't miss walking The Narrows, where you can cool off in the river gorge as you walk.
Zion is a great national park to visit in October, when the temperatures have dropped and the crowds have departed. If you're happy to brace the cold, visit during the winter months.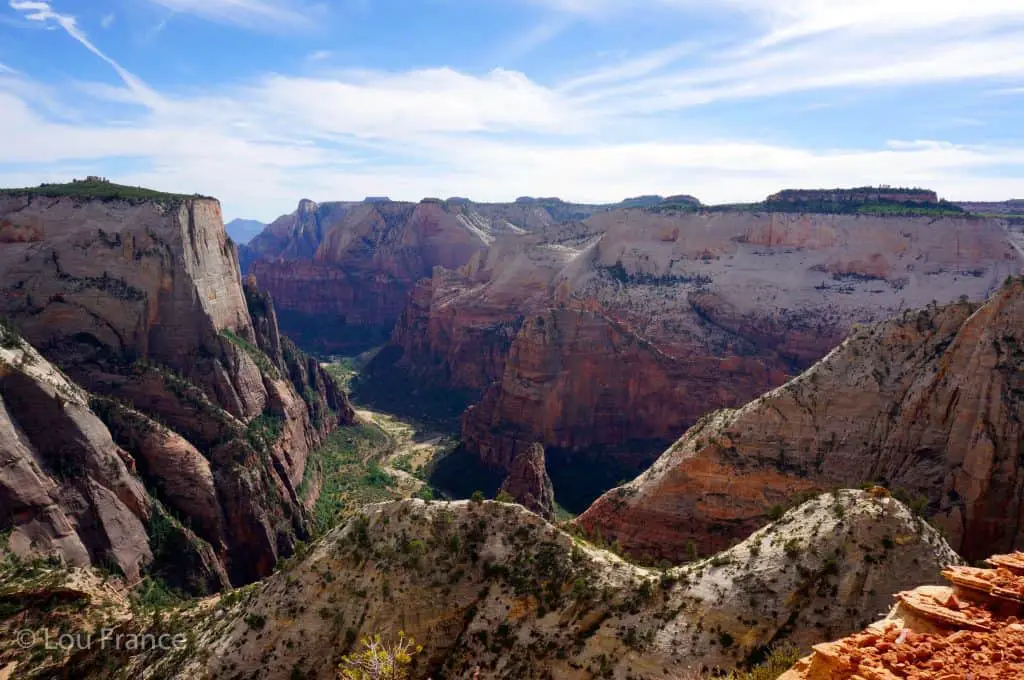 Related Reading
Bryce Canyon National Park
Pros:
Viewpoints of the canyon are very accessible to all
Very unique hoodoo rock formations to wow all that gaze upon them
Cons:
Only one hike of note (Navajo Loop Trail)
The scenery isn't as varied as the other parks
Area: 35,835 acres
Home to the largest collection of hoodoos in the world, Bryce Canyon's staple is its whacky-looking landscapes and amphitheaters. Having spent several weeks doing conservation work in Bryce Canyon, this Utah national park will always hold a special place for me.
Depending on how much time you have here and your interests, two of the best ways to explore Bryce's striking red landscape is by either driving Highway 12 to hit the park's most scenic viewpoints in one go, or else hiking the Queen's Garden to Navajo Loop trail.
This beautiful trail will give you the chance not only to stand in front of the most insane-looking amphitheater of hoodoos in the world, but also to see plenty of other landscapes like pine forests, rock tunnels, and red limestone walls.
Other wonderful activities include Sunset Point to bid the day goodbye, hiking the Bristlecone Loop Trail, and checking out Mossy Cave.
The viewpoints at Bryce Canyon can get quite busy with big tour groups during the peak summer months so if you want to escape the crowds consider visiting during the winter months when the canyon looks possibly even more impressive.
Discover all the best national parks to visit in winter in this guide.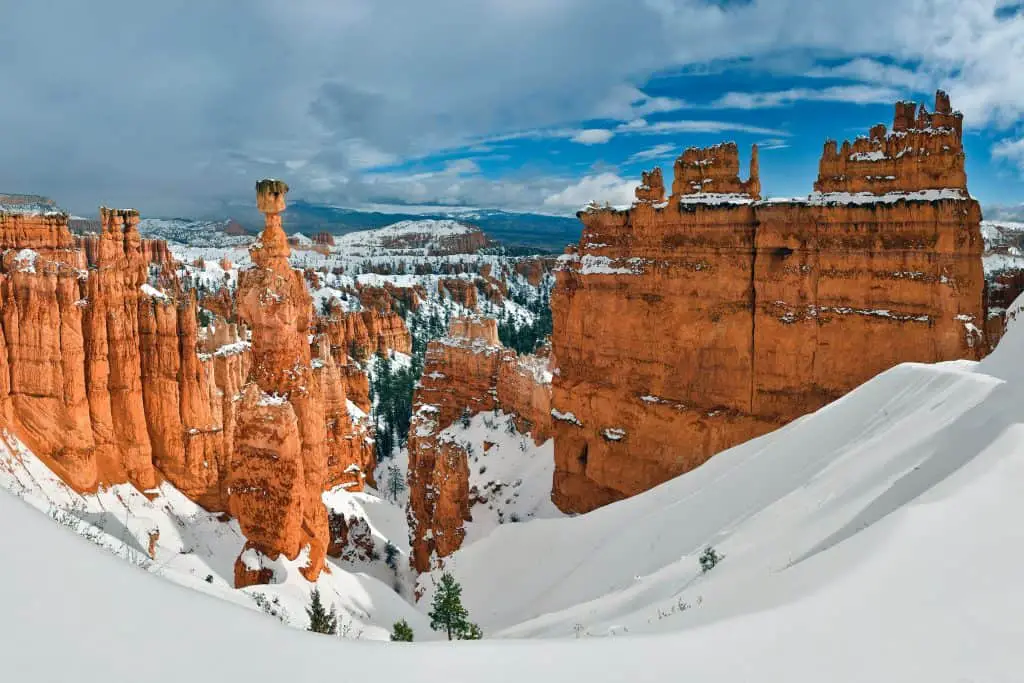 Capitol Reef National Park
Pros:
This little visited national park is void of crowds so is perfect for those seeking solitude
See the  geological wonder of the Waterpocket Fold
Cons:
Whilst the scenery here is beautiful, it's arguably not as unique as the other parks
Area: 241,904
Capitol Reef is probably the least-known of the Utah national parks, but that doesn't mean you shouldn't check it out.
Capitol Reef provides an incredibly peculiar landscape because it stands on the Waterpocket Fold, a gigantic crack on the earth formed millions of years ago that gave way to humongous cliffs, canyons, and all sorts of crazy-looking rock formations. 
Something you have to do at Capitol Reef is hike to Hickman Bridge, a relatively short trail (2 miles) that will get you to see the most iconic landmarks of the park. To see the Waterpocket Fold up close, walk the Grand Wash, which is a gorge that cuts through the fold.
If you like off-roading, venture out to Cathedral Valley Road (high clearance vehicle required) and be sure to take a break from exploring by treating yourself to a freshly baked fruit pie at the Gifford Homestead.
Driving the park's scenic loop is also a must in order to see the highlights, and if you want a unique activity, I recommend driving down Highway 24 to see a petroglyph panel carved out thousands of years ago!
Capitol Reef forms part of the scenic Byway 12. Learn more about this drive and other beautiful scenic drives in the US in this article.
Arches National Park
Pros:
The best collection of arches anywhere in the world, most of which only involve short walks
Cons: 
This small national park is so easy to visit it gets very crowded. Trying to get a photo of Delicate Arch at sunset without hoards of people taking selfies is near impossible
Area: 76,679 acres
As its name may have clued you in, Arches National Park is all about viewing rock arches and all sorts of unique rock formations.
Home to over 2000 arches, the landscapes at this national park are as unique as they can get. Despite having so much to see, however, Arches is pretty small and can easily be seen in a day. The best place to base yourself for a visit to Arches is in the nearby adventure town of Moab.
One of the best ways to cover as much of the park as possible is by driving the Arches Scenic Drive, which will give you a taste of some of the best it has to offer. Aside from driving, Arches also boasts plenty of easy hiking trails, perfect for those who don't have much experience hiking in the desert.
A hike you have to do is the Delicate Arch hike, which will take you to see the most popular arch in the park. It's very busy at sunset so rise early and enjoy sunrise here instead. If you are unable to hike this fairly steep trail, instead drive to the parking lot at the very end of Delicate Arch Road. Here a short, flat walk offers an equally impressive view looking up towards Delicate Arch from below.
Other incredible trails in Arches include The Windows, Double Arch, and Landscape Arch to see the longest arch in the world.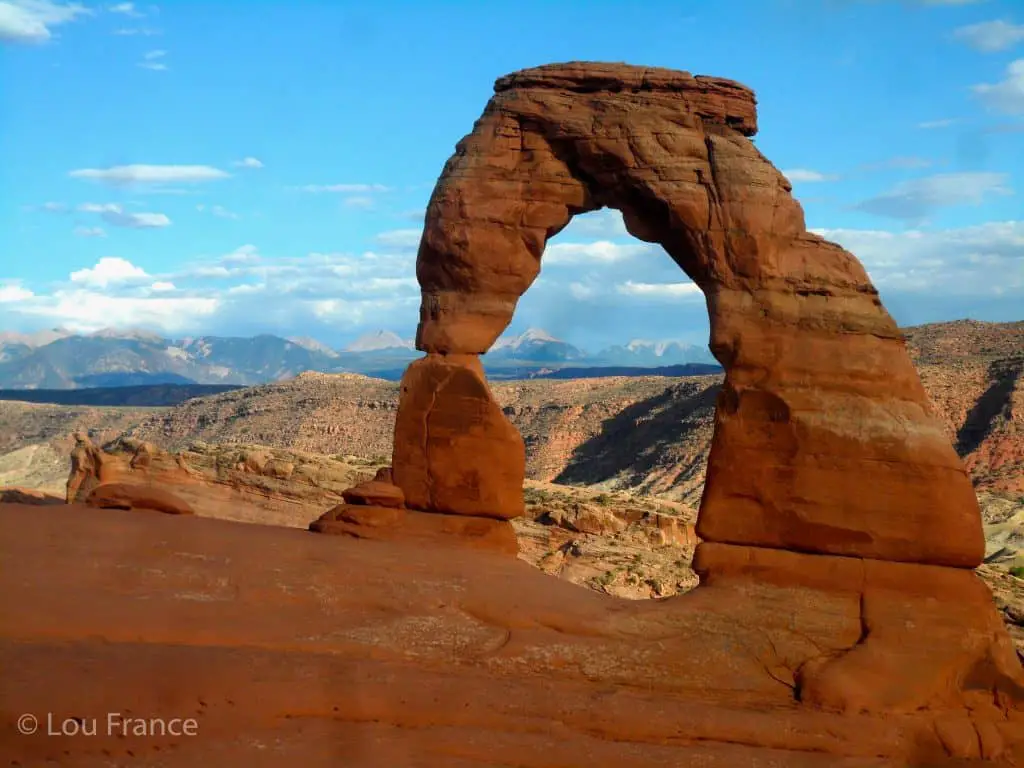 Canyonlands National Park
Pros:
Incredible, vast views that are easily accessed from the Islands in the Sky scenic drive
Close to Moab and Arches national park
Cons:
4WD is required to access much of the park, in particular the Needles and Maze districts
Area: 337,598 acres
Located pretty close to Arches, Canyonlands National Park provides a fairly similar landscape. Despite that, however, the experience you'll get at Canyonlands is completely different because, unlike Arches, this park is all about expansive views of canyons and scenery that feels as though it should belong on Mars.
Canyonlands is absolutely huge, so much so that it is divided into three districts: Island in the Sky, The Needles, and The Maze. For first-timers, Island in the Sky is usually the go-to as it provides easier hiking trails and access to some of the most iconic views of the park.
If you're into solitude, more challenging hikes, or even backpacking adventures, The Needles District is guaranteed to please. Here, solitude is assured, but due to the remoteness I only recommend checking out this section if you have a bit of time to spare. At 10.5 miles round trip, a great hike in the Needles is Chesler Park and the Joint Trail. These two hikes linked together provide a beautiful, full day of hiking in the desert landscape.  
Finally, The Maze is meant for really intrepid travellers. Getting here is an adventure in itself and requires special vehicles as it's actually considered one of the most remote areas in the world! If you love 4WD, then Canyonlands is definitely the national park for you.
I could write an entire book on everything worth seeing at Canyonlands, but if you don't exactly have an entire year to explore it, some of the activities you must include on your bucket list are driving the scenic drive to the meteor crater of Upheaval Dome, seeing the sun go down at Green River Viewpoint, and walking to the highly photographed Mesa Arch. Also, don't miss the walk out to Grand View Point Overlook for a view that is so vast it'll blow your mind!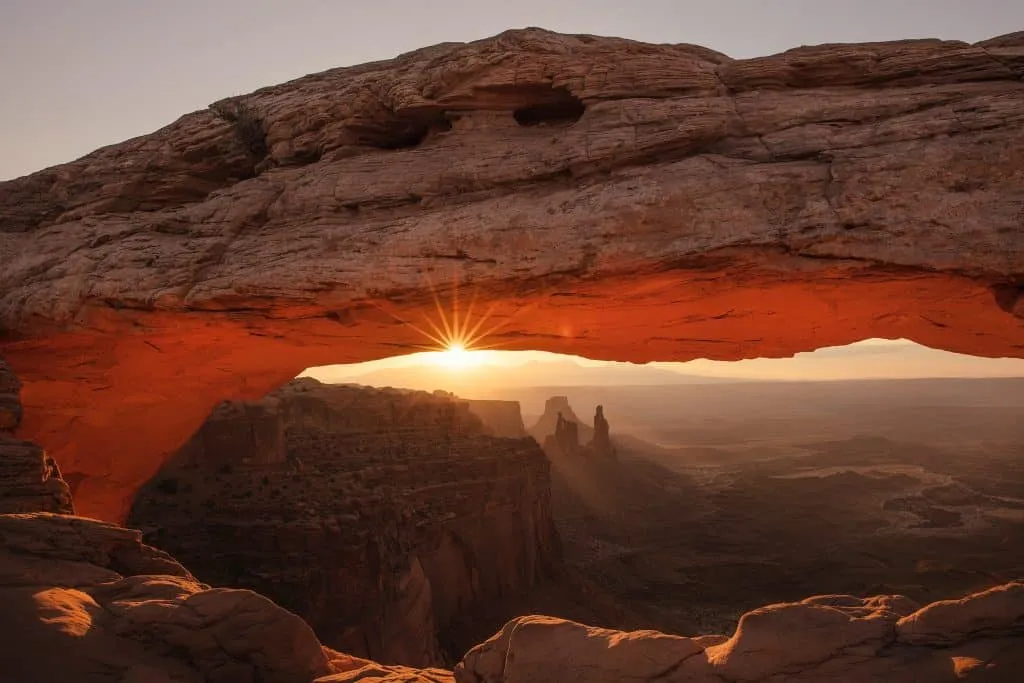 Tips For Visiting Utah's National Parks
Vehicle entrance to the following National Parks costs between $20-$35 each, so if you plan on visiting three or more national parks in a year, it makes sense to purchase the America the Beautiful Pass. This pass costs $79 and provides entrance to ALL National Parks in the US for one year. You can do the math!
Dogs are not allowed on hiking trails in most national parks so keep that in mind if you want to bring along your four-legged friend.
Many of these parks get very busy during peak summer months which means accommodation can sell out fast. Book ahead to avoid disappointment or plan you visit for the quieter and cooler winter months.
Car camping is a great, budget-friendly way to explore Utah National Parks. Check out this car camping packing list before you go.
Top National Parks In Utah Summary
There are five national parks in Utah and they are all very beautiful areas to visit. Zion offers incredible hikes with amazing vistas and Bryce is home to the biggest number of whacky-looking hoodoos. Canyonlands has expansive views which would seem more at home on Mars whilst Capitol Reef offers uncrowded trails through red rock formations. Finally, Arches is home to the biggest and best rock arches, most of which are easy to access.
Whilst I strongly recommend visiting all five of these Southwest national parks, circumstances might dictate selecting just one or two. In this guide I've outlined the pros and cons of each park so you can decide which Utah national park is best for you.
Join My Newsletter Today