A tour of the South Western States is an American road trip like no other. The scenery includes iconic locations and incredible landscapes that will have you reaching for your camera at every turn.
If you love big open spaces and exploring the great outdoors, then you'll love a southwest road trip!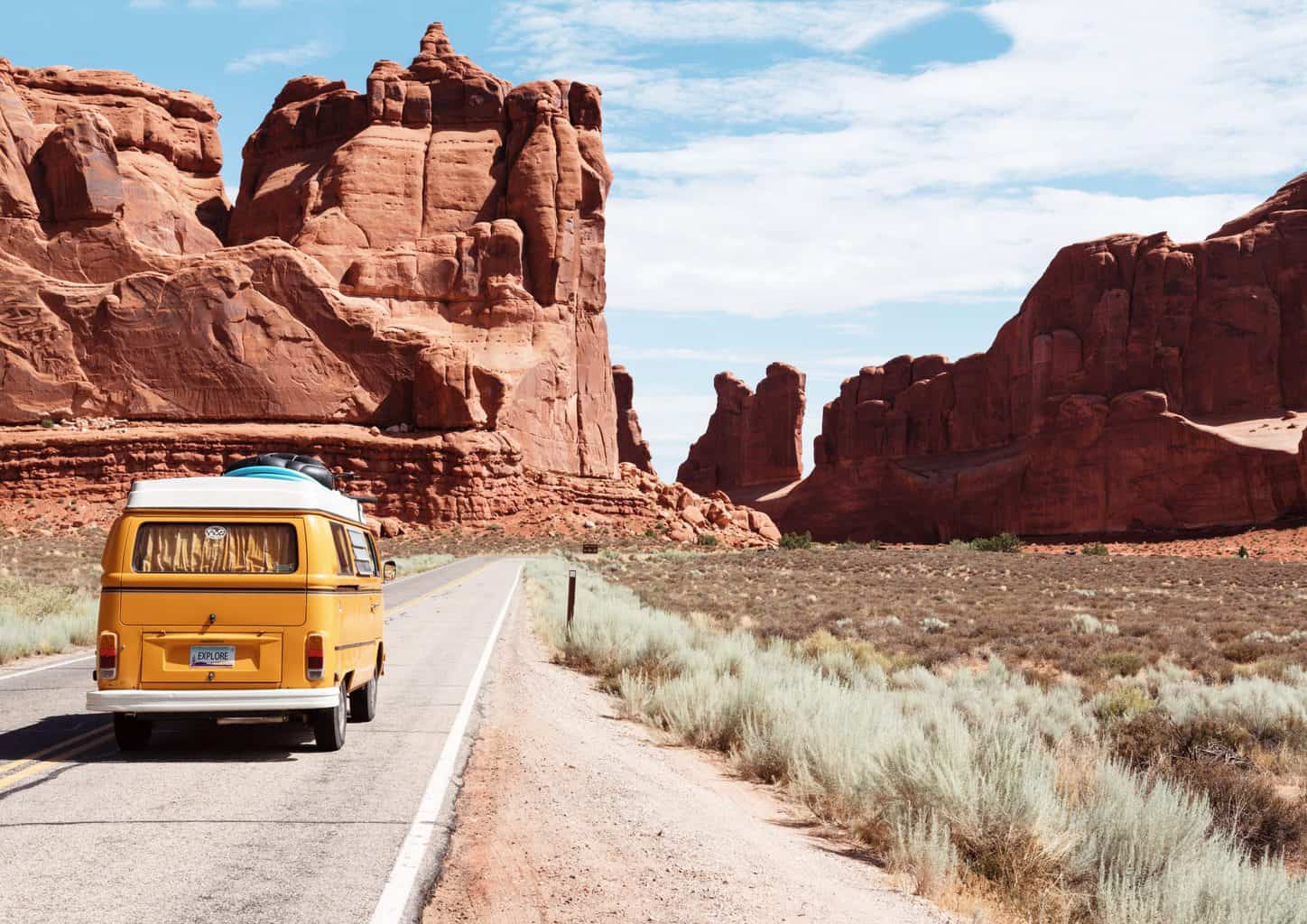 The Great American Southwest
The American Southwest is a broad term covering Southern Nevada, Southern California, Arizona, Utah and New Mexico. To cover all of these areas in one trip would take a several weeks or even months, so I would recommend breaking it down into smaller sections.
I've spent a lot of time exploring this beautiful area over the years. I've run four overland tours from Mexico to Alaska, worked on conservation projects in the Southwestern National Parks and have enjoyed a few of my own road trips through these vast landscapes.
The result?
This epic 14 day itinerary which showcases the best of what the southwest has to offer. This itinerary involves a good amount of hiking so it's physically quite demanding, however these hikes can be adjusted to suit your own fitness levels.
For this trip I recommend either car camping or using an RV/ campervan. For a complete, printable car camping packing list, see this article. Camping is by far, the best way to complete a south west road trip on a budget.
I would also recommend buying an Annual National Parks Pass as this will work out more economical than paying for each National Park individually. State Parks and Tribal Land entries will be additional costs.
Southwest Road Trip Map
To make your road trip easy to navigate I have pinned all the stops on this itinerary. Red pins indicate overnight stops and blue pins indicate hikes and photo stops.
14 Day Southwest Road Trip Itinerary
This two-week itinerary is based on the Grand Circle loop but with a few extras thrown in. On this adventurous south west USA road trip you will visit no less than 8 National Parks, 3 State Parks, 2 Tribal Reservations and 1 National Monument. Phew!
Before you set off be sure to check out these top tips for enjoying a US road trip. Now saddle up and get ready to enjoy an epic road trip around the American Wild West!
Day 1 – Arrive in Las Vegas

Day 2 – Drive to the Valley of Fire State Park or directly to Zion and hikes the Narrows

Day 3 – Hike Angels Landing or Observation Point

Day 4 – Drive to Bryce Canyon and spend the day exploring. Stay in Kodachrome basin state park

Day 5 – Drive to peek-a-boo slot canyon or to Lower Calf Creek Falls, then onto Capitol reef National Park for the afternoon

Day 6 – Drive to Moab and visit Arches National Park

Day 7 – Visit Canyonlands National Park and enjoy sunset at Dead Horse State Park.

Day 8 – Morning activities in Moab then drive to Monument Valley to join an afternoon tour

Day 9 – Drive to Page for an afternoon tour of Antelope Canyon. Take a short walk to enjoy sunset at Horseshoe Bend

Day 10 – Relax at Lake Powell 

Day 11 – Drive to Grand Canyon and explore south rim

Day 12 – Take an early flight over the Grand Canyon, then explore a Lava river tube before spending the night at Flagstaff

Day 13 – Drive to Petrified Forest National Park to explore with the option to wild camp in the Badlands. Alternatively spend the night in Winslow

Day 14 – Drive back to Las Vegas taking a detour along Route 66 and stopping to see Hoover dam
Top Tip: Much of the land in Arizona and Utah is run by the Bureau of Land Management. This is public land which means it's free to wild camp, (called dispersed camping) as long as you leave the land as you found it and don't adversely affect it in any way.
I love this style of quick-erect tent as they're so much easier to put up at the end of a busy day. They are ideal for wild camping.
Day 1
Spend the first day of your southwestern road trip exploring Las Vegas. Even if you're not interested in gambling, it's still worth spending at least a day here to explore the craziness of this impossible desert city.
I strongly recommend watching a Cirque du Soleil show, catching the fountain show outside the Bellagio and enjoying views of the strip from the top of the Eiffel Tower.
Top tip: If you're renting a car in Vegas it's worth comparing rental prices at the airport versus the strip. Car rentals are often cheaper at airports. Click here to check prices.
There are so many places to stay in Vegas but a solid budget right in the centre of the strip option is the Rio. I've stayed here multiple times.
Day 2
The first stop out of Sin City is the Martian-like landscape of the Valley of Fire. There are several options for great short hikes here such as Fire Wave and Elephant Rock.
Alternatively, if you want more time to explore Zion National Park then drive 2.5 hours directly to Zion. 
Zion operates a shuttle bus only system in the valley, so park up at your camping spot first before heading out for the afternoon. A good hiking option for today is the Narrows. This huge gorge offers welcome relief from the heat of the valley and is a fun walk through the beautiful water filled canyon.
River shoes are a must for this hike so be prepared and pick some up before you go. Alternatively, basic river shoes are sold near the entrance to Zion NP.
Day 3
Today there is a full day today to explore more of what Zion has to offer. The iconic hike in Zion is Angel's Landing. This is a relatively short but steep hike along very exposed cliff edges. 
Metal ropes guide hikers along a narrow trail with 1000ft drops either side. The views from the end point, Angel's Landing, are definitely worth it but if you aren't comfortable with heights I wouldn't recommend this hike.
A great alternative with equally impressive views is Observation Point. This hike is longer and climbs higher to a point that overlooks the whole valley, including Angel's Landing. As an overall hike I actually prefer this one as it offers more varied views throughout the hike.
In the afternoon cool off with a dip in the river or explore the Narrows if you didn't do so yesterday.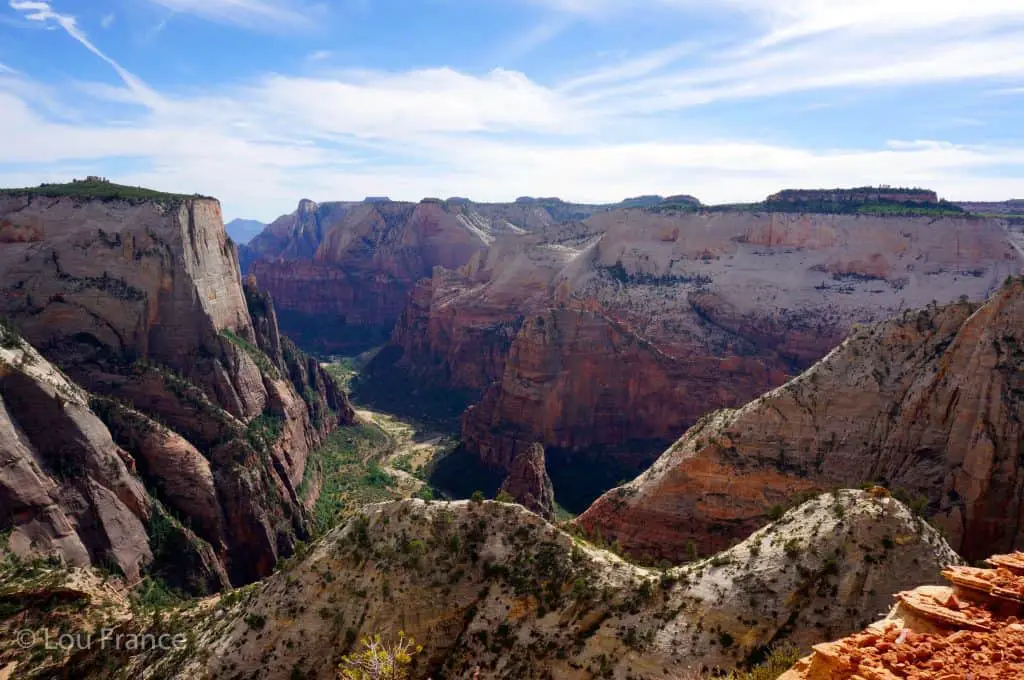 If you love these southwest national parks, you'll love the national parks of the west coast
Day 4
This morning, drive the short 1.5 hours to Bryce Canyon. There are several scenic/photo stops along this drive out from Zion and it also includes an epic drive through the tunnel cut straight out from the cliff-side.
Once at Bryce drive to sunset point to enjoy panoramic views of some of the most crazy rock formations you will ever witness. These eroded rock pinnacles are very unique and the best example of hoodoos I've ever seen. (Although Cappadocia in Turkey is a very close contender!)
Be sure to hike down into the canyon to fully appreciate the hoodoos. A top 3 mile hike is the Queen's Garden/Navajo Loop combination. You could easily spend more time in this area, so check out this post if you want to  explore more of Bryce Canyon.
A great option for camping tonight is at the largely overlooked Kodachrome Basin State Park, which is a 30 minute drive from Bryce. If you have the energy for another walk, try Angel's Palace Trail and enjoy the red and orange glow of the rock in the soft evening light. For an easy stroll try Kodachrome Nature Trail.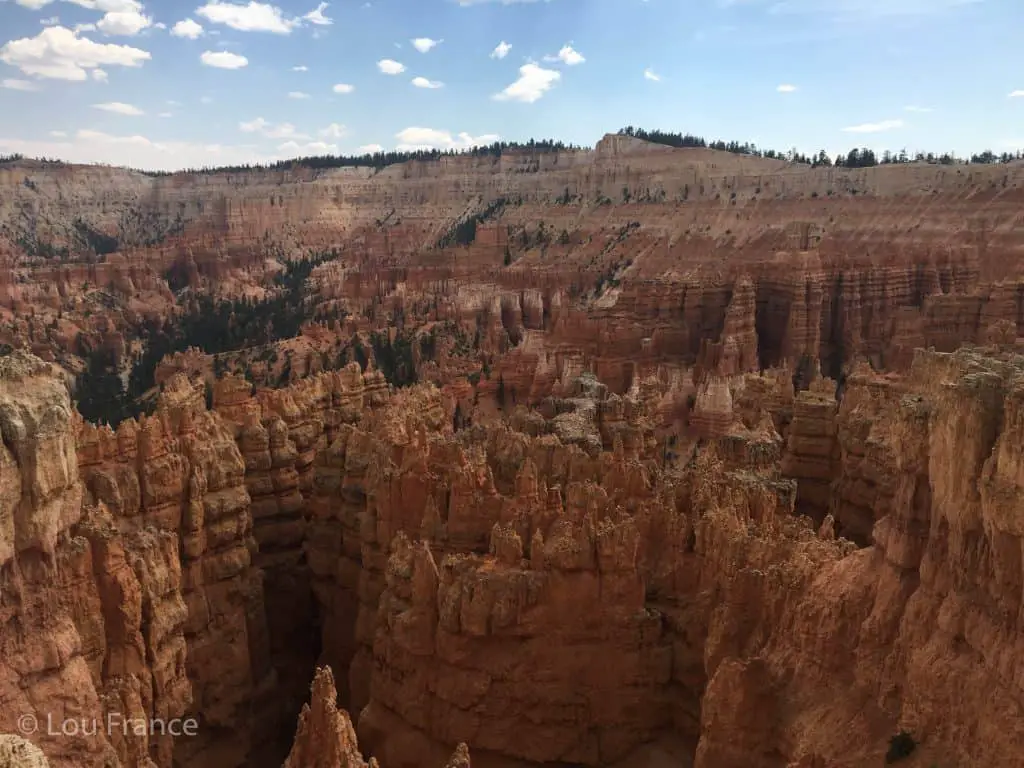 Day 5
There are two great options for this morning depending on which activity you prefer – a scramble through a slot canyon or a hike to a waterfall. Both are super fun ways to explore Escalante National Monument. 
The first option is to drive 1 hour to Escalante. Check in at the information centre to make sure the weather forecast is good, as flash flooding is a serious danger in the slot canyons.
From there, pull off highway 12 and take the gravel, Hole-In-The-Rock Road to the start of the trailhead. This road is rough but ok for regular vehicles as long as it's dry.
Peek-a-boo and Spooky Gulch are two slot canyons which can be linked together to form a 3 mile loop. You don't need technical gear or knowledge but you will need decent navigational and scrambling skills. Some of the holes are quite tight to squeeze through also.
The other option for this morning is to drive from Kodachrome for 1.15 hours to the trailhead for Lower Calf Creek. This 6 miles round hike is quite popular as the reward is a beautiful 126 ft waterfall to swim under.
In the afternoon continue along Highway 12 (seriously epic scenery along this highway!) and then 24 to Capitol Reef National Park. There are a variety of hikes to choose from depending on your needs but be sure to reward yourself with a delicious fruit pie at the end of the day!
Fun Tip: In Escalante there is a chalkboard where you can leave your own uplifting message for others to enjoy 🙂
Day 6
This morning there is a short 2 hour drive towards the adventure playground of Moab, where you will be based for 2 nights. If you're feeling energetic you could squeeze in a visit to Goblin Valley State Park for some short walks.
Otherwise, drive straight to Arches National Park where you can spend most of the day exploring this popular park. 
Highlights include the Windows Arch area, Landscape Arch and Utah's most iconic arch, Delicate Arch. The hike to delicate arch is quite a steep 3 mile round trip. It's a great hike to do at sunset.
Another option for sunset is one of my all time favourite things to do in Moab – a sunset Hummer Tour. Bumbling around the unbelievably grippy sandstone in one of these impressive machines is a seriously fun way to explore this area.
Day 7
Today is the halfway point on this southwest USA road trip and there's still so much more to see!
There's another awesome Utah National Park located in close proximity to Moab which is Canyonlands National Park. Canyonlands is split up into several areas which need multiple days to be fully explored. The easiest and perhaps best area (at least for panoramic views) is the Islands in the Sky district.
If you're an early riser, venture first to Mesa arch to enjoy sunrise with the photographers. Spend the rest of the day enjoying a series of short hikes along the scenic drive. These include whale rock, upheaval dome and the absolute must-do, Grand View-Point Overlook.
A great place to enjoy sunset tonight is at Dead Horse State Park, which is located near the entrance to Islands in the Sky.
After you're finished be sure to head to Moab Brewery to enjoy some well-earned craft beer.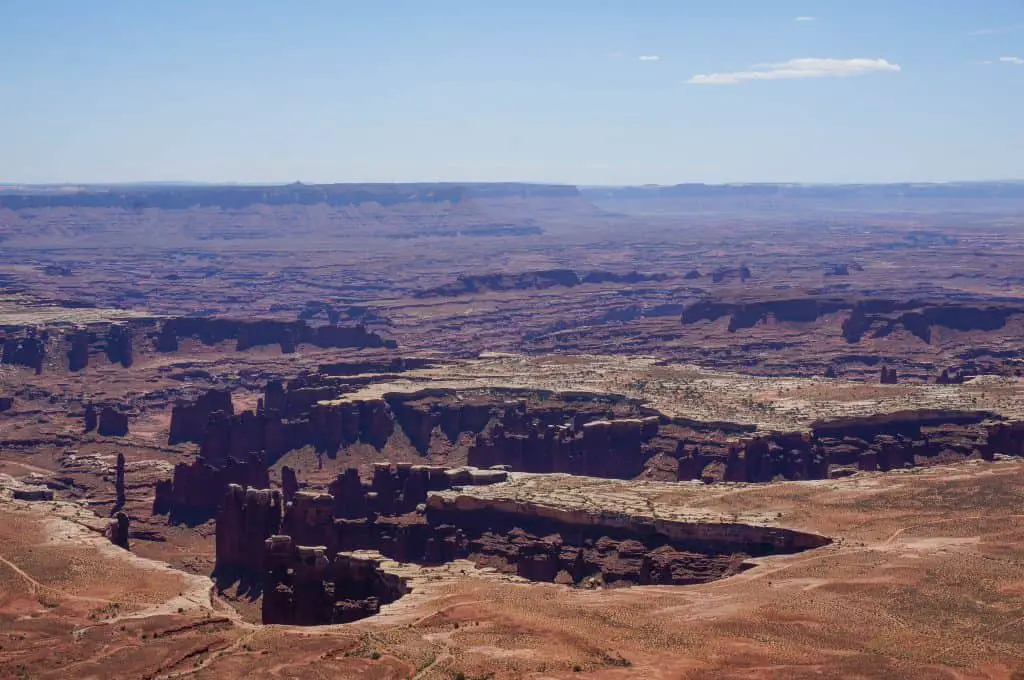 Day 8
Take this morning to further enjoy some of  the activities on offer in Moab such as Mountain biking, rafting or canyoneering. There are so many things to do in Moab I definitely recommend spending more time here, especially if you're an adrenaline junkie!
For a full list of things to do in Moab, take a look at this post.
After lunch drive 2.5 hours to another icon of the American Southwest, Monument Valley. En-route be sure to stop at Mexican Hat rock and then Forest Gump Hill for those awesome insta-worthy photographs.
On my first visit to Monument Valley I simply admired the buttes from the Visitor Centre Area, however in subsequent visits I enjoyed overnight tours down into the valley.
Spending a night sleeping under the stars and watching sunrise from within the valley is an experience that's hard to beat. These are a big expense if you're on a tight budget but I guarantee you won't be disappointed. 
For a full description on what to expect on a visit to Monument Valley, click here!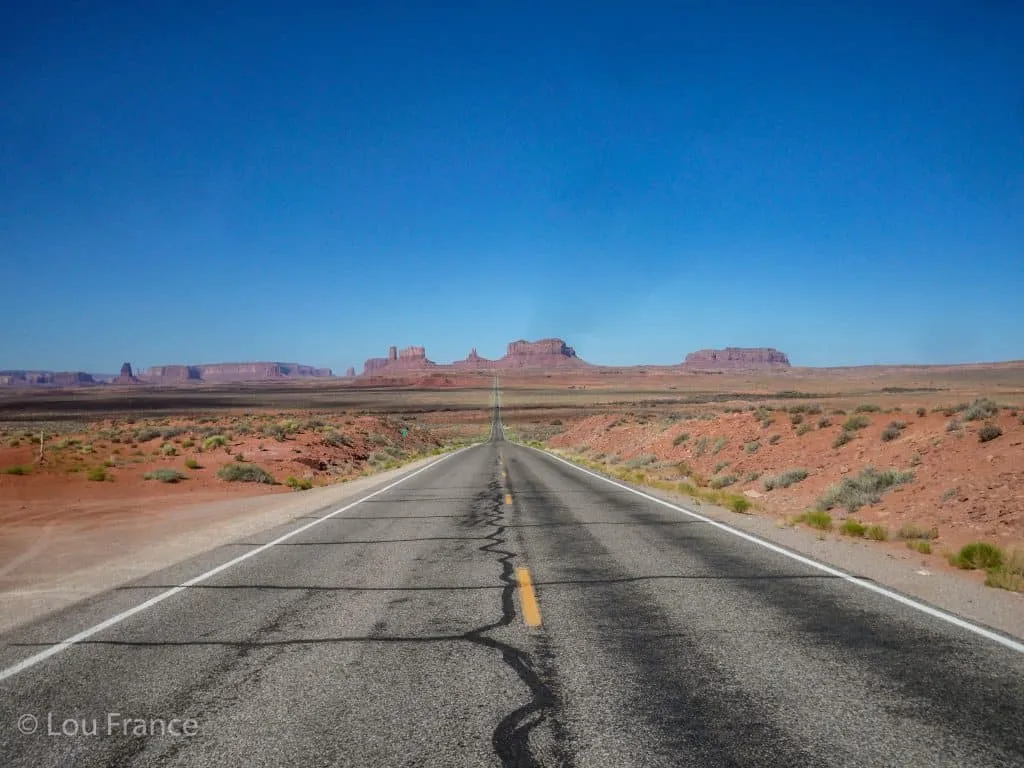 Day 9
After a magical night in Monument Valley there's no rest as you head towards another incredibly photogenic location. Drive 2 hours to Page and take a tour of the magnificent Antelope Canyon.
To visit Antelope Canyon you must take a tour as it's on Navajo Land and I  recommend booking a tour well in advance to avoid disappointment. Be warned these tours are always busy and be prepared to be ushered along like a cattle, however it's definitely worth it.
In the evening take the short drive out of town to enjoy sunset at another epic location, Horseshoe Bend. It's a short walk from the car park to the viewpoint and arrive early to get a prime spot for that picture-perfect photo.
Top tip: A wide angle or fish eye lens is needed to fit the whole horseshoe in.
Day 10
After 9 action-packed days on this American southwest road trip, it's time to relax a little bit with a day on Lake Powell. Lake Powell is a man made lake and is under the protection of the Glen Canyon Recreation Area.
Take a trip to the visitor centre to learn about Glen Canyon Dam and then head to the lake for a refreshing swim. Or if you can't get enough of those natural arches, take a boat trip to Rainbow Bridge.
Day 11
Today it's time to visit the most famous destination on this southwest road trip. No road trip around the American south west would be complete without a visit to the Grand Canyon.
From Page drive 3 hours to the South Rim. A shuttle bus service runs along the length of the south rim allowing you to hop on and off along the various view points.
Hiking into the canyon is a great way to appreciate the geology of the canyon, although on this itinerary there isn't sufficient time to hike to the very bottom. To escape the crowds hike the South Kaibab Trail and to really escape the crowds hike Hermit's Trail.
If you're interested in hiking to the bottom of the Grand Canyon, take a look at this guide where I explain how to get camping permits and provide a hiking itinerary.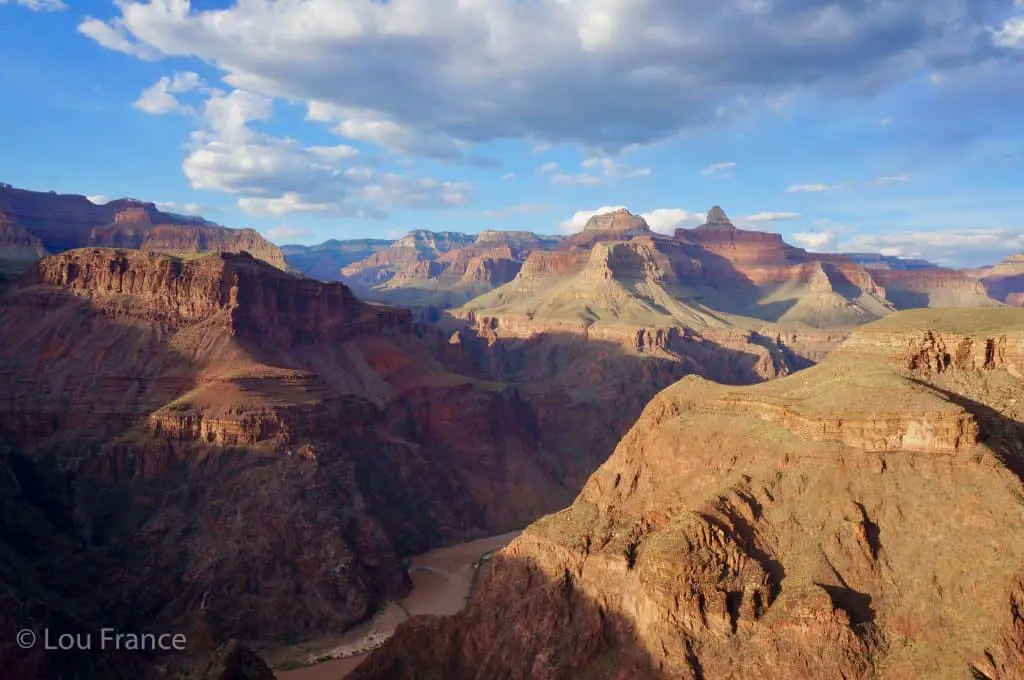 Day 12
If the purse strings allow take an early morning scenic flight over the Grand Canyon. It's the only way to truly appreciate the vastness of the canyon. Again booking in advance is essential if you have a tight schedule.
After you've gotten over the thrill of the helicopter ride, drive towards Flagstaff but branch off the 180 onto Forestry Road 245. Follow the signs to the Lava River Cave. This old lava tube stretches for 1 mile and makes for a fun side trip before reaching Flagstaff.
Take the afternoon to wander around historic Flagstaff sneaking down alleyways to spot the brightly coloured murals. Flagstaff has plenty of options for a fun night, as there's often live music on offer.
Day 13
There's one more National Park to visit before this Southwest US road trip is through, one which is often overlooked. Petrified Forest National Park is less than 2 hours from Flagstaff and has many short hikes available. Crystal Forest, Giant Logs and Long Logs all offer great opportunities to learn about and view petrified wood, whilst Blue Mesa trail explores the Badland hills.
Petrified Forest has some excellent backcountry hiking and permits are easy to obtain, even on short notice as I once did. If you really want to get off the beaten track, get a backcountry permit and head into the badlands for a night of wild camping!
Alternatively drive to Winslow and spend the night there.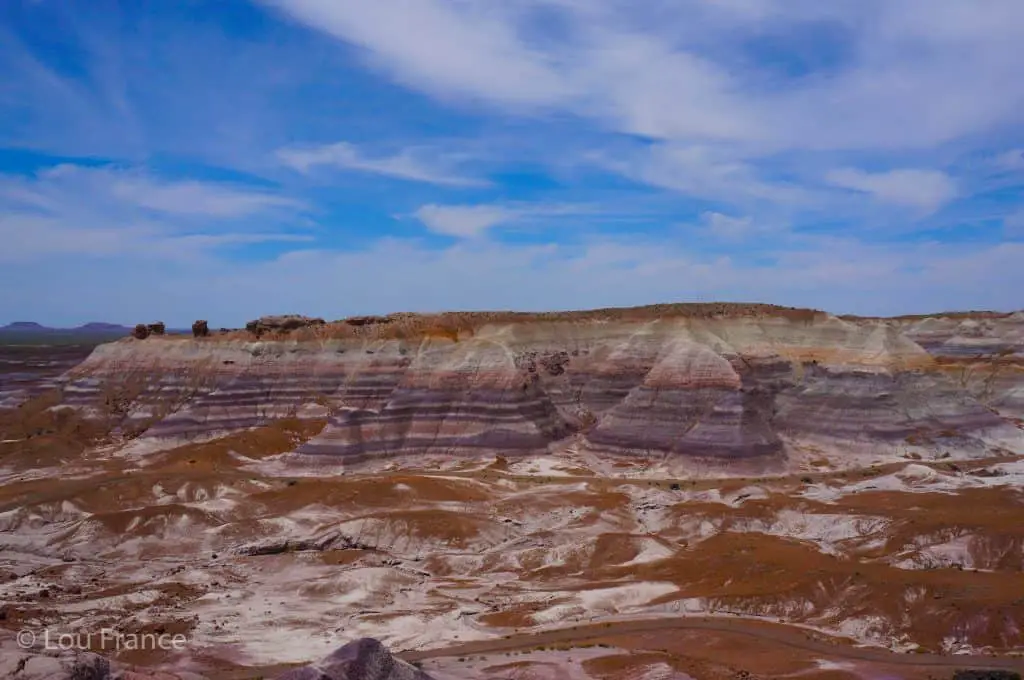 Day 14
This may be the last day of your Southwestern US road trip but there's still lots to fit in. If you camped in Petrified Forest last night make a quick stop in Winslow and get your photo taken on the famous corner. (If you're an Eagles fan, you'll know what I mean!)
Then drive back towards Las Vegas. Branch off the Highway at Seligman to cruise a section of the famed Route 66. Stop in Seligman to buy some Route 66 souvenirs and grab a shake from Delgadillo's Snow Cap. Stop in Kingsman to eat lunch at a Route 66 Classic Diner.
Rejoin the Highway and drive onto Hoover Dam. There is a strict security check to drive over Hoover Dam but you can drive over it and once over the other side there is free parking.
There's a $10 fee to enter the Visitor's Centre as this is not covered by the National Park Pass. It is also possible to park next to the security check point and walk up onto the bypass bridge for views over the dam.
Finally, from the Dam it's around a 1 hour drive back to Las Vegas and the end of this epic south west road trip.
Itinerary Extras
If you have more time to explore there are a few extras that could be added to this itinerary. These are seriously dreamy locations which require advanced planned and/or a good amount of luck. 
The Wave
This Instagram-heaven landscape requires a permit in order to visit. Only 20 permits are issued every day. 10 from walk-ins at the Grand Escalante Visitor Centre in Kanab and 10 from booking online, both via a lottery system. Doors open at 9am so it's best to get there early!
Havasupai Indian Reservation
This is where you can find the majestic Havasu Falls. To visit this dream bucket-list spot you need to make a reservation, usually 1 year in advance and only 3 night packages are sold. Bookings open in February.
The Best Time for a Southwest Road Trip
I've typically travelled around the southwest in the spring and summer months. The summer months will be the busiest time to travel which means RV parks and campsites get booked up fast. In the summer, temperatures can be uncomfortably hot in some places and can make hiking really unpleasant. However, days will be long and evenings will be warm.
In the spring and fall, days will be warm and enjoyable although the nights can be cold, especially in higher elevation areas like the Grand Canyon and Bryce Canyon. The National Parks will be a little quieter out of school holidays and campsites will not be so full. 
If you love colder temperatures and snowy adventures you could do this trip in winter, but you'll need to be fully prepared with all the right gear. Discover all the best national parks to visit during winter in this guide.
Taking everything I've said above into consideration, my favourite month to do a South West Road Trip in the US is May.
Essential Items for your Road Trip
A good quality camera to capture the beautiful landscapes. I use a Sony A6400 as it's light and compact.
A good pair of hiking shoes. Boots are too hot and bulky for most of these trails so I prefer a lightweight trail shoe.
Plenty of sunscreen to protect yourself from the strong desert sun. I like this organic, ocean-friendly sunscreen from Green People.
A filtering water bottle so that you can always have safe drinking water. Staying hydrated is a vital in the desert areas. Discover the best filtering water bottles for travel and hiking in this handy guide!
US Southwestern Road Trip Summary
The American Southwest covers a vast area of land which requires many weeks to explore. However, on this 14 day road trip itinerary, it's possible to visit the major highlights of Arizona and Utah.
The perfect way to enjoy this USA southwest road trip is through car camping or with the use of a campervan/RV. The best time of year to enjoy this itinerary is in Spring or Fall.
I hope you enjoy this epic area as much as I have!
Don't Forget Your Travel Insurance!
For the best deals on travel insurance, check out Safety Wing.
Disclaimer: Some links in this article are affiliate links, which means that if you purchase through them I receive a small commission, at no extra cost to you. This helps cover the cost of running this blog. Thanks for your support!
Like it? Pin it for later!
Join my newsletter today!