Cappadocia is an incredibly unique landscape and one of the top destinations to visit, not just in Turkey but in the world. This semi-arid region of Central Turkey is home to unusual rock and earth towers affectionately known as Fairy Chimneys.
I've been lucky enough to visit Cappadocia several times over the years and my most recent visit was during Winter.
But not just any winter.
The winter of 2021/2022 was the most snowy winter in over 70 years. This meant I was lucky enough to see the beautiful Fairy Chimneys in all their snow covered glory.
Following this most recent, magical visit, I decided to put together this guide on visiting Cappadocia in winter.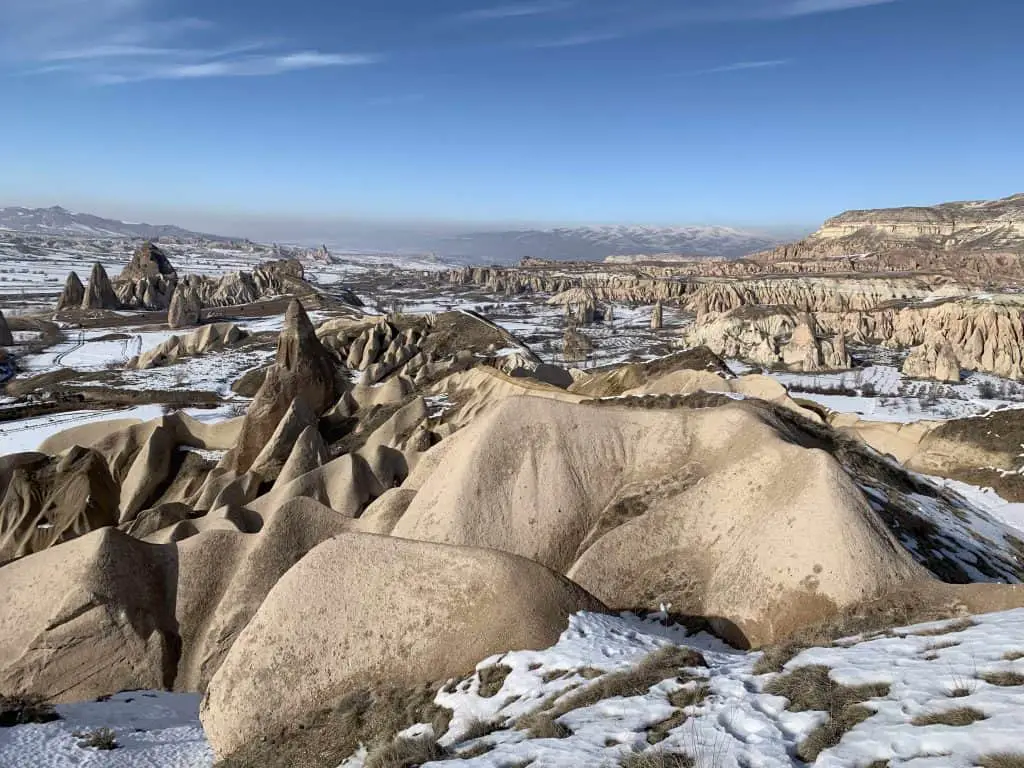 Disclaimer: Some links in this article are affiliate links, which means that if you purchase through them I receive a small commission, at no extra cost to you. This helps cover the cost of running this blog. Thanks for your support!
Why Visit Cappadocia During Winter?
1. Less Tourists
Tourism during the winter in Cappadocia has actually grown a lot over the last few years. It used to be a ghost town in winter, so I was actually surprised at the number of tourists milling around the streets.
However, tourist numbers in winter are far less than during the peak summer months, where you'll have to jostle for room at sunrise and sunset viewpoints and pre-book balloon rides weeks in advance.
2. Lower Prices
Since tourist numbers are lower, businesses have to work a little harder to get punters through the door and this means lower prices.
3. Everything Looks Even Prettier In The Snow
Cappadocia is a truly special landscape to witness, however with a dusting of snow these unique rock formations look extra special. A real Winter Wonderland!
4. Everything Is Open
Well, almost everything!
Balloon rides still fly (weather permitting), tours still run, shops still sell souvenirs and restaurants still serve food. We also found that the ticket offices to popular sunset spots like Rose/Red Valley and Göreme Hill close early in Winter, which meant entrance to these areas were free in the afternoons/evenings. Winning!
5. It's Cooler For Hiking
Hiking around the Fairy Chimneys is a must-do on any trip to Cappadocia, but in the summer months this can be a very hot and stuffy affair since there's not much shade on offer. However, this isn't an issue in the cooler months of winter which is a huge bonus in my book. Just be sure to pack warm clothes and sturdy shoes!
Not sure what activities to include in your Cappadocia trip? Check out this 3 day Cappadocia itinerary.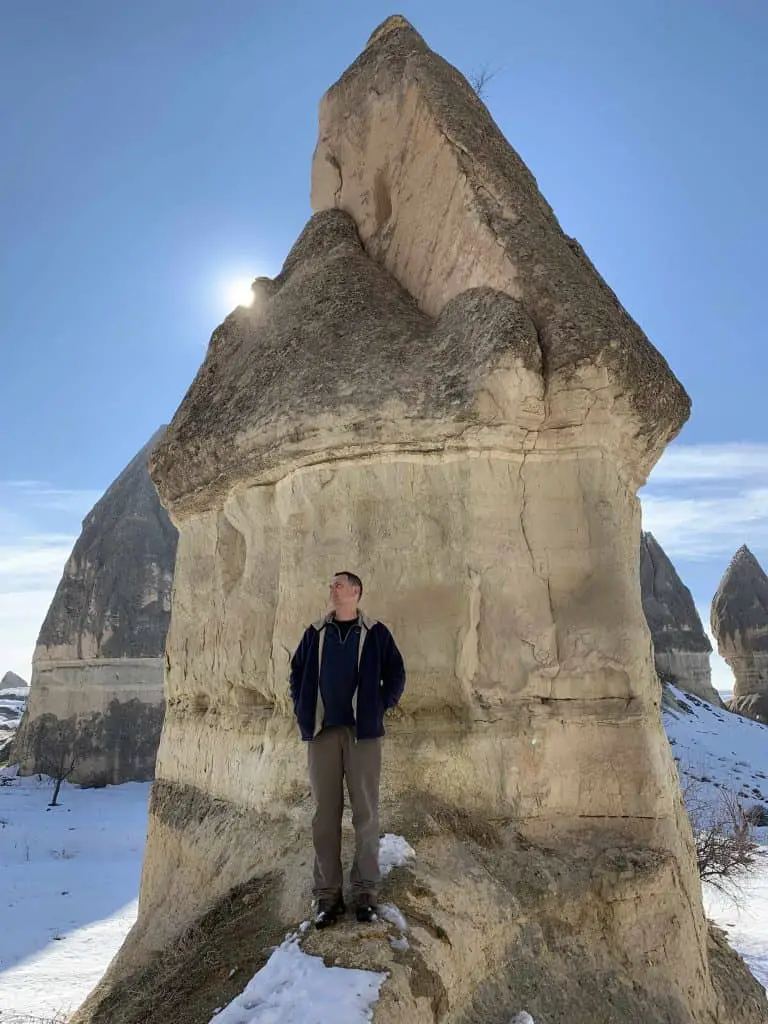 When Is Winter In Cappadocia?
Winter in Cappadocia runs from November through to April. Although snow may fall in November, it's more common in December, January and February. Since most of the Cappadocia region is over 1000m above sea level, winter in Cappadocia is typically very cold.
The average temperature for these months is around 5 degrees however, evening temperatures are much lower than this.
What To Pack For Winter In Cappadocia
Winter in Cappadocia is cold and often snowy come prepared with appropriate clothing:
If you like this content, consider giving me a follow on the following platforms.
The Top 15 Things To Do In Cappadocia In Winter
1. Hot air balloon ride over snow covered Fairy Chimneys
It might be a cliché but this is the most popular thing to do in Cappadocia, no matter what the weather.
And for good reason.
Floating high above the Fairy Chimneys as the sun slowly rises is one of those experiences you'll never forget.
Flights last around 1 hour and expect to share your basket with around 20 people. Balloon rides typically cost 150 Euros, which I think is excellent value for money, however in Winter this can drop to 60 Euros. Click here to check the latest price and book your spot or use the booking form below.
Premium flights with fewer people are also available for a slightly higher price as are flights with a champagne breakfast.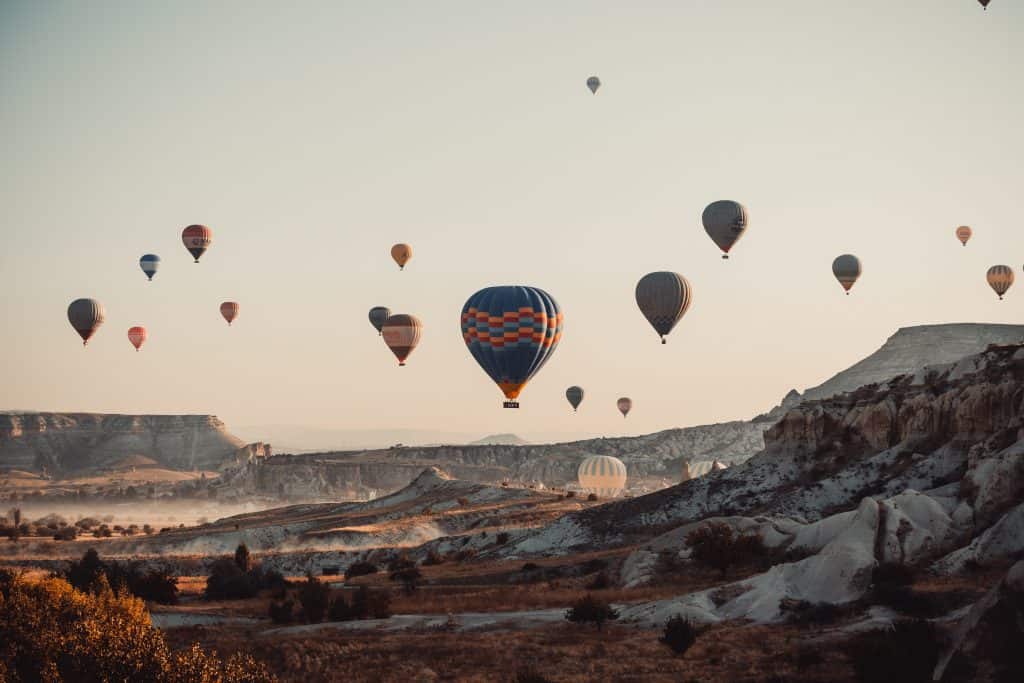 2. Watch the balloons fly from ground level
It's amazing to take a balloon flight but it's equally impressive to see the balloons fly from ground level.
Now, if you're lucky you will be able to watch the balloons from your hotel rooftop. (See my suggestions on this later) However, if your hotel doesn't have this feature then the easiest place to watch sunrise and, weather permitting, the balloons take off, is from Göreme Hill Sunset Viewpoint.
It's a short, albeit steep walk, up through the windy streets to the top of the hill from where you can look out across the whole region. As the name suggests, this is also a good option for sunset but I think there is an even better option, which I talk about next.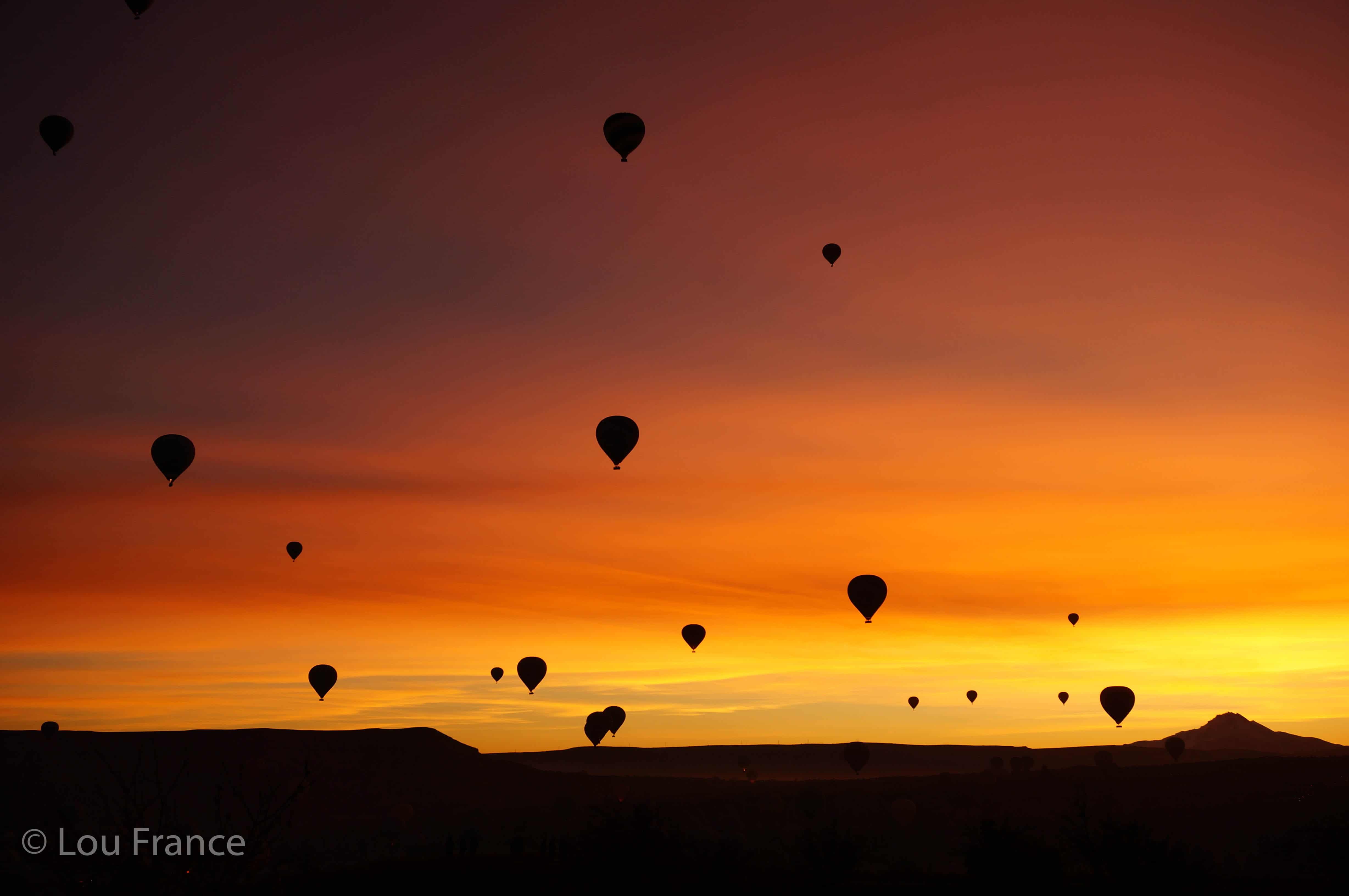 3. Enjoy sunset over Rose/Red Valley
There are so many good places to enjoy sunset in Cappadocia that it's hard to narrow it down to just one place. However, due to colourings on the rocks at Rose and Red Valleys, this surly has to be top of the list.
At sunset the golden hour rays light up the rocks of Rose and Red valley and enhance their colour even further. It really is a magical scene to witness and something you must do on your winter trip to Cappadocia.
From the centre of Göreme it's a 6km drive to the sunset viewpoint over Rose Valley. There is an entrance fee to pay along this road but in the winter these gates are unmanned in the evenings, so it's free to enter.
You can drive all the way to the end of the road and enjoy sunset from there, but I believe the better view is from the viewpoint further back, which has a coffee shop and love heart photo point. From this point you can see the cliffs light up and look down along the length of Red valley.
Without a car, the better (and shorter) option would be to walk out of town and enjoy sunset from within Rose Valley itself. The walk is 3km and will take around 1 hour one way. From the viewpoint you can watch sunset over Göreme and Uçhisar Castle and in the other direction you can see the valley cliffs light up. Remember to take a torch for the walk home!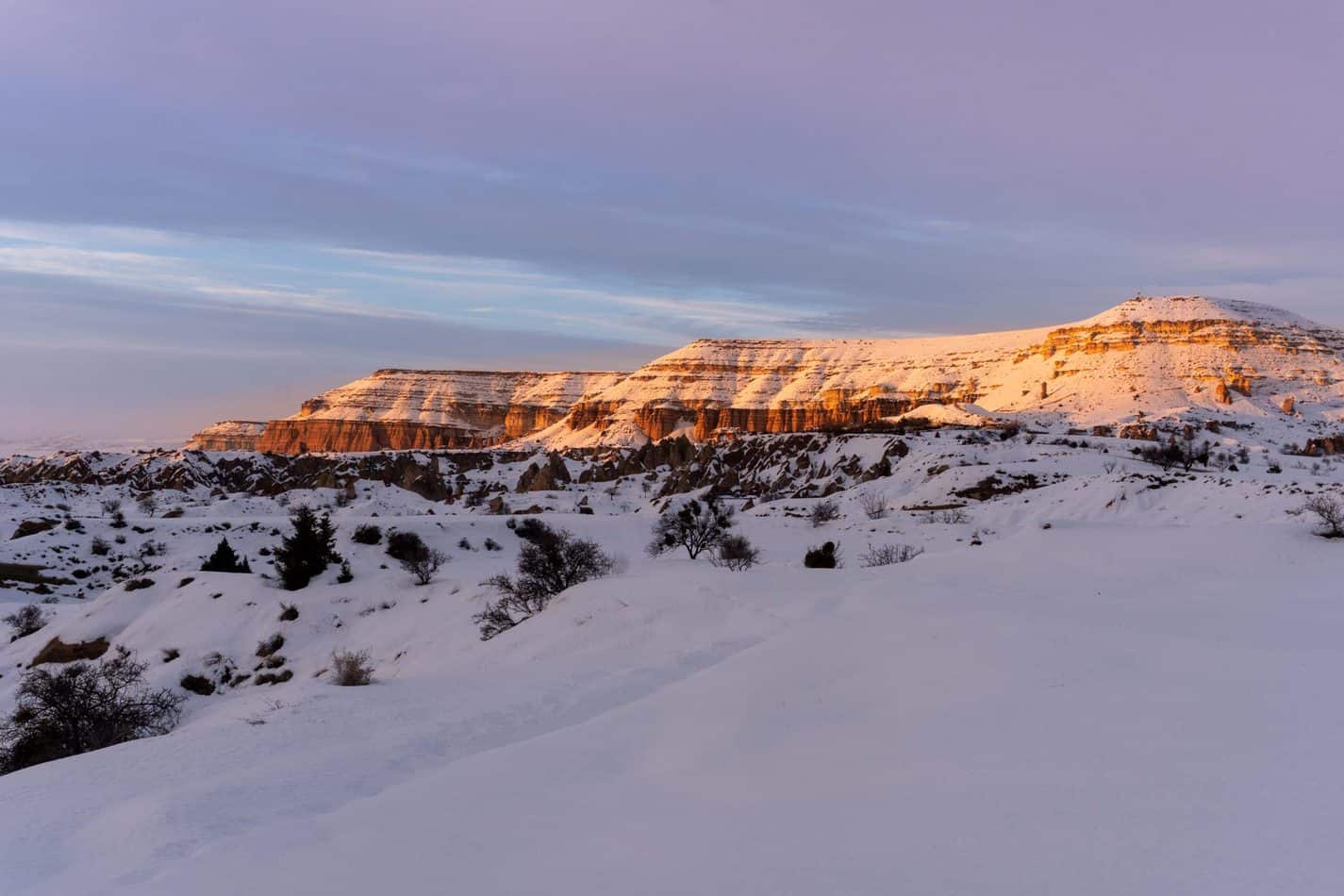 4. Warm up with a Hammam in Ergup
A hammam is a hot steam bath followed by a massage. This is a popular pastime in the Middle East and is the perfect thing to do on a cold winters day in Cappadocia.
Many places in and around Göreme offer hammams, but the Heybe Hammam and Turkish Bath in Ergup offers the full Turkish experience. It's not the cheapest but offers a top quality service and has a swimming pool if you fancy a dip afterwards.
Don't Forget Your Travel Insurance!
For the best deals on travel insurance, check out Safety Wing.
5. Feast on delicious Anatolia cuisine
All around Göreme you will find restaurants offering pottery kebabs, also known as Testi kebabs. This is an Anatolian speciality prepared in a clay pot. The pot is filled with meat of your choosing in a tomato based stew.
When the dish is served the pot is set on fire and the clay pot is cracked open to release its contents. Yup, pretty awesome!
However, the signature dish of Cappadocia is in fact, Manti. These are small packets of pasta stuffed with meat or cheese and served with a tomato and garlic sauce. Sort of like ravioli. Outside of Göreme, in the less touristy towns of Nevşehir and Kayseri, you will see this dish everywhere.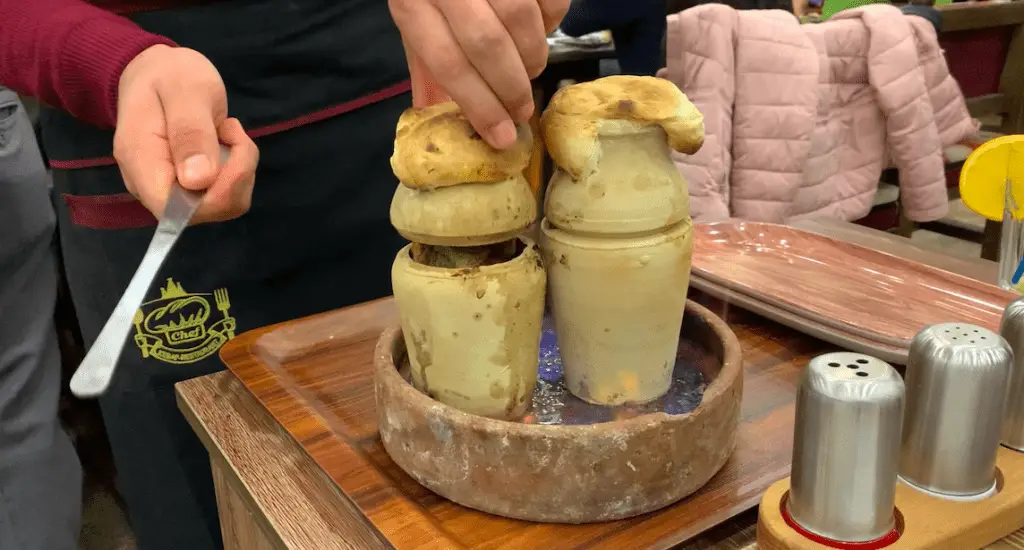 6. Visit a carpet shop
This is a must-do experience on any trip to Turkey and Cappadocia has some of the best carpet shops in Turkey. Even if you're not in the market to buy, you can still venture into the shops and admire all the intricate carpets on offer.
If you're looking for the highest quality carpets then I recommend Sultan Carpets. Ali the owner is a great guy who'll be sure to find the right carpet for you. If you just want to have a photo shoot amongst all the beautiful rugs at SultanCarpets, then you can also do that here for 10 Euros per person.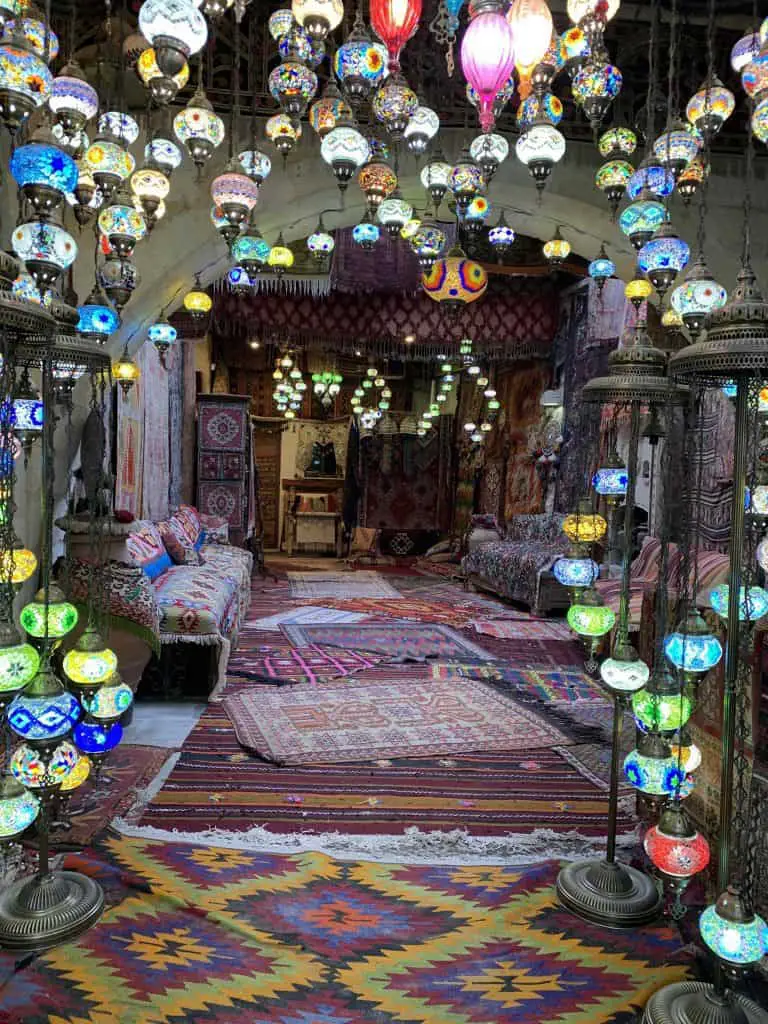 7. Wrap up warm and enjoy a Quad Bike Tour
One of the most exciting ways to see the sights of Cappadocia in winter is by a quad bike/ ATV tour. There are several ATV tours to choose from ranging from 2 hours to all day. I enjoyed the 2 hour sunset tour which allows you to ride amongst the Fairy Chimneys in the soft light of golden hour.
In the winter, amongst the snow and slush, there is the extra challenge of not getting your ATV stuck!
8. Visit Uçhisar Castle
Standing watch above Göreme town is Uçhisar Castle. This 60m rock-cut castle mountain offers arguably the best view in all of Cappadocia. There is an entrance fee to enter the castle and quite a few stairs to climb to reach the top, but the views are most certainly worth it. The rooms in the base of the mountain are free to explore.
From Göreme you can walk to Uçhisar castle through Pigeon Valley. It's a 3.5km walk one way. Trails are marked on the Maps.me. app. Alternatively, it's 5 minutes by car or bus. The bus destined for Nevşehir leaves from Göreme town centre. Just let the driver know when you get on the bus that Uçhisar castle is your stop and he'll let you know when to get off.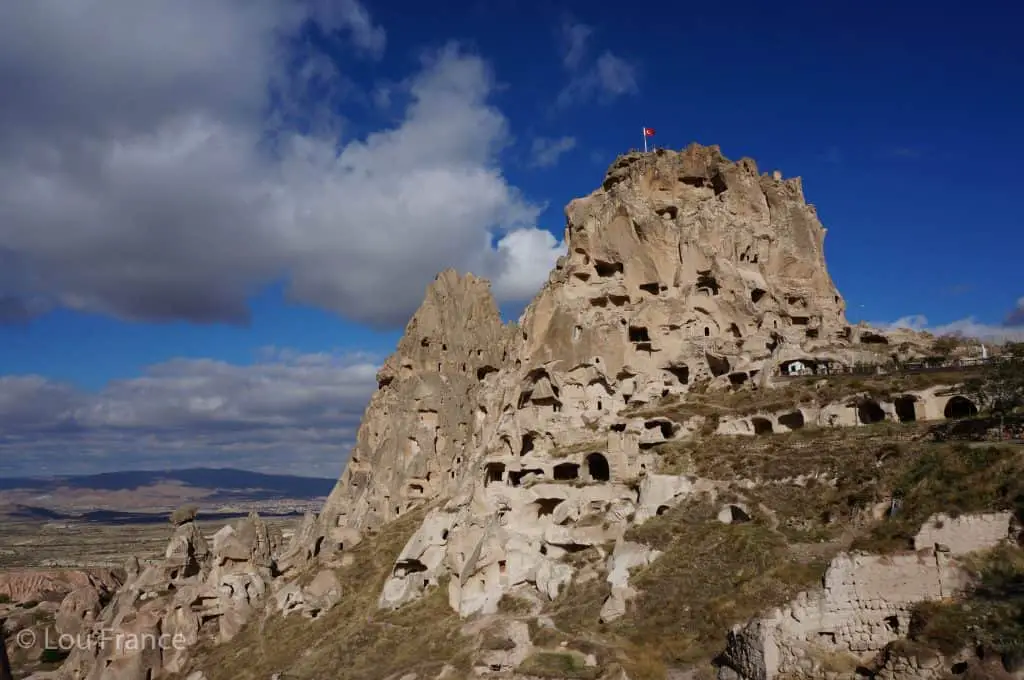 9. Saddle-up for a horse ride like no other
If you prefer horses rather than horsepower, a good alternative to seeing more of the area is on horseback. You can choose from 2 or 4 hour rides, with prices ranging from 45-85 euros.
The horseback tours explore Swords Valley, Meskendir Valley, Rose Valley and Love Valley. These are all Cappadocia must-sees.
Click here to book your Cappadocia horseback riding experience.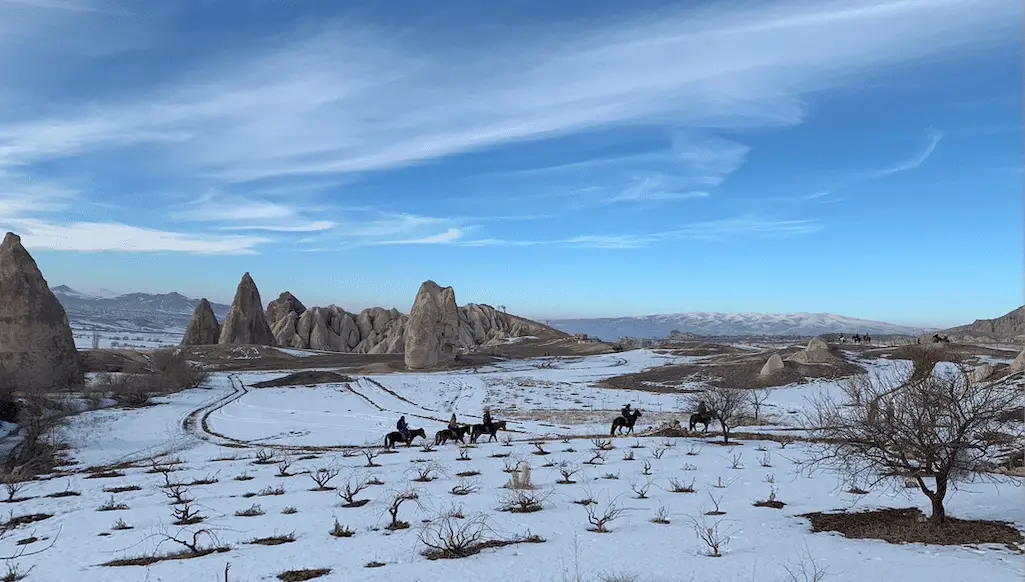 10. Embark on a winter hike
Hiking the valleys around Cappadocia is an amazing way to explore this surreal landscape. On these walks you are able to climb amongst the Fairy Chimneys and venture inside the abandoned cave houses and churches.
There are many valleys and many walks to choose from. Two of my favourite walks around Cappadocia are Uçhisar Castle to Goreme through Pigeon Valley and Goreme Open Air Museum to Çavuşin through Red and Rose Valley.
Again these trails are all marked on Maps.me.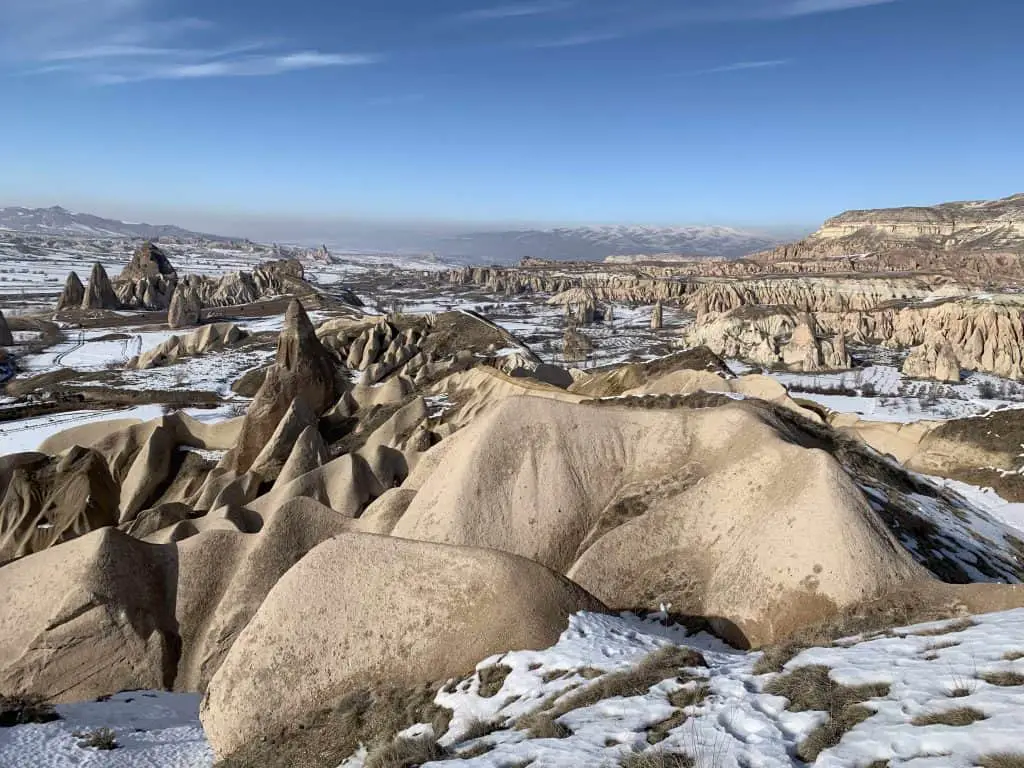 11. Visit an Open Air Museum – Goreme, Zelve, Pasa Baglari Muze
Cappadocia has several Open Air Museums and they are definitely a must-see on your Winter trip to Cappadocia.
Göreme Open Air Museum is just on the outskirts of Göreme, so it's the easiest to visit on foot if you're based in Göreme. This is included on the Red Tour (see later) and contains the fresco-filled Dark Church (for an extra fee), which is arguably the most impressive church at the site.
Farther out of town you can find Paşabağları, which is a small site but has the quirky feature of having a Jandarma (Turkish Police) station in one of the Fairy Chimneys.
A little further along this valley brings you to Zelve Open Air Museum. Originally a monastic retreat, Zelve was lived in by villagers until 1952 when it was deemed unsafe. This is a great site to clamber around later on in the day when the tour groups have left. Remember to take a head torch with you!
12. Visit an Underground City – Kaymakli or Derenkuyu
There are over 200 underground cities in the Cappadocia region, although only a few are open to visitors. The two most visited are Derinkuyu and Kaymakli.
These subterranean cities offered protection from outside invaders, allowing the Christian inhabitants to live their lives in complete secrecy.
Derinkuyu is the bigger of the cities and the deepest underground city in all of Turkey. In Kaymakli the tunnels are low and steep so it gives you a real feeling of being underground. Perhaps not the best if you're claustrophobic though!
Both cities can be reached by dolmuş (public bus) from Nevşehir or car if you have one. One of the cities is also included on the Green Tour. (see later). Alternatively, this tour visits Seratli Underground City, a Caravanserai and Lake Tus, which is an incredulously pink salt lake.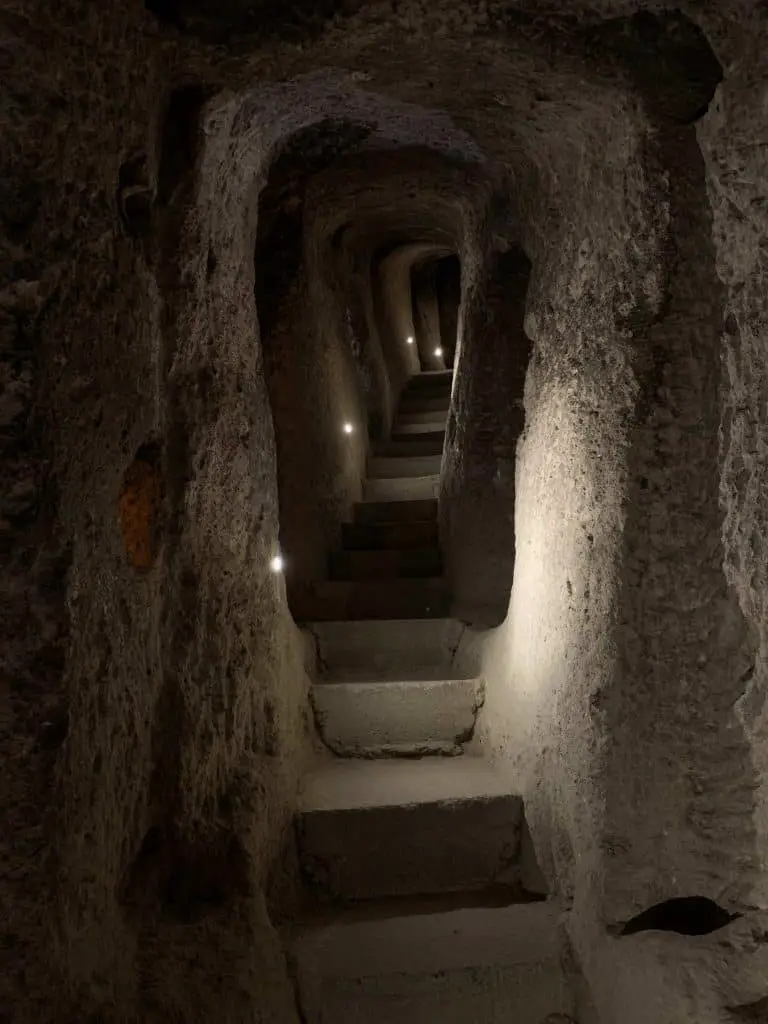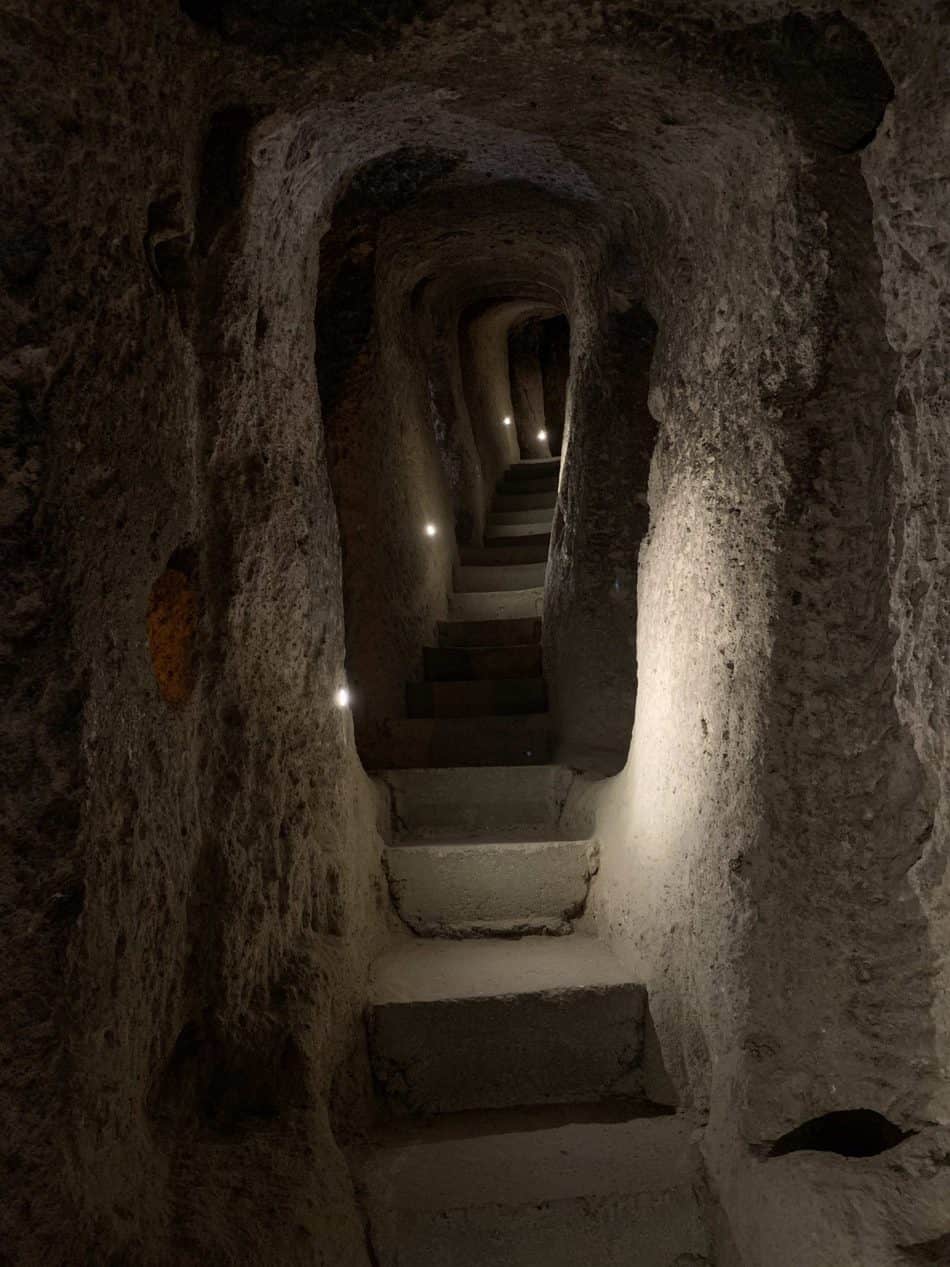 13. Explore the region on a Guided Tour – Green, Red, Blue
One of the easiest ways to see the best of what Cappadocia has to offer is to join a guided tour. This is especially true if you don't have your own transport.
Several tours visit various locations around Cappadocia but my favourite is the Green Tour. This tour includes Ihlara Gorge and an Underground City, both of which are around a 30-60 minute drive from Göreme. It also visits the beautiful Selime Monastery and various panoramic viewpoints around Cappadocia.
In winter there won't be as many tour buses visiting the sites so you won't feel like you're being herded around like sheep, as you often do in the summertime.
Learn more about each tour below.
14. Stay in a cave hotel
If you're visiting Cappadocia in winter then one of the top things you can do is stay in a cave hotel. There are many to choose from but I enjoyed Kookaburra cave hotel. It's small, with a lovely rooftop terrace from which to sit back and enjoy sunset or get up early and watch the balloons at sunrise.
It's centrally located in Göreme and the rooms are warm and cosy, despite being cut out of rock. The rooms are very affordable and the owner is also a pretty entertaining character to chat with!
If you have a larger budget try the luxurious Cappadocia Cave Suites or Sultan Cave Suites. Both are located in Göreme and both have stunning terraces to enjoy the fabulous surrounding landscape.
If you really want to push the boat out and stay in a cave hotel with your own private Hammam, take a look at Kayakapi Premium Caves.
15. Go skiing on a volcano
An increasingly popular activity in Cappadocia is skiing at Mt Erciyes. This volcano tops out at 3346m and offers 55km of slopes via 14 chairlifts. This ski area is geared up for beginners and intermediates, so advanced riders might find the terrain a little limited.
Lift tickets are sold on the number of lifts you will take, so as a complete beginner you might only need 1 or 2. The next bundle up is 14 and the bundle after that is 30. In February 2022, 1 run was 20TL (1 USD) so it's very affordable. There is also ski and snowboard rental available at the resort.
We enjoyed our two days exploring Mt Erciyes, but I would avoid visiting on a weekend as it was incredibly busy. If your ski level permits it, be sure to take the chairlift right to the top so you can get a close up view of the volcano crater.
If you don't have your own transport you can book a tour which provides transport and an introduction to skiing/snowboarding  Check it out here.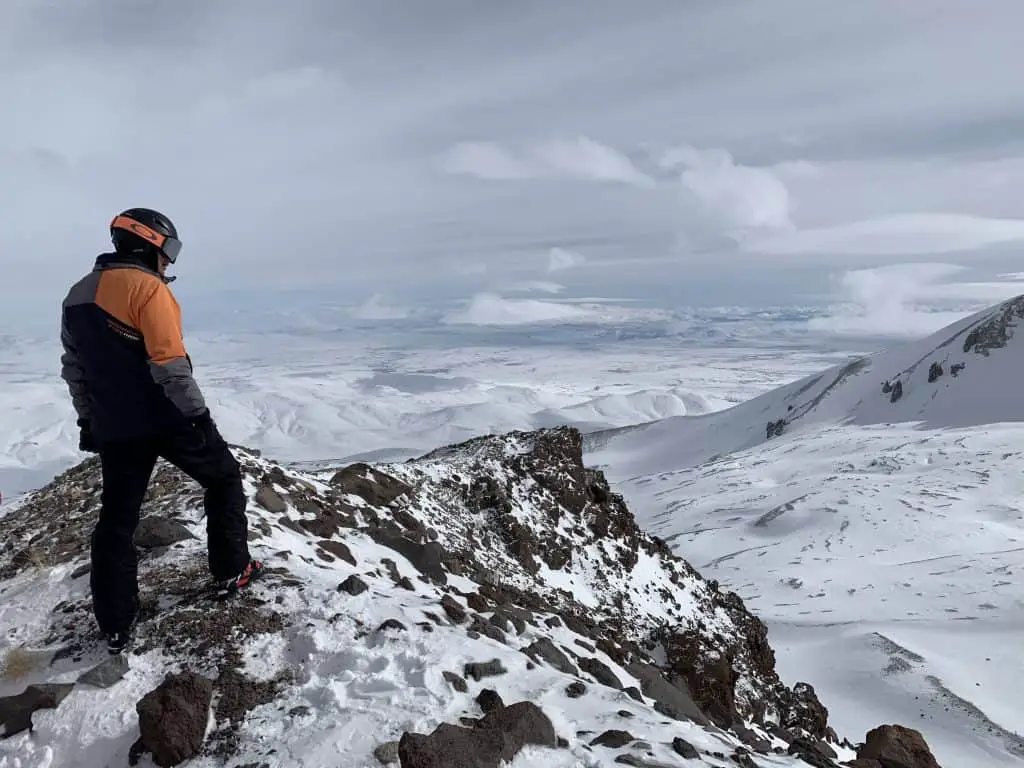 Where To Stay In Cappadocia During Winter
One of the top things to do in Cappadocia is stay in a cave hotel so accommodation options are mostly centred around these. In Göreme itself, a budget friendly option is Kookaburra cave hotel. It's small, centrally located, with a lovely rooftop terrace from which to admire the views.
With a more premium budget take a look at Cappadocia Cave Suites or Sultan Cave Suites, both of which are again based in Göreme.
Outside Göreme in nearby Uchisar you could stay in the gorgeous Museum Hotel. This boutique hotel houses priceless antiques and boasts an outdoor heated swimming pool if you're brave enough to try it. Meanwhile Kelebek Special Cave Hotel has its own Turkish Bath and Spa treatments, which is the perfect way to warm up on those cold Winter days.
Where To Eat In Cappadocia
One of the newest restaurants in Göreme is Chef Kebab. This restaurant offers all the top Turkish dishes and great value for money. They provide complimentary fresh bread and a selection of meze dips, water and cay. I can recommend the beef and aubergine Güveç as well as of course the Testi kebab. This is a great budget option in Göreme although they do not serve alcohol at this restaurant.
For dinner in a more unique location, try the Organic Cave Kitchen. This restaurant is located in a huge rock just below the Göreme Sunset Hill. The terrace offers beautiful views over the town and is the perfect place to end a Winter's day in Cappadocia.
For a light bite at lunch or for evening drinks and a shisha, I recommend Fatboys bar and cafe in central Göreme.
Related Reading:
How To Get To Cappadocia
Air
There are two airports in Cappadocia that offer flights from Istanbul, Izmir, Antalya and other major Turkish cities. Kayseri Erkilet Airport (ASR) is around 1 hour from Göreme and has flights with Turkish Airlines and Pegasus. Nevsehir Airport (NAV) is around 40 minutes from Göreme and also has flights with airlines such as Turkish Airways and Pegasus.
Flights from Istanbul will take around 1 hour and will costs around $50 USD. However, the further in advance you book, the cheaper the ticket will be. Check the latest prices here.
The easiest way to get from the airport to Göreme is via a shuttle bus. Your accommodation can arrange a transfer for you or you can book a shuttle bus online. This shared shuttle bus costs just 10 Euros.
Car
A great way to travel to Cappadocia is by car. This gives you the freedom to explore the Cappadocia region with your own transport. From Istanbul you could drive directly from Istanbul and this takes around 9 hours. There will be some road tolls to pay on this route. Check the best car rentals deals here.
Learn more about road tolls and driving in Turkey is this guide.
Alternatively you could enjoy a Turkey road trip and arrive in Cappadocia at a more relaxed pace. Read more about a Turkey road trip itinerary from Istanbul in this guide.
Bus
A bus from Istanbul to Cappadocia will take around 11 hours and cost around 20 USD. This is the cheapest way to get to Cappadocia from Istanbul. Discover top deals on bus tickets with BusBud.
Winter In Cappadocia Summary
There are some places in the world where I'm more than happy to visit multiple times and Cappadocia is one of those places. The landscape is so unique you can never get bored of exploring the region.
In winter, Cappadocia takes on an even more majestic air, with dustings of snow highlighting the surreal rock formations even further.
If you're happy to take on the cold temperatures, Cappadocia is a great winter destination. During winter there are less tourists and prices drop accordingly. Top activities such as hot air ballooning, horse riding and ATV tours still run. Carpet shops, souvenir shops and restaurants are still open for business, which means you'll still be able to enjoy everything this Turkish delight has to offer.
Join My Newsletter Today!