Butterfly Valley in Turkey is a nature reserve located on the Gulf of Belceiz near Ölüdeniz. The bay itself spans 86,000sqm and is reputedly home to over 100 species of butterflies. Butterfly Valley cove is surrounded by cliffs reaching up to 350m high, with a waterfall that pours down the back canyon wall. In Turkish Butterly Valley is called Kelebekler Vadisi. 
The most popular way to visit Butterfly valley is by boat but it is also possible by foot. Many people visit for the day but there are also options to stay overnight. Once at the valley there are opportunities to hike, scuba dive, snorkel or simply relax on the beach.
In this complete guide to visiting Butterfly Valley I describe how to visit, when to visit, where to stay and what to do at this majestic location.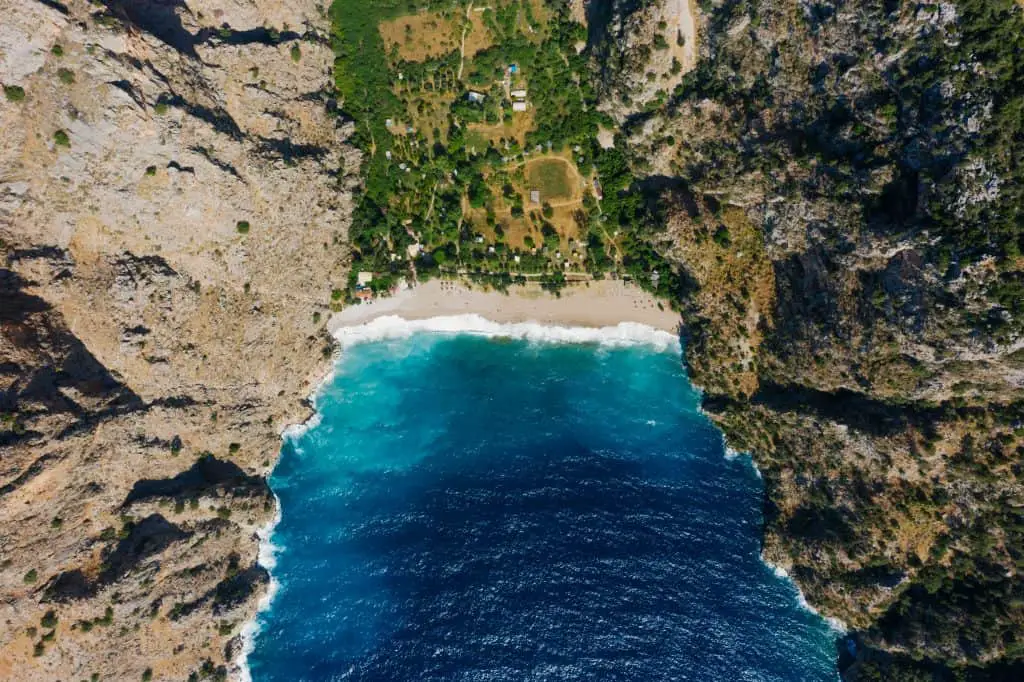 Disclaimer: Some links in this article are affiliate links, which means that if you purchase through them I receive a small commission, at no extra cost to you. This helps cover the cost of running this blog. Thanks for your support!
Butterfly Valley, Fethiye – A Slice Of Paradise
Butterfly valley is a spectacular gorge on the Turquoise coast of Turkey which is surrounded by steep cliff faces. Flowing down the steep limestone cliff into the back of the valley is a large, multi-tiered waterfall.
The valley floor is filled with lush vegetation and a golden sandy beach which opens out into the turquoise-blue waters of the Mediterranean sea. It surly is one of Turkey's pieces of paradise and a must see destination on a trip to Turkey's southwest coast. 
Butterfly Valley Map
3 Ways To Visit Fethiye Butterfly Valley
1. Butterfly Valley Shuttle Boat
If you just want to travel to Butterfly Valley and back there is a shuttle boat that runs from Ölüdeniz. In peak season these boats run regularly throughout the day. Tickets can be purchased on the boat itself, so there's no need to buy them beforehand despite what any of the touters say.
These shuttles leave at 11am and 2pm (approximately) and return at 1pm and 5pm. However, be sure to check with your driver so you don't miss the last boat back.
That being said, there are much worse places to be stuck for the night!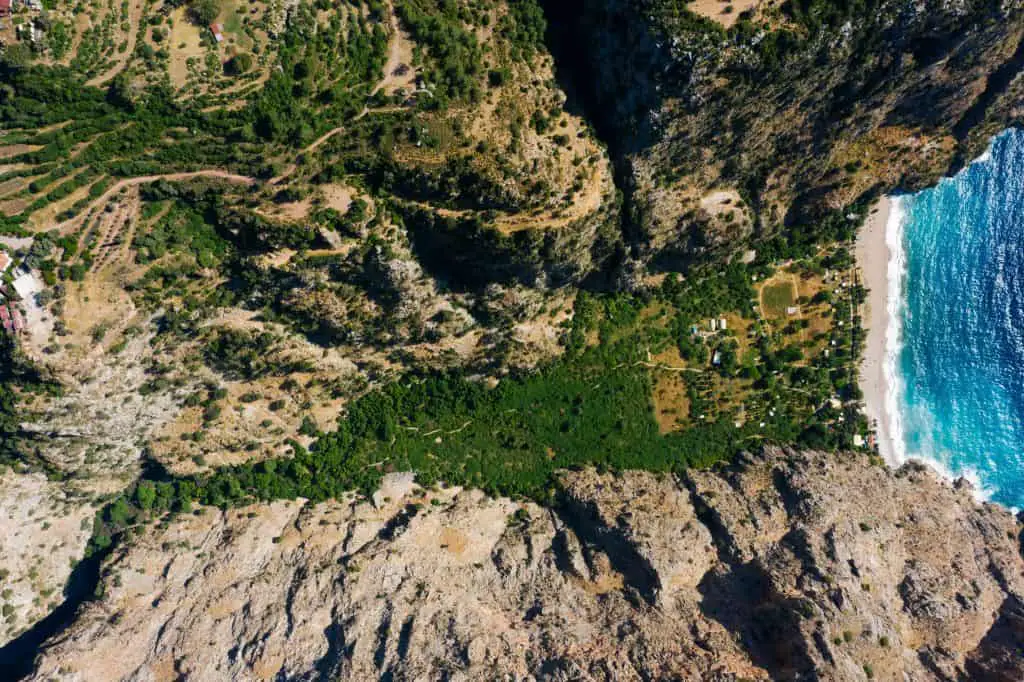 2. Butterfly Valley Boat Cruise
There are many operators running trips to Butterfly Valley from Ölüdeniz. Simply make your way down to the beach front and you will be spoilt for choice when it comes to tour operators.
Many of these cruises will offer packages that also include a visit to Gemiler Island (St Nicholas' Island) and Camel Bay, so that's an option if you're looking for a day of sightseeing.
Be sure to choose your boat wisely! There are several pirate or Dragon boats which blast music and offer a party cruise. If that's not for you, avoid these and opt for a different boat. You can always check with the operator to see what style of trip they run.
If you're staying in nearby Fethiye, there are tours that will offer to pick you up from your hotel and bring you to Ölüdeniz. These will obviously be a little more expensive than tours starting from Ölüdeniz itself.
3. Hike to Butterfly Valley
Nestled high above Butterfly Valley, tucked away into the mountainside is the small village of Faralya. From this perfectly placed village there is the option to hike down the steep cliff face of Butterfly Valley.
Please be aware that this hike is considered quite dangerous due to unstable terrain and exposed sections. On this hike there is a high degree of scrambling and several sections where ropes have been placed to aide in the ascent/decent. People have died attempting this hike.
To undertake this hike you should be confident with scrambling, exposed edges and have suitable equipment, such as sturdy shoes.
Related Reading
Now, with that warning out of the way, I will say that this is a gorgeous hike. The views on offer as you climb down into the valley are hard to beat and there is definitely a thrilling element to completing the scrambling sections.
The hike itself isn't that far at just over 1km, but it has an elevation change of 300m. It should take around 1 hour to complete in either direction.
One of the difficulties of hiking down to Butterfly Valley beach if you have your own transport, is where to park in Faralya. Virtually every spare inch of real estate here is taken up with a house or accommodation, so parking is a challenge. The best options are on the corner near the river and next to the mosque.
If you're thinking about driving in Turkey, take a look at this guide.
Alternatively, take a minibus (Dolmus) from Fethiye or Ölüdeniz to Faralya and save yourself the parking hassle. Bus times can be found here.
The hike itself starts near the mosque. Just after the mosque (if coming from Ölüdeniz), there is a small road on the right hand side. Follow this road downhill and around the corner to George House hostel. Here the hiking trail starts proper and soon becomes a dirt track.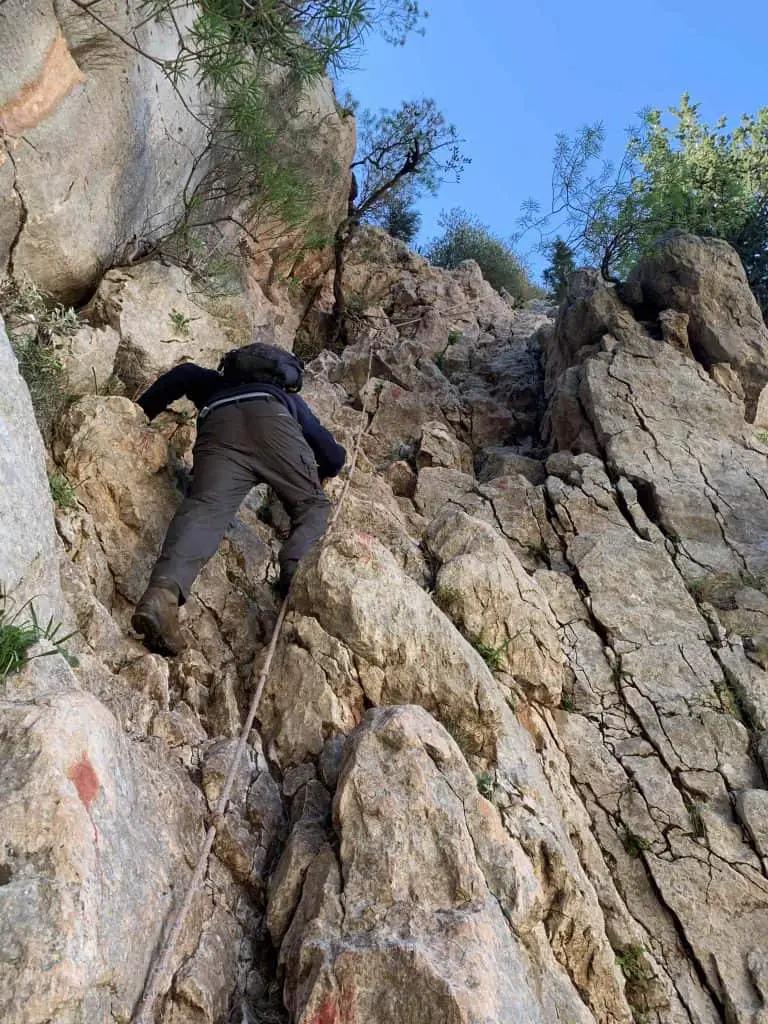 You will soon see a sign warning of the dangers of this path so you know you're on the right track! Continuing on this trail for around 300m you will then reach a t-junction with another warning sign. The trail to the left takes you to Kabak and the trail to the right takes you to Butterfly Valley.
From here the path is marked by red and yellow stripes painted on rocks and trees. It's fairly obviously to follow, though there are one or two side spurs which can take you off track, so keep a constant look out for the paint.
Once down onto the valley floor a path takes you through the community and onto the beach. The trail is marked on the free app maps.me.
Butterfly Valley Entrance Fee
There is an entrance fee to pay for visiting Butterly Valley which is 10TL or around $1 (At present the Turkish Lira is quite unstable and prices are regularly changing). This nominal fee allows the organisation that looks after the valley to maintain the natural sanction and prevent overuse.
Things To Do In Butterfly Valley
1. Chill out on the beach
Once you arrive at the valley be sure to spend some time relaxing on the beach and soaking up the beautiful surroundings. Once this is complete you can then spend some time exploring the valley itself.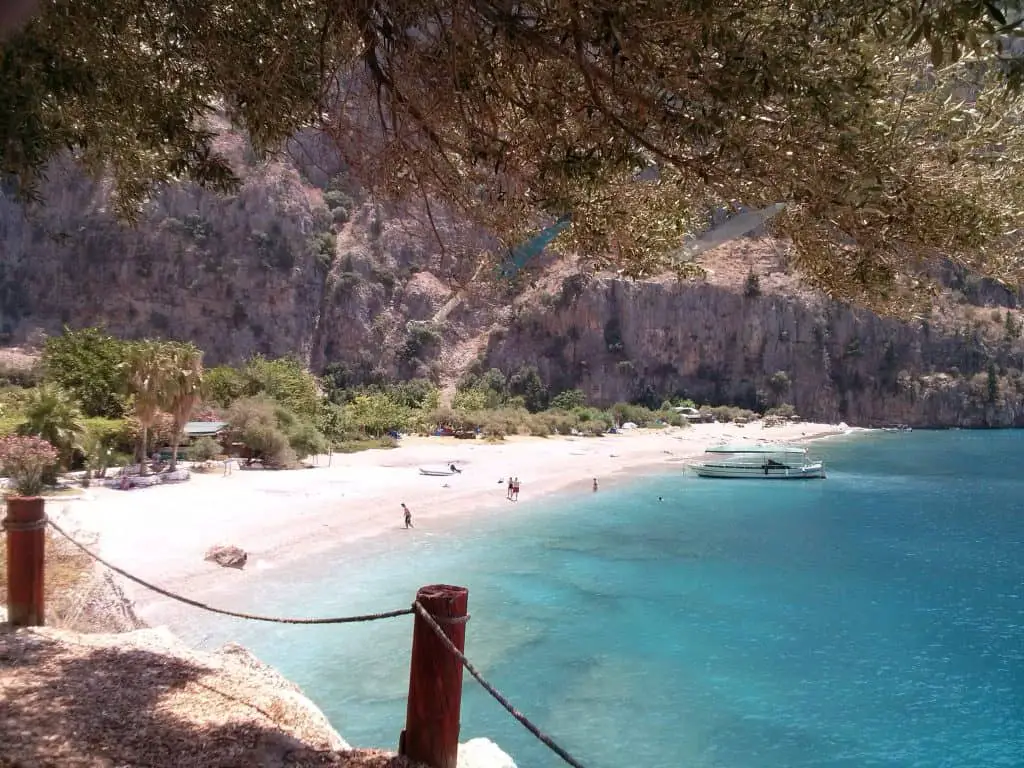 2. Visit the waterfall
At the end of the valley there is a large waterfall flowing down from Faralya village. To visit the waterfall you are advised to hire a local guide and use mountaineering equipment. However, just like with the trail down from Farayla, there are ropes and metal pegs in place to aide with climbing up the slippery rocks. If you are inexperienced, the safest choice is to hire a guide.
The trail through the valley to access the waterfall is in itself a pleasant walk and also leads to the butterfly cave. (see below)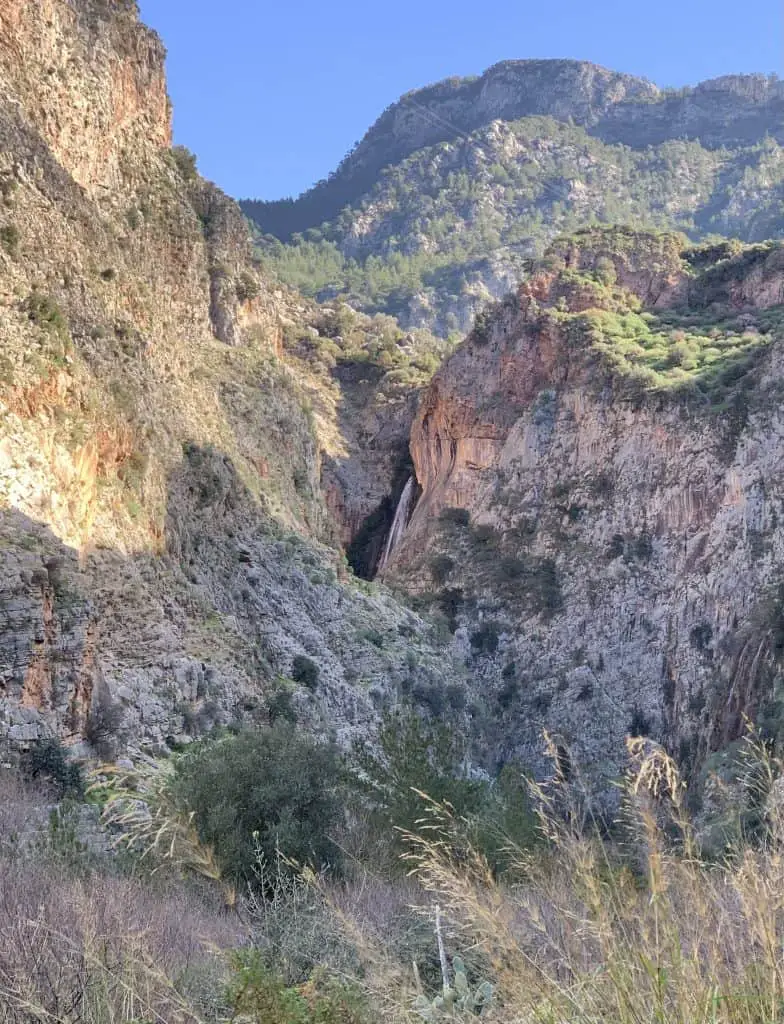 3. Enjoy a drink or a bite eat
There are no permanent buildings permitted in this nature reserve but there are a few ramshackle huts. There is a small shop selling gifts and a cafe selling food and drinks for the daily tourists. Butterfly Valley beach is the perfect place to sit back and feast on deliciously fresh, local seafood.
4. Search for butterflies at the Butterfly Cave
The lush conditions in the valley are perfect for butterflies and it's advertised that there are over 100 species of butterflies to be found. However, despite the name, there is a distinct lack of butterflies in Butterfly Valley! Butterflies aren't keen on noise produced by high visitor numbers, so the butterflies have shied away to the back of the valley.
What is unique is the presence of the orange and white Jersey Tiger moth with is native to this area. These can be found at the butterfly cave which is found at the back of the valley near the waterfall. The trail through the valley is well trodden and easy to follow.
5. Go scuba diving, swimming or snorkelling
In peak season you will find a dive outfit located on one side of the beach. If diving's not for you, you can also opt for some snorkelling or simply enjoy a swim in the beautifully clear waters.
6. Spend the night in Butterfly Valley
During the day the bay is frequented by boats visiting on day trips, often playing loud music. However, as the day winds down the valley transforms into a tranquil beach cove paradise.
If you have your own tent you can pitch that on the beach for a small fee. If not you can rent a tent or stay in one of the rustic wooden huts on offer. There are shared bathrooms for all and facilities are very basic. You can pre-book accommodation through visiting their Facebook site.
With no electricity or wifi this is a great place to disconnect from the world for a moment and re-engage with the nature that surrounds you.
The Best Time To Visit Butterfly Valley
June to August is peak season along the Turquoise coast and this applies to the Butterfly Valley. During these summer months the days will be hot and the water will be refreshingly cool. However, it will be busy and prices at their highest.
If you plan to hike down into Butterfly valley I wouldn't recommend visiting in the peak summer months as it will be uncomfortably hot for hiking. As for much of the Turquoise coast, the best time to visit is in the shoulder months of April/May and September/October. Apparently Spring is butterfly season and will be the best time to see butterflies.
Where To Stay In And Around Butterfly Valley
There are a many accommodation types in this area such as camping, homestays and hotels, so definitely something for everyone. You could opt to stay in the valley itself and you can best contact them via Facebook. Their WhatsApp number is listed on there too.
There are options in Faralya village just above Butterfly Valley and there are also options a little further around the coast in Kabak.
If you want a campsite with an incredible view try Butterfly Valley Campground in Faralya. For something more boutique try Faralya Misafir Evi. 
Faralia Hotel is just outside the village and has incredible views of the ocean and if you want a tree house right next to the beach, try Sea Valley Bungalows in nearby Kabak Bay.
The Best View Points Of Butterfly Valley
The classic viewpoint marked on maps
To get to this viewpoint drive from Oludeniz, along the coast road towards Kabak. Follow this road as it winds up alongside the coast until you reach a large lay-by on the right hand side. Even in winter there will usually be a number of cars parked here with people all wanting to catch a glimpse of paradise.
The viewpoint is 10km from Oludeniz and will take around 15minutes by car.
Read Next: Top things to do in Oludeniz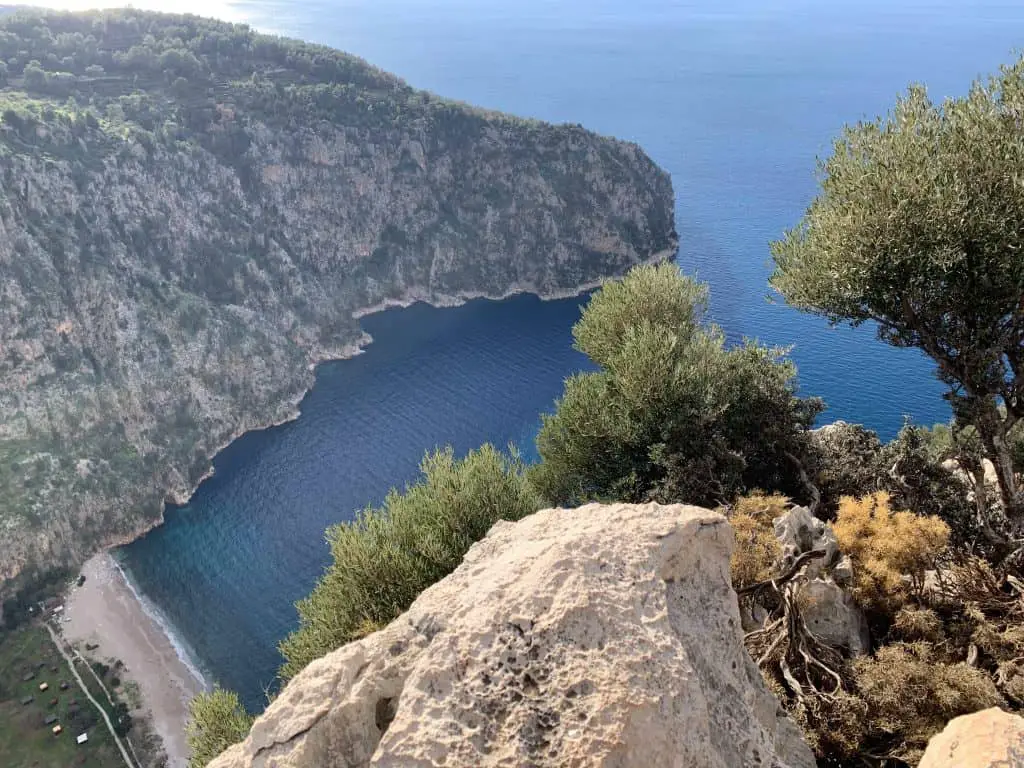 View from Faralya town
In this beautifully placed village there are several points with incredible views of Butterfly Valley. Just a few hundred meters into the hiking trail there are several great viewpoints to enjoy. These can be accessed without embarking on any of the steep or exposed sections of the path, so can be savoured by all. These viewpoints are marked on the Maps.me app.
If you plan to spend the night in Faralya you could choose accommodation which has a great view such as Keyif Motel or Butterfly Valley Campground. You could also enjoy a meal at one of the many restaurants and take full advantage of the views on offer.
Read Next
Transport Around The Turquoise Coast
If your visit to Butterfly Valley is part of a bigger road trip around Turkey then you'll need to rent a car. The best rental company in Turkey is LocalRent. They provide the best deals, a reliable service and specialise in rental cars in this region.
Butterfly Valley Travel Guide Summary
Butterfly valley is a spectacular gorge located on the Turquoise coast of Southwest Turkey. It is most easily accessed from Oludeniz or Fethiye. The most popular way to visit Butterfly Valley is on a boat trip however there is a hiking option from the village of Faralya.
Although Butterfly Valley is very much on the tourist trail, it's still a must see destination on any Turkey itinerary.
Don't Forget Your Travel Insurance!
Join My Newsletter Today