Guest Post by Haley Blackall
A road trip through the best towns on the Turkish Coast is an adventure I'll never forget. Starting from bustling Antalya and weaving through the laid-back, sparkling towns on the Turkish Riviera, I found myself enthralled by the blend of ancient history, vibrant culture, and paradisiacal beaches. 
Each stop along a southern Turkey road trip had something unique to offer, from the buzzing bazaars in Bodrum, and the ancient ruins of Ephesus, to the tranquil bays of Datça. Whether it's the high-end resorts of Oludeniz or the charming streets of Alacati, the best beach towns in Turkey offer a diverse experience that caters to all tastes. 
For architecture enthusiasts, history lovers, and beach bums alike, the places to visit on the Turkish Coast provide a delightful escape into a world where the old meets the new, where East meets West, and I found it to be an intriguing microcosm of the greater country of Turkey.
In this article, I will share my favourite Turkish coastal towns, their highlights, must-dos and travel tips to make your holiday to Turkey a once-in-a-lifetime experience.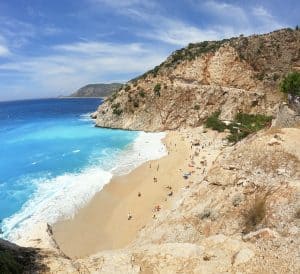 Disclaimer: Some links in this article are affiliate links, which means that if you purchase through them I receive a small commission, at no extra cost to you. This helps cover the cost of running this blog. Thanks for your support!
The Best Beach Towns on the Turkish Riviera 
1. Antalya
Antalya, the gateway to the Turkish Riviera, is a dazzling blend of ancient charm and modern comfort and presents the perfect place start your Turkish road trip. 
Strolling through the narrow streets of Kaleiçi, the old town, felt like stepping back in time. The city's history comes alive at Hadrian's Gate, while the Düden Waterfalls offer a refreshing day trip. 
Konyaalti Beach, the city's main beach spans 7 km of the coastline and offers sweeping views of the mountains. From vibrant bazaars to elegant marinas, Antalya epitomises the best places to visit on the Turkish Riviera and sets the perfect tone for your coastal adventure.
Discover more things to do in Antalya in this post.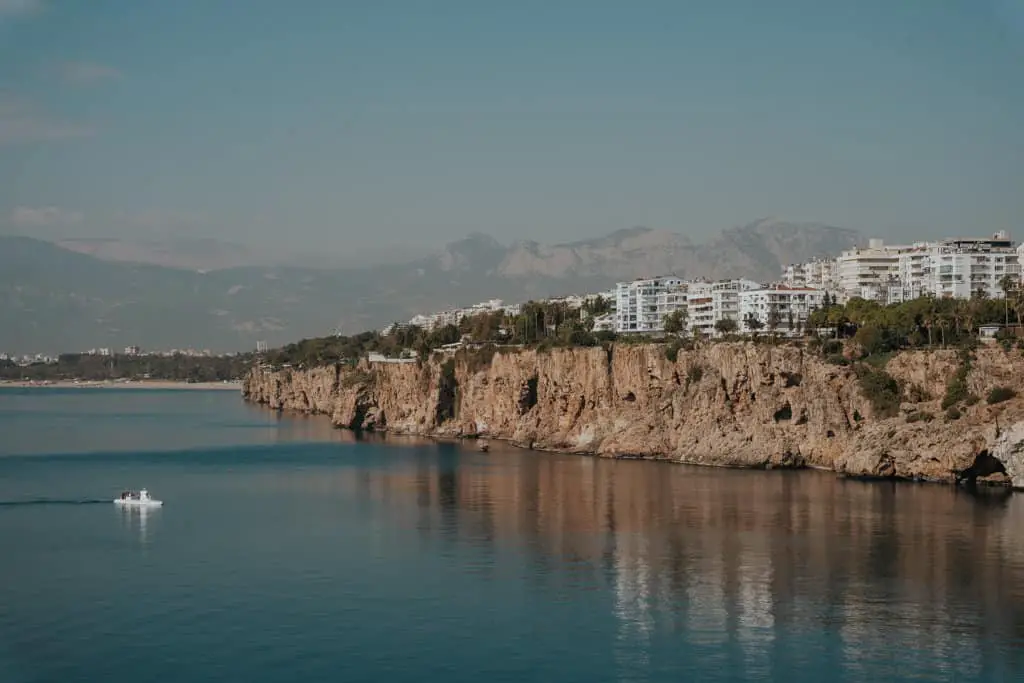 2. Alanya
Nestled between the Taurus Mountains and the Mediterranean Sea, Alanya is a town I found to be rich in history and stunning landscapes. The Alanya Castle, perched on a rocky peninsula, offers breathtaking views and a peek into the Seljuk era. 
Cleopatra Beach, with its golden sands, is a perfect spot for sunbathing or swimming. Don't miss the Damlatas Caves, where the cool, humid air is said to have therapeutic properties. 
Alanya's blend of historical sites and beachside fun makes it one of the best beach towns in Turkey to explore and enjoy.
3. Side
If ancient Turkish ruins and tranquil beaches are your calling, Side is the place to be. 
Walking among the Temple of Apollo's grand columns with the setting sun was a highlight of my visit. The ancient amphitheatre, still used for performances, adds to the town's historic charm. 
Side's long beaches, flanked by warm turquoise waters, offer plenty of space for relaxation. The town's harbour side restaurants serve delicious local seafood, adding to the appeal of one of the must-visit towns on the Turkish Riviera.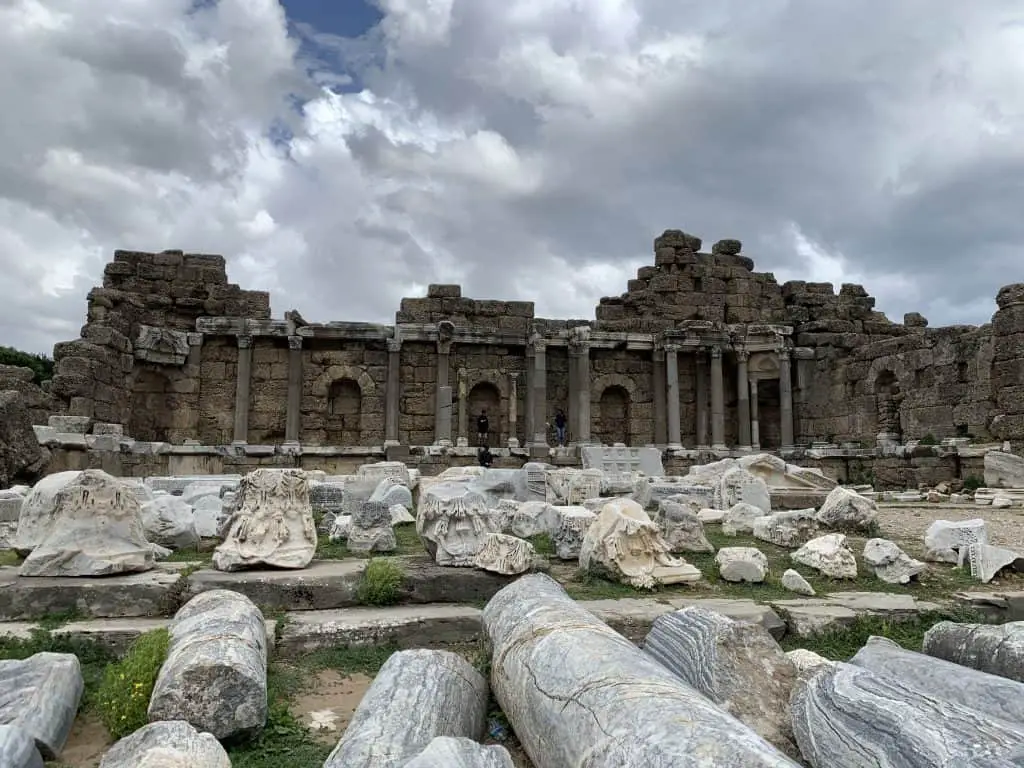 4. Kemer
Kemer, with its pine-covered mountains and clear blue seas, provided an awe-inspiring backdrop to my coastal journey. The marina is vibrant with cafes and boutiques, while Moonlight Beach is perfect for a leisurely day in the sun. 
Adventure seekers will love exploring the ruins of Phaselis or hiking in the Olympos Beydaglari National Park. Kemer is a harmonious blend of natural beauty and modern amenities, embodying the best of the Turkish Coast.
5. Kaş
Kaş stole my heart with its cobblestone streets and laid-back charm. Diving into the crystal-clear waters to explore the sunken city of Kekova was an unforgettable experience. The town's Lycian tombs, carved into the cliffs, narrate a rich history. 
Sipping tea at a seaside cafe, and watching the yachts go by, is pure bliss in Kaş. It's a town that resonates with tranquillity and artistic flair, perfect for those seeking a peaceful retreat on the Turkish Riviera.
For more information on visiting Kaş, see this article.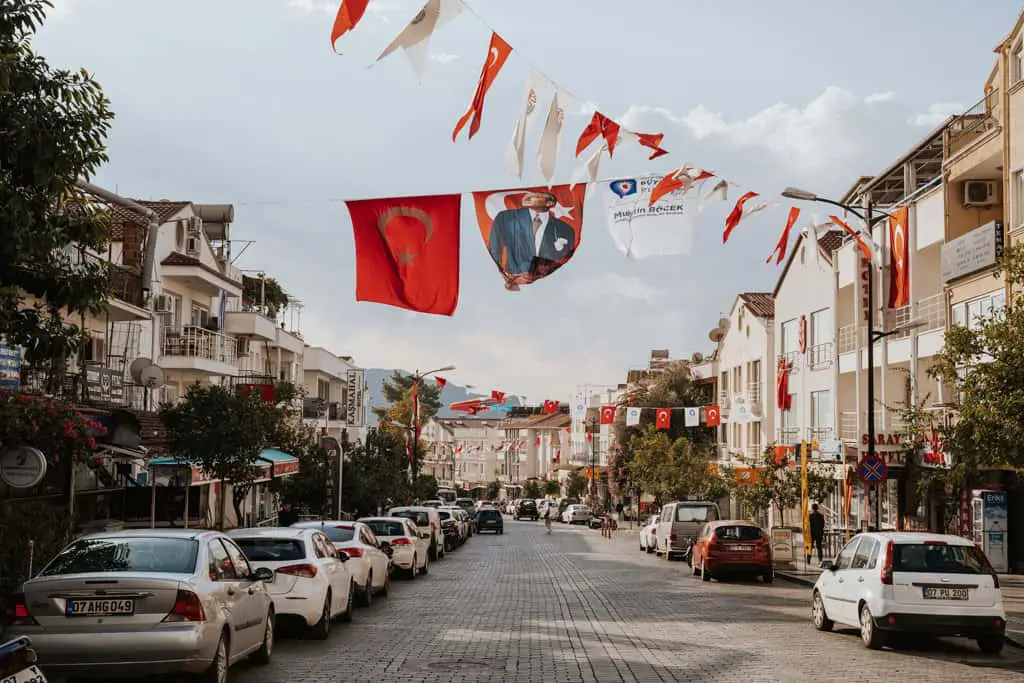 6. Ölüdeniz
Known for its world-famous Blue Lagoon, Ölüdeniz is a paradise for beach lovers. The protected lagoon offers calm waters for swimming, while the long sandy beach of Ölüdeniz is a popular spot for holiday-makers.
Paragliding from Babadag Mountain and landing on the white-sand beach was the thrill of a lifetime and I highly recommend .
Nearby Butterfly Valley is a haven for nature enthusiasts. Regular boat trips run from Ölüdeniz to Butterfly Valley where you can relax on the secluded beach or explore the deep gorge. 
Ölüdeniz's unique blend of adventure and relaxation makes it one of the best beach towns in Turkey, and is sure to leave you captivated.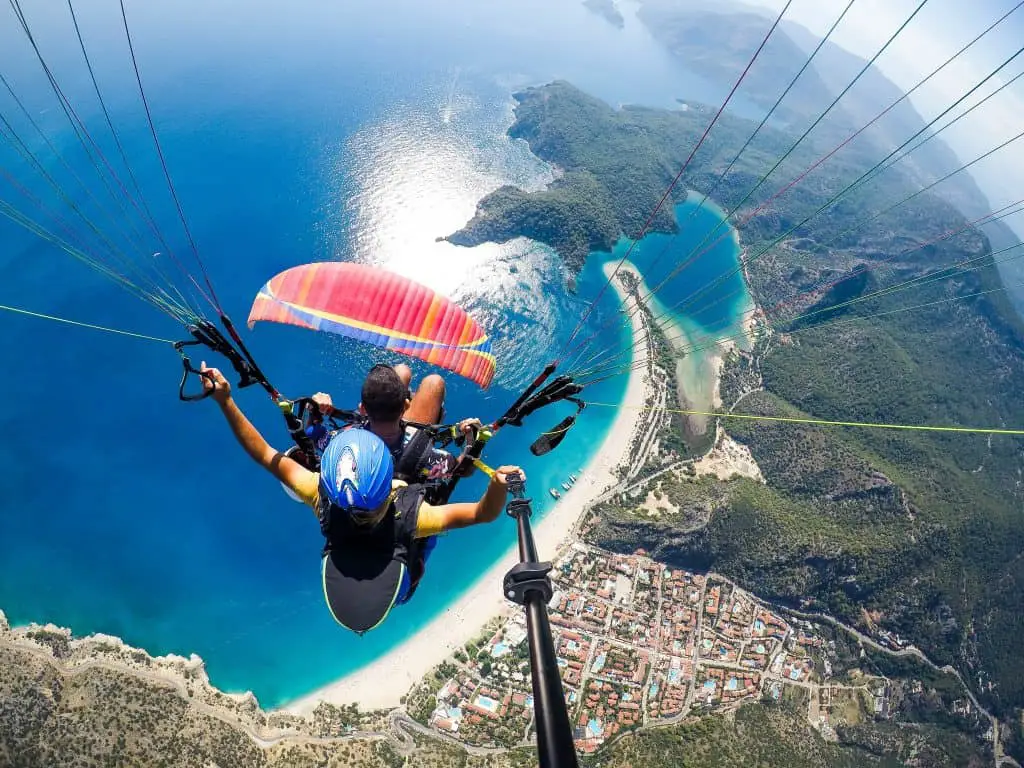 7. Fethiye
Fethiye's natural harbour, surrounded by majestic cliffs, was a captivating sight as I drove into this charming town. Famous for its ancient Lycian rock tombs, including the impressive Tomb of Amyntas, Fethiye is a treasure trove of history. 
I spent leisurely hours at the sprawling daily market, where you can choose fresh in-season produce – perfect to enjoy on the beach. A boat tour of the serene Blue Cave is highly recommended. 
Fethiye's blend of culinary delights and natural wonders makes it an essential stop on the Turkish Coast. If you are looking for a more chill atmosphere than Antalya, Fethiye is the best option with lots of things to do.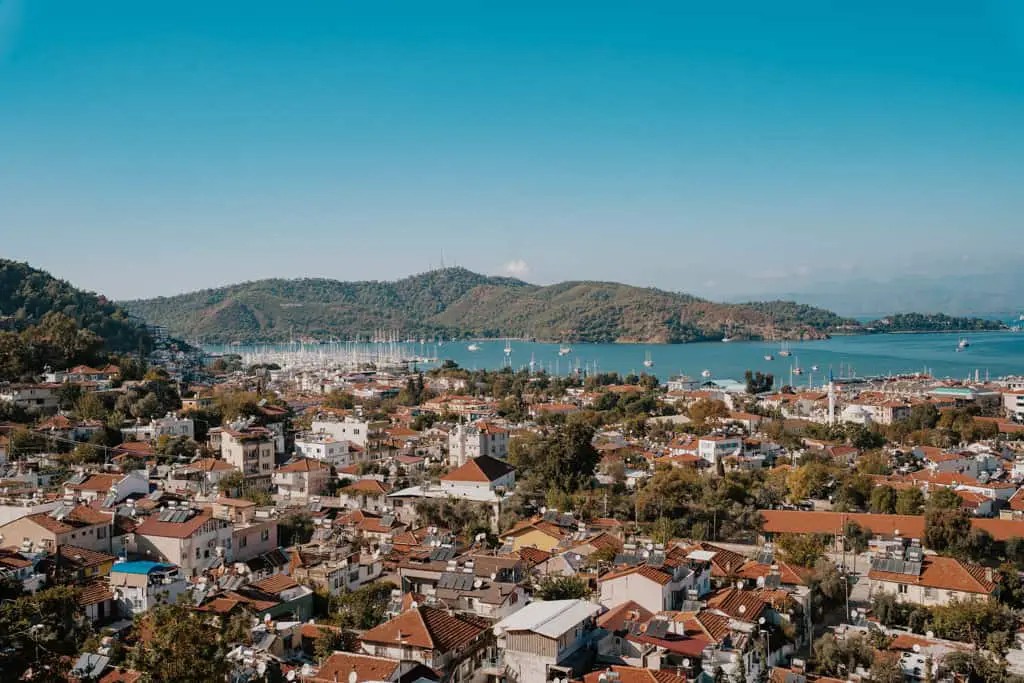 8. Marmaris
Marmaris was a delightful contrast of bustling energy and serene landscapes. Strolling along the marina, filled with luxury yachts, I felt the town's vibrant pulse. 
The Marmaris Castle, with its panoramic views, is a must-see historical site. I found relaxation at the secluded beaches of Cennet Island, accessible by boat. For nightlife enthusiasts, Bar Street offers an array of options. 
Marmaris's dynamic atmosphere, combined with tranquil spots, ensures a rich experience for every traveller exploring the towns on the Turkish Riviera.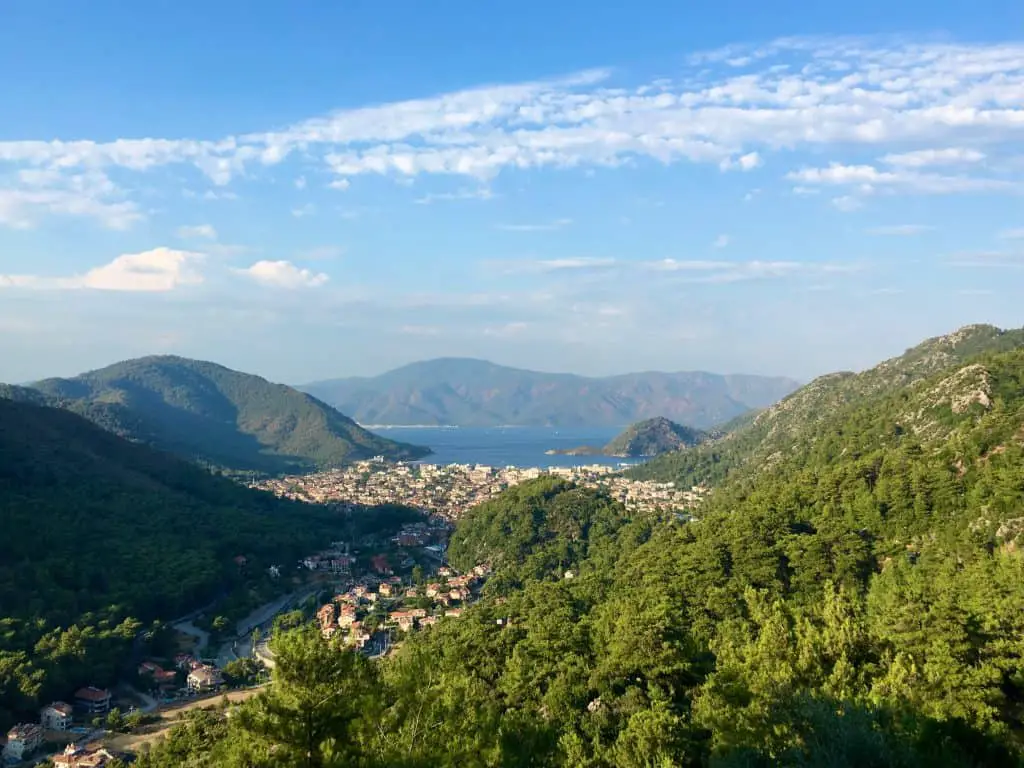 9. Datça
A visit to Datça was like discovering a hidden treasure along the Turkish Riviera. The serene beauty of the unspoiled beaches, such as Ovabükü, and the palm-lined streets offered an atmosphere of tranquillity. Windmills and olive groves lent a rustic charm, while the ancient city of Knidos provided historical intrigue. 
For those who, like me, crave natural beauty and a peaceful escape, Datça stands out as one of the best towns to explore on the Turkish Coast.
10. Bodrum
Bodrum's allure lies in its blend of vibrant nightlife and rich cultural heritage. The magnificent Bodrum Castle, an enthralling site that houses the Museum of Underwater Archaeology, reflects the town's ancient charm. 
Gumbet Beach promises relaxation, while the lively marina and nightclubs offer endless entertainment. I found Bodrum's local markets to be a shopping delight as well. 
Whether it's soaking in history or dancing the night away, Bodrum offers a unique experience, making it one of the best beach towns in Turkey.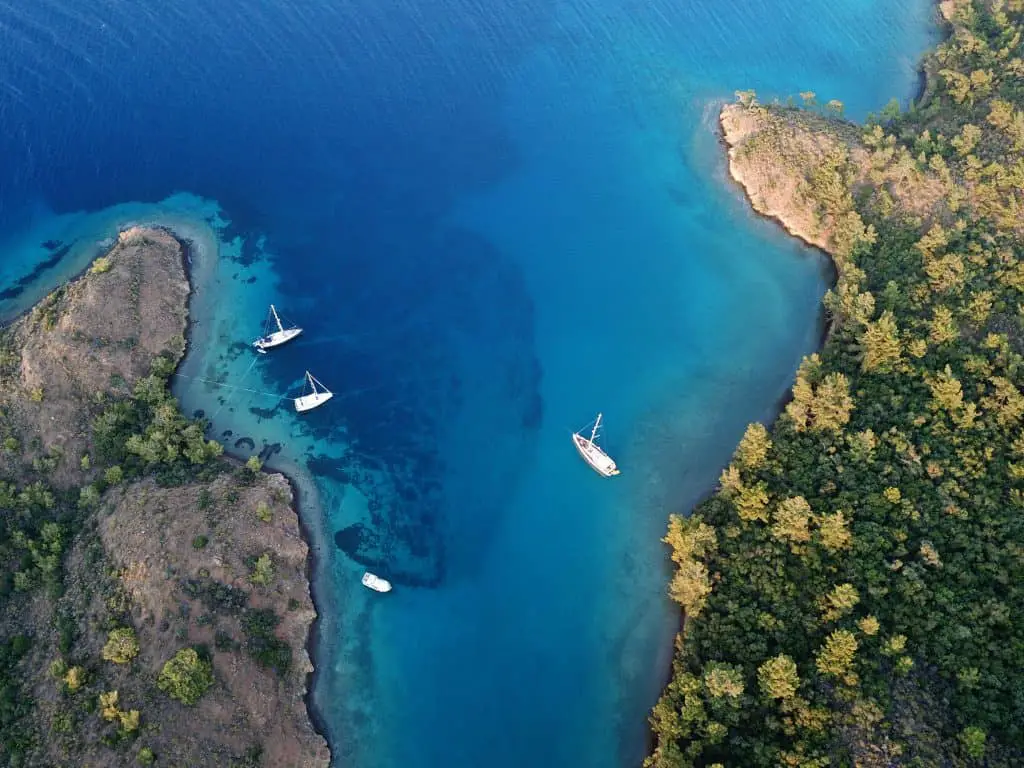 11. Kuşadası
Kuşadası, on its own, is a delightful blend of modernity and ancient wonders. Its bustling marina, filled with shops and restaurants, became one of my favourite places to unwind. 
But what makes Kuşadası extra special is its proximity to the nearby ancient city of Ephesus, perfect for a day trip. Stroll through the historical marvel and stop at the Library of Celsus, my favourite Ephesus attraction. 
I also enjoyed sunbathing at Ladies Beach, a popular spot with crystal-clear waters. From exploring history to beach relaxation, Kuşadası offers a varied experience on the Turkish Coast.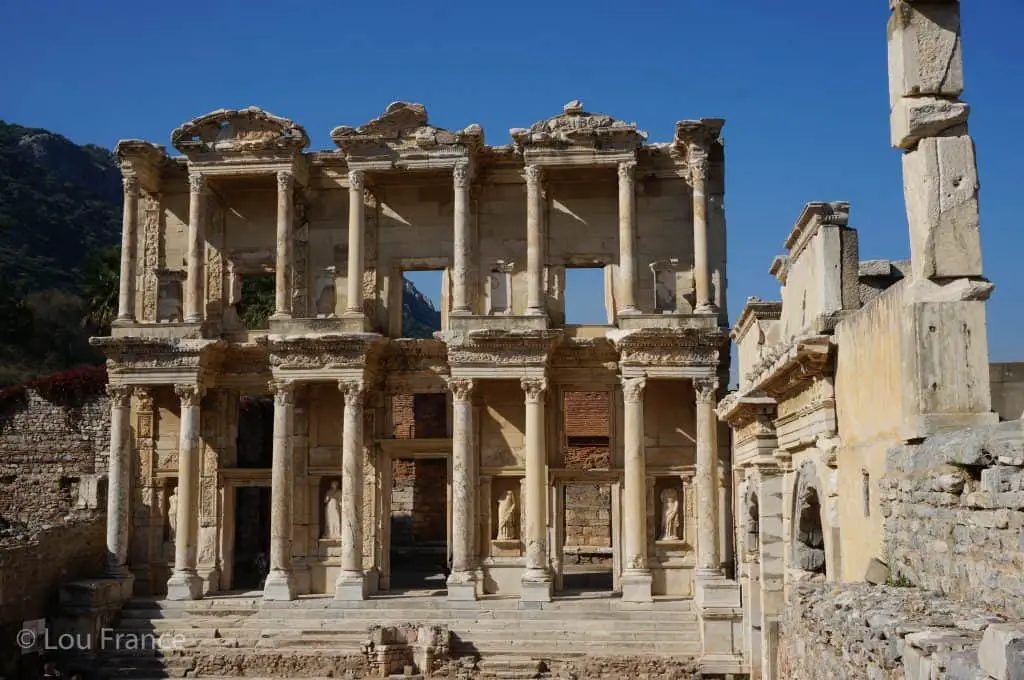 12. Alaçatı
Alaçatı is a charming town that blends French coastal charm with Turkish multi-culturalism. I loved wandering through its narrow cobblestone streets, poking my head in quaint shops full of local goods.
Reserve a table el fresco in the centre of town and enjoy sipping on local wine and delicious local seafood dishes. Alaçatı was definitely one of the more elegant towns along the Turkish Riviera.
For the more adventurous, Alaçatı is also known for its wind-surfing opportunities. No matter what, you'll find the town's beaches are both beautiful and lively. 
13. Çeşme
Çeşme impressed me with its perfect mix of a leisurely atmosphere and adventurous pursuits. 
The town's marina, lined with luxury yachts and vibrant cafes, is a picturesque spot for relaxation. Llyas Bey Mosque and Çeşme Castle, with their rich history, are worth exploring. 
Altınkum Beach is perfect for those craving golden sands, while nearby thermal springs offer unique spa experiences. For water sports enthusiasts, similar to Alacati, the wind conditions make it one of the best towns on the Turkish Coast for windsurfing.
Çeşmes blend of luxury, adventure, and cultural heritage makes it a top destination in Turkey.
Read Next
14. Foça
The small town of Foça won me over with its charm and tranquillity. The colourful, historic houses that line the harbour make for a delightful stroll and a perfect half-day stop along a Turkish road trip.
Siren Rocks, according to legend, the home of mythical sirens, was an intriguing visit. The beaches, especially those on the nearby Orak Island, are peaceful and idyllic. 
I recommend a boat tour to explore Foças small islands and enjoy the clear waters. With its slow-paced charm and natural beauty, Foça is a hidden gem among the places to visit on the Turkish Coast.
15. Izmir
Izmir, Turkey's third-largest city, is a vibrant metropolis with much to offer. My stroll along the Kordon promenade, lined with cafes and offering spectacular sunset views, was a highlight. 
While I wouldn't necessarily spend much time in this Turkish city in favour of other pretty coastal towns on this list, the Izmir does offer some rich history in the form of the ancient Agora and Izmir Clock Tower.
Izmir is perfect for big city travellers who love shopping, and bustling markets like Kemeraltı Market. It's also a great base for day trips to nearby beach towns like Çeşme and Alaçati.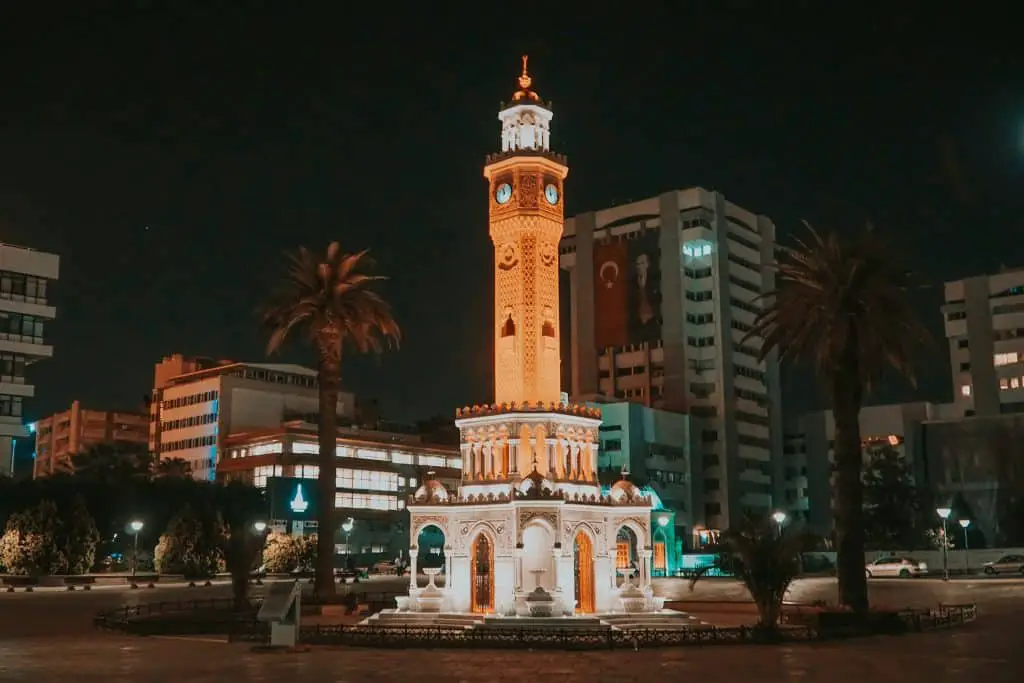 16. Assos
Assos, with its stunning hilltop location overlooking the Aegean Sea, is a must-visit town on the Turkish Riviera. The Temple of Athena, perched on a cliff, offers panoramic views that are simply awe-inspiring. 
The charming village, with its narrow streets and stone houses, exudes an old-world charm. I enjoyed a leisurely meal at a local tavern, taking in the tranquil ambiance. 
The nearby beaches, like Kadırga Bay, offer peaceful retreats. Assos is a perfect half-day stop on a south coast Turkey itinerary.
17. Çanakkale
Çanakkale served as the gateway to some of the most significant historical sites I encountered on the Turkish Coast. 
A visit to the ancient city of Troy, with its legendary Trojan Horse, was a highlight that brought myth and history to life, especially enchanting for someone who grew up watching the movie Troy with Brad Pitt. The nearby Gallipoli Peninsula is a poignant reminder of World War I and offers an educational and moving experience. 
Çanakkale's waterfront is bustling with cafes and offers a lovely view of the Dardanelles Strait. From exploring ancient ruins to reflecting on more recent history, Çanakkale provides a rich cultural experience and a fitting conclusion for a road trip through southern Turkey before returning to Istanbul.
Final Thoughts on the Best Turkish Beach Towns
The best beach towns on the Turkish Coast offer a mix of attractions for every traveller. Whether you're seeking historical sites, vibrant nightlife, relaxing beaches, or unique cultural experiences, these towns on the Turkish Riviera have it all. 
From the bustling city life in Izmir, and the luxury of Çeşme, to the tranquil charm of Foça, the variety is impressive. Visit the best beach towns in Turkey (Fethiye and Alacati were my favourites!) for a holiday that caters to diverse interests and tastes. 
With this guide to the must-visit places on the Turkish Coast, planning your trip is made easier, promising an adventure filled with exciting discoveries.
Author Bio
Haley is the creator of the global travel blog, Haley Blackall Travel. Living half the year in her island home of Bali and half the year on the road traveling the world, Haley writes knowledgeable in-depth travel guides for the places she visited making sure to provide first-hand experience for her readers.