It's all about location and for that reason Ölüdeniz is a popular resort in southwest Turkey. Ölüdeniz is a small town in the Fethiye district, nestled between a pristine stretch of coastline and pine covered mountainside.
Ölüdeniz is home to the famed Blue Lagoon which is a sheltered cove with a white sand beach and turquoise blue waters. The lagoon is joined to a long sandy beach that arcs around the coast providing the starting point for numerous boat trips and relaxing days by the ocean.
Looming high over the town is Babadağ, a mountain which provides the launch point for world famous paragliding trips and further along the coast is the dramatic Butterfly Valley. With all of this natural beauty, along with easy access to exciting activities and historic sites, it's not hard to understand why Ölüdeniz is a top destination to visit in Turkey.
After multiple visits to this town across the different seasons, I wanted to put together this guide to the top things to do in Ölüdeniz.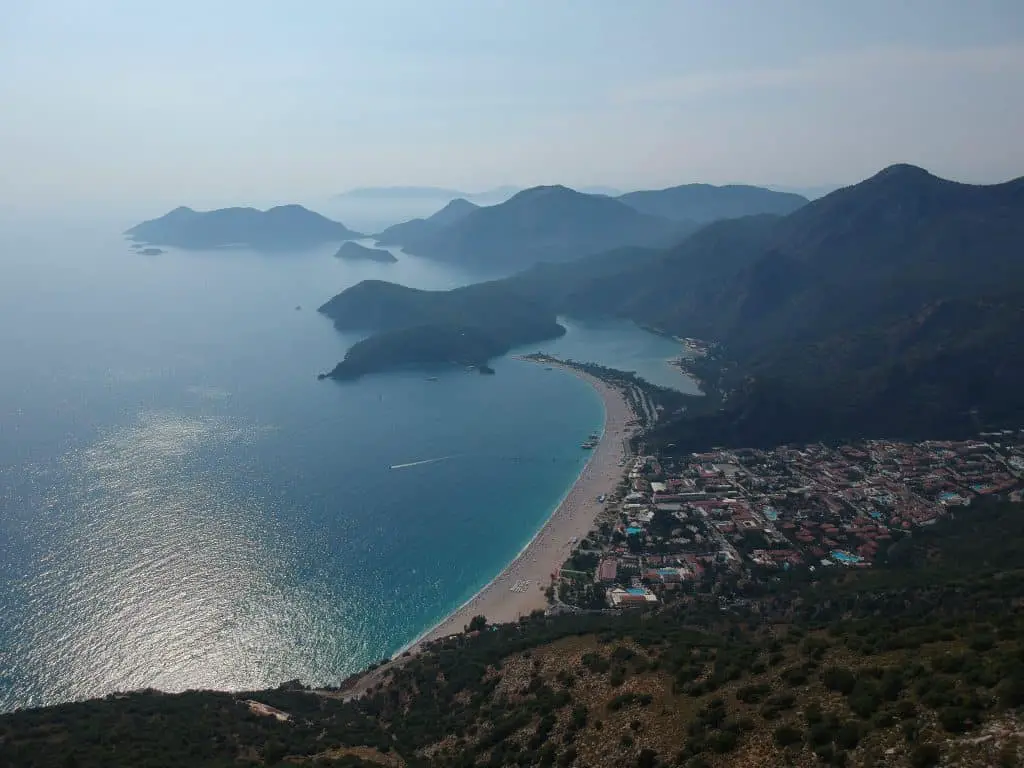 Disclaimer: Some links in this article are affiliate links, which means that if you purchase through them I receive a small commission, at no extra cost to you. This helps cover the cost of running this blog. Thanks for your support!
What To Do In Ölüdeniz
1. Paraglide over the Blue Lagoon
The main adventurous activity in Ölüdeniz to enjoy is a tandem paraglide from Babadağ, the mountain which towers behind the town. The paragliding launches from nearly 2000m, making it one of the highest commercial take-off sites in the world.
On the flight enjoy unparalleled views over Ölüdeniz, the Blue Lagoon and the surrounding forested hills. If you want an extra surge of adrenaline, ask your guide to perform some aerial tricks, although be warned these do shorten your time in the air!
Operators will pick you up from your accommodation and transfer you to the top of Babadağ, in readiness for the flight. Be sure to book your flight in advance to secure your spot and have flexible dates to allow for unsuitable weather.
The flight times lasts around 30-45 minutes and flights cost between €100-200 depending on time of year and the company used. Flights usually operate between April and November.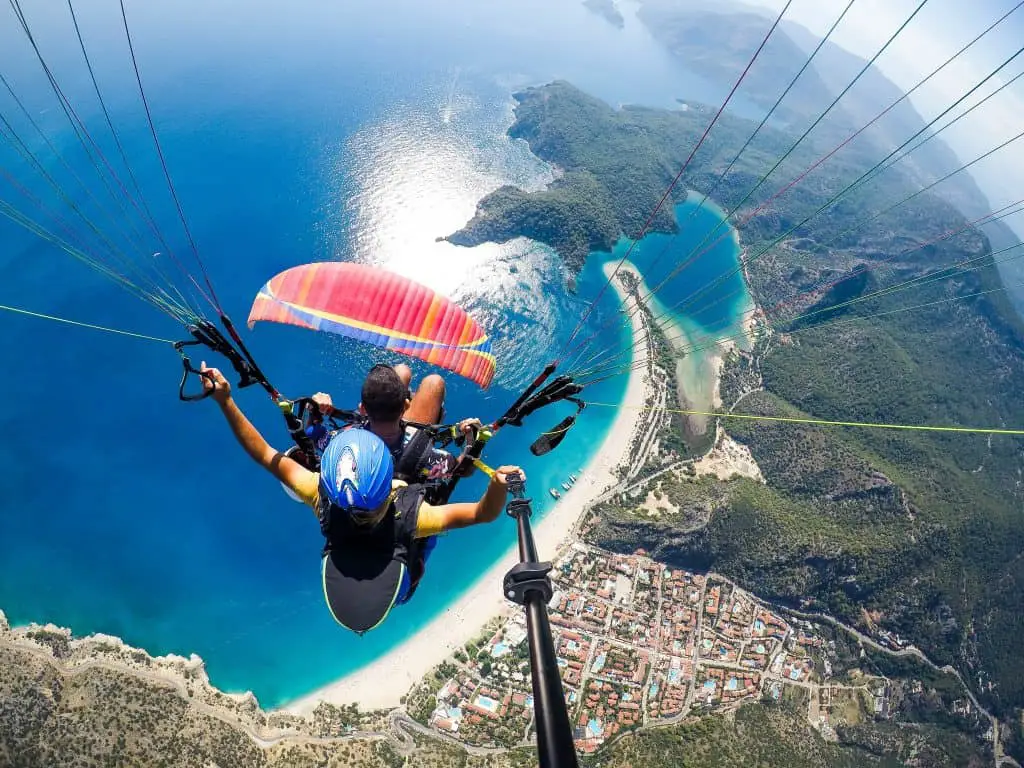 2. Ride the Babadağ Cable Car
If, understandably, you don't want to throw yourself off a mountain you can take the newly-opened cable car (Babadağ Teleferik) to the summit of Babadağ to enjoy the epic views. The cable car transports visitors 1700m up the hill to a viewing spot which is also the location for several cafes and restaurants.
A chairlift takes you further up to 1800m and if you want to bag the summit at 1969m, you'll have to hike from there. Alternatively, enjoy a drink at one of the cafes where you can watch the paragliders take off and maybe even stay to watch the sunset.
For opening times and up-to-date prices, visit the official cable car website here.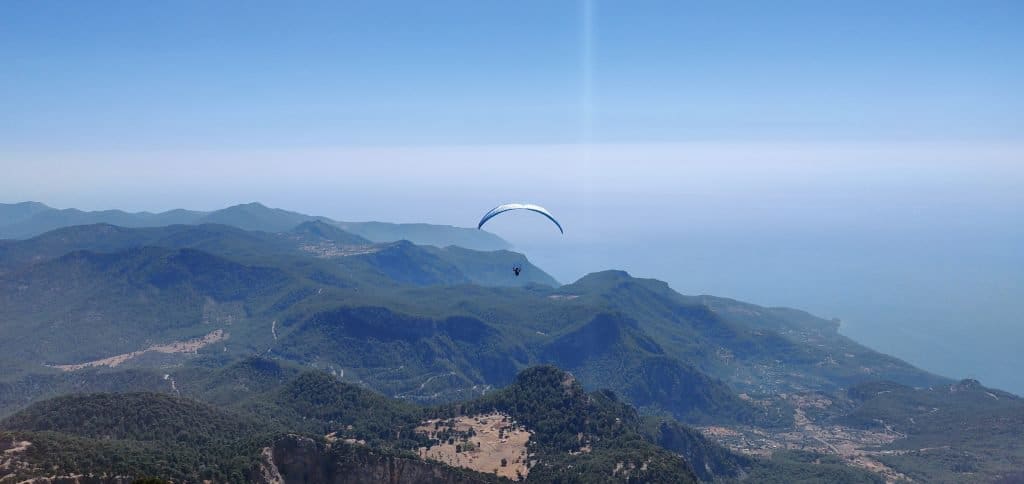 3. Visit the Blue Lagoon
Ölüdeniz translates to 'Dead Sea', which refers to the salty water of its famed Blue Lagoon. This sheltered lagoon has turquoise-blue waters, white sand and is surrounded by pine covered hills. There are several resorts on the shores of the lagoon but thankfully so far, it hasn't been over-developed.
The calm waters make it ideal for children and adults alike to enjoy a day of fun by the water. The lagoon is also a great place to relax and unwind, with plenty of sunbeds lining the shore for those who prefer to take things easy.
The lagoon opens up to the sea via a small inlet which allows the passage of small boats (not permitted in summer). Attached to the lagoon is the long stretch of Ölüdeniz Beach.
If driving to the lagoon there is a parking fee to pay or if entering by foot there is a small entrance fee. (During peak season)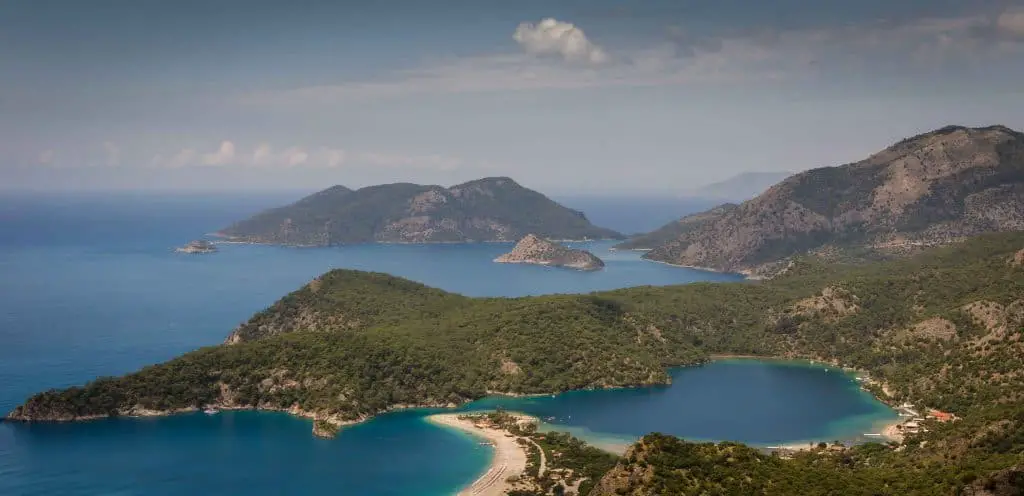 4. Relax on Ölüdeniz Beach
The main beach at Ölüdeniz is a long stretch of sand and pebbles, with the lagoon at its northern end. The beach is backed by cafes and restaurants who are ready to provide holiday-makers with food and drink during their sun-filled days.
This is a public beach so is free to visit and there are toilet and changing room facilities available. Sun loungers can be hired for the day and there are plenty of operators offering scenic boat trips, snorkelling tours or water sports such as kayaking and scuba diving.
In the busy summer months, parking close to the beach can be tricky but in winter the beach front is mostly deserted. We even managed to park our campervan on the promenade and spend the night here last winter.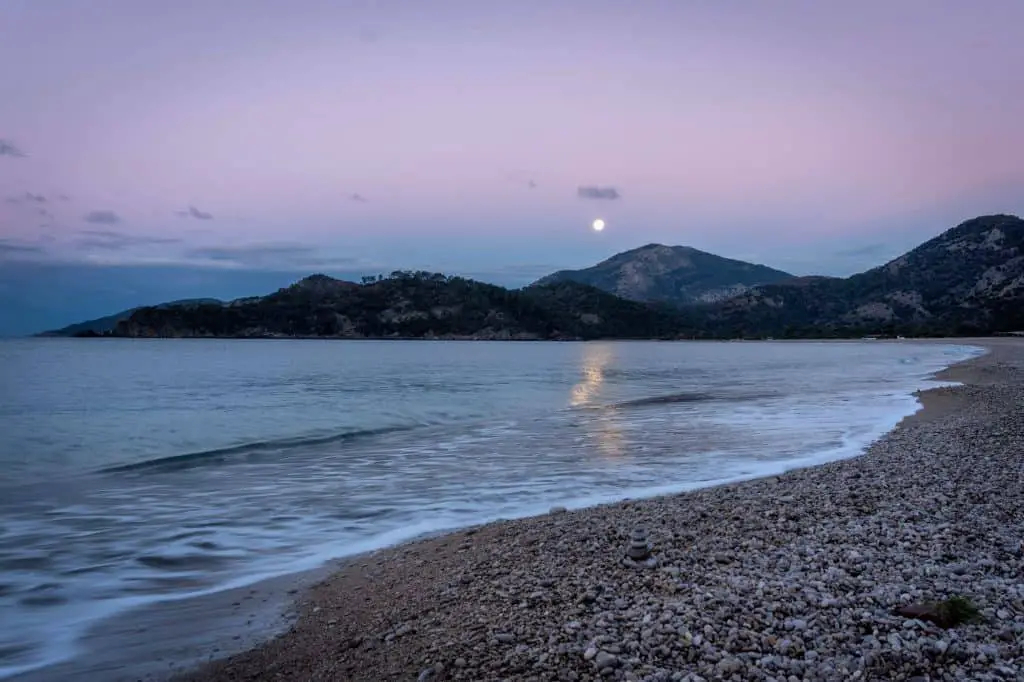 5. Hike the start of the Lycian Way
The Lycian Way is a long distance hiking trail that runs from Ölüdeniz to Antalya. The whole trail is 540km in length but it is possible to hike short sections as smaller day hikes. The trail meanders along the Turquoise Coast, offering fabulous views over the Mediterranean and climbs through the forested hills to visit ancient ruins and local villages along the way.
The official start of the trail is just outside Ölüdeniz, near Montana Pine Resort. The easiest way to get here is by taking a taxi. The trail climbs gradually up through the forest before opening up to a stunning viewpoint overlooking Ölüdeniz. You can continue along the trail for as long as like before returning back the way you came.
A different option would be to take a dolmus or taxi to Fethiye and walk back to Ölüdeniz via the abandoned village of Kayaköy (see below), along an unofficial section of the Lycian Way. The trail starts off Kaya Caddesi, not far from the Amyntas Tombs, however it does involve a few sections of road walking. From Kayaköy the trail winds down through the forest to the shores of the Blue Lagoon.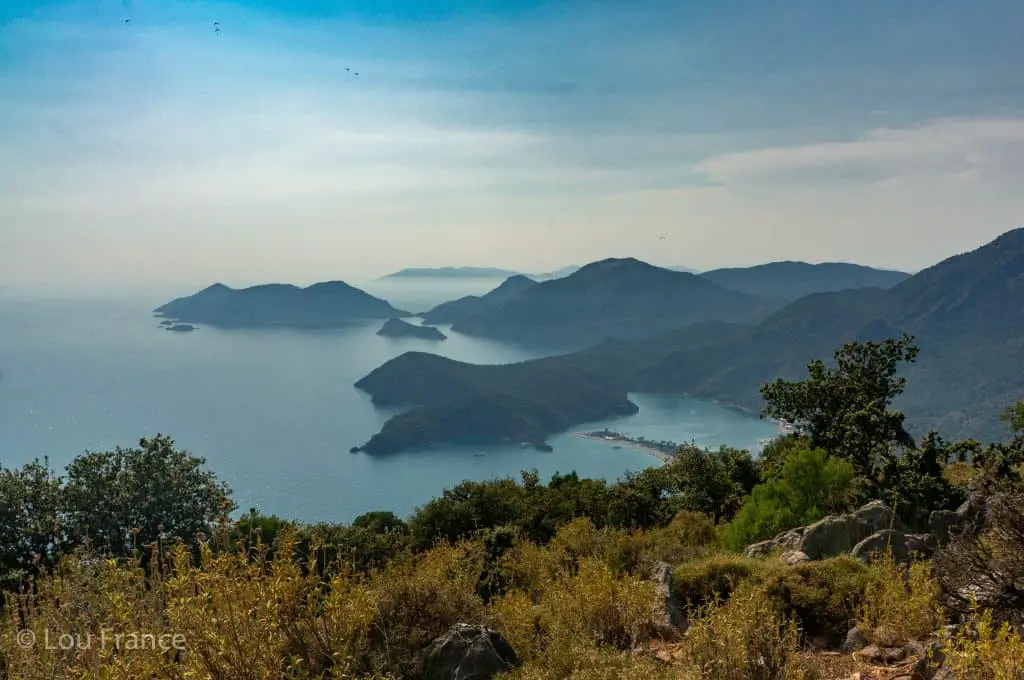 6. Wander Kayaköy Ghost Town
On the headland just north of Ölüdeniz, is the abandoned Greek town of Kayaköy. This town was originally founded in the 1700s but was abandoned in the early 20th century during the population exchange between Greece and turkey. It has remained deserted ever since (save for a few souvenir shops near the base of the town).
Kayaköy nestles into the hillside, with its cobblestone alleyways, crumbling stone houses and derelict churches providing a glimpse into Turkey's more recent history. At the entrance to the town there is a ticket booth and from there, signposts lead the way to notable spots.
There is no direct bus to Kayaköy from Ölüdeniz itself but there are buses from Hisaronu. You could rent a car and combine your visit with a trip to Gemiler Beach (see below) or simply take a taxi.
Alternatively, you could hike to Kayaköy. From the north end of the Blue Lagoon, there is a marked trail which climbs up through the forest to the village and continues down into Fethiye old town. This is marked as part of the Lycian Way, although the official start is in Ovacık in Ölüdeniz.
Be sure to wear comfortable shoes for a trip to this must-see place near Ölüdeniz and avoid visiting during the hottest part of the day.
7. Visit Gemiler Beach and Island
If you have your own transport, you can also take the scenic drive to Gemiler Beach, which is a short drive further on from Kayaköy. This cute cove is a secluded spot to take a dip in the sea or for a walk around the peninsula to a viewpoint over the ocean.
It's also possible to take a boat trip to Gemiler Island, also known as St Nicholas' Island. There are several churches to visit on the island which is believed to be the location for the original tomb of Saint Nicholas. Boat trips from Ölüdeniz to Butterfly Valley often include a visit to St Nicholas' Island.
Did you know? The sarcophagus of St Nicholas aka Santa Claus lies beneath the Church of St Nicholas in nearby Demre. This is an important pilgrimage site for many Christians and a popular day trip from Antalya.
There is an entrance fee to visit Gemiler Cove and there is a restaurant with toilet facilities. Camping is also available at the cove and is a great option if you're travelling by campervan.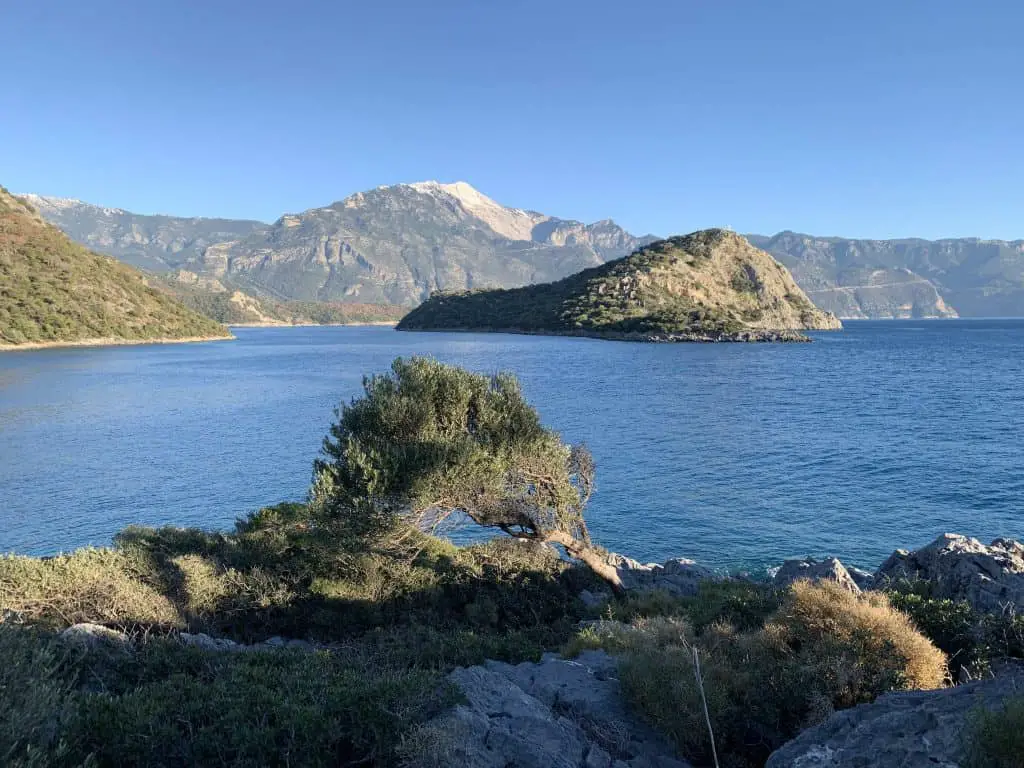 8. Explore Butterfly Valley
There are many beautiful bays and coves dotted around the Turquoise Coast and one of the prettiest is Butterfly Valley. Butterfly Valley is a steep-sided gorge located just 10km from Ölüdeniz. The valley floor is blessed with a picture-perfect sandy beach and lush vegetation which is said to be home to a range of butterflies. (You'll need to walk to Butterfly Cave at the back of the valley to find these).
Part of the allure of Butterfly Valley is its inaccessibility. The sheer cliffs that surround the valley make hiking down a very challenging prospect, only suitable to those with scrambling/climbing experience. Most people therefore, visit the valley via boat from Ölüdeniz.
There is a taxi boat that runs daily from Ölüdeniz in the summer months, which has designated pick up and drop off times. Just wander down to the shorefront in Ölüdeniz to check for up-to-date times and prices. Alternatively, there are boat tours that visit the valley. Many tours include a trip to St Nicholas island and Blue Cave, whilst the pirate ship tours are the party trips filled with loud music and plenty of booze. Choose your boat wisely!
If you just want to peer over into Butterfly Valley you can drive to the viewpoint and tentatively walk out amongst the boulders on the cliff edge to sneak a peak. This spot can get very crowded in the summer. Alternatively, enjoy a meal or perhaps sunset drinks in one of Faralya's restaurants which overlooks the valley. A regular dolmus runs to Faralya village from Ölüdeniz, so private transport isn't required.
For a complete guide to visiting Butterfly Valley including information on how to hike into the valley and details of the best viewpoints, take a look at this post.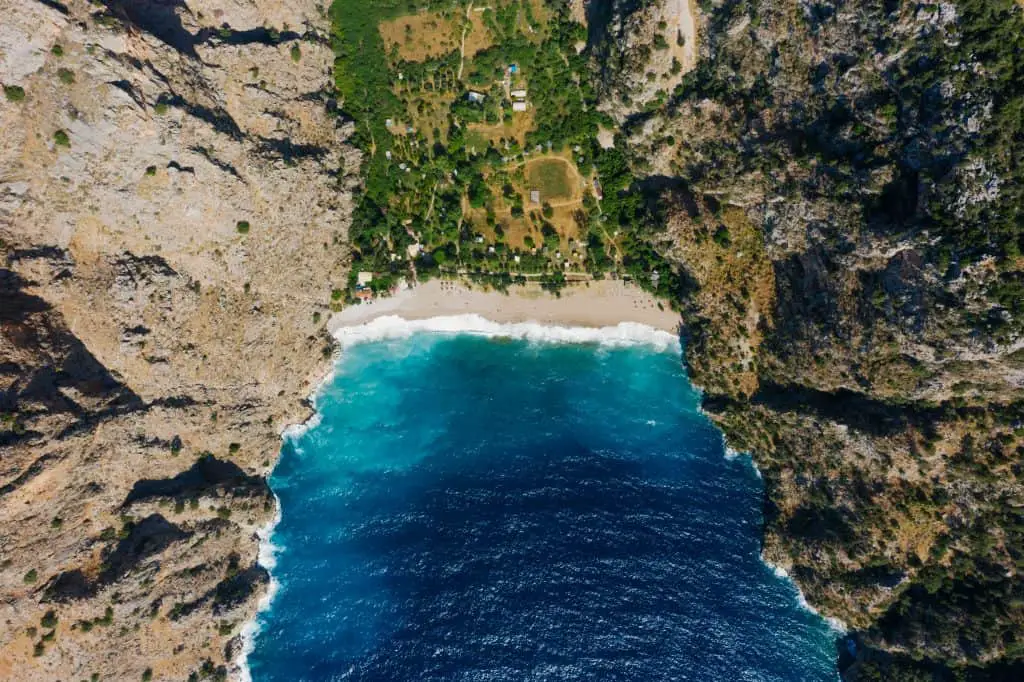 9. Take a Boat Trip
One of the best things to do in Ölüdeniz is to take a boat trip from the beach. Boat trips include visits to Butterfly Valley as mentioned above, but the most popular boat trip from Ölüdeniz is the 12 Islands sailing trip.
This full day tour sails between 12 islands, laying anchor at 5 of them. Here you get the chance to swim or snorkel around the clear waters of the islands. Some of the islands of note include Red Island and Flat Island and BBQ lunch is included on the tour. This is great value for money and provides a unique way to explore the surrounding coastline.
For more information on multi-trip cruises around the Turkish coast, take a look at this guide.
10. Visit Fethiye
Located just 15km to the north of Ölüdeniz is Fethiye city. This Turkish city is founded on the site of Telmessos, which was port city in ancient Lycia. Fethiye is another popular destination with holiday-makers visiting Turkey's Mediterranean, since it has a winning combination of beaches, history and culture.
In Fethiye's old town you can wander the narrow streets and soak up the Ottoman-era charm. A short walk from here takes you to the rock-cut tombs of Amyntas which are a relic of the Lycian civilisation, whilst a trip to Fethiye's Friday market is a delight for the senses with a huge variety of local spices, cheeses and olives to choose from.
Regular dolmus shuttles run between Fethiye and Ölüdeniz, making a visit very easy and affordable. the journey takes around 30 minutes.
For a complete guide to visiting Fethiye, take a look at this post.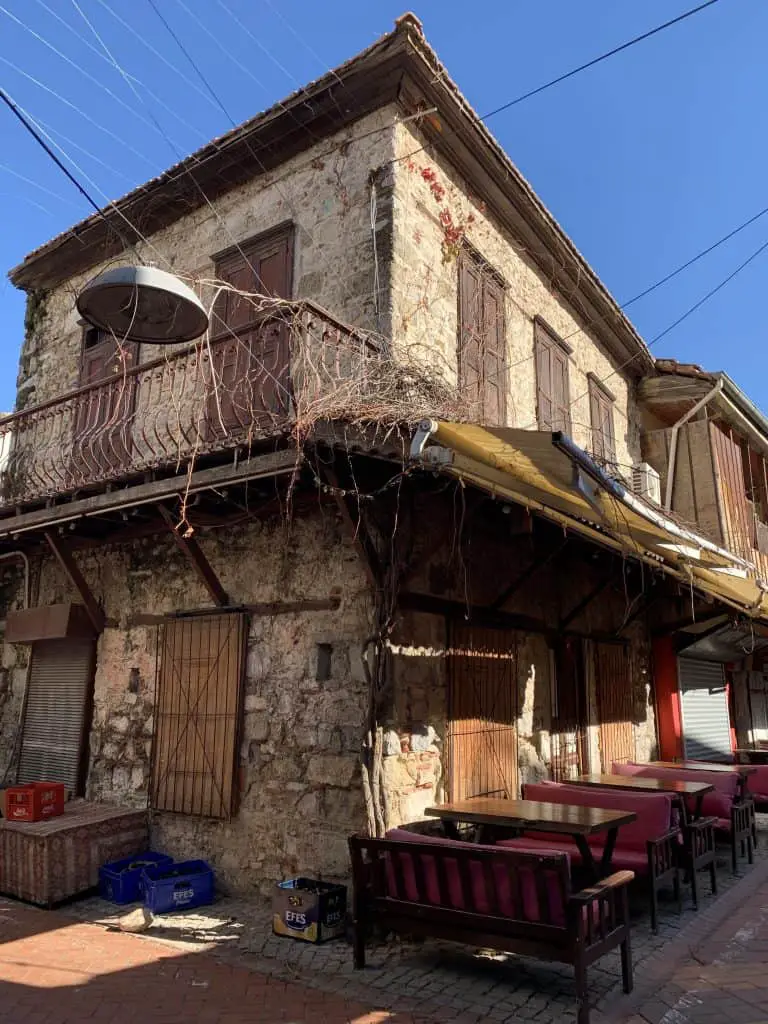 Fethiye or Ölüdeniz?
When talking about a visit to the Fethiye district of southwestern Turkey, Fethiye city and Ölüdeniz are mentioned almost interchangeably. The two cities are located just 15km from each other, so visiting one place from the other isn't a big deal. So where should you stay?
If you're looking for a beach vacation, with the convenience of staying close to the ocean, then choose Ölüdeniz. The modern city of Hisaronu (Upper Ölüdeniz) itself offers little to tourists other than souvenir shops and restaurants. However, staying in Ölüdeniz itself offers prime location for days on the beach or at the lagoon.
If you're looking for a more varied vacation and have an interest in learning about Turkey's ancient history and experiencing a little more of its culture, then opt for Fethiye. From Fethiye, it's easy to visit ancient sites such as Xanthos, Letoon and Tlos and for day trips to Saklikent Gorge or Pitara.
Day Trips From Ölüdeniz
There are a whole host of day trips available from Ölüdeniz and Fethiye which I have covered in more depth in my guide to Fethiye. However, as a quick summary, popular day trips from Ölüdeniz include:
Saklikent Gorge – Take a trip to this stunning national park and wade through the river on an exploration of the gorge. Guided tours like this one are available from

Ölüdeniz.

Xanthos – This ancient city was the capital of the Lycian Civilisation and is home to a Roman theatre, a colonnaded street and agora as well as Lycian tombs.
Tlos – Several eras of history are evident at Tlos, from the Lycian rock-cut tombs to the Roman baths to the Ottoman Citadel. This site also offers superb views over the valley below.
Patara – Patara is Turkey's longest sandy beach and is a popular choice for a beach day from

Ölüdeniz

. Beyond the sand dunes you can also visit the ancient ruins of Patara which is famed for its council chambers.
Letoon – Located close the Xanthos, Letoon was the religious capital of Lycia. The site has three temples dedicated to Lycian gods and a small but intact Roman amphitheatre. This small site is great to visit in combination with Xanthos.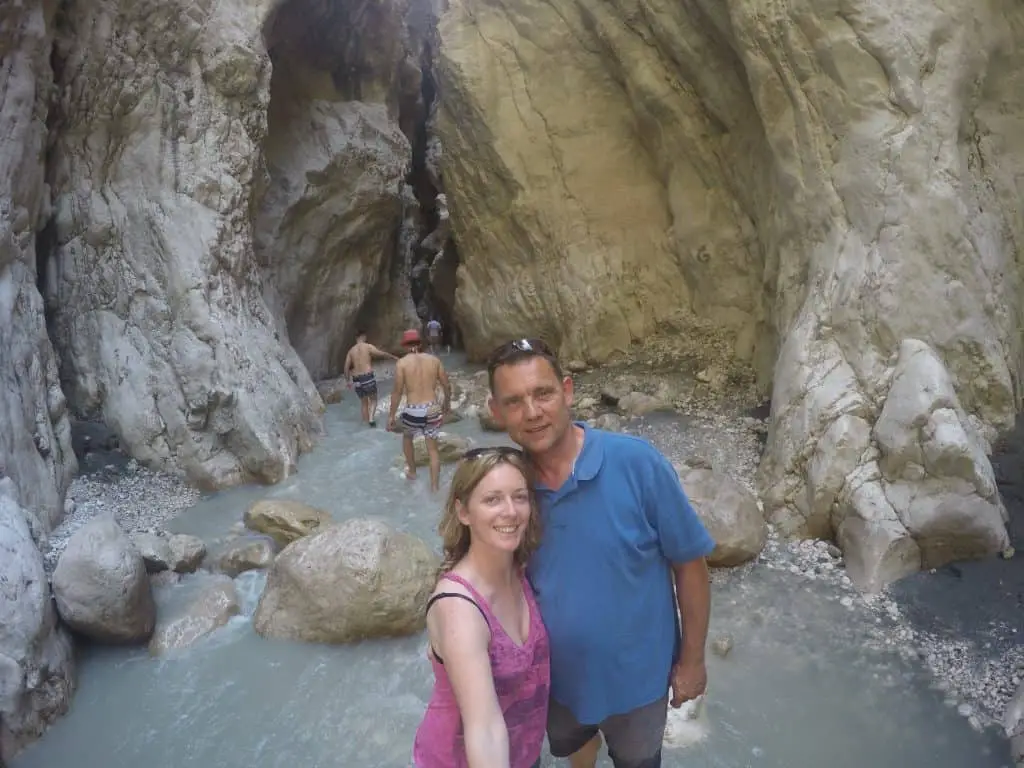 Read Next
Where To Stay In Ölüdeniz?
As mentioned above, if you want to have quick and easy access to the beach and lagoon, it's best to stay in Ölüdeniz town rather than in Hisaronu or Ovacik (also known as upper Ölüdeniz). If staying here then you'll need to take transport to get to the beach.
Boutique
Jade Residence is a gorgeous hotel surrounding by a 250 year old tropical garden. Located just opposite Ölüdeniz beach, the hotel is in prime location to enjoy all that Ölüdeniz has to offer. Enjoy the included Turkish breakfast on the rooftop restaurant with views over the Mediterranean before relaxing at the poolside. Heaven!
Budget
Sunmed Lodge offer really cute bungalows which are just a short walk from the beach. Each bungalow has a patio that opens out into the garden to enjoy the mountain views. The owners are lovely and book any activities you'd like to enjoy.
How to get to Ölüdeniz
By Air
Ölüdeniz is served by Dalaman Airport (DLM) which hosts domestic and international flights. It's roughly a 1 hour drive from Dalaman to Ölüdeniz. Regular buses are on hand to provide transport to the town or this can be pre-arranged by your hotel.
By Bus
The transport system in Turkey is well organised with buses that run between major cities and smaller dolmuş (minibuses) that link up to the towns and villages. You can pre-book bus tickets using Busbud from other major Turkish cities including Istanbul, Izmir, Antalya, Ankara and Göreme (Cappadocia). Buses run to Fethiye and then from Fethiye you will need to take a dolmuş to Ölüdeniz, which run every 5 minutes.
By Car
Car rental in Turkey is easy and very affordable. If you plan to visit many of the popular destinations outside of Ölüdeniz, you may save money on transport through renting a car. Driving in Turkey can be a little different from neighbouring Europe, so be sure to check out this guide to driving in Turkey first.
Final Thoughts On Ölüdeniz Things To Do
Ölüdeniz is a town situated in a stunning location along the Turquoise Coast of southwestern Turkey. The town is a popular destination with holiday-makers wanting to enjoy a beach vacation on the Mediterranean.
Top things to do in Ölüdeniz include relaxing on the beach or around the lagoon, taking a tandem paragliding flight off Baba Mountain, visiting Butterfly Valley or enjoying a boat trip around the coast. The best time to visit to enjoy these activities and the warm weather is during the summer months from June to September.