If you plan to live in your van during cold winter months then a heater is essential. Warm blankets and duvets are great whilst you're in bed, but getting in and out of bed when your van resembles an ice box is a really unpleasant experience! 
There are several different fuel sources you can use to heat your camper or motorhome, but diesel heaters are generally considered the best heaters for van life. This is because diesel is both cheap and safe to run.
In this guide I review some of the diesel heating options available for campervans in 2023. Read on to discover which heater I use in my campervan and which heater I recommend.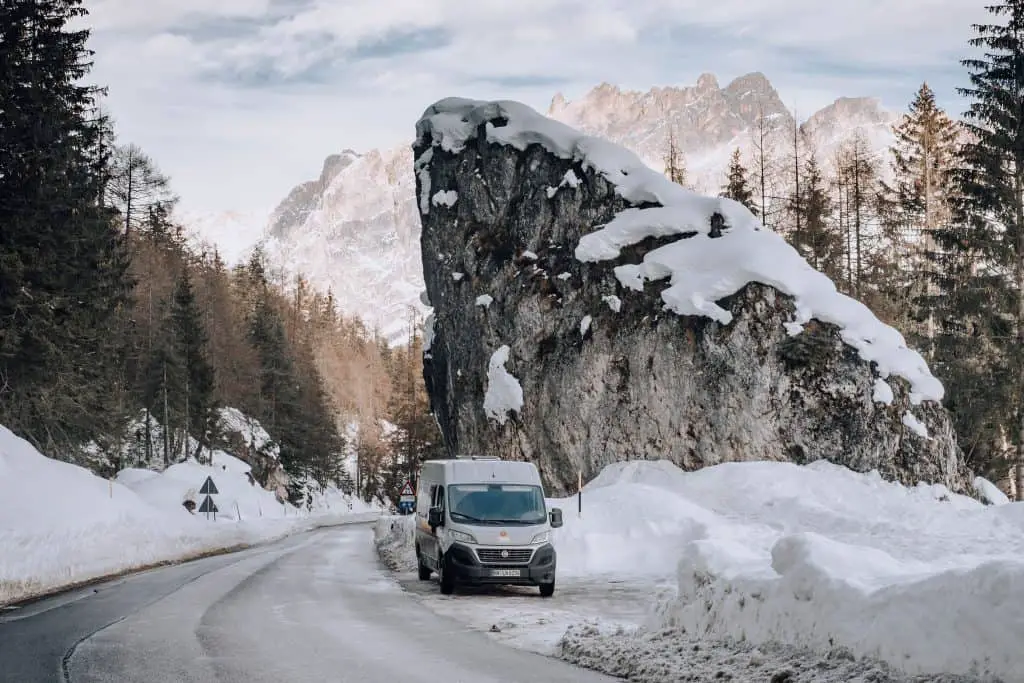 Disclaimer: Some links in this article are affiliate links, which means that if you purchase through them I receive a small commission, at no extra cost to you. This helps cover the cost of running this blog. Thanks for your support!
A buyers guide to the best diesel heater for campers
At a quick glance here are my top picks for campervan diesel heaters.
The best budget diesel heater for campervans is the Triclick 5KW and the best premium diesel heater is the Webasto Air Top 2000.
| | | | |
| --- | --- | --- | --- |
| Heater | Triclicks 5KW with silencer | Webasto Air Top 2000 | Flower W All in one |
| Best for | Best budget diesel heater for vans | Best premium diesel heater for vans | Best non-plumbed heater for vans |
| Heat Output | 5KW  | 2KW  | 8KW  |
| Control | Panel & Remote control | Temperature regulated | Panel & Remote control |
| Installation | Stand alone tank or plumbed to van diesel tank | Plumbed to van diesel tank | Stand alone tank |
| Price | £140 | £700 | £170 |
| Weight | 7.9kg | 9kg | 9.4kg |
| Fuel Consumption | 0.5 litres p/h | 0.25 litres p/h | 0.1 litres p/h |
| Warranty | None | 2 years | None |
As you can see from the table the main differences between the budget and premium models are the cost and warranty availability. The only thing not considered in this table is the build quality.
How does a diesel heater work in a campervan?
Put simply, inside the diesel heater there is a burner which uses diesel combustion to heat coils. Cool air is sucked into the heater which passes over these heated coils and then warm air is passed out into the van. The heater requires a small amount of electrical energy to pump diesel into the burner.
The heaters suggested in this guide all run on 12v systems so can easily be connected to your leisure battery. After the initial surge, this draw of energy will be around 1 amp per hour.
Why use a diesel heater?
Benefits of using a diesel heater in your campervan or motorhome:
Low emissions

Low fuel consumption

Low electrical power consumption – heaters require a surge in power to get going but once up and running use very little electricity (around 0.5 to 1 amps once running). Diesel heaters are therefore low wattage heaters for camper vans. Remember to consider the small surge required by a heater when calculating your solar energy costs.

Reduce condensation inside the van

Exhaust fumes are vented outside

No separate fuel source required since they run off diesel in the running tank (for plumbed in heaters)
Downsides of diesel heaters:
Not easy to install without some mechanical knowledge

Noise pollution – all diesel heaters will create some noise whilst running, particularly during the start up cycle. The noise is worse from outside the van than from inside it.

Pollution – diesel is a fossil fuel so contributes to air pollution, although it has the lowest emissions of all the fossil fuels.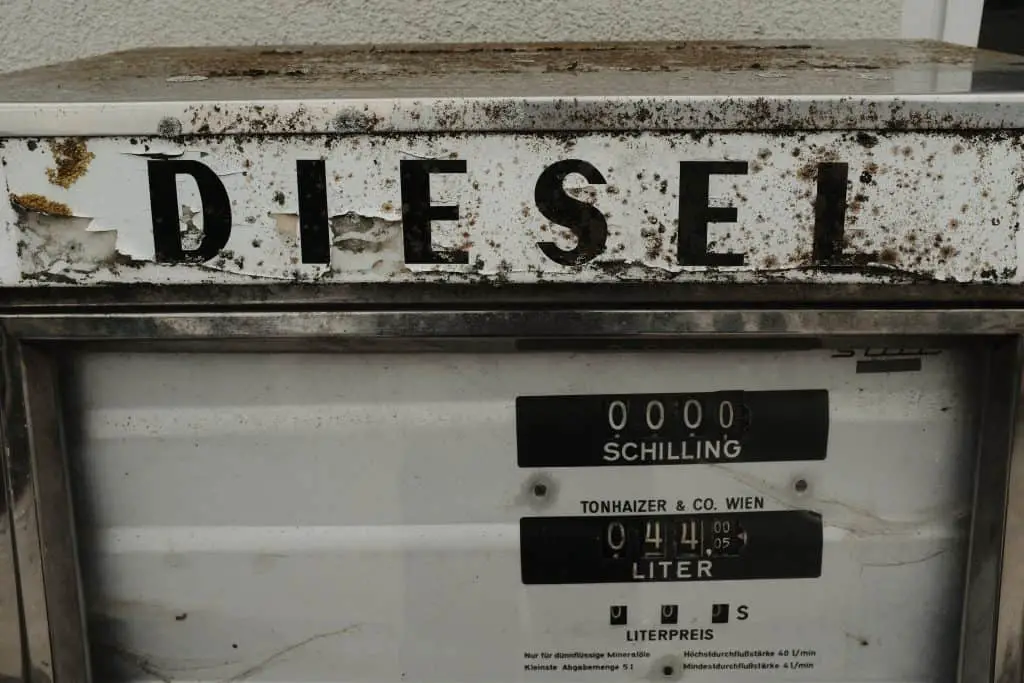 Things to consider when choosing a diesel heater for your campervan
Heat output
This is the most important factor to consider. You need to buy the right sized heater to fit your van. If you have a small van such as a VW transporter, a 2KW heater will be fine. If you have something bigger such as a Mercedes Sprinter or a Renault Master (like I have) opt for a 5KW heater or bigger.
Plumbed or non-plumbed
If you plan to spend long periods in your van I would recommend plumbing in a diesel heater. However, if you only plan to use your van occasionally or want a heater you can also use somewhere else (for example, your garage), I suggest picking an all in one heater.
Will you travel to high altitudes?
The cheaper Chinese or Russian diesel heaters work fine at low altitudes but make no allowances for being used at high altitudes. If you plan to travel over 3000m consider the more premium models.
Warranty & reliability
If you're looking for a heater with a warranty and longevity, opt for the more premium models. Budget heaters use cheaper materials which are more likely to fail over the shorter term and warranties are non-existent. 
Fuel efficiency
Most camper diesel heaters are extremely efficient using between 0.1 and 0.6 litres of diesel per hour. The figures are similar for budget and premium models.
Noise
Most heaters will come with a silencer designed to reduce the noise produced by the heater. The more expensive models will be better at reducing noise, so this may be a factor to consider when choosing which model to buy.
Are campervan diesel heaters safe?
Diesel heaters for campers that are correctly installed pump all waste fumes outside of your van (much like combustion fumes from your vans engine). They usually come with a safety cut off mechanism to prevent them from overheating and diesel fuel is harder to ignite than petrol. These factors combined make diesel heaters very safe to use and run throughout the night.
If you're unsure how to correctly install a diesel heater I strongly recommend taking it to a reputable fitter to get installed. I also recommend installing a carbon monoxide detector just to be on the safe side. This CO detector has a 7 year sealed lithium battery to give you peace of mind. We also keep our roof vent open to allow some ventilation. 
Related Reading
Diesel heaters for campervans review
Triclicks 5KW Diesel Heater
Usually I wouldn't recommend cheap brands nobody has ever heard of for something as important as a campervan heater. For example, my top recommendations for campervan fridges, leisure batteries and solar panels are all by reputable brands, since most of the time you get what you pay for.
However, this Triclicks heater works perfectly for us and many other van lifers out there. We've had it installed in our van for over 2 years. We've used it daily through the cold months, including a winter ski touring trip of Georgia and Turkey to temperatures of -15 celsius and it's never skipped a beat. Since it comes in for around £140 how could I not recommend it as my top choice?
Sure, it's a cheap Chinese made version of a Webasto but if it works then why not? Just be aware that the lifetime of this product may likely be much shorter than a Webasto or Eberspacher. We bought this heater under the assumption that it may only last 1-2 years, after which we may need to replace it.
There are lots of companies offering this type of budget heater (Maxpeedingrods, Vevor, FlowerW), all with different power options. This is the 5KW version which is suitable for mid-sized or large vans, such as Sprinters or Transits. There are more powerful versions available but this works fine in our Renault Master. If you have a smaller, Transporter-sized van I would opt for the 2KW version.
It doesn't have a thermostat, rather it has different heat settings which can be adjusted on the digital control panel or via the remote control. There is also the option to set a timer – instant heat from the comfort of your van bed!
This model comes with everything you need to plumb it into your van's own diesel tank (if fitting to the top of the tank) as well as a 10 litre tank if you would prefer to keep it separated. Running the heater from the included 10 litre tank will make this significantly easier to install. Also note that the instruction manuals on these budget heaters may be very limited or mostly in Chinese!
As referred to above, this kit comes with a pick up line to fix into the top of your vans diesel tank. However to install this on our van we had to remove the tank from the van, which wasn't an option without access to ramps or an inspection pit. We therefore bought a fuel line connection T-piece to tap into the diesel return line. This may not be possible on every van so some independent research will be required.
This model also comes with a silencer which makes the heater that much quieter. There is however, some noise from the pump whilst the heater is running. Separate silencers are available to buy if required.
Maxpeedingrods offer a similar version of this heater which comes with automatic altitude adjustment. This adjusts the output to maintain heat as the altitude changes. It is also installed with bluetooth which allows control of the heater via an app on your mobile phone. This means you can set the heater running in readiness for your return to the van! This is a little more expensive than the Triclicks. Check the price here.
If you run into any problems, there is good support from fellow budget heater owners on this Facebook group.
Webasto Air Top 2000
Webasto are a well established company with a reputation for building high quality products. This is a high end product which is reliable and well supported however, this obviously comes with a big price tag. I selected this heater as the premium heater choice over a similar model by German company Eberspacher, because they are slightly cheaper for the comparable quality.
This heater comes with a silent fuel pump and anti-vibration mounting ensuring noise from the heater is minimal. Nick used this heater in his overland truck for several years and the noise was much lower when compared to the cheaper models, so that's worth noting. It also has a constant ambient temperature control, ensuring heat stays at a constant level. 
If you are planning to travel at altitudes of around 2000m, consider upgrading this model with the high altitude ready kit. If you're planning to travel to higher altitudes of 2000m plus I would recommend choosing the AT EVO 40, again with the high altitude ready kit.
Planned high-altitude travel is a big reason to select a higher quality heater.
FlowerW 8KW heater all-in-one 
This diesel heater is the best budget option for anyone looking for an all in one, portable heater. With this heater the diesel tank is built into the unit rather than being separated, so minimal installation is required. The unit comes with handles so it is easy to move around inside the van or where ever you might need it.
This provides 8KW of heat so is suitable for a mid-large sized van. It also be used in a garage or on a boat, or anywhere else you might need a heating solution. Temperature is controlled through the control panel or via the remote control. A 5KW is also available but it costs the same as the 8KW version.
Camper Van Diesel Heaters Summary
As with most things in your campervan conversion, which diesel heater you ultimately decide to buy will be based on your own personal needs and preferences.
If money is no object and you want a well-made heater that will last for 5 years or more, pick the Webasto. However, if you're on a budget, only plan to have your van for a few years and are accepting that what you buy may only last a relatively short time, choose the Triclicks or Maxpeedingrods diesel heater.